NCF Nation:

Marcus Cromartie
January, 14, 2013
1/14/13
9:00
AM ET
It doesn't take long for new Wisconsin defensive coordinator Dave Aranda to spot a defense that puts takeaways first. Or one that doesn't.
"Say it's an interior run, an A-gap or B-gap run, and that ball carrier is held up at a certain point in that box," Aranda recently told ESPN.com, "the second and third defenders are ripping and attempting to strip the ball out. It's a frenzy. Or a ball carrier is running down the field after a catch and a defender has a non-aggressive angle, meaning the ball carrier doesn't see him, and he makes an attempt to not only secure a tackle but get the ball out with a rip or strip attempt.
"Those are things that show up on film a ton."
[+] Enlarge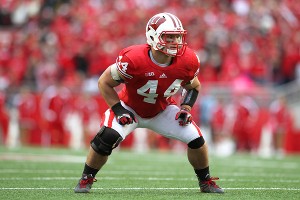 Brace Hemmelgarn/US PresswireNew Wisconsin defensive coordinator Dave Aranda is looking forward to coaching players like linebacker Chris Borland.
Aranda expects those things to show up on Wisconsin's practice film and game film from this point on. Takeaways are without question Aranda's top priority for a Badgers defense he'll guide after making the transition from Utah State with new head coach Gary Andersen.
Aranda spent only one season as Utah State's defensive coordinator after holding the same post at Hawaii in 2010 and 2011. Utah State tied for 73rd nationally in takeaways last fall with 20 -- the Aggies had much better ratings for scoring defense (7th), total defense (14th), rushing defense (13th) pass efficiency defense (8th) and sacks (6th). But Aranda's Hawaii defense led the FBS in takeaways with 38 in 2010.
When Badgers defenders show up for meetings with Aranda and his staff, they'll see terms like rip, strip, bat and pick displayed prominently throughout the football complex. The coaches will track each attempt and each successful forced fumble, pass deflection and interception, as they try to create a takeaway-first mindset among players.
"The biggest thing is the process," Aranda said, "the day-by-day emphasizing and highlighting of the rips, the strips, the bats and picks and the missed opportunities, putting it on the board, putting it on a PowerPoint [presentation], a highlight video, all those things. ... All that stuff comes in bunches, but the best you can do is emphasize it, make it a part of the daily routine and make it important."
Wisconsin needs to improve its takeaway numbers after finishing 105th nationally with just 15 this past season. It marked the Badgers' lowest takeaways total since at least 2000 after they had finished in the top 50 nationally from 2009-2011.
Although Wisconsin's defense performed well overall, ranking in the top 25 nationally in scoring defense (17th), total defense (15th), pass defense (18th) and rushing defense (24th), the Badgers' lack of takeaways hurt them in a season defined by close losses. They failed to generate a turnover in six games, including overtime losses to Ohio State and Penn State and a 20-14 loss to Stanford in the Rose Bowl.
If Aranda's plan works, the Badgers should be on the right side of more of those nail biters. It shouldn't be a tough sell, especially because Wisconsin's best defender already embraces the philosophy. Linebacker
Chris Borland
has recorded 13 forced fumbles, six fumbles recovered, three interceptions and 16 pass deflections in a decorated career, to go along with 13 career sacks and 41.5 tackles for loss. Borland has been a playmaker since he set foot on Wisconsin's campus, and he'll lead the defense once again in 2013.
"I'm awfully excited to coach Chris," Aranda said. "I've got all the respect in the world for him and what he's accomplished and what he means to this team and to this defense. He is the consummate teammate and playmaker, all those things. He's going to be a huge, huge part of our defense, like he has been."
The new staff is in the process of assigning recruiting areas, but Aranda's chief objective in wrapping up the 2013 class is the secondary, which loses three starters (cornerbacks
Devin Smith
and
Marcus Cromartie
, and safety
Shelton Johnson
). Speed will be a major emphasis for Aranda and his staff on the recruiting trail.
"I was real fortunate to walk into a situation at Utah State where there was a lot of speed," he said. "We were faster than the majority of the teams we played, regardless of whatever conference they were in. So that goes to show that the game is built upon that. It is a foundational element to playing defense, especially the type that we would like to play.
"That is definitely going to be a No. 1 issue in terms of recruiting for defense."
December, 2, 2012
12/02/12
9:00
AM ET
Recognizing the best and brightest from the Big Ten championship game:

Wisconsin's running backs:
What a breathtaking performance the Badgers' trio of backs put on in Indianapolis.
Montee Ball
showed why he's still arguably the best back in the country, running 21 times for 202 yards and three touchdowns, setting the NCAA career record for rushing scores (he had previously broke the mark for total TDs). Redshirt freshman
Melvin Gordon
put his immense potential on display with 216 yards on just nine touches, averaging a ridiculous 24 yards per carry. Not to be outdone,
James White
ran for 109 yards and accounted for five touchdowns (four rushing, one passing). Wisconsin had a school-record eight rushing touchdowns and ran for more yards (539) than any Nebraska opponent ever.
Wisconsin DB Marcus Cromartie:
The senior had maybe his finest game, recording his first career interception and returning it 29 yards for a touchdown early in the game. He also broke up two passes, including one that looked like it might have gone for a score in the third quarter. Linebacker
Chris Borland
(13 tackles, forced fumble) and defensive end
David Gilbert
also had big games for the defense.
Wisconsin offensive coordinator Matt Canada:
Criticized earlier in the year for some vanilla play calling, Canada unleashed the full fury of his playbook against Nebraska. If he's got anything left in there, we'd like to see it. Saturday's game plan included an array of formations and pre-snap motions, passes thrown by a receiver and a running back, a swinging gate, jet sweeps and all sorts of other fun stuff. The result was nine touchdowns by the offense and an average of 10.7 yards per play. "I was kind of surprised that everything worked," center
Travis Frederick
said.
November, 9, 2012
11/09/12
1:00
PM ET
All the major stories out of Wisconsin this year have come from the offensive side of the ball. The early offensive line troubles and the switching of position coaches early on. The quarterback shuffling.
Montee Ball
's slow start and then resurgence.
Hardly anybody every talks about the Badgers' defense. But then again, what else is new?
"We just have a workmanlike mentality, and we're comfortable with that," linebacker
Chris Borland
told ESPN.com. "We don't need to be in the limelight."
A quick glance at the numbers shows that we ought to be paying more attention to the oft-overlooked unit. Wisconsin is in the top half of the Big Ten in every defensive category and ranks in the top 17 nationally in such key stats as points allowed (17.6), yards allowed (311.3), rush defense (108.1) and third-down conversion defense (30.7 percent).
Of course, the Badgers also had good numbers last year. But one major difference between that defense and the 2012 model has been the lack of back-breaking big plays given up. Everyone remembers the Hail Mary versus Michigan State, the
Braxton Miller
miracle at Ohio State and the Oregon juggernaut from last season. There have been few such memorable breakdowns this year, aside from a couple of long touchdown passes allowed in games Wisconsin has won.
"The first thing we did in fall camp was, our coach took us through all the big plays we gave up in 2011," defensive back
Marcus Cromartie
said. "We told ourselves that we weren't going to do that this year. We feel like we're good enough that a team can't just nickel and dime us down the field."
Better depth and experience in the secondary has paid off, as has a surprisingly strong defensive line, which head coach Bret Bielema calls "as thick and as deep as we've had since I've been here." The front four has been able to apply pressure without much blitzing and be stout against the run. And having one of the best linebacker duos in the country with Borland and
Mike Taylor
makes everything work better.
For as good as the defense has been most of the year, though, it still smarts over its performance last time out. Michigan State drove 75 yards to tie the game near the end of regulation two weeks ago before winning in overtime, 16-13, at Camp Randall Stadium. That snapped the Badgers' 21-game home winning streak.
[+] Enlarge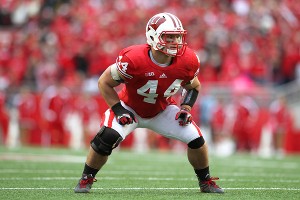 Brace Hemmelgarn/US PresswireChris Borland and the Badgers defense will face a stiff test this week against the prolific Hoosiers offense.
"I haven't really known what it's like to lose at home," Cromartie said. "So we're looking forward to a chance for us to get back on track."
That starts Saturday in a crucial Leaders Division game at Indiana, which figures to put as much pressure on the Wisconsin defense as anybody has all season. The Hoosiers have scored at least 24 points in each of their past 10 games, are averaging 33.1 points per game and boast the Big Ten's top passing offense.
Indiana often runs a no-huddle style that is designed to get defenses out of position and prevent them from substituting.
"Watching them on film from last week, some of the Iowa players would be standing straight up or not be in their stance, and [Indiana] lined up quickly to run a play," Cromartie said.
The Badgers got a taste of what it's like to prepare for that style of offense when they got ready for Oregon last year. The Ducks ended up not using too much no-huddle in the Rose Bowl, but Wisconsin's players learned a lesson.
"The main thing is just getting aligned," Borland said. "I've got to set the fronts and call the play, but after that it's on everybody else as far as getting aligned and getting their eyes in the right place quickly. I know that sounds simple, but that's what these hurry-up teams prey on."
With a new quarterback guiding the offense -- multiple reports have
Curt Phillips
making his first career start -- Wisconsin might not want to get into a track meet with the Hoosiers. So the defense will be under pressure to keep the score manageable. That's something the Badgers should get used to, because their final three games of the season -- Indiana this week, followed by Ohio State at home and then at Penn State -- come against some of the Big Ten's highest-scoring and most creative offenses.
How they stand up against those offenses may determine whether they make a second straight Big Ten championship game appearance. So the overlooked Badgers defense could be about to receive much more attention.
"The last three games -- and most importantly, this week against Indiana -- represent a big challenge for our defense," Borland said. "We're going to do everything we can, and we're excited for the challenge. This is how you'd want it."
July, 10, 2012
7/10/12
10:55
AM ET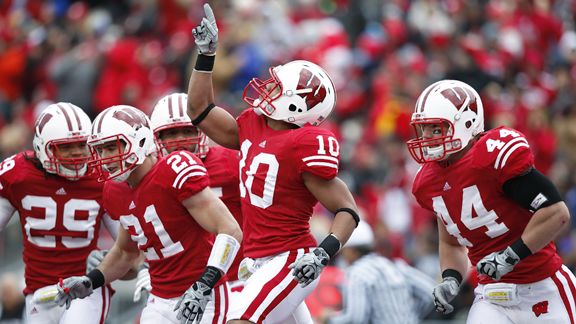 Joe Robbins/Getty ImagesDuring the 2009 season, cornerback Devin Smith (No. 10) started every game for the Badgers.
Bret Bielema's
comments about
star
Devin Smith
and the value he would have brought Wisconsin in 2011 quickly made their way around America's dairyland and Big Ten country.
Smith, a starting cornerback for the Badgers, missed all but two games last season with a foot injury that required surgery.
In case you missed it, here's what Bielema, the Badgers' coach, told ESPN Radio Madison last month:
"Devin was playing as good of football as we'd ever seen. For us here at Wisconsin, for us to have one of those special, special, maybe national championship-type seasons, you have to stay healthy. I honestly think if Devin Smith had played the entire year at the way he was playing at the time he got hurt, we probably never would have lost."
Bielema's bold words gained a good deal of attention, except from the man being discussed. Last week, Smith told ESPN.com that he didn't know what his coach had said about him.
"I have a lot of respect for Coach B, and I really appreciate that," Smith said. "It's hard to say what could have happened if I wasn't injured, but I definitely appreciate that compliment. You never know."
Here's what is known: Smith will be back this season. The senior is fully cleared and will participate in all of preseason camp. Smith injured his left foot in a Week 2 win against Oregon State and underwent surgery two days later.
Smith had limited participation in spring practice, but he's getting back to full strength in summer workouts.
"It's a great feeling, being able to get back out and execute at 100 percent," Smith said. "I can't wait for the season to get here."
Smith started every game in 2009 and led the squad in passes defended (11). He moved to the nickel back role the next year, making just one start, but reclaimed a spot in the lineup opposite All-Big Ten corner Antonio Fenelus in 2011.
"I felt like I had a lot of momentum going into the year," he said. "I felt I was at the top of my game, and I was only going to get better as the season progressed."
The foot injury changed his plans. The season wasn't a total waste, though, as Smith gained knowledge from an "outside perspective" of watching from the sideline.
He expects to be a smarter player and a more active leader in the secondary this season. The secondary loses its top leader, safety Aaron Henry, as well as Fenelus. Smith, cornerback
Marcus Cromartie
and safety
Shelton Johnson
, who arrived at Wisconsin together in 2008, are ready to step up.
Smith has helped mentor younger defensive backs like
Peniel Jean
,
Darius Hillary
and
Terrance Floyd
.
"We've been around a lot, from 7-6 to a 10-3 to two Rose Bowl teams," Smith said. "We definitely know what it takes to become successful and how to win. I definitely see myself as a leader, not just for the secondary but for the team as well. I can definitely fill that senior leadership that we need to get where we want to go at the end of the season."
Wisconsin ranked fourth nationally in pass defense (163.6 ypg allowed), 35th in pass efficiency defense (120.4 rating) and tied for 18th in passes intercepted (16), but the secondary was cast in a negative light after allowing long touchdown passes at the end of losses to both Michigan State and Ohio State.
Bielema offered a potential explanation, telling ESPN Radio Madison, "Those plays that hit, they were going after [Smith's] backup, Marcus Cromartie." Smith didn't throw Cromartie under the bus, saying his replacement "did an unbelievable job," but he acknowledged the secondary has room for improvement.
"Everybody remembers those two plays," Smith said. "We're not going to stress on it, but we're trying to learn from it and be able to move forward. [Defensive coordinator Chris] Ash definitely stresses that if you play 80 plays in a game and 79 good plays, that one play can be the difference. "
Wisconsin hopes Smith can be the difference as it aims for another Big Ten title, a third consecutive trip to Pasadena and, this, time, a Rose Bowl victory.
"We have to have that mentality," Smith said, "to finish every single game."
April, 23, 2012
4/23/12
10:45
AM ET
MADISON, Wis. -- The last time we saw Wisconsin's defense in a game, the Badgers were getting steamrolled by Oregon in the Rose Bowl, allowing 621 yards and 45 points.
The Ducks can make many defenses look bad, but a Big Ten champion isn't supposed to get punctured that severely. Badgers defensive coordinator Chris Ash said a handful of his players consistently lined up incorrectly or went to the wrong spots during that 45-38 loss on Jan. 2.
Oregon pulled out a few new wrinkles for the game, but that doesn't fully explain why a veteran defense with a month to prepare could have made so many fundamental mistakes.
"I've been searching for answers for a few months on that one," Ash told ESPN.com last week.
[+] Enlarge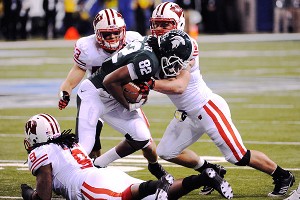 Richard Mackson/US PresswireWisconsin linebackers Mike Taylor, left, and Chris Borland combined for 293 tackles in 2011.
Mysteriousness surrounds much of what happened to Ash's side of the ball last season. The numbers say Wisconsin had a fantastic season on defense, as it finished 15th in the FBS in total defense and 13th in points allowed. Yet the lasting images of the Badgers' season revolve around the long passes given up at the end of losses to Michigan State and Ohio State and that Rose Bowl fiasco.
Last year's breakdowns hover over the team this spring and in some ways are guiding how the players are approaching this offseason preparation.
"Those things are fresh in our minds a little bit still," defensive tackle
Ethan Hemer
said. "We're definitely focusing more on the little things, making sure you're stepping right, you're in position, minimizing your missed alignments. We all realize that one play can make a big difference, and that requires us to be even sharper than we've been in the past. We don't want to be that team that gives up the big play."
This spring is about building depth as much as anything for the Badgers' defense. Only six starters return, while injuries have either shelved or slowed leading tacklers
Mike Taylor
and
Chris Borland
and projected starting defensive end
David Gilbert
. Starting cornerback
Devin Smith
is working himself into shape after a foot injury cost him most of 2011.
Borland and Taylor, who combined for 293 tackles last season, provide two anchors as one of the best linebacker combos in the country. Another strength could be at defensive tackle, where Hemer,
Beau Allen
and the emerging
Warren Herring
have all played well this spring. The defensive line still needs an explosive player on the edge, but the team is hopeful that Gilbert -- who played only four games last year and is out this spring with a foot injury -- can be that guy when healthy.
"When he got hurt, he was really starting to play at a high level," Ash said. "He's really one of the few guys we have who's naturally a pass-rusher."
The secondary lost two starting seniors in
Aaron Henry
and
Antonio Fenelus
, but Ash thinks Smith can be an all-conference cornerback this season.
Dezmen Southward
has replaced Henry at safety and continues to come along. He de-cleated running back
Melvin Gordon
on a crushing tackle during Saturday's scrimmage.
"We know we have to be the backbone of the defense," cornerback
Marcus Cromartie
said of the secondary. "We want to be the reason to win. We don't want to be a liability."
Wisconsin's defense has often been overshadowed by the team's offense, and last year the unit embraced its no-name status. This season, though, the players believe they have enough talent to forge their own identity.
"We feel like we deserve to be a defense that's on the radar," Smith said. "It starts with practice and film, but I think we can be one of those type defenses everybody talks about, like LSU and Alabama. We have to earn that respect."
It's a respect they'll have to earn by not allowing big plays and mental breakdowns to become the lasting images of 2012.
December, 2, 2011
12/02/11
9:00
AM ET
Wisconsin and Michigan State will play for the Big Ten championship this Saturday in Indianapolis. Of course, it is a rematch of their Oct. 22 meeting, won by [spoiler alert!] the Spartans 37-31 in one of the best games of the college football season.
In order to understand all the storylines and key matchups of this week's game, it's crucial to know exactly what happened the first time. So I decided to go back and watch that initial encounter and, with apologies to Bill Simmons, provide my thoughts and observations in a retro diary. You can follow along through the magic of ESPN3.com
here
. Or you can just read.
This first installment will cover the first half of the game. I'll be back later on today with the second-half diary. Wonder if anything cool will happen late in the game?
Pregame
Kirk Herbstreit says, "This is what we've all wanted to see for a number of weeks." I think the same line could be used Saturday night.

Michigan State's Keith Nichol is one of the first Spartans to come out of the tunnel for introductions. I've got a hunch he could play a role in this one somehow.

I don't know how good the audio quality is on my replay, but it sounds extremely quiet when Wisconsin takes the field. No boos, just silence. Someone who was there will have to tell me if that's how it really went down at Spartan Stadium. If so, I think that's the best way to taunt an opponent; just ignore them. I recommend this for all home fans from here on out.
[+] Enlarge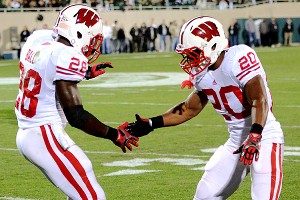 Mark Cunningham/Getty ImagesWisconsin will be dangerous on the ground again in 2012 with Montee Ball and James White returning.
First quarter
15:00: Wisconsin wins the toss and takes the ball first. The first play of the game is a handoff to Montee Ball, who runs 8 yards before plowing into Isaiah Lewis's shoulder. Lewis goes down and has to leave the game. Remember, Lewis gave the Badgers some major bulletin board material the week before after beating Michigan, saying the Spartans defense "was going to hurt" Russell Wilson. You think Ball remembered that as he slammed into Lewis?

12:03: Russell Wilson throws his first pass -- complete to Jacob Pedersen -- after four straight Ball runs have softened up the defense. Lewis comes back in.

8:48: On third-and-4, Wilson play-fakes to Ball and throws a touchdown pass to a wide-open Pedersen with Anthony Rashad White and Marcus Rush bearing down on the quarterback. That was the second straight completion off play-action for Wilson, as Michigan State's safeties and linebackers are biting hard on the run. It's a textbook, 80-yard Wisconsin style drive with almost perfect balance. The game could not have started off better for the Badgers. 7-0, Wisconsin

8:33: Uh-oh for Sparty. Tailback Edwin Baker fumbles on Michigan State's first offensive play, thanks to a hit from linebacker Mike Taylor. The officials review whether or not Wisconsin's Marcus Cromartie touched the ball first while coming from out of bounds on the recovery, but the play stands and the Badgers take over.

7:42: Wisconsin needs only three plays to cash in the fumble, as Ball rushes up the middle for a 9-yard touchdown. 14-0, Wisconsin. Wilson completed another pass off play-action immediately before. It was not a good series for Michigan State safety Trenton Robinson, who was fooled on the play-fake and then broke the wrong way before unsuccessfully trying to arm tackle Ball. Hey, the Badgers might win this game in a blowout!

3:47: Michigan State picks up a pair of first downs but can't convert a third-and-14 and has to punt. At least its defense got a little bit of a breather, but if Wisconsin goes in for another score this one could get out of hand early.

0:33: And we have our first Badgers mistake. After the offense drove to midfield, Wilson throws an interception to -- guess who? -- Robinson. It's only the second interception of the year for Wilson, who threw his other one on a meaningless play late in the Northern Illinois blowout. But I don't put this one entirely on him. Receiver Nick Toon appears to break the wrong way on the route, and he doesn't even start to look for the ball until it's nearly over his head. Remember that Toon missed the previous game with a foot injury he suffered two weeks earlier against Nebraska. He looked a little rusty/anxious, especially as he drew an uncharacteristic false start penalty later in the half. But the play was set up by a loss of 1 yard by James White on first down. The second-and-long prompted offensive coordinator Paul Chryst to put Wilson in the shotgun and not use play-action, allowing the safeties to stick in pass coverage. Even if Wilson and Toon had been on the same page, it was a low-percentage throw into double coverage, and that's not Wisconsin's game.

0:26: I love, love, love the fact that Wilson sprints down the field and actually makes the tackle on Robinson, even though his form could use a little work.

0:18: Michigan State, which has negative-9 rushing yards to this point, finally gets something going on the ground. The Spartans wide receivers blow up the right side of Wisconsin's defense, and Le'Veon Bell rushes 32 yards behind tackle Fou Fonoti, who's dying to find someone to block. Momentum seems to be changing.
[+] Enlarge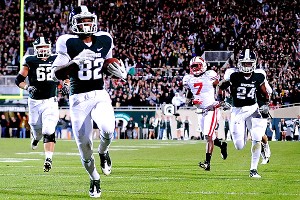 Andrew Weber/US PRESSWIREMichigan State's Keshawn Martin scores a 34-yard touchdown in the second quarter against Wisconsin.
Second quarter
14:15: Kirk Cousins and Larry Caper can't quite connect for a screen pass on third-and-6, which was set up perfectly and might have resulted in an easy touchdown. The Spartans have another empty possession. But Bell's big run has flipped field position, leading to ...

14:04: Mike Sadler punts the ball out of bounds at the Wisconsin 5. We didn't mention Sadler when we talked about freshmen of the year candidates in the Big Ten, but he has been a valuable weapon for Mark Dantonio all year long.

13:58 to 13:10: Disaster strikes for Wisconsin. First, Jerel Worthy finally makes his presence felt, stuffing Ball for a 3-yard loss back to the 2. Then Wilson is called for intentional grounding in the end zone under heavy pressure from Denicos Allen. That's a safety, and it's now 14-2, Wisconsin. Chryst dialed up play-action again and looked to be going for a big throw over the top. But the call actually helped Michigan State, because the linebackers darted up field to stop the run. Ball has had an amazing season, but he whiffed on Allen to let "The Waterboy" get right to Wilson, who had little choice but to throw it away. Unfortunately for Wisconsin, there was no receiver on the side of the field where Wilson could get rid of the ball.

11:22: Razzle, meet dazzle. After a beautiful throw from Cousins to tight end Brian Linthicum, Michigan State offensive coordinator Dan Roushar dials up some trickery. The Spartans line up in the I-formation. Cousins fakes a handoff to Bell, then hands it to receiver B.J. Cunningham on a reverse. Cunningham then pitches it to Keshawn Martin coming the other way. Wisconsin blitzed to the side Martin is now running toward, leaving no one left to tackle the Spartans' speedster except safety Aaron Henry. And he's sandwiched by three blockers. Martin scores from 34 yards out to make the score 14-9, Wisconsin. Martin has been on fire the latter part of this season.

8:41: Wisconsin's offense mounts a good drive in response, and receiver Jared Abbrederis takes a jet sweep 21 yards. It's no coincidence that Abbrederis runs to the side where suspended defensive end William Gholston would have been. The Badgers have been attacking his replacement, Denzel Drone. Gholston's return is a big factor in this week's game.

7:49 to 7:22: A tough sequence here for Ball. First, he misses another block, allowing cornerback Johnny Adams to blow up a play when he tackles Wilson from behind. Then he takes a Robinson shoulder to the head after a 7-yard run. Ball gets up from the tackle and then falls back down in a scary scene. He's escorted off the field and is given concussion tests on the sideline as Wisconsin fans hold their breath. Ball has 68 yards rushing and a touchdown when he goes out.

6:42: On third-and-short from the Michigan State 14, White is stopped shy of the first down when Kyler Elsworth sheds a Pedersen block and makes the tackle. Great defensive play. No disrespect to White, but it makes you wonder if Ball would have gotten the extra few feet had he been in the game.

5:55: Philip Welch's 30-yard field goal try is blocked by Darqueze Dennard, who ran in free from the left end. I'm not sure if Welch would have made the kick anyway, because Brad Nortman bobbled the snap, which disrupted the timing of the play. Wisconsin converted 62 of 65 trips in the red zone into points this season, second best in the FBS. But it comes up empty in a big spot here.

1:40: Michigan State moves the ball down the field, but Baker is tackled for a loss to set up fourth-and-2 from the Wisconsin 35. Dantonio doesn't hesitate to go for it, and Roushar calls a great, if somewhat risky, play. Cousins waits for Cunningham to find a hole behind the linebackers in a long-developing route. But Wisconsin doesn't get any pressure on Cousins, and he hits Cunningham in the middle of three Badgers defenders. Taylor misses a tackle in a difficult matchup for him, and Cunningham is off for a touchdown to make it 16-14, Michigan State. It's the second straight year that Cunningham catches a fourth-down touchdown pass in a key spot. Think Wisconsin will know where he is if a big fourth down comes up again Saturday? The game's final play got all the attention, but this was just as big.

0:45: Complete catastrophe for the Badgers. A fired up Spartans defense forces a three and out at Wisconsin 45, and then backup linebacker Ellsworth makes his second huge play of the game. He blocks Nortman's punt, and Bennie Fowler recovers the ball in the end zone to make it 23-14 Michigan State. The Spartans brought four defenders untouched up the middle against Wisconsin's three-man punt protection unit, and Ellsworth flew right by Robert Burge. In Burge's defense, middle protector Ryan Groy was slow to pick up his block, and Burge looked like he couldn't decide whether to chip Ellsworth or help on Kurtis Drummond right up the gut. "It was nothing special we haven't seen on film," Bret Bielema will tell Erin Andrews at halftime. "We've just got to block all four."

0:00: The half mercifully ends for Wisconsin as Spartan Stadium is rocking. In a 15-minute span from the end of the first quarter to the final score of the half, the Badgers threw an interception, gave up a safety, had a field goal blocked, had a punt blocked for a touchdown, allowed a touchdown pass on fourth down and surrendered another score on a trick play. In basketball terms, it's a 23-0 spurt. Things can't get any worse for Wisconsin, or better for Michigan State. Can they?
September, 13, 2011
9/13/11
2:29
PM ET
As expected, the news on Wisconsin cornerback Devin Smith isn't good.
Smith underwent left foot surgery Monday and
will miss the remainder of the season
, Badgers coach Bret Bielema said Tuesday. He has a redshirt available, so he'll return in 2012 as a fifth-year senior.
Smith suffered the injury in the first quarter of last week's win against Oregon State.
Junior Marcus Cromartie moves into Smith's starting spot, beginning Saturday against a strong Northern Illinois offense. Although Wisconsin is loaded at several positions, cornerback isn't one of them, and the Badgers need Antonio Fenelus and Cromartie to stay on the field.
September, 12, 2011
9/12/11
2:45
PM ET
Wisconsin coach Bret Bielema expects to have a more definitive update on starting cornerback Devin Smith by the end of the day.
But it doesn't look good.
Smith suffered a left foot injury in Saturday's win against Oregon State. He sustained the injury in the first quarter and left the field on crutches with his foot wrapped.
Bielema said Smith definitely will miss this week's game against Northern Illinois. But he also mentioned the possibility of Smith returning for a fifth year if he misses the season.
Bottom line: don't expect to see Smith for a while.
Wisconsin's cornerback depth isn't great, and the Badgers need good play and sustained health from junior Marcus Cromartie, who will take Smith's spot on the field. Cromartie has displayed good skills but has had some trouble staying healthy early in his career.
After Cromartie, Wisconsin lists freshmen Peniel Jean and Darius Hillary. So losing Smith for an extended period could sting.
Keep an eye on Cromartie this week against Northern Illinois, which boasts an excellent quarterback in
Chandler Harnish
and has scored 91 points in its first two games. Wisconsin's defense will be tested at Soldier Field.
August, 22, 2011
8/22/11
9:00
PM ET
Wisconsin had few surprises on its Week 1 depth chart, starting with the quarterback position.

NC State transfer
Russell Wilson
is listed as the Badgers' No. 1 quarterback on the depth chart, released Monday night. Sophomore
Jon Budmayr
, who has been
battling elbow problems and could need surgery
, is listed as the backup.
Wilson has taken most of the reps with the first-team offense during preseason practice, drawing excellent reviews from his coaches, teammates and media members allowed to watch the workouts. He started the past three seasons for NC State and was named runner-up for ACC Offensive Player of the Year in 2010. Wilson threw for 8,545 yards and 76 touchdowns with 26 interceptions in his NC State career.
Wisconsin players voted Wilson a co-captain for the season even though the quarterback only joined the team in early July.
Other notes from the Badgers' depth chart:
Josh Oglesby is listed as the starter at right tackle ahead of freshman Rob Havenstein.
Junior Shelton Johnson has won the starting strong safety spot after competing with Dezmen Southward throughout camp. He'll play alongside Aaron Henry.
Sophomore Ethan Hemer is listed as a starting defensive tackle ahead of classmate Jordan Kohout.
Devin Smith and Marcus Cromartie are listed as co-starters at cornerback opposite All-Big Ten selection Antonio Fenelus. Smith entered camp with the inside track for the job but has been pushed by Cromartie, a talented junior.
Two other co-starters are listed: running backs Montee Ball and James White (no surprise) and kickers Philip Welch and Kyle French (bigger surprise). Welch is a three-year starter who coach Bret Bielema still likes to push in practice. Listing French as a co-starter seems like one way to light a fire.
White also is listed as a starting kick returner with receiver Jared Abbrederis. Is this too risky with the reigning Big Ten Offensive Player of the Year? Perhaps, but Wisconsin could use White's speed as it replaces David Gilreath.
August, 17, 2011
8/17/11
8:00
AM ET
MADISON, Wis. -- Some notes and thoughts after watching Wisconsin's extensive full-pads practice Tuesday afternoon at Camp Randall Stadium.
Russell Wilson looks like the real deal. The quarterback transfer from NC State displayed impressive arm strength and touch and repeatedly extended plays with his feet. While he likely won't be as accurate as his predecessor Scott Tolzien, he might not be too far off and makes the difficult throws with ease. Wilson hit wideout Jared Abbrederis for a 25-yard touchdown during team drills and, aside from a poorly thrown shuffle pass, looked extremely polished. The offensive structure didn't look dramatically different with Wilson, who played in a pro-style system at NC State and seemed comfortable.

[+] Enlarge

Gregory Shamus/Getty ImagesMontee Ball, who rushed for 996 yards and 18 touchdowns last season, stood out in practice on Tuesday.

The other player who really stood out was junior running back Montee Ball. He has dropped significant weight, checking in at 207 pounds, and makes much crisper cuts. Ball reaches the second level faster and should record more explosion plays this season. Fellow running back James White also looked sharp on several cuts. While the coaches say they'll go with the hot hand at running back, Ball looks like he has the inside track.

Both Ball and White likely will be significant factors in the passing game. Wisconsin lacks depth at wide receiver -- top target Nick Toon sat out Tuesday's practice -- and while tight ends Jacob Pedersen and Jake Byrne will be involved, Wilson likes checking down to his backs, both of whom have good hands. The Badgers could use a No. 3 receiver to develop and rotated several players Tuesday, including freshman Connor Cummins. I liked several of the freshmen receivers and tight ends, including Sam Arneson.

The Badgers likely won't have a J.J. Watt or an O'Brien Schofield along the defensive line, but they hope to make up for it with improved depth. Wisconsin will use a larger rotation up front this fall, and I like the options at defensive tackle with Patrick Butrym, Ethan Hemer and Beau Allen.

No surprise here, but Chris Borland makes a huge difference for the Badgers defense. The middle linebacker had a pass breakup during 7-on-7s and constantly was around the ball. Borland's health after multiple shoulder injuries could be the key to the season. Mike Taylor sat out Tuesday's workout, so I didn't get a read on what the starting linebacker corps will look like.

Strong safety is an open competition between Dezmen Southward and Shelton Johnson, although Johnson appears to have an edge right now. Wisconsin is hoping Marcus Cromartie can shore up the No. 3 cornerback spot.

The offensive line is a bit banged up but still had a mostly strong performance Tuesday, opening up some huge holes for Ball and White. Coach Bret Bielema said the injuries both last year and during the offseason have helped get more players ready for possible game action.

Freshmen Melvin Gordon and Jeff Lewis are in the mix for the No. 3 running back spot, and both had ups and downs Tuesday. Wisconsin always seems to have a freshman back blossom, so it'll be interesting to see who keeps the trend going.

Backup quarterback Jon Budmayr remained out with an elbow issue, so Joe Brennan and Joel Stave took reps behind Wilson. Brennan displayed nice touch on passes to White and Jordan Fredrick, but also got intercepted by Derek Watt, J.J.'s brother. There's still a pretty significant gap between Wilson and the other quarterbacks, so getting Budmayr healthy is vital.
August, 18, 2010
8/18/10
9:11
AM ET
The position rankings march on as I take a look at the top five secondary units in the Big Ten this fall.
1. Iowa:
Playmaker extraordinaire Tyler Sash leads a group that boasts good experience but must fill a major void following the departure of All-Big Ten cornerback Amari Spievey. Sash has recorded 11 interceptions in his first two seasons and already holds the team record with 350 interception return yards. His heroics overshadow the very solid play of fellow safety Brett Greenwood, who has started for two and a half seasons and owns seven interceptions and 18 pass breakups in his career. Shaun Prater is a returning starter at corner, and Iowa also has Jordan Bernstine, Micah Hyde, William Lowe and others.
[+] Enlarge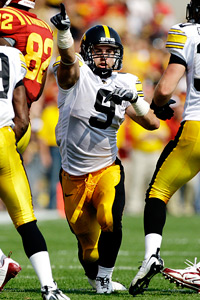 AP Photo/Charlie NeibergallIowa's Tyler Sash will be one of the leaders of the Big Ten's No. 1 secondary.
2. Penn State:
The Lions are always solid in the front seven, but the secondary might lead the unit in 2010. Starting safeties Drew Astorino and Nick Sukay both return, and cornerback D'Anton Lynn takes on an enhanced leadership role after recording five pass breakups last fall. Penn State also has high hopes for cornerback Stephon Morris, who recorded 30 tackles and an interception as a freshman in 2009. Converted receiver
Chaz Powell
should add depth at the corner spot. Opponents completed just 54.1 percent of their passes against Penn State last fall.
3. Ohio State:
There are some question marks here after the departures of All-Big Ten standout Kurt Coleman and veteran safety Anderson Russell, but Ohio State almost always finds a way to survive in the back four. The return of Tyler Moeller definitely helps, and safety Jermale Hines could have a big year after recording two interceptions in 2009. Is Chimdi Chekwa ready to be a shut-down corner in the Big Ten? We'll find out. Also keep an eye on athletic corner Devon Torrence and safety Orhian Johnson.
4. Wisconsin:
This isn't a shut-down secondary -- evidence: 55th in pass defense in 2009 (217.5 ypg) -- but there are playmakers and hard-hitters, specifically veteran safety Jay Valai, among the group. There's good depth at cornerback with returning starter Devin Smith, Niles Brinkley, Antonio Fenelus and Marcus Cromartie, who has
stood out in camp so far
. Chris Maragos is a significant loss at safety, and it remains to be seen whether Aaron Henry can regain his pre-injury form as he moves from cornerback to safety.
5. Minnesota:
I'm taking a little leap of faith here again, but if safeties Kim Royston and Kyle Theret are on the field together, good things will happen. The two combined for 159 tackles, four interceptions and 14 pass breakups in 2009, and finished with an outstanding performance in the Insight Bowl. I also like talented young cornerback Michael Carter, while Ryan Collado brings experience to the other corner spot. Minnesota expects juco transfer Christyn Lewis and redshirt freshman Kenny Watkins to add depth at safety.
Up next:
Offensive line
More rankings ...