May, 7, 2010
5/07/10
3:11
PM ET
Navy slotback
Marcus Curry
has been dismissed from the team.
The
Annapolis Capital is reporting
that coach Ken Niumatalolo gave Curry his marching orders for not complying with team rules.
"It's unfortunate, but it had to be done. We're a football team and the rules apply to everybody," Niumatalolo told the paper without elaborating on the situation.
Curry has had a history of trouble while at the Naval Academy.
In late January, it was reported that Curry was allowed to remain at the Naval Academy despite testing positive for drug use. However, Vice Adm. Jeffrey L. Fowler, the academy superintendent, said Curry's positive test was a result of accidental ingestion.
According to the Annapolis Capital, Curry also had been cited for an honor code offense.
Curry, who rushed for 585 yards and was the team's leading receiver with 287 yards, was limited in spring practices while recovering from offseason knee surgery. In his absence, players such as Mike Stukel, who was moved from quarterback this spring and ascended to the top of the depth chart, freshman
Gee Gee Greene
and sophomore
Aaron Santiago
. The Midshipmen also will have a healthy
Ricky Dobbs
, the Mids starting quarterback who underwent knee surgery this offseason but practiced this spring and expects to be in better form in the fall. Dobbs led the Mids in rushing with 1,192 yards. Navy also returns
Vince Murray
, who was second on the team in rushing with 971 yards.
March, 11, 2010
3/11/10
5:10
PM ET
Navy football, which will begin spring practice at the end of the month, released its depth chart this week and there are a couple of interesting moves listed.
Junior
Mike Stukel
has been moved from quarterback to slot back, a move coach Ken Niumatalolo wanted to do last year, but couldn't because of injuries to backup quarterback
Kriss Proctor
in the preseason and starter
Ricky Dobbs
during the year.
Stukel is currently listed as the second-string slot back behind
Marcus Curry
, who started most of last season.
Curry
made headlines this offseason
for failing a drug test administered by the Naval Academy. However, it was determined that Curry didn't knowingly ingest marijuana and was allowed to stay with the team. No punishment was assessed and Curry is expected to participate in spring football.
The other major depth chart move for the Midshipmen is
Mario Washington
, the team's third-leading receiver last season, listed a co-starter at cornerback with Kwesi Mitchell. Washington, a senior, had nine catches for 165 yards in 2009.
The move to corner is a spring experiment and Washington can move back to receiver if he can't become a starter at cornerback. However, receiver is one of the deepest positions on the depth chart and Washington is athletic enough to make the move to defense work.
Navy will begin spring practice on March 29.
January, 29, 2010
1/29/10
2:15
PM ET
December, 31, 2009
12/31/09
7:57
PM ET
By
Tim Griffin
| ESPN.com
It was a good day for the service academies as Navy's convincing
35-13
victory over Missouri came on the heels of Air Force's triumph over Houston.
There was nothing fluky about the Midshipmen's victory. Here's how they got it done.
How the game was won:
Missouri looked ready to blow Navy out of Reliant Stadium after jumping ahead on the second play from scrimmage on a 58-yard toss from
Blaine Gabbert
to
Danario Alexander
. From that point forward, Navy bounced back and allowed the Tigers only a pair of field goals during the rest of the game as they were limited to 298 yards.
[+] Enlarge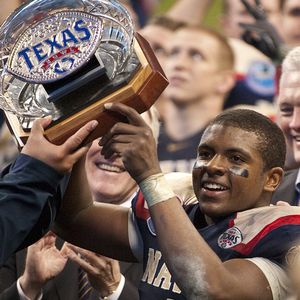 AP Photo/Dave EinselQuarterback Ricky Dobbs accounted for four of Navy's five touchdowns.
Turning point:
After Missouri had pulled within 14-10 at the half, Navy answered with a 58-yard scoring drive to immediately seize momentum.
Alexander Teich
returned the second half kickoff for 46 yards to spark the drive. Navy converted a fourth-down play and punctuated a drive with a 3-yard touchdown pass from quarterback
Ricky Dobbs
to
Bobby Doyle
to cap the drive.
Player of the game:
Dobbs expertly sliced up the bigger Missouri defense to power the Midshipmen's upset victory. Dobbs rushed 30 times for 166 yards and three touchdowns and passed for 130 yards and another score to lead Navy to its first bowl victory since the 2005 Poinsettia Bowl. Dobbs joins Craig Candeto from 2003 as the only Midshipmen to run and pass for more than 1,000 yards in a season.
Stat of the game:
Navy dominated the game in the trenches as they controlled the ball for 40 minutes and 54 seconds. The punishing thrust enabled them to pile up 519 total yards and gash Missouri's 12th-ranked rush defense for 385 yards in a convincing whipping.
Best call:
Navy's ground-based offensive attack opened up Dobbs' passing abilities throughout the second half. Dobbs completed all of his second-half passes for 71 yards and a touchdown to help Navy put the game away. The biggest was a 47-yard strike to
Marcus Curry
on the first play from scrimmage in the fourth quarter that set up the Midshipmen's clinching touchdown.
Second guess:
Trailing 21-10, Missouri appeared ready to score and keep the game close later in the third quarter. Missouri's running game was clicking after accounting for 38 yards on seven previous attempts on the drive. But on third-and-goal from the Navy 2, Missouri quarterback Blaine Gabbert tried a pass and was sacked by Craig Schaefer for a huge 10-yard loss. Missouri got a field goal on the drive, but could have scored a touchdown that would have kept them in the game.
What it means:
Navy posted a 10-win season for only the third time in the 129-season history of the program and for the first time since 2004 as they emphatically proved they can play with BCS-level schools. Missouri's loss put a disappointing conclusion in a game that really wasn't as close as the final score indicated. The Tigers need to get more consistency from Gabbert and improvement from a defense that couldn't seem to adjust to the Midshipmen's triple-option despite having nearly a month to prepare for the bowl game. With Nebraska loaded for next season, the Tigers will be challenged to maintain pace with them in 2010.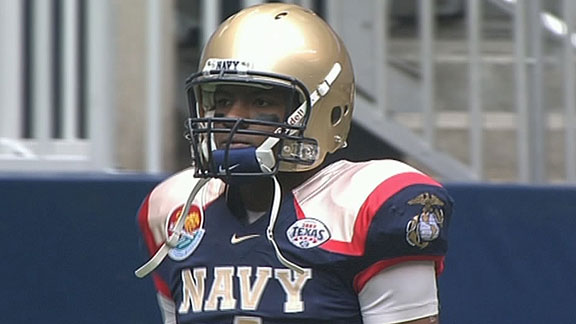 December, 30, 2009
12/30/09
11:16
AM ET
By
Tim Griffin
| ESPN.com
Here's all you need to know about the Texas Bowl matchup between Missouri (8-4) and Navy (9-4) on Thursday.


WHO TO WATCH: Danario Alexander, WR, Missouri
Biletnikoff Award voters made a dreadful mistake by not adding Alexander to their watch list late in the year after Alexander's one-man assault on Big 12 defenses over the last half of the season. Alexander nearly made history by becoming the first wide receiver in NCAA history to post four straight 200-yard receiving games after notching 214 yards against Baylor, 200 against Kansas State, 173 yards against Iowa State and 233 yards against Kansas in his final game. He produced 107 catches this season after recording 78 catches over his first three seasons at Missouri, finishing 2009 as the nation's leader in receiving yards (1,644) and average receiving yards per game (137.0). The tall, angular Alexander will be difficult for the undersized Navy secondary to contain. And his breakaway speed will be a concern for Navy every time he touches the ball.
WHAT TO WATCH: Missouri's run containment against Navy's triple-option
Missouri defensive ends Aldon Smith and Brian Coulter will be challenged to stop Navy's strong outside running game keyed by quarterback
Ricky Dobbs
and his pitches to running backs
Marcus Curry
and
Bobby Doyle
. Missouri doesn't see this offense very often, but the Tigers have had a long time to prepare for Thursday's game after ranking 15th in rush defense during the regular season. Missouri's defensive linemen need to do a good job of staying on their feet against Navy's undersized offensive linemen and its storied ability at cut-blocking. Missouri linebackers Andrew Gachkar and Sean Weatherspoon also need to maintain their lanes of pursuit as they try to stop Dobbs, who rushed for 1,037 yards and set an NCAA single-season record for a quarterback with 24 rushing touchdowns.
WHY WATCH: Contrasting offensive styles make for entertaining games
Navy and Missouri have two of the nation's most intriguing offenses. They just account for their yards in different ways. The Midshipmen rank fourth nationally in rushing, but 119th in passing offense. Missouri is 14th passing, but are 81st rushing. Missouri's quick-strike offense keyed by quarterback
Blaine Gabbert
and Alexander would appear to give the Tugers a firepower edge, although Navy has been effective this season and would have its first 10-win season since 2004 with an upset.
PREDICTION:
This should be a classic battle of different offensive styles. Tiger fans have been vociferous about their disappointment in getting the Texas Bowl, their fourth Texas-based bowl in the last four seasons, despite other Big 12 teams with lesser records being snapped up ahead of them in the conference's pecking order. Gary Pinkel's team can't afford to let those bad feelings linger, or it could be a long day against the underrated Midshipmen. But this game looks like a good draw for Missouri, whose big-play passing offense and strong rush defense appear well-suited to control Navy coach Ken Niumatalolo's plucky team.
Missouri 42, Navy 24.
August, 9, 2009
8/09/09
12:50
AM ET
Posted by ESPN.com's Graham Watson
Navy slot back Marcus Curry was released from the hospital Saturday evening, according to sports information director Scott Strasemeier. Curry, who has been in the hospital since Tuesday, was being treated for an undisclosed virus.
Curry, the team's starting slot back coming out of the spring, has yet to take a fall camp snap, but the team is encouraged that he will return to the practice field early next week.
August, 8, 2009
8/08/09
3:15
PM ET
Posted by ESPN.com's Graham Watson
Navy coach Ken Niumatalolo announced during his press conference Friday that sophomore slot back Marcus Curry has been hospitalized with an undisclosed illness.
Curry was the starting slot back heading into fall camp.
"He is in the hospital," Niumatalolo said. "He got sick and they aren't sure what the deal is. He has pneumonia and some type of virus. We hope he gets back next week."
According to the Annapolis Capital, Curry attended the team's FanFest on Monday, but fell ill later and was admitted to the hospital on Tuesday.