December, 31, 2013
12/31/13
9:30
AM ET
Editor's note: Each day this week Florida State reporter David M. Hale and Auburn reporter Greg Ostendorf will preview a position battle in Monday's VIZIO BCS National Championship Game. Today's matchup is between Auburn's wide receivers and Florida State's defensive backs.
Auburn's wide receivers:
If there was ever a game for Auburn to stick to the run, this would be it. Quarterback
Nick Marshall
has struggled at times through the air and the Tigers are in for their most challenging test yet against a Florida State secondary that leads the nation in interceptions (25).
Expect a heavy dose of Marshall and
Tre Mason
running the read-option together like they've done all season.
Florida State still has to be wary of Auburn's big-play ability. It starts with
Sammie Coates
who has emerged as a go-to wide receiver for the Tigers. He's one of the fastest players in the SEC, if not the nation, and he leads the team with 38 catches for 841 yards and seven touchdowns. He's second nationally in yards per catch (22.1) and all seven of his scores have come from more than 35 yards. It was his 39-yard touchdown grab in the final minute against Alabama that put Auburn in position to win that game.
The problem for the Tigers is that nobody has emerged opposite Coates. Freshman
Marcus Davis
had his moments early in the season, making key catches in critical situations.
Ricardo Louis
, who hauled in the 73-yard Hail Mary touchdown pass to beat Georgia, might be the most dangerous athlete on the team. But neither has been consistent.
When Auburn plays Florida State, it's going to need a play in the passing game from somebody other than Coates. Whether it's Davis, Louis or even tight end
C.J. Uzomah
, who's healthy again, somebody is going to have to step up and make a play when their number is called. Nothing will come easy, though, against a talented Seminoles' secondary.
Florida State's secondary:
Only five teams threw less often this season than Auburn, which runs the ball on 72 percent of its plays. When the Tigers do throw, however, they've mustered some big plays -- averaging 14 yards per completion.
The recipe for Auburn is pretty simple -- run, run, run, then go deep. It's a plan that may run into some trouble against Florida State, however. The Seminoles' secondary is the nation's best for the second straight season.
Lamarcus Joyner
leads a deep and talented group that leads the nation in fewest yards per attempt (4.9), most interceptions (25) and lowest QBR allowed (18.1). Opponents have completed just 6 of 36 passes thrown 20 yards or more against them this year, according to ESPN Stats & Info.
Coates and Louis both have good size to win some battles downfield, but Florida State can match that physicality with
P.J. Williams
(6-0, 190) and
Ronald Darby
(5-11, 190), who have both been exceptional this year. Darby has allowed just seven completions this year and allows the fifth-lowest completion percentage among AQ-conference defensive backs in the nation.
Marshall can keep some plays alive with his legs, giving his receivers a chance to get open downfield, but Florida State hasn't been burned often this year.
Sammy Watkins
,
Allen Hurns
and
Devin Street
all found some success this season, which should provide a bit of optimism for Coates, but no QB has managed better than 7 yards per attempt against FSU's secondary all year. In its last eight games, Florida State's secondary is allowing just 4.5 yards per attempt with 6 TDs and 19 INTs.
Ostendorf:
Edge Florida State
Hale:
Edge Florida State
October, 19, 2013
10/19/13
11:00
PM ET
COLLEGE STATION, Texas -- It's easy to say there's a new attitude, a fresh outlook and changed ways when a new coaching staff takes over. It's often true initially, but that energy only takes you so far. Results are what matter.
Auburn's
45-41 victory
over No. 7 Texas A&M on Saturday at Kyle Field very well could be something coach Gus Malzahn and the Tigers point to as a seminal moment should Auburn ride this wave to something much bigger. This program isn't a stranger to success, having won a BCS championship in 2010, but it was a wounded one last year, stumbling through a 3-9 season that included some downright embarrassing losses and a winless SEC campaign.
The No. 24 Tigers (6-1, 3-1 SEC) have their swagger back, and a road win over a top-10 team and the reigning Heisman Trophy winner to show for it.
"This win means a lot for our confidence," Auburn defensive end
Dee Ford
said. "We're fighting for different things now."
[+] Enlarge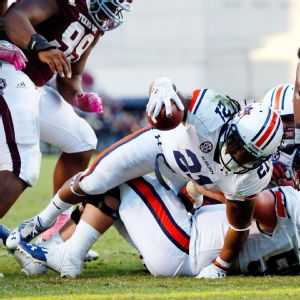 Soobum Im/USA TODAY SportsTre Mason shredded the A&M defense for 178 yards rushing as the Tigers rolled up 615 total yards.
Make no mistake, Saturday wasn't a fluke. The Tigers are a good football team and showed it. Offensively, they ran up and down the field on the Aggies (5-2, 2-2), whose defense did little to stop them in crunch time. They finished with 379 rushing yards (178 for
Tre Mason
, 100 for quarterback
Nick Marshall
), and they threw it all right, too. Marshall, a transfer from Garden City (Kan.) Community College, was masterful with the read option and made some big-time throws (236 passing yards, two touchdowns).
Defensively, they conceded quite a bit, as teams that play
Johnny Manziel
and the Aggies tend to do. That's the price of admission when playing Texas A&M. But the Tigers took advantage of opportunities when afforded them and created some of their own. They turned two first-half interceptions of Manziel into 10 valuable points. They sacked Manziel three times -- twice to help seal the victory on the Aggies' final drive -- and while he still got his, statistically, they pressured him and made him feel uncomfortable just enough.
"You have to try to bottle up the guy," Malzahn said. "He's phenomenal when things break down. In the fourth quarter, when he came back, I thought we were a little bit fresher there, and we made the two big plays toward the end."
The Tigers showed significant growth from their last tough road test at LSU on Sept. 21, which was their only loss of the year. Perhaps most encouraging, when Auburn needed a score late in the fourth quarter, it earned it. Marshall engineered a 13-play, 75-yard drive that ate up 3:46. The Tigers had three third downs and converted every one of them on the drive. There was no panic, no hesitation. Mason and Marshall set the tone with the running game, and when Marshall had to make a critical throw, he did, finding
Marcus Davis
for 27 yards to get the Tigers to the A&M 12.
It's the second game-winning drive engineered by Marshall, who also did it in a 24-20 win over Mississippi State last month.
"We were very confident going into that last drive," Marshall said. "We knew we had to get into the end zone to win this big game. That was our mindset, and we were able to execute."
[+] Enlarge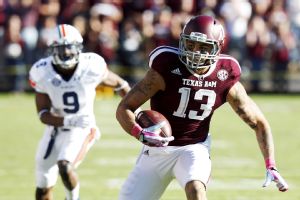 Thomas B. Shea/Getty ImagesMike Evans finished with 11 catches for 287 yards and four touchdowns, season highs in all three.
For Texas A&M, it was another magnificent performance for two of its stars -- Manziel and
Mike Evans
-- but their magic made up for a lot of flaws. The defense is still poor. Only Western Carolina allowed Auburn to gain more yardage (615) than the Aggies surrendered Saturday. The 379 rushing yards allowed was a season high, far eclipsing the 306 the Aggies allowed to Rice in the season opener, when six key players missed all or parts of that game as a result of suspensions.
In their last two games, when the Aggies needed a late stop, they got it against both Arkansas and Ole Miss. Saturday they didn't.
"Towards the end of the game, they put their big-boy pads on, and we couldn't slow them down," Aggies defensive coordinator Mark Snyder said. "They took the game and the clock from us, and we couldn't get off the field."
While the defense continues to struggle and needs work, there were other areas the Aggies made mistakes, too. Manziel's first interception went off the hands of tight end
Nehemiah Hicks
, the second one was simply forced by Manziel after he peformed a magic escape. The Aggies also were called for illegal formation in the second quarter, a penalty that nullified a third-down conversion in the red zone, which eventually forced a field-goal try rather than having a first-and-goal at the Auburn 7.
Texas A&M wasn't where it normally is on third-down conversions either, converting 5-of-13 (the Aggies came into Saturday's game converting 57 percent). And when the defense strung together four stops late in the second quarter and early in the third, the Aggies were able to put up only 10 points. But as Snyder said afterward, "When you score 41 points, you should win. End of story."
Still, Manziel and Evans were fantastic. Manziel came back from what appeared to be a right shoulder injury to try to lead the Aggies back and finished with 454 yards and four touchdowns passing plus a rushing touchdown. Evans continues to make his case as college football's best receiver, catching 11 pass for 287 yards and four touchdowns.
The Aggies would have needed help by way of a loss or two by No. 1 Alabama to have a shot at their primary goal, getting to Atlanta for the SEC championship game. This pretty much takes that off the table. How will they respond moving forward?
"What's important now is not what has just happened," Texas A&M coach Kevin Sumlin said. "At this time of year, teams go a couple different directions. We've got to get back in here Monday, be honest with ourselves, make sure that what we can fix, we're going to fix as coaches and players and move on."
But this was Auburn's day. They got a huge win, one that should be a big boost to Malzahn and his efforts to lead Auburn back to among the nation's elite. No more looking back for the Tigers, only forward.
"I was almost in tears after the game," Ford said. "Definitely seeing guys, especially younger guys, who didn't have a clue of what was going on last year -- and that was a tough time for them, and I had to kind of guide them through that process -- and to see the looks on their faces after the game, the hard work that we put in, and how we said, 'We're not going to look back, just keep moving forward,' it's definitely a powerful message that we've sent to the world."
February, 27, 2013
2/27/13
11:12
AM ET
The poking, prodding, interviews and drills have wrapped up at the NFL combine in Indianapolis. Now let's take a quick look at who stood out from the ACC during the all-important event.
The defensive backs were the last group to go, wrapping up Tuesday. And there were some pretty good performances. Miami cornerback Brandon McGee posted one of the fastest 40 times at the combine, running a 4.40 to rank him No. 13 among all participants. He also was a top performer in the bench press and 20-yard shuttle run. Those numbers will not do anything but help his draft stock.

[+] Enlarge

AP Photo/Dave MartinNC State cornerback David Amerson showed off his speed at the NFL combine, clocking a 4.44 in the 40-yard dash.

NC State cornerback David Amerson was out to prove himself at the combine after an up-and-down 2012 season. He definitely opened eyes with his performance, which NFL Network analyst Mike Mayock described as "excellent." Amerson ran a 4.44 in the 40 and was also a top performer in the vertical jump.

Those two guys were not the only fast defensive backs at the combine. Of the players with the top 15 times at the position, six have ACC ties. Rod Sweeting of Georgia Tech (4.42), Shamarko Thomas of Syracuse (4.42), Xavier Rhodes of Florida State (4.43) and Earl Wolff of NC State (4.44) were among the fastest.

Speaking of Rhodes, his vertical leap was incredibly impressive, at 40.5 inches to tie for first among all defensive backs and rank No. 3 overall. He also was a top performer in the broad jump, and certainly helped himself with his day. So did Thomas, one of the most underrated players in college football last year. Though Thomas made some headlines after he fell at the end of his 40, he had a huge day. He also leaped 40.5 inches and was a top performer in the 20-yard shuttle and broad jump.

The ACC had several top performers in the bench press as well. Wake Forest fullback Tommy Bohanon tied for No. 4 overall with 36 reps and was also a top performer in the vertical jump and 60-yard shuttle. Also in the top 15 overall for bench: North Carolina guard Jonathan Cooper (35), NC State guard Zach Allen (32) and Virginia Tech offensive tackle Vinston Painter (32). Speaking of Cooper, ESPN draft analyst Todd McShay said the lineman "had one of the more impressive workouts."

Florida State quarterback EJ Manuel had a nice combine himself, though he was inconsistent with his throws. Manuel was a top performer in the broad jump, ranking No. 3 among all quarterbacks after jumping 9 feet, 10 inches. He also was a top performer in the 40 (4.65), vertical jump (34), 3-cone drill (7.08) and 20-yard shuttle (4.21) to rank among the top 5 in each category.

The folks at Scouts Inc. had this to say about Clemson receiver DeAndre Hopkins, a top performer at his position in the bench press and vertical jump (36): "His 4.57 in the 40 is about what we expected. His game is more about being physical, though, and Hopkins showed good ball skills. He is was one of the most natural pass-catchers on the field, with good focus in the gauntlet drill and the ability to extend fully for balls." He's got a second-round grade.

Virginia Tech receiver Marcus Davis put up some good numbers as well, topping his position with a vertical jump of 39.5 inches, while also posting good numbers in the 40 (4.56) and bench press (19 reps). It's never been about physical talent for Davis, so the numbers aren't much of a surprise. He has to put it all together on the field.

Now for running back: North Carolina's Giovani Bernard was a top performer in various categories. He ran a 4.53 in the 40; and was a top performer in the 20-yard shuttle and 60-yard shuttle. Miami running back Mike James also put up some good numbers.
September, 6, 2012
9/06/12
11:30
AM ET
An already unproven group of Virginia Tech wide receivers took a major hit Thursday with the news that senior
D.J. Coles
is out for the season with a knee injury.

The Hokies
went into the season
without their top two receivers from a year ago in Danny Coale and Jarrett Boykin, so you can bet there is an even greater sense of urgency for somebody to step up with Coles now out of the mix, too.
Marcus Davis
and
Dyrell Roberts
are the first two names that come to mind, given their experience in the offense.
Davis and Roberts took the most snaps against the Yellow Jackets among all receivers -- but Roberts only had two catches for 5 yards; Davis had six catches for 82 yards. Davis did hurt his shoulder in the game but should be available Saturday against Austin Peay. Those two players are the more known commodities.
But there are two other players to keep an eye on after their performances against the Yellow Jackets.
Redshirt freshman
Demitri Knowles
had a beautiful 42-yard touchdown catch in the corner of the end zone -- and it just so happened to be the first reception of his entire career. He only saw three snaps at receiver but that should change moving forward.
Then you have
Corey Fuller
, who had the hands down best night among all receivers, and graded out the highest among all players at his position. Fuller set career highs in receptions (five) and yards (82), and had a critical 23-yard reception on fourth down late in the game that allowed the Hokies to send the game into overtime. He also recovered a fumble by Davis that preserved a drive in which Virginia Tech eventually scored a touchdown.
Fuller transferred to Virginia Tech in 2010 from Kansas to join his brother, cornerback
Kyle Fuller
. Corey Fuller actually starred on the Kansas track and field team, competing as a sprinter, triple jumper and long jumper. But he decided to focus on football with the Hokies and has really done a nice job transforming himself into a receiver, playing the flanker spot that Coles also plays.
Last year, Fuller only played in six games. But that is sure to change after his performance Monday night.
"He's really developing into a football guy," coach Frank Beamer said Wednesday on the ACC coaches call. "I think he's got great speed, but he's playing the game the way it needs to be played. Had a pro scout ask about him the other day. I'm really proud of the way he's come along. Looks like to me he's going to have a bright future."
August, 16, 2012
8/16/12
4:00
PM ET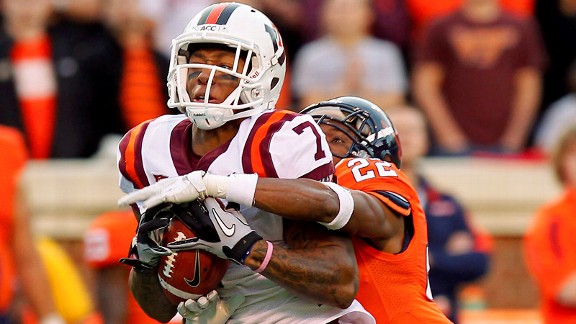 Geoff Burke/Getty ImagesReceiver Marcus Davis says his focus is on consistency in his senior season for the Hokies.
Virginia Tech receivers
Dyrell Roberts
and
Marcus Davis
know what is at stake this season. They know Danny Coale and Jarrett Boykin are gone. They know all eyes will squarely be fixed on them to step up and make their own name.
So you understand why they feel a growing sense of urgency headed into this season. Both are seniors, and understand this is their final shot to make an impact. For Roberts, that urgency has taken on greater meaning after missing parts of the last two seasons with injury.
For Davis, that urgency has taken on greater meaning knowing he has yet to live up to his full potential.
"I'm taking this as an opportunity to show not only fans but the coaches and everybody else that even though we lost those guys, there's still something here," Davis said in a recent phone interview. "There is something special we can do here."
Davis goes into the season as one of the top returning receivers, after setting career highs with 30 receptions for 510 yards and five touchdowns.
D.J. Coles
returns as well, after catching 36 passes for 480 yards and three touchdowns. But he has been slowed by a knee injury and could miss some time this season. That leaves Davis as the No. 1 target for
Logan Thomas
.
There is no question Davis has what it takes to be the go-to guy. He is big, athletic and known for making plays down the field. Last year, he averaged 17 yards per catch, tops on the team and among the best in the nation. But there have been various times throughout his career when he has lacked the motivation to get up for every single game. He has spent his offseason improving his mind-set, to be sure that he will be prepared every time the ball is snapped.
"I focused a lot on just being consistent, how I approach things, how I approach practice, how I approach the weight room," Davis said. "Some games you can't get up for, and so I changed my approach to have my focus on everything so I won't have to worry about getting myself motivated to play a game. I have to leave everything out on the field because I won't get a second chance."
Learning from Coale and Boykin helped him mature. And knowing he is the No. 1 receiver also has forced him to change his mind-set as well.
"I just have to put it together and do it now because I don't have that in the back of my mind -- if I mess up I'm going to come out," Davis said. "I know what I have to do. I think people are going to see that I can make plays not only down the field but also in the short passing game and in my blocking game."
A huge opportunity awaits Roberts as well. Last season, he only played in three games before breaking his arm on a kickoff return against Arkansas State. The year before that, his season ended when he needed surgery on his thigh. Roberts is more than eager to get onto the football field and actually play in a game because of what he had endure the last two years.
"I'm up for the challenge," Roberts said. "I talk to my coaches a lot, they tell me they think I can play a big role and things like that. I think that's every player's dream to have your role increase in the offense. I've been around for a while, I've been in a lot of big games, but it's a dream come true to know your role is going to increase this year. That gives me motivation to push myself to go even harder and get better at the little things. You can never feel you've arrived because there's always something you can get better at."
Given his increased role in the offense, you will probably be hearing more about Roberts. But there is one thing about him you may not know. He has a black dog that is mix a between a bichon frise and a poodle. Her name is Dymond, spelled that way after Roberts' first name, of course. He has had the dog for three years now, and Roberts says around the football team, "She has become a household name."
Now it is time for Roberts and Davis to become household names as well.
January, 31, 2012
1/31/12
3:25
PM ET
We've already taken a look at what the recruiting needs were for the Atlantic Division. Let's shift our attention to the Coastal Division. Here's a look at where each school's biggest holes will be in 2012 or are anticipated to be in the near future:
DUKE

Offensive skill positions:
After last year's rare class that didn't include either a quarterback or running back, both positions are needed in this group. Quarterback
Thomas Sirk
-- the MVP of the 57th annual Florida Athletic Coaches Association North-South All-Star Football Classic last December -- has already enrolled in school while
Shaquille Powell
-- a PARADE All-American running back from Las Vegas -- has committed to the program. In addition, with David Cutcliffe's offense, wide receivers and tight ends also are a priority.
Kicker:
Will Snyderwine
, who earned first team All-America honors as a junior before struggling through a sub-par season in 2011, graduated, but Duke has a commitment from Ohio native
Ross Martin
, considered the No. 2 placekicking prospect in the country by ESPN.com.
Safety:
With the transition to a 4-2-5 alignment that utilizes three safeties, this becomes an annual point of emphasis. The Blue Devils lose All-American
Matt Daniels
to graduation.
GEORGIA TECH

Defensive line:
This is the most glaring need in the current class. The Yellow Jackets have to replace senior starters
Logan Walls
(DT) and
Jason Peters
(DE), but return
Izaan Cross
(DE) and solid backups
T.J. Barnes
(DT),
Emmanuel Dieke
(DE) and
Euclid Cummings
(DE). The Jackets are expected to sign about 18 players in this year's class, and five of them should be defensive linemen.
Wide receiver:
This is another glaring need after the departures of
Stephen Hill
, who decided to leave early for the NFL draft, and
Tyler Melton
.
Darren Waller
and
Jeff Greene
, who both played last season as true freshmen, have lots of potential, but the position still needs depth.
MIAMI

Defensive backs:
There's still a lot of depth with this group, and the return of
Ray-Ray Armstrong
and
Vaughn Telemaque
helps, but the Canes have to replace two starters in the secondary and have six commits in the current class to help do that.
Defensive line:
The Canes have to replace
Adewale Ojomo
,
Micanor Regis
,
Andrew Smith
and
Olivier Vernon
from last year's two-deep. The defensive end position was a particular focus in this class.
Receiver:
This position lost a lot with the departures of
Tommy Streeter
,
LaRon Byrd
and
Travis Benjamin
.
Allen Hurns
is now the veteran of the group, along with redshirt senior
Kendal Thompkins
. There are five receivers currently committed in this class.
Quarterback
: Beyond
Stephen Morris
, Miami has a lot of questions at the position and not a lot of experience. True freshmen
Gray Crow
and
Preston Dewey
are already on the roster, along with redshirt sophomore
Ryan Williams
.
NORTH CAROLINA

Defensive line:
This is one of the biggest areas of concern after the departures of
Quinton Coples
and
Tydreke Powell
.
Receivers
: Larry Fedora's offense will make good use of this group, but he needs to replace standout
Dwight Jones
.
Linebackers:
This group was thin to begin with in 2011, and now the Heels need to replace outgoing senior
Zach Brown
.
Kevin Reddick
is now the main man.
Safety:
UNC will have to replace two starters in
Matt Merletti
,
Charles Brown
and
Jonathan Smith
, so this position will have to be rebuilt for the future.

VIRGINIA
Defensive back:
This should be the main priority in this class. The Cavaliers will lose four DBs, including two starting safeties in Rodney McCleod and
Corey Mosley
, and standout cornerback
Chase Minnifield
. They'll also miss
Dom Joseph
, who came in for the nickel packages.
Demetrious Nicholson
, who started as a true freshman last year, is suddenly the veteran of the group.
Offensive line:
The Hoos will have to replace their starting center and left guard. Redshirt freshman center
Cody Wallace
could get a promotion, and sophomore right guard
Luke Bowanko
started in the bowl game. They've got some big bodies waiting in the wings, but they'll have some questions to answer here this spring.
Kickers:
This position needs to be rebuilt, as the Cavaliers lose
Robert Randolph
, who finished sixth all time in scoring at UVa, kickoff specialist
Chris Hinkebein
, and four-year punter
Jimmy Howell
. The position is wide open heading into the spring.
VIRGINIA TECH

Running back:
This one is a no-brainer, as the Hokies have lost four players here in the past two years.
David Wilson
and his backup,
Josh Oglesby
, were the latest to depart, and
Tony Gregory
just had ACL surgery and is out for the spring. The staff likes
Michael Holmes
, who redshirted last year, and
J.C. Coleman
enrolled last week.
Receiver:
The Hokies will miss
Danny Coale
and
Jarrett Boykin
, and next year's class has three seniors in
Dyrell Roberts
,
D.J. Coles
, and
Marcus Davis
. The future of the position is young, and the staff is still going after several uncommitted players pretty hard.
Defensive line:
This year's class already includes at least five committed defensive linemen, and the Hokies will be particularly thin at noseguard. They had some players graduate early who didn't play a lot, but at least provided depth.
Linebacker:
The Hokies have four committed, and are still chasing another just to build the depth. The staff missed on some recruits at this position last year and would like to make up for it in this class.
June, 23, 2011
6/23/11
10:30
AM ET
You asked, I answered. Readers (particularly @AsylumGodfather) were calling for more position rankings, so the receivers are up next. This could be the strongest position group in the conference, and one of the more difficult to rank, so I looked back on a few stats to help me separate them, including how some of these guys did against their best competition (i.e.
Danny Coale
versus FSU, wow). Here's the final verdict of which teams in the ACC have the best combination of depth and talent:
1. Virginia Tech:
With
Jarrett Boykin
and Coale returning, the Hokies' passing game has a chance to flourish this fall. Boykin, Coale and
Dyrell Roberts
were the team's top three receivers last year for the second straight season, combining for 113 catches, 1,882 yards and 11 touchdowns. Add to that
Marcus Davis
,
D.J. Coles
,
E.L. Smiling
-- it's a bottomless cup of depth and talent.
2. Duke:
Conner Vernon
has 128 catches in his first two collegiate seasons and
Donovan Varner
ranked fourth in the ACC in pass receptions (60) and seventh in yardage (736). Their combined 274 receptions are the most of any active duo in the ACC. They are the top two returning leaders in catches per game, and Vernon is the ACC's returning leader in receiving yards per game. The Blue Devils also have sophomore
Brandon Braxton
(14 catches), who could make a name for himself as the third option this year.
3. Florida State:
Every Seminole who caught a pass last season returns.
Bert Reed
,
Taiwan Easterling
and
Rodney Smith
return with a combined 50 career starts. Reed ranks second among all returning ACC receivers with 141 career receptions.
Willie Haulstead
had 38 catches last season, Smith had 31, and there's plenty of rising talent like
Christian Green
.
4. North Carolina:
Like Florida State, North Carolina returns all of its receivers, including two who redshirted last season.
Dwight Jones
, who had 946 yards and 62 receptions, leads the group, but
Erik Highsmith
(25 catches, 348 yards and three touchdowns) must be accounted for as well. Defenses also can't forget about
Jheranie Boyd
, who is a deep threat.
5. Miami:
The Canes will miss the production of Leonard Hankerson, but they don't have to if one or two of the other players show more consistency.
Travis Benjamin
has big-play capabilities and averaged 17.3 yards on his 43 catches last season. There is no shortage of other options with
LaRon Byrd
,
Aldarius Johnson
,
Tommy Streeter
,
Allen Hurns
and
Kendal Thompkins
. Which one will rise to the occasion?
6. Clemson:
It was the
DeAndre Hopkins
show last season, and he should again highlight the Tigers' passing game. As a true freshman, Hopkins had 52 catches, the most by a first-year player in school history.
Jaron Brown
returns with 10 career starts, and the Tigers also have
Marquan Jones
(21 catches) and
Bryce McNeal
(19).
7. Maryland:
The Terps have to replace their top two receivers from a year ago in Torrey Smith and
Adrian Cannon
, and no clear frontrunners emerged this spring.
Quintin McCree
leads all returners with 16 catches, followed by
Kevin Dorsey
(15),
Ronnie Tyler
(13),
Kerry Boykins
(10), and
Tony Logan
.
8. Boston College:
True freshman
Bobby Swigert
led the Eagles last year with 39 catches and four touchdowns in five starts. The Eagles are hoping to get a significant boost from the return of
Colin Larmond Jr.
, who missed all of last season with a knee injury, but the young group should be better regardless because of the experience gained last season.
9. Virginia:
The Cavaliers will miss
Dontrelle Inman
, who averaged 16 yards per catch on 51 receptions, but returning starter
Kris Burd
finished fifth in the ACC last season in pass receptions (58). The group will also get a boost from the return of
Tim Smith
, who missed almost all of last season with an injury, and
Matt Snyder
(30 catches) and
Ray Keys
(three catches).
10. NC State:
NC State has to replace its top two receivers from a year ago, and
T.J. Graham
is the team's leading returning receiver with 25 catches.
Steven Howard
,
Jay Smith
and
Quintin Payton
all have experience, and redshirt freshman
Bryan Underwood
,
Tobias Palmer
and Everett Proctor have also been competing for playing time.
11. Wake Forest:
Chris Givens
(35 catches, 13.7 average),
Michael Campanaro
(10 catches) and
Danny Dembry
are the lead candidates to start, but the Deacs are missing a spark like Kenny Moore (2007) and D.J. Boldin (2008) provided. There were too many dropped passes in the spring game, so this group has some work to do in summer camp.
12. Georgia Tech:
Yes, Georgia Tech throws the ball, just not often enough or efficiently enough to be anywhere but last place on this list.
Stephen Hill
led the Jackets last year with 15 catches for 291 yards and three touchdowns. He should show progress this fall now that there's no pressure on him to be the next Demaryius Thomas. If he doesn't show more consistency, the Jackets could turn to
Daniel McKayhan
,
Tyler Melton
or
Jeremy Moore
.
November, 15, 2010
11/15/10
2:00
PM ET
Here's your instant replay of Week 11 and fast forward to Week 12:
The good:
The Atlantic Division. One week after all of the frontrunners lost, Maryland, NC State and Florida State each rebounded with wins to make this race worth watching. Maryland and NC State left no doubt they were the better teams against Virginia and Wake Forest, respectively, and FSU dug deep after two heart breakers to beat Clemson with a game-winning field goal as time expired.
The bad:
Virginia's penalties. The Cavaliers are tied for 114th in the nation in fewest penalties per game (8.4) and only four teams have more. Virginia had 16 penalties for 145 yards in its 42-23 loss to Maryland on Saturday. "There were a lot of holds on that team, both up front and in the back so I think the officials did as well as they could with that," Maryland coach Ralph Friedgen told reporters after the game. That came one week after Virginia racked up 11 penalties for 103 yards in a 55-48 loss to Duke.
The ugly:
Clemson's kicking game. It's hard not to feel bad for Chandler Catanzaro. It's not like he doesn't want to make these field goals. In fact, his 29-yard kick with 53 seconds remaining tied the game. And his 22-yard field goal midway through the second quarter gave Clemson a 10-3 lead. But he also had one blocked and missed another, and in a three-point game, those misses add up. Clemson is 7 of 14 on field goals this year.
[+] Enlarge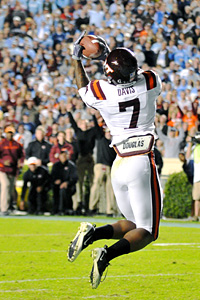 Dannie Walls/Icon SMIMarcus Davis took advantage of his start and helped the Hokies beat the Tar Heels with two touchdowns.
The emerging:
Virginia Tech wide receiver
Marcus Davis
. He caught two third-quarter touchdown passes to help the Hokies to a 26-10 win at North Carolina. Davis really rose to the occasion with receiver
Dyrell Roberts
out with a thigh injury. He finished with four catches for 81 yards and two touchdowns. It was the first time the sophomore had seen any meaningful playing time and he made the most of it.
The "gassed."
UNC tailback
Anthony Elzy
. According to the Raleigh News & Observer, the disappearance of Elzy in the third quarter against Virginia Tech was explained away by Elzy being "gassed," coach Butch Davis said. Gassed? With the Coastal Division on the line?
The undecided:
NC State quarterback
Russell Wilson
. He's not sure if he's returning for his final year of eligibility or joining the Colorado Rockies, but if Saturday was his final game in Carter-Finley Stadium, he went out with a bang. Wilson was honored on senior day and then passed for two touchdowns and ran for two more in the 38-3 win over Wake Forest.
Top three games of Week 12
Florida State at Maryland
-- This is the most meaningful game Maryland has played since, well, since it played Florida State for the division lead on Nov. 23, 2008. The Terps lost 37-3 in their most lopsided loss of the year, and sent BC to the title game the following week with a loss in Chestnut Hill. Once again they control their own destiny and could win the Atlantic Division title with two more wins. The Terps' offensive line has been playing well, and they held their own in a close loss to Miami, but once again will face a true challenge up front.
Virginia Tech at Miami
-- This is Miami's final chance to make a statement this year, as the Canes' only hope at winning the Coastal Division depends on a win against the Hokies. Virginia Tech, however, needs to win just one more game to clinch the division title. The Hokies lost the last time they played at Miami, and the Canes will be looking for redemption after last year's meltdown in Blacksburg.
NC State at North Carolina
-- This is a passionate rivalry game, and while UNC is out of the championship race, it can still take solace -- and probably a lot of enjoyment -- in playing the role of spoiler. NC State can't afford to lose another conference game, regardless of if it's an interdivisional matchup. Tom O'Brien has had the edge over Butch Davis the past three years, but this season, a trip to Charlotte is on the line. This should be a great game but it comes in third because UNC is no longer a factor in the conference race.
November, 13, 2010
11/13/10
6:20
PM ET
CHAPEL HILL, N.C. -- In the first half, it was impossible to tell who was the best team in the ACC. It certainly didn't look like Virginia Tech.
Now, as the Hokies lead 26-10 late in the third quarter, they have continued to remind us that their forte is making comebacks. If Virginia Tech hangs onto this lead, it will be the fifth time the Hokies have trailed this year and the fourth time they have won -- not including their 0-2 start to the season.
The difference in this half has been Virginia Tech's defense, lack of production from
Anthony Elzy
, the Hokies' ability to score touchdowns in the red zone, and receiver
Marcus Davis
. Davis has four catches for 81 yards and two touchdowns.
November, 13, 2010
11/13/10
5:46
PM ET
CHAPEL HILL, N.C. -- With Virginia Tech receiver
Dyrell Roberts
out with a thigh injury, the Hokies needed somebody else to step up at receiver, and on the Hokies' first drive of the second half,
Marcus Davis
rose to the occasion to give Virginia Tech their first lead and first touchdown of the game.
The Hokies are up 16-10 thanks in large part to the big-play capabilities of Davis, a young, talented player whose best is yet to come. He took a screen pass down the left sideline for 46 yards, thanks to a nice block by
Danny Coale
, and he capped the drive with an 11-yard touchdown pass. It was the first time tonight the Hokies were able to get into the end zone once inside the 20.
January, 3, 2010
1/03/10
1:37
PM ET
By
Tim Griffin
| ESPN.com
NEWPORT BEACH, Calif. -- Texas will be without two defensive backups in Thursday night's Citi BCS National Championship Game after one was ruled ineligible and the other will transfer from school after a recent arrest.

Texas coach Mack Brown announced when his team arrived that backup defensive end Russell Carter would be ineligible for the national championship game after struggling in a recent final. Brown said Carter should rejoin the team for spring practice.

Carter had played nine games this season with three solo tackles, two assists and one tackle for a loss.

Freshman defensive back Marcus Davis, who was suspended from the team in late November, will be transferring. Davis played eight games but was suspended after his arrest Nov. 28 in Pearland, Texas, on misdemeanor charges of driving while intoxicated and possession of a controlled substance.

Davis played in eight games this season, producing 10 tackles, one sack and one tackle for a loss.
Posted by ESPN.com's Heather Dinich
Around the ACC we go ...
Former Wake Forest backup quarterback Brett Hodges will transfer to UCF and is eligible to compete for the starting job immediately. How? By using the same NCAA transfer rule Duke guard Greg Paulus will have to use if he wants to be an FBS quarterback, too.
At Virginia Tech, Marcus Davis might not have been ready to be the No. 2 quarterback, but quarterbacks coach Mike O'Cain thinks Davis is a more talented athlete than Ju-Ju Clayton.
Here are five questions Maryland still needs to answer on defense.
Bobby Bowden's spring tour has begun, and Andrew Carter of the Orlando Sentinel has the play-by-play.
And two leftovers for you ...
Thanks to one reader for providing this link on Monday: Maryland coach Ralph Friedgen wasn't shy about his feelings regarding the NCAA sanctions FSU is facing. Friedgen's take? Bowden should vacate the wins.
How much could fans tell about Virginia's new spread offense from its spring game? Not much, and that was exactly how coach Al Groh wanted it.