NCF Nation:

Marcus Easley
April, 26, 2010
4/26/10
8:00
AM ET
The NFL's fortnight of drafting -- what, it was only three days? Really? -- came to an end this weekend. I already touched on the
first-round results
on Friday. Here's a look at where Big East players went the rest of the draft, with some quick comments on each pick:
Second round
No. 37:
Nate Allen, S, South Florida,
to Philadelphia: No surprise here, as Allen was mentioned as a possible first-rounder at various points.
Third round
No. 65:
Jerome Murphy, CB, South Florida
to St. Louis: Here is proof that college production isn't always the most important thing to NFL scouts. Murphy struggled against some of the Big East's better receivers, but he has great physical tools and hopefully will find his niche in the pros.
Fourth round
No. 99:
Mardy Gilyard, WR, Cincinnati,
to St. Louis: If you watched any Bearcats games the past two years, you know that the Rams got an absolute steal. Think
Sam Bradford
will like having Gilyard around?
No. 101:
Mike Williams, WR, Syracuse,
to Tampa Bay: He was a first-round talent who was lucky to get picked this high given his off-the-field issues.
No. 107:
Marcus Easley, WR, UConn,
to Buffalo: Easley had great workouts, and though some thought he would go higher than this, it's still a great story for a guy who was a walk-on this time a year ago.
Fifth round
No. 157:
Arthur Jones, DT, Syracuse,
to Baltimore: Jones was talked about as a possible first-rounder earlier in his career. This is a great value pick for a player who will always give maximum effort.
Sixth round
No. 177:
Carlton Mitchell, WR, South Florida,
to Cleveland: Mitchell looked impressive in his workouts, but falling to the sixth round makes you question if he made the right choice in skipping his senior year.
No. 182:
Nate Byham, TE, Pittsburgh,
to San Francisco: The best blocking tight end in the Big East during his career.
No. 204:
Tony Pike, QB, Cincinnati,
to Carolina: Pike has to be disappointed that he fell this low and that he was drafted by the same team that took
Jimmy Clausen
a couple rounds earlier.
Seventh round
No. 226:
George Selvie, DE, South Florida,
to St. Louis: How much would you have bet against the notion that Selvie would be a seventh-round pick at this time last year? Selvie's production dropped after his breakout sophomore year, and now he'll have to prove himself again.
No. 227:
Dorin Dickerson, TE, Pittsburgh,
to Houston: Surprised to see Dickerson go this low after his great Combine performance. He's a tweener who needs the right team to showcase his skills.
No. 231:
Selvish Capers, OT, West Virginia,
to Washington: Capers has a lot of talent and potential.
No. 237:
Ryan D'Imperio, LB/FB, Rutgers,
to Minnesota: The Scarlet Knights' linebacker was drafted as a fullback although he never played it in college.
No. 238:
Ricardo Mathews, DT, Cincinnati,
to Indianapolis: Mathews didn't get as much attention on the Bearcats' defense as some other players but had a nice senior season.
No. 249:
Robert McClain, CB, UConn,
to Carolina: McClain had four interceptions last year and also served as the team's punt returner.
Here's a handy-dandy list of NFL Draft picks per Big East school:
South Florida: 5
Rutgers: 3
Cincinnati: 3
Connecticut: 2
Pitt: 2
Syracuse: 2
West Virginia: 1
Louisville: 0
And, finally, some notable players who weren't drafted (I'll have more later on those who signed free-agent contracts):
Andre Dixon
and
Lindsey Witten
from UConn;
Aaron Webster
and
Alex Daniels
from Cincinnati;
Scott Long
from Louisville; and
Jarrett Brown
from West Virginia.
December, 6, 2009
12/06/09
12:20
AM ET
Mardy Gilyard, WR/KR, Cincinnati: Gilyard caught five balls for 118 yards and a touchdown and had 256 return yards -- including a 99-yard touchdown -- in the Bearcats' 45-44 win at Pittsburgh.
Dion Lewis, RB, Pittsburgh: Lewis carried a school record 47 times for 194 yards and three touchdowns in Pitt's loss.
Sidney Glover, DB, West Virginia: Glover had a 24-yard interception return for a touchdown in the Mountaineers' 24-21 win at Rutgers.
Marcus Easley, WR, Connecticut: Easley had eight catches for 122 yards and a touchdown in UConn's 29-27 win over South Florida.
November, 30, 2009
11/30/09
8:00
AM ET
Saw things so much clearer, once you were in my rearview mirror.
Let's look back on Week 13 in the Big East:

Team of the week:
West Virginia. The Mountaineers snapped a two-game losing streak in the Backyard Brawl, put themselves in position to possibly finish second in the Big East and climbed back into the Top 25 in the process. All in all, not a bad Black Friday in Morgantown.
Best game:
It was the Backyard Bore for most of the first three quarters as neither offense could find a rhythm. But then Pitt stormed back from a 10-point deficit in the fourth quarter and West Virginia drove for the game-winning field goal as time expired for the
19-16 win
. In a week without many other great league games and in an emotional rivalry, this easily gets the nod.
Biggest play:
Noel Devine
's 88-yard touchdown run in the third quarter on West Virginia's first play of the drive. Devine went in virtually untouched to give the Mountaineers a lead they would never lose.
Best call:
Greg Schiano's decision to go heavy with the Wildcat formation and
Mohamed Sanu
against Louisville. The Cardinals had no chance of stopping it, as Sanu rumbled for 148 yards and two touchdowns on just 18 carries.
Big Man on Campus (Offense):
Cincinnati quarterback
Tony Pike
wasn't as good as he had been before his left forearm injury. He was better, throwing for 399 yards and a school-record six touchdowns against Illinois.
Big Man on Campus (Defense):
UConn's Lawrence Wilson is the Big East's leading tackler, and he added to that with 17 stops and a sack in the Huskies' 56-31 win over Syracuse.
Big Man on Campus (Special teams):
West Virginia's Tyler Bitancurt made all four of his field goal attempts, including the 43-yard game-winner against Pitt.
Worst hangover:
South Florida. The Bulls had looked forward to getting Miami on their home turf to show how far their program had come. Instead, they found out how far they still have to go, as the Hurricanes dominated them in virtually every aspect of the game. South Florida could be looking at a 7-5 year after a 5-0 start unless it can win on the road at UConn this week.
Strangest moment:
It may not have been terribly strange, but it was ... interesting.
UConn led 42-31 and was facing a fourth-and-10 from the Syracuse 28 when the Huskies dialed up a pass play, which turned into a touchdown from
Zach Frazer
to
Marcus Easley
with 47 seconds left in the game. Doug Marrone looked bemused, to say the least, on the sidelines.
It's hard to blame UConn's Randy Edsall for that decision, though, given how many heartbreaking losses his team has suffered this year. It's the defense's job to stop it, and indeed if Syracuse defends that pass, it gets the ball back with a chance to score and try for the onsides kick. Unlikely, yes, but the Orange had moved the ball well, and strange things have happened to UConn all year.
Anyway, the Huskies ended up scoring again on a fumble recovery. Following the game, Edsall appeared to ask Marrone something after the two exchanged a very brief handshake. Orange cornerback Phillip Thomas told the Syracuse Post-Standard that UConn's pass was "a little cheap shot" while other players said it was "classless."
Good, I say. This league can use all the heated rivalries it can get.
Now let's look forward to the final week of the Big East regular season (Games listed in descending order of interest and importance):
No. 5 Cincinnati (11-0, 6-0 Big East) at No. 15 Pittsburgh (9-2, 5-1)
: This one, of course, is for the biggest prize of them all: the River City Rivalry trophy. What? You mean there's more at stake?
(Noon, ABC).
No. 23 West Virginia (8-3, 4-2) at Rutgers (8-3, 3-3):
West Virginia's dominance over Rutgers is the longest current winning streak by one Big East team over another. The Scarlet Knights' last win in the series came in 1994.
(Noon, ESPN)
South Florida (7-4, 3-3) at Connecticut (6-5, 2-4):
Weather could play in UConn's favor, as is the fact that the Huskies have been playing a lot better and more consistently than the Bulls in the last month.
(8 p.m., ESPN2)
November, 18, 2009
11/18/09
12:31
PM ET
The first time he saw
Marcus Easley
, UConn quarterback
Zach Frazer
said he thought, "Who's that guy?
He's
a walk-on?"
It was easy to be confused. Easley, after all, had the look of a scholarship player with his 6-foot-2, 215-pound build and athleticism. He got his share of playing time the past couple of years, albeit mostly on special teams or as blocking receiver.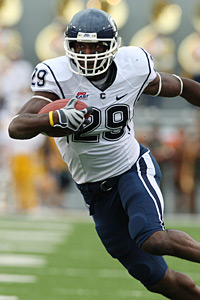 Matthew Emmons/US PresswireOnce a walk-on, Marcus Easley leads UConn with 26 receptions for 559 yards and five touchdowns.
This year, it's even harder to believe that Easley didn't have a scholarship before this past spring. He leads the Huskies with 26 catches for 559 yards and five touchdowns and has become their big-play threat. He had a 79-yard touchdown catch at Pittsburgh and an 88-yarder for a score late in the West Virginia game.
"When opportunities are given to me to make a play, I try to do so," he said.
Easley's story is one of waiting for the right opportunity. The Stratford, Conn., native was a standout high school player but only received scholarship interest from lower-level Division I and Division II schools.
Not wanting to play at that level, he decided to go to UConn and just be a regular student. That lasted about a year.
"It was a matter of me not having anything to do," he said. "And I still loved football."
So he went to an open tryout and impressed the coaches enough to earn a spot on the team. He appeared in almost every game in 2007 and 2008 but only had five career catches before this season. UConn didn't pass that much, and Easley usually came in on running plays to block.
After the International Bowl in January, Easley wasn't sure he would return to the team.
"I didn't know if my school would be paid for, and it was my fifth year," he said. "But I felt like I had a little bit more in me, so why not give it another shot?"
He made a wise choice. Head coach Randy Edsall brought in new offensive coordinator Joe Moorhead to help the passing game, and as the Huskies looked for capable receivers this spring, Easley kept standing out above all the scholarship players.
"I think sometimes with a player, it's a sense of urgency with them," Edsall said. "He knew that this was his last year, and he knew that there was just one more opportunity, one year left. I'm not saying that he worked any harder this year but maybe the focus, the mindset was a little bit different."
Impressed with his focus and performance, Edsall awarded Easley a scholarship after the spring. Easley will graduate next month with a degree in sports management and business.
He has even started to draw some attention from NFL scouts lately. No longer does anyone have to ask, "Who's that guy?"
October, 10, 2009
10/10/09
8:45
PM ET

Posted by ESPN.com's Brian Bennett
PITTSBURGH -- Pittsburgh quarterback
Bill Stull
could only chuckle when asked why his team goes through such wild momentum swings.
"That's just the way we work," Stull said. "It's never going to be easy or exactly the way we want it. We like to make it hard on ourselves."
| | |
| --- | --- |
| | |
| | Charles LeClaire/Getty Images |
| | Pittsburgh fans don't know what they're going to get out of quarterback Bill Stull and the rest of the Panthers week to week. |
The Panthers make things hard on a lot of people, including fans and those trying to figure out who exactly they are.
They're good enough to lead NC State 31-19 on the road in the second half yet bad enough to then lose 38-31. They're bad enough to trail Louisville at halftime last week yet good enough to outscore them 28-0 after intermission. And on Saturday, they were bad enough to trail Connecticut 21-6 late in the third quarter at home, but good enough to come back and win
24-21 on a last-second field goal
.
Pitt is technically leading the Big East race right now as the only team at 2-0. It's also the league's biggest enigma.
"The discouraging or disappointing thing is we have not played as good as we can play the whole game yet," head coach Dave Wannstedt said.
Saturday's game had all the elements that can both lure you in and repel you away from the Big East preseason favorites, as the Panthers kept hitting the brakes every time they seemed to reach high gear.
Dion Lewis
dropped a sure touchdown pass on the first drive. Stull threw an interception in the end zone and later tossed a pick-six from near his own goal line. Pitt should have been ahead 21-0 but got only three points out of its promising first-half drives. To make matters worse, the defense let UConn's weak passing offense burn it for a 79-yard strike from
Cody Endres
to
Marcus Easley
late in the second quarter.
By the time
Andre Dixon
rumbled into the end zone for a 21-6 lead with 3:56 left in the third quarter, the Heinz Field crowd was grumbling about another lost season. Then all of a sudden, Pitt showed how good it could be.
A ground game that had stalled in the first half spit out 166 yards in the second half behind Lewis and
Ray Graham
. The defense held UConn to six total yards in the entire fourth quarter. And Stull led three straight drives of at least 64 yards to complete the largest comeback in the Wannstedt era.
Pitt finished with 489 total yards and probably should have scored at least 35 points.
"We're just this close from putting a great game together," tight end
Nate Byham
said, separating his thumb and forefinger ever so slightly. "We're driving up and down the field, but we're just not putting up the points. Once we put all that together, we're going to be great."
A more objective observer might conclude that the Panthers have many terrific players, including Lewis, Byham, receiver
Jonathan Baldwin
and their defensive line. But they also have major flaws in the secondary, at linebacker and in playcalling, especially near the goal line. Baldwin, a 6-foot-5 athletic freak, never got a look on Pitt's first trip deep into the red zone and Lewis -- who finished with 158 yards -- didn't get a carry from first and goal at the 4 at the end of the game.
Stull might be this team's identity incarnate. He can throw two terrible picks and get booed by his own crowd. Then he can come back and lead those last three drives.
"I think all of our coaches are on the verge of having a heart attack," Stull said. "But it's encouraging when you see that we didn't play exactly how we wanted but we still won. It's going to be a little exciting and a little scary when we do put everything together."
A little exciting and a little scary. That's a pretty good way to describe life as a
Pittsburgh Panthers
fan right now.
May, 20, 2009
5/20/09
10:32
AM ET
Posted by ESPN.com's Brian Bennett
Some players we knew about before the spring and were anxious to watch perform. And then there are guys who were way off the radar but made us pay attention. Here are five guys in the Big East who came from out of nowhere and made it somewhere:
• Evan Landi, South Florida: B.J. Daniels got most of the hype as Matt Grothe's understudy at quarterback. Heck, Jim Leavitt wasn't even sure he wanted Landi two years ago on the recruiting trail. But given a chance to shine this spring, Landi wowed everyone with his work at quarterback and receiver, forcing his way into some fall playing time somewhere.
• Danny Milligan, Cincinnati: How's this for a spring game stat line: Milligan caught three passes for 83 yards and a touchdown -- and kicked three field goals. You don't see that every day. The 5-foot-9, 170-pound redshirt freshman doesn't look like a prototypical football player, but he finds ways to get things done.
• Collin McCafferty, Cincinnati: The Bearcats get two players on this list because they have so many new faces and because they've done such a good job developing lesser-known talent. McCafferty, a redshirt junior linebacker, had a nice spring and worked his way into the mix for the fall.
• Marcus Easley, Connecticut: Easley made four starts last year but remained a mostly unknown walk-on receiver. That changed when he made 10 catches for 169 yards in the Huskies' spring game. Was that a one-day wonder? Coach Randy Edsall said Easley made a lot of progress this spring, and the senior will be on scholarship this fall.
• Jeff Braun, West Virginia: The redshirt freshman played defensive line late into his high school career but appears to have won the job at left guard for the Mountaineers after entering the spring as a backup.
Posted by ESPN.com's Brian Bennett
Like country music, it's always award season around here. Let's dole out some superlatives from the Big East spring.
Best spring game performance: West Virginia's Jarrett Brown looked like a worthy successor to Pat White in completing his first 15 passes and finishing 21-for-28 for 273 yards and four touchdowns. Granted, that came against the second-team defense, but Brown was still impressive for his efficiency.
Best out-of-the-blue performance: Connecticut walk-on receiver Marcus Easley had 10 catches for 169 yards and two touchdowns in the Huskies' spring game. Not surprisingly, he's going to be put on scholarship now.
Best performance by a freshman: Rutgers' Mohamed Sanu enrolled in January and played most of the spring in the secondary before a late switch to receiver. He had four catches for 43 yards and a touchdown and impressed everyone with his overall ability and savvy.
Biggest surprise: Cincinnati coach Brian Kelly switching receiver Marcus Barnett to cornerback the day before spring practice, and Barnett claiming the starting job right away.
Biggest surprise II: The Syracuse quarterback situation. Doug Marrone caught everyone off guard by naming Ryan Nassib the starter in the team's fourth practice. And since it's still technically spring, the Greg Paulus story is not one anybody saw coming a couple of months ago.
Best comeback: I was all set to give this to Pitt linebacker Adam Gunn for coming back from a broken neck to win the starting middle linebacker job. That's a tougher sell following this week's news of Gunn's arrest and suspension. So let's go with another middle linebacker, Reed Williams of West Virginia. He missed almost all of last season with shoulder problems but regained his dominant form this spring.
Best quote: "This is our version of 'The Gong Show.' We just line them up and see how they look. If we don't like them, we try another guy. Tomorrow we're going to take a look at Tony Pike at nose guard." -- Cincinnati's Kelly on Barnett's switch.
Best quote II: "If there are any students who can't beat that, then they really need to decide what they want to do in life." -- South Florida coach Jim Leavitt after running a 5.72 40-yard dash to promote the Bulls' spring game.
Posted by ESPN.com's Brian Bennett
• West Virginia nose tackle Chris Neild had a standout spring, and many around the program are predicting a huge year for him, Jack Bogaczyk writes in the Charleston Daily Mail.
• In a perfect world, Bradley Starks would play all of his snaps at receiver this year. But he's staying ready to play at quarterback in case the Mountaineers need him, Dave Hickman says in the Charleston Gazette.
• Walk-on Marcus Easley was a breath of fresh air on Saturday for a Connecticut receiving corps that struggled last year, Jeff Jacobs writes in the Hartford Courant.
• None of the current Louisville quarterbacks are reminding fans of Hunter Cantwell, Brian Brohm or Chris Redman, Rick Bozich writes in The Courier-Journal.
• Rutgers has no excuse for its poor nonconference schedule, Paul Franklin says in the Home News Tribune.