NCF Nation:

Marcus Johnson
September, 8, 2014
Sep 8
10:00
AM ET
AUSTIN, Texas -- A perfect quarter, it was not. But it came pretty darn close.
BYU embarrassed Texas once again, this time by a 41-6 score, thanks in large part to a third-quarter run no team could've overcome. This was a perfect storm in all three phases of the game.
[+] Enlarge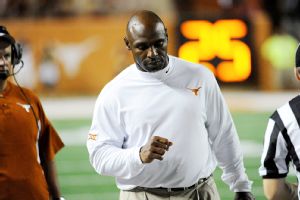 Brendan Maloney/USA TODAY SportsBYU handed Texas' Charlie Strong the worst quarter of his coaching career.
In 26 plays, the Cougars' offense collected 199 yards, including 138 on the ground. They racked up 13 first downs and faced third down just twice. Their quarterback,
Taysom Hill
, accounted for 129 total yards and three scores for a near-perfect single-quarter QBR of 99.3.
A 6-0 nailbiter turned into a 34-0 thrashing in less than 11 game minutes.
The 28-point swing was one of the first things Texas coach Charlie Strong brought up in his postgame opening statement. In the past 10 years, a Strong-led defense had never allowed 28 in one quarter.
"You can't do that if you think you're going to play great defense," he said.
BYU went into halftime and made no more than three offensive adjustments, coach Bronco Mendenhall said afterward. They didn't need to tweak much. They just needed to unleash Hill.
He drove the Cougars 75 yards in three minutes to start the second half, then dropped the jaws of 90,000-plus when he hurdled diving Texas safety
Dylan Haines
at the end of a 30-yard touchdown scramble. Texas had roughed him up in the first half, but Hill wasn't touched on his first score to go up 13-0.
After
Marcus Johnson
was stuffed at his own 11-yard line on the ensuing kickoff, Texas promptly went three-and-out. BYU's offense came back went 55 yards in five plays, highlighted by
Jordan Leslie
's diving, juggling 27-yard snag in between a pair of Texas defensive backs.
Adam Hine
found the end zone on a strong stiff-arm and an 8-yard run to make it 20-0.
Texas' offense returned to brutal field position again, this time at the 7-yard line after a holding penalty. Another three-and-out. The Longhorns' first two drives of the second half produced minus-3 yards on six snaps.
William Russ
' punt didn't cross midfield, and Mitch Juergens returned it to the Texas 29. Hill capped a quick seven-play drive with a 2-yard run in which he put his shoulder down and snuck around five Texas defenders. 27-0.
Can't get much worse than that, right? Just before Texas could push the panic button, Johnson got stripped on the kickoff return. BYU recovered at the Longhorns' 24-yard line.
"Even though you play short field, it doesn't matter," Strong said afterward. "Get into third down and just make a play."
But Texas' defense couldn't force third down. BYU was back on the goal line after a 12-yard pass, and Hill put the nail in the coffin with 4:33 left in the quarter, on a 1-yard keeper. 34-0. Ballgame.
Almost 50 percent of BYU's total yards Saturday came in one swift barrage. A run game held to 2.7 yards per carry the rest of the night cranked out 7.7 per rush in the quarter.
"There is no reason for it," Strong said. "You have to play better defense than that."
There are a handful of logical excuses -- field position, defensive busts, the takeaway, poor adjustments, tempo, confidence -- but another stands out: Hill is simply a phenomenal talent with a knack for burning Bevo.
"There are just some sheer athleticism things that aren't coachable," Mendenhall said.
When Hill scored to open the half, Texas needed to bounce back in a big way. It's about adversity, Strong said, and how a team handles heightened stakes. The Longhorns failed on that front in their first loss of the new coach's tenure.
"We started the game off really hard. It was the third quarter that got us," linebacker
Jordan Hicks
said. "Whatever it was, I'm not sure. We'll have to look at it."
That should make for one unpleasant film session. But as Texas players were reminded Saturday, after the worst quarter of Strong's head coaching career, what matters is how they respond.
October, 27, 2013
10/27/13
10:00
AM ET
Here's what we learned about the Big 12 from Week 9:
1. Texas Tech is no fraud:
The Red Raiders might not have come out of Norman with a victory. But unlike the '02 and '08 teams, they came to play the Sooners. Tech never lost its poise, even when down two touchdowns, and executed a series of trick plays to retake the lead in the third quarter. Ultimately, the Red Raiders committed too many killer penalties and turned the ball over too many times to beat Oklahoma on its home field. But the Red Raiders also proved their 7-0 start was not a mirage. Kliff Kingsbury's aggressive game plan showed why he's a rising star in the coaching ranks. And even in defeat, Tech showed it's still a team that could win 10 games this season -- and it's a program with a bright future.
[+] Enlarge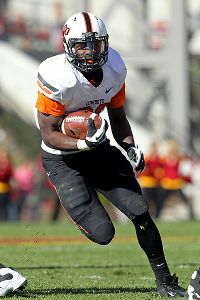 Brace Hemmelgarn/USA TODAY SportsOklahoma State has found its running back after Desmond Roland rushed for a career-high 219 yards and four touchdowns against Iowa State.
2. Desmond Roland is Oklahoma State's best running back:
The Cowboys still can't throw the ball. But at least in Ames, they found their running back, as Roland at last got the Oklahoma State running game going. On 26 carries, he racked up a career-high 219 yards and four touchdowns to lift the Cowboys to a 58-27 win at Iowa State. His 58-yard touchdown run in the third quarter, in which he rumbled over Cyclone after Cyclone, gave the Cowboys a 38-20 lead and the Pokes some breathing room after a sloppy second quarter. The passing game remains a mess. In his first start since the opener,
Clint Chelf
threw for just 78 yards and completed just 10 of 26 passes. But at least in Roland, the Cowboys now have someone they can run their offense through going into next weekend's showdown at Texas Tech.
3. The OU win wasn't a one-game anomaly for Texas:
The Longhorns moved to 4-0 in the Big 12 with a dominating 30-7 victory at TCU. They also showed that the win over Oklahoma two weeks ago wasn't a fluke. Texas carried over its winning recipe from the Red River win into Fort Worth. They fed the ball to running backs
Johnathan Gray
and
Malcolm Brown
, who churned out another 145 yards on the ground against a tough TCU defense. Quarterback
Case McCoy
made some big throws downfield to
Mike Davis
and
Marcus Johnson
. And the defense forced turnovers. This is not the same club that got pummeled by BYU and Ole Miss earlier in the season. The Longhorns are quickly gaining confidence, and for good reason, are beginning to believe they could bring the Big 12 title to Austin.
4. K-State is better than its record:
After suffering four tough losses, including three in the league, Kansas State finally got its first Big 12 win with an impressive 35-12 pasting of West Virginia.
Jake Waters
and
Daniel Sams
were fabulous throwing the ball, combining to complete 18 of 21 passes. And receivers
Tyler Lockett
and
Tramaine Thompson
were terrific in their returns from injuries, totaling four touchdown receptions. This was a game the Wildcats had to have to make a bowl game. And at 3-4, K-State still has work to do. But the Wildcats sure looked like a bowl team against West Virginia. Given the remaining schedule, K-State is a good bet to get to six wins.
5. Baylor will be humming entering the defining part of its schedule:
The Bears have yet to face a ranked opponent. But after their 45-point win at Kansas, they will head into a Nov. 7 tilt with Oklahoma still on a roll. Once again, QB
Bryce Petty
was on target with 430 passing yards and three touchdowns, while
Lache Seastrunk
spearheaded another impressive ground game for Baylor. The Bears have been the most impressive team in the Big 12 by far. They remain the league favorite. Yet their mettle is about to be tested. The Bears face ranked opponents (Oklahoma, Texas Tech and Oklahoma State) in their next three games, a defining stretch that will determine whether they are truly a national title contender. But after another dominating performance, Baylor will go into that stretch healthy, with all pistons firing.
October, 14, 2013
10/14/13
12:35
PM ET
A critical exchange of possessions in the second quarter defined this year's Red River Rivalry.
With the Sooners trailing 10-3, Oklahoma offensive coordinator Josh Heupel dialed up three consecutive
Blake Bell
passes. All three fell incomplete.
Texas offensive coordinator Major Applewhite countered with three consecutive runs between the tackles for a first down. The drive ultimately ended with Case McCoy's 59-yard touchdown pass to
Marcus Johnson
in man coverage that gave the Longhorns control of the game.
[+] Enlarge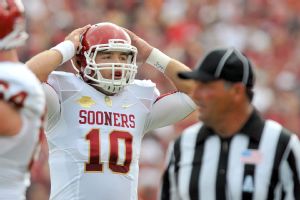 Jackson Laizure/Getty ImagesBlake Bell and Oklahoma didn't take advantage of opportunities against Texas..
Saturday, on the same field where Texas finally uncovered an offensive identity, the Sooners completely lost theirs.
Oklahoma's recipe for success before Dallas was simple and effective. Run the ball, take care of the ball and make the necessary plays in the fourth quarter. The game plan worked wonders in the Sooners' convincing victory at Notre Dame. It was enough to beat TCU, too.
But against the Longhorns, once Oklahoma's shaky passing attack was exposed, the entire offense fell apart.
Texas loaded the box and checked the Sooners' ground game. The Longhorns dared Heupel and quarterback Blake Bell to beat them deep. And the Sooners blinked first.
Bell completed just 1 of 7 downfield attempts that were longer than 10 yards – a fullback pop to
Trey Millard
for 29 yards early in the game. Considering the defensive scheme Texas employed, the lack of completions downfield was staggering. The lack of attempts, even more so.
"There were opportunities there a little bit to unload the box that we're not taking advantage of," Heupel said. "We haven't been good on the outside or in the middle of the field — anything past 15 yards. We've got to be better. There are explosive plays out there that have the opportunity to win. We've just got to make them."
Heupel also shied away from calling many quarterback runs, which had been so effective for Oklahoma in the past and so lethal against the Longhorns this season. Against a loaded box, having the extra blocker would have been useful. But the Sooners didn't attempt to capitalize off Bell's power wheels, and Bell only ran three times for just eight yards.
"That's just the way Coach Heupel and all of our offensive coaches wanted to go into the football game," answered Bob Stoops, when asked why more Bell runs weren't called. "Again, there were just some things we don't feel so comfortable with in some areas always with Blake."
If the Sooners didn't feel comfortable with Bell throwing the ball downfield or running him, maybe they should have made another quarterback change. But that wasn't considered, either.
Now, the Sooners are left to pick up the pieces from their Red River disaster and rework an offensive identity that went to pot in Dallas.
"There's no magical pill you're going to take and correct it," Heupel said. "You just go back to work."
According to all reports, the Longhorns didn't take any magic pills before the Oklahoma game. But they played a like a completely different team than the one that had shuffled through the first five games. And a week after calling 45 passes, Applewhite opted to run the offense through hard-nosed running backs
Johnathan Gray
and
Malcolm Brown
behind the Longhorns' veteran offensive line.
"They were determined to go play, determined to move the ball and they understood the game plan," Applewhite said of his line. "I think we spelled it out for them in terms of where we wanted to be on third down so we could possess the ball and convert and keep the chains moving. I think the game plan was a lot more simplified; the schemes were very simple."
The simple scheme couldn't have worked better for burnt orange.
Texas gained five yards anytime it wanted up the middle, as Gray and Brown both rushed for more than 100 yards. That took the pressure off quarterback
Case McCoy
, who delivered the big plays when he was called on to.
The last three years, Texas coach
Mack Brown
has been trying to locate the right identity for the Longhorns offense. This past offseason, Brown indicated he wanted to speed up the tempo and spread the field.
But as Saturday showed, this offense is built to run between the tackles, then throw deep to a host of speedy receivers.
The formula worked wonders against the Sooners. And could work wonders going forward, too.
"I loved the game plan," McCoy said. "I was confident in the plan and knew in any situation what was going on and what I was doing. We played hard and played to the plan.
"And that's exciting."
September, 23, 2013
9/23/13
10:00
AM ET
AUSTIN, Texas -- The best teams in college football aren't the ones that got lucky and avoided injuries.
In 2012, Alabama lost five players to season-ending injuries by the end of September. Notre Dame lost two starters in its secondary for the year early on. Two of Oregon's best senior starters went down before Week 3. It happens.
The best teams in college football are usually deep enough to replace any missing pieces. Mack Brown knows this. He's preached the need for depth in each of the past two years, insisting the starting 22 listed on the depth chart don't matter as much as having 22 more good men.
Now it's time to walk the walk. By the end of Texas' 31-21 win over Kansas State, six key starters were injured. Linebacker
Jordan Hicks
is done for the year with a torn Achilles. Running back
Daje Johnson
is out indefinitely and hasn't played in two weeks. An ankle issue kept receiver
Mike Davis
out of the KSU game.
And then there's quarterback
David Ash
, who earned the start and didn't come back from the locker room at halftime. Concussion-related symptoms are the issue, but the details and severity are mostly unknown.
A case can be made that they're four of the most important players on this 2013 team, the guys most capable of deciding whether Texas ends up winning 10 games or five.
Against Kansas State, the guys tasked with replacing those game-changers took care of business. In this must-win game, embracing a next man up mentality paid dividends.
Kendall Sanders
and
Marcus Johnson
are a shining example of that. The sophomore receivers both earned starts and did plenty to make up for the absence of Davis.
Sanders did what David does best: He ran a deep post route and hauled in a bomb on a play-action pass from Ash for a 63-yard touchdown, the first of his career.
"I was really nervous, but I've been working my tail off so I was kind of calmed down," Sanders said. "I just treated it like practice. I've been working my tail off for this long so might as well show everybody."
Johnson added 70 yards on five catches, including two long receptions on third downs to help set up scores. Brown lauded him for playing like he'd been around a long time, when in fact he entered the night with one career reception.
Texas went with another sophomore,
Kennedy Estelle
, to replace right tackle
Josh Cochran
.
Dalton Santos
, whose injury status was questionable entering the game, recovered the tide-turning
Jake Waters
fumble in the fourth quarter as K-State was about to cut the deficit to 31-28.
He's likely set to play a major role now that Hicks' season is over. The guy Santos will help replace was a key cog, but his teammates know they have to move on and trust Texas' depth.
"If he is [out], he is," cornerback
Carrington Byndom
said. "We have to continue to go forward. We have to have people step up and fill that role."
There was no better example of that mentality on Saturday than when
Case McCoy
took over for Ash. Longhorn players were surprised by the news that Ash was out, but they've been down that road before.
He played the role of reliever well and led two scoring drives. He didn't need to do much – McCoy handed the ball off on three-fourths of his snaps – but he did just enough. More important, his teammates didn't flinch. They were unfazed by the sudden change of plans.
"We play behind all our quarterbacks," running back
Johnathan Gray
said. "When one is down and the other one comes in, we rally around whoever is in the game. That's what we did tonight and it was a plus for us.
"I didn't know David was out. It changed nothing. We kept what we were going to do for our offense. We stayed with it."
As the injuries continue to pile up, that's precisely the mentality Texas players plan to maintain. And that's got to last more than one night, especially if Texas wants to get back to playing like one of the nation's best.
April, 27, 2012
4/27/12
2:30
PM ET
One week from today, 11 of Duke's 16 offensive linemen and assistant strength coach Marcus Johnson will board a flight to Ethiopia. There, the group will do volunteer work for two weeks, working with kids in sports camps and drilling at least one freshwater well for a rural community.

Guard
Dave Harding
is the man behind the trip, as the redshirt junior spent many summers with his family in middle school and high school drilling wells in Ethiopia.
From GoDuke The Magazine:
"A lot of these guys have never left the country," says Harding, a junior who started nine games at center and left guard last year. "It will be good to get them over there. From a personal standpoint it will be exciting to see how everyone responds to it.

"We don't get the opportunity to do DukeEngage trips and study abroad, so this is our chance to do that and a chance to give back to the world community. And from a football standpoint, by taking this trip we are bound to grow as friends and get to know people better. Some of the upperclassmen don't see much of the underclassmen outside of practice, but when you go on a life-changing trip like this it makes you closer, so it's bound to have impacts on the field as well."
The idea for the upcoming trip came to Harding during a speech by new offensive line coach John Latina, who was urging the linemen to become the Blue Devils' most cohesive unit.
"That's the core reason for why the offensive linemen are going together, to bring us all closer together and create a stronger bond between us," says sophomore Laken Tomlinson, who started every game at guard last year.

"This group is pretty close. Our previous coach, Coach Luke, believed we should be one unit, and our new coach, Coach Latina, also believes that we should be the strongest bond on the field. This trip should definitely create a stronger bond between us, so I'm excited for that."
The trip will end May 16 and come during one of the few windows the players have at semester's end. With all the drilling they'll be doing, it'll hardly be a break from the offseason grind.