September, 9, 2013
9/09/13
11:10
AM ET
Week 2 didn't provide a lot of enticing matchups, but it did get us dreaming a little bit.
Michigan's impressive takedown of Notre Dame moved the Wolverines up near the edge of the top 10 in the polls and gave the Big Ten another national title contender alongside Ohio State. But those aren't the only teams looking good right now. If league teams can survive some of their nonconference challenges this weekend, we could have some serious heavyweight showdowns on tap in the coming weeks. Would any of these interest you?
5-0 Michigan at 5-0 Penn State on Oct. 12?
It could happen, with the Wolverines playing Akron, UConn and Minnesota next, while the Nittany Lions have UCF, Kent State and Indiana.


5-0 Ohio State at 4-0 Northwestern on Oct. 5?
The Wildcats have looked great in beating a pair of AQ teams -- Cal and Syracuse -- by double digits in the first two weeks. They've got Western Michigan and Maine left before gearing up for the Buckeyes. Ohio State, of course, still has to get past Wisconsin on Sept. 28 in what should be another high-stakes duel. But the game against the Badgers is in Columbus.
8-0 Nebraska at 8-0 Michigan on Nov. 9?
This is far from guaranteed, as the Huskers have a tough matchup with UCLA this weekend, after which comes some pretty easy sledding until November. Michigan would also have to survive road trips to Penn State and Michigan State. But both teams will likely be favored in each game leading up to Nov. 9.
11-0 Michigan at 11-0 Ohio State on Nov. 30
, followed by a rematch the following weekend? Like I said, we're dreaming.
What makes daydreaming about these games even more fun is the realization that none of them should turn into defensive slogs (weather permitting, of course). The five current ranked Big Ten teams can all really score, as each one is averaging at least 41 points per game through two weeks. Sure, the competition has yet to really stiffen, but we know that Nebraska's offense is for real, that
Devin Gardner
has completely changed Michigan's attack and that Wisconsin can run the ball with the best of them. Northwestern has scored 92 points against a pair of AQ teams and has gotten almost nothing from
Venric Mark
.
Carlos Hyde
hasn't played a down for Ohio State, while
Braxton Miller
has yet to play a full game and
Dontre Wilson
is still learning.
Throw in Indiana's passing game, Illinois' vastly improved offense, the potential for Penn State and
Christian Hackenberg
under Bill O'Brien's play calling and even Minnesota's increased playmaking skills, and points could be coming in waves this fall.
Michigan State fans just got sick.
Take that and rewind:
[+] Enlarge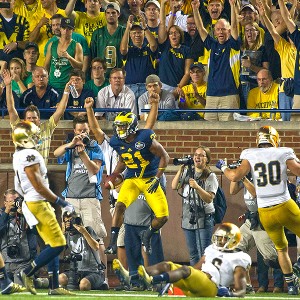 Matt Cashore/USA TODAY SportsJeremy Gallon helped Michigan ring up 41 points on Notre Dame.
Team of the week:
With apologies to Illinois, which registered a
critic-silencing win over Cincinnati
, Michigan grabs the honor this week after its 41-30 win over Notre Dame. The Wolverines got to make all the
chicken jokes
they desired by shining bright under the Big House lights. And while Irish haters want to use that result solely as an excuse to bash Notre Dame, the fact is Michigan scored 41 points on a defense full of future pros.
Worst hangover:
Buzz swirled around Indiana this offseason and grew louder when the Hoosiers rang up 73 points in their opener versus Indiana State. That's why it was so deflating for
Kevin Wilson
's team to lose 41-35 at home to Navy. The Midshipmen ran for 444 yards on 70 (!) rushing attempts and never once punted. With an underrated Bowling Green squad up next, followed by Missouri, Penn State and the two Michigan schools, the Hoosiers need to get up off the mat quickly.
Fun with numbers (via ESPN Stats & Info):
Wisconsin is one of only three teams in the country that has yet to allow a point and the only defense that has done so through two games. This week's opponent, Arizona State, has also yet to give up a point but has played only Sacramento State. The Badgers also lead the FBS in yardage margin, outgaining opponents by 444 yards per game. Playing cupcakes is good for your stats. ... Northwestern, deadly efficient with both quarterbacks versus Syracuse, has the league's highest QBR score and is 14th nationally. Michigan is right behind at No. 15. ... Penn State is dead last in the FBS in third-down conversion percentage (2-for-26) but is 4-for-4 on fourth downs. ... Purdue is in the bottom 10 nationally in yards per game, yards per play, QBR, points per game and red zone efficiency. That looks even worse when you consider that the Boilers' two opponents -- Cincinnati and Indiana State -- served up a combined 118 points in their other, non-Purdue matchups. ... Illinois'
Nathan Scheelhaase
has accounted for 73.5 percent of his team's offense, by far the highest percentage in the Big Ten.
Big Man on Campus (Offense):
Notre Dame had no solution for Michigan wide receiver
Jeremy Gallon
. The senior had eight catches for a career-high 182 yards and three touchdowns, averaging 23 yards per reception. "He's like a little bulldog," Wolverines quarterback Devin Gardner said.
Big Man on Campus (Defense):
Michigan State defensive end
Shilique Calhoun
was named the Walter Camp national defensive player of the week after he scored two touchdowns, one on a fumble return and another on a pick-six. Calhoun now has three scores in his first two games. "He's our running back of the defense, I guess," defensive coordinator Pat Narduzzi said. "Just hand it off to him, let him go."
Big Man on Campus (Special teams):
Minnesota's
Marcus Jones
returned a punt 65 yards for a touchdown late in the first half to help break open the game against New Mexico State. It was sweet revenge for Jones, who got hammered after signaling for a fair catch earlier in the game. He now has scored on a kickoff return and a punt return in his first two games of the year.
Best play:
Purdue
pulled this off
on the opening kickoff versus Indiana State. That was one of the few highlights for the Boilers, who might have lost without that special-teams strike.
Strangest moment:
Week 2 was full of them, from Michigan's quarterback wearing the Old 98, to Eminem's
halftime-interview-as-performance-art
to Tom Izzo
bribing Michigan State students to evacuate
Spartan Stadium during a thunderstorm by promising to sit with them later (which he did).
But the best theater of the absurd happened in Las Cruces, N.M., where Minnesota played in front of an announced "crowd" of just over 16,400 at New Mexico State. The game was broadcast by something called Aggie Vision, which conveyed the look and feel of a 1980s high school game tape. Everything about the game was as non-big-time as a Big Ten team could find. Week 2 was supposed to be when Minnesota played at North Carolina, but the Gophers paid $800,000 to get out of that road trip. They chose instead to put themselves in the Area 51 of college football. At least they won.
Looking ahead:
It's the best week of the nonconference season for the Big Ten, with three ranked opponents on the schedule: No. 16 UCLA at Nebraska, No. 19 Washington versus Illinois in Chicago, and No. 21 Notre Dame at Purdue. Plus, Wisconsin goes to Arizona State, Ohio State travels out to Cal, Iowa plays rival Iowa State and Penn State faces a dangerous UCF squad.
September, 2, 2013
9/02/13
11:00
AM ET
Exhale.
You wait nearly nine months for the return of college football, to see players and coaches that have been endlessly analyzed all offseason, and then it all spills out on opening weekend. So of course the natural inclination is to make immediate judgments on what you've seen, and to find instant reasons to panic.
Nebraska's defense is going to be historically bad! Michigan State's offense is somehow worse than last year's! Ohio State is wildly overrated! Purdue and Iowa might not win a game in the conference besides the one against each other!
Some concerns obviously are valid. But remember that it was just opening week. Teams and players are still figuring things out, learning who and what they are. In Week 1 last year, for example, Michigan State beat a ranked Boise State team, Michigan got destroyed by Alabama, Minnesota needed triple-overtime to put away a bad UNLV team, Penn State lost at home to Ohio and Illinois rolled over Western Michigan. Those outcomes hardly defined the season for those teams.
Or better yet, look back to Iowa's win over Northern Illinois in the first game of the 2012 season. Who would have guessed then that the victorious team would wind up 4-8 and that the loser would go to the Orange Bowl?
Many of Saturday's games were also played in extreme heat, a stark contrast to the unseasonably cool August temperatures most teams trained in during the preseason. That's not an excuse, because Big Ten opponents had to deal with the same conditions. But the league race will be decided in October and November in much different weather, and probably by teams that will look a whole lot different.
It's a coach's cliché that teams make their biggest improvements from Week 1 to Week 2. So it's not time to panic yet. At least not for another Saturday.
Take that and rewind it back:
[+] Enlarge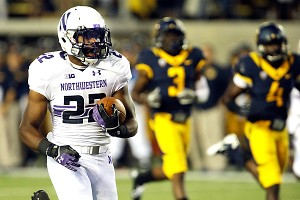 AP Photo/Ben MargotTreyvon Green rushed for 129 yards and two touchdowns in the victory over Cal.
Team of the week:
Northwestern. The Wildcats went to Pac-12 country, where Big Ten teams have had little success in recent years. They lost starting quarterback
Kain Colter
to injury on the second play against Cal, star tailback/returner
Venric Mark
spent more time on the exercise bike than the field, and cornerback
Daniel Jones
went down with a knee injury right before halftime. Meanwhile, Cal threw some haymakers and seemed to seize the momentum in the third quarter. Yet Northwestern -- which had some trouble holding onto late leads last year -- prevailed 44-30.
The win didn't come without controversy, as Cal fans and coaches thought Wildcats players were faking injuries in the second half to slow down the Bears' high-tempo offense. During one Cal drive, Northwestern players went down to the turf after three consecutive plays. Some players, such as linebacker
Damien Proby
, went down more than once. Cal coach Sonny Dykes threw up his hands in frustration at one point, while Bears fans booed, which was pretty funny, given
Cal's own history with faking injuries
against a high-tempo offense.
Northwestern coach Pat Fitzgerald said his team wasn't up to any hijinks.
"If anybody were to question the integrity of myself, our program or our players, I question theirs," he said in the postgame news conference. "When our guys get dinged up, they are instructed to go down, not hobble off to the sideline."
Worst hangover:
The Boilermakers got outscored 35-0 in the second half of their 42-7 loss at Cincinnati and might have gotten shut out if not for a botched Bearcats punt return late in the first half. Purdue was a mess in just about every area and was neither physical nor disciplined, two traits that Darrell Hazell has made priorities.
We're going streaking:
Thanks to Iowa's loss and Illinois' escape against Southern Illinois, the Hawkeyes now have the Big Ten's longest current losing streak, at seven games. That's tied for the fifth-longest losing streak in the FBS and second-worst among AQ teams, behind only Kansas, which was idle last week. The good news is that Iowa should finally get back in the win column this week versus Missouri State, and its Week 3 opponent, Iowa State, lost to Northern Iowa on Saturday.
Fun with numbers (via ESPN Stats & Information):
Yes, the Michigan State passing attack was as bad as it looked against Western Michigan. Through Sunday's games, the Spartans rank second-to-last among all FBS teams in yards per pass attempt (3.14) and percentage of completions that went for at least 10 yards (17.6). ... No team gave up more first downs in Week 1 than Nebraska, which allowed Wyoming to move the chains 35 times. The Huskers were also one of only two AQ teams that gave up more than 500 yards of offense to a non-AQ team in regulation. Oregon State was the other. ... Michigan's
Devin Gardner
threw two interceptions, but he had the Big Ten's
top QBR score
and was No. 15 nationally in Week 1. ... Wisconsin averaged 8.9 yards per rush against UMass and ranks third nationally in that stat. ... Penn State is last in the FBS in third-down conversions after going 1-for-16 against Syracuse. Of course, third down is often only a prelude to the next play for Bill O'Brien.
Point-ing up:
Indiana leads the nation in scoring after putting up 73 against Indiana State on Thursday. The schedule really helped, but offense was up throughout the Big Ten. Eight of the 12 league teams scored at least 37 points and the conference scoring average after one week is 39.5 points per game. Compare that to last year, when the league averaged 26.7 points per game in Week 1. Again, many of the opponents weren't great last week, but the simple eyeball test tells you that several Big Ten teams look more comfortable and have more playmakers on offense. With a couple of notable exceptions.
Big Man on Campus (offense):
Sure, it was against an FCS team, which is why we excluded him from our helmet stickers. But let's recognize Illinois quarterback
Nathan Scheelhaase
, who threw for a carer-high 416 yards and two touchdowns in Bill Cubit's new offense. In one game, Scheelhaase accounted for more than 30 percent of his entire passing yardage in the 2012 season.
Big Man on Campus (defense):
Northwestern linebacker
Collin Ellis
helped save the day, er, night at Cal with a pair of pick-sixes.
Big Man on Campus (special teams):
Tons of big special teams plays this weekend, including kickoff returns for scores by Minnesota's
Marcus Jones
and Illinois'
V'Angelo Bentley
and a punt return TD from Indiana's
Shane Wynn
. Michigan's
Joe Reynolds
scored on a blocked punt by teammate
Dymonte Thomas
. But how about Penn State's
Sam Ficken
? The kicker who was such a liability early last season has turned into a strength, and he made all three of his field goals -- including a career-best 46-yarder -- in the Nittany Lions' 23-17 win over Syracuse.
Best play:
Michigan State safety
Kurtis Drummond
's
one-handed interception against Western Michigan
. Now, can he play receiver?
Looking ahead:
The "GameDay" crew will be at Notre Dame-Michigan, and the Big Ten had better hope for a good showing in this spotlight game. That's because there's nothing much else of interest going on in Week 2. Two Big Ten opponents -- South Florida (at Michigan State) and San Diego State (at Ohio State) -- were blown out by FCS squads in their openers, while another, Southern Miss (versus Nebraska) lost to Texas State. Northwestern-Syracuse is probably the week's second-best game, and the Orange are 0-1 after losing to Penn State.
April, 18, 2012
4/18/12
3:30
PM ET
When Minnesota offensive coordinator Matt Limegrover learned receiver
Marcus Jones
had torn his ACL during a practice in late October, he began doing the math.
An ACL injury used to mean up to a year on the sideline. Although improvements in medicine and rehabilitation techniques had shortened the recovery time, Limegrover remained realistic about Jones' prognosis.
"It was like, 'OK, let's have him take this thing slow,'" Limegrover recalled. "'He'll be out through spring ball. Fortunately, he's a smart kid, so he'll be able to pick it back up in July.'
"Next thing you know, he's out here."
[+] Enlarge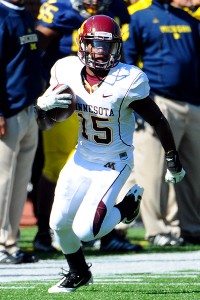 Tim Fuller/US PresswireMarcus Jones flashed some big-play ability last season before sustaining his season-ending injury.
When Minnesota kicked off spring practice March 22 -- less than five months after the injury -- Jones was in uniform on the field. His rapid recovery surprised just about everybody, including himself.
The sophomore wide receiver is cleared to participate in everything except full-contact scrimmages. Barring a setback, he'll get full clearance when Minnesota opens preseason camp in August.
"I didn't really think it would be this quick," Jones told ESPN.com, "but my trainers, especially head trainer Ed Lochrie, they told me I would come back, just as long as I did my rehab like I was supposed to. The harder you do your rehab, the quicker recovery you make.
"And I made a very quick recovery."
Jones had never missed a game in his athletic career until he sat out Minnesota's Oct. 29 win against Iowa, which took place just days after he suffered his injury while returning a kick in practice. The Wake Forest, N.C., native played through a sprained MCL in high school and some broken bones as a baseball player, but he'd never suffered a major injury until last fall. Before the ligament tear, Jones had shown big-play ability as a true freshman, averaging 15.8 yards per reception and 28.5 yards per kick return, including a 92-yard touchdown against Purdue.
He had some initial concerns with the injury, but team doctor J. Patrick Smith, who performed Jones' surgery, told him the recovery isn't as long as it used to be. When Jones began his rehab, he didn't put a timetable on anything.
"I just knew I didn't want to lose any speed or any strength," Jones said.
He hasn't lost a step this spring, at least according to his friends who play defense for the Gophers.
"They tell me I'm ready to get hit, that I need to stop faking it," Jones said. "I guess everybody's ready for me to get back, and I'm definitely ready to get back."
Looking at his recovery, it's hard to believe he was ever hurt in the first place.
Jones' presence this spring has felt like the bonus to Limegrover, who likens Jones to a playmaking recruit who enrolled early but also already has knowledge of the offense. Limegrover understands why Jones can't engage in contact until preseason practice, but the coach admits to getting greedy at times.
"He gets out there and starts doing seven-on-seven, running routes and moving around," Limegrover said. "As an offensive coordinator, we can use every playmaker we've got to complement [quarterback MarQueis Gray]. And I'm thinking to myself, 'Does he really need to not have contact? Can we get him in there in scrimmage situations?'
"That's how good he looked."
Minnesota needs more weapons to surround Gray, who will enter his second year as the starting quarterback and his second year in Limegrover's offense. The Gophers lose top wideout
Da'Jon McKnight
, who last season accounted for 51 of the team's 134 receptions (38.1 percent) and 760 of the team's 1,804 receiving yards (42.1 percent). McKnight had 35 more receptions and 640 more receiving yards than any other Minnesota player in 2011.
Jones, who played the first five games last season before celebrating his 18th birthday on Oct. 3, could help fill the production void. He's only 5-foot-8 and 170 pounds and is "not as fast as people want to believe," Limegrover said, but the young wideout has good knowledge of his responsibilities in the offense.
"He knows what routes to run and he knows what to do once he catches the football," Limegrover said. "Those are two things that right now are at a bit of a premium here. And the third part is Marcus is kind of like MarQueis' little brother. Those guys, they have a real connection."
Jones continues to work as a kick returner and also has practiced as a punt returner this spring, rotating with Troy Stoudermire at both spots. Jones, who will play wherever he's needed, enjoys competing with Stoudermire, the Big Ten-record holder in career kick return yards (3,102).
"I keep telling him I'm going to beat his record," Jones said. "I say it jokingly, but I hope I can really do it."
After what he has done in the past six months, don't bet against him.
October, 8, 2011
10/08/11
3:24
PM ET
It's all over -- mercifully -- in West Lafayette, and for the second consecutive season, Purdue begins Big Ten play at 1-0.
Let's take a quick look at the first conference game of the day.


Purdue 45, Minnesota 17:
Not surprisingly, the second half turned into a run fest for Purdue, which gave all of its reserve running backs carries and had some success.
Akeem Hunt
,
Raheem Mostert
and
Reggie Pegram
all got involved, and Mostert had a 25-yard touchdown run in the third quarter. Although it's tough to evaluate Purdue's offense against a flimsy Minnesota defense, the Boilers have the backs and the offensive line to run the ball consistently in Big Ten play. Purdue finished with 216 rush yards on 47 attempts.
Caleb TerBush
hasn't been spectacular for Purdue, but he has been steady enough at quarterback to remain the starter. Coach Danny Hope wants to establish continuity at an injury-ravaged position, and TerBush's ability to stay healthy and hit on short passes makes him the best option going forward.
Robert Marve
gives Purdue another option, but TerBush should be the guy.
Although Purdue didn't have a turnover, the Boilers still are committing too many penalties (7) and major breakdowns (punt return allowed for TD). Eliminating these errors is critical if Hope's team wants to win more Big Ten games. It's also important for Purdue to start stretching the field more in the pass game.
Minnesota can't take away many positives from this one, but at least it reached the end zone for the first time in seven quarters when freshman
Marcus Jones
returned a punt 92 yards. The Gophers added a rushing touchdown in the fourth quarter, their first offensive touchdown since the fourth quarter of a Week 4 loss to FCS North Dakota State.
MarQueis Gray played the final three and a half quarters at quarterback for the Gophers, and while he's still a bit limited by his toe injury, he's healthy enough to play almost a full game. You have to assume Gray is Minnesota's top option going forward.
But quarterback is only one of many items on coach Jerry Kill's to-do list. He has a young team that lacks confidence in a lot of areas. Today marked a chance to boost morale, but Minnesota never gave itself much of a chance. Kill wants to build the program on concrete, not sand, but this team is clearly standing on shaky ground right now.
June, 16, 2009
6/16/09
8:48
PM ET
Posted by ESPN.com's Tim Griffin
Big 12 most memorable moments
Late OSU rally ruins OU's 2001 Big 12 South hopes
No. 19
Date: Nov. 24, 2001
Place: Owen Field, Norman, Okla.
Score: Oklahoma State 16, Oklahoma 13
Defending national champion Oklahoma was a heavy favorite heading into its regular-season finale, needing only to beat struggling Oklahoma State to wrap up its second-straight Big 12 South title under Bob Stoops.
The Sooners' hopes looked that much brighter after OSU starter Aso Pogi struggled in the first quarter, throwing two interceptions that sparked the insertion of freshman quarterback Josh Fields into the game.
One of the stories of the game was the transformation of the Cowboy defense, only a week after it was gashed for 517 yards by Baylor. But OSU repeatedly tormented Oklahoma quarterback Nate Hybl, who threw three interceptions and was sacked seven times.
Still, the Sooners led for much of the game. Quentin Griffin gave the Sooners an early lead in the second quarter on an 8-yard TD run. The Sooners held a 10-6 halftime lead after Tim Duncan added a 23-yard field goal sandwiched around a pair of field goals by Oklahoma State kicker Luke Phillips.
The two teams exchanged field goals early in the fourth quarter, setting the stage for Fields' late heroics. Phillips nailed consecutive 52-yard field goals to keep the Cowboys close.
After forcing its third consecutive three-and-out possession, OSU got the ball on the Oklahoma 35. Fields completed only three passes on the game-winning drive but he made them all count.
Fields first connected with Rashaun Woods on a 15-yard strike. He then kept the drive alive with a clutch third-down 31-yard pass to T.D. Bryant. On the next play, Fields hooked up again with Woods on a 14-yard game-winning TD toss with 1:36 left.
Oklahoma had one more chance, but Hybl's desperation pass was intercepted by Marcus Jones.
The victory touched off a wild celebration all across Texas after the Longhorns claimed an appearance in the Big 12 championship game. And it prematurely interrupted a barbecue celebration at the home of Texas defensive coordinator Carl Reese, who immediately went to work to prepare for the Longhorns' game against Colorado the next week.
The numbers: Woods produced eight receptions for 129 yards, giving him 80 for the season and breaking the then-school record of 74 set by Hart Lee Dykes in 1988. Oklahoma was limited to zero net yards of rushing on 27 carries. And the loss snapped a 19-game home winning streak for Oklahoma, including the first 18 home games under Stoops.
They said it, part I: "They are a good football team. They finally got an opportunity to show someone else," OSU coach Les Miles, describing his team's performance to reporters after the game.
They said it, part II: "I don't think we came into this game unprepared and looking ahead to next week. The team was outplayed and I was outcoached. That's really the only excuse I have for this loss," Oklahoma coach Bob Stoops, reflecting on his first-ever home loss with the Sooners.
They said it, part III: "Our two sons and my wife were screaming and shouting like they were on the sidelines. We had some unsportsmanlike conduct there I think," Texas coach Mack Brown, who described his reaction after the OSU victory to the Associated Press.
The upshot: The loss kept Oklahoma from the Big 12 championship game. Texas went in the Sooners' place, losing a 39-37 decision to Colorado in a game that will be described in detail later in this series.
The Sooners finished the season 11-2 with a 10-3 victory over Arkansas in the Cotton Bowl, wrapping up the season at No. 6 in the final AP poll.
The upset boosted OSU to 4-7 with victories in its final two games. That fast finish help set the stage for an 8-5 record the following season and a trip to the Houston Bowl - the first post-season appearance under Miles and the Cowboys' first bowl trip since 1997.
Since then, Stoops has lost only other home game, a 17-10 season-opening loss to TCU in 2005. Stoops is 60-2 at Owen Field, including a current 24-game winning streak.


The countdown:
20. It's never over until it's over: Texas Tech's 2006 Insight Bowl rally vs. Minnesota
21. Reesing to Meier. Again and again: Kansas over Missouri in 2008
22. A Texas-sized comeback: Texas over Oklahoma State in 2004.
23. A Border War unlike any of the rest: Missouri over Kansas in 2007.
24. Seneca Wallace's wild TD run vs. Texas Tech in 2001.
25. Baylor's "So Much for Taking a Knee" in final-play 1999 loss to UNLV.
July, 18, 2008
7/18/08
6:46
PM ET
Posted by ESPN.com's Heather Dinich
1. Virginia: Senior captain Clint Sintim started all 37 games in his career and was third on the team with 77 tackles last season. His nine sacks last year were the most of any linebacker in the nation. Inside linebacker Jon Copper is UVA's active leader in tackles with 200, and Antonio Appleby is third on that list with 155.
2. Wake Forest: All three returning starters are back, including strongside linebacker Aaron Curry, a two-time defensive player of the week who had three interception returns for touchdowns and led the nation in interception return yards with 256. He also led the team with 13.5 tackles for a loss. Middle linebacker Stanley Arnoux also returns, along with weakside linebacker Chantz McClinic, who had 42 tackles.
| | |
| --- | --- |
| | |
| | Ned Dishman/Getty Images |
| | Senior linebacker Brian Toal, who has 180 career tackles despite missing last season, is healthy again for Boston College. |
3. Boston College: The Eagles lost two key starters, but senior Brian Toal's shoulder is healed and he has 180 career tackles despite missing last season with a medical redshirt. His primary competition at weakside linebacker will come from senior Robert Francois, who finished last season with 39 total tackles. Junior Mark Herzlich, who started all 14 games last year and finished second in total tackles with 97 should anchor this unit. Junior Mike McLaughlin started three games at middle linebacker last season when Jo-Lonn Dunbar was injured and is the heir apparent there.
4. Maryland: This could be one of the Terps' deeper positions, even with the loss of Erin Henderson to the NFL. Seniors Dave Philistin and Moise Fokou each started all 13 games last season, and Adrian Moten, who played all three positions as a freshman, tied for the team lead in sacks (5.5) and had 50 tackles even though he didn't start a game. Philistin ranked fourth in the ACC with 9.5 tackles per game.
5. Florida State: These guys have talent, it's just a matter of when it will all come together. Geno Hayes is gone, and so is Marcus Ball, who was expected to fill in for Hayes but was booted off the team. Still, the Seminoles' leading tackler is back. Underrated middle linebacker Derek Nicholson made 99 stops last year and was the only linebacker to start all 13 games. Strongside linebacker Dekoda Watson started every game but the bowl game because of the academic scandal and will miss the first three, leaving the job to sophomore Kendall Smith. The 'Noles are also excited about freshman Nigel Bradham.
6. Miami: The Hurricanes lost their leading tackler in Tavares Gooden, a third-round NFL draft pick by the Ravens, but are still better off than the way they ended last season -- with three healthy linebackers. Senior Glenn Cook is back after missing last season with a foot injury, and the freshmen -- Arthur Brown and Sean Spence -- didn't waste any time impressing the staff while Coin McCarthy was out this spring. Darryl Sharpton and Spencer Adkins are possible starters in the middle.
7. Virginia Tech: The Hokies will obviously miss Vince Hall and Xavier Adibi, but middle linebacker Brett Warren played well last year when Hall got hurt and earned the confidence of defensive coordinator Bud Foster. Purnell Sturdivant is No. 1 heading into the fall, but should be challenged by veteran Jonas Houseright and redshirt freshman Hunter Ovens. Redshirt junior Cam Martin started 13 of 14 games last season at weakside after being moved from free safety and finished fifth on the team with 78 tackles and was third in sacks with 4.5.
8. Duke: Senior Michael Tauiliili is the top active player in the league in terms of career tackles, and finished last season with 108. He also had four sacks and three interceptions. Vincent Rey led the Blue Devils with 111 tackles. The third slot will be between Marcus Jones and Adam Banks. There's not a lot of depth here, but there's talent.
9. Clemson: This is the least experienced unit on the Tigers' defense. Josh Miller is the only senior in the group and is competing for the starting middle linebacker job. Tommy Bowden was impressed with freshman Stanley Hunter this spring, but Brandon Maye had the top spring among the newcomers and is listed as first team in the middle entering the fall. Junior Kavell Connor is the top option at weakside linebacker and had a career high 15 tackles in the Chick-fil-A Peach Bowl. He had 46 stops for the year, tops among linebackers on the spring depth chart. Sophomore Scotty Cooper also started the Chick-fil-A Bowl at strongside linebacker. He had 33 stops for the season in 183 plays on defense.
10. North Carolina: The Tar Heels have to replace leading tackler Durell Mapp, but return sophomore Bruce Carter and sophomore Quan Sturdivant. Carter played in all 12 games and started seven. He made 18 of his 25 tackles in the final five games. Sturdivant's experience is similar, having played in all 12 games, but started just five. He finished the season with 47 tackles, but also added an interception and a blocked punt. Senior Mark Paschal played in all 12 games and started four at middle linebacker, and Chase Rice was still recovering this spring from a torn tendon in his left ankle. He was the starter in 2007, but got hurt in the season opener and missed the rest of the season.
11. NC State: There's not a lot of experience, as the top candidates have combined for five starts and only four guys have played in a collegiate game. Nate Irving is the lead candidate at weakside linebacker, having started four games. Ray Michel started one game in the middle, and strongside should be wide open. Robbie Leonard, a converted walk-on defensive back, is the starter heading into summer camp. He played in eight games as a strong safety and has seen most of his action on special teams the past two seasons. Thomas Barnes got valuable experience as a backup middle linebacker last season, playing the last 10 games and scoring a touchdown on a fumble recovery in only his third career play from scrimmage.
12. Georgia Tech: Two of the three stars from last year -- Philip Wheeler and Gary Guyton -- are now on NFL rosters. Junior Shane Bowen started nine games last season, but sophomore Anthony Barnes has the most potential and started three. Two young rookies, sophomore Brad Jefferson and redshirt freshman Kyle Jackson, are good enough that Bowen may lose his starting job.