NCF Nation:

Marcus Robinson
September, 1, 2011
9/01/11
10:15
AM ET
There's always something worth watching in the ACC, but Week 1 is usually one of the most interesting Saturdays of the season because of the anticipation that has been building since the end of the Orange Bowl. Here are 10 things to keep an eye on this week in no particular order as the ACC starts the season:
1. Debut of three new head coaches.
Maryland coach Randy Edsall and Miami coach Al Golden will kick off their first seasons against each other on Labor Day, while North Carolina interim coach Everett Withers takes on James Madison. Golden and Withers have both had trying off-field incidents to deal with, as NCAA investigations at both schools have added extra challenges.
[+] Enlarge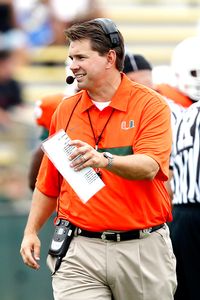 Joel Auerbach/Getty ImagesNew coach Al Golden is ready to shift Miami's focus onto the field.
2. Rookie starting quarterbacks.
Five first-year starters will be introduced this weekend in Clemson's
Tajh Boyd
, Virginia Tech's
Logan Thomas
, NC State's
Mike Glennon
, North Carolina's
Bryn Renner
and Virginia's
Michael Rocco
. FSU quarterback
EJ Manuel
is entering his first season as a full-time starter, along with Georgia Tech's
Tevin Washington
. There are bound to be a few plays they'd like to have back this weekend, but there should also be some signs of a promising future at the position.
3. Miami's replacements.
With eight players sidelined because of the NCAA investigation, Miami's backups have been promoted to critical roles. Players like Andrew Smith, Marcus Robinson and Jordan Futch will have to elevate their games quickly.
4. Georgia Tech's B-backs.
This could be the first season under coach Paul Johnson that the Jackets don't produce a 1,000-yard rusher in their run-based offense, only because the B-backs work more by committee.
David Sims
will start against Johnson's alma mater, Western Carolina, but
Charles Perkins
and
Preston Lyons
could both get some carries.
5. Florida State's offensive line.
This group has had injury problems all offseason, and if there's one question about the Seminoles this year, the offensive line is it. How this group looks intact remains to be seen.
6. New schemes.
Clemson's offense made sweeping changes under first-year coordinator Chad Morris, and Boston College will have some wrinkles under first-year coordinator
Kevin Rogers
. Maryland should also unveil a new look under first-year coordinator Gary Crowton.
7. Clemson receiver Sammy Watkins.
If he starts against Troy as expected, Watkins would be just the 14th Clemson first-year freshman to start the season opener since freshman eligibility returned to college football in 1972. Watkins would be the first wide receiver to start the opening game as a true freshman since Roscoe Crosby started the opener of the 2001 season against Central Florida.
8. Wake Forest placekicker Jimmy Newman.
He's on a serious streak. Newman has made 12 straight field goals, currently the longest streak in school history. He has also made all 65 PAT attempts in his career, the second-longest streak of extra points in school history behind Sam Swank with 121.
9. The Roccos.
Michael Rocco will be making his debut as Virginia's starting quarterback the same day his father, Danny, takes on NC State as the head coach at Liberty. Rocco enters the season with 25 career passing attempts, and his father is entering his sixth season at Liberty with a 40-16 record.
10. Revamped secondaries.
Georgia Tech and North Carolina have both undergone significant transition in the secondary, and Boston College has also had some turnover. The Yellow Jackets had to replace all four starters in the secondary, and the Tar Heels have to replace three starters. At BC, senior safety Dominick LeGrande decided to transfer, and projected starter Okechukwu Okoroha was dismissed from the team for disciplinary reasons.
August, 30, 2011
8/30/11
8:17
PM ET
Miami can finally move on.
The biggest question of the offseason in the ACC -- who will play for the Hurricanes and who will not when Miami lines up against Maryland on Labor Day --
has been answered
.

The NCAA has mandated that defensive lineman Olivier Vernon will sit out six games, while Ray-Ray Armstrong and tight end
Dyron Dye
will miss four games apiece. Quarterback
Jacory Harris
, Sean Spence,
Travis Benjamin
, Marcus Forston and Adewale Ojomo all must sit out one game.
Cornerbacks Brandon McGee and JoJo Nicolas, defensive tackle Micanor Regis, safety Vaughn Telemaque and linebacker Marcus Robinson have been cleared by the NCAA to play.
There are your 13 players whose eligibility was in question.
Now, not only can Miami prepare for Maryland this week confident in its starting lineup, it can also move forward knowing the majority of its roster will be intact for the most critical games of the season. This could have been a lot worse for the Canes, but they've got a capable starting quarterback in
Stephen Morris
, and the majority of top players will miss no more than the season opener. Maryland is Miami's lone conference opponent in the first four weeks, so the Canes will almost be at full strength when they need to be the most -- for the Oct. 8 game at Virginia Tech.
Miami is still very much in the Coastal Division race.
The Canes' season could have been over before it started, but this is a very manageable punishment for a team loaded with talent. It's not over yet -- the Hurricanes could still face more sanctions as the NCAA continues to investigate. There's no reason to believe this will be fully resolved faster than any of the other NCAA investigations, but as far as the impact will have on the field this season, Labor Day will be the worst of it.
The biggest hits will obviously come against the Terps, but mainly on the defensive side, as the offense will only be missing two starters. Defensively, Andrew Smith steps in for Vernon. It's not NFL talent, but Smith is experienced and more than capable of handling the job. He played in 11 games last season and had three sacks. Marcus Robinson, a senior who played in 10 games last season, is another veteran who fills in at the other end spot. Nicolas moved from corner to safety to take over for Armstrong, but Nicolas has played safety the majority of his career anyway -- including 10 starts at the position last season.
The biggest drop off will be at linebacker, where Jordan Futch replaces Spence, but we're only talking about one game.
No, this is not an ideal way for Al Golden to start his career at Miami, but so far, these suspensions don't look like they'll stand in the way of him making a case to finish his first season strong.
January, 24, 2011
1/24/11
10:00
AM ET
This morning we looked at the main recruiting needs for the Atlantic Division. Here are the priorities for each team in the Coastal Division:
DUKE
Offensive line:
The Blue Devils will have to replace one starter in center Bryan Morgan, and it's still a relatively young group, but with several redshirt sophomores on the roster, the staff wants to load up two grades behind them to fully stock the position for the future.
Defensive line:
This has always been Duke's deficiency, which means it will always be a priority to catch up and build depth. The Blue Devils will have to replace two starters in Wesley Oglesby and Patrick Egboh. Noseguard Charlie Hatcher will be a redshirt senior.
Cornerback:
Duke only loses one starter, cornerback Chris Rwabukamba, but it's another position that has been weak and needs better athletes.
GEORGIA TECH
Offensive line
: The early departure of Nick Claytor to the NFL didn't help the depth, but there were still several young players who gained valuable experience and others who redshirted to help the depth. While no true freshman is likely to make an immediate impact, the staff is still looking to build the numbers up front.
Linebacker/defensive line:
The Jackets need to find more athletes who are suited for Al Groh's 3-4 scheme. Fast athletes who are versatile enough to play a hybrid role, with the ability to move in space, will be a priority in this class.
MIAMI
Quarterback:
With
Jacory Harris
being a senior, A.J. Highsmith moving to defense, and
Spencer Whipple
struggling in what little time he has played, the position needs a boost. It didn't help that Teddy Bridgewater reneged on his commitment.
Linebacker:
This is a position former coach Randy Shannon had put an emphasis on building, and there are young players and depth, but it was also a veteran group in the 2010 two-deep, with mainly juniors and seniors.
Wide receiver:
The upperclassmen did all of the work in 2010, with
Leonard Hankerson
leading the way.
Travis Benjamin
,
Aldarius Johnson
and Laron Byrd will all be seniors. An influx of young talent is needed.
Defensive end:
The staff is looking to improve the depth here, get stronger up front, and build upon the success from 2010. Marcus Robinson, Adewale Ojomo, and Micanor Regis will all be seniors.
NORTH CAROLINA
Tailback:
Injuries depleted this group in 2010, and
Anthony Elzy
,
Johnny White
and
Shaun Draughn
were both seniors.
Ryan Houston
was able to redshirt and will return as a fifth-year senior, but the Tar Heels need more dependable runners and a foundation for the future.
Defensive line:
The Tar Heels have to prepare for some departures, especially on the interior, where all four players on the two-deep roster in 2010 were juniors.
Secondary:
UNC will have to replace three starters in the secondary this spring, and three backups this year were juniors. Because of the NCAA investigation, this is a group in which backups had to develop quickly, so there are some experienced younger players, but the group still needs to reload.
Tight end:
The loss of Zach Pianalto and his backup,
Ed Barham
, leaves the position thin.
VIRGINIA
Offensive line:
With starting right guard B.J. Cabbell gone, starting center Anthony Mihota a senior, and starting left guard Austin Pasztor a senior, the staff has to prepare for some departures. Morgan Moses and Oday Aboushi are talented young players, but the rotation needs more of them.
Defensive line:
End Zane Parr's decision to leave early for the NFL draft hurt the position's depth, and the Cavs will also have to replace John-Kevin Dolce at tackle. Three other players in the two-deep will be rising seniors, and with Virginia switching back to a 4-3 defense under Mike London, the Cavs have to rebuild up front.
Secondary:
Cornerback is of particular concern, as Chase Minnifield will be a senior, and starter Mike Parker will graduate.
VIRGINIA TECH
Running back:
The early departures of
Ryan Williams
and
Darren Evans
to the NFL left
David Wilson
as the only tailback with any significant experience. Overall, the Hokies have four tailbacks on their current roster.
Defensive line:
The Hokies will have to replace redshirt senior starters Steven Friday and John Graves, and starting left end Chris Drager will be a redshirt senior this year.
Wide receiver/tight end:
Starters
Jarrett Boykin
and
Danny Coale
will be seniors, and tight end
Andre Smith
will graduate.
Secondary:
Half the players on the two-deep roster against Stanford were either juniors or seniors, and the Hokies will have to replace rover Davon Morgan and cornerback Rashad Carmichael.
November, 16, 2008
11/16/08
2:52
PM ET
Posted by ESPN.com's Heather Dinich
Here are the top performers for Week 12:

Miami's defensive line. The Hurricanes had a season-high seven sacks in the Canes' 16-14 win against Virginia Tech. Defensive end Marcus Robinson had three, right tackle Marcus Forston and left tackle Joe Joseph each got one, and defensive end Allen Bailey made one on a critical fourth-down stop of Tyrod Taylor with two minutes remaining in the fourth quarter.
Maryland's offensive line. The Terps showed dramatic improvement since their loss to Virginia Tech, and it opened things up in both the running and passing game for a 17-15 win over UNC. They paved the way for a 195-yard rushing performance one week after finishing with minus-12 against the Hokies.
Boston College defensive coordinator Frank Spaziani. It's time to give this man some credit. He figured out a way to stop Florida State's running game, which was averaging 205.2 yards, and held them to 73 yards on the ground in the Eagles' 27-17 win over FSU. BC leads the nation with 21 interceptions, including 10 in the past three games. And the defense or special teams has scored in five straight games. The Eagles forced FSU quarterback Christian Ponder into one of his worst performances of the season.
NC State quarterback Russell Wilson. He accounted for all three of the Pack's touchdowns in a 21-17 upset of Wake Forest and also rushed for a team-high 69 yards. He threw for 152 yards and two touchdowns. In his past six games, Wilson has 12 passing touchdowns and no interceptions.
Clemson running back C.J. Spiller. He had 10 carries for 71 yards and a touchdown, and seven catches for 108 yards and a touchdown in the Tigers' 31-7 win over Duke. Spiller's 83-yard touchdown catch and 24-yard scoring run put the Tigers one win closer to a bowl game.
November, 14, 2008
11/14/08
12:35
AM ET
Posted by ESPN.com's Heather Dinich
MIAMI GARDENS, Fla. -- Miami senior offensive tackle Reggie Youngblood shook his head and let out a sigh. It was the only thing he could come up with since he was at an utter loss for words to describe just how much the Canes' 16-14 win over Virginia Tech meant to the seniors.
"You can't, you really can't," he said. "It's just something you've got to experience. I believe everything happens for a reason and now everything seems to be paying off."
| | |
| --- | --- |
| | |
| | Joel Auerbach/US Presswire |
| | Robert Marve and the Canes won their fifth straight game. |
So much attention has been paid to this year's freshman class -- and deservedly so -- but they weren't on the field for last year's embarrassing senior sendoff at the historic Orange Bowl. The 48-0 loss to Virginia in front of so many former Miami greats punctuated a miserable season in which the Canes won only two league games and were denied a bowl bid for the first time in a decade.
This season's home finale, though, was different.
This team is different.
This time, in front of a crowd that included former Hurricanes Jim Kelly, Cortez Kennedy, Jim Otto and Gino Torretta, the bowl-eligible Hurricanes knocked off the defending ACC champions and won their fifth straight game. This is the same team that was predicted by the media to finish fifth in the Coastal Division and appeared headed in that direction with its 0-2 start in the conference. Now, for at least 48 more hours, the Hurricanes can enjoy sole possession of first place by a half game over North Carolina.
"It feels real good," Youngblood said, "especially after last year's senior night, how those seniors went out."
Miami coach Randy Shannon hesitated to call it a statement win, but acknowledged the significance of it.
"I think it's a big win for us because it's our last regular-season game playing in Dolphin Stadium, and I think for these seniors and this football team that was tremendous because we have a lot of seniors on this football team who have been through a lot," Shannon said. "For us to come out and win this football game the way we did and played hard for the senior class was tremendous for us."
Posted by ESPN.com's Heather Dinich
I thought this top 25 list was going to be difficult, but as it turns out, there are a gazillion things I can't wait to see in the ACC this season -- Chief Osceola and Renegade included. But this year, the quarterbacks top the list.
I can't wait to see ...
1. Miami quarterback Robert Marve in his first collegiate start against Florida. First there was the car accident. Then the suspension. Can we please get an official snap now?
2. Boston College quarterback Chris Crane. Finally. Let's watch what he can do and stop talking about the other guy.
3. Who will wind up as Florida State's most consistent starting quarterback. It was Drew Weatherford's job to lose this summer, but Christian Ponder and D'Vontrey Richardson both have Jimbo Fisher thinking too much.
4. Maryland third-string quarterback Josh Portis. So much hype, so little action. Not this season. After spending the past two years on the scout team, we finally get to see what this speedy transfer from Florida can do.
5. Which Miami freshman is going to have the most impact. There are so many to choose from, on both sides of the ball, including the two who are in the starting lineup for Thursday's season opener against Charleston Southern -- quarterback Jacory Harris and defensive end Marcus Robinson.
6. James Davis and C.J. Spiller try and get through B.J. Raji, Ron Brace, and the other guys in the Eagles' front seven. BC's defense should be even better than it was in 2007, and Thunder and Lightening only rushed for a total of 62 yards against them last year.
7. Macho Harris as a receiver. He switched to offense for a part of the spring, and the Hokies certainly could use him there, but will they?
8. Jacoby Ford used on a reverse in the same game he takes a kickoff or punt return all the way back. He's super fast, athletic and can be used just about anywhere on the field. Let's see it.
9. An upset -- I don't care who it is, and I don't care when it happens. That could mean Clemson shocking somebody in the postseason, or it could mean NC State shocking Clemson. Clemson losing to Wake? Not a shocker.
10. Georgia Tech QB Josh Nesbitt throw it. It's bound to happen sooner or later, and don't think the receivers were standing around at practice this summer gossiping.
11. James Franklin calling the plays. Go deep, Hey-Bey. The offense should be more fun to watch as long as the staff doesn't get caught up in Jordan Steffy throwing five-yard passes.
12. Michael Johnson absolutely flatten somebody. He hasn't started a game yet, but the Yellow Jackets' new defensive scheme will free him up to rush from the edge.
13. Preston Parker take one home. Sure, he's suspended for two games, but this guy is a playmaker. I saw what he did at Maryland last year in his first shot at tailback and would love to see more.
14. The Wake Forest defense score 11 touchdowns. Hey, they scored 10 last year. OK, so the odds of this happening are slim to none, but this defense is still one of the most exciting to watch because of its playmaking potential.
15. Butch Davis' return to Coral Gables. Davis' coaching ties make for a good subplot, but so does the fact that the Tar Heels beat these guys last season.
16. Al Groh in a good mood. Too bad I'm heading to the season opener. Odds are Charlottesville is a happier place around Week 10. Then again, maybe not.

17. NC State get a break that doesn't involve a body part. These guys are due for one. It's not the third-string left tackle that gets hurt for these guys, either, it's their leading rushers and receivers. I want to see what the Pack can do at 100 percent.
18. Thaddeus Lewis after a summer of instruction from some former SEC coaches. He was the third best QB in the league before he started taking advice from a coach that tutored the Manning brothers.
19. The return of NC State tight end Anthony Hill. This guy is a veteran playmaker, and after missing last season with a torn ACL, he's ready to rock.
20. The Blue Devils win more than one game. These guys have put in way too much work this summer not to.
21. The Tar Heels defense under Everett Withers. The first-year defensive coordinator is the first to admit his Minnesota defense last year was "awful." What can he do with the talent on the Tar Heels' roster?
22. Frank Beamer's hip-hop dance. I missed it last year after the Hokies won the ACC title. Then again, they've got to win it again in order for another show.
23. The Euro kicker make his first field goal against USC. Yannick Reyering has never played a game of football in his life, and here he is starting against USC. Fun.
24. Jim Grobe explain his gameplan to the well-to-do fans in Deacon Tower an hour before kickoff against Clemson. If only I were a well-to-do sports reporter ...
25. The inside of the Esso. I've heard a lot about this place, but didn't get a chance to go there this summer. I was too busy running down some hill.
August, 22, 2008
8/22/08
8:43
AM ET
Posted by ESPN.com's Heather Dinich
Until he wins an ACC title, Clemson coach Tommy Bowden knows he's going to be answering questions about whether or not he actually can.
It's not like he doesn't have the talent to do it. Just look at how many veterans are being pushed by talented rookies in this program.
Bowden said he planned on using a significant amount of freshmen this season, but a few prominent newcomers have been relegated to the redshirt ranks.
Maryland should surprise some people in the Atlantic Division this year, and the Terps' veteran offensive line is a major reason why.
On the Coastal side, even Virginia Tech coach Frank Beamer has had to temper his expectations because he had so many questions to answer this summer. Could a defensive tackle nicknamed Taco be one of those answers? Possibly, now that he's slimmed down a bit.
With Eric Moncur and Allen Bailey battling injuries all summer, the freshmen on defense have had to turn it up a notch. Marcus Robinson has been impressive enough to earn consideration to start in the season opener. We don't know who the starting quarterback is at Miami yet, but we know what his backups are doing.
Georgia Tech had a game-style scrimmage Thursday night to prepare for its season opener against Jacksonville State, and it wasn't exactly pretty.
Wake Forest quarterback Riley Skinner isn't Matt Ryan, but he's tried to be. Now he's ready to be himself -- unflappable.
Boston College walk-on cornerback Mark Maglio has never gotten paid for doing his impersonations before -- unless a scholarship counts. Corner DeLeon Gause already has a scholarship, and there's no question he's going to earn it this season, as teams are likely to pick on BC's inexperienced secondary.
The same can be said at UNC, but as Kendric Burney points out, it's not like they're going against no-name receivers in practice every day.
With punter/placekicker Graham Gano out, who will step up?
Speaking of kickers ... can UNC's Casey Barth break his brother Connor's records? First he has to win the job.
And Virginia coach Al Groh isn't ready to name a starting quarterback, but he declared Yannick Reyering his new kicker.