June, 14, 2013
6/14/13
1:00
PM ET
If the Dictionary of Phrases needs a demonstration of what "cautiously optimistic" sounds like, they might want to chat with Mark Banker about his Oregon State defense.
He makes a good case for optimism. And he's got reasons to be cautious.
It must be first said that Banker probably feels a lot better than he did a year ago when Beavers fans were doubting him, despite a distinguished track record of consistent success, both on the field and in terms of transforming under-the-radar recruits into NFL draft choices.
[+] Enlarge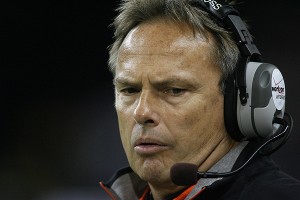 Jesse Beals/ Icon SMIDefensive coordinator Mark Banker is optimistic the Beavers can continue the growth they showed last season, when they ranked second in the Pac-12 and 22nd in the nation, giving up 20.6 points per game.
Yet after consecutive losing seasons in Corvallis, Banker and head coach Mike Riley were on the spot. The 2011 Beavers ranked seventh in the Pac-12 in scoring defense, surrendering 30.8 points per game, and they often were pushed around, yielding a conference-worst 196.8 yards rushing per game.
Few units in the Pac-12 improved as much as the Beavers' defense from 2011 to 2012. Last fall, the Beavers ranked second in the Pac-12 and 22nd in the nation, giving up just 20.6 points per game, a 10.2-point per game improvement. They also ranked third in run defense, holding foes to 129.5 yards per game in a conference with a lot of good running backs.
The difference? Better players, experience, staying healthy and a rejiggered defensive staff, says Banker.
As to what he sees for 2013, he said, "This group is more than capable."
He likes his defensive ends,
Dylan Wynn
and All-American candidate
Scott Crichton
. He's got two speedy, experienced outside linebackers in
Michael Doctor
and
D.J. Alexander
. Three of four starters are back from a secondary that yielded just 14 touchdown passes last fall.
And yet.
He's replacing his middle linebacker
Feti Taumoepeau
, as well as do-everything backup
Rueben Robinson
. All-American cornerback Jordan Poyer is now playing for Chip Kelly in Philly. And he's got 644 pounds missing in the middle of his defensive line with the departure of tackles
Castro Masaniai
and
Andrew Seumalo
.
Let's start with the optimism. Banker loves underrated free safety
Ryan Murphy
.
"He can really play -- he's got the greatest chance of being drafted in a high position," Banker said. "He'll be one of the, if not the best, safety we've ever had here as this thing plays out. I hope I don't jinx him."
Further, he feels like he's got a pretty good competition for replacing Poyer, with experienced senior
Sean Martin
and talented junior college transfer Steve Nelson in a tight battle for the starting job, with the No. 2 guy likely filling a nickel role.
Banker likes true sophomore
Joel Skotte
stepping into the middle linebacker spot. While Skotte, who saw significant special teams action last season, isn't yet there physically, he's a smart player, the kind of guy who won't make mental mistakes in the middle of the Beavers' defense.
Further, the position isn't as critical to the Beavers' defense as it was in the past, because eight conference teams run no-huddle spread offenses.
"The basis of what we have to have at that position, [Skotte] has," Banker said. "But at the same time, with so many different spread types of offenses, we're in our sub packages quite a bit."
Which means Doctor, who made great strides in 2012, moves into the middle.
Banker admits some frustration trying to get Alexander in the right place to maximize his athletic potential. There were plenty of feast or famine moments with the speedy rising junior in 2012. Great plays followed by mental errors.
"There were quite a few times last year we'd take him out to let him know, No. 1, it's not acceptable and, No. 2, so we could get him squared away in the mental aspect of the game," Banker said.
Then there are the voids at defensive tackle. You can almost feel Banker rubbing a rabbits foot through the phone line.
"We're not so much uncertain, but we're not satisfied with our defensive tackle play," Banker said.
The Beavers welcome back reserves
Mana Rosa
and
John Braun
, but four junior college signees are expected to compete for the starting spots.
Edwin Delva and Siale Hautau both participated in spring practices. Hautau, however, broke his hand and missed most of the action, and Delva has a ways to go.
Kyle Peko
,
Charlie Tuaau
and
Lyndon Tulimasealii
are scheduled to arrive for fall camp, but Banker sounded a cautionary note about all three being squared away academically.
"All three have significant work that they are doing in the classroom that they need to become eligible," he said.
The hope is that, of the tackles who do make it to camp, at least two will be Pac-12 ready. And maybe one or two others can adequately take up space.
"That's the biggest thing that I'm curious about: Where do they start? Where's the bottom? I hope they don't start down too low," Banker said.
Banker likes what he knows about his defense. And has his fingers crossed hopefully over what he's yet to find out.
November, 10, 2012
11/10/12
6:47
PM ET
Stanford and Oregon State played perhaps the most rugged game in the Pac-12 so far this year, but the 14th-ranked Cardinal emerged victorious in the back-and-forth affair,
27-23
.


It was over when
: Oregon State quarterback
Cody Vaz
was sacked by
Alex Debniak
for a 12-yard loss on third-and-4 from the Beavers 43 with 2:15 remaining. Not only did it leave the Beavers with a fourth-and-long, Vaz was hurt on the play, and the QB he displaced in the starting lineup,
Sean Mannion
, was forced into the game at its most pressure-packed moment. Mannion's desperate pass over the middle fell incomplete, and the Cardinal took over and assumed victory formation.
Gameball goes to
: Stanford running back
Stepfan Taylor
rushed for 114 yards on 19 carries with a TD. He eclipsed 1,000 yards for a third consecutive season. He's just the second Cardinal running back -- Darin Nelson -- and 12th Pac-12 player to do that.
Stat of the game
: 4-1. That's the turnover numbers, with Stanford giving away four. But Vaz's fourth-quarter fumble on the Beavers 29-yard line -- he lost control of the ball while scrambling without contact -- set up the Cardinal's go-ahead touchdown. That one turnover was the play of the game.
Unsung hero of the game
: Making his first start, Stanford QB
Kevin Hogan
made plays when the Cardinal most needed them, including a 13-yard TD pass to tight end
Zach Ertz
for the winning points. Hogan completed 22 of 29 passes for 254 yards with three TDs and two interceptions. He also rushed for 49 yards on 11 carries.
What it means
: It means Stanford can win the North Division. All it has to win out. Of course, the Cardinal visits Oregon next weekend and ends the season at UCLA. Big tests. But there's a chance. Oregon State will play host to California next weekend before concluding its season at home against Oregon. Both teams, obviously, still have a lot to play for, including a shot at the Rose Bowl.
October, 19, 2012
10/19/12
12:00
PM ET
As we turn the corner at the midway point of the season, your Pac-12 bloggers recount what has surprised them the most in the first half of the season. One is a pleasant surprise. The other, not so much.
Kevin Gemmell:
I think we're all a bit taken aback by the remarkable success Oregon State has had so far this season. Let's be honest -- even the most devout of Beavers believers didn't think their team was going to have the school's best start since 1939. If you did, you are a real-McCoy psychic and you should immediately send all relevant stock tips
here
.
What's so impressive -- aside from the 5-0 start and top-10 spot in the BCS standings -- is the way Oregon State has gone about doing it. Great offense. Great defense. And above all, a no-nonsense, physical approach to football. There is an attitude -- a focused swagger, if you will -- that is really fun to watch.
[+] Enlarge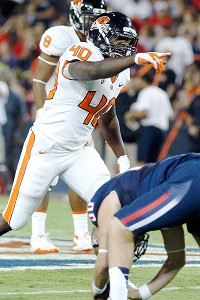 Rick Scuteri/US PresswireLinebacker Michael Doctor has helped point the way for Oregon State's top-five rush defense.
The Beavers have been solid in the trenches on offense and relentless on defense. The offensive line has come together faster than most anticipated -- which obviously has contributed to a rushing attack that averages 119.6 yards per game (up from a league-worst 86.9 in 2011).
Defensively, you can't say enough about the play of
Scott Crichton
,
Jordan Poyer
and a player I think is flying under the radar:
Michael Doctor
.
Naturally, the growth of quarterback
Sean Mannion
has been helpful. He's done a much better job taking care of the ball (OSU ranks 12th nationally in turnover margin), and we've been talking about
Markus Wheaton
and
Brandin Cooks
as a potential breakout duo since we started doing weekly Take 2s in the spring.
Heading into this week's games, the Beavers owned the second-best pass attack in the Pac-12. Again, with teams such as Washington State, USC and UCLA expected to air it out, did anyone really see that one coming?
And the fact that they can plug in
Cody Vaz
and not miss a beat is impressive.
But as much credit as Mike Riley deserves for the offense, defensive coordinator Mark Banker deserves equal praise -- if not more. The Beavers have the top rush defense in the conference and the No. 4 rush defense in the country, allowing just 70 yards per game on the ground. That's elite status, and it takes more than just talented players to attain it. It takes an attitude. It takes an unwavering mentality that our defense is going to dictate to you, not the other way around.
Talking with Poyer and Crichton throughout the season, they said the simplest answer is that they are motivated by being 3-9 in 2011. It was a crummy season, and they didn't want to feel like that again. That's pretty good motivation.
The fact that Oregon State is better than last season isn't a surprise. It's the fact that the Beavers are
so
much better that is both surprising and pleasant.
Ted Miller
: The mediocrity of USC's offense is shocking. No one saw that coming.
This is where someone claims he or she saw it coming. No you didn't. Stop it. No you didn't. Hush.
USC welcomed back nine starters from an offense that in 2011 averaged 35.8 points, 456.8 yards and 294.2 passing yards per game. Among those starters were quarterback
Matt Barkley
, the nation's leading Heisman Trophy candidate; 2011 All-American wide receiver
Robert Woods
; second-team All-Pac-12 wideout
Marqise Lee
, the co-freshman offensive player of the year; second-team All-Pac-12 center
Khaled Holmes
; and 1,000-yard rusher
Curtis McNeal
.
[+] Enlarge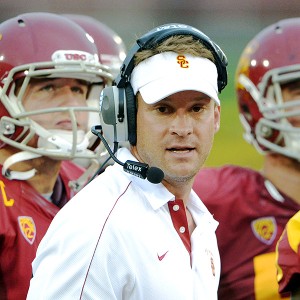 Kirby Lee/Image of Sport/US PresswireCoach Lane Kiffin has reined in his offense and let the defense hold on to USC leads.
Barkley had completed 69 percent of his passes with 39 touchdowns and seven interceptions in 2011. He ranked eighth in the nation in passing efficiency. And he had all his weapons coming back. Oh, and the Trojans added a second 1,000-yard rusher when
Silas Redd
transferred from Penn State.
There were no weaknesses. While the departure of Matt Kalil left a sizable void at left tackle, the consensus was that
Aundrey Walker
was the next surefire NFL draft choice at a position where USC always has a surefire NFL draft choice.
Yet here we are. With the more difficult portion of the schedule ahead, USC is worse in just about every area on offense. Heck, the Trojans are 112th in the nation on third down, behind teams such as Memphis, Colorado and Kansas.
Heading into this week's games, Barkley ranks 30th in the nation and third in the Pac-12 -- behind a pair of first-year starters -- in passing efficiency. He's thrown six interceptions after throwing seven in 12 games last season. He's completing just 62.7 percent of his throws. He's been sacked nine times after going down just eight times all last season.
Woods is 99th in the nation with 60 yards receiving per game and five touchdowns; he had 15 TDs and averaged 107.67 yards per game last season. McNeal, now a backup, has only 44 carries.
Lee's numbers are better than last season, but he hasn't been consistent catching the ball.
Some of the blame falls on coach Lane Kiffin, the offensive playcaller who's opted for a more conservative approach, particularly when the Trojans have a lead. With an improved defense, Kiffin seems content to run the ball and play to his defense once he gets ahead.
Still, in the preseason, there was a legitimate discussion of whether this offense might end up ranked among the best in college football history. The question now is whether it will be among the top half of the Pac-12.
And that is a huge surprise.
September, 27, 2012
9/27/12
6:02
PM ET
Recall your college football self from a year ago.
Now envision the 2011
Oregon State Beavers
. They had lost their season opener to Sacramento State, an FCS team. They had been stomped 35-zip by Wisconsin. They had controversially benched returning starting QB
Ryan Katz
in favor of redshirt freshman
Sean Mannion
.
And let's just say when they walked by you on the field, they didn't pass the sight test. Their defensive front was small. The offensive line looked a little soft. There was a crowd of running backs but no obvious leader. There were a lot of guys on the sideline limping around.
The 2011 Beavers weren't any good, and they looked the part, a 3-9 record providing ultimate judgment.
Come back to the present. See the 2012 Beavers. They beat No. 13 Wisconsin in their season opener. They beat No. 19 UCLA in Game 2.
[+] Enlarge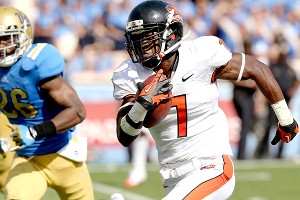 Stephen Dunn/Getty ImagesReceiver Brandin Cooks will surely be the top target for the winner of Oregon State's QB race.
They have a returning starter at quarterback. Their top two receivers,
Markus Wheaton
and
Brandin Cooks
, might be the fastest tandem in the nation. At the very least, they are the
nation's most productive.
The offensive line is experienced. The defensive front seven mixes size and athleticism. The secondary is among the best in the Pac-12.
The 2011 Beavers ranked 101st in the nation in run defense. The 2012 Beavers rank second -- despite having played two good rushing teams.
And, finally, the 2012 Beavers head to Arizona on Saturday carrying a No. 18 national ranking. The 2011 Beavers had to settle for just being rank.
To paraphrase "Monty Python and the Holy Grail": In 2011, the Beavers turned into a newt. In 2012, they got better.
Why? The usual reasons. The Beavers are healthy. A young team grew up. They have pretty good players. And coaches.
That said, the starting point for improvement is obvious. Coach Mike Riley has repeatedly said the Beavers' woes in consecutive losing seasons were the inability to run the ball and to stop the run. The Beavers are doing the former fairly well and the latter very well.
It all starts on both lines, particularly the defensive front.
"That's probably the biggest difference," Riley said. "We're doing such a better job with run defense, and that puts us into a lot better third-down defensive categories. We're doing a great job on third down."
The defense is better because it plopped down 354-pound
Castro Masaniai
into the middle of the line. He started last season out of shape, then got hurt. Fellow defensive tackle
Andrew Seumalo
has become formidable inside, too. Defensive tackle was a notable weakness last year. No longer.
Playmaking sophomore ends
Scott Crichton
and
Dylan Wynn
have filled out as second-year starters. A strong front four has freed things up for an athletic corps of linebackers.
Jordan Poyer
and
Rashaad Reynolds
are among the best cover tandems in the conference, which allows the safeties to provide plenty of help in run support.
As for the offense, Mannion is far more efficient. He has thrown just one interception after leading the Pac-12 with 18 in 2011. The offensive line features four veterans and true freshman center
Isaac Seumalo
, one of the highest-rated recruits to sign with the program. There's a nice collection of H-back, tight end sorts.
Although the running game has yet to fully arrive -- the Beavers are 11th in the conference with 2.8 yards per rush -- the offensive line has held its own against two above average defensive fronts.
Essentially, youth and inexperience in 2011 is seasoned in 2012.
"It's confidence as much as anything," Riley said. "A lot of guys played their first football last year. They got a taste of what it was like. And, of course, it was hard last year. We didn't do very well. But they took it in a positive way as far as, 'Well, I know what I need to do. Now I need to go to work.'"
The maturation certainly has made life easier for Riley and defensive coordinator Mark Banker. Although both have long been highly respected coaches, more than a few fans found them wanting during the Beavers' two-year slide. Both apparently sought out the lovely but fickle Coaching Fairy of the Northwest this past offseason and had their X's and O's powers restored after completing The Seven Labors of Bear Bryant.
Or something like that.
Of course, Riley isn't the chest-thumping type. When asked whether he saw this improvement coming, he said. "I'd like to say I did, but it was truly a mystery to me."
The question going forward is whether the Beavers can sustain this fast start.
So imagine your college football self two months from now. Is Oregon heading to Oregon State with the North Division at stake?
September, 9, 2012
9/09/12
9:00
AM ET
This was a pretty special weekend for the Pac-12. And special weekends deserve a special number of helmet stickers.
Chris Coyle, Arizona State, TE
: Coyle matched a school record for a tight end with 10 catches for 131 yards and two touchdowns in ASU's win over Illinois. Here's a little perspective: Last year he caught six balls for 73 yards -- for the entire season.

Matt Scott, Arizona, QB
: Scott completed 28 of 41 passes for 320 yards and two touchdowns in Arizona's 59-38 win over No. 18 Oklahoma State. He also carried 19 times for 55 yards, including an 8-yard score.
Mark Banker, Oregon State, defensive coordinator
: Oregon State's defense dominated the Badgers, at least until they made things interesting with a late touchdown (and nearly recovered an onside kick). Wisconsin gained just 207 yards -- versus 352 for Oregon State -- and rushed for a meager 35.
Ed Reynolds, Stanford, safety
: Reynolds notched his second and third interceptions of the season -- including a 71-yard pick-six against Duke. Last year, Stanford's leader in interceptions was Michael Thomas with three. Reynolds has matched that in the first two games.
Johnathan Franklin, UCLA, RB
: After posting 214 yards last week, he followed it up with a career high 217 rushing yards against Nebraska. He also caught three balls for 59 yards and a touchdown.
Kenjon Barner, Oregon, RB
: Barner turned in a sensational performance, rushing for 201 yards and three touchdowns on 34 carries to propel Oregon to a 42-25 win over Fresno State.
Andrew Furney, Washington State, K:
Kick a 60-yard field goal and you're in. That simple. He did miss a 40-yarder, which made him questionable for a sticker. But come on, 60 yards! Second-longest kick in school history.
September, 8, 2012
9/08/12
7:50
PM ET
It's been a tough two years for Oregon State. It's not only posted consecutive losing seasons, it's looked soft while doing so. It got pushed around both inside the Pac-12 and outside of it.
Exhibit A: The 35-zip loss at Wisconsin a year ago.


Yet, with a number of Pac-12 teams getting exposed in the early season, it's those pesky Beavers who stood up and made a statement against that same Wisconsin team, the 2011 Big Ten champions, a squad known for its physical play. Ain't nothing soft about the Badgers, right?
Well, those once soft Beavers throttled 13th-ranked Wisconsin's vaunted running game in a
10-7 upset
inside an exuberant Reser Stadium.
Oregon State's defense dominated the Badgers, at least until they made things interesting with a late touchdown (and nearly recovered an onside kick). Wisconsin gained just 206 yards -- versus 352 for Oregon State -- and rushed for a meager 35.
It worked out to 1.5 yards per carry.
Last year, the Beavers were outrushed 208 yards to 23.
Sean Mannion
threw for 276 yards and a touchdown, but his most important number is probably this: No interceptions. He threw 18 a year ago.
As much as the Beavers will certainly enjoy a redemptive victory, they also can simultaneously grouse about leaving a lot of points on the field, while knowing that means they didn't just stumble into this upset. Oregon State, physically manhandled in 2011, returned the favor this go-around.
The Beavers get a week to enjoy this win. They are off until they visit UCLA on Sept. 22.
August, 21, 2012
8/21/12
5:45
PM ET
Oregon State defensive coordinator Mark Banker assesses his run defense the last two years not unlike many Beavers fans might. And just as colorfully.
"We have been absolutely the [expletive] the past two years against the run after being one of the country's leaders for a long time," Banker said.
Banker's gap-cancellation scheme, which once was the toast of Corvallis, is predicated on two things: 1. Stop the run; 2. Get the quarterback. No, it's not rocket science. But when it works, it's an aggressive, highly entertaining scheme and good things happen.
In 2006, the Beavers ranked 29th in the nation in run defense and third in sacks with 47. The Beavers won 10 games.

In 2007, the Beavers ranked No. 1 in the nation in run defense and fourth with 44 sacks. The Beavers won nine games.

In 2008, the Beavers ranked No. 40 in the nation in run defense and fourth with 39 sacks. The Beavers won nine games.
But a slide started in 2009, when the defense was just adequate and the Beavers won eight games, that continued through the past two seasons, when the defense was horrible and the Beavers won eight games combined.
Stuff has to fit together for the Beavers defense to work, and it hasn't the past few seasons. During those glory seasons, Oregon State was strong at end and linebacker and had cornerbacks who could survive in press-man coverage. The past two seasons, one or more elements have been missing.
So what about 2012?
"This team resembles more closely some of the athletes we've had in the past," Banker said.
The defense has two good ends with
Scott Crichton
and
Dylan Wynn
.
Jordan Poyer
, a top NFL prospect, and
Rashaad Reynolds
, whom Banker calls the most improved player in 2011, give the Beavers a pair of strong corners. And there is good reason to cross your fingers over the potential improvement at linebacker, especially if guys stay healthy.
Health might be the big issue. Banker spends six minutes replying to a question about injuries last year, and the list is too long to go into here. It wasn't just the guys who missed games. It was players, such as safety Lance Mitchell, who played hurt and often looked like it.
Some notes from a chat with Banker.
Both Crichton and Wynn had good offseasons building up their bodies so they can stand up better against the run. But they also need to exercise the muscle inside their heads. Said Banker, "What they need to do is play within the schematics of the defense. Anytime either one of them got in trouble, they made stuff up."

A guy to watch out for at end: Lavonte Barnett, who could become a pass rush specialist as a redshirt freshman.

The key inside, where the Beavers were weak in 2011, is 350 pounder Castro Masaniai. Said Banker, "He's on a mission. He knows what he wants to get out of this thing this year. He's the heaviest he's ever been but he's also in the best shape he's ever been in." Banker also needs Mana Rosa to take a step forward.

Banker is really -- really -- high on sophomore strongside LB D.J. Welch: "He can be anything he wants to be." Welch ran a 10.58 100 meters in high school, so he's a speed guy who's up to 225 pounds. Feti Unga needs to stay healthy inside, and Michael Doctor needs to upgrade his physicality on the weakside. Banker is excited about some of the younger guys, such as sophomore Jabral Johnson and freshmen Caleb Saulo and Joe Skotte.

The secondary needs Anthony Watkins (hip) to get healthy. It also would help if converted running backs Malcolm Marable and Jovon Stevenson make a successful jump to cornerback.
Banker admits he's been forced to tweak his scheme -- particularly coverages -- to adapt to personnel that falls short of the talent of the 2006 and 2007 defenses, which sent a bevy of guys to the NFL. But what particularly galls him is the run defense.


"It's a personality," he said. "We want to be a bunch of tough guys."

That means stop the run and attack the QB. If the Beavers numbers improve in those two areas this season, expect the win-loss column to revert back to what it was before the two-season slide.


April, 10, 2012
4/10/12
7:00
PM ET
Heading into the 2010 season, it was not uncommon for media sorts to volunteer Oregon State as a program that had the best staff of assistant coaches in the Pac-10.
Why? Good numbers without stockpiles of elite recruits. Non-elite recruits becoming NFL draft choices. Thirty-six wins over the previous four seasons. You know, the usual suspects.
Oh, but how two down seasons can change things. After going a combined 8-16 over the past two years, many Beavers fans are either calling for head coach Mike Riley's head, or they are at least calling for the heads of his coordinators: Mark Banker on defense and Danny Langsdorf on offense.
How quickly can things change? Well,
I wrote this heading into 2010
as part of a "Don't be surprised if..." series: "Don't be surprised if ... Beavers offensive coordinator Danny Langsdorf becomes a hot head-coaching candidate when new starting quarterback
Ryan Katz
posts surprisingly strong numbers this fall."
[+] Enlarge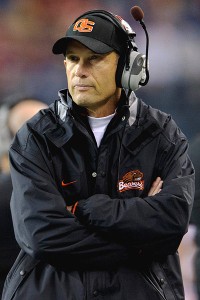 Steven Bisig/US PresswireAfter two straight lowly seasons, Oregon State coach Mike Riley might call offensive plays in 2012.
Katz posted pretty good numbers in 2010 -- 60 percent completion rate, 18 TDs, 11 interceptions -- but he was promptly and surprisingly displaced as the starter by redshirt freshman
Sean Mannion
at the beginning of the 2011 season. And Langsdorf is now fighting for his job instead of presiding over his own program.
In fact, there now appears to be some question as to whether Riley will
take over play-calling responsibilities
from Langsdorf in 2012, which Riley gave to Langsdorf midway through the 2008 season. This question is being -- legitimately -- asked because Riley is calling plays this spring.
Riley was noncommittal -- and a tad uncomfortable -- with this line of inquiry Monday, and you can see
video of his thoughts here
. He called it "not a big deal." He said he was calling plays so he could see how the offense reacted against certain looks from the defense: "It's a way to orchestrate a big-picture look," he said.
When asked if it was for spring only, he said, "For right now, it's only for spring."
That qualifies as a "maybe," not a "Yes" or "No."
So here's my defense of Langsdorf, who also coaches the Beavers QBs. It might not be completely comforting for Beavers fans, but I think it's fair and accurate: The reason the Beavers offense has struggled the past two seasons ... drum roll please ... is a lack of good players.
I know: Thud.
The 2010 season likely would have been different if receiver
James Rodgers
hadn't blown out his knee during an impressive win at Arizona on Oct. 9. And the Beavers would have qualified for a bowl game if typically reliable tight end
Joe Halahuni
hadn't dropped a 2-point conversion that would have beaten homestanding Washington in double-overtime.
2011? Well, that was just pretty lousy. Riley, Langsdorf, Banker, the players -- everyone associated with the program -- surely spent some time wondering where they failed.
Still, as the Pac-12 blog observed while praising Langsdorf just two years ago:
In his six seasons as offensive coordinator, the Beavers have posted five of their top-nine all-time seasons of total offense. Remember the early careers of quarterbacks Matt Moore, Sean Canfield and Lyle Moevao? One word: Yucky. Remember their late careers? Two words: Dramatic transformation. Canfield earned first-team All-Pac-10 honors in 2009 and joined Moore in the NFL.
In 2008, with Langsdorf calling plays, the Beavers ranked 32nd in the nation with 30.5 points per game and 30th in the nation with 407.1 yards per game. In 2009, they ranked 26th in points (31.5 ppg) and 34th in yards (410.6 ypg).
In other words, Langsdorf has been a successful coordinator and playcaller. At least when he's shown up for battle with more than a pillow shield and plastic sword.
Things set up fairly well for the offense heading into 2012. Langsdorf has his returning starter at QB in Mannion. He has a good crew of receivers, led by
Markus Wheaton
. But the offense will struggle if it can't generate a running game, which mostly hinges on improved play on the offensive line, which has been sub-par two years running.
One of the criticisms of Riley has been his loyalty to his assistant coaches, but he's made tough decisions recently, including firing longtime linebackers coach Greg Newhouse in March of 2011 (mostly because of recruiting shortcomings). If Riley takes away play-calling responsibilities from Langsdorf, it will be a painful blow to both men.
But it appears that possibility is at least being considered, so it will be worth asking about in advance of the season opener on Sept. 1 against Nicholls State.
March, 24, 2011
3/24/11
6:54
PM ET
How galling was Oregon State's first losing season since 2005 for coach Mike Riley? Well, Riley underwent surgical procedures to remove gallstones and then his gallbladder March 12 and 13, so apparently pretty galling.
Snare roll, cymbal crash! (But seriously, folks, I just flew in from Scottsdale and, boy, my arms sure are tired!).
While Riley is the sort who can remain good-natured through most things (even a horrific pun), losing is not really one of them. His seriousness about reversing the Beavers 2010 downturn was perhaps best manifested by a surprising staff change: the dispatch of long-time linebackers coach Greg Newhouse.
The Beavers head into spring practices, which begin Monday, with plenty of questions, but it stands to reason the veteran players are motivated by a disappointing 5-7 finish that was further aggravated by watching state rival Oregon play for the national championship.
[+] Enlarge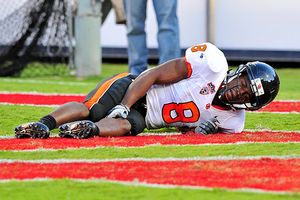 Chris Morrison/US PresswireJames Rodgers is still recovering from an injury to his knee.
"You certainly hope it does," Riley said. "You'd like to think it's made everybody take it up a notch."
The biggest questions surround the Rodgers brothers. How will Oregon replace running back
Jacquizz Rodgers
and how healthy will receiver
James Rodgers
be after two knee surgeries?
The competition at running back includes senior
Ryan McCants
, junior
Jordan Jenkins
, sophomore
Jovan Stevenson
, redshirt freshman Malcolm Marabel and greyshirt freshman Terron Ward. Riley said he'd like to establish a pecking order as soon as possible and then figure out a rotation based on what skills each offer to the offense.
"It's probably very important to distinguish between No. 1 and No. 2 [this spring]," Riley said.
As for James Rodgers, things are fluid. He was granted a medical hardship year, but there have been complications with his recovery -- starting with the need for a second procedure -- and it's unclear if he'll be ready for preseason practices, or how long it will take him to get back to full-speed.
"We'll just have to see where that goes," Riley said.
Receiver is an interesting position for the Beavers. With Rodgers, it looks like a definite strength. Rodgers at flanker and junior
Markus Wheaton
at split end, with
Jordan Bishop
,
Geno Munoz
and
Darrell Catchings
providing depth, not to mention intriguing big target
Obum Gwacham
and H-back
Joe Halahuni
; that's a strong lineup of targets for QB
Ryan Katz
.
But Rodgers is a question, and the inconsistent Bishop is sitting out spring with a foot injury. Catchings and Gwacham aren't sure things, either.
And in terms of delivering the ball, Katz is coming back from a wrist injury, and Riley likely will be cautious with overworking him. That means more opportunities for
Cody Vaz
,
Sean Mannion
and
Jack Lomax
to compete for the backup job.
Some further notes:
Injuries and departures
: Rodgers, Bishop, DT Castro Masaniai (shoulder) are sitting out. Fullback
Will Darkins
opted not to return for his senior year.
Additions and changes
: Five greyshirts have been added to the roster. K Trevor Romaine, LB Will Storey, DT Fred Thompson, RB Terron Ward and LB D.J. Welch, as well as a true-freshmen in offensive lineman Darryl Jackson. Two JC transfer defensive ends will participate in spring practices: Rusty Fernando and Blake Harrah. Munoz has switched from split end to slot receiver. Tyler Anderson has moved from cornerback to fulback. Expected starting CB Jordan Poyer will practice football on Mondays and Wednesdays and play baseball on Fridays.
Coaching changes
: Brent Brennan is the new receivers coach and Chris Brasfield will coach running backs. With the departure of Newhouse, defensive coordinator Mark Banker will coach linebackers. Banker oversaw safeties last season. Keith Heyward is now in charge of the entire secondary.
Offensive line reshuffle
: The Beavers offensive line was a disappointment in 2010, so it's probably not a surprise that there are some changes, even with four starters returning. Sophomore Josh Andrews has been moved from center, where he was expected to replace Alex Linnenkohl, to left guard. Grant Johnson has moved from LG to C. Michael Philipp is the RT and Mike Remmers is the LT. Last fall, they were reversed. Remmers is a better pass blocker, which means he's better suited to protect Katz's blindside.
Filling in on
D
: The Beavers must replace six defensive starters, including a DE, a DT, two OLBs and a CB and a S. Poyer and Anthony Watkins are expected to fill the secondary voids, while Taylor Henry, Andrew Seumalo, John Braun and Fernando and Harrah are competing for the end spot opposite Dominic Glover. With Masaniai out, Kevin Frahm, Mana Tuivailala and Ben Motter are the top tackles, though Thompson is an intriguing talent. Cameron Collins and Michael Doctor are the top two candidates at OLB, though Riley is high on Shaydon Akuna and Michael Bibbee, a pair of redshirt freshmen.
Spread
? Katz is a good all-around athlete, so Riley said there will be some experiments with the spread-option this spring. "We are going to mess with the zone read like we did with the fly sweep," he said.
September, 15, 2009
9/15/09
2:15
PM ET

Posted by ESPN.com's Ted Miller
The sample size is too small -- two games, one vs. an FCS foe -- to know whether Oregon State's rebuilt defense will be up to program standards in 2009, but a stress test rolls into Corvallis on Saturday that should be quite revealing.
No. 17 Cincinnati runs a no-huddle spread that presently ranks second in the nation in scoring (58.5 points per game) and fifth in total yards (571 yards per game).
"It's basketball on grass," Beavers defensive coordinator Mark Banker said.
| | |
| --- | --- |
| | |
| | Jim McIsaac/Getty Images |
| | Oregon State's defense will have its hands full stopping Tony Pike, who has thrown for 591 yards and six touchdowns so far. |
Oregon State welcomes back only three defensive starters from the 2008 unit that ranked near the top of the Pac-10 in most categories. Of course, the situation was exactly the same -- just three starters back from an outstanding 2007 unit -- in 2008.
So many Beavers fans are counting on a reload rather than a rebuild, in large part because Banker's gap-cancellation scheme has been so consistently productive in recent years.
The early returns are cautiously optimistic.
Banker is happy with the play of his defensive tackles and linebackers. Both ends are new, and Kevin Frahm has played well. Ben Terry and Gabe Miller are still learning the position.
Just one quarterback sack so far for a team that thrives on pressuring the quarterback is a concern.
The secondary has four new starters and there have been some good moments. And bad moments.
"We're OK -- this week will be a better overall evaluation," Banker said. "We need to play with more confidence, and if they do that I think you'll see guys make more plays on the ball."
The Beavers got their first pick -- from safety Lance Mitchell -- in their 23-21 win at UNLV.
The Bearcats should offer a stout challenge because quarterback
Tony Pike
, a 6-foot-6 senior gunslinger, has been outstanding thus far. He ranks fourth in the nation in pass efficiency and has thrown for 591 yards and six touchdowns with just one interception. He picked apart Big East favorite Rutgers in a 47-15 road victory, establishing the Bearcats as the conference's team to beat.
"I think Pike is as good a quarterback as there is," Banker said. "He's accurate. He's got great vision. The ball is out quick."
Pike does get flustered under pressure at times -- he tossed 11 interceptions last year -- but a defense is playing a high risk-reward game if it blitzes against the Bearcats' four- and five-receiver sets.
"With that gun, you better get there quick because he's going to see you coming and get it off," Banker said.
Then Pike's capable receivers -- Mardy Gilyard is one of the best in the Big East -- take over with the ball in space and a defender is forced to make an open-field tackle.
While the Bearcats pass first, they also are averaging 197 yards rushing per game. If the Beavers can't stop the run, they are in trouble.
And if Pike gets time to throw, it could be a long afternoon.
"No. 1, we've got to match their tempo," Banker said.
On the plus side, the Beavers have won 26 consecutive nonconference home games. Coach Mike Riley is 17-0 in such games.
On the footnote-to-that side, Cincinnati is the first ranked team not presently in the Pac-10 to visit Corvallis since 1977, when the Beavers beat No. 13 BYU.
And what might Oregon State do with a fast start?
If the Beavers defense is, indeed, reloading and the offense has its way with a rebuilding Bearcats defense -- just one returning starter -- then Oregon State will be 3-0 after starting the previous three seasons 2-3.
December, 31, 2008
12/31/08
6:36
PM ET
Posted by ESPN.com's Ted Miller
| | |
| --- | --- |
| | |
| | AP Photo/LM Otero |
| | Oregon State's Slade Norris celebrates with his teammates after the Beavers defeated Pittsburgh, 3-0, in the Sun Bowl. |
Anybody want to help me out with a scoring summary for Oregon State's win over Pittsburgh in the Brut Sun Bowl?
The best offense in this one, a 3-zip Beavers victory, was the 10 sacks split between the teams.
Make no mistake, though: No. 24 Oregon State (9-4) was way better -- WAY -- better than 18th-ranked Pittsburgh (9-4).
The Beavers, playing without Jacquizz and James Rodgers, who supplied more than 50 percent of their offense this year, outgained the Panthers 271 yards to 178 and got zero points on a pair of first-and-goal situations.
Pittsburgh's deepest penetration was the Beavers 36-yard line.
While the Beavers offense struggled to find a consistent rhythm, coordinator Mark Banker's defense, led by ends Slade Norris and Victor Butler, redeemed itself for the Civil War debacle.
The same unit that gave up 65 points and 694 yards to Oregon, surrendered just 10 first downs to the Panthers. It held touted Pitt tailback LeSean McCoy to 84 yards on 23 carries.
Mike Riley improved to 5-0 in bowl games as the Beavers coach.
The Pac-10 also improved to 4-0 this bowl season with three victories over ranked teams and victories over three different BCS conferences.
The rest of the college football nation is free to draw its own conclusions.
November, 26, 2008
11/26/08
12:34
PM ET
Posted by ESPN.com's Ted Miller
Eight things to consider, underline or anticipate heading into the weekend.
1. Who's Oregon State's quarterback and what will that mean? Oregon State coach Mike Riley said he'd announce a starting quarterback on Wednesday, which likely would happen after practice. Guess here is that he's decided Lyle Moevao needs to be 100 percent to retain his job because backup Sean Canfield has played so well while going 3-0. Then the issue becomes how long will Riley stick with one guy? If Canfield/Moevao start slowly, would there be a temptation to have a quick hook and put in the other because, as Riley said, he has "two starting quarterbacks." Another guess: This situation surely has inspired some spirited discussion among the coaching staff because there is no clear right answer. At least until around 8 p.m. PT on Saturday.
2. Notre Dame will play inspired football at USC: Notre Dame made itself a national punchline last week by losing at home to woeful Syracuse, which had already fired coach Greg Robinson. Since starting 4-1, the Irish have gone 2-4, and one of those wins was against beleaguered Washington, so it doesn't even count. Still, the players surely recall last year's 38-zip beatdown the Trojans supplied at Notre Dame. And this is a rivalry game. It would be fairly shocking if USC doesn't get the Irish's best shot. Doesn't mean USC is going to lose. But this won't be a four-quarter walkover.
3. Craft can't give the ball away, but he also needs to make plays: It's a redundant point, but UCLA needs more out of quarterback Kevin Craft. Yes, he doesn't have much help. Yes, he's led some nice comebacks. Yes, the coaches still believe he and not any other quarterback on the roster gives the Bruins their best chance to win. Yes, a few of his 16 interceptions weren't his fault. Nonetheless, the Bruins slim bowl hopes depend on him not making poor decisions against Arizona State. The Sun Devils solid defense is going to gang up on the run and force the ball into Craft's hands. He will have to make plays for the Bruins to have a chance to win.
4. A competitive fight at Hawaii might suggest a corner turning for Washington State: It's probably too much to ask that the Cougars put their Apple Cup euphoria behind them and focus on Hawaii. But if they do challenge the Warriors -- 30-point favorites -- for four quarters, that would bode well for the future, making it reasonable to assume coach Paul Wulff and his staff's message is getting through.
5. Despite a strategic disadvantage, USC's defense should be OK against the Irish: Despite having a weak schedule, Notre Dame is ranked 91st in the nation in rushing (119 yards per game). That means the Irish and sophomore quarterback Jimmy Clausen have been forced to throw against just about everyone. That is just not a good thing, even if your coach is an offensive genius who can make mincemeat out of most college defensive coordinators with his magical play calling. Notre Dame can't abandon the run and allow the Trojans to pin their ears back and hit Clausen.
6. Strength-on-strength and nothing Civil about it: Talk about a defense figuring things out. Oregon State surrendered 210 and 239 yards rushing in its first two games against Stanford and Penn State. Since then? No opponent has exceeded 139 yards and six teams have been held under 100, including USC and California. First two games: six rushing touchdowns. Next nine? Six rushing touchdowns. And folks wonder why I am president of the Mark Banker Fan Club. Oh, but here come the Ducks, who rank sixth in the nation with 268 yards rushing per game. They've run on everyone other than USC. And the Ducks ran fairly well in 2007's Civil War. This is the fundamental showdown of this game.
7. Rudy, Rudy, Rudy: Hard to believe, but this is the final home game of Rudy Carpenter's career. The Arizona State quarterback has had some great times during 41 consecutive starts. And not so great. He's one of eight Pac-10 quarterbacks to pass for more than 10,000 career yards and his 80 touchdown passes rank third on the conference's all-time list. He's been feisty and mouthy with opponents and reporters, which has bothered some but amused others, but the tough son of a gun always showed up for work with grit and determination. And his skills and savvy give the Sun Devils a huge advantage against UCLA, and also give them a puncher's chance of winning two in a row and becoming bowl eligible.
8. Can the Beavers run without Jacquizz? Short answer: yes. In the 2007 Civil War, Oregon State didn't have injured running back Yvenson Bernard, the team's heart-and-soul leader. Yet they prevailed 38-31 in double overtime, and a guy named Matt Sieverson rushed for 141 yards on 27 carries, including a 38-yard touchdown run to open the scoring. So likely having to play without freshman phenom running back Jacquizz Rodgers is not a catastrophic blow for OSU. And the running back depth is solid. Recall: Many were touting 240-pound Ryan McCants as a budding star in the preseason. Moreover, the Ducks figure to get a steady dose of scatback/receiver James Rodgers on his fly sweeps. Question is, will it be enough?
September, 28, 2008
9/28/08
1:00
PM ET
Posted by ESPN.com's Ted Miller
We learned that USC can't take anything for granted, that Oregon and California might still be relevant and that Washington and Washington State are not.

This is not Pete Carroll's best USC team: This might be Pete Carroll's most talented team, but the 2004 squad that went unbeaten and won a second consecutive national title remains at the top for one reason: Winning is everything. As for 2008, no other team in the country features so many players with so much potential. But that doesn't mean squat when a team ends up on the unhappy side of the scoreboard. Remember how many times in the past USC futzed around in the first half only to come back with an overwhelming show of force in the second half? Recall USC trailing No. 14 Arizona State 21-3 at the break in 2005 and then rolling back for a 38-28 win? It looked like Mark Sanchez and company were going to duplicate that sort of reinvigorated steamrolling when they scored a pair of TDs to start the third quarter against the Beavers, but they couldn't muster that final push -- the one that marks great teams.
Let's make sure Oregon State gets credit for a stellar performance: Much of the commentary on the Beavers' upset centered on ripping apart USC. That's understandable when the nation's No. 1 team, favored by 25, loses to an unranked team and when that team is one that the nation can't wait to bury (Florida, of course, gets pass on this measure). But Oregon State didn't back into this victory. They whipped USC. They had a better game plan and they executed it. And the Beavers' triumph came at the most fundamental, physical level: Up front on both lines, blocking, getting off blocks and tackling. So coach Mike Riley and his coordinators Mark Banker (defense) and Danny Langsdorf (offense) deserve kudos for their efforts. Of course, many Pac-10 observers and Beavers fans are wondering why it seems Oregon State needs to fall flat on its face in an early-season game (or two) before it seems to blossom? Why couldn't the team that whipped USC have shown up in Happy Valley to challenge Penn State? And, by the way, much of the newfound street cred will be lost, Beavers, if you fail to take care of business at Utah on Thursday.
Change is coming at Washington: After the Huskies lost at home to Stanford to fall to 0-4 on the season, it's fair to project another lost season, particularly with QB Jake Locker -- the lone star on the team and its unquestioned leader -- going down with a broken thumb. Coach Tyrone Willingham is now 11-29 as Washington's coach and it seems like even he admits things aren't turning around. "I keep asking myself every day and every night, what is it that hasn't allowed us to turn that thing over to click it to get it going right?" he told the Seattle Times. "Because I believe we have the team that can get it done. But for some reason we are not." Losing Locker is a huge problem going forward, but the biggest issue is the Huskies look even worse on defense than the 2007 unit that ranked as the worst in program history: Stanford gained 466 yards of total offense, 103 more than in any of its first four games. Guess how many sacks the Huskies have this season? Zero, a uniquely bad number among FBS teams.

California and Oregon bounced back: Sure, the competition was inferior, but that could have been said about some of the teams that whipped the Pac-10 a week or two ago. California blistered Colorado State, 42-7 -- a win over the Mountain West Conference! -- despite its offense being mostly mediocre, while Oregon simply crushed overmatched Washington State, 63-14. That's the second time this season the Cougars have given up more than 60 points. Both teams could have come out flat after dispiriting defeats in their previous games. And both teams face stiff tests this weekend: Oregon is at USC and California plays host to Arizona State. If the Pac-10 has any hope to redeem itself with any team other than the Trojans, it's likely going to be the Ducks and Bears. Or, ahem, the Beavers.
This may sound strange, but UCLA is getting better: As in most competitive games, there were a lot of "what ifs" in UCLA's 36-31 loss to Fresno State -- such as what if freshman running back Derrick Coleman didn't fumble on the Bulldogs' 10-yard line? Or what if the defense didn't yield a nine-minute, 86-yard drive to kill the clock thereafter? But the Bruins' performance suggested there's hope even at 1-3. Hope, first of all, in that Washington State is coming to town next weekend. Moreover, it appears that the Bruins will be able to find at least a few more wins inside the conference and thereby avoid making Rick Neuheisel's first season a complete train wreck. The most encouraging number was 234 yards rushing. A run game will help QB Kevin Craft feel more comfortable. On the downside, as the offense has improved, the defense has regressed.