January, 15, 2015
Jan 15
10:30
AM ET
We live in an instant reaction society, in which every development is immediately dissected and analyzed for all it's worth. Often, in this hyperbolic chamber, our first reactions turn out to be overreactions.
That's especially true in football, where a small number of games combines with outsized interest to make everything seem a little more monumental than it probably is. Here are some of the top overreactions from the Big Ten in the 2014 season:
Aug. 19: Ohio State is doomed without Braxton Miller!
What happened:
Two-time Big Ten offensive player of the year Miller was ruled out for the season due to a torn labrum in his throwing shoulder.
Overreaction:
People began heaping dirt on the Buckeyes' season. Overnight, Ohio State went from league favorite to giant question mark, especially as it turned to a virtually unknown redshirt freshman quarterback with no experience. The entire Big Ten
would suffer as a result
too.
[+] Enlarge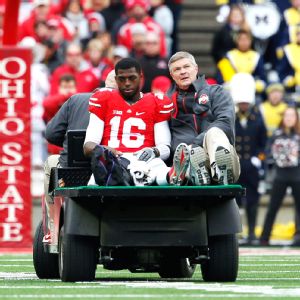 Khris Hale/Icon SportswireAs with Braxton Miller before him, Ohio State's demise was predicted following an injury to J.T. Barrett.
Reality:
J.T. Barrett
finished fifth in the Heisman Trophy voting and won the league's Big Ten quarterback of the year award while breaking a pile of school records. The Buckeyes did not lose a Big Ten game and merely won the national title.
Sept. 6: The Big Ten's playoff hopes are dead!
What happened:
Michigan State lost by 19 points at Oregon. Ohio State lost at home by two touchdowns to Virginia Tech. Michigan got embarrassed at Notre Dame.
Overreaction:
The Week 2 primetime meltdown ended the playoff possibilities for the Big Ten. The league wouldn't have enough opportunities to change public perception, and even with 10 games left in the regular season, the chance of a Big Ten team in the four-team field was slim.
Reality:
The negativity was understandable, given the blowout nature of the losses and the conference's recent history in big games. Heck, many of us here in this blog thought the Big Ten was toast, save for lone optimist Austin Ward. But the losses came early enough in the season for the league to bounce back, and things happened elsewhere to help out the Big Ten's cause. Except for Michigan. That was a lost cause.
Nov. 8: Michigan State's time is over!
What happened:
Ohio State ran all over the Spartans 49-37 in a showdown in East Lansing and handed Michigan State its second double-digit loss of the year.
Overreaction:
The Spartans' Rose Bowl championship and Big Ten title from the season before were a one-year wonder. The downturn was beginning for Mark Dantonio's program.
Reality:
Those two losses don't look so bad in retrospect, as they came to the two teams that played for the national title. The Spartans didn't lose to anyone else and beat Baylor in the Cotton Bowl to cement a top-5 finish in back-to-back years for the first time since the mid-1960s. Only a handful of teams have had as much success the past five years as Michigan State, which is in great shape to maintain its newfound elite status.
Nov. 29: Ohio State is doomed without J.T. Barrett!
What happened:
Barrett fractured his ankle in the season finale against Michigan, which left him unavailable for the Big Ten title game against Wisconsin or any postseason game.
Overreaction:
If the Miller injury didn't kill Ohio State's chances, then surely this one did. There was no way the Buckeyes could turn to third-string quarterback
Cardale Jones
and get him ready in one week for Wisconsin's fearsome defense. The Buckeyes were made an underdog in the Big Ten championship game.
Reality:
Jones threw for 257 yards and three touchdowns in a 59-0 stomping of the Badgers. He'd go on to defeat Alabama and Oregon in his next two starts.
By now, you'd think we'd know not to doubt Meyer's ability to develop quarterbacks. And given those silly jumps to conclusions, we'll all have learned our lessons about overreacting to news in 2015, right?
Highly doubtful. Here are a a few likely overreactions you'll see this season:
Ohio State's quarterback logjam will be a distraction!
Sure, if everybody stays in place, the Buckeyes will have a stuffed stable of quarterbacks, with Miller, Barrett and Jones. But remember that two of them are currently injured, they all love the school, and nothing is guaranteed. Plus, Meyer and his staff are smart enough to figure it out.
Jim Harbaugh's arrival means the return of the Big 2 with Michigan and Ohio State!
Yeah, remember when Brady Hoke's early success portended an era in which Michigan and Ohio State would leave the rest of the league behind? Harbaugh will be great, but he's going to need some time to get the Wolverines fixed. Although the Buckeyes are zooming onward and upward, Michigan State and Wisconsin are established, excellent programs, and others such as Nebraska, Penn State and Minnesota aren't far behind. Speaking of the Gophers ...
Minnesota was a fluke!
Jerry Kill's team didn't get much credit at all for its eight-win season in 2013 and probably won't be valued highly after an even more impressive eight-win team in 2014. People who just look at stats and returning starters might not be impressed by the Gophers and their sometimes low-wattage offense. But this team is legit and only going to get better under Kill and his staff.