July, 30, 2014
Jul 30
3:00
PM ET
The ACC's Coastal Division is wide open entering the 2014 season. With six of seven teams receiving at least one first-place vote in the preseason media poll, the possibilities for how this race shakes out are seemingly endless. Here, we take a look at the six teams that garnered first-place votes, examining reasons that are working for and against them in their quests to get to the ACC title game.
Why Virginia Tech will win the Coastal
Defense.
If we were making the case for Virginia Tech every season, then we would start with defense just about every single time. You can always expect a solid defense in Blacksburg. Despite some losses on the defensive line and at linebacker, 2014 is no exception. Virginia Tech should have one of the
best secondaries
in the country, with
Kendall Fuller
,
Brandon Facyson
and
Kyshoen Jarrett
all returning. And the Hokies should also have one of the best interior linemen in the ACC in
Luther Maddy
, a preseason All-ACC selection.
Dadi Nicolas
made huge strides a year ago, and
Corey Marshall
had a great spring after
refocusing on his career
. Nobody expects this group to take a step back.
[+] Enlarge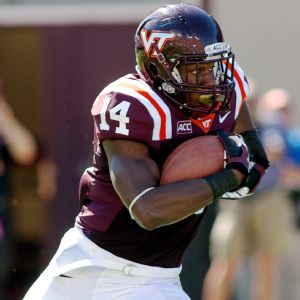 Jeremy Brevard/USA TODAY SportsVirginia Tech's Trey Edmunds rushed for 675 yards and 10 touchdowns last season.
Trey Edmunds.
Edmunds appeared to be turning a corner toward the end of last season, with solid performances in his final three games before breaking his leg against Virginia. You see why expectations around him have mushroomed headed into 2014. Virginia Tech has lacked consistency in the backfield over the last two years, a big reason why the Hokies have taken a step back. It has been well documented just how stuck this ground game has been, a rarity under Frank Beamer. But Edmunds provides hope for the running game as the unquestioned starter, a player with the ability to power through the line but also break tackles and make explosive plays.
Marshawn Williams
also drew praise for his play this spring, so his addition should help everybody take a collective step up.
Improved QB play.
So Virginia Tech has not settled on a starter here, but Beamer and offensive coordinator Scot Loeffler truly believe the offense will be better. That all starts with the quarterback.
Logan Thomas
took his share of criticism over his final two seasons. Perhaps Virginia Tech relied too heavily on him to make plays happen. When he forced the issue, he made mistakes. Just look at his TD to INT ratio -- 34 to 29 the last two years. While it is true Thomas did not have a lot of help around him, the default position was to have him do everything. That philosophy has to change. With that shift, the expectation is the overall offense will be more productive.
Why Virginia Tech won't win the Coastal
Offensive line.
As mentioned above, Virginia Tech has not had any real consistency at running back of late. But it also has not had any consistency along the offensive line, either. The position has not been an area of strength, which has helped contribute to the poor rushing numbers. Even though four starters return with a ton of game experience, there remain questions about this group. Not only are they going on their third offensive line coach in as many years, how do we know this will finally be the year they come together and play well?
Special teams.
Once an area of strength, this has
become a bugaboo
for Beamer in recent years. Virginia Tech kickers missed 11 field goals last season. It's a free-for-all to win the starting kicking job headed into fall practice, with nobody proven in the mix. Not only that, the Hokies gave up three touchdown returns last season (most notably the Alabama game) and had none of their own. So if the Hokies don't step it up in a hurry, special teams could cost them a game or two. Again.
Quarterback.
While there is a segment of fans who are happy to see Thomas go, just look at the bowl game after
Mark Leal
came in to replace him as the nightmare scenario that could unfold at quarterback.
Michael Brewer
appears to be the guy everybody wants to see start, but he left Texas Tech after failing to secure the starting job. How do we know he truly is the answer? Do any of the guys on the roster have what it takes to lead this team to another Coastal crown? That is the biggest unknown right now.
July, 30, 2014
Jul 30
2:00
PM ET
GREENSBORO, N.C. -- Frank Beamer took a seat before a crowded corner at the ACC Kickoff last week and asked the assembled reporters how they were doing, anticipating exactly what was coming his way.
Then came the first question. About Beamer's quarterback situation. Because of course it did.
"That would be a good start," the longtime Virginia Tech coach quipped, before conceding that, yes, he would rather have that position settled by now, and yes, a decision about a starter will come quickly once fall practice commences.
[+] Enlarge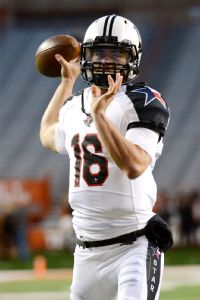 Brendan Maloney/USA TODAY SportsTexas Tech transfer Michael Brewer could be the front-runner to replace Logan Thomas at Virginia Tech.
Logan Thomas' three-year reign as the Hokies' top signal-caller is over, for better or for worse. Now it is up to a half-dozen other quarterbacks to duke it out for the right to turn around a program beset by a rather uneasy two-year slide following eight straight double-digit-win seasons.
Texas Tech transfer Michael Brewer is the most decorated quarterback of a group that also includes freshmen
Chris Durkin
,
Travon McMillian
and
Andrew Ford
, along with upperclassmen
Mark Leal
and -- if the preseason media poll is to be believed -- ACC player of the year candidate
Brenden Motley
, who was a surprise entry among the league's five-player contingent receiving votes.
Brewer, Durkin and McMillian all arrived following the spring, so Beamer has not had a chance to watch any of them throw live on campus. But the 28th-year Hokies head coach insists that the supporting cast he has coming back eases the transition that normally comes with finding a starter so late in the game.
"I think we're ahead of the last couple years in the fact that I think we're further along in getting our running game back where it needs to be," Beamer said. "I think last couple of years we haven't been able to run it quite as well as we're used to at Virginia Tech, and I think having some experience on the offensive line, some backups that are really athletic, young kids that are athletic -- I think we're going to be more explosive at wide receiver. I think our tight ends, we've got about three guys that could block you but they can move out and maybe get matched up on the safety.
"I think the running backs are going to be more solid.
Trey Edmunds
was really coming along great and we expect him to get back, but a couple more guys there. So I think having people around that quarterback makes it a lot easier than what it's been the last few years, so that's the way I see it."
No quarterbacks emerged from the pack during the spring, and Beamer did little to talk around the fact that, despite not seeing Brewer, the former Red Raider who has a leg up on everyone else by almost any measure.
Brewer, whose addition Beamer attributed to second-year offensive coordinator Scot Loeffler, has 13 games of experience in two seasons of play in Lubbock, Texas, completing 41 of 58 passes for 440 yards with five touchdowns and no interceptions. The acclimation process for him, as Beamer said, is not like that of a freshman.
"We've got a couple freshmen that we're really high on," Beamer said. "But I think it's really hard for a true freshman to come in there. Lot of stuff going on."
Though the same could be said for the quarterback situation itself, receiver
Willie Byrn
thinks the offense has adjusted to the initial uncertainty that presented itself this summer without familiar faces running the unit.
"This year we've had to work with everyone, from the oldest guy down to the freshmen that just got on campus, and you've got to treat them all the same and you've got to learn all their tendencies and what they want to do," Byrn, a redshirt senior, said. "So it's been fun. It's going to continue to be fun, and I think this competition between them is only going to bring out the best in not only the starter but the backup and the second backup and so on and so forth."
April, 29, 2014
Apr 29
11:30
AM ET
Clemson coach Dabo Swinney didn't want to do it.
When he met with former quarterback Chad Kelly on the Monday following Clemson's spring game, Swinney said his original plan was to suspend Kelly -- not dismiss him from the team entirely -- but the meeting "just didn't go well."
"There's just certain things you can't tolerate, and that's just the bottom line," Swinney said. "It wasn't a good meeting. It was a simple decision that was made. He moved on and we moved on."
So did more than half the ACC this spring, to a new era of quarterbacks.
Cole Stoudt
's tenure began swiftly at Clemson, ending what was one of the most intriguing quarterback competitions in the ACC and capping a spring that was filled with quarterback news throughout the conference.
[+] Enlarge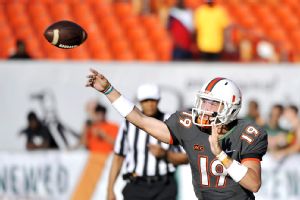 Steve Mitchell/USA TODAY SportsKevin Olsen became Miami's first-string quarterback when Ryan Williams tore his ACL.
At Miami, quarterback
Ryan Williams
tore his ACL, leaving
Kevin Olsen
the undisputed starter heading into summer camp.
At Duke, Brandon Connette announced his decision to transfer to the West Coast, leaving
Anthony Boone
in an unfamiliar role of being the lone leader.
Boston College named Florida transfer
Tyler Murphy
its starter, Syracuse reaffirmed
Terrel Hunt
as its starter,
Justin Thomas
is the main man at Georgia Tech,
Will Gardner
took the lead at Louisville and
Chad Voytik
became the obvious choice at Pitt.
What began as a position up for grabs in the ACC is largely no longer a mystery, as many schools determined their starting quarterback this spring, or at least had separation occur -- if not by performance, then by default. While most of the quarterbacks throughout the league are still unproven (six schools don't have any starting experience returning to the position, and four schools brought in transfers to help), many enter summer camp at least sure of where they stand on the depth chart.
"I had my meeting with the coaches before all that happened, and I felt comfortable with where I was," said Stoudt, who will make his first career start in the season opener at Georgia. "They said I was going to be the guy and everything. I know there were some things that happened, but I'm happy with the situation, and I'm happy I'm the guy going into fall camp, so it's exciting."
Nine of the 14 schools in the ACC will introduce a first-year starting quarterback this fall. Of the 11 teams that entered spring with quarterback competitions, eight found answers -- or at least had an obvious front-runner emerge.
At Miami, Williams had distanced himself from Olsen through his decision-making and accuracy, but the torn ACL meant an instant promotion for Olsen. Still, coach Al Golden said his confidence in the position remains high.
"I think we're not going to change what we do," Golden said. "We need to do a really good job of establishing the running game, keeping it simple, doing what we do best. Getting into more third-and-manageables. We were in way too many third-and-longs last year to possess the ball and convert. Clearly the two young men we have here on campus right now can do it. The two coming in will also have an opportunity to compete."
[+] Enlarge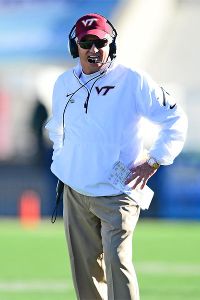 Andrew Weber/USA TODAY SportsVirginia Tech coach Frank Beamer is still looking for a starting quarterback to emerge.
The only three schools that didn't come close to naming a starter this spring were Virginia Tech, Virginia and Wake Forest. It's not a stretch to say that the Hokies' hopes of returning to the ACC title game hinge on having a dependable quarterback emerge, and as one of the premier programs in the Coastal Division, it will continue to be one of the most-watched storylines of the summer. Those within the program have been eagerly awaiting the arrival of Texas Tech transfer
Michael Brewer
and true freshman
Chris Durkin
. The staff has made it perfectly clear they won't name a starter until those two are added to the competition this summer.
"The big question really is the quarterback," coach Frank Beamer said. "I think
Mark Leal
,
Brenden Motley
and
Andrew Ford
all have had their moments. Some of it's good; some of it's not as good as you like. I think Michael Brewer coming in, Chris Durkin coming in, will enter into the competition there. We'll see how that ends up. But that's certainly the critical question for our football team right now."
The critical question for the rest of the conference becomes how these new starters will perform when it counts. Now that most of them have earned their starting jobs, there's pressure to keep them.
"I've said that if we were to play tomorrow, [
Will Gardner
] would run out there as our starter," Louisville coach Bobby Petrino said. "… There will certainly be competition for it in the fall. He'll have a chance to go out each day and prove that he's either the better quarterback, or someone passes him by."
More often than not, the ACC's new quarterbacks were able to prove it this spring.
April, 18, 2014
Apr 18
9:00
AM ET
Scottie Montgomery returned to Duke last year from an NFL world where quarterbacks were never, ever hit in practice.
So when his quarterbacks started begging him to go live this spring, his first reaction was, 'No way!' He was in protection mode, the way he was as a Steelers assistant. But veterans
Anthony Boone
and
Brandon Connette
persisted, and he slowly relented -- only a few times, and with clear instructions to the defense.
[+] Enlarge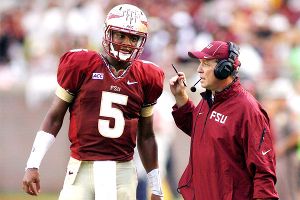 AP Photo/Phil SearsFlorida State coach Jimbo Fisher had Jameis Winston go live last spring when he was dueling Jacob Coker for the starting job.
"My initial feel is, 'Don't ever let anybody get touched, so I have to fight myself at times, because I want to protect these guys and these guys want to compete for jobs," said Montgomery, the offensive coordinator.
His is a dilemma that many coaches across the league
have faced this spring
. Do you allow your quarterbacks to get hit in practice to help simulate game situations and foster competition, knowing you have increased their injury risk? Or do you never even broach the subject because the priority should always be to protect the quarterback?
Four ACC teams allowed their quarterbacks to go live at some point during spring practice, more than any other power-five league. Clemson did it for the first time under offensive coordinator Chad Morris, believing he would see more out of the three quarterbacks vying for the starting job. Early enrollee freshman Deshaun Watson
ended up getting hurt
and missing the spring game.
Florida State allowed its younger quarterbacks to go live this spring. Coach Jimbo Fisher said he did the same last year, when
Jameis Winston
was a redshirt freshman competing to win the starting job.
"They've got to be able to feel things around them and react," Fisher said. "They get in a false security blanket sometimes."
Does that cause him extra worry?
"It's no different than when we run the running backs, and I get nervous in the scrimmages when the backs are running and get tackled," Fisher said. "Our guys know if they've got a kill shot, not to. There's a certain limit of how we practice with each other. You know those shots that everyone wants to have? We won't take those on each other even if we're in a live scrimmage because it's not productive to the organization. Tough to me is when you're eyeball to eyeball, not when a guy's exposed and you can do that."
The coaches are not the only ones who wrestle with the idea. NC State quarterback
Jacoby Brissett
was not live this spring. But when he was competing for the starting job at Florida with
Jeff Driskel
back in 2012, both were allowed to go live early on in fall practice. The first day they were allowed to take hits, Driskel hurt his shoulder.
[+] Enlarge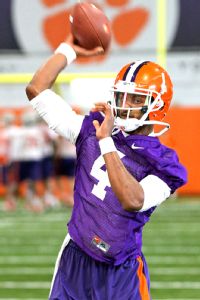 AP Photo/Anderson Independent-Mail/Mark CrammerClemson freshman Deshaun Watson was injured in practice and missed the spring game.
"There's a right time and wrong time for quarterbacks to be live," Brissett said. "We haven't done live practices, but in the fall sometimes we will have a live scrimmage on a Saturday. It helps out with the game speed reps."
For a running quarterback such as Brissett, that helps. Same for the Duke quarterbacks. Georgia Tech has its quarterbacks live during practice for that reason.
Some coaches believe going live helps separate the competition. But Clemson was the only school with an open quarterback competition to allow its quarterbacks to go live during scrimmage situations. North Carolina, for example, has
Marquise Williams
and
Mitch Trubisky
battling to win the starting job, but offensive coordinator Seth Littrell does not believe it is necessary to allow quarterbacks to get hit. "I've never done it," he said.
Virginia Tech also is in the middle of an intense competition, but quarterbacks have been off limits so far this spring. Veteran
Mark Leal
would have no problem if the coaches changed their minds.
"Honestly, I'd like to be live," he said. "I think the rest of the quarterbacks would, too, because it gives more of a game feel. If you're not live, sometimes the whistle gets blown early when you don't think you should have been sacked or the play gets messed up because when there's a rush around you, the first thing the coaches want to do is blow the whistle, rather than you continue to play or go through your reads and progressions and finish the play."
Depth concerns often dictate what coaches do. Pitt only had two scholarship quarterbacks this spring, so there was no way they were going live. Virginia Tech only has three quarterbacks on the roster this spring.
Still, all the protections most coaches take are not enough to keep their quarterbacks injury-free. Miami quarterbacks were off limits this spring, but
Ryan Williams
tore his ACL
during a scrimmage.
It was a noncontact injury.
March, 7, 2014
Mar 7
9:00
AM ET
Breaking down the spring in the ACC Coastal division:

Duke
Spring practice over
What we learned:
Momentum rolls on. It's hard to believe the Blue Devils are already done with spring ball, but coach David Cutcliffe opted to open practice in February to capitalize on the momentum that was created last season. After the spring game ended Saturday, he praised the way his players handled the practices. There was a great deal of retention and not a lot of re-teaching, so coaches were able to get much more out of their players this spring.
Max McCaffrey emerges. Jamison Crowder had a spectacular 2013 season, but it was essentially him and then everybody else in the receiver group. That may not be the case this season. McCaffrey earned praise from coaches and teammates for the way he improved during the spring. Offensive coordinator Scottie Montgomery said McCaffrey made as many plays as anybody else on the offense this spring.
Stepping up on the line. The Blue Devils lost three starters on their defensive line -- both ends in Kenny Anunike and Justin Foxx, and defensive tackle Sydney Sarmiento. But it appears as if the players behind them are ready to step up and make a seamless transition. Defensive ends Jordan DeWalt-Ondijo and Dezmond Johnson each had two sacks in the spring game. Kyler Brown also made the switch from linebacker to defensive end and had a sack in the spring game as well.

Georgia Tech
Spring start:
March 24
Spring game:
April 18
What to watch:
Justin Thomas takes over. After Vad Lee announced his transfer from Georgia Tech, the quarterback reigns fell to Thomas, who played in 10 games this season. The Jackets had their share of highs and lows under Lee, but what the staff is going to be looking for first and foremost is Thomas' ability to hold on to the football. Georgia Tech had 24 giveaways and ranked No. 12 in the ACC in turnover margin.
Defensive line questions. The Jackets lose three starters on the defensive line, including All-ACC defensive end Jeremiah Attaochu -- who had 22.5 sacks over the last two seasons. Who will step up and fill that type of production? The most experienced backups returning are sophomores Tyler Stargel and Patrick Gamble. Also, Travin Henry will get a look at defensive end after playing wide receiver last season.
Offensive line questions. Georgia Tech also loses three starters on the offensive line -- tackles Ray Beno and Will Jackson and center Jay Finch. The trio combined to start 117 games in their careers, so there is no doubt this is going to be a much less experienced unit in 2014. The good news is All-ACC guard Shaq Mason returns to help anchor the new-look line.

Miami
Spring start:
Started March 1
Spring game:
April 12
What to watch:
Quarterback derby. Stephen Morris is gone, but the Canes do have at least one experienced quarterback on the roster in Ryan Williams, a Memphis transfer who has served as Morris' backup the last two seasons. As a true freshman with the Tigers, Williams started 10 games -- all the way back in 2010. Challenging Williams is redshirt freshman Kevin Olsen, who had a bit of a rocky first year in Miami, along with Gray Crow.
Defensive improvements. Perhaps more than what happens at quarterback, Miami must see improvements out of its defense this season. Embattled defensive coordinator Mark D'Onofrio kept his job but the status quo cannot persist. Every single area of the defense must be upgraded. Ranking No. 13 in the ACC in total defense just can't happen again.
Defensive improvements, Part II. To try and help the secondary, Miami already moved Dallas Crawford over to safety, where the Canes could use the help. But Miami must be stronger on the defensive front. The Canes only had 12 sacks in eight conference games. By comparison, BC led the way with 25 sacks in conference games. This is a big opportunity for guys like Al-Quadin Muhammad, Tyriq McCord and Ufomba Kamalu to really step up.

North Carolina
Spring start:
Started March 5
Spring game:
April 12
What to watch:
The quarterbacks. Marquise Williams took over as the starter when Bryn Renner was gone for the season and ended up helping the Tar Heels make a bowl game after a 1-5 start. But coach Larry Fedora said the competition is open this spring. Look for Mitch Trubisky and Kanler Coker to give Williams a major push.
Defensive line questions. Kareem Martin and Tim Jackson are both gone, leaving big holes in the North Carolina front. Martin ended up notching 21.5 tackles for loss to rank No. 3 in the ACC. So who are the next guys up? At end, Junior Gnonkonde and Jessie Rogers are the top two contenders, while Shawn Underwood, Devonte Brown and Justin Thomason will compete for one of the tackle spots.
Replacing Ebron. Eric Ebron was dynamic at tight end for the Tar Heels last season, leading the team with 62 receptions for 973 yards, while adding three touchdowns. Will the Tar Heels be able to replace that type of production with just one player? Jack Tabb would be next in line among the tight ends, but this is a huge opportunity for the North Carolina receiving group as well. We saw plenty of promise out of young guys like Bug Howard, T.J. Thorpe and Ryan Switzer.

Pitt
Spring start:
March 16
Spring game:
No spring game. Last day of practice April 13
What to watch:
The quarterbacks. Chad Voytik played really well in relief of an injured Tom Savage in the bowl game, but coach Paul Chryst said the competition to win the starting job is open headed into the spring. At this point, Voytik and Trey Anderson are the only scholarship quarterbacks on the roster. So you can bet the biggest goal of all is to keep them both healthy.
Replacing Aaron Donald. One of the biggest surprises in all of college football this past season was the emergence and utter dominance of Donald at defensive tackle. Donald swept every major defensive award after notching 28.5 tackles for loss, 11 sacks, 16 quarterback hurries and four forced fumbles. Darryl Render is the next man up.
Complementary receiver. Devin Street is gone, leaving Tyler Boyd as the only standout receiver on the roster. Not only do the Panthers have to develop a consistent No. 2 receiver, they also have to develop some depth. Watch for Manasseh Garner, a former H-back who moved to receiver late last season when Street got hurt. He is more physical than Boyd, and has some extended playing experience.

Virginia
Spring start:
Started March 1
Spring game:
April 12
What to watch:
The quarterbacks. David Watford is not guaranteed to win his starting job back after last season, when he threw eight touchdown passes to 15 interceptions. Greyson Lambert and Matt Johns are also in the mix and reps with the first team will be split. In fact, Lambert got the first-team reps when the Hoos opened spring ball last weekend.
Andrew Brown. The highly-touted freshman will have every opportunity to win a starting job at defensive tackle, and it all starts in spring ball. The No. 3-ranked player in the ESPN 300 comes in with tons of hype; now can he translate that into on-field success? He, Donte Wilkins and Chris Brathwaite will be competing to start next to David Dean.
Mr. McGee. Jake McGee was the best player the Hoos had among the group of tight ends and receivers a year ago, leading the team with 43 catches for 395 yards. This spring, McGee has now moved over to receiver so the Hoos can take advantage of his athletic ability. Plus, Virginia is lacking playmakers at the position, so we'll see how much this move benefits both McGee and the offense.

Virginia Tech
Spring start:
March 27
Spring game:
April 26
What to watch:
Quarterback. Mark Leal heads into the spring with a leg up in the quarterback competition but make no mistake, there is no set starter. He will get competition from freshmen Andrew Ford and Brenden Motley in the spring, with freshman Chris Durkin and Texas Tech transfer Michael Brewer arriving in summer. This competition will likely drag on into the fall.
Front seven. The Hokies are losing five terrific players up front, including ends James Gayle and J.R. Collins, and linebacker Jack Tyler, who racked up 100 tackles in back-to-back seasons. There is no doubt a major priority this spring is finding their replacements and building depth along the line and at linebacker. Who will step up as the leader of this group with Tyler gone?
Skill players. This has been an ongoing theme over the last two seasons and will continue to be a theme until the Hokies have consistently good players at running back and receiver. Offensive coordinator Scot Loeffler is excited about the return of tight end Ryan Malleck, and his entire tight end group for that matter. A healthy Malleck and improvement from Kalvin Cline means the Hokies could simultaneously improve their run and pass game.
March, 6, 2014
Mar 6
9:00
AM ET
Virginia Tech quarterback
Mark Leal
looked around his position meeting room this winter and realized just how empty it was. True freshman
Andrew Ford
, who enrolled early, and redshirt freshman
Brenden Motley
were his only company.
None of them has ever started a game.
"This is probably the most slim it's been since I've been here," said Leal, a fifth-year senior. "We've always had at least five or six guys, but right now it's only three."
[+] Enlarge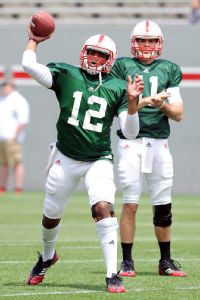 Lance King/Getty ImagesJacoby Brissett (12) is one of several transfers who could move into starting roles in the ACC in 2014.
Sounds like the entire ACC, where six schools have absolutely zero quarterbacks returning with any starting experience, and four schools brought in transfers to help.
As spring practices begin throughout the conference, the ACC kicks off its 2014 season with a complete overhaul at the quarterback position. It was only a year ago that Florida State's
Jameis Winston
was an unproven rookie who had yet to start a game. Now, the 20-year-old reigning Heisman Trophy winner is the veteran of the league, as nine of the 14 schools will have a first-year starting quarterback, and the competition is open at 11 programs. Florida State, Duke and NC State are the only programs that have definitively named starters, and even NC State doesn't know what to expect out of first-year starter and Florida transfer
Jacoby Brissett
.
Brissett, though, knows what's expected.
"Go make sure it was earned," he said, "not given."
Count on that to be a trend in the conference this spring.
Clemson, Georgia Tech, Louisville, Pittsburgh, Virginia Tech and Wake Forest are all starting from scratch, without any starting experience at the quarterback position. Some of the league's most recognizable names have to be replaced, including
Tajh Boyd
,
Logan Thomas
and
Teddy Bridgewater
. Coaches at North Carolina, Syracuse and Virginia have deemed their competitions open, in spite of experienced starters returning.
"I looked at that and was kind of surprised," said Georgia Tech quarterback
Justin Thomas
, the frontrunner to take over the job after
Vad Lee
's decision to transfer. "It should even the playing field out a little bit, but at the same time, we all have to go through our parts."
Not to mention spring and summer auditions.
Clemson coach Dabo Swinney said it's likely the competition between
Chad Kelly
,
Cole Stoudt
and
Deshaun Watson
will extend beyond this spring -- and possibly into the season.
"Going in, Cole starts out as No. 1 simply because of where we finished the season -- basically by default, if you will," Swinney said. "He's the senior. It's basically his to lose going in, but it's incredibly close. You're talking about -- in my opinion -- three guys who are going to play in the NFL. I believe with all my heart that Cole Stoudt is going to play in the NFL. And the same thing with Chad Kelly, and the same thing with Deshaun Watson, if they stay healthy. So you've got three NFL players competing to be the guy, and there's nothing wrong with that. Some people say, well, if you don't have one quarterback then you have none. But that's not the case here."
It could be the case elsewhere, though.
Virginia Tech (Michael Brewer), Boston College (
Tyler Murphy
), Miami (
Ryan Williams
) and NC State (Brissett) are all hoping that transfers can give the position an immediate boost, but former Texas Tech quarterback Brewer won't join the Hokies until this summer. While none of them has started a game at their current schools, all but Brewer have started at least three games at their previous programs.
Williams started 10 games while he was at Memphis, and he's the leading candidate to replace
Stephen Morris
, but "it is wide open," according to offensive coordinator James Coley. And Williams knows it.
"You have to earn it, you have to earn everything," Williams told the South Florida Sun-Sentinel. "I don't want anything given to me. If it's given to me, I didn't work hard enough."
Brissett started three games at Florida, and Murphy started six games for the Gators after starter
Jeff Driskel
was lost for the season. Murphy went 2-4 with 1,216 yards, six touchdowns and five interceptions before missing the final three games of the season with a shoulder injury.
Nothing is guaranteed in Chestnut Hill this spring, either, as the Eagles also have
Darius Wade
, a true freshman who enrolled early, and
James Walsh
, who will be a redshirt freshman.
[+] Enlarge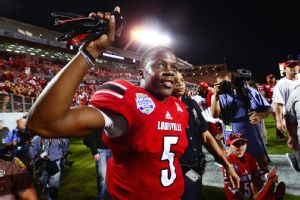 David Manning/USA TODAY SportsThe Cardinals are about to embark on life without Teddy Bridgewater.
"They're all real green," offensive coordinator Ryan Day said of the Eagles' quarterbacks. "It's obviously an open competition. I'm looking forward to getting out there and seeing them throw and run the offense. We'll see. All three of these guys are mobile, they can run. They're dual threats. We're going to use that as a weapon for us. We're not going to totally change what we do, but we'll add that component to it."
All eyes will be on Louisville's quarterback competition, as the Cardinals enter their first season in the ACC without Bridgewater, who left early to enter the NFL draft.
Will Gardner
and
Kyle Bolin
will be the top two candidates this spring, and they'll be joined by incoming freshman
Reggie Bonnafon
this summer.
"It's wide open," first-year coach Bobby Petrino said. "We'll go through spring and see who comes out 1-2-3 and then obviously we'll give Reggie an opportunity in the fall to compete with those guys."
With the addition of Louisville, the ACC enters this season perceived by many to be the strongest it has ever been.
Now it just needs to find a few quarterbacks to help prove it.
December, 31, 2013
12/31/13
6:00
PM ET
No. 17 UCLA beat Virginia Tech 42-12 on Tuesday in the Hyundai Sun Bowl. A few quick hits:


It was over when:
Sensational true freshman linebacker
Myles Jack
of UCLA intercepted a
Mark Leal
pass and pranced 24 yards for a pick-six with 13:22 to play in the fourth quarter to give the Bruins a 28-10 lead. It came on the heels of 12-play, 85-yard drive that provided breathing room for UCLA and turned up the heat on Leal, the Virginia Tech backup who replaced
Logan Thomas
after the senior took a big hit from linebacker
Jordan Zumwalt
in the second quarter.
Game ball goes to:
Sophomore quarterback
Brett Hundley
of UCLA, who rushed for touchdowns of 7 and 86 yards in the first half. Hundley then completed 6 of 6 throws for 80 yards on the Bruins' 85-yard drive that ended early in the fourth quarter after the Hokies cut the lead to 14-10. Hundley rushed for 161 yards and two scores on 10 carries and completed 16 of 27 passes for 226 and a pair of touchdowns.
Stat of the game:
28. That's the Bruins' point total in a span of less than nine minutes in the fourth quarter to bust open a close contest.
Unsung hero:
Zumwalt, the senior man in the middle of the UCLA defense. The rookie Jack, who also plays running back, and senior
Anthony Barr
get most of the publicity among a stellar group of UCLA linebackers. But Zumwalt on Tuesday made an impact as significant as any defender with 10 tackles, an interception in the fourth quarter and the big hit on Thomas.
What UCLA learned:
The Bruins continue to progress under second-year coach Jim Mora, reaching 10 wins for the first time since 2005. If Hundley returns for a third season at the helm, UCLA has a potential Heisman candidate next year.
What Virginia Tech learned:
The athleticism needs to improve. The Hokies, even if Thomas had remained upright, likely would have succumbed to UCLA's speed and playmaking ability in the second half.
August, 20, 2012
8/20/12
10:00
AM ET
Not every school in the ACC gives scrimmage reports, but for those that do, we will gladly post the highlights. Here's a look back at what happened in the ACC this weekend, according to each school's report:

Boston College
Offensive highlights:
Junior receiver
Alex Amidon
had seven catches for 84 yards, including a 29-yard touchdown reception, in the situational scrimmage Sunday. The scrimmage featured six end-of-half/fourth-quarter situations with limited time on the clock and a limited number of timeouts.
Chase Rettig
went 18-of-32 for 168 yards, one touchdown and two interceptions.
Defensive highlights:
Justin Simmons
had two interceptions off second-team quarterback
Josh Bordner
.
Manuel Asprilla
intercepted Rettig at the goal line, and linebacker
Nick Clancy
intercepted a Rettig pass that was deflected by
Mehdi Abdesmad
a few plays later.
Special teams:
Gerald Levano
punted four times and averaged nearly 48 yards per punt. His first punt landed at the 2-yard line, while his second attempt went 60 yards. Kicker
Nate Freese
made his only field goal attempt, from 40 yards, and is now 6-for-6 on field goal attempts in the preseason.
Quotable:
"We got a lot of nice young guys on this football team, and if they come through and play well, good things can happen, and Justin [Simmons] is one of them," coach Frank Spaziani said. "He's as advertised. We did our homework and everything that you do on kids. He's a good prospect."

Clemson
Offensive highlights:
Tajh Boyd
threw for 218 yards and three touchdowns Saturday, while
Martavis Bryant
had four catches for 97 yards and had two touchdowns. Boyd was 13-of-22 for 218 yards, three touchdowns and two interceptions. Backup
Cole Stoudt
went 4-of-9 for 61 yards and led a touchdown drive on his first possession.
Andre Ellington
had an 8-yard touchdown run, while
Roderick McDowell
led all running backs for a second straight scrimmage with 65 yards on four carries.
Defensive highlights:
Coach Dabo Swinney praised the defensive line, where
Josh Watson
,
Grady Jarrett
and
DeShawn Williams
made plays.
Xavier Brewer
made a brilliant breakup of a long pass and added five tackles.
Jonathan Meeks
added an interception.
Tony Steward
made a big play with a 25-yard interception return.
Special teams:
Williams had a blocked a field goal. Backup kicker Spence Benton made a 53-yard kick that could have been good from 63 yards.
Quotable:
"We have two weeks to get dialed in," Swinney said. "We are going to turn the page on Monday after our last two-a-day (practices) and start getting ready for Auburn. We will have our guys penciled in on where they need to be."

Duke
Offensive highlights:
Quarterback
Brandon Connette
caught a 15-yard touchdown pass from
Sean Renfree
and ran for another in a 95-snap, controlled scrimmage Friday night at Wallace Wade Stadium. Renfree went 14-of-21 for 116 yards with one touchdown and one interception. Freshman
Shaquille Powell
had eight carries for 30 yards, while
Jela Duncan
had 28 yards on nine attempts. Garrett Patterson, who moved from defensive back to receiver this week during practice, had five receptions for 80 yards.
Defensive highlights:
Cornerbacks
Lee Butler
and
Tony Foster
each had interceptions while linebacker
Deion Williams
recovered one fumble. Freshman defensive end
Michael Mann
had one sack and one forced fumble.
Special teams highlights:
Freshman kicker
Ross Martin
made field goals of 43 and 48 yards and converted his only extra-point attempt.

Georgia Tech
Offensive highlights:
Broderick Snoddy
had a 70-yard touchdown run on the second series, while quarterback
Vad Lee
threw two touchdowns to A-back
B.J. Bostic
. Lee later added a touchdown run as he continues to work at quarterback and A-back.
Synjyn Days
and freshman
Justin Thomas
also took snaps at quarterback, and each led scoring drives.
Defensive highlights:
Nick Menocal
had an interception he nearly returned for a touchdown.
Jimmie Kitchen
recovered a fumble, while defensive lineman
Anthony Williams
had two sacks.
Special teams highlights:
Justin Moore
had a 29-yard field goal, while
David Scully
made a 31-yard field goal and all five of his extra-point attempts. There was no punting on Saturday.
Quotable:
"The guys are ready to play someone else," quarterback
Tevin Washington
said. "We've been hitting each other for two weeks and all summer doing drills against each other. Guys are just ready to go and get some new faces in front of us."

Maryland
Freshman
Stefon Diggs
continued to impress, as he had three first-half touchdowns -- a 68-yard punt return, a 98-yard kickoff return and an 11-yard reception. Quarterback
Perry Hills
ran the first-team offense and led Maryland to scores on three of his five drives.
On the opening drive, Hills took the Terps on an 18-play, 76-yard touchdown drive, He went 5-of-6 for 27 yards on the drive and also rushed for 36 yards, including a 16-yard touchdown run.
"I thought Perry [Hills] had a good day," coach Randy Edsall said. "I thought he did some good things. Of course there's going to be plenty of things that he could learn from, and get better, but I think that we didn't have any issues with delay of game, really didn't have any false starts. When you talk about the mechanics and the operation of the offense I thought he handled it really well."

Miami
The Hurricanes' scrimmage Saturday was cut short in the middle of the second quarter because of lightning in the area. Among the highlights in the abbreviated scrimmage:
Mike James
and
Duke Johnson
each had touchdown runs, and
Kelvin Cain
recorded a sack in the end zone for a safety.
Virginia Tech

Offensive highlights:
Logan Thomas
went 8-of-15 for 112 yards and a score, while backup
Mark Leal
went 6-of-16 for 111 yards, with a touchdown and an interception.
Kevin Asante
led all receivers with four catches for 79 yards, while
Corey Fuller
caught three passes for 68 yards. The Hokies also rushed for 174 yards.
J.C. Coleman
played with a broken hand and had 54 yards -- 52 coming on one run -- and
Trey Edmunds
added 45.
Tony Gregory
rushed for 36 yards, including a 26-yard touchdown run. Projected starter
Michael Holmes
had three carries for 21 yards.
Defensive highlights:
The projected first-team defense allowed a little more than 120 yards in four series (24 plays) and gave up just two field goals. Walk-on
Zach Snell
had six tackles, while
Ronny Vandyke
had five.
Desmond Frye
and
Antone Exum
each recorded four. The defense had five total sacks and
Bruce Taylor
had an interception.
Special teams highlights:
Cody Journell
made two field goals and missed one, while
Brooks Abbott
made one and had a 37-yarder blocked by
Kyle Fuller
.
Quotable:
"I thought it was one of the more productive offensive first scrimmages we've had around here," coach Frank Beamer said. "I think we did some good things, and I think we'll see some things we can improve. Overall, I think the effort was good. I always say this, but it's hard to come out pleased because if the offense makes plays, you're worried about your defense. If the defense makes plays, you're worried about your offense. Overall, I thought it was a good first scrimmage."
August, 15, 2011
8/15/11
9:00
AM ET
It was a busy weekend in the ACC. Here's a look back at the highlights from the scrimmages, according to the sports information departments of the teams that provided reports:

BOSTON COLLEGE
Coach Frank Spaziani told reporters after the 70-minute scrimmage that there were some good things, but "it's like a jigsaw puzzle with all the pieces in the box; they're not connected yet."
Offensive highlights:
Defensive highlights:
Linebacker Nick Clancy and defensive back Sean Sylvia led the team with four tackles each.
Sophomore linebacker Jake Sinkovec had one interception and one fumble recovery.

CLEMSON
Quarterback
Tajh Boyd
had an impressive performance, as he completed 10 of 12 passes for 168 yards and a touchdown to highlight the new offense in Clemson's 75-play scrimmage in Memorial Stadium on Saturday morning.
Offensive highlights:
Defensive highlights
:
The first-team defense did not allow a scoring drive.
Martin Jenkins led the team with seven tackles, including a tackle for loss.
Corico Hawkins had five tackles and a fumble recovery, while freshman defensive end Corey Crawford had five stops, including a sack.
Special teams highlights:
Clemson's three kickers, Chandler Catanzaro, Ammon Lakip and Brian Symmes were a combined 16-of-16 on the day in field goal attempts and extra points against a live rush.
Notable:
Three Tigers missed the scrimmage because they were going through graduation exercises across the street from Memorial Stadium in Littlejohn Coliseum. Starting offensive tackle Landon Walker, starting safety Rashard Hall and reserve defensive end Kourtnei Brown all graduated from Clemson on Saturday. It was especially noteworthy for Hall, who has been at Clemson just three years. He joins Nick Eason (now in the NFL with the Arizona Cardinals) as the only scholarship football players to graduate with two years of athletic eligibility remaining.
Four players missed the scrimmage due to injury. Those players were defensive back Xavier Brewer (sprained foot), defensive back Garry Peters (bruised calf), Andre Branch (head injury), DeShawn Williams (sprained ankle).

GEORGIA TECH
Georgia Tech coach Paul Johnson had mixed reviews after the Yellow Jackets' first scrimmage, which ran 90 minutes inside Bobby Dodd Stadium on Saturday morning.
"It was like a lot of first scrimmages, there were way too many balls on the ground and way too many penalties," Johnson said. "But we hit some big plays. When you play against each other there's positives and negatives on both sides. It's a starting place and we'll look at it and try to make some improvements."
Offensive highlights:
While no official statistics were kept, quarterback Tevin Washington passed for well over 100 yards, including a 63-yarder to senior A-back Roddy Jones. Redshirt freshman quarterback Synjyn Days threw the only touchdown of the day, to true freshman Jeff Greene.
Greene ran with the first unit Saturday as most of the veterans -- junior Stephen Hill, senior Tyler Melton, sophomore Jeremy Moore and junior Daniel McKayhan -- all sat out with injuries.
Washington scored the only other touchdown Saturday on a 1-yard QB keeper.
Defensive highlights:
Defensive end Emmanuel Dieke had a sack, true freshman Jamal Golden intercepted a Vad Lee pass, and Steven Sylvester and Isaiah Johnson both recovered fumbles.
Special teams highlights:
Sophomore Justin Moore booted a 45-yard field goal on his only attempt.
David Scully's 52-yard attempt was long enough, but just wide left.

MIAMI
The most important news out of Miami's first scrimmage was that quarterbacks
Jacory Harris
and
Stephen Morris
combined for five touchdown passes and only one interception. That sounds like improvement. Miami's quarterbacks combined for 407 passing yards on 38-of-52 passing for six touchdowns and only one interception.
Offensive highlights:
Receiver Tommy Streeter had the best offensive day for the Canes, catching five passes for 71 yards and three touchdowns, two of which came from Harris.
Lamar Miller had runs of 16 and 31 yards on the opening drive.
Defensive highlights:
Senior defensive back JoJo Nicolas led all defenders with eight tackles (six solo), with two tackles for loss.
Ramon Buchanan and freshman Gionni Paul and each had six total tackles, with Paul also recording a tackle for loss.
The defense totaled eight tackles behind the line of scrimmage for a total loss of 29 yards

VIRGINIA TECH
The Hokies' offense was the highlight, but what does that mean for the defense? Coach Frank Beamer pointed out that there were some long plays allowed, as the offense racked up 398 yards of total offense in the 78-play scrimmage at Lane Stadium on Saturday afternoon. The touchdowns came against Tech's second- or third-team defense, though, so the jury is still out.
"I thought it was a good first scrimmage -- better than most," Beamer said, according to the team's scrimmage report. "You take into consideration that you're trying to get everyone some work, people who don't know quite what they're doing, and that makes things a little ragged. I thought overall, though, it was a sharp scrimmage. The quarterbacks made some nice plays and Wilson got a couple of long plays against the defense, and we need to see what's going on there. Overall, the effort was good and the play was good."
Offensive highlights:
Backup quarterback Mark Leal led the quarterbacks with 116 yards passing, completing 6 of 13. He also threw an interception. Beamer said Leal is No. 2 on the depth chart behind Logan Thomas. Ju-Ju Clayton, who has dropped to No. 3 on the depth chart, completed 6 of 10 for 51 yards, while starter Thomas completed 4 of 8 for 79 yards, with an interception, in limited action.
Tailback David Wilson scored against the Hokies' second-team defense on a 22-yard run. Wilson led all rushers with 57 yards on five carries. Freshman Michael Holmes added 54 yards rushing on a game-high 11 carries.
Defensive highlights:
Freshman tackle Luther Maddy led the team with eight tackles, including two for a loss, and a sack. Freshman Michael Cole added six tackles, while Telvion Clark and Jack Tyler each finished with four.
Barquell Rivers had three tackles and an interception.
Jayron Hosley and freshman Ronny Vandyke also had interceptions. Hosley intercepted a Logan Thomas pass, while Vandyke intercepted a Trey Gresh attempt.
Special teams highlights:
The kickers connected on 5-of-6 attempts. Cody Journell hit from 35, 22 and 35 yards, while Justin Myer drilled a 52-yarder and a 28-yarder. "Cody's kicking extremely well," Beamer said. "Myer has a load of potential, and he needs to win some of the kicking contests during the week. That shows consistency, and that's where he is right now. Cody is usually winning it or right in the running at the end."
June, 16, 2011
6/16/11
9:00
AM ET
We've already taken a look at the ACC's
Dream Team
, which was comprised of the top position groups across the league. Now it's time to go a little bit deeper and rank every position group for each team. We'll start with the most difficult position -- the quarterbacks. More than half of the teams in the conference will usher in quarterbacks who are in their first season as a full-time starter, and many of the teams in the ACC are struggling with depth and experience at the position. This is
not
solely a ranking of the best quarterbacks in the ACC (stay tuned for that, it will look different), so backups are an important part of the equation.
Bottom line:
Who's got the depth and talent to make it through a full season --
and win
-- if more than one quarterback is needed?
Here's a look at who's stocked and who's not at quarterback this year:

1. Miami:
The Hurricanes have a proven albeit embattled option in
Jacory Harris
, and
Stephen Morris
also has significant starting experience. Whoever doesn't win the job will be a more than capable backup. The Canes still need to add depth to the position, but they landed transfer
Ryan Williams
from Memphis.

2. Boston College:
Starter
Chase Rettig
should be better in his second season as starter, but he's not the only one on the roster with playing experience.
Dave Shinskie
has started 13 games, and
Mike Marscovetra
should be a familiar name to BC fans by now.

3. Duke:
It's possible coach David Cutcliffe could use three quarterbacks this year. He's got one of the best in the league in starter
Sean Renfree
, backup
Brandon Connette
has seen significant playing time, and the emergence of redshirt freshman
Anthony Boone
this offseason could give the offense yet another option.

4. Wake Forest:
Tanner Price
is the undisputed starter, but
Ted Stachitas
had a better spring than coach Jim Grobe had anticipated, and
Brendan Cross
has always been in the mix to earn some playing time.

5. Florida State:
The Seminoles haven't settled yet on a backup to
EJ Manuel
, but depth isn't a problem with both
Clint Trickett
and
Will Secord
competing for the No. 2 spot. It's not like it was last year, though, when there was a Gator Bowl MVP sitting on the bench.

6. North Carolina:
Not only is
Bryn Renner
unproven, so are his backups. Renner clearly distanced himself from the rest of the competition this spring. True freshman
Marquise Williams
will continue to compete with
Braden Hanson
and
A.J. Blue
, who was injured two years ago and redshirted last season, for the No. 2 spot.

7. Virginia Tech:
Logan Thomas
had an impressive spring and drew rave reviews from those within the program, but the backup situation remains a question. Redshirt freshman
Mark Leal
really pushed
Ju-Ju Clayton
for the No. 2 job and that competition will continue this summer.

8. Georgia Tech:
It's Tevin Washington's job to lose, but
Synjyn Days
had the better spring game and made the competition a bit more interesting heading into fall camp. True freshmen
Vad Lee
and
Demontevious Smith
would have to have stellar performances in camp to make a move, but there's definitely talent in the wings.

9. Clemson:
Tajh Boyd
was the only scholarship quarterback even on the roster until the early enrollees,
Cole Stoudt
and
Tony McNeal
, joined the team. The good news for Clemson fans is that Cole Stoudt, the son of former NFL quarterback Cliff Stoudt, had a productive spring and earned the No. 2 job.

10. Virginia:
If there's one problem the Hoos don't have, it's depth at the quarterback position. Mike London has yet to name a starter, and all of them lack significant game experience.
Ross Metheny
,
Michael Rocco
,
Michael Strauss
and
David Watford
all have a shot. Since they're all preparing as starters now, they should all have a good grasp of the offense if needed.

11. Maryland:
First-year coach Randy Edsall had five quarterbacks to work with when he was hired, and now he's down to two. He's got one of the best quarterbacks in the league to work with in
Danny O'Brien
, but he's got to keep him healthy.
C.J. Brown
and walk-on Troy Jones are the only other quarterbacks on the roster.

12. NC State:
If
Mike Glennon
gets hurt, the Wolfpack is in trouble. Redshirt freshman
Tyler Brosius
has a strong arm but no experience, and he's not ready for prime time yet. The departure of
Russell Wilson
might not affect the win-loss record, but it definitely hurt the depth.