August, 29, 2012
8/29/12
9:00
AM ET
Here are my picks for the Big East all-conference team.

Offense
QB
B.J. Daniels
, USF
RB
Lyle McCombs
, UConn
RB
Ray Graham
, Pitt*
RB
Montel Harris
, Temple*
TE
Ryan Griffin
, UConn
OT
Justin Pugh
, Syracuse
OT
Martin Wallace
, Temple
C
Mario Benavides
, Louisville
OG
Chris Jacobson
, Pitt
OG
Mark Popek
, USF
WR
Alec Lemon
, Syracuse
WR
Andre Davis
, USF
Defense
DE
Trevardo Williams
, UConn
DT
Scott Vallone
, Rutgers
DT
Aaron Donald
, Pitt
DE
Ryne Giddins
, USF*
DE
Walter Stewart
, Cincinnati*
LB
Khaseem Greene
, Rutgers
LB DeDe Lattimore, USF
LB
Sio Moore
, UConn
CB
Logan Ryan
, Rutgers
CB
Adrian Bushell
, Louisville
S
Hakeem Smith
, Louisville
S
Duron Harmon
, Rutgers
Special teams
PK
Kevin Harper
, Pitt
P
Pat O'Donnell
, Cincinnati
RS Ralph David Abernathy IV, Cincinnati
* = tie
Notes:
About those ties. Graham is a no-brainer all-conference back when healthy. The only problem is I have no idea how healthy Graham is right now or how healthy he is going to be when the season ends. He could start slow and finish fast. Or maybe he won't regain his old form. So I am hedging my bets a little and putting him on there with Montel Harris of Temple. Harris has the potential for a 1,000-yard season.
Defensive end:
I really think Williams, Giddins and Stewart have the potential to hit double-digits in sacks this season. That is how highly I think of them. And if the Big East coaches have ties on their all-conference team at the end of the year, so can I!
Tight end:
This was a tough one. Griffin is in my preseason Top 25 countdown, but I was a little worried when I saw he would not be starting against UMass. Coach Paul Pasqualoni said not to pay attention to the depth chart because he and John Delahunt are interchangeable. Still got me to thinking that Hubie Graham of Pitt could very well be the first-team tight end at the end of the season.
Receiver:
This is a toss-up. I really love Davis' potential. I know a lot are going to clamor for Devin Street to be on the list. He is my next man up. I went with Lemon over Street because I have more confidence in the Syracuse passing game than Pitt.
June, 27, 2011
6/27/11
9:00
AM ET
Now by popular demand, we begin ranking the positions across the Big East. I know I am a little late to the party on this one, but better late than never, right? I asked on Twitter for suggestions on which position to start with today. There was no consensus. But I did like one suggestion: to work our way up from the line.
So first up is the offensive line. To make these rankings, I considered returning starters, accolades for returning starters, position switches and depth. The truth is, this is not an area of strength for the league as a whole. Most teams have depth concerns and questions at one or more positions.
[+] Enlarge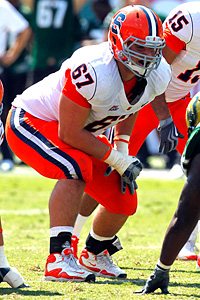 Cliff Welch/Icon SMI Justin Pugh earned all-conference honors last season as a freshman.
1. Syracuse.
The Orange have four returning starters, including two seniors. You have Justin Pugh, who made second-team All-Big East last year as a freshman. You have a more mature and experienced unit than the one last year, which had to replace four starters. There also is depth to have a nice eight-man rotation. The concern is at center, where Macky MacPherson is undersized. Actually, when you look at the entire group, it is undersized. Andrew Tiller is the only one who tips the scales at more than 300 pounds.
2. West Virginia.
The offensive line was an area of strength under Rich Rodriguez, but has struggled the past few years. It was hard to get a gauge on this unit in the spring, with both starting tackles Jeff Braun and Don Barclay out because of injuries. Starting guard Josh Jenkins also got hurt and is still not 100 percent. But the potential is there for this group to be significantly improved.
3. UConn.
The strength of this unit is at tackle and center, where the Huskies return first-team All-Big East selection Mike Ryan (20 career starts) and Adam Masters (18 career starts). Moe Petrus, a second-team all-conference pick, has 39 career starts. Their experience should help along the guards -- nobody on the roster has started a game at the position. The good news is that Gary Bardzak does have starting experience, but it came at center.
4. Pittsburgh.
The Panthers made so many position shifts during the spring that it is hard tell how this unit is going to shape up come fall. Chris Jacobson moving to center was one of the biggest moves, and Pittsburgh hopes it pays off with more stability there. Jacobson and starting tackles Jordan Gibbs and Lucas Nix have a combined 49 career starts, but Pitt has to make up for losing first-team Big East selection Jason Pinkston.
5. USF.
The Bulls are going to be young on the offensive line this season after losing first-team All-Big East center Sampson Genus, along with tackles Jamar Bass and Jake Sims (second team All-Big East). Chaz Hine and Jeremiah Warren are a solid tandem at guard, and Mark Popek at left tackle and Kevin McCaskill at center do have playing experience. But at right tackle, USF plans to go with redshirt freshman Quinterrius Eatmon. He does have loads of potential, but there will be a learning curve. Depth also is an issue, and the Bulls could have true freshmen in the rotation.
6. Cincinnati.
The Bearcats had their share of problems last season, ranking second-to-last in the Big East in sacks allowed (31). This year, they have to replace three starters on the offensive line with unproven players. Senior right tackle Alex Hoffman has taken on some leadership responsibility with the loss of Jason Kelce, but players like Austen Bujnoch, Andre Cureton, Sean Hooey and Evan Davis are going to have to step up. Depth could also be an issue here.
7. Louisville.
The Cardinals return just one starter in center Mario Benavides, who has been hampered with a knee injury. Ryan Kessling and Alex Kupper have playing experience, but most everybody else is pretty unproven, and that makes for one of the biggest question areas on the team headed into the fall.
8. Rutgers.
The Scarlet Knights own the bottom spot until the season starts and we can see how much this unit has improved. It is a well-known fact that they finished last in sacks allowed and were one of the worst rushing teams in the country last season for that reason. They suffered a blow when junior college transfer Dallas Hendrikson went down with a season-ending injury in the spring, but coach Greg Schiano said he saw plenty of improvement from this group. They certainly will have more experience, but how much better will they be?
April, 4, 2011
4/04/11
2:00
PM ET
Statistically speaking, there were no obvious reasons why South Florida had a successful season in 2010. But one of the Bulls' main strengths came from the guys who don't generate many stats for themselves.
A veteran offensive line that stayed healthy for the most part played a key role in the eight-win campaign. Sampson Genus was a first-team All-Big East center, while tackles Jamar Bass and Jake Sims were very solid, holding off Clemson star Da'Quan Bowers in the Meineke Car Care Bowl.
With those three guys gone, the Bulls have some reshaping to do up front this spring.
[+] Enlarge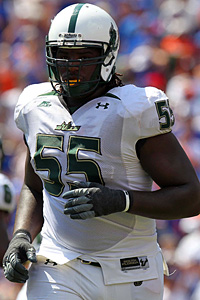 Kim Klement/US PresswireGuard Jeremiah Warren will be counted on to be one of the offense's leaders.
"It's very much a work in progress," USF offensive line coach Steve Shankweiler said. "I think this group has a chance to be pretty competitive, but we're replacing those three with guys who have not played very much."
Let's start with the known quantities. Jeremiah Warren and Chaz Hine are two seniors who have the guard positions locked down. In fact, the only real problem at those spots is they don't have a lot of competition behind them. Shankweiler said he's challenging both to be leaders and to motivate themselves.
"Sampson, Jamar and Jake were great leaders, so it will be fun to try and follow in their footsteps," Warren said.
At left tackle is junior Mark Popek, who started four games last year. Kevin McCaskill is Genus' replacement at center, a role he's undertaken before.
"He came into the Miami game when Genus got hurt, and you never noticed a difference," Shankweiler said. "On our touchdown to tie it and the touchdown to win it in overtime, we were running right behind him."
The most intriguing story among the current first unit is right tackle Quinterrius Eatmon, a redshirt freshman. He has dropped nearly 65 pounds since arriving on campus, now weighing in at 297. Shankweiler loves his potential.
"He's committed to working hard," Shankweiler said. "Last year, I made him the second-team right tackle the whole season, so I got him ready to play every game. He doesn't have wide eyes like most freshmen. He's a very bright kid. He probably learns better than anybody I've got."
So the Bulls feel good about their first-team front five, and head coach Skip Holtz said after Saturday's spring game that he's confident the Bulls will be able to run the ball well. It's depth that has Shankweiler a little nervous. Unless South Florida can avoid the injury bug again, it will have to rely on some untested linemen this fall.
"Our depth is not very good, truthfully," Shankweiler said. "We signed five high school linemen this year, which is more than most people do. We just don't have any. Our numbers were down when we got here, for whatever reason, and it takes two years to get caught back up."
Shankweiler is cross-training players at different positions to help the depth, and he said there's a good chance that an incoming freshman will crack the two-deep this fall. That means the veterans will have to be really good and the youngsters will have to come along in a hurry. If so, then the Bulls can count on the offensive line as a strength again in 2011.
"We can be one of the best around, I believe," Warren said. "We just have to fix some little things here and there and get better."
February, 16, 2011
2/16/11
9:00
AM ET
Here is Part II of my pre-spring interview with South Florida coach Skip Holtz, in which we look forward to spring practice and the 2011 season. You can read Part I
here
. And if you missed Holtz's comments on his quarterback situation, you can find those
here
.
You don't bring back a lot of starters. But considering how many guys you played last year, how comfortable do you feel with your returning experience this season?

Skip Holtz:
I do feel like we return quite a bit of experience. You look at a guy like Mark Popek on the offensive line, who didn't start but played quite a bit, and Danous Estenor played quite a bit. Obviously
Bobby Eveld
started one game. I'll just use the quarterback position: last year in the spring, we had one quarterback on scholarship; this spring we're going to have four. I look at the improvements we've made there from a competitive standpoint.
[Tight ends]
Andreas Shields
and
Jeff Hawkins
played. We had a number of running backs play. I look on the defensive line and we played four defensive ends and even though we graduated two of them, Ryne Giddins, Patrick Hampton and Julius Forte played just as much as the starters did. We played about seven linebackers a year ago, so even though we lost three, you return four with a significant amount of experience. I think we redshirted some really good players. We return all four of our safeties a year ago. We played three cornerbacks and two of them return.
So I think we have a great nucleus to build on. I definitely feel like we're much farther ahead than we were a year ago at this time.
You brought in three transfers from other BCS programs last year. Can you tell me about each of them?

SH:
I'm really excited, and I'll start with the running backs. When we came in here a year ago, all of a sudden [Mike] Ford and [Jamar] Taylor were dismissed from the team. You start looking ahead and say Mo Plancher is going to graduate, and we're going to have a hole at the running back position. So we brought in some transfers in
Darrell Scott
from Colorado and
Dontae Aycock
from Auburn, and I think they're both very very talented players who are working extremely hard. They were both very impressive on the scout team with their attitudes and their work habits.
Darrell Scott came in about 240 [pounds]; he's down to about 226 and looks great. I think both of them are definitely going to be guys who make an immediate impact, and that's why we didn't sign a lot of junior college guys -- there was only one junior college player in our class. I think guys like Aycock and Scott are going to make a huge difference. And then a young man who transferred from Notre Dame,
Spencer Boyd
, is going to bring some depth to us in the secondary, where we graduated Mistral Raymond. He's a great athlete, and he's going to have an opportunity to come in and compete for time.
You had a good running game but not a lot of explosive gains there last season. How much can the new guys help that?

SH:
We didn't have a lot of big plays there, you're right. Both Dontae Aycock and Darrell Scott are bigger running backs. Mo Plancher was about 200, Demetrius Murray was about 200 pounds, where Darrell Scott is 226 and Dontae Aycock is about 230. I think they're bigger, stronger running backs who are going to be able to break more tackles maybe than we have in the past, and when I watch those two guys run, they've shown me some big-play potential. So I'm really excited to see how they develop and mature as we go through spring practice and fall camp.
How are receivers A.J. Love and Sterling Griffin coming along from the injuries that kept them out all of last season?

SH:
Well, it's nice to have them both back. A year ago we had four players returning with any type of experience at receiver, and Carlton Mitchell left early for the NFL before we got here. All of a sudden A.J. Love gets injured in the spring game, and Sterling Griffin gets injured in the summer.
Dontavia Bogan
had a great year for us, and what happened was a lot of these young guys got a chance to get experience last year. And then when you add A.J. Love and Sterling Griffin back to the mix, I think we'll be much deeper there. Plus, I'm excited about a couple of young signees we have that are coming into the program this season. But I think we'll be much deeper at that position, we'll be more experienced and we'll have more playmakers than we had a year ago.
Did it feel like, offensively, you were playing with one arm tied behind your back at times last year?

SH:
It really did, with our limited big-play potential in the running game and how inexperienced we were at the receiver position. But
Evan Landi
came on and gained some great experience. Terrence Mitchell converted over to wide receiver halfway through the year and made an impact. Steven Bravo-Brown got better,
Joel Miller
had a great game against Miami. And with those guys gaining that kind of experience and then being able to throw A.J. Love and Sterling Griffin in there, it may be one of the most experienced positions on our football team.
[+] Enlarge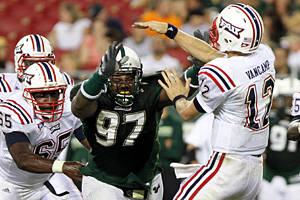 Kim Klement/US PresswireSouth Florida's departing defensive tackle Terrell McClain leaves big shoes to fill this coming season.
Defensively, it seems like Terrell McClain will be the hardest guy to replace. I know Bruce Feldman had some nice words about Todd Chandler the other day. How do you see the defense being able to replace McClain?

SH:
It's hard to replace a guy like Terrell McClain as a senior, whom they're talking about as a possible first-day draft pick, with a redshirt freshman. Keith McCaskill was solid for us last year and he's going to have to play more for us. Cory Grissom is going to be a year older as a starting nose guard. We're going to have to get a little more out of him.
Anthony Hill
is a guy who played a limited role for us a year ago that's going to be a junior; both him and Luke Sager, I expect more out of them. And then you hope Todd Chandler continues to mature into that position. And then there's a signee like Elkino Watson, who came in with an awful lot of accolades and is a talented player.
There are an awful lot of players there, and I don't think we're going to ask just one player to pick up that slack, that hole in the bucket left by Terrell McClain. We're going to ask a number of players to step their game up and fulfill that void.
Your season opener this year is at Notre Dame. How much does that help motivate everybody this offseason?

SH:
I think it's huge as a far as a motivational factor. I remember being at Notre Dame, and we used to open with Michigan every year, when I was at East Carolina, we opened with Virginia Tech. And what that does for your players' focus as they go into winter workouts and spring practice and summer conditioning and fall camp, it just keeps their focus maintained with what's on the horizon. Having the opportunity to play Notre Dame as a young football program like we are, I think it creates an awful lot of excitement in our program, and it's something I know the players are looking forward to.
Have you talked much with your dad about that game yet?

SH:
No, not enough yet. We'll get into that more as we get into summer breakdown. Right now, as we started winter workouts and are getting into out new practice facility, we're just trying to see where our players are and what we can do. Every team has a life expectancy of one year, and this time of year you start to put the pieces together. We're working on our own strengths and weaknesses before we start looking at our opponent and what they can do.
But I know they finished the season with wins at Southern Cal and a lopsided win against Miami. So I know it's going to be a great challenge, it's going to be a tall order. But it's going to be something as a young program that our players and fans are really looking forward to. It's going to be interesting to see what colors Dr. Lou is wearing that Saturday.
The team is drawing some offseason buzz because of how you finished. How do you address that, if at all, with the players?

SH:
I think it's a huge compliment to what this team has accomplished and a huge compliment to this program for what we've been able to accomplish in such a short period of time. The thing for us is, we've just got to stay focused on the task at hand. You start sitting around reading the newspaper articles and drinking the Kool-aid and start believing what everybody starts writing about you, your focus isn't where it needs to be as far as getting a team ready, getting it focused and getting ready for a season. I think it's nice to be able to have that type of exposure for our program, for our fan base and for our players, that they've earned and deserved.
But I think there are two aspects of building a program: I think you have to start by learning how to win, and then once you learn how to win as we started to do toward the end of last season, I think there's a whole another process that goes into being able to handle winning. That becomes maintaining your focus and not getting sidetracked by the circus of college football that goes with the media exposure and everything else.
I suppose that's a nice problem to have.

SH:
I'd much rather be here than still trying to learn how to win.