NCF Nation:

Mark Wetterer
January, 14, 2011
1/14/11
9:00
AM ET
Let's put a final bow on bowl season with the Big East's All-Bowl team:
Offense
Quarterback: Ryan Nassib, Syracuse
Nassib, who struggled down the stretch of the regular season, took advantage of Kansas State's shaky defense to complete 13-of-21 passes for 239 yards and three touchdowns in the New Era Pinstripe Bowl.
[+] Enlarge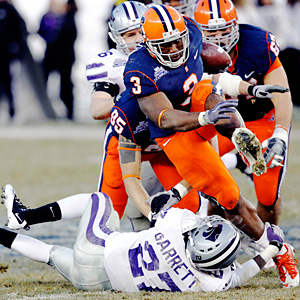 William Perlman/US PRESSWIRESyracuse's Delone Carter ran over Kansas State for 198 yards and two touchdowns in the Pinstripe Bowl.
Running backs: Delone Carter, Syracuse, and Dion Lewis, Pittsburgh
Carter ran 27 times for 198 yards and two scores in the Pinstripe Bowl. Lewis rumbled for 105 yards and a touchdown on 22 carries in the BBVA Compass Bowl before declaring for the NFL Draft.
Wide receiver: Marcus Sales, Syracuse
Sales came almost out of nowhere to record five catches for 172 yards and three touchdowns against Kansas State. No other Big East receiver had even a fraction of his stats in the postseason.
Tight end: Cameron Graham, Louisville
The league's best tight in the regular season kept it up in the Beef 'O' Brady's Bowl, catching three passes for 31 yards and a touchdown.
Offensive line: Jacob Sims and Sampson Genus, South Florida; Jason Pinkston, Pittsburgh; Mark Wetterer, Louisville; Justin Pugh, Syracuse.

Sims and Genus were part of a USF line that pushed back Clemson's talented defensive front in the Meineke Car Care Bowl; Sims in particular helped keep Da'Quan Bowers quiet, which is not an easy thing to do. Pinkston showed some fire in protecting his quarterback after
Tino Sunseri
was hit late, and the Panthers ran for 261 yards while surrendering zero sacks against Kentucky. Wetterer and Pugh helped open holes for their high-scoring postseason offenses.
Defense
Defensive line: Brandon Lindsey, Pittsburgh; Terrell McClain, South Florida; Bruce Irvin, West Virginia.

Lindsey stepped up his game in the regular season when Greg Romeus was hurt and did so again in the bowl with Jabaal Sheard out. McClain didn't record many stats but was his usual dominant self in the middle against Clemson. Irvin had two sacks and a forced fumble against NC State in the Champs Sports Bowl.
Linebackers: Derrell Smith, Syracuse; J.T. Thomas, West Virginia; Brandon Heath, Louisville; DeDe Lattimore, South Florida.

I went with a 3-4 look on defense to recognize the many strong performances by linebackers during bowl. Just about all of these guys had double-digit tackles and/or a couple TFLs.
Cornerbacks: Johnny Patrick, Louisville; Quenton Washington, South Florida
After getting burned on a play early, Patrick was all over the field. He forced a fumble and blocked a punt. Washington also blocked a punt and had a 45-yard interception return.
Safeties: Dom DeCicco, Pittsburgh, and Robert Sands, West Virginia
DeCicco had nine tackles and a forced fumble, while Sands had eight tackles and a sack.
Specialists
Punter: Cole Wagner, Connecticut
Wagner punted seven times for an average of 46.9 yards -- with a long of 52 yards -- against Oklahoma in the Tostitos Fiesta Bowl.
Placekicker: Chris Philpott, Louisville
Philpott only got the call once, but he made the game-winning 36-yarder in the fourth quarter.
Kick returners: Jeremy Wright, Louisville, and Robbie Frey, Connecticut
Both Wright and Frey returned kickoffs for touchdowns in their bowl games. Wright's was especially crucial, as it tied the score in the fourth quarter.
Punt returner: Terrence Mitchell, South Florida
Mitchell had a 34-yard punt return against Clemson.
December, 8, 2010
12/08/10
10:30
AM ET
Welcome to the ESPN.com 2010 All-Big East team. Unlike the official league team, we don't do ties here. One man, one spot.
I compiled the following list after watching each team the entire season and through consultation this week with some coaches throughout the league. Later on today, I'll offer up some thoughts on the selections, explaining my picks and the toughest omissions.
Here is the team:
Offense
QB:
Geno Smith
, West Virginia
RB:
Jordan Todman
, Connecticut
RB:
Bilal Powell
, Louisville
WR:
Armon Binns
, Cincinnati
WR:
Jon Baldwin
, Pittsburgh
TE:
Cameron Graham
, Louisville
OT: Jason Pinkston, Pittsburgh
OG: Zach Hurd, Connecticut
C: Sampson Genus, South Florida
OG: Mark Wetterer, Louisville
OT: Byron Stingily, Louisville
Defense
DE: Jabaal Sheard, Pittsburgh
DT: Chris Neild, West Virginia
DT: Terrell McClain, South Florida
DE: Julian Miller, West Virginia
LB: Lawrence Wilson, Connecticut
LB: Derrell Smith, Syracuse
LB: J.T. Thomas, West Virginia
CB: Brandon Hogan, West Virginia
CB: Johnny Patrick, Louisville
S: Robert Sands, West Virginia
S: Sidney Glover, West Virginia
Specialists
K: Dave Teggart, Connecticut
P: Dan Hutchins, Pittsburgh
KR:
Lindsey Lamar
, South Florida
PR:
Doug Beaumont
, Louisville
March, 4, 2009
3/04/09
11:28
AM ET
Posted by ESPN.com's Brian Bennett
Louisville will begin spring practice on Sunday, the first school in the Big East to get back on the field. It will be an important time for the Cardinals, who are trying to fill several holes after a second straight season that ended without a bowl game. I caught up this week with head coach Steve Kragthorpe for the latest installment of our spring Big East Q&A series.
Is spring time an exciting time for the coaching staff?
| | |
| --- | --- |
| | |
| | AP Photo/Mel Evans |
| | Steve Kragthorpe will take on offensive coordinator duties this season. |
Steve Kragthorpe: To me, spring ball is always one of the fun parts of our job, in terms of taking a new group of guys and molding them together, seeing how all the pieces start to fit together. We've got a lot of guys who've maybe had no roles at all that are going to jump into roles and some guys who've had minor roles who are now going to jump up into major roles. And the fun part about spring practice is there's always a surprise or two, a guy you weren't quite sure was ready to play who jumps up and says, "Hey, I'm ready to take one of these spots."
How do you see the quarterback competition shaping up, and how will you divvy up the spring reps there?
SK: We'll divide them up pretty much equally for the major part of the spring and start to see guys separate from each other. And as guys start to separate, we'll give them a few more repetitions. But my goal is not to name a starting quarterback by the end of spring practice. We will do that about 10 days before the first game. But I'm looking for guys to be consistent, I'm looking for guys that move the chains, I'm looking for guys to lead the other 10 guys on that field and I'm looking for guys who, over a continuum of time, can be a consistent performer.
You have to shape your offense around the talents of the quarterback, obviously. So how do you, as your own offensive coordinator, do that now if you don't yet know who will be your starter?
SK: We're going to install concepts and make sure we do a good job of establishing an identity on offense, establishing a way of playing the position of quarterback and a way of going about playing offense. And then from there we'll wrinkle, based upon what guys do well, based upon what guys are stepping up ... For us, we want to make sure we're very conceptual on offense, we're very concise in terms of our teaching and we establish a system. And from that system we'll wrinkle based on the guys who need the ball in their hands.
November, 5, 2008
11/05/08
12:35
PM ET
Posted by ESPN.com's Brian Bennett

Pittsburgh: The Panthers made some personnel changes in their secondary after Rutgers ripped through it. Sophomore Elijah Fields saw a lot more playing time at Notre Dame, lining up occasionally at safety, nickel back and linebacker. Ricky Gary and Jovani Chappel split time at cornerback. Gary fell down on one touchdown pass, but overall Dave Wannstedt said he was pleased with their play. Notre Dame's Jimmy Clausen threw for 271 yards and three touchdowns.

West Virginia: The Mountaineers are looking for a few good men to help shore up their kickoff coverage. They rank last among 119 FBS teams by allowing 29.58 yards per return and are about to face the league's best kick returner in Cincinnati's Mardy Gilyard. Two members of the kick cover team -- safety Courtney Stuart and linebacker Archie Sims -- were injured in the UConn game. Head coach Bill Stewart handles special teams and said he would make some personnel changes this week.

Cincinnati: True freshman receiver D.J. Woods is starting to make a bigger impact. He had four catches for 67 yards against Rutgers, returned a punt 40 yards at UConn and made three key receptions in the South Florida win. Fellow slot receiver Marcus Barnett, the team's second-leading catcher a year ago, has only 21 receptions this year. Also for the Bearcats, center Chris Jurek was in a walking boot this week after suffering an ankle injury against South Florida. The team is hopeful he can play at West Virginia. If not, guard Jason Kelce could slide over and handle snapping duties.

Louisville: Senior George Bussey, an All Big-East left tackle, could be switching positions. The Cardinals moved Bussey to left guard on Saturday versus Syracuse to replace injured Mark Wetterer. Sophomore Greg Tomczyk played left tackle because he had fewer things to learn at that position. Wetterer's status is unclear for Saturday's game at Pitt. Other than Bussey and center Eric Wood, Louisville's offensive line has been spotty in recent games.

Syracuse: Wide receiver Dan Sheeran is expected back this week from the broken fibula he suffered in preseason camp. His return allows freshman Grant Mayes to switch from receiver to cornerback, a position he played until Sheeran's injury forced him to offense. The Orange secondary could be in trouble this week against Rutgers, as defensive backs Kevyn Scott and A.J. Brown were injured in the Louisville game. Coach Greg Robinson has declined to address their status so far this week.
September, 24, 2008
9/24/08
11:35
AM ET
Posted by ESPN.com's Brian Bennett

South Florida: The loss of senior outside linebacker Brouce Mompremier to a neck injury is a big blow, but the Bulls should be able to weather the loss. The reason is that South Florida has played primarily in its nickel defense much of the season, meaning only two linebackers are on the field most of the time. "That's what's saved us," defensive coordinator Wally Burnham said.Tyrone McKenzie and Kion Wilson will be the main linebackers in the nickel, with Chris Robinson coming in to play strongside in the base 4-3 sets. South Florida will probably have to come out of the nickel next week against run-heavy Pittsburgh, however.

Louisville: The Cardinals hope that left tackle George Bussey and left guard Mark Wetterer can return to action Friday night against UConn after missing the Kansas State game with ankle injuries. But if they can't go, Louisville has confidence in backupsJosh Byrom and Greg Tomczyk , who played extremely well against Kansas State last week. "We told them, all great players have to start their first game sometime," head coach Steve Kragthorpe said. "Why not tonight?" The Cardinals also might have found a new placekicker in Purdue transfer Tim Dougherty, who replaced the struggling Chris Philpott in the second half against the Wildcats and drilled his only attempt, from 36 yards.

Pittsburgh: Dave Wannstedt is still trying to get promising youngsters Jonathan Baldwin and Lucas Nix involved, but he says it's been hard because of how the games have played out. The Panthers have had three close games versus Bowling Green, Buffalo and Iowa. "You want to do what's fair to the kid and what's fair to the team," Wannstedt said. "That's the balancing as a head coach. They're going to be good players, but my first responsibility is to this football team." Wannstedt said Baldwin, a wide receiver, played 10 out of 60 snaps against Iowa but got bumped off his route on a play designed to go to him. Wannstedt also saidElijah Fields will get his second start at safety but will split time with Dom DeCicco.

Cincinnati: The Bearcats seem happy with running a two-man running back committee. John Goebel and Jacob Ramsey have split carries almost evenly, with Goebel getting 30 attempts and Ramsey 29. Goebel has been slightly more effective, averaging 5.1 yards per carry to Ramsey's 4.1. Promising freshmen running backs Quentin Hines and Isaiah Pead have yet to touch the ball.

Connecticut: Donald Brown has been phenomenal for the Huskies and leads the nation in rushing. But even though Brown hardly ever tires, coach Randy Edsall would like to reduce his workload. Brown is averaging more than 28 carries per game and is on pace for nearly 340 rush attempts this season. He was in on 60 snaps against Baylor last week. Edsall wants to keep him from getting hurt or worn down before the end of the season. The return of backfield mate Andre Dixon could help. Dixon, who led the Huskies in rushing last year, has been slowed by an ankle injury so far this season but was back on the field at times in the Baylor game. Edsall said he wants to start giving the ball to Dixon and freshman Jordan Todman more and give Brown a break.
September, 17, 2008
9/17/08
9:55
AM ET
Posted by ESPN.com's Brian Bennett
Every Wednesday, we'll keep you updated on depth chart changes, injuries and other inside info to get you ready for the weekend.

West Virginia: Head coach Bill Stewart plans to add a few new faces to the lineup Thursday night at Colorado. Middle linebacker Reed Williams will make his season debut, allowing Mortty Ivy to slide over to his more natural outside position. Receiver Wes Lyons, a formidable target at 6-foot-8, has recovered from an August knee scope and should see some significant time. Stewart also expects to rotate young players such as Donnie Barclay and Josh Jenkins on the offensive line.

Louisville: The Cardinals didn't score on offense in their only game so far against an FBS team (a 27-2 loss to Kentucky), and injuries may slow their attack down tonight against Kansas State. Four of the five starting offensive linemen left the Tennessee Tech game with injuries, and though head coach Steve Kragthorpe hasn't given out specifics on their status, it appears that the left side of the line is in doubt. Left tackle George Bussey and left guard Mark Wetterer may not play tonight, potentially leaving quarterback Hunter Cantwell's blind side vulnerable to K-State blitzes if their replacements don't perform well.

South Florida: Could Jamar Taylor be emerging as the main guy in the Bulls' backfield? The sophomore -- who transferred from Alabama after the spring of 2007 -- broke out against Kansas with 72 yards on 11 carries, plus a 13-yard score. "I've never seen Jamar Taylor run like that," coach Jim Leavitt said of the way Taylor busted through tackles and holes. With Mike Ford and Ben Williams still out with ankle injuries, Taylor could assume the bulk of the carries this week at Florida International.

Connecticut: Coach Randy Edsall said during the summer that safety Darius Butler could play some snaps on offense. Through the first two games, that idea seemed forgotten. But Butler saw 11 snaps on offense versus Virginia last week, making two catches for 40 yards and running for a 13-yard score. He's extremely athletic and gives a new dimension to the Huskies' offense, but Edsall wants to be careful not to wear his defensive star down.

Cincinnati: The Bearcats' kicking situation has gotten more confusing. Brandon Yingling replaced the struggling Jake Rogers after the first game but wasn't called on for any field goals at Oklahoma. Yingling still hasn't attempted a college field goal. The walk-on has been suffering from an illness that's kept him out of practice, while Rogers is recovering from having his wisdom teeth pulled. So freshman Danny Milligan is now getting a look at kicker as Cincinnati prepares for Miami (Ohio) this weekend.