October, 24, 2013
10/24/13
9:50
AM ET
KNOXVILLE, Tenn. – Butch Jones admittedly hasn't gotten much sleep since Tennessee's breakthrough 23-21 victory over then-No. 11 South Carolina last weekend.
But, then, when does he ever get much sleep?
On average, the Vols' first-year coach snoozes about four hours a night, but the sleep monitor he wears tells him that only 2&189; of those hours are what you would call deep sleep.
He also keeps a notepad beside his bed that has been known to liven things up in the wee hours of the morning at the Jones household.
[+] Enlarge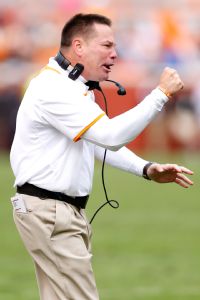 Joe Robbins/Getty ImagesButch Jones and the Vols finally broke through against a ranked team.
"Sometimes, some of your best ideas come when you're lying there at night, and you might not remember all of them the next morning," Jones explained. "So I'll get up and start writing them down until my wife yells at me to get my butt back to bed."
And the next thing you know, the dog starts barking.
"There aren't enough hours in the day," Jones said with a grin. His energy and passion were embraced by a win-starved Tennessee fan base a long time ago.
But last Saturday, he gave Rocky Toppers more than just hope. He gave them something tangible to cling to: the Vols' first victory over a nationally ranked opponent after 19 consecutive defeats.
"It's just one victory, but it gives evidence to what we're doing," said Jones, who took over a reeling program that had suffered through three consecutive losing seasons. "We have great confidence in what we do, and we have great people here. It's a process. Everyone wants things corrected overnight, and I'm the worst one about that. But things take time to do it right.
"We're still focusing on the process."
That process becomes a lot easier when you're beating teams in your division that have been beating up on you. The Vols were close to some of these victories under former coach Derek Dooley. They took LSU to the wire three years ago and Georgia and South Carolina to the wire last year. But there also were a ton of embarrassing losses along the way.
"We've been in a lot of situations like that before, but we're finally over that hump," said fifth-year senior defensive end
Marlon Walls
, who was recruited by Phillip Fulmer and has played for three head coaches at Tennessee.
"We knew it was coming with Coach Jones, but it's just exciting to see it happen. Our love for Coach Jones and our love for each other pushed us through, and it's going to keep pushing us through."
The Vols (4-3, 1-2 SEC) don't have any choice but to keep pushing. Their schedule is brutal. They get No. 1 Alabama in Tuscaloosa, Ala., this Saturday and then No. 5 Missouri in Columbia, Mo., on Nov. 2. After that, No. 11 Auburn comes to town.
That completes a stretch of seven nationally ranked foes in nine weeks.
"That's the world of college football, the life of being in the SEC," Jones said. "You've never arrived, and we still have to take major steps in moving forward."
The Vols, who are playing a wealth of younger players, simply don't measure up talentwise to the elite teams in the SEC. Jones and his staff are feverishly working on that. They're currently No. 3 nationally in ESPN's recruiting rankings for the 2014 class, trailing only Alabama and Florida State.
So on the recruiting trail, Jones is obviously making inroads, which is the only way Tennessee is going to climb back into championship contention in this league.
But to attract enough of those players, you've got to get it done on the field, and that's where the Vols have made some of their biggest strides.
In just about all the statistical categories that matter, Tennessee is ahead of last season's pace through Week 8.
The Vols are running the ball better (201.7 yards per game), playing better defense (4.5 fewer points per game), committing fewer penalties, playing better red zone defense, winning the turnover battle and playing as well on special teams as they have in a long time.
In fact, senior kicker/punter
Michael Palardy
, who kicked the game-winning field goal against South Carolina, has mirrored Tennessee's turnaround in a lot ways. He's having his best season after some earlier struggles and has been an invaluable weapon for the Vols.
As much as anything, Jones has instilled a confidence in this program that had been sorely lacking, and even after the 59-14 shellacking at Oregon the third week of the season, that confidence hasn't wavered.
The trip to Alabama will further put that confidence to the test. The Vols have lost six in a row to the Crimson Tide and haven't scored more than 13 points in any of the past five meetings between these two old rivals.
"We're a different football team," said junior quarterback
Justin Worley
, who's played his best football the past two games against South Carolina and Georgia. "At Oregon, we didn't show up. At Florida, we were just up and down.
"Our consistency and our confidence level are both a lot better than they were in those first two road games."
As happy as Jones was for the seniors in this program, to see them get such a fulfilling win last week after so much misery the past few seasons, he rode his team in practice this week as hard as he ever has.
He knows what lies ahead.
"The more you win, the more that's at stake," Jones said. "The more you win, the more that's expected, and this week becomes even bigger. The other thing is you work your butt off to be playing meaningful games into October and November, and from here on out, we're going to be playing meaningful games.
"That's what you work toward, and you have to embrace it. This team has."
It's also a team that clearly believes in its head coach.
"Coach Jones pushes you. He challenges you, and he's not afraid to call you out," sophomore receiver Pig Howard said. "We've all heard it, but the thing we all know is that he's in it for us.
"He's pushing himself harder than he is anybody, and you don't want to let somebody like that down."
October, 19, 2013
10/19/13
7:55
PM ET
KNOXVILLE, Tenn. -- Butch Jones, that bricklayer extraordinaire who also coaches a little football at Tennessee, promised there would be days like this when he took the job.
Of course, when the bottom falls out of a program the way it has at Tennessee over the past few years, days like this probably seem a lot closer to fantasy than they do reality for even the most orange-blooded fans.
But not Saturday and not with this Tennessee team, or, as Jones refers to it, "Team 117."
This was as real as it gets, and the Vols' march back to relevance suddenly seems a lot more realistic after their last-second 23-21 victory over No. 11 South Carolina, setting off the kind of joyous scene in Neyland Stadium that was once the rule in these parts.
Jones, whose brick-by-brick mantra has taken hold on Rocky Top, chest-bumped everybody in sight, from his players, to Tennessee athletic director Dave Hart, to "Duck Dynasty" star Justin Martin.
[+] Enlarge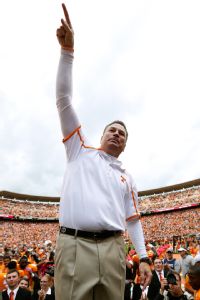 Joe Robbins/Getty ImagesTennessee coach Butch Jones celebrates the biggest win of his coaching career after his Vols edged No. 11 South Carolina.
"I thought our team took a valuable step forward two weeks ago (in a 34-31 overtime loss to then-No. 6 Georgia)," Jones said. "It was gut-wrenching, but our kids believed and they built confidence. Confidence is a powerful thing. Belief is a powerful thing.
"We had pointed to this game for a long time, and our kids were ready to go."
Really, it had been forever since the Vols (4-3, 1-2 SEC) had been able to enjoy anything other than a few recruiting classes ranked fairly highly on national signing day.
They'd endured coaching changes, NCAA investigations, 19 consecutive losses to nationally ranked teams and a long, painful fall from college football's upper crust.
"Everybody had forgotten about us, and when they did talk about us, it's like we didn't even exist," Tennessee receiver
Pig Howard
said. "Coach Jones gave us a reason to believe again. We believe in him and believe in each other, and this was a big step in what we want to do."
The Vols won it on
Michael Palardy
's 19-yard field goal as time expired, capping a 63-yard drive that was highlighted by a sensational, one-handed 39-yard catch by freshman
Marquez North
. Tennessee quarterback
Justin Worley
delivered the clutch throw on third-and-10, and the Vols did what they couldn't do two weeks ago against Georgia.
They finished the game.
"This is just the start, and it's something we've been building toward," said senior defensive end
Marlon Walls
, who was recruited by Phillip Fulmer and has played for three different head coaches at Tennessee.
"We deserved this. We did this for each other. We did this for Coach Jones. We did it for all those great players who came before us here at Tennessee. We knew we should have won the game (against Georgia). We weren't going to let this one get away."
Jones had invited more than 200 former lettermen to come back for Saturday's game, and several of them ran through the giant "T" before the game. Tony Robinson was there. So was Jamal Lewis, Al Wilson and even two players from the 1951 national championship team -- Herky Payne and Pat Shires.
"We talk about family, and once a Vol, always a Vol," said Jones, who has gone out of his way to embrace former players and bring them back into the fold.
The other thing he's done is create a culture the players have bought into completely and totally, and their confidence has soared ever since a 59-14 beating at No. 2 Oregon the third week of the season.
South Carolina was the fourth ranked opponent the Vols have played this season. No. 1 Alabama will be the fifth next week, and then it's on to Missouri, which is the lone unbeaten team right now in the SEC's Eastern Division.
"We can play with anybody," Walls said. "But you've got to go out there and prove it on the field. That's what we're doing right now, and the best thing is that we can still get a lot better."
Tennessee took a 17-7 lead into halftime Saturday against a South Carolina team that obliterated Arkansas 52-7 on the road last week. The Gamecocks, after their lackluster start, came charging back in the third quarter and took a 21-17 edge.
"There wasn't any panic. We knew it was still our game," Tennessee defensive tackle
Daniel McCullers
said.
Indeed it was.
The Gamecocks (5-2, 3-2 SEC) had to finish the game without starting quarterback
Connor Shaw
, who injured his left knee and was scheduled to undergo an MRI later Saturday night. But even before Shaw had to leave the game, South Carolina was struggling to get anything going against Tennessee's defense in the fourth quarter.
South Carolina was held to 12 total yards in the fourth quarter and had four consecutive three-and-outs.
"Give Tennessee credit," South Carolina coach Steve Spurrier said. "I think they outplayed us, although we were within a play or two of winning it, but we didn't do it."
Nope, this day belonged to Tennessee.
"We needed that badly, desperately," Tennessee running back
Rajion Neal
said. "It's been a long time."
August, 10, 2010
8/10/10
5:00
AM ET
1. Glenn Thompson, the Republican Congressman whose district includes State College, sent a letter to the White House on Monday signed by 16 of his Pennsylvania colleagues nominating Penn State coach Joe Paterno for the Presidential Medal of Freedom. Two Pennsylvania congressmen, Democrats Paul Kanjorski and Chaka Fattah, did not sign the letter. I'm sure they have their reasons. But isn't that akin to declining to endorse Santa Claus?

2. Oklahoma State coach Mike Gundy said Sunday that his Cowboys are more athletic and faster than they've been in years. "We just don't have as much experience," Gundy added. That reminded me of a coaching truism I first heard from Georgia State coach (and former ESPN colleague) Bill Curry, who described a defender with a slow 40 but always got to the ball before everyone else. That skill comes with instinct or experience. If Oklahoma State lacks the latter, it better hope for the former.

3. The snakes just keep on biting at Tennessee. In week one of practice, coach Derek Dooley lost two defensive line starters, end Ben Martin and tackle Marlon Walls, to Achilles tendon injuries. Dooley is inventive in trying to shore up the roster attrition that comes from having three head coaches in three years. Freshman safety Brent Brewer is a refugee from the Milwaukee Brewers farm system. Vol All-American sprinter Evander Wells came out for football when his track career ended. On Sunday, Wells tore an ACL.
August, 3, 2010
8/03/10
2:03
PM ET
Tennessee coach Derek Dooley said Tuesday during his press conference that previously suspended players Marlon Walls and Greg King would report for practice with the rest of the team, and Dooley expects both players to play in the first game.
Walls, a sophomore defensive tackle, and King, a sophomore linebacker, were indefinitely suspended following the bar brawl last month that sent two people to the hospital, including an off-duty police officer. Dooley dismissed safety Darren Myles, Jr., after he was arrested in connection with that brawl.
Dooley said if there are any new developments with the Knoxville Police Department's investigation that he reserves the right to hand down additional punishment. But at this point, he considers it a closed matter internally.
Based on the facts of the case, Dooley said he had "no qualms whatsoever bringing them back now. The only thing that could possibly change that is some new information that I don't know is out there. I don't anticipate that happening."
Getting Walls and King back is crucial for the Vols. Both are projected starters, and Tennessee was already thin at defensive tackle prior to Walls being suspended.
Here are a few more tidbits from Dooley's press conference:
Sophomore Marsalis Teague and freshman Ted Meline will start out in the secondary when preseason practice opens Wednesday. Teague played receiver last season for the Vols, and Meline came to Tennessee as a receiver.
Dooley said junior college defensive back Dave Clark did not make it academically and wouldn't be the with Vols this season. They're still waiting to hear on the eligibility of junior college defensive lineman John Brown as well as three freshmen – defensive backs Eddrick Loften and Marcques Dixon and linebacker Martaze Jackson.
Dooley was extremely upbeat about quarterback Matt Simms and the way he's gone about his business during the offseason. Simms, a junior college newcomer, opens preseason camp as the starter. "There's not one player on our team who has made more of an investment and put in more time to being a good player," Dooley said of Simms.
July, 9, 2010
7/09/10
7:13
PM ET
Tennessee coach Derek Dooley didn't wait long.
On Friday evening, he announced that sophomore safety
Darren Myles Jr. has been dismissed from the team
and that sophomore defensive tackle Marlon Walls and sophomore linebacker Greg King had both been indefinitely suspended.
Dooley has talked with conviction about the importance of character in his program, and this is a clear indication that he means business.
In his statement, he admits to being embarrassed by the actions of his players in connection with a bar brawl that sent a couple of people to the hospital early Friday morning, including an off-duty police officer.
Losing Myles will hurt Tennessee on the field. He was coming off a stellar spring and was going to start opposite Janzen Jackson at safety.
The same goes for Walls if he doesn't make it or ends up having to miss some games. The Vols don't have any depth at defensive tackle, and Walls is another projected starter. King also started last season as a freshman before getting hurt and enters this coming season as a projected starter at linebacker.
Ultimately, though, it's more important that Dooley set the right tone for his program as he enters his first season than trying to save a few players here and there. Maybe he can do both. We'll see. But he demonstrated Friday that he's not going to waiver when it comes to discipline.