NCF Nation:

Martevious Young
May, 6, 2010
5/06/10
8:00
AM ET
2008 overall record:
7-6
2008 conference record:
5-3 (third C-USA East)
Returning starters
Offense
: 4, defense: 9, punter/kicker: 2

Top returners
QB
Austin Davis
, QB
Martevious Young
, WR
DeAndre Brown
, WR/RB/Returner
Tracey Lampley
, C Cameron Zipp, DL Anthony Gray, DL Cordarro Law, LB Martez Smith, LB, Korey Williams, DB C.J. Bailey, DB Justin Wilson, P Peter Boehme
Key losses
RB
Damion Fletcher
, OL Kyle Burkhart, OL Ryan Hebert, TE Leroy Banks, WR
Gerald Baptiste
, WR/Returner
Freddie Parham
, LS Cody Tawater, DS Andy Hill, DB Andre Watson, DB Eddie Hicks
2009 statistical leaders (* denotes returners)
Rushing:
Damion Fletcher (1,015 yards)
Passing:
Martevious Young* (1,861 yards)
Receiving:
DeAndre Brown* (785 yards)
Tackles:
Korey Williams* (121 tackles)
Sacks:
Korey Williams*, Cordarro Law* (7.5 sacks)
Interceptions:
Eddie Hicks (5 INTs)
Spring answers
1. Unexpected running back depth:
Losing the top two rushers from a year ago didn't seem to faze the Golden Eagles this spring as they found more running back depth than they've had in some time.
V.J. Floyd
,
Kendrick Hardy
, Tracey Lampley and
Desmond Johnson
all played well this spring and will all have the chance to compete in the fall.
2. Defensive line gets better:
The Eagles returned all of their starting defensive linemen from a year ago and they continued to get better in the spring led by end Cordarro Law, who had 11 tackles, including five sacks.
3. Kicking woes fixed:
Going into spring, coach Larry Fedora said the kicking game was going to be the focus. Southern Miss missed 10 extra points last season and six field goals. Justin Estes and Daniel Hrapmann struggled with consistency and Fedora challenged both players to get better this spring. It seemingly worked as the kicking game was much better during the spring. Hrapmann surged into the top kicking spot and Matthew Little looks like he'll add quality depth.
Fall questions
1. Offensive line still incomplete:
Southern Miss is still trying to fill four positions on the offensive line and had some success during spring ball. Center Cameron Zipp is the only returning starter and Fedora leaned on the experience of junior college players Lamar Holmes and Jason Weaver to jump-start the line this spring.
2. Lots of RBs, but who will start?
While the Eagles did find running back depth, it didn't find a definitive replacement for the school's all-time leading rusher, Damion Fletcher. V.J. Floyd will probably open the year as the starter, but Kendrick Hardy might ultimately be the team's future as a big, bruising back.
3. Quarterback conundrum:
Last year's starting quarterback, Austin Davis, suffered a foot injury, which kept him out the whole season. Martevious Young did an admirable job in Davis' absence and took the lead this spring. It's unclear what Davis' role will be when he gets back, especially since he's missed so much time and Young has played so well.
April, 6, 2010
4/06/10
12:36
PM ET
Southern Miss had a special guest at spring practice Monday.
Former Southern Miss and NFL icon, Brett Favre, spoke to the team for about 10 minutes after its two-hour practice as a special surprise for the Golden Eagles.
"He was just talking about what it was like to play here and what it meant to play here, on that practice field and in that stadium," coach Larry Fedora said. "You could've heard a pin drop out there. Everyone was glued in and listening to what he had to say. You don't get many opportunities like that to get to listen to the greatest quarterback that ever played the game. He said a lot of things that were on his heart. It was good."
Favre spent practice standing on the sidelines watching and talking with Fedora. He didn't offer any suggestions to the quarterbacks.
Although Favre didn't mention his NFL plans for the 2010 season (and Fedora said no one asked), he did mention that he'd like to see his alma mater play a little more.
"He said 'I might be out here watching you in the fall, but there are no early commitments to that, though,'" quarterback
Martevious Young
said.
March, 3, 2010
3/03/10
12:05
PM ET
Southern Miss coach Larry Fedora still gets fired up when he talks about the blocked extra point against East Carolina that eventually led to his team losing the Conference USA East title.
That extra point would have given the Golden Eagles a one-point lead in the fourth quarter. Instead, the lead swung the other way and East Carolina walked off with a 25-20 win and its second consecutive division title.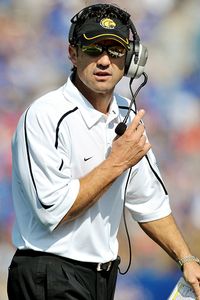 John Rieger-US PRESSWIRESouthern Miss coach Larry Fedora will be looking to make improvements on special teams.
"At some point, coming close has got to leave such a bitter taste in your mouth that you're willing to do something extra, something that you've never done before to get something that you've never had," Fedora said.
The Golden Eagles open spring football today and kicking, among other issues, will be the focal point of the next 14 practices and the spring game. Southern Miss missed 10 extra points last season and six field goals. The team couldn't find any consistency from any distance with either Justin Estes or Daniel Hrapmann.
The first half of the season wasn't bad, but then the kicking game cost the Golden Eagles games late. Against Houston, Southern Miss had two extra points blocked and ended up losing 50-43. In the bowl game against Middle Tennessee, Southern Miss tried two-point conversions after each of its four touchdowns.
"We got dramatic improvements in our special teams, but in the kicking game itself we were terrible," Fedora said. "We want to make sure that they come out of spring understanding the importance of our special teams play. We've got to make some dramatic improvements on our extra point and field goal units."
The kicking game is just one of many points of interest this spring. The Golden Eagles have to replace four offensive linemen and have to find a new feature back after losing their top two rushers from a year ago in Damion Fletcher and
Tory Harrison
. Fedora said
V.J. Floyd
would be the top back heading into today's practices, but maintained that's its an open competition. He's eager to see how
Desmond Johnson
, who rushed for 72 yards and a score last year, Tracy Lampley, who had 122 yards and a score last season, and
Kendrick Hardy
perform this spring.
"If we have one guy that stands out way ahead of the rest, he'll be the guy," Fedora said. "If we've got two guys then it will be two guys. And I'll be honest with you, I don't think you can make it through a season with just one anymore. So, we know we're going to need some depth there and we'll look forward to that competition this spring."
At quarterback,
Austin Davis
, who started the 2009 season before suffering a season-ending foot injury, will throw, but not in any situations where his foot could be injured.
Martevious Young
, who started the final eight games of the season, and
Chris Campbell
will be the main competitors at quarterback. Fedora said he's not ready to say whether Davis or Young will be the starter in the fall, but the spring work will be important.
"I always like to say that a guy doesn't lose his position because of an injury, but with the extra reps that guys are getting, if they come through and they get better, when the time comes, they'll be the guy," Fedora said.
While filling holes will be key this spring, Southern Miss also will be working on attitude. Fedora thinks he has a team that can compete for both the Conference USA East title and the overall conference title, but he wants to see that drive from his team and it starts when the players hit the field today.
"I think we're really close, I really do," Fedora said. "We've got to stay healthy. That's key. We lost some key starters last year that hurt us, even though the other guys stepped up and played well, it still wasn't what it should have been. So, I think we're real close, but it's time to quit talking about it and it's time to get over that hump now."
February, 22, 2010
2/22/10
10:00
AM ET
Here's a breakdown of three issues facing each program heading into the spring:

Central Florida Knights
Spring practice starts:
March 19
Spring game:
April 17
What to watch:
The Knights will need to develop offensive line talent after allowing 2.54 sacks per game and failing to block for a rushing offense that ranked 82nd in the country. The Knights return all but two offensive linemen and have one coming in the spring.
The quarterback battle will heat up with early enrollee Jeffrey Godfrey, who already has impressed coach George O'Leary. Godfrey will compete against Rob Calabrese for the starting role.
The Knights will have to find replacements for three key members of the defensive line -- DE Jarvis Geathers, RT Torrell Troup, LT Travis Timmons. The defense was the main reason the Knights finished 8-5 and won their final five games.

East Carolina Pirates
Spring practice starts:
March 22
Spring game:
April 17
What to watch:
With a new coach, a new system, and a crop of new starters, East Carolina will have its work cut out for it this spring. New head coach Ruffin McNeill needs to replace 15 players with starting experience, which won't be easy with just a month to work.
The most underrated positions the Pirates have to fill are punter and kicker. All-American Matt Dodge is gone as is kicker Ben Hartman, who set the school record for career scoring. Finding replacements for those two is a top priority.
New offensive coordinator Lincoln Riley will be implement Texas Tech's offensive system with just two scholarship quarterbacks and a team that relied on its running game. Riley is confident he can install all of his spread offense this fall, but there's no telling how quickly the Pirates will pick it up.

Houston Cougars
Spring practice starts:
March 27
Spring game:
April 24
What to watch:
The one thing that really kept Houston from an undefeated season was its defense. Brian Stewart, who was named the defensive coordinator in January, inherits a young team with a lot of talent, but he has some work to do to catch the defense up to the offense by September.
Quarterback Case Keenum returns for his senior season, but his center, Carl Barnett, does not. Barnett started 39 games, so Keenum will have to establish a good rapport with his new center this spring. Blake Sargent, who was the backup last year, appears to be the front-runner.
Even though the Cougars did not lose many starters on offense, coach Kevin Sumlin will look for more athletic players to rotate into the mix. Last season, 19 players had at least one catch and 12 had double-digit catches.
November, 27, 2009
11/27/09
4:10
PM ET
When Southern Miss starting quarterback Austin Davis went down with a season-ending injury seven games ago, coach Larry Fedora looked to redshirt junior Martevious Young to lead the Golden Eagles to the Conference USA East title.

In his career, Young had completed four passes for no touchdowns and an interception.

Since losing his first start against Louisville, Young is 4-1 and has his team one win away from the C-USA East title. Young took a few minutes away from his preparations for East Carolina to chat.

Where are you now compared to where you were six games ago?

Martevious Young: I think I've come a long way where now I can just be relaxed and not force anything. I think I've come a long way in decision making.

Were you ready to go in when Austin went down and did you know at the time that it would be for the rest of the year?

MY: Yeah, I think I had prepared myself the whole season. I didn't know it would be for the season, but I just had my head stuck in that game and just took it one day at a time.

What did you feel like you needed to get better at to be able to push this team through and to a possible East title?

MY: I needed to study opponents more, get in and watch film, and just execute and take care of the ball. I knew that if I took care of the ball it would give us a great chance to win.

Have you surprised yourself at all during the past six weeks?

MY: I think probably just being so relaxed. I think that's the only thing that has surprised me. I expected to be able to go out and play well and just execute.

When you guys lost that close game to Houston, how did this team rally and stay in a position to still win the East?

MY: We knew that that game really didn't hurt us and that we still controlled our own destiny. We just took it one game at a time and just focused on finishing.

How hard is it coming in in the middle of the season and trying to lead this team to a title?

MY: I thought it would be kind of hard, but I just sat back and saw it as a chance I've been waiting for. I didn't want to get nervous and freeze up when it came. I had to play and stay confident in myself.

How much fun has the last six weeks been for you?

MY: It's been tons of fun. I've enjoyed every minute of it and I wouldn't give it back for anything.
October, 15, 2009
10/15/09
4:36
PM ET

Posted by ESPN.com's Graham Watson
October, 5, 2009
10/05/09
5:30
PM ET

Posted by ESPN.com's Graham Watson
Most coaches would be concerned about turning to a green quarterback on the cusp of conference play, but Southern Miss coach Larry Fedora isn't one of them.
Starting quarterback
Austin Davis
was ruled out for the season after suffering a ligament tear in his foot and now it's up to redshirt junior
Martevious Young
to help the Golden Eagles notch their 16th consecutive winning season.
"Obviously, everybody's very, very disappointed for Austin Davis," Fedora said. "I can't say that it's not going to affect us, but I do feel a sense of excitement about seeing how Martevious is going to respond in this situation."
Young has played in four games during his career and started against Rice in 2007 before suffering a broken leg that ended his season. During his career, he's completed two passes and thrown an interception. He's also rushed for 45 yards.
Still, what Young lacks in playing experience, Fedora said he makes up in credibility with his teammates.
"The funny thing is Martevious Young is a very well-liked player on this football team," Fedora said. "When Austin Davis won the starting job, Martevious was very much liked at that time and the way he handled the situation with class and dignity and to continue to prepare like he had, I think earned a lot of respect from the rest of his teammates."
Fedora noted that despite Young's passing numbers, he actually has a stronger arm than Davis, a two-year starter, though he's not quite as accurate. Fedora said Young also adds another running option.
There are no plans to change the Southern Miss offense for Young except to simplify it while he gets his feet wet. His first start in two years will come against Louisville this weekend.
"There may be a few things that we limit just because he hasn't had the reps on as many things," Fedora said. "So, we may trim it down a little bit as far as what we do, but I really think in the year and however many games this has been, he's gotten enough reps in practice and spring ball and scrimmages and all that that I feel comfortable that he'll have plenty of offense."
Young should have the fortune of starting running back
Damion Fletcher
and starting receiver
DeAndre Brown
returning to the lineup. Both missed last week's game against UAB with injuries.
And Davis, who has struggled with the prospect of his season ending, has taken on a coaching role trying to help Young lead the team and challenge for the Conference USA East title.
"[Davis' responding] just like you think Austin would," Fedora said. "He was disappointed, I'm sure, initially. We talked about what his role is now and how he helps this football team from this point on. He's out there at practice and he's talking to [Young]. He's got to convey the reps and experience that he's gotten to [Young] whether it's in the film room or out on the field. He's got to do it. I don't have any doubts that he will."
October, 4, 2009
10/04/09
11:35
PM ET

Posted by ESPN.com's Graham Watson
Southern Miss sophomore quarterback
Austin Davis
will miss the remainder of the season after suffering a foot injury against UAB last Thursday night.
The injury, which occurred early in the fourth quarter, was originally thought to be an ankle-foot injury, but was diagnosed as a ligament tear of the mid-foot Friday.
"I am extremely disappointed for Austin Davis," Fedora said in a statement. "He has done a tremendous job for us this season with his preparation and leadership."
Davis started the first 18 games of his career. He ranks fifth in school history in passing yards (4,658), touchdown passes (33) and 200-yard games (13).
This season, Davis has completed 108-of-156 passes for 1,165 yards and 10 touchdowns.
Martevious Young
will start in Davis' place. Young has four completions in his career, no touchdowns and an interception.
"Martevious Young has done a great job of preparing himself for a situation like this," Fedora said. "This staff and team have a tremendous amount of confidence in him."