December, 6, 2010
12/06/10
12:16
AM ET
Southern Miss Golden Eagles (8-4) vs. Louisville Cardinals (6-6)
Dec. 21, 8 p.m. ET (ESPN)

Southern Miss take by nation blogger Andrea Adelson:
The Golden Eagles beat eventual C-USA champion UCF earlier this year, but a pair of one-point losses to East Carolina and UAB kept them from winning the East. Still, they have the longest active bowl streak in Conference USA with nine straight, and have one hot quarterback in
Austin Davis
, who is playing his best football of the season.
The problem for Southern Miss of late has been its defense, which has given up way too many points. Four times in its final five games, the Golden Eagles gave up 30-plus points. That includes the 50-49 loss to UAB in overtime. The defense failed them as well against the Pirates at home earlier in the season. One thing about this team, though, they will be playing with plenty of inspiration.
Three players were shot following a fight at a club that spilled into the parking lot after the team returned home from its 31-21 win over UCF on Nov. 13. Linebacker Martez Smith was paralyzed from the waist down, while Tim Green cannot speak after reportedly being shot in the neck. Defensive end Dedrick Jones also was shot. The team wears a decal on its helmets in the shape of a heart with their decals inside. They are 1-1 since the shootings, winning an inspired game over Houston the week after it happened and losing the finale at Tulsa.
---

Louisville take by Big East blogger Brian Bennett:
The 6-6 record may not look impressive, but Charlie Strong worked wonders in his first year in Louisville.
Everyone picked the Cardinals to finish last in the Big East, and the team he inherited was roundly considered to have the least amount of talent in the league. But Strong and his staff got the most out of a previously underachieving group of seniors, with tailback
Bilal Powell
the prime example. Powell, who had never broke 400 yards in a season, erupted for 1,330 yards and 10 touchdowns behind a veteran offensive line.
It's on defense, though, where Strong truly made his mark. Despite lacking size or elite playmakers, the Cardinals finished 12th in the country in total defense while locking opponents down in the final month of the season.
Louisville was competitive in every game this season but needed to beat Rutgers in the finale to clinch its first bowl appearance since the 2006 season. Quarterback
Adam Froman
, who missed the final four games with a thigh injury, could be healed in time for this game. The Cardinals' seniors are excited about playing in their first bowl, and they'll look to continue the Big East's recent domination of Conference USA in the postseason.
November, 22, 2010
11/22/10
2:00
PM ET
Let's take a look at the good and the bad for the non-AQs in Week 12.
The good:
TCU and Boise State are still in the national title hunt, keeping the non-AQs as one of the hottest topics of the college football conversation as we get into the final parts of the season. The two will continue to jockey for position, especially if they both win out. … Congrats to BYU for become bowl-eligible following a 1-4 start to the season. It has won five of its last six and has outscored its opponents 144-24 in the past three games. OK, the Cougars have beaten up on the bottom feeders in the league, but so has everyone else. … Wyoming closed its season with a 44-0 win over rival Colorado State for its first Mountain West win. Air Force also finished its season with a win over UNLV to finish 8-4. The Falcons await their bowl assignment. … SMU is also headed to a bowl game in back-to-back seasons for the first time since 1983-84. … Northern Illinois is headed to the MAC title game for the first time since 2005 and has won eight straight.
The bad:
Fresno State was shut out for the first time since 1998 in a 51-0 loss to Boise State. The Bulldogs managed 125 total yards of offense.
Ryan Colburn
was sacked four times, had three turnovers and completed just six passes. … East Carolina continues to struggle, this time giving up 62 points to a Rice team that had two wins going into the game. The Pirates have given up 40-plus points in eight of their 11 games this season, including two games of 60-plus points. They have the worst defense in college football. … Army was held to just three points and a season-low 165 rushing yards in a loss to Notre Dame, and also lost the turnover battle. The Black Knights had been averaging 273 yards on the ground, and were one of the nation's best in turnover margin. Since the start of 2006, Army is 7-35 when the margin is negative or even.
[+] Enlarge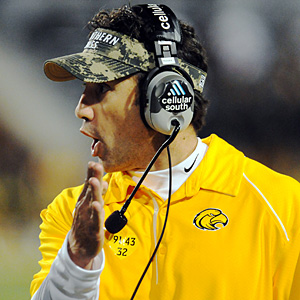 AP Photo/Steve ColemanLarry Fedora guided Southern Miss to an emotional win over Houston.
The uplifting:
Southern Miss played truly inspired football in a 59-41 win over Houston. Coach Larry Fedora wondered how the events of last week would affect his team going into the game. Three players were shot after a fight inside a club spilled out into the parking lot. Linebacker Martez Smith is paralyzed from the waist down, but he was at the game for Senior Day, and in an emotional moment, was allowed onto the field in his wheelchair before the game. Tim Green, shot in the neck and unable to speak, watched from his hospital room, while Deddrick Jones watched from Fedora's office. Defensive end Cordarro Law, who wore Jones' No. 91, had two sacks and played with extra motivation. Green and Smith are his roommates.
The heartache:
It seems we are always writing about Western Kentucky in this space. The Hilltoppers blew yet another fourth-quarter lead, dropping a 27-26 game to Middle Tennessee. Rod Issac returned a fumble 99 yards in the fourth quarter to spur the comeback. The Blue Raiders scored the final 17 points of the game. Western Kentucky has won two games this season -- both on the road. … Meanwhile, the Aztecs blew a 27-10 second-quarter lead to Utah and lost for the fourth time this season. Each loss has come to a bowl-eligible team. Each loss has been by five points or less.
500 club:
Two non-AQ quarterbacks went over 500 yards this weekend: Hawaii QB
Bryant Moniz
set a new school record with 560 passing yards in a 41-7 win over San Jose State, breaking the old record of 559 by Colt Brennan against Arizona State in the 2006 Hawaii Bowl. San Diego State QB
Ryan Lindley
went 36-of-54 for a career-high 528 yards with four touchdowns and three interceptions -- but his two INTs late made the difference in a 38-34 loss to Utah. He did become the first Aztecs player to post back-to-back 3,000-yard seasons since Dan McGwire in 1989-90.
A few more helmet stickers:
Western Kentucky LB Bar'ee Boyd. As a team, the Hilltoppers had not blocked a punt in over two years. In the first quarter against Middle Tennessee, Boyd did it twice. His second block was recovered by Derrius Brooks in the end zone for a touchdown. … Wyoming DE Josh Biezuns had a career-high 3.5 sacks, four tackles for loss, a forced fumble and a pass breakup in a 44-0 win over Colorado State.
Week 13 look ahead:
The big one Friday night is in Reno, when No. 4 Boise State plays No. 19 Nevada with not only WAC title hopes on the line, but BCS hopes on the line for the Broncos as well. This weekend could clear up the national championship picture as well. … There also is a big game in the MAC on Tuesday night between Miami (Ohio) and Temple. Miami needs a win and an Ohio loss at Kent State to clinch the East. … And of course, there is BYU at Utah, in a game that is no sure thing for the Utes anymore. The Cougars actually have a semblance of an offense, but this will be their biggest test since the last time they lost -- at TCU. Their opponents are a combined 8-37 in their four-game winning streak.
November, 18, 2010
11/18/10
5:00
PM ET
Three Southern Miss football players will honor the teammates who were shot and injured following a fight at a club by wearing their respective jerseys against Houston on Saturday.
Receiver
DeAndre Brown
will wear No. 43 honoring Tim Green, defensive lineman John Henderson will wear No. 32 to honor Martez Smith and defensive lineman Cordarro Law will wear No. 91 to honor Deddrick Jones. The number switches have been approved by the Conference USA office and Houston coach Kevin Sumlin.
Coach Larry Fedora said Brown came up with the idea. Defensive line coach Deke Adams spoke to a few of his players, and Henderson and Law jumped at the opportunity.
"It is a tremendous honor for them, because they are going to have to honor those guys and that is obviously a lot of responsibility," Fedora said.
The team will also wear a decal on their helmets: a gold heart with their respective numbers in black. The heart symbolizes a quote that Fedora first addressed to the team after the shooting, and that the three players are in their hearts.
The decals will also be handed out to fans before the game.
Smith is paralyzed from the waist down, while Green cannot talk. Jones was reportedly shot in the chest. All three were with several teammates at a club in Hattiesburg following a 31-21 win over UCF last weekend. A fight inside spilled into the parking lot, where they were shot.
Two people
have been arrested in connection with the shooting
, and a third suspect is being sought.
November, 18, 2010
11/18/10
10:15
AM ET
Come one, come all for your top 10 non-AQ storylines for Week 12:
1. Boise State has the spotlight to itself.
As the only undefeated team playing this weekend, the Broncos have a big chance to make a big impression. That serves twofold this week, as they host Fresno State on Friday night. This is actually the second of a three-game stretch of Friday night games. They get a big spotlight game next week, too, at No. 18 Nevada. This of course can be good and bad. Good if you win big and look impressive. Bad if you win somewhat big but do not look impressive.
2. Broncos or Horned Frogs in BCS standings?
Since Oregon and Auburn are idle, they will remain atop the BCS standings. No. 3 TCU had its lead on Boise State cut in half, and many believe if the two win out, Boise State will be able to leap the Horned Frogs. But that depends on the human voters, who tend to be fickle. With TCU off, voters are going to be watching Boise State for a perfect performance. Their elevation is no sure thing where the polls are concerned. Remember, total poll points are tabulated into the BCS standings.
3. Does Utah stop the losing?
Getting beaten 47-7 at home to TCU was one thing. But to go on the road and lose 28-3 to a struggling Notre Dame team is another. The Utes are officially reeling heading into a tough game at San Diego State. It is easy to say that Utah was completely demoralized after the TCU game, having gone from potential BCS busters to Las Vegas Bowl contenders. So they were not as focused as they should have been heading into South Bend. But how does any of that excuse the sudden hibernation of an offense that once averaged 45 points a game? Utah has lost three in a row just once under coach Kyle Whittingham – that happened in his first season in 2005. The third team in that streak Utah lost to – San Diego State.
4. How does Southern Miss respond following a trying week?
The Golden Eagles have had a really tough week. Players Martez Smith, Deddrick Jones and Tim Green and were shot following a dispute at a club. Smith is paralyzed from the waist down, while Green can't speak. Three teammates will wear the respective numbers of the injured players against Houston on Saturday. But you have to wonder how much of an emotional toll will show on the players, who have been taking turns shuttling back and forth from the hospital to school. Coach Larry Fedora acknowledges it will be a huge test to see how his players respond.
[+] Enlarge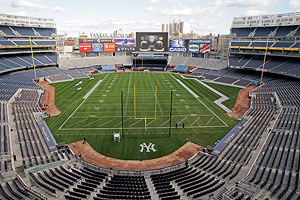 AP Photo/Kathy WillensArmy and Notre Dame will meet Saturday at Yankee Stadium.
5. Can Army run at will on Notre Dame?
A nostalgic scene is set to unfold in New York on Saturday night when Army and Notre Dame play at the new Yankee Stadium. The two were once bitter rivals from the 1920s to the post-World War II boom and played in some epic games at the old Yankee Stadium. Aside from the pageantry surrounding the game, the biggest question is whether Notre Dame has made enough adjustments to slow down the triple option. The Irish got gouged on the ground against Navy in a 35-17 loss to the tune of 367 yards. Army runs a version of the triple option and has vastly improved behind sophomore duo
Trent Steelman
and
Jared Hassin
.
6. Will Nevada's Colin Kaepernick and Vai Taua set another NCAA record this week?
The Wolf Pack teammates are closing in on the career mark of most yards gained by two players. Eric Dickerson (4,450) and Craig James (3,743) hold the record of 8,193, set from 1979-82 at SMU. Going into their game against New Mexico State, Taua and Kaepernick are 241 yards away from the record. Taua has 4,108 career yards and Kaepernick has 3,855.
7. Does Northern Illinois clinch the MAC West?
The Huskies need one win in their final two games to go to the league title game for the first time since 2005. They are on a huge roll, having won seven straight, and appear to be the favorites to win the entire league. Northern Illinois is a big favorite to win Saturday, too, against a struggling Ball State team. Coach Jerry Kill is set to become the first coach in school history to take his team to three straight bowl games.
8.
Can FIU play as favorites?
The Panthers find themselves in a position they have never been in before -- alone in first place atop the Sun Belt and the favorites to win the conference crown. They have win out to clinch the title and a first bowl appearance for the program, and the quest starts Saturday at Louisiana. The Ragin' Cajuns have dropped three games by a touchdown or less, including a 24-23 decision to FAU last week. FIU coach Mario Cristobal is going to remind his players to stay focused and ignore the potential distractions that come with increased expectations.
9. Bowl-eligibility update.
Houston, SMU, BYU and Troy all have five wins and an opportunity to become bowl-eligible this weekend. The Cougars travel to play Southern Miss, while SMU hosts Marshall, BYU hosts New Mexico and Troy is at South Carolina. SMU and BYU are the overwhelming favorites to win their games.
10. Elimination games.
Several teams meet this weekend with their slim bowl hopes on the line. Western Michigan (4-6) hosts Kent State (4-6) and Idaho (4-6) travels to Utah State (4-6). Whoever wins will have to win next week, while the loser will be eliminated from bowl contention. Idaho needs to win three because it plays 13 games this season.
November, 16, 2010
11/16/10
8:28
PM ET
Southern Miss linebacker Martez Smith is paralyzed from the waist down as a result of a weekend shooting that also injured two teammates.
Coach Larry Fedora confirmed Smith's injury. Smith's spinal cord was reportedly severed in the shooting outside a club early Sunday morning.
"Martez is paralyzed right now from the waist down. We are hopeful that that may change one day in the future," Fedora told reporters Tuesday night after practice in Hattiesburg, Miss. "One way or another he is going to have a productive life and we are going to be there for him either way. We hope that may change but if it does not we will all deal with it. The doctors have not given me any indication as far as recovery chances goes."
Another teammate, Tim Green, cannot speak after reportedly being shot in the neck. Defensive end Dedrick Jones also was shot. Fedora reported that the three players were in good spirits. Smith got into a wheelchair Tuesday and Jones was able to walk around.
"Martez got in a wheelchair today and, like he is, he refused help and got in it himself and rolled himself around," said Fedora, who visited all three at the hospital. "He got to go see the other two guys so that was really good for him."
As for how the rest of his team is handling what happened to Smith, Green and Jones, Fedora said, "We had some long talks today. We understand that we have a built-in excuse if that is what we want to do, or this can be a special moment for us to show everyone what we are made of and that is the route they have chosen to take. We are going to practice hard this week and prepare. It is about four hours out of their day they do not have to worry about their brothers. They can go out and do what they love doing and it is OK to do that."
There were developments in the case Tuesday.
Two people were arrested in connection with the shooting
, and a third suspect is being sought. About eight to 10 members of the football team were at the club after the team returned home from a 31-21 win over UCF in Orlando. According to police, a fight inside the club spilled outside to the parking lot, where the three players were shot.
November, 15, 2010
11/15/10
4:29
PM ET
Southern Miss football coach Larry Fedora said at his news conference Monday that
one of the three football players shot in a weekend club fight is unable to speak
, but declined further comment on the extent of their injuries.
Fedora said linebacker Tim Green cannot talk, and is writing notes to express himself. He declined to comment on a report that linebacker
Martez Smith is paralyzed
. Defensive end Deddrick Jones was also injured in the shooting. Smith had been the team's starting middle linebacker before a knee injury ended his season. Green is a special teams player and backup, and Jones has been a starter at defensive end.
Southern Miss had returned home Saturday after a 31-21 win over UCF in Orlando, and a group of eight to 10 players went out to a club later that night. According to Hattiesburg police, a fight started inside and spilled out into the parking lot,
where the three players were shot
. None of the players were armed.
No arrests have been made in the case. Fedora said he had no new information on the police investigation or what led to the fight. He added that his players have no curfew the Saturday night after games, and there was no reason to take added steps for security reasons. Fedora got a call early Sunday morning about the shooting and went straight to the hospital.
"It is tough on everyone. First of all its tough on those three guys," he said. "To go over there and to talk to them and to hear them say they are sorry for letting the team down and for Tim Green to write it down that he is really sorry he hurt the team, because he cannot speak right now, that's tough. They are still thinking about the team at this point and the team is worried about them. All we want to do is make sure that they are taken care of and they get healthy."
Southern Miss hosts Houston on Saturday, and Fedora said his team would have to try to focus on the football game.
"Basically everyone in the country is going to be watching how we react as a football team and not just Saturday night when we play the University of Houston but throughout the week; how we handle this situation," Fedora said. "It is something that as a football team you are probably as prepared as you can be. You have to handle adversity each and every day when you are on the football field. It is going to happen.
"It happened last Saturday at UCF when we fell behind 14 points on the road at a ranked opponent and they just fought back. They are going to fight back right now and they are going to prepare themselves and get ready to play on Saturday night. I am confident that these guys have a lot inside of them."
November, 14, 2010
11/14/10
5:55
PM ET
Three Southern Miss football players were
shot outside a club early Sunday and are in fair condition
, the school said.
Linebackers Martez Smith and Tim Green and defensive end Deddrick Jones were shot in a parking lot outside the club after the fight started inside. Smith, a fifth-year senior, had been the starter at middle linebacker before a knee injury last month ended his season. Jones has started all 10 games on the defensive line and has 26 tackles. Green is a backup.
Southern Miss beat UCF 31-21 in Orlando on Saturday afternoon. No arrests have been made in the shooting.
"During this difficult time our thoughts and prayers are with these three members of our Southern Miss family, Martez, Tim and Deddrick, as well as their families," head coach Larry Fedora said in a statement. "These three men are an integral part of the success of our football program and we will continue to keep them in our hearts and hope for a speedy recovery."
October, 13, 2010
10/13/10
12:30
PM ET
October, 12, 2010
10/12/10
12:30
PM ET