NCF Nation:

Martin Hyppolite
October, 6, 2012
10/06/12
11:43
AM ET
Lyle McCombs
is in uniform and is expected to play for Connecticut today, the school confirmed, one day after the running back's arrest for alleged Second Degree Breach of Peace, a misdemeanor.

The Hartford Courant
and
SNY
reported the arrest, saying that McCombs had a court appearance Friday and was released on $500 non-surety bond.
McCombs enters today's game at No. 22 Rutgers as the Big East's third-leading rusher, netting 452 yards and four touchdowns through five games for the Huskies.
McCombs, of course, could see a decrease in playing time or not start as punishment, so keep an eye on
Martin Hyppolite
, who emerged last week for UConn with a 50-yard touchdown run. He carried it six times last Saturday for 60 yards and, with 10 carries on the season, has the second-most carries among UConn running backs.
September, 29, 2012
9/29/12
3:37
PM ET
The final margin isn't what anyone in Connecticut would have hoped for, but the Huskies managed to hold off Buffalo in their final nonconference test,
24-17
.


UConn's offense got into the kind of rhythm early that it needed to before entering Big East play, as
Chandler Whitmer
completed 15 of 22 passes for 227 yards and a touchdown.
Lyle McCombs
rushed for 97 yards and a score, and
Martin Hyppolite
added 60 yards on six carries, including a 50-yard scoring run early in the second quarter for a 17-7 lead.
The Huskies had a 24-7 lead late in the third quarter, but their offense stalled down the stretch, netting just 27 total yards in the fourth quarter as the Bulls mounted a comeback.
Alex Zordich
hooked up with
Alex Neutz
, who then tossed the ball back to
Brandon Murie
for a 50-yard hook-and-ladder score in the third. The Bulls added a field goal late and got the ball for one last drive before
Yawin Smallwood
stuffed Zordich on fourth-and-4 from the Buffalo 39 to ice the game.
The hook-and-ladder was one of several wrinkles Buffalo tossed in throughout the afternoon, including a recovered onside kick following its first touchdown. But the Bulls' offense couldn't do much until the fourth quarter. They went for another onside kick following a late field goal and, despite not recovering, forced a three-and-out to get one last shot.
UConn's offense struggled late, and it failed to take advantage of generous field position down the stretch. But it took control early and did not turn the ball over, small steps for a maligned unit that still has plenty of work to do when conference play begins next week at Rutgers.
April, 2, 2012
4/02/12
2:00
PM ET
To have a workhorse back or to split reps? That is the question.
And it certainly is a question on the minds of Big East coaches around the league. With five starters gone headed into 2012, and
Ray Graham
coming off ACL surgery, this is a
position of intrigue
during the spring. The ultimate decision has to be made about whether to rely on one back a lion's share of the time, or whether to get a nice rotation going to provide yourself some depth and versatility.
Two league coaches offered their opinions recently on the matter, and both are in favor of finding a workhorse back. Louisville offensive coordinator Shawn Watson pointed to 2010, when Bilal Powell had 229 carries and 1,405 yards.
Victor Anderson
had the next-highest carries total with 64. Last season, the Cardinals distributed the ball more evenly among its backs -- Anderson and
Dominique Brown
each had over 100 carries -- and did not fare as well in the ground game.
But it is important to keep in mind the offensive line had its share of struggles as well.
[+] Enlarge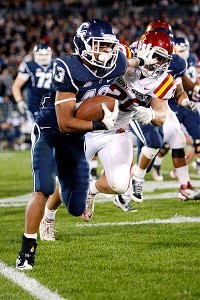 Brian Pohorylo/Icon SMILyle McCombs had a strong rookie season, but he'll face competition to be the go-to guy coach Paul Pasqualoni wants.
Still, Watson said he wants to
find a go-to guy
among the four players competing for the starting running back position. "We need someone to be the war daddy at that position, like Bilal Powell was in (Charlie) Strong's first season," said Watson. "Biggest thing we look back at is not having a go-to guy. We have to find a go-to-guy. That creates competition in the room and makes everyone better."
At UConn,
Lyle McCombs
returns after putting up 1,000 yards his freshman season, but there is some nice competition at the position this spring with
D.J. Shoemate
returning from injury, in addition to
Joe Williams
,
Martin Hyppolite
and
Max DeLorenzo
. But coach Paul Pasqualoni
wants one go-to guy as well
.
"I don't want a guy that's got to come out of the game," Pasqualoni told reporters in Connecticut. "I don't want a guy that's saying I'm tired, take me out. I don't want a Jaguar. Do you know what a Jaguar is? The Jaguar is always in the shop, always breaking down so I don't want a Jaguar. I want a durable guy and if we put him in the game he stays in the game and he stays in the game. We're trying to develop the depth we have but I'm all for one guy staying out there. Now we're going to use the talents and ability we have but I want them all to be able to do it if you know what I mean."
Last season, four running backs had over 200 carries. Had Graham been healthy, that number would have been five. Rutgers and Cincinnati also went with one back primarily. This season, that may not be the case. Rutgers coach Kyle Flood already has talked about the value of having more than one back consistently produce, while coach Butch Jones has talked about trying to get more backs involved to make up for the loss of Big East Offensive Player of the Year
Isaiah Pead
.
USF had three players with over 100 carries last season. The last time USF had a back with over 200 carries was Andre Hall in 2005, but even then the Bulls had another player with over 100 carries as well.
Pitt coach Paul Chryst has shown a proclivity to get multiple backs involved as well, but some of his offenses at Wisconsin did rely on one workhorse. If Graham returns on schedule, one would expect him to get the majority of the carries, but
Isaac Bennett
has had a nice spring game, and freshman Rushell Shell arrives in the summer.
As for Temple, the Owls relied on
Bernard Pierce
in recent years, though Matt Brown got his share of the carries. That load falls to him this season, with the hope that other backs can get involved as well.
April, 5, 2011
4/05/11
9:00
AM ET
Coaching changes can be difficult on players. But when Randy Edsall left Connecticut for Maryland,
D.J. Shoemate
wasn't all that upset.
Change, in Shoemate's case, meant a fresh start. After transferring from USC last year, Shoemate came to Storrs with a lot of hype. Yet after fumbling the ball in a costly situation at Michigan in the opener, he established residency in Edsall's doghouse. He would only carry the ball 28 times all season.
When Paul Pasqualoni took over the job in January, he made it clear to Shoemate that 2010 was ancient history.
[+] Enlarge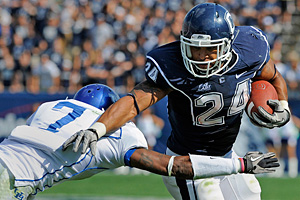 AP Photo/Fred BeckhamD.J. Shoemate hopes a fresh start will pay off for himself and the Huskies.
"In my first meeting with Coach P, he told me it was a clean slate," Shoemate said. "He said, 'We want to see what you can do, and we're not going to criticize you on what happened in the past.'"
Pasqualoni and offensive coordinator George DeLeone don't have a lot of choice other than to give Shoemate a long look at tailback this spring. Star runner
Jordan Todman
skipped his senior year to enter the NFL draft, and backup
Robbie Frey
transferred after the season. Shoemate and Martin Hyppolite are the only real contenders to replace Todman this spring.
"It's one of the greatest opportunities of my life," Shoemate said. "I'd be foolish not to answer the call."
First, Shoemate realizes he must fix the ball-security issues that plagued him last year. He said he has worked on keeping the ball high and tight and to get comfortable carrying it in his left arm when running to that side. He has also been using a strap that attaches to the ball while he runs, as another player tries to pull it away.
Then he'll have to re-establish himself and show the talent that made him the No. 5 athlete in the Class of 2008, according to ESPN Recruiting. At 5-foot-11 and 220 pounds, he has power and speed. USC used him as a fullback and a receiver, and he can do a lot of different things out of the backfield. He likes the way Pasqualoni and DeLeone are running this Huskies offense.
"I think it's more suitable for myself and my style of play," he said. "It's more of a pro-style attack. I feel I can carry that on to the next level, hopefully."
Asked if he could be a workhorse back like Todman, Shoemate doesn't hesitate by answering, "I know I can." This is his last shot to prove it, in his senior year. Last season, he said, taught him to be more patient and mature, as he made his contributions on special teams and didn't complain about his diminished role.
This year, he's looking for a much larger role in the UConn offense. At the very least, he's starting with a new opportunity.
"I'm ready to pick the load up and run with it," he said.
March, 8, 2010
3/08/10
8:55
AM ET
This could be a big year for Connecticut.
The Huskies were playing as well as anybody in the Big East down the stretch and finished the 2009 season with a victory over South Carolina in the Papajohns.com Bowl. They bring back a wealth of starters and plenty of depth. I caught up with UConn coach Randy Edsall last week to talk about the beginning of spring practice, which starts March 16. This is part I of my interview. Check back later for part II.
First of all, you have to be feeling pretty good about where the program is given all the players you bring back from last year, right?
[+] Enlarge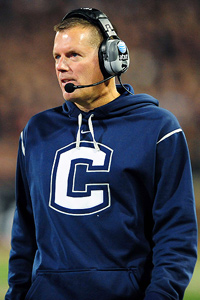 Andrew Weber/US PresswireRandy Edsall led the Huskies to an 8-5 record in 2009.
Randy Edsall:
We do. We have a lot of guys back and we only have 12 seniors on the roster, so that bodes well for us. We're going to have more depth than we've ever had. The thing about this spring that's going to be a little different is, we're going to have a lot of guys who won't be doing things because of injuries. So we'll be able to get a lot of work in, but some of the kids won't be out there with us because of injury. But the thing I'm excited about is that we're going to give some of these young guys a lot of work to even develop more depth in the program.
Do the injuries cause a little less of a concern this spring just because you have so much experience coming back?
RE:
Yeah, it really does. Just looking at our depth chart and our board ... even though Jesse Joseph is not going to go through the spring, Greg Lloyd is not going to go through the spring, Blidi Wreh-Wilson is not going to go through the spring on defense, with those guys out we still have so many guys and we know what those guys can do because they played for us. And now get some other kids more repetitions and kids we know are going to be available to play next year. For me, it's a plus for us. And we had six kids who came in at midyear, so it's another plus that those kids are going to get a lot of reps.
We're not going to be the finished product coming out of spring, because like with Jimmy Bennett and Mike Ryan on offense, they're not going to be practicing due to the injuries that they had in the fall and
Robbie Frey
will be limited and won't be full go. That's where in terms of the offensive line, it's going to give us a chance to work with some of our young guys and really get them a lot of reps to develop them so if they've got to get into a game, they're going to have some experience there.
Let's talk about the quarterbacks. Zach Frazer played well for you at the end of the year, but Cody Endres also played well before his injury. Is Frazer the No. 1 guy right now or is it more of a competition?
RE:
As we came out of the season, we won four straight there with Zach and I thought he did some good things. Cody did, too, I think, so we're in a good situation. But as we go into the spring, Zach's the No. 1 guy and it would be his job to lose. He knows there's always competition, but he's the No. 1 guy as we start practice on the 16th.
What did you like about the way Frazer played at the end of the year?
RE:
I thought he really just played within himself. I thought he was relaxed, he was poised and I thought he made a lot of good decisions He wasn't forcing the ball; he was taking what the defense was giving and throwing the ball where it should have been thrown. And when it wasn't there, he threw the ball away as opposed to trying to make a great play, squeeze a ball into somewhere you shouldn't. I really thought he did a good job of what we asked him to do in the game plans we had for those games.
People may forget that you put in a new offense last year, and there must have been some adjustments along the way.
RE:
You could see the improvement as the season went on with what we did offensively, and I think one of the keys this spring is now the kids are going to be more comfortable in the offense. There are going to be some things that we're able to do to add or to tweak where we think it will make us better. But I was pleased with the development of the offense as the season went along. Our point production and passing yardage was up from a year ago, and we maintained what we wanted to do in the running game.
It took two guys to replace Donald Brown, but that's fine. And we want to keep building on the positives we had last year and keep moving forward, and the good thing is we only lost Andre [Dixon], and we still have
Jordan Todman
coming back. We lost Brad [Kanuch] and
Marcus Easley
, but we feel we have receivers to step in and do the job. And up front the only guy we lost was Mike Hicks. We really feel good about the guys we have coming back and what we can do to improve upon the production and the output we had a year ago.