NCF Nation:

Martin Scales
December, 28, 2012
12/28/12
11:30
AM ET
Here are three keys to watch for Virginia Tech against Rutgers in today's Russell Athletic Bowl (5:30 p.m. ET, ESPN):


1. Win the turnover battle.
The Hokies lost the ball four times in their loss to Pitt, and turned it over three times in their loss to Cincinnati. It's no wonder Virginia Tech is 0-2 against the Big East so far this season. Five of those seven turnovers were interceptions by quarterback
Logan Thomas
. That won't fly against a Rutgers defense ranked No. 25 in the country in pass efficiency defense. The Scarlet Knights have picked off 16 passes this year. Linebacker
Khaseem Greene
, the two-time Big East Defensive Player of the Year, led the league with 125 tackles and six forced fumbles. Greene also had 5.5 sacks and two interceptions.
2. Establish the run.
The Hokies' rushing offense has struggled all season to replace David Wilson, and the staff has tried repeatedly to whittle down the running-back rotation, but none of the backs has truly separated himself. To help take some pressure off of Thomas,
J.C. Coleman
and
Martin Scales
must continue to build upon the success they had in the later part of the regular season. Cincy's strength is its defense, so it will be a challenge for the Hokies to sustain drives.
3. Pressure quarterback Gary Nova.
Bud Foster's defense is tied for No. 20 in the country in quarterback sacks, but Rutgers is No. 4 in the country in sacks allowed. The Scarlet Knights have allowed only eight sacks all season (compared to 21 by the Hokies). Rutgers' offense is hardly prolific, and Nova really struggled in back-to-back losses to Pitt and Louisville to end the regular season. If Foster's group can fluster him into similar mistakes and disrupt the passing game, the Hokies could get their first Big East victory of the season.
December, 6, 2012
12/06/12
3:00
PM ET
ORLANDO, Fla. -- While public perception might seem otherwise, it's no big mystery why Virginia Tech failed to contend for the Coastal Division title this year and mucked its way through the program's most disappointing season in 20 years.
The Hokies' scoring offense was No. 78 in the country this year, averaging 26.08 points per game. Virginia Tech struggled to run the ball, averaging just 157.75 yards per game.
[+] Enlarge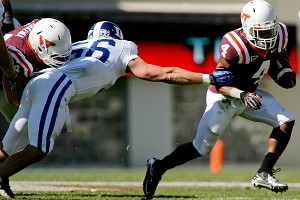 Peter Casey/US PRESSWIREThe Hokies would like J.C. Coleman rush for more TDs against Rutgers in the Russell Athletic Bowl.
As the program prepares to face Rutgers in the Russell Athletic Bowl, it does so knowing exactly where it needs to improve. The question is whether the Hokies can make those adjustments in time to finish the season on a winning note and avoid the program's first losing season since 1992. Coach Frank Beamer would not say if he planned to make any staff changes, but he did say the team will focus on improving the running game during its bowl practices.
"I think we know the direction we want to go," Beamer said. "It's hard to pinpoint exactly this or that. Logan [Thomas] didn't have as good a year as he wanted to have, but he didn't have two receivers that are all-time leading receivers at Virginia Tech. And a running back that's playing for the Giants now. And four offensive linemen that started a bunch of ball games. It all kind of ties in with each other. Your success kind of goes as an offensive team and as a team, and I think we understand where we need to get better."
The Hokies' rushing offense was No. 5 in the ACC, a significant drop from the David Wilson era in which Virginia Tech was No. 2 in the ACC in 2011 with 350.91 rushing yards per game. A tailback-by-committee approach was the only option, as
J.C. Coleman
,
Tony Gregory
,
Martin Scales
, and
Michael Holmes
all had at least 40 carries this year. The team's leading rusher, though, was its quarterback, as Thomas finished with 528 yards and nine touchdowns. The last time a Virginia Tech quarterback led the team in rushing was 1965, when Bobby Owens led the team with 526 yards.
Beamer said Coleman (486 yards) and Scales (173 yards) caught the coaches' attention later in the season.
"Those two kind of stepped it up a bit," Beamer said. "All of them are going to be good backs, it's just that for so long, no one separated. One guy would be good one day, and the next guy would be good the next game, or the next quarter. We really all along wanted to get it down to about two backs, and work them in there, and let them get most of the reps in practice and be better in a game, and I think we're closer to that now."
They'll face a tough test from Rutgers, which is No. 11 in the country in rushing defense at 105 yards per game.
"There's no question we'd like to run the football better," Beamer said. "We're going to continue to work in that area."
October, 30, 2012
10/30/12
5:00
PM ET
Virginia Tech coach Frank Beamer was asked about his running back rotation several different times in several different ways on Monday's weekly teleconference, but Beamer didn't offer any specifics about how the group has been working during the bye week, or how they might be used on Thursday night against Miami.

"We're working on it," he said. "We're practicing with an idea and working that in and hopefully it will be the right combination here."
Did all four backs split the reps this week?
"We're working on it," Beamer said. "We'll see how it works out Thursday night."
It should work out pretty good, considering Miami's rushing defense is No. 119 in the country, allowing 249.25 yards per game. The question is how the Hokies plan on taking advantage of that.
The "other" Beamer gave a few more clues.
Running backs coach Shane Beamer told beat writer Andy Bitter of the Virginian-Pilot that
J.C. Coleman
and
Tony Gregory
have taken about 85 percent of the snaps
in the past two games, with
Michael Holmes
and
Martin Scales
getting about five snaps apiece.
"We've looked at our running back situation a lot, and the thing that's tough is all of them deserve to play," Frank Beamer said. "You look at the Cincinnati game and Holmes looked like the guy, he made a couple of terrific runs. After Bowling Green, Gregory looked like the guy. He got out there in space. And after Duke, Coleman looked like the guy. That's the tough part. All of them have had their moments. We'd like to find, week after week, this is what we're going to get. That's what we're trying to get into."
Odds are all four continue to see playing time against the Hurricanes on Thursday night, with Coleman and Gregory leading the way.
September, 3, 2012
9/03/12
9:00
AM ET
When talking about Georgia Tech's B-backs recently, Virginia Tech defensive coordinator Bud Foster needed to pull out his glasses and look over the Jackets' depth chart to remember who's who.
For the second straight season, Georgia Tech is missing a headliner.
Strange thing is, so is Virginia Tech this year.


As the Hokies and Jackets prepare to face each other tonight in Blacksburg in a nationally televised game (8 ET, ESPN) that will give the winner the edge in the Coastal Division standings, both have unproven players in their backfield who will be thrust into starting roles. It's an unusual position for both programs, considering how successful their running games have been in recent years. Both teams will start the season with a committee approach, as last year was the first in coach Paul Johnson's offense that a B-back didn't rush for 1,000 yards and earn all-conference honors. At Virginia Tech, the Hokies have to replace four offensive linemen and first-round draft pick David Wilson. Fans of both teams could see as many as four running backs tonight for each team -- and they've all got something to prove.
"Every once in a while I'll read them an article or a quote from someone in the media about the question marks surrounding the running back position, and they're playing with a little bit of a chip on their shoulder," Virginia Tech running backs coach Shane Beamer said. "They can't wait to get out there Monday night and show what they can do."
Hokies fans are just as eager to find out.
Three of Virginia Tech's top running backs – redshirt freshman
Michael Holmes
, true freshman
J.C. Coleman
and redshirt senior
Martin Scales
-- have never had a collegiate carry.
Tony Gregory
, who was third on the depth chart last year behind Wilson and Josh Oglesby, is the most experienced of the group with 39 career carries. Beamer said Holmes is likely to be the starter against Georgia Tech, but all four will probably play.
Holmes is a fast, strong, well-rounded player who catches the ball well. Coleman is a smaller player who worked hard this summer to gain weight and get stronger. He's good in space and tough to bring down. Scales is a former fullback whose biggest contributions have been on special teams, but his heart is at tailback, where he can be a 225-pound bruiser with deceptive speed and strong pass protection skills. Gregory is a combination of all of them, and is also good in the open field and in pass protection.
At Georgia Tech, the Jackets are going to get their yards regardless of who's running the ball. Johnson's spread option offense was No. 2 in the country last year in rushing. Foster said the key defensively will be to limit the explosive plays, but he's not quite sure what he's going to get from some of the younger players.
"The Sims kid is a dynamic player," Foster said of
David Sims
, who had 698 yards and seven touchdowns last year. "I don't know much about their backup kids. They've got No. 21, and No. 37, I don't know much about them, we'll find out. I don't know if those guys are home run hitters or not. I know with [Jonathan] Dwyer, he was a home run hitter. You miss a tackle up front, he can take it to the house."
Can anyone else?
No. 21 for Georgia Tech is
Charles Perkins
, an athletic sophomore who had 28 carries last year as a backup. No. 37 is
Zach Laskey
, a true sophomore who moved from defensive back to his natural position of running back this past spring and has been pushing Sims for the starting job. Redshirt freshman
Broderick Snoddy
might be the fastest player on the team, but Laskey said he's ready to be "the guy."
"I've always known that I could do it, I just knew I needed opportunities to show myself," Laskey said. "I wasn't highly recruited, so I knew I had to play with a chip on my shoulder."
That seems to be the theme tonight for both teams.
It was only a few years ago that the Hokies were loaded with Wilson, Oglesby, Darren Evans and Ryan Williams.
"It was a stacked backfield," Scales said. "Going from that backfield in '10, honestly I don't see it as being that much different. Both backfields are talented. The biggest difference is those guys, their names were known more."
That will change tonight -- for both teams.