NCF Nation:

Marvin Robinson
May, 13, 2013
5/13/13
9:45
AM ET
It's pretty clear that the bulk of Michigan's talent, especially on defense, can be found in the younger classes.

As redshirt freshmen and sophomore fill more spots on the two-deep, older players are being phased out. Not surprisingly,
two of them are leaving the program
in safety
Marvin Robinson
and linebacker
Mike Jones
, both seniors. Robinson and Jones had been reserves throughout their careers. Robinson had been in the mix this spring to replace safety Jordan Kovacs in the starting lineup, but all indications suggest the job will go to sophomore
Jarrod Wilson
, who
impressed returning starter
Thomas Gordon
in spring practice.
Robinson appeared in 28 games, starting one in 2011, and recorded 21 tackles and a fumble recovery. Jones appeared in 29 career games, mostly on special teams, and recorded eight tackles.
Their exits bring Michigan's
offseason departure total to eight
, which, to be honest, is a little on the high side. Linebacker
Kaleb Ringer
left the program last week. None of the departing players figured to contend for starting jobs.
As WolverineNation's Mike Rothstein points out, Robinson's departure means
only 10 players remain from the 2010 recruiting class
, Rich Rodriguez's last as Wolverines coach. RecruitingNation
ranked Michigan's 2010 class 10th nationally
.
Although Robinson's exit hurts Michigan's numbers at safety, the Wolverines are building greater depth throughout the defense with younger players.
March, 13, 2013
3/13/13
9:00
AM ET
Michigan begins spring practice on Saturday with both some question marks and some major returning talent. Brady Hoke says of his team: "We're very young. But these guys have a lot of fight to them." There will also be a lot of fighting for starting jobs, beginning in a few days. I recently caught up with the third-year Wolverines coach for his thoughts on the approach of spring ball:
What are the main things you're looking for this spring?
Brady Hoke:
Well, you know, we've got a lot of open spaces. Some guys graduated, some guys aren't with the program anymore and we've got a lot of young guys. I think we only have 11 starters back on both sides of the ball, so there's going to be a lot of great competition, which is exciting. I think the leadership of our seniors, they've done a nice job of holding everybody accountable. But when you get out there with the pads on, it's a little different than just running around in shorts.
[+] Enlarge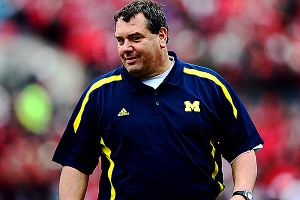 Andrew Weber/USA TODAY SportsWith only 11 returning starters, Michigan coach Brady Hoke said he's excited about the competition this spring.
Some of that competition will be on the offensive line, where you've got three open jobs on the interior. How do you see those battles right now?
BH:
Well, I think the interior of both lines, there's going to be a lot of competition. We've got to find a center, and that's between [
Jack] Miller
and [
Graham] Glasgow
, and
Joey Burzynski
will try to figure that out a little bit, too. At the guard positions,
Ben Braden
is going to move down inside and start out at the left guard, but he'll have a lot of competition because Burzynski is back and so is
Blake Bars
.
Kyle Kalis
will move into the right side, and it will be interesting again with [
Kyle] Bosch
and some of the guys who have been here a little bit. I think it will be a really good competition at all three of those inside positions.
Having
Taylor [Lewan
] back is huge. I think it's great for him and great for Michigan.
Mike Schofield
has had a really good winter. He had some real bright spots during the course of last season, and I think his development is going to be something special.
You mentioned the defensive line, where you also lost a couple of veterans. How does that shape up?
BH
: I think inside, we get
Jibreel Black
for another year and
Quinton Washington
. But once you get through that, there are a lot of young guys ...
Willie Henry
,
Ondre Pipkins
,
Ryan Glasgow
,
Richard Ash
and
Chris Wormley
are all guys who can either play the inside tackle or the strongside end. We'll find out the guys who are competitive.
Tommy Strobel
is another guy we think had a real good winter, and
Keith Heitzman
. So it's going to be fun to see them compete.
Does having so many young guys in key spots on the line make you nervous? Or do you have a lot of confidence in them because you recruited most of them?
BH:
I think it makes you nervous if you think you may have recruited the wrong guys. But we like the work ethic. We like how they've come in to learn and with a lot of enthusiasm. I think there's some competitiveness that we need to keep pushing as a program. You know, we lost five games on the road. We've played pretty well at home but we've got to do better on the road and that's a mindset, a mentality that you have to compete through everything, on every down.
Devin Gardner goes into spring practice as your starting quarterback. How has he developed as a leader?
BH:
I have been really excited about the progress he's made. I'm seeing that maturity that it takes and the leadership it takes and the competitiveness it takes to be the quarterback at Michigan. I think that's a real big part of how he's grown, and I think he's done a nice job with it. I'm liking the direction he's going, and hopefully he can just keep going and keep growing.
What about your running back position this spring, with Fitz Toussaint hurt and Derrick Green not there yet?
BH:
You know, Fitz has come along pretty well. I don't think he'll do a lot of contact or anything like that, but I think he'll be cleared for a lot more drill work. That's gone real well. We've moved [
Dennis] Norfleet
back to running back and we're going to give him an opportunity. Dennis, he's a smaller guy, but he's a very competitive, very tough young man.
Drake Johnson
is a guy we redshirted a year ago, and we really liked the way he competed in scout situations. In the bowl practices, we did some scrimmages and gave him a lot of carries, and we're very excited about what he has to offer.
Thomas Rawls
is coming back, and I think he learned a lot last year about the vision he needs to play with, and I like how he's competed through the [winter]. And
Justice Hayes
is a guy who gives you a little bit different look because of how he can get on the perimeter. He did some things in a couple of games last year, but now I think he'll have a big stage to prove himself more this spring. And he's a bigger guy now, he's 190-something pounds, so he's a little bigger.
[+] Enlarge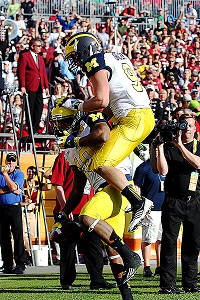 Kim Klement/USA TODAY SportsMichigan coach Brady Hoke said that he's pleased by more than just the on-field success of WRs Drew Dileo and Jeremy Gallon.
You have Jeremy Gallon back at receiver, but you lost Roy Roundtree. You sounded excited about some of the younger guys there during bowl prep. Is spring their time to step up now?
BH:
Yeah, I think so. First of all, I think the leadership with Gallon and
Drew Dileo
, they've done a really nice job being leaders at that position. They're not big guys, but they have a real spirit for the game and really do a nice job of working and leading. We have
Amara Darboh
, who played a little last year, and
Jehu Chesson
, who we redshirted a year ago. And I think
Jeremy Jackson
has had a very good winter; we're very excited about some of the progress he's made.
Joe Reynolds
is a guy who walked on here, and he's done a very nice job. And
Bo Dever
, his dad played here and he walked on. I think that during the course of the spring, we'll be in pretty good shape there. I think as we keep going, we'll keep improving at that position.
Linebacker was a strength for you last year and looks to be so again. Do you see some good competition there this spring, particularly at the weakside spot?
BH:
Yeah, I think with
Desmond Morgan
and
James Ross
, there's going to be great competition.
Joe Bolden
and
Royce Jenkins-Stone
and
Mike Jones
are all guys who are very competitive, and I think the three young guys coming in are going to be guys who will give us a lot of good competition and a lot of good depth.
Kaleb Ringer
is coming back from injury, so we'll see what he can give us. At the sam linebacker,
Jake [Ryan
] is coming back, and we really like what
Cam Gordon
has done during the winter. So I think we feel a little stronger at that position.
How do you replace what Jordan Kovacs gave you in the secondary?
BH:
I don't know if you ever replace that kind of leadership, but I really think
Thomas Gordon
, he's played a lot of football here, and it's time for him to demonstrate the leadership. And he's doing that. Because of the number of snaps and everything he's done, he's really fallen into his own a little bit.
Courtney Avery
has played a lot of football, and whether he's a corner a nickel or wherever, he's got to give us great leadership and great reps.
Blake Countess
is getting healthier; he'll do some things during the spring.
Josh Furman
, I think, has come on.
We've got to see where
Terry Richardson
is and where
Marvin Robinson
is. Both those guys have played a number of snaps. We've got
Raymon Taylor
back, who I think started every game for us last year, we're excited about his development.
Dymonte Thomas
is a guy who's going to compete, and he'll pressure some guys.
Jarrod Wilson
is another guy who played some last year for us. Ross Douglas is here early.
Jeremy Clark
is a 6-foot-4, 210-pound safety we redshirted a year ago, and it's going to be a big spring for him to make some moves.
So I think we may have more personnel back there. And even more in the fall when
Channing Stribling
gets in, and
Reon Dawson
gets in and
Jourdan Lewis
. I think it's going to add something to our secondary.
Finally, what has your message been to the team this offseason after last year's 8-5 season?
BH:
Well, our message has been, we haven't met the expectations at Michigan. That's something that as a football community… that we really feel that we have to do a much better job in all areas, from the coaching aspect of it, from learning and playing with the competitiveness we want to have, from every player at every position playing with the intensity we want to play with. It's about having a mindset and a mentality of how we want to play the game. We make no excuses, but at the same time, we know we have a lot we can do to play better football.
October, 15, 2011
10/15/11
11:48
AM ET
EAST LANSING, Mich. -- I don't want to harp on the wind here, but gusts picked up for a few minutes during warm-ups, and
Denard Robinson
was having trouble connecting with his deep throws during that time. The pants and jackets of the assistant coaches on the field were doing some serious flapping.
We also got our first look at the new Michigan State pro combat uniforms in action. I like the helmets, but the jerseys and numbers are a little too dark for my tastes. But clearly the players are excited to wear some new digs.
Linebacker Brandon Herron is out again for Michigan, and safety Marvin Robinson didn't make the trip for a second straight week.
April, 30, 2010
4/30/10
2:00
PM ET
During his two-plus seasons at Michigan, Rich Rodriguez often has mentioned the numbers game on defense, a game that the Wolverines have been losing.
Rodriguez isn't talking about numbers of points allowed or yards allowed, although it's all connected to the larger problem the Wolverines' defense has endured. Michigan simply hasn't had enough capable players to succeed on that side of the ball. And without the numbers, or adequate depth at certain positions, the defense has plummeted. In the last two seasons, the Wolverines have finished 67th and 82nd in yards allowed, and 84th and 77th in points allowed, respectively.
[+] Enlarge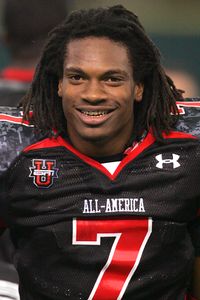 Cliff Welch/Icon SMIThe Wolverines will likely be counting on highly touted cornerback Demar Dorsey to contribute right away as a freshman.
High attrition has certainly played a major role, and of those who left, many were top defensive prospects. Recruiting also has played a significant role, much of it before Rodriguez's arrival, as Michigan signed small classes with not enough defensive recruits. Mgoblog has a great breakdown of the problems
here
and
here
.
Heading into a pivotal season, can Michigan survive the numbers situation on defense?
"It's still limited, to an extent, this spring," defensive coordinator Greg Robinson told me earlier this month. "Now there's going to be 14, 15 guys walking in the door [in the summer]. How many can you count on as freshmen? Time will tell that. Craig Roh played as a freshman [in 2009].
"So it can be done."
Michigan's incoming freshman class will be a huge factor in the defense's results, one way or another. Unlike past classes, the 2010 crop is both sizable and filled with defensive players.
Cornerback Demar Dorsey, the Big Ten's highest-rated recruit according to ESPN recruiting, will contribute right away as long as he qualifies for admission. Other defensive recruits like Cullen Christian and Marvin Robinson also are good bets to see the field this fall.
"We may have some young guys come in this fall and provide some competition, which is a little scary when you're talking about true freshmen," Rodriguez said. "But we want to play more people defensively and offensively."
Several defenders who stepped up this spring also should help in the numbers game.
Safety Cameron Gordon, a converted wide receiver, was arguably Michigan's top spring performer. The coaches also singled out linebacker Kenny Demens, cornerback J.T. Floyd, Teric Jones, defensive linemen Adam Patterson and Renaldo Sagesse and others for their play. Redshirt freshmen like Cameron Gordon and safety Thomas Gordon drew more attention during the spring session.
"You notice them," Robinson said, "and that is good. It's just the numbers aren't there yet. There will be a real infusion in August. We're going to get it done, but I know where the work is. It's about developing young players as quickly as we can. You've really got to count on 18, 19 guys, so the depth is what we have to establish."
Robinson admits Michigan never truly had adequate depth in 2009, and the results showed.
"We lacked depth, we lacked maturity at times," he said. "But that's last year. It doesn't really matter. There's no reason to be putting rose-colored glasses on it. At the same time, can it be an improved defense? Yep. It's the year 2010 and it's the 131st defense to perform here at Michigan.
"And doggone it, we're going to find a way to be better."
February, 4, 2010
2/04/10
12:29
PM ET
Michigan Wolverines
The class
Recruits:
27 (all high school seniors, seven early enrollees)
Top prospects:
Safety
Demar Dorsey
is the top-ranked recruit in the Big Ten, according to ESPN's Scouts Inc. Quarterback
Devin Gardner
, an ESPNU 150 selection, will compete for snaps right away. Defensive recruits like
Marvin Robinson
,
Cullen Christian
and
Richard Ash
might be able to help the beleaguered unit early on.
Sleepers:
Safety is a huge need for Michigan in 2010, and
Ray Vinopal
and
Carvin Johnson
both could factor into the mix there. Linebacker
Jake Ryan
, a late bloomer during recruiting, also is a player to watch.
Needs met:
Arguably no Big Ten team needed to bolster a particular position like Michigan needed to bolster its secondary. The addition of Dorsey gives the Wolverines a possible immediate contributor in the back four. Rich Rodriguez added the quarterback he needs in Gardner, and Michigan also stocked up at wide receiver, defensive line and linebacker.
Analysis:
Michigan started quickly, lost a bit of ground with elite prospects and then finished strong by adding Dorsey on National Signing Day. Rodriguez signed a large and important class that must help a struggling defense this fall. Gardner will push
Tate Forcier
at quarterback, and the early enrollees at both wide receiver and running back will be fun to watch this spring. If this class doesn't bolster Michigan's defense immediately, the Wolverines will be in trouble.
Scouts Inc. grade:
B-plus
What Rich Rodriguez said:
"Demar is a very athletic guy. Very fast. Has indicated he may run track as well. So it will be good news for our track program. A fast guy. He can play corner and safety. We'll probably start him at corner first, eventually teach him the back end stuff as well. Also returns kicks. Runs very well."
(on Devin Gardner) "It helps he got in early. I don't know if 15 spring practices can really give you a whole thing. But I know it helped Tate [Forcier] last year. Devin is going to have pieces around, veterans that know what we're trying to do offensively and all that. But again, until I see him at spring practice and how quickly he picks up the plays and all that, I couldn't tell you. I know he's very competitive. He's one of those guys eager to learn."
"Our back-end guys, linebackers and safeties and corners, are guys we felt we needed to play in space. And so we tried to address that with the athleticism. Again, these guys are young. Let's not put too much on too soon. They have to come and earn a spot and all that. But immediately the competition has risen on the defensive side of the football."
July, 14, 2009
7/14/09
5:28
PM ET
Posted by ESPN.com's Adam Rittenberg
Illinois picks up a major commit at tight end, while Penn State bolsters its quarterback position and other teams add key pieces. Here's your latest recruiting rundown in the Big Ten.
ILLINOIS
2010 verbal commits: 8
ESPNU 150 Watch List: Safety Corey Cooper, quarterback Chandler Whitmer, tight end C.J. Fiedorowicz
Quick take: Fiedorowicz is a big get for the Illini, who lose starting tight end Michael Hoomanawanui after the 2009 season. Illinois also will be breaking in a new starting quarterback and could lose superstar wideout Arrelious Benn to the NFL draft, so Fiedorowicz should be a big help during the transition.
INDIANA
2010 verbal commits: 9
ESPNU 150 Watch List: None
Quick take: Things have slowed down a bit for the Hoosiers, who are still glowing from the commitment of defensive end Jibreel Black from Cincinnati. Indiana has found a good offense-defense balance so far in the 2010 class.

IOWA
2010 verbal commits: 10
ESPNU 150 Watch List: Defensive end Matt Hoch, tackle Andrew Donnal

Quick take: Both lines have been the focus of Iowa's recruiting so far, and the Hawkeyes made a big splash with Donnal, who could protect his fellow Ohioan Ricky Stanzi at some point down the line. At least seven of Iowa's commits could contribute on the offensive or defensive lines.
MICHIGAN
2010 verbal commits: 15
ESPNU 150 Watch List: Quarterback Devin Gardner, wide receiver Jeremy Jackson, wide receiver Ricardo Miller, guard Christian Pace, safety Marvin Robinson
Quick take: The nucleus for Michigan's 2010 class is in place, and the team hasn't added a commit since Courtney Avery on June 20. There are a ton of great athletes in this group, and Michigan likely will turn its attention to line play to wrap up the class.

MICHIGAN STATE
2010 verbal commits: 9
ESPNU 150 Watch List: Defensive end William Gholston, linebacker Max Bullough, quarterback Joe Boisture

Quick take: After landing its first seven commits from within state borders, Michigan State went into enemy territory -- or Mark Dantonio's home state, depending on how you look at it -- to pick up offensive linemen Travis Jackson and Michael Dennis. The two Ohio natives balance out a class that is shaping up well for the Spartans.
MINNESOTA
2010 verbal commits: 10
ESPNU 150 Watch List: None
Quick take: The Gophers already have a strong in-state recruiting haul, and they went to the southeast for running back Donnell Kirkwood, a workhorse-type back who generated a lot of interest. Minnesota also remains in the mix for arguably the nation's biggest prize, local product Seantrel Henderson.

NORTHWESTERN
2010 verbal commits: 6
ESPNU 150 Watch List: None
Quick take: Pat Fitzgerald should never have a hard time recruiting linebackers, and Northwestern landed a good one -- with a good name -- in Chi Chi Ariguzo from Columbus, Ohio. Ariguzo can also play safety and should contribute on special teams early in his career. Northwestern has yet to land an in-state prospect.
OHIO STATE
2010 verbal commits: 8
ESPNU 150 Watch List: Tackle Andrew Norwell, linebacker Jamel Turner, defensive end David Durham, running back Roderick Smith

Quick take: A quiet week for the Buckeyes after filling their backfield needs with Smith and quarterback Taylor Graham. Ohio State hopes to go back into Florida for star linebacker Jeff Luc and possibly linebacker Deon Rogers.
PENN STATE

2010 verbal commits: 12
ESPNU 150 Watch List: Wide receiver Adrian Coxson, running back Silas Redd, center Miles Dieffenbach, defensive end Kyle Baublitz, defensive tackle Evan Hailes, quarterback Robert Bolden

Quick take: Does Penn State currently have the Big Ten's best recruiting class for 2010? It sure looks that way as Bolden gives the Nittany Lions six watch list commitments out of 12 overall. Both Bolden and Paul Jones should be able to operate effectively in the Spread HD offense.
PURDUE
2010 verbal commits: 7
ESPNU 150 Watch List: Quarterback Robert Marve (2007 watch list)

Quick take: The quality of Purdue's commits seems to be getting better as quarterback Sean Robinson and defensive tackle Josh Davis came aboard. Robinson joins Marve and Caleb TerBush in the quarterback mix, while Davis boasts excellent size (6-foot-5, 250) for a young interior lineman.
WISCONSIN
2010 verbal commits: 8
ESPNU 150 Watch List: Safety Frank Tamakloe

Quick take: The quarterback position might be a question mark this season, but it's shaping up well for the future as Joseph Brennan committed to the Badgers. Brennan has good mechanics and accuracy, and he should get better with increased strength. Cameron Ontko could be a contributor at fullback or H-back down the line.
Posted by ESPN.com's Adam Rittenberg