NCF Nation:

Maryland to Big Ten
November, 19, 2012
11/19/12
5:34
PM ET
[+] Enlarge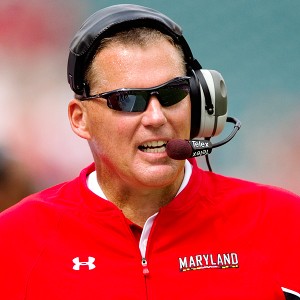 Howard Smith/US PRESSWIRECoach Randy Edsall says the Big Ten will open up new recruiting avenues for the football program.
COLLEGE PARK, Md. -- Maryland won't go bowling for a second straight season, it has never won the ACC's Atlantic Division, and it holds an overall record of 4-44-1 against the Big Ten.
Randy Edsall's reaction to joining the conference? Bring it on.
"I'm all for it," he said. "We know we've got work to do."
Lots of work.
Maryland's overall record against the Big Ten is skewed by its 1-35-1 record against Penn State. It hasn't played Wisconsin, Iowa, Northwestern, Nebraska, Ohio State or Illinois. That will change in 2014, when the Terps join the Big Ten.
"... It gives you other opportunities," Edsall said. "These kids now will have a chance to play in the Rose Bowl, which is the granddaddy of them all. They'll be able to compete amongst the other institutions in the Big Ten. It will be very challenging, but one we really look forward to."
Edsall said the exposure from the Big Ten Network and throughout the Midwest will open up an entirely new recruiting territory for his staff.
"You're going to be in over 30 countries, all over the United States, it's going to open up some new areas for us in recruiting," Edsall said. "We've already talked about taking care of the home base, but then moving in to Detroit, Chicago, Indianapolis, Kansas City, St. Louis. This exposure will aid us in recruiting and open up some areas maybe we couldn't get into before."
On the surface, it looks like the Terps are getting in over their heads.
November, 19, 2012
11/19/12
5:05
PM ET
We asked Big Ten fans over on
our Twitter account
to give us your opinions on the league expanding to add Maryland and Rutgers. Judging by your reactions, this is a wildly unpopular move. Only about 1 in 20 who responded saw something positive in bringing the Terrapins and Scarlet Knights into the fold.
Here's some of what you had to say:
November, 19, 2012
11/19/12
4:45
PM ET
Maryland's top officials along with Big Ten commissioner Jim Delany concluded a news conference today in College Park, Md., confirming
the school's move to the Big Ten
.
The Terrapins will officially become a Big Ten member on July 1, 2014, and begin competing in athletics in the 2014-15 season.
[+] Enlarge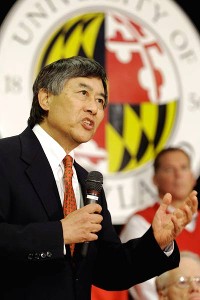 Patrick Semansky/AP PhotoUniversity of Maryland President Wallace Loh speaks at a news conference to announce Maryland's decision to move to the Big Ten.
Maryland president Wallace Loh made it very clear from the start of the announcement that the financial gains the Big Ten offered were the primary reason why the school left the ACC, where it had been a founding member. In June, Maryland
eliminated seven varsity sports
because of financial woes.
Loh and athletic director Kevin Anderson repeatedly stated that they never want to make such cutbacks again, and the move to the Big Ten ensures financial stability "for decades to come." In perhaps the best news of the announcement, Loh said Maryland immediately will start the process of reinstating those teams. Loh and Anderson obviously felt they would have had to cut more teams if Maryland stayed in the ACC.
SI.com reports that Maryland expects to
make $100 million more in conference revenue
from 2014 to 2020 as a Big Ten member, according to information Delany presented to the school. As SI.com's Pete Thamel notes, the big jump comes after the Big Ten negotiates its new television contract.
Some other notes and thoughts:
Although Loh and others repeatedly pointed to the Big Ten's financial advantages, they danced around questions of how Maryland would pay a $50 million exit fee from the ACC. Clearly, folks like Maryland super booster Kevin Plank, the founder of Under Armour, will help in this area, as well as a projected Big Ten revenue windfall, but it'll be interesting to see how Maryland addresses its immediate debts as it looks for future gains.

Delany revealed the Big Ten will open an East Coast office in addition to its main headquarters, currently in Park Ridge, Ill., but soon moving to nearby Rosemont, Ill. With Maryland in the league and Rutgers soon to follow, the Big Ten will have a larger East Coast presence. Delany said the Big Ten isn't a national conference, but it now has a presence in two distinct areas of the country (Midwest, East Coast).

Anderson said he has discussed the Big Ten move with football coach Randy Edsall and that Maryland "will take on the Big Ten and be very competitive." Better question: Will Edsall be around to coach the Terrapins in their first Big Ten game?

Delany noted that when the Big Ten announced its last expansion push in December 2009, it triggered an unexpected wave of bad reports and tension on a number of campuses. The league didn't expect such a response and took a much quieter approach this time around. The talks with Maryland really heated up in the past 2-3 weeks.

Delany said there were no direct conversations with Maryland during the Big Ten's last expansion push, but the league looked at models that included the school.

Loh acknowledged the disappointment many Maryland fans have about leaving the ACC, but he also noted that the ACC is changing with new membership and that some of Maryland's long-term rivalries would be changing, too. He also waited until noon ET today to inform ACC commissioner John Swofford of the school's departure from the league. Ouch. Almost as cold as Nebraska chancellor Harvey Perlman ripping Texas when Nebraska joined the Big Ten. Good times.
November, 19, 2012
11/19/12
2:26
PM ET
Maryland's president told the school's board of regents that the Terrapins and fellow Big Ten newcomer Rutgers would play in the Leaders Division, with Illinois switching to the Legends, ESPN.com's Brett McMurphy is reporting.

That makes sense, since Maryland and Rutgers would then be in the same division as Penn State. The two divisions would then be split pretty close along East/West geographical lines, though not exactly. They would look like this:

Leaders

Ohio State
Wisconsin
Penn State
Indiana
Purdue
Maryland
Rutgers

Legends

Nebraska
Michigan
Michigan State
Minnesota
Northwestern
Iowa
Illinois

You'd really have to wonder about competitive balance, especially if Penn State takes a step backward when the NCAA sanctions fully kick in. On paper, at least, it looks as though Ohio State and Wisconsin would have a huge advantage over the rest of the Leaders Division.

That would also require a change in some of the permanent cross-over rivalries, as Illinois and Northwestern were protected rivals. One or both of those schools could become a protected partner with Maryland or Rutgers, which will have no natural rivals in the other division.

None of this is set in stone, and we're basing it off what Maryland was supposedly told by the league. Conference officials could decide to rework the divisions as they see fit before the Terrapins and Scarlet Knights came aboard in 2014.

We sincerely hope that the Big Ten takes this opportunity to rename the divisions, since Legends and Leaders still inspire mostly snickers and jokes. Big Ten presidents and athletic directors will discuss the division names eventually, but it should be much lower on the priority list than making sure there is competitive balance between the divisions.