NCF Nation:

Mason Walters
November, 28, 2013
11/28/13
11:00
AM ET
AUSTIN, Texas -- When Mack Brown introduced his latest recruiting class on signing day of 2010, he did so with great pride.
"I've been asked over the last couple of days, 'Is this the best class that we've ever had?'" Brown said that day. "We feel like it definitely has the potential to be, because from top to bottom it covers every position and that's a very difficult thing to do."
On Thursday, seven of those signees will take the field at Darrell K Royal-Texas Memorial Stadium one final time. Senior Night has a tendency to elicit mixed emotions, a bittersweet cocktail of pride, sadness and sentimentality.
It's hard to assess this Texas class with anything else but mixed emotions. You wonder if they feel the same. After all, this four-year run was not what these seniors signed up for or expected back in February 2010.
Of the 13 scholarship seniors being honored during Texas' Thanksgiving home finale against Texas Tech, more than half came from the 2010 class that ranked No. 2 nationally. They signed after Texas won 13 games and played for a national title. The senior class that departed after 2009 went 45-8 in their four seasons.
Today's seniors made their debuts for a 2010 team that was No. 5 in the preseason AP poll. Expectations were as high as ever. Brown seemed poised to chase another championship.
Instead, this class ended up inheriting the task of helping lead a rebuilding project, one that still isn't complete. They hope this is their legacy, that their efforts will get this Longhorn program back on track.
[+] Enlarge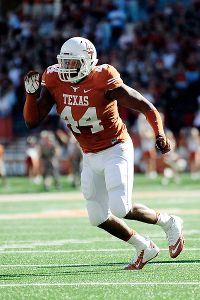 Stacy Revere/Getty ImagesJackson Jeffcoat calls his Texas career a roller coaster ride.
"To their credit, they would tell you they haven't accomplished what teams at Texas would want to have accomplished as seniors," Brown said.
The fourth-year seniors enter Thursday night's home finale against Texas Tech with a career record of 29-19. If the Red Raiders pull the upset, this group will drop to 17-17 in Big 12 games.
They haven't been particularly successful at DKR, either, with a record of 13-11 at home in the past four years. They've won six conference home games and lost nine.
Most of these seniors been playing from the very beginning. Guard
Mason Walters
, a 2009 signee who redshirted, and receiver
Mike Davis
were starters on the 5-7 team of 2010. Defensive end
Jackson Jeffcoat
, cornerback
Carrington Byndom
and guard
Trey Hopkins
are three-year starters. All together, this senior class has combined for 266 starts.
It's a group that, to this point, has endured an awful lot. The first losing season of Brown's tenure. A coaching staff shakeup. The end of the Texas A&M rivalry. One win and three losses to Oklahoma. No Big 12 championships. No BCS bowl games.
"It's been a roller-coaster ride, ups and downs," Jeffcoat said. "I think I'm better for that."
Jeffcoat signed to play for then-defensive coordinator Will Muschamp.
Case McCoy
has been tutored by three different quarterback coaches and playcallers. These Texas seniors received an education in embracing change.
"A lot of things have gone good, a lot of things have gone bad," McCoy said. "That's part of the game, that's part of life. One thing I know in this game and in life, you've got to battle. You can't give up. That's why I love this team. I love the way they're playing. I love their hearts because we haven't given up."
They know they had Texas-sized standards to live up to in their careers. When a program bottoms out the way the Longhorns did in 2010, everything achieved since has been in the commitment to getting back on top.
There have been high points along the way, but it all seemed to be building toward 2013. Brown believed Texas had a chance to win every game this season. That didn't work out.
To the seniors' credit, he said, they didn't fold after starting off 1-2 this year. They didn't give in and they rallied to win six in a row.
"They were very, very strong-willed in stepping up with their leadership and telling the other guys, 'This is our last time now, we're going to make this work,'" Brown said. "I'm really proud of them. I'm proud of the way they've handled adversity, proud of the way they fought through it."
And Jeffcoat believes the legacy of these seniors is unfinished. They'll earn a share of the Big 12 title, and perhaps more, if they win out. Three games left means three more chances to get the Longhorns back in the right direction.
"I think we definitely have that opportunity," McCoy said. "We have the opportunity right now to put our final stamp on it and put it where we need to go."
Texas' seniors have had a rough journey. As the end nears, though, they still believe their story can have a happy ending. And they seem to have few regrets.
"If I had to choose all over again," Jeffcoat said, "I'd come to Texas."
November, 14, 2013
11/14/13
11:00
AM ET
AUSTIN, Texas --
Mason Walters
was reminded Monday of this bit of trivia: Texas' last six opponents have won a total of 23 games. Its final three foes are 23-4.
Daunting stuff for a team that finally entered the BCS standings this week, right? The offensive lineman crunched the numbers for a moment, then produced a firm answer.
"We only have to beat one of those teams this week," Walters said. "I think that's the way we do it."
[+] Enlarge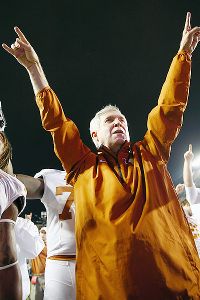 Tom Pennington/Getty ImagesMack Brown had turned Texas' season around by convincing the Longhorns to just take it one week at a time.
That's the company line for the Longhorns this season, repeated and reinforced week after week until players started realizing just how effective that myopia can be.
How did coach Mack Brown pull this all off? How did he take a team on the brink at 1-2, one that lost its quarterback and had too many injured starters, and swing this season with a six wins in a row?
The easy answer is that Texas had talented players all along, that somehow this group came together and starting playing up to its experience and potential. These assistant coaches probably aren't receiving their due credit.
But Walters' answer speaks to the mentality Brown has stubbornly preached since Texas' second loss. His Longhorns avoided disaster by living one day and one game at a time.
Brown couldn't control the chatter about his job status. He couldn't control the perception that Texas' season was in a shambles. He and his coaches stuck to what was in front of them: Beat Kansas State. Start 1-0 and start over.
Two months later, it's clear that mentality has trickled down to his players and taken hold in the locker room. Nobody is questioning their focus. Cornerback
Quandre Diggs
, as confident and hardheaded a leader as Texas has, isn't letting anyone look ahead.
"I don't want to hear about the games we have following Oklahoma State. I really don't care," Diggs said. "I just want to win this week and that's all I care about. I don't care about a Big 12 championship in the future, because that kind of thinking gets you beat. I'm worried about this week."
Brown is teaching a master class in crisis management right now. Those focused on finding a way to replace him in 2014 are missing out.
It's not that Texas players lacked focus in losses to BYU and Ole Miss. It's about how they've responded since. They held a players-only meeting after the Ole Miss defeat. The goal, lineman
Donald Hawkins
said, was to throw out the hard feelings and put aside differences. This was a mature enough team -- 17 upperclassmen were starting at the time -- to recognize the fork in the road and the way to find the right path.
"We really did, after taking those two losses, figure out that, wow, this is kind of a cutthroat environment we're in after a loss," Walters said. "If we win each one every week, things can only get better."
Added Diggs: "Win the week. Win the day. That should've been our goal from the jump."
Meanwhile, their head coach had to find a way to ignore everything being said about him and his program. Brown would joke that, at Texas, everyone wants the head coach fired after every loss. Publicly, he'd argue the national chatter didn't matter.
The only way to shut people up is by winning. And he's doing just that.
"What's the saying? A wolf doesn't concern himself with the opinions of sheep," Hawkins said.
And now that the noise is dwindling, we can step back and recognize what Brown is accomplishing.
He believed Texas would be good in 2013 if quarterback
David Ash
had a strong junior year. Ash hasn't played in nearly two months. Starting tackle
Josh Cochran
is out. Top linebacker
Jordan Hicks
is done for the year, and now leading rusher
Johnathan Gray
and defensive tackle
Chris Whaley
are too.
Yet his team keeps rolling. The Longhorns climbed out of their two-loss hole one test at a time. That's all Brown has asked of them.
The week of the Oklahoma game, national writers were asking
Case McCoy
and others to defend Brown and to explain why he was still the right man to lead Texas. The responses were understandably defiant. So were the results.
"I play every week as if it's my last," McCoy said. "He's coaching every week like it's his last. It can only trickle down when people see that."
And McCoy says he believes his coach is having as much fun as ever right now. Brown says the postgame locker room after beating West Virginia in overtime last weekend was one of the best he has ever witnessed. He sees an inspired team.
What the players see is a coach who keeps fighting. Walters hopes Brown looks back on 2013 as one of the best coaching jobs he has ever done. But the Longhorns have to take care of business in the next four weeks for any of that to matter.
"If we reflect too much on it, and don't focus on the next week," Walters said, "it's going to get pretty real pretty quickly."
October, 14, 2013
10/14/13
11:00
AM ET
Taking stock of Week 7 in the Big 12:
Team of the week:
Texas. Not only did the Longhorns pull off the biggest Red River upset in 17 years, they completely reversed the outlook of their season. At 3-0 in the Big 12 standings, Texas is right in the middle of the conference race. The Longhorns also finally found an identity in Dallas, which could make them a tough out during the second half of the season. The Longhorns ran the ball with authority between the tackles behind their experienced offensive line, which took pressure off quarterback
Case McCoy
. Defensive coordinator Greg Robinson, meanwhile, disguised his defenses beautifully and utilized Texas' speed in timely blitzes. Baylor remains the favorite to win the Big 12 crown. But Texas, which travels to Baylor in the regular-season finale, could be a factor. What a difference a week makes.
[+] Enlarge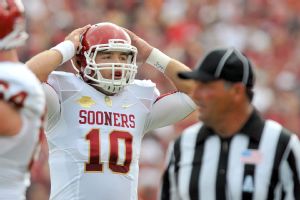 Jackson Laizure/Getty ImagesBlake Bell had one of the worst performances statistically by an OU QB since 2005.
Disappointment of the week:
Oklahoma. While Texas found its identity in the Cotton Bowl, the Sooners seemingly lost theirs. The defense's Achilles' heel resurfaced from last season, as Oklahoma couldn't stop the run. That made the Sooners vulnerable against deep passes, which McCoy capitalized on with a pair of long touchdowns. As much as the defense struggled, the offense looked completely lost.
Blake Bell
took four sacks, threw two interceptions and was utterly miserable on third down. Bell's QBR on third down, in fact, was 0.1 percent (he had been 89.8 on third downs coming into the game). Bell wasn't much better the rest of the game with an Adjusted QBR of 2.8, which was the fourth-worst single-game adjusted QBR of any FBS quarterback this season. Curiously, Bob Stoops said the offensive staff didn't feel comfortable running Bell in this game. And the Sooners couldn't figure out which running back to feature, with no back receiving more than seven carries. This is a team that doesn't look like it knows who it is all of a sudden.
Big (offensive) men on campus:
The Texas offensive line, Kansas State quarterback
Daniel Sams
and Texas Tech tight end
Jace Amaro
.
The most experienced offensive line in the Big 12 blocked like it at the most opportune of times.
Kennedy Estelle
,
Mason Walters
,
Dominic Espinosa
,
Trey Hopkins
and
Donald Hawkins
paved the way for
Johnathan Gray
and
Malcolm Brown
to become the first Texas duo to top 100 rushing yards apiece in the same Red River game. The Bevos up front also kept McCoy upright, as the Texas quarterback was not sacked all day and barely pressured, either.
In Manhattan, Sams played valiantly in K-State's 35-25 loss to Baylor. He rushed for 199 yards and three touchdowns and almost single-handedly kept the Wildcats scoring with the high-powered Bears. Sams' late interception that effectively ended the game was a huge mistake. But his 86.1 Adjusted QBR was 13th-best in college football for the week. Sams now is second in the Big 12 in Adjusted QBR (86.5) for the year, trailing only Baylor's
Bryce Petty
(95.1).
Amaro continues to be a security blanket for Texas Tech's true freshman quarterbacks. Against Iowa State, he had his best game yet with nine receptions for 143 yards. Amaro leads the Big 12 with 47 receptions. Teammate
Eric Ward
is second with 34.
Big (defensive) men on campus:
Kansas State defensive end
Ryan Mueller
, Baylor safety
Ahmad Dixon
and Texas defensive ends
Jackson Jeffcoat
and
Cedric Reed
.
Along with Sams, Mueller was a major reason the Wildcats were in the game in the fourth quarter. In what might be the defensive highlight of the season in the Big 12 so far, Mueller stripped Petty while simultaneously recovering the fumble to set K-State with field position in the third quarter that would turn into a go-ahead touchdown. Mueller finished with seven tackles, two sacks and a pass breakup.
Dixon, meanwhile, came up with the defensive play of the game, as he beelined to the sideline to intercept Sams with four minutes to play. Off the turnover, the Baylor offense sealed the victory with a touchdown that put the Bears up two scores.
Jeffcoat and Reed, meanwhile, were terrific against the Sooners. The swarming defensive end duo totaled three sacks and kept the Oklahoma running backs from bouncing much of anything outside.
[+] Enlarge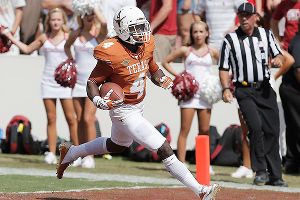 AP Photo/Brandon WadeDaje Johnson delivered Texas' first punt return for a touchdown since 2009.
Special-teams players of the week:
Texas returner
Daje Johnson
, Texas kicker
Anthony Fera
and Iowa State returner
Jarvis West
.
Johnson delivered the dagger to the Sooners with a weaving 85-yard punt return touchdown late in the third quarter, which put the Longhorns ahead 30-13. It was Texas' first punt return touchdown since Jordan Shipley did it in 2009. Fera came up big on special teams, too. He nailed a 43-yard field goal right before halftime that stymied the Sooners' momentum from a long
Roy Finch
kick return that led to a touchdown the previous drive. Fera also nailed 50- and 31-yard field goals to be perfect on the day.
West kept the Cyclones above water in the first half as the Iowa State offense struggled. His 95-yard kickoff return -- Iowa State's first non-onside kick return for a touchdown since 1994 -- tied the game in the first quarter 7-7. West later added a 38-yard punt return, and he finished with three receptions for 36 yards.
Play of the week:
With the Red River Rivalry tied 3-3 in the first quarter, Texas'
Adrian Phillips
came off the edge untouched on a third-down zone blitz and slammed into Bell. The hit caused Bell's pass to flutter behind intended receiver
Jaz Reynolds
and into the arms of defensive tackle
Chris Whaley
, who rumbled 31 yards for the touchdown. The Longhorns never gave up the lead the rest of the way.
Stat of the week:
Bell's QBR against Texas was the lowest by an Oklahoma quarterback since Rhett Bomar posted a 1.6 against Tulsa in 2005.
Quote of the week:
"We love the guy. We're playing for the guy. You all keep writing those articles bad about him. We'll keep playing for him." -- McCoy on coach Mack Brown
September, 6, 2013
9/06/13
9:00
AM ET
AUSTIN, Texas -- Years from now, the 2011 BYU-Texas game won't likely be remembered for anything more than its 17-16 final score, just another pair of numbers on a list of all-time results. A win, a close win but still a win, and nothing more.
But if Mack Brown is right and Texas does make another run at a national title soon, if the Longhorns do become elite again, perhaps we'll look back on Sept. 10, 2011, as one of the key milestones of the rebuilding project.
You see, it was in that game when, with 9:42 left in the second quarter and a chorus of boos raining down from the stands of DKR-Texas Memorial Stadium,
Garrett Gilbert
walked off the field and never returned.
The fresh start Gilbert would get under new offensive coordinator Bryan Harsin lasted less than two games, undone by a bum shoulder and a deeply shaken confidence. He had surgery three days later and left the program within three weeks.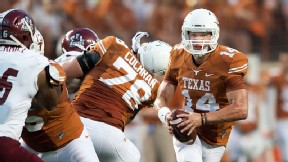 Cooper Neill/Getty ImagesDavid Ash played against BYU two years ago, but he's a completely different player now.
Oh, and Texas trailed BYU 13-0.
David Ash
and
Case McCoy
would have to take over and scrap together a victory, initiating a quarterback battle that would continue for nearly another year.
That Longhorns team was inexperienced and full of freshmen. It had five new coaches. It had to lead the program out of the 5-7 ditch. Two years later, Texas and BYU meet again.
These Longhorns might not look too terribly different from the 2011 squad, but so much has changed.
"Back then we still had, what, three quarterbacks?" senior offensive lineman
Trey Hopkins
said. "We had a new offense, a whole new staff came in, so many things. Young offensive line, young quarterbacks, young wide receivers, young everything. Everything was brand new and fresh to us."
The Texas team that takes the field Saturday in Provo will feature 14 starters who played against BYU in 2011, including eight who will have started both games. The Texas two-deep has nearly 30 players who appeared in that 2011 contest.
"Now people have settled in. We know the system, we know each other, we've played next to each other for years now," Hopkins said. "We've been in the great wins and the tough losses together. It's almost like a completely new team going against them now."
The task of rebuilding Texas has largely fallen on the shoulders of Texas' 2011 recruiting class. From that group of 21, 13 played against BYU as true freshmen. None of the signees have transferred. They've agreed to ride this roller coaster together.
Seven of those 2011 signees will start against BYU this weekend, and a total of 14 have earned starts in their career. They comprise the core of this veteran roster.
Remember, these are the kids who signed two months after the 5-7 season ended. They signed despite that 2010 season and despite the coaching shakeup. They signed because they wanted to fix Texas.
Those players say now that having to overcome adversity before they ever showed up on campus made them closer and more determined to turn the program around.
"That group had something special about them, or they would've left," Brown said. "They cared about Texas. They were very loyal to me and to the coaches that were still here. They had every opportunity to be negative and leave, and they didn't.
"I think that's one of the reasons they've come in here and helped us get this thing back in the right direction."
Junior cornerback
Quandre Diggs
was one of the guys who kept that class intact during the turmoil. He still remembers sitting in the stands with
Cedric Reed
,
Steve Edmond
,
M.J. McFarland
and others and watching Texas' season fall apart. When the coaches left, he worked the phones to make sure everyone stuck to their word.
"We all stuck together," Diggs said. "It's just tremendous, tremendous chemistry we have between our 2011 class. I love those guys like brothers. It's something special we have."
Back when BYU came to town, Diggs and
Jaxon Shipley
were learning on the job as true freshman starters.
Malcolm Brown
led the team in rushing. Now they're just a few of the veteran leaders of a vastly different team.
The Longhorns have won 16 games and lost nine since BYU came to Austin. They've found their starting quarterback, surrounded him with weapons and developed one of the nation's most experienced offensive lines. Their defense is out to prove itself after take a step backward in 2012.
"If we want to claim we've grown since the last time we played them, the table is set for a great challenge and, really, a measuring stick at this point in the season to see where we're at," offensive lineman
Mason Walters
said.
Garrett Gilbert is long gone now, as are any doubts about who should be Texas' starting quarterback. Ash had to laugh Monday when asked how much he has grown up. These past two years haven't always been easy, but he's proud of how far his team has come.
"I think we came in at a difficult time when things were changing a lot," Ash said. "A lot of us had to play young. We took our licks early, but I think we're starting to learn from it all, all of the things we struggled through. I think now we've played football long enough that I think we can be a good ballclub."
Just how good? We'll know more after Saturday, after Texas takes on a familiar foe.
August, 29, 2012
8/29/12
9:00
AM ET
The season is only a few days away, and it's time to unveil our official All-Big 12 team.
The criteria for this is pretty simple: I picked the best players at every position in the game, but made room for deserving players. For this league, that meant eliminating the tight end spot and sliding a more deserving Collin Klein onto the team via an all-purpose position.
The quarterbacks are solid in this league, but I'd call the cornerbacks the best and deepest position in the league. The worst? Defensive tackle. I didn't put a single one on the All-Big 12 team, electing to name four defensive ends along the defensive line. I hate doing that, but this year, it's necessary.
Without further ado, here's our team:

OFFENSE
QB:
Geno Smith
, West Virginia
RB:
Joseph Randle
, Oklahoma State
RB:
Waymon James
, TCU
All-Purpose:
Collin Klein
, QB, Kansas State
WR:
Stedman Bailey
, West Virginia
WR:
Kenny Stills
, Oklahoma
WR:
Tavon Austin
, West Virginia
C:
Joe Madsen
, West Virginia
OL
:
Gabe Ikard
, Oklahoma
OL:
Lane Taylor
, Oklahoma State
OL:
Cyril Richardson
, Baylor
OL:
Mason Walters
, Texas
DEFENSE
DL:
Jackson Jeffcoat
, Texas
DL:
Stansly Maponga
, TCU
DL:
Alex Okafor
, Texas
DL:
Meshak Williams
, Kansas State
LB:
A.J. Klein
, Iowa State
LB:
Arthur Brown
, Kansas State
LB:
Jake Knott
, Iowa State
CB:
Carrington Byndom
, Texas
CB:
Brodrick Brown
, Oklahoma State
S:
Kenny Vaccaro
, Texas
S:
Tony Jefferson
, Oklahoma
SPECIALISTS:
K:
Quinn Sharp
, Oklahoma State
P:
Quinn Sharp, Oklahoma State
KR:
Justin Gilbert
, Oklahoma State
PR:
Tavon Austin, West Virginia
Honorable mention/regrettable snubs:
Landry Jones
, QB, Oklahoma;
Malcolm Brown
, RB, Texas;
Ivory Wade
, C, Baylor;
LaAdrian Waddle
, OL, Texas Tech;
Blaize Foltz
, OL, TCU;
Kenny Cain
, LB, TCU;
Shaun Lewis
, LB, Oklahoma State;
Jamarkus McFarland
, DL, Oklahoma;
Quandre Diggs
, CB, Texas;
Nigel Malone
, CB, Kansas State;
Demontre Hurst
, CB, Oklahoma;
Tyler Lockett
, KR, Kansas State
November, 15, 2011
11/15/11
10:11
AM ET
AUSTIN, Texas --
Fozzy Whittaker
brought Blake Gideon to tears.
That's his effect. More than anything that emotion showed what Whittaker has meant to Texas football. It also showed how much Whittaker, who suffered a season-ending knee injury, would be missed.
[+] Enlarge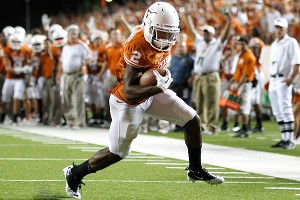 AP Photo/Eric GayFozzy Whittaker had found a variety of ways to contribute to the Longhorns offense.
"He would lay down in the street for any one of us," Gideon said. "The type of guy that he is … the type of character that Fozzy has and what he will do for anyone one of us, that just shows you the type of person he is and why all of us think so much of him."
Whittaker is in their thoughts now because he can no longer be on the field with them. The senior leader, who had made every right step this season, made one ill-fated cut and went down in against Missouri.
"You don't understand why he gets hit all year and on this play he didn't get touched," Texas coach
Mack Brown
said. "He planted his foot and his knee went."
"I felt it," Whittaker said. "I just knew the way I planted, just feeling my knee buckle in and then kind of reposition itself back out it was kind of a nasty feeling."
He didn't blame the turf. He didn't blame anyone. Whittaker had his mom, Gloria, come down to the locker room from the stands, place her hands on his knee and together they prayed about it.
A day later, it was Whittaker consoling his coach and his teammates. Typical Fozzy.
"Here he is picking up the 60-year-old who just lost some football game when his knee is torn up, and he'll have to have an operation, and he said, 'Hey, let's go in there. We've got to beat Kansas State. Let's pick these guys up and let's move forward and see what we can do. I'll be fine. They're fixing these things better than ever before,'" Brown said.
That's the thing about Whittaker, he has been there to pick the entire team up all year. In the two games when Texas needed a burst, there was Whittaker, who had never returned kicks before, going 100-plus yards for touchdowns.
When
Malcolm Brown
and
Joe Bergeron
needed someone to lean on, someone to help them find their way through the offense, there was Whittaker not just offering advice, but giving them carries, sharing the spotlight that should have been his.
On Monday, when he should have been depressed, angry, emotional, there was Whittaker maneuvering an orange scooter, knee wrapped and braced, smile plastered on his face, talking about a future in football administration, how he has six more hours to go to get his masters, saying don't worry he'll be fine.
"I'm not really the type to appear as immobilized as it seems," he said with a nod to the scooter.
No he is not. Whittaker is someone, who regardless of what has been thrown in front of him, is always on the go. Life for him is not full of obstacles, but challenges. This is just the next one.
"I'm not really worried about Fozzy," tight end
Blaine Irby
said. "I know that it sucks that he has had such a great career here, especially his senior year here, he really came out. But he's going to fine. Fozzy is a very strong individual and he's going to get through it."
But can the team get through the last three games without Fozzy?
"It's like you lose part of your heart and your soul," defensive coordinator Manny Diaz said.
Diaz coaches defense. He doesn't sit in on offensive meetings. He hasn't been up close to see Whittaker bond with the freshmen. He is on the other side of the practice field from the offense most days, not even glancing at what is happening with the offense. And still he knows. He knows how much Whittaker meant to Texas.
They all know. And so too does Whittaker, which is why he has put on a brave face. He knows that this team, fragile as it is at this time, still needs him.
"I will still be out there with them," Whittaker said. "I won't be on the field obviously. I will be on the sidelines and they are going to make sure that I am still here and I'm still part of the team.
He never was one to fade. And now, because of him, his teammates are refusing to fade away as well.
"We have a cause in Fozzy," guard Mason Walters said. "I am going to go out there and play my guts out for him."
July, 20, 2011
7/20/11
12:54
PM ET
We'll move on to the cornerbacks today in our position rankings across the Big 12.
Here's what we've covered so far:
This group is subject to more change during the season than perhaps any other position. You never quite know how chemistry will develop, and in these rankings, you really have to rely heavily on experience, similar to quarterbacks. It's not the only factor, but you have to acknowledge that it's a major one.
So, here's how I rank them:
[+] Enlarge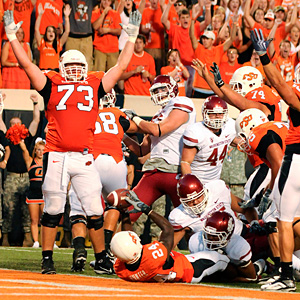 AP Photo/Brody SchmidtOklahoma State's Levy Adcock, 73, is among the Big 12's best returning offensive linemen.
1. Oklahoma State:
This is a no-brainer. The Cowboys broke in four new starters last season, but became a big reason why OSU's offense was one of college football's best. Despite throwing 532 passes, third-most in the Big 12, the group surrendered just 10 sacks. All five starters return, too. Running back Kendall Hunter also rushed for more than 1,500 yards. Right tackle Levy Adcock headlines the unit as the league's best overall lineman.
2. Baylor:
The Bears might be a bit of a surprise here, but Baylor's strong skill-position talents wouldn't look nearly as good without this group, which lost a first-round pick at left tackle in Danny Watkins. However, Philip Blake is one of the league's best centers and four starters return from a line that helped Baylor finish second in the Big 12 last season in yards per carry, just behind Nebraska but nearly a half-yard more than Oklahoma State, the third-place team.
3. Missouri:
The Tigers suffered a big loss in center Tim Barnes, a three-year starter and the offensive line's leader, but they return four starters from last season line and have the most career starts on the line of any team in the Big 12, with 105, which ranks 11th nationally.
4. Texas A&M:
A&M's rising sophomore tackles, Luke Joeckel and Jake Matthews, had to learn on the go last season, but their development should be fun to watch this season on an offensive line blocking for the Big 12's best overall collection of skill-position talents. The line returns four starters, replacing only center Matt Allen.
5. Oklahoma:
The Sooners' goal-line problems last season cost them a game at Texas A&M, but this line was very solid the rest of the season and has plenty of upside. Likely starter Jarvis Jones won't be available until perhaps October, so the Sooners will turn to touted redshirt freshman Daryl Williams at right tackle in the interim. Center Ben Habern and tackle Tyler Evans add a lot of experience.
6. Texas Tech:
Tech boasts one of the Big 12's best guards in Lonnie Edwards, but don't be surprised if Mickey Okafor grabs the Big 12's first-team spot at right tackle by season's end. The Red Raiders return all five starters, and will have to play well to support new faces at every skill position on offense.
7. Kansas:
Four of the Jayhawks' starters are juniors and another is a senior, and for all of KU's struggles last season, it did have some success running the ball in spots, even though its 1,615 total rush yards were the fewest in the Big 12.
James Sims
(742 yards, 9 TDs) returns and KU adds a possible home-run threat in Darrian Miller, but the offensive line returns 97 total starts, 15th-most in college football and second-most in the Big 12. That has to pay off eventually, if not this season.
8. Iowa State:
The Cyclones boast the league's best left tackle, Kelechi Osemele, but center Ben Lamaak is gone and ISU might turn to redshirt freshman Tom Farniok as his replacement. Brayden Burris is solid at right tackle, but sophomore Ethan Tuftee, who has very little experience (just five appearances total), enters fall camp as the starter at right guard.
9. Texas:
No, I don't know how this happens. But it's hard to deny. Run blocking has been a struggle for Texas, and new position coach Stacy Searels will have to change that for the Longhorns, who have kept quiet about any real depth-chart developments throughout the spring and into fall camp. Tray Allen's health is a concern, but Mason Walters played well in 2010 and David Snow has a lot of experience at center with 19 starts and 39 appearances. If this group can't ascend in these rankings during the season, Texas' turnaround from last season 5-7 campaign will not happen. Texas, though, has the fewest career starts in the Big 12, with 36, which ranks 105th nationally.
10. Kansas State:
Kansas State has had the Big 12's leading rusher the past two seasons, but he's gone and so are three offensive linemen, including the unit's best blocker, guard Zach Kendall. Center Wade Weibert and guard Kenneth Mayfield also are gone, leaving gaps in the interior. Senior Zach Hanson joins Manese Foketi and Clyde Aufner on a unit that returns just 42 career starts, second-fewest in the Big 12 and 97th-most in college football.
February, 4, 2009
2/04/09
10:00
PM ET
Posted by ESPN.com's Tim Griffin
Back in the day, Mack Brown used to be called "Mr. February."
That nickname has fallen in public favor in recent years as the Longhorns have claimed five straight bowl victories and eight straight 10-win seasons.
But the key for Brown's recent dominance has been attracting top recruits. Wednesday's haul was no different.
The Longhorns attracted nine players on the ESPNU 150 list. The rest of the Big 12 attracted 10 top 150 recruits on the list combined.
And while the Longhorns missed out on Dre Kirkpatrick, the nation's No. 1 cornerback prospect according to Scouts Inc.'s national list, they still added several key players.
Kirkpatrick, a native of Gadsden, Ala., decided to stay close to home by choosing Alabama over Texas in an elaborate nationally televised news conference.
During questioning, Kirkpatrick professed his love for Brown and his coaching staff shortly after dismissing a Texas hat because it "had no swagger." But it wasn't a surprise that Kirkpatrick chose the Crimson Tide, despite a recruiting trip to Austin only 10 days ago.
Texas was beaten out Wednesday by USC for linebacker Jarvis Jones of Columbus, Ga.
Despite those out-of-state misses, the Longhorns dominated recruiting inside the state with three of the nation's top 29 players. Key players included quarterback Garrett Gilbert of Austin Lake Travis (Scouts Inc.'s No. 2 quarterback, ESPNU's 11th best player), center Mason Walters of Wolfforth Frenship High School (Scouts Inc.'s No. 1 center nationally, No. 27 on ESPNU's list) and tackle Paden Kelley of Austin Lake Travis (Scouts Inc.'s No. 2 tackle, No. 29 on ESPNU list).
Most of Texas' prime recruits decided long before national signing day they wanted to play for Brown's team.
"A lot of guys want to come to Texas," Brown told ESPNU. "We have been here now for 12 recruiting classes and most of these guys [who were recruited] were in the first grade when we got started. There are 350 guys in the state who are eligible. We just have to make sure we get the right 20 or 22 for us."
The Texas recruiting class also features in-state playmakers like running back Chris Whaley of Madisonville and tight end Barrett Matthews of Galena Park North Shore.
"It's a class that spans all the positions," Brown said. "Some of the guys fill immediate needs. We have guys who will be here for four years and who will get better once they get here. It's not who we got, but what they will become."