NCF Nation:

Massachusetts Minutemen
March, 27, 2014
Mar 27
5:00
AM ET
1. Northwestern has become the latest battleground over whether FBS players should be compensated with more than a scholarship. But even as
it lost the first of what may be many decisions
in the case, the university praised its student-athletes for their participation. That may be smart poker -- if you criticize them, how do you ask them to play hard -- but it also speaks to a bigger picture. The courts will decide if Northwestern is an employer. The university will always strive to be a center for learning and growing.
2. Former Tennessee All-American tailback Hank Lauricella died earlier this week at age 83. Lauricella, a Louisiana native who returned home to a long career in the state legislature, served as a mentor to another Louisianan who played for the Vols, Peyton Manning. Both men became Heisman Trophy runners-up. Former Vols Johnny Majors and Heath Shuler also finished second in the Heisman. Is there any FBS school with the history of a Tennessee that has come so close without winning a Heisman?
3. Even if UMass had made every right decision, the move from FCS to FBS would have been daunting. But the school didn't make a lot of right decisions. Playing home games at Gillette Stadium, 95 miles away; hiring Charley Molnar as head coach; joining the MAC -- none worked out. So next season the Minutemen will play half their home games on campus. They have replaced Molnar with Mark Whipple, who led UMass to the 1998 I-AA title. And they will leave the MAC after 2015. Talk about your mulligans.
August, 31, 2013
8/31/13
3:40
PM ET
The Gary Andersen era
got off to a successful start in Madison
, as Wisconsin took care of business against UMass with an easy 45-0 blowout win.
The Minutemen are barely a step above the FCS level, so you'd expect the Badgers to roll over them at Camp Randall Stadium. Things went mostly according to script, after a slow start. Wisconsin led just 10-0 late in the second quarter but then turned it on big time, thanks to its powerful rushing game.


Both
Melvin Gordon
(144 rushing yards on 13 carries) and
James White
(143 on 11 attempts) had nearly equally impressive days. Gordon scored on a 70-yard run, while White added a 51-yard score.
Is there a better 1-2 punch at running back anywhere in the country? Or maybe it's 1-2-3, because even freshman
Corey Clement
got in on the act, scoring on a 23-yard run and adding 101 yards of his own on 15 carries as the Badgers nearly got 400 rushing yards as a team. The backs were so good that late in the game, Montee Ball jokingly tweeted, "So y'all trying to embarrass me huh?"
The bigger story was at quarterback, where
Joel Stave
got the start as expected. But he looked shaky coming out of the gate, going only 4-for-11 for 36 yards at halftime and missing on several throws and decisions. Just as fans were wondering if Andersen might go to
Curt Phillips
, though, Wisconsin offensive coordinator Andy Ludwig signaled confidence in Stave by calling for a deep throw on the Badgers' first offensive snap of the third quarter. This time, Stave connected with -- who else? --
Jared Abbrederis
for a 65-yard touchdown pass. Stave also found Abbrederis for a 57-yard score later in the quarter.
If you're the Wisconsin quarterback, that's pretty much all you have to do right now: hand the ball off and be accurate on your deep throws to Abbrederis. I'm not sure how any defense lets Abbrederis get behind them -- he is pretty much the Badgers' only receiving threat -- but he manages to do it over and over. Stave should keep the job going forward and just needs to get more consistent.
As far as that revamped, 3-4 leaning defense? The Badgers showed several different looks up front and for the most part did a great job shutting down UMass and forcing a pair of turnovers. Then again, it was UMass. We're not going to get an accurate read on this defense until Week 3 when Wisconsin plays at Arizona State, going against a spread offense the 3-4 is supposed to be able to counter. Still, we have every reason to suspect that defensive coordinator Dave Aranda's group will be rock solid all year long, and this was a good way to start.
In fact there wasn't much to nitpick in Andersen's first game as Wisconsin coach.
August, 30, 2012
8/30/12
10:15
AM ET
We're finally here. UConn gets it going against UMass at 7:30 tonight (on ESPN3), kicking off what is sure to be another fun-filled Big East season. Here's what's worth keeping a close eye on during the first weekend.
1. Chandler Whitmer's debut:
Whitmer is the only first-time starter for a Big East school this season, and he gets to go first. The Butler Community College (Kan.) transfer will face a Minutemen team making the transition to the FBS this season, and the Huskies are the first of many BCS programs on its 2012 slate.
[+] Enlarge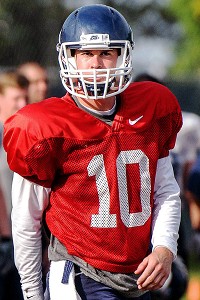 Cal Sport Media via AP ImagesJunior-college transfer Chandler Whitmer will get his first snaps for Connecticut against UMass.
2. Other debuts:
By "other," we mean "coaching." Paul Chryst (Pitt) and Kyle Flood (Rutgers) are making their head-coaching debuts this weekend, and each has every reason to feel that his team has a shot at the conference title this season. Steve Addazio is also worth watching, as the second-year Temple coach is new to the conference this year.
3. Final Mayor's Cup?:
And speaking of the Owls, they will face Villanova on Friday night in what might be the finale of their annual "Mayor's Cup" rivalry. Here's hoping for the sake of the sport and Philadelphia that the schools can find a way to it keep going, but the possibility that this is it for them makes it more intriguing.
4. UK-UL:
Speaking of rivalries, what better way to cap off the opening weekend than with one of the more hostile ones featuring a Big East team? The Cardinals, for once, will be favored when they host Kentucky on Sunday, but the trash-talking has been alive and well throughout the offseason. (Rumor has it the schools played a fairly big hoops game this past spring, too.)
5.
Cuse kicks off tough slate:
The Orange are the only Big East team other than Louisville that will open against a fellow BCS-conference school, as they host Northwestern at noon Saturday. The Wildcats (yes, that's the third different "Wildcats" squad facing a Big East school this weekend) will hardly be it for Syracuse in the heavy nonconference slate, as the Orange will face USC in Week 2 before games against Minnesota and Missouri.
6. Rutgers-Tulane:
The status of this game has been anything but solid all week with Hurricane Isaac on its way to the Louisiana area, but it looks like these two will give it a go Saturday night. The atmosphere for that one should be interesting.
7. Will Ray Graham play?:
It will be essentially a game-time decision for the Pitt running back. When healthy, he just might be the best at his position in the country, though the Panthers should be just fine against Youngstown State on Saturday regardless.
8. Will B.J. Daniels put it all together?
USF's Big East title hopes may rest on the arms and the legs of the four-year starter, who is on the cusp of multiple school and conference records. His farewell tour kicks off Saturday night against Chattanooga.
9. Four straight days of football.
Yup. Starting today, continuing Friday and Saturday, and concluding Sunday, the Big East will have games on four consecutive days. The SEC is the only other big-six conference that can say the same. Enjoy the weekend, folks. I know I will.
10. But what does Cincinnati watch?
Butch Jones' team is in the odd spot of spending the season's opening weekend at home before it kicks off its season next Thursday against Pitt. And he doesn't like it. TCU's departure for the Big 12 made this scenario seemingly unavoidable. Odds are the Bearcats will keep a close eye on that 6 p.m. Panthers-Youngstown State tilt.
August, 20, 2012
8/20/12
9:00
AM ET
Charley Molnar, as Notre Dame followers can attest, is used to quarterback controversies. He faces one now in Massachusetts' fall camp, having to sit starter
Kellen Pagel
indefinitely because of post-concussion symptoms.
In that regard, Molnar's duties as UMass' head coach are similar to the ones he had in two seasons as the Irish's offensive coordinator. But in moving from college football's third-winningest program to a school beginning its first season in the Football Bowl Subdivision, Molnar has done more than leap from assistant to head coach, as he has taken on the task of building the foundation for a program looking to make its mark both in New England and at the next level.
"I think if there were two situations that were diametrically opposed it would be Notre Dame and UMass," Molnar said. "Because Notre Dame, everything is already in place: The infrastructure is there, the fan base is there, the ticket sales are there, the tradition is there.
"[Now] I'm taking over a program where virtually everything has started from scratch -- with the transition to I-A, we're moving into a new football building, we're playing our games at a new stadium," he added, referring to the Patriots' Gillette Stadium in Foxborough, two hours away from campus. "We virtually have to create almost a whole new fan base and a whole new group of season-ticket-holders. So that is really, really quite a gap that we have in front of us. But it's super-exciting to be involved in everything from the ground up."
[+] Enlarge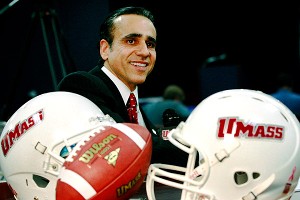 AP Photo/Elise AmendolaNew coach Charley Molnar hopes his UMass program can grow in the mold of Boise State.
Busy days preparing for Notre Dame's bowl gave way to sleepless December nights selling the Minutemen as New England's future football power, as Molnar built a staff, recruited in the leadup to national signing day and met with campus and community constituencies.
"Quite frankly that's always something that intrigued me to do this part of the job," Molnar said of his new CEO-type duties. "So I feel I was absolutely ready for it and I've embraced it. I love that part. I'd rather do it than not do it. I just think it's a lot of fun, and I like getting engaged in the community with our fans and with the ticketholders and trying to create a new fan base. I love that challenge. It's like recruiting, going out there and tying to sell another group of tickets, get another fan that follows the program."
UMass is a football-only member of the Mid-American Conference this season. It will face Big East, SEC and Big Ten schools, including Michigan, and future nonconference opponents include Notre Dame, Wisconsin and Florida. Molnar said dates with name programs will help UMass gain recognition outside of the region, with the hope that, eventually, the Minutemen will be able to compete with and some day defeat some of the elite.
To help bridge that gap, he has welcomed a pair of fifth-year former Notre Dame players, nose guard Hafis Williams and receiver
Deion Walker
, along with former Michigan running back Michael Cox.
While classmates don't view them as blue-chip saviors -- a look commonly associated with big recruits at their former campuses -- the UMass transfers have expressed surprise at the interest building on campus.
"I had someone tell me, 'Yeah, I hear they got some new guys in from Michigan and Notre Dame,' and I was like, 'Oh yeah? I'm one of those guys,'" Walker, an ESPN 150 player in high school, recalled with a laugh. "So that's exciting, that shocked me for the most part."
On signing day, Molnar stood at a podium between blown-up pictures of UMass alumni
Victor Cruz
and
James Ihedigbo
, who squared off four days later in the Super Bowl. A Morristown, N.J., native, Molnar is hoping to compete with BCS-conference programs UConn and Boston College for area players while tapping into talent-rich New Jersey and Pennsylvania. UMass has already landed a pair of three-star 2013 commitments in Connecticut quarterback
Todd Stafford
and New Jersey linebacker
Shane Huber
.
Fundamentally, Molnar said, the job remains the same from his years as an assistant, the previous six of which were spent under Brian Kelly. Now, he just returns to a second stack of files in his office every day, with administrative duties adding to his coaching itinerary.
Though mounting paperwork and inevitable early struggles present a less-than-ideal situation, Molnar remains intrigued by the idea of planting the seeds for a rising program. After all, he said, bigger makeovers have been done.
Eight months and zero losses into his tenure, he dreams of one day becoming the biggest.
"I've looked at Boise State as being a model for our program, where they took a university that was relatively unknown," Molnar said. "They had rabid fans but not a large base of fans. And they've run that program with certain fundamentals on and off the field and they continue to do so regardless of who the head coach has been.
"And that's how I see UMass growing in the future, with a great foundation that I get to help lay, and then being able to one day look back at UMass and see the program grow and prosper and feel like this was part of my legacy."
January, 12, 2012
1/12/12
6:31
PM ET
Former Notre Dame assistant coaches Ed Warinner and Tim Hinton officially joined head coach Urban Meyer's staff at Ohio State on Thursday, the Buckeyes announced.

Warinner will coordinate the running game as the team's co-offensive coordinator/offensive line coach. Hinton will be the tight ends and fullbacks coach.
"I was very pleased with the coaches already in place on this staff," Meyer said in a statement, "and now we've gotten even better with the additions of Ed Warinner and Tim Hinton. Both are excellent coaches who bring a tremendous amount of experience and knowledge to our staff."
Warinner had served as the Irish's offensive line coach and running game coordinator. Hinton was the team's running backs coach.
Notre Dame coach Brian Kelly had promoted former safeties coach Chuck Martin, not Warinner, to offensive coordinator when Charley Molnar left the post to become head coach at Massachusetts. Warinner had served as Kansas' offensive coordinator for three seasons before joining the Irish.
"I really wanted to hire a coach with coordinator experience," Meyer said. "That was very important to me. Ed has that experience. His offenses at Kansas were not only impressive, but they were some of the top offenses in the country."
Hinton had served as a graduate assistant with Meyer under former Buckeyes coach Earl Bruce in 1986, and his named had been linked to Meyer's staff the minute Meyer was hired by the Buckeyes, though he had previously denied any interest.
"Tim is an awesome coach," Meyer said. "He and I worked together on the Ohio State staff in 1986, but what I am most impressed with is his time spent as a high school coach in Ohio. He had some outstanding teams at Harding, and his extensive experiences coaching in the state were crucial in my desire to want him on our staff."
"I have always felt it would be an honor to have an opportunity to coach for and to represent Ohio State," Hinton said in a statement. "This is a once in a lifetime opportunity to be able to work with great people and great coaches at such a wonderful place."
Both assistants are Ohio natives -- Warinner from Strasburg; Hinton from Amanda.
"I've always strived to coach in positions where I have a lot of responsibility," Warinner said in a statement. "Serving as a coordinator goes beyond just coaching what my guys are doing. It is a thought process of attacking and moving the ball, and strategies and reading plays. There is a big picture as a coordinator that I am into and really enjoy, and it's a position from where I think I can make a significant contribution to the success of a team."
January, 11, 2012
1/11/12
9:00
AM ET
Notre Dame's 2011 season has been over for nearly two full weeks, but things haven't exactly been quiet in South Bend, Ind. Here's what has gone down in the young offseason.

1. Tyler Eifert is back.
This is the best news for Notre Dame in the wake of its 18-14 Champs Sports Bowl loss to Florida State. Eifert was the Irish's second-leading receiver in 2011, will be the key to the passing attack next season and joins linebacker Manti Te'o in passing on a potentially high NFL draft selection to return to Notre Dame for his senior season.
2. There are still staff uncertainties.
Tim Hinton (running backs) and Ed Warinner (offensive line/running gamer coordinator) are gone, not long after Charley Molnar took over head-coaching duties at Massachusetts. Offensive intern Scott Booker is now a full-time staff member, though his position has yet to be announced. Chuck Martin has moved from safeties coach to offensive coordinator. Defensive coordinator Bob Diaco is now an assistant head coach. Cornerbacks coach Kerry Cooks is now a co-defensive coordinator. Everyone has received a contract extension as well, as Brian Kelly received a two-year bump through 2016 on Tuesday. There are still two open positions on staff, however.
3. New face in the backfield.
Former USC running back
Amir Carlisle
is transferring to Notre Dame. The freshman will have to sit out the 2012 season under NCAA rules after a first year with the Trojans that saw him tally 118 rushing yards on 19 carries and 41 receiving yards and a touchdown on seven catches.
April, 21, 2011
4/21/11
5:00
AM ET
1. Alabama is among the top public universities in National Merit Scholars, none of whom works as proofreaders in the athletic department. Last season, the Crimson Tide printed football tickets for a game against Mississipi (sic) State. Last Saturday, with great fanfare, the athletic department unveiled a plaque honoring the 2009 national champions. Engraved on the plaque are the titles awarded the Tide, including the "McArthur Trophy." That would be the MacArthur Trophy, named for General Douglas MacArthur. As every Merit Scholar knows, spell-check is not the same as proofreading.

2. The Big 12 had relatively little time to create a 10-team schedule for this season. A lot of shifting had to be done after Nebraska and Colorado left. And the schedule isn't finished yet. But the league authorized Texas Tech to release its schedule, and the Red Raiders got no breaks. Their open date is the second week, and they play the following five-game stretch from Oct. 22 to Nov. 19: at Oklahoma, Iowa State, at Texas, Oklahoma State, at Missouri. Here's hoping it gets better for Tech in 2012.

3. UMass is moving to the FBS, thanks to an invitation from the Mid-American Conference. The Minutemen will play their home games at Gillette Stadium, 93 miles away from campus. It's a smart choice. Patriots owner Robert Kraft won't charge the school rent, and there are 120,000 alumni in the Boston area. Of greater interest: what does it mean for Boston College, UConn and Syracuse, the northeastern most schools in the FBS? There's only so much talent up here.
June, 10, 2009
6/10/09
12:18
PM ET
Posted by ESPN.com's Tim Griffin
Big 12 teams should be seldom tested before conference play begins as most teams again are opting to compete with a pillow-soft slate of opponents.
Here's the toughest and weakest of the Big 12 nonconference schedules:
1. Oklahoma: BYU (at Arlington, Texas), Idaho State, Tulsa, at Miami
The Sooners deserve props for adding the BYU game late. The nationally televised game should showcase Oklahoma's defense as it thwarts Max Hall and Harvey Unga for the Cougars. Idaho State is a bad Division I-AA team that went 1-11 last season. Tulsa and Miami both went to bowl games last season. The Golden Hurricane will be breaking in a new quarterback and a new coordinator -- not a good recipe for success for a road team at Owen Field. And although the game against Miami brings back memories of Jimmy Johnson vs. Barry Switzer, the fact is that the Hurricanes could be worn out by the time Oklahoma visits. Miami starts the season with a meat-grinder schedule of Florida State, Georgia Tech and Virginia Tech before the Sooners visit.
2. Colorado: Colorado State, at Toledo, Wyoming, at West Virginia
Coach Dan Hawkins has this team pegged for good things in the conference. The Buffaloes will be tested by four FBS opponents, including two on the road. The rivalry game against Colorado State should be decided in the trenches and the Buffaloes' offensive line will be a load for the Rams. The Toledo game might be trickier than expected considering the Buffaloes will be playing this one only five days after the Colorado State game. But Colorado still should have the talent to prevail. Something tells me that Hawkins will remember that new Wyoming coach Dave Christensen's offense hung 113 points against his defense the last two seasons when he was at Missouri. And the West Virginia trip will be a challenge, although new Mountaineers quarterback Jarrett Brown is largely untested.
3. Missouri: Illinois (at St. Louis), Bowling Green, Furman, at Nevada
The Tigers' inexperienced defense will get a huge challenge in the opener against Illinois' pass-and-catch tandem of Juice Williams and Arrelious Benn. They'll be facing another experienced quarterback in three-year Bowling Green starter Tyler Sheehan, but the Falcons' defense will be breaking in two new cornerbacks. Furman has a talented quarterback in Jordan Sorrells, but the Paladin's defense shouldn't be able to match Missouri. The trip to Nevada might be a hornet's nest. The Wolf Pack have made four straight bowl trips, multi-purpose quarterback Colin Kaepernick and the Western Athletic Conference's last two leading rushers. And, oh, yeah, the Wolf Pack probably still remember that 69-17 beatdown to the Tigers last season in Columbia.
4. Nebraska: Florida Atlantic, Arkansas State, at Virginia Tech, Louisiana-Lafayette
No truth to the rumor that the Cornhuskers are gunning for the September version of the Sun Belt championship. Their road game at Virginia Tech is the toughest game that any Big 12 team will play this season. But Bo Pelini will have two games to get his defense ready for Tyrod Taylor and Co. Florida Atlantic coach Howard Schnellenberger made his career name by beating the Cornhuskers in the 1984 Orange Bowl while at Miami. He won't be nearly as successful this time around. Arkansas State stunned Texas A&M last season, but the Red Wolves will be utilizing a new offensive line this season. And Louisiana-Lafayette's offense is very young and the Cornhuskers will be catching them the week after they have met up with LSU.
5. Oklahoma State: Georgia, Houston, Rice, Grambling
Four home games make for an ideal schedule for the Cowboys to make some national noise. The Georgia game will be arguably the biggest home nonconference game in school history. But the Cowboys grab a break as the Bulldogs try to break in new quarterback Joe Cox. Houston will have Case Keenum and a high-powered offensive attack, but the Cowboys blistered the Cougars for 56 points last year and could score more this season. Rice won't be as good this season after losing most of its offensive firepower. And Grambling has a great football history and an even better band.
6. Baylor: at Wake Forest, Connecticut, Northwestern State, Kent State
The nonconference schedule could determine whether the Bears can snap that long bowl drought. And it won't be an easy one considering that Baylor is the only Big 12 team with two opponents from "Big Six" conferences. The Wake Forest opener will be a huge test, but Robert Griffin might be able to feast on a depleted Demon Deacon defense that lost four starters to the NFL draft. The Bears nearly beat Connecticut last season on the road and the Huskies lose their starting quarterback and top rusher from that team. New coach Bradley Dale Peveto will bring new ideas for Northwestern State, but the Bears have a big edge. And Kent State will be breaking in a new quarterback for a team that has won only 19 games in the last five seasons underDoug Martin.
7. Kansas: Northern Colorado, at UTEP, Duke, Southern Mississippi
The Jayhawks should be able to name their margin against Northern Colorado in the opener. The trip to the Sun Bowl against UTEP the following week might be a different matter. UTEP quarterback Trevor Vittatoe could be a challenge, although the Jayhawks should have enough firepower to outscore them. A Kansas-Duke game would be a made-for-national television delight in basketball. Football, however, is a different story. And Southern Mississippi might be poised to challenge for the Conference USA title and might be a chore with leading conference rusher Damion Fletcher and all of its starting secondary back to challenge Todd Reesing and Dezmon Briscoe.
8. Texas A&M: New Mexico, Utah State, UAB, Arkansas (at Arlington, Texas)
The Aggies desperately need to build confidence and collect a few victories before the South Division gauntlet begins. After last season's opening-game loss against Arkansas State, expect coach Mike Sherman to have the Aggies focused for all of the games. They catch new New Mexico coach Mike Locksley with an uncertain quarterback in the Lobos' opener. Utah State is universally picked to finish last in the Western Athletic Conference. UAB will be rebuilding its defense and likely won't pose many problems for Jerrod Johnson. But the game against Arkansas at
the new Dallas Cowboys' stadium will be a challenge for A&M's defense. The Razorbacks should be much improved in Bobby Petrino's second season. Fans are paying premium prices and expect big things from both teams. The Aggies may catch a break considering the Razorbacks will play SEC contenders Georgia and Alabama in their previous two weeks.
9. Texas Tech: North Dakota, Rice, at Houston, New Mexico
Mike Leach's nonconference schedule won't be as bad as last season's trip to the pastry wagon, but not by much. North Dakota is transitioning into FCS status this season after ranking 137th among the 148 Division II passing teams last season. Sounds like target practice for Taylor Potts, doesn't it? Rice won't be nearly as tough as last season without James Casey, Jarrett Dillard and Chase Clement gone. The trip to Houston will be Tech's biggest challenge and Case Keenum will test Tech's rebuilt secondary in the first battle between the old Southwest Conference rivals since 1995. And New Mexico will have had several weeks to work under Locksley's system, making them a tougher challenge for the Red Raiders in early October.
10. Texas: Louisiana-Monroe, at Wyoming, UTEP, Central Florida
The Longhorns had a couple of game against Utah and Arkansas fall through in their planning. But don't expect the Longhorns to get that much sympathy for a group of opponents that won't give them much BCS bounce. Louisiana-Monroe will be breaking in a retooled offense with a new quarterback. The road trip to Wyoming doesn't resonate like some the Longhorns have made to places like Ohio State and Arkansas in recent seasons. The Cowboys will be breaking in a new quarterback, too. UTEP could contend for the Conference USA West title, but the Miners are a different team on the road. And the Nov. 7 game against Central Florida will bring the nation's worst offensive team from last season into Austin.
11. Iowa State: North Dakota State, Iowa, at Kent State, Army
Paul Rhoads doesn't want any surprises early in his first season and his nonconference schedule. North Dakota State has posed problems to FBS teams like Minnesota in the past. Iowa doesn't have Shonn Greene back, but has almost everybody else back on a stout defense that will challenge the Cyclones. Mighty mite 5-foot-5, 170-pound tailback Eugene Jarvis will test ISU's defense and the trip to Kent State won't be a gimme. And new Army coach Rich Ellerson will bring 6-10, 283-pound wide receiver Ali Villanueva along with starting quarterback Chip Bowden from a team that won three games last season.
12. Kansas State: Massachusetts, at Louisiana-Lafayette, at UCLA, Tennessee Tech
The schedule doesn't provide as many gooey treats as some that Bill Snyder's teams have feasted on in the past, but it's still nothing to write home about. Massachusetts is a contender in the CAA, which is the toughest top-to-bottom FCS conference in the nation. Louisiana-Lafayette will have to replace a lot of offensive talent, but can be troublesome at Cajun Field. UCLA struggled offensively last year and will be breaking in a new quarterback with four new offensive linemen. KSU might be able to compete in that one better than most might think. And Tennessee Tech coach Watson Brown, older brother of Texas coach Mack Brown, returns a talented pass-and-catch combination of Lee Sweeney and Tim Benford. KSU still should roll, however.
October, 23, 2008
10/23/08
2:15
PM ET
Posted by ESPN.com's Tim Griffin
Only a few weeks ago, Matt Williams was watching Texas Tech games from the stadium and wondering where he and his friends would be heading for post-game parties.
But after winning a kicking contest during the Texas Tech's Sept. 20 game against Massachusetts with an impressive showing, Williams now could be kicking for the Red Raiders in their game Saturday at Kansas.
Talk about a wild few weeks for Williams. He attempted to become a walk-on kicker at Tarleton State but quit without appearing in a game.
He caught the attention of Tech coach Mike Leach when he drilled a 30-yard field goal in the in-game promotion, winning free rent for the month from a Lubbock apartment complex. But Williams has turned down that prize because it would have been a violation of NCAA rules, the Houston Chronicle reported.
Tech officials told the Lubbock Avalanche-Journal that Williams was granted a one-time exception to the NCAA transfer rule because he was neither recruited by nor ever on scholarship at Tarleton. When that information was found out earlier this week, Williams become immediately eligible. Tech officials received the confirmation in writing and cleared Williams on Monday.
His arrival comes after kickers Donnie Carona and Cory Fowler have slumped miserably in the last several games. Tech kickers have had seven kicks blocked so far this season. Leach said (not facetiously) he might consider going for two points after every touchdown because of his team's struggles with placements.
Tech special teams coach Clay Maguire told the Avalanche-Journal that either Carona or Williams will be kicking for the Red Raiders Saturday against Kansas, depending on how they perform at practice this week.
Kansas coach Mark Mangino chortled when he learned of Williams' emergence.

"Hey, in this profession, you gotta do what you gotta do," Mangino told the Kansas City Star. "If there are a couple of guys running around our stadium here that could cover (Texas Tech's Michael) Crabtree, we would like them to come down. I think that's great. That's vintage Mike Leach there."
Tech's kicking saga adds another layer of intrigue to what should be one of the most interesting games in the country on Saturday.
Until then, here are a few links from around the Big 12 to get you ready for Saturday.
October, 1, 2008
10/01/08
7:05
PM ET
| | |
| --- | --- |
| | |
| | US Presswire/Icon SMI |
| | Shannon Woods, left, and Baron Batch have emerged as a prolific one-two punch to key Texas Tech's rushing game. |
Posted by ESPN.com's Tim Griffin
Mike Leach delights in the unconventional.
The quirky Texas Tech coach has become a YouTube staple by doing outlandish things like providing dating tips on his television show along with an occasional weather forecast.
In another break with the ordinary, the Red Raiders are developing a consistent rushing game to go along with their typically prolific passing attack.
After four games, the Tech running game is averaging 146.5 yards per game, the most ever for a team coached by Leach. It's boosted some life into a ground game that was ranked last in the nation last season.

"It's all the better that we're running the ball as well as we are now so that it really gives some people some problems," Leach told reporters. "We don't care what [defenses] do. We just want to recognize it and be able to exploit it."
The renewed Texas Tech running game has produced at least 100 rushing yards in each game this season -- a four-game trend that's never happened before in Leach's coaching tenure. And it's enabled the Red Raiders to lead the nation in total offense when their typically potent aerial game is combined with the rushing attack.
Baron Batch and Shannon Woods have emerged as a prolific one-two punch to key Tech's rushing game. The duo has combined for 516 yards and nine touchdowns, along with 20 receptions for 278 yards.
"We have two good players who have a lot of yards on the air and on the ground," Leach said. "In our case, we're a little overdefended on the pass and that opens up our running game. And with Shannon and Baron back there, we really don't mind it. Those guys have been outstanding for us."
September, 21, 2008
9/21/08
9:57
AM ET
Posted by ESPN.com's Tim Griffin
A nice representative class this week on both offense and defense:

Missouri QB Chase Daniel -- Passed for a career-high 439 yards and set the Big 12 record with 20 straight completions to lead the Tigers' 42-21 dismantling of Buffalo. Daniel completed 36 of 43 passes with two touchdowns.
Texas QB Colt McCoy -- Became Texas' career leader in touchdowns after throwing four in the Longhorns' 52-10 triumph over Rice. McCoy passed for 329 yards and added a team-high 83 yards rushing and another TD.
Texas Tech RB Shannon Woods -- Climbed out of Mike Leach's doghouse by rushing for 108 yards and three TDs and also added three receptions for 53 yards to lead the Red Raiders' 56-14 beat-down of Massachusetts.
Colorado RB Rodney Stewart -- Rushed for a game-high 166 yards on 28 carries to help boost the Buffaloes to a 17-14 overtime over West Virginia.
Missouri LB Sean Weatherspoon -- Produced 20 tackles, including five solos to key Missouri's defensive effort against Buffalo. Weatherspoon produced three tackles for losses, broke up a pass and was credited with half a sack.
September, 19, 2008
9/19/08
11:15
AM ET
Posted by ESPN.com's Tim Griffin
Here are 10 items to watch for across the Big 12 this weekend.
1. Chase Daniel's offensive surge: Missouri has scored on its last 13 possessions over the last two games with Daniel directing the offense. They should have another easy game Saturday against Buffalo, but can Daniel keep his amazing offensive production going? His Heisman candidacy is improving with each performance.
2. Texas A&M's starting quarterback: Stephen McGee's streak of 29 straight starts as Texas A&M's quarterback is in jeopardy after he sustained a sprained right shoulder in the Aggies' most recent game at New Mexico. Will he be ready to go Saturday against Miami? Or will Coach Mike Sherman instead opt for talented backup Jerrod Johnson, who passed for three touchdowns to direct the Aggies' first victory of the season after McGee's injury?
3. Texas' young secondary against Rice's sophisticated passing offense: Freshman safeties Earl Thomas and Blake Gideon made it through unscathed against UTEP. But they'll be taking a big step forward when facing Rice QB Chase Clement and the Owls' talented and underrated receivers James Casey and Jarrett Dillard.
4. Any lingering reaction from Miami's beat-down over Texas A&M last season: Dennis Franchione's program is gone for the Aggies. The Aggies will have a chance Saturday to blot away memories from one of the recent humiliations in school history stemming from last season's disappointing loss at the Orange Bowl. And new A&M coach Mike Sherman can regain some of his lost luster after his season-opening loss against Arkansas State with an upset on Saturday.
5. How will Graham Harrell and Michael Crabtree react to the pointed criticism of Mike Leach? Harrell passed for 418 yards and five touchdowns and Crabtree won AT&T national Player of the Week honors after grabbing eight receptions for 164 yards and three TDs last week after a 43-7 victory over SMU. And Leach still wasn't happy. What will they do for an encore against a leaky Massachusetts defense that has allowed an average of 47 points per game in its last two games?
6. Iowa State's Vegas vacation: Gene Chizik says the Cyclones will bunk far away from the Strip in preparation for Saturday's game against UNLV. Will staying away from the bright lights of the casinos help them snap a 12-game road losing streak, including the last six games with Chizik?
7. Robert Griffin's encore: After breaking the Big 12 single-game rushing-average record last week against Washington State in only his second career start, the freshman Baylor quarterback now steps up in class against an underrated Connecticut defense in a national television contest. A big effort could be huge statement for Art Briles' rebuilding efforts.
8. Rhett Bomar's return to the Big 12: The former Oklahoma quarterback transferred to Sam Houston State after washing out with the Sooners. Bomar led the Sooners to a 19-3 victory over Kansas in his last trip to Lawrence in 2005. Will he be as productive against a much improved Jayhawks team?
9. Texas' running game: The Longhorns have struggled at times running the ball. But the emergence of Fozzy Whittaker might have given them a breakaway threat. He should have a lot of opportunities against Rice, which has been gashed for an average of 317.4 rushing yards per game in its seven games against Mack Brown's Texas teams.
10. Missouri's retooled secondary: Starting FS William Moore isn't expected to play Saturday against Buffalo after reinjuring his right foot last week. Converted CB Del Howard will start in his place. Howard will be challenged by Buffalo WR Naaman Roosevelt, who made headlines last week with his game-winning, final-play TD catch against Temple.

September, 18, 2008
9/18/08
11:14
AM ET
Posted by ESPN.com's Tim Griffin
The Big 12 will be on display the next two nights as underdogs against two powerful Big East foes. After losing two games in six days to the Big East, the conference is looking for a quick turnaround.
Here are my picks:
West Virginia 33, Colorado 28: The Mountaineers have too much offensive firepower in this one, even with Colorado fans planning a "Blackout" and West Virginia offensive linemen worrying about Boulder's altitude in game preparation this week. The Buffaloes are still a little young to prevail, but will pick up some important lessons that could help them later in Big 12 play.
Connecticut 42, Baylor 17: The quick development of Baylor freshman QB Robert Griffin has given this game a little bit more sizzle than it might have had a couple of weeks ago. Baylor will be looking for its first road victory at a BCS opponent since 1996. But look for the Huskies to dominate inside because of the tough running of Donald Brown, cruising to their ninth-straight victory and second straight 4-0 start.
Missouri 57, Buffalo 20: The Bulls will be looking for their first 3-1 start since 1996. It won't happen here, however, because Missouri's potent offense is cruising, even if Gary Pinkel is claiming he can't find the off switch. The Tigers lead the nation with an average of 57.7 points per game and 10 yards per snap. It might just be a moral victory for Buffalo to keep Missouri from scoring every time they get the ball, considering that QB Chase Daniel has led Missouri on 13 straight scoring possessions over the last two games.
Miami 17, Texas A&M 7: Both teams have unsettled quarterback situations. Robert Marve and Jacory Harris have been alternating snaps for the Hurricanes. And the Aggies' starter is in flux as Stephen McGee is coming off a sprained shoulder after Jerrod Johnson's impressive relief work against New Mexico. Both teams have been offensively challenged, so look for points to be hard to come by. Even though A&M president and Miami native Elsa Murano has made beating "The U" a priority, the Aggies don't have enough firepower to do it.
Texas 48, Rice 17: The Longhorns will be looking for their 10th straight victory and 37th in the last 38 games against Rice since 1966. Look for the Longhorns to try and emphasize their running attack and their physical advantage in the trenches. Rice QB Chase Clement and WR James Casey, who is tied for first nationally in per-game receptions, could give the young Texas secondary some problems. But not that many.
Texas Tech 61, Massachusetts 10: Tech coach Mike Leach called out his quarterbacks and receivers this week -- and by inference QB Graham Harrell and WR Michael Crabtree -- for lack of production after beating SMU last week. Look for an inspired offense from the Red Raiders with a lot of points and yardage against the FCS Minutemen. Massachusetts QB Liam Coen has thrown 75 career touchdown passes, but will be challenged by a Tech defense that picked off five passes last week.
Kansas 45, Sam Houston State 10: After a disappointing defeat last week at South Florida, the Jayhawks are hoping to rebound and rebuild confidence in their running game at the same time. Sam Houston State hasn't played since beating East Central, 58-14, on Aug. 28. The Jayhawks will be looking for defensive improvement after failing to produce a turnover and allowing 31 straight points at one juncture last week. And they'll be challenged by Sam Houston State QB Rhett Bomar, who formerly played at Oklahoma and beat the Jayhawks while playing there.
UNLV 24, Iowa State 22: The Rebels enter this game brimming with confidence after their stunning overtime victory at Arizona State last week. It's helped them post a winning record for the first time since 2003 after failing to win more than two games in any of the last four seasons. The Cyclones are trying to bounce back after failing to score a touchdown in a loss at archrival Iowa. Iowa State remains the Big 12's most opportunistic team, but will need some big plays to win in the desert and snap Gene Chizik's 12-game road losing streak.
My pick last night: 0-1 (0 percent)

My picks for the season: 31-2 (93.9 percent)