February, 7, 2013
Feb 7
1:00
PM ET
Signing day was suspense-free for Northwestern, and that's just how Pat Fitzgerald likes it.
Fitzgerald and his staff wrapped up the bulk of the Wildcats' class months ago and didn't have to sweat out the faxes on Wednesday. Northwestern is hoping this latest batch of recruits can add to the program's recent success, which included a 10-win campaign and first bowl win in 64 years this past season.
I caught up with Fitzgerald to ask about this year's recruiting effort:
What were your goals for this class?
Pat Fitzgerald:
Once again, we want to continue to recruit speed, and I think if you look at the class, it's a very fast, very athletic group that we felt strongly about early. With our staff being together so long, we're a little ahead of the cycle. We had 17 of the 19 guys verbally committed before their senior year. Our first priority is speed, and our second is to solidify our physicality up front. I think we added some very talented guys that will add to some good classes in front of them and will add to the depth on both lines.
[+] Enlarge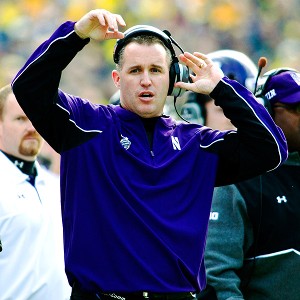 AP Photo/Tony DingPat Fitzgerald says the national brand of a Northwestern education allows him to recruit in all corners of the country.
So do you think you'll see the impact of last season's success more in the following year?
PF:
I think we've already seen the fruits of that labor. There's a lot of excitement. Basically in January, we're junior recruiting and seeing a bunch of juniors' high school coaches and talking to them about their prospects and getting on the phone with the kids. They all have watched us play and know we're a consistent winner and that we're knocking on the door to being Big Ten champions. The kids are excited about that. A bunch of juniors came up last fall to watch us play, so they've seen the plan for our new facility. And even as recently as the last 48 hours, I've had conversations with kids regarding the opportunity to
play at Wrigley Field
. So there's a lot of buzz, a lot of interest and a lot of positives going on.
Your highest-rated prospect is quarterback Matt Alviti. What do you like about him?
PF:
Well, we've known about Matt for a number of years now. Matt's been on our campus throwing for years. I joked that I think I've known Matt longer than I've known my son, Brendan. It's kind of fitting that [Wednesday] was Brendan's birthday and we signed Matt that day. But he's a true dual-threat quarterback. He's a very dynamic athlete who can make all the throws and then some in our offense and run the ball the way we want to see our quarterback run athletically. At the end of the day, what sold me the most on Matt was watching the way he handled and managed the expectations of being the quarterback at [Park Ridge, Ill.] Maine South. That's a high-profile program here in Chicago and one with state championship expectations. He took that team over as a sophomore and handled that very well. He's a guy we've had circled for a number of years, and we feel very excited about him and the future of our quarterback position.
And Godwin ... well, I'm not even going to try to pronounce his last name ...
PF:
Igwebuike. He's a talented, talented guy. He was a finalist for Mr. Ohio football and a guy who not only could be a running back but also could be a DB. Frankly, he has not made the decison on where he wants to play yet. But we evaluated him kind of like when we looked at
Ibraheim Campbell
. We felt like Ibraheim could be a tailback or a DB for us. I think we were right in our evaluation of him.
You have some other guys listed as athlete or running back. How much flexibility do you have with some of these guys and their positions?
PF:
Well,
Tommy Fuessel
will be a wide receiver.
Keith Watkins
is going to play corner and we're excited about that. He's the one who gave us the idea of what he wanted to do.
Jayme Taylor
will be a superback for us.
Xavier Menifield
and
Warren Miles-Long
are running backs, and Godwin -- we'll see how that all progresses.
Tyler Lancaster
could play on the offensive or defensive line, so we'll see how that unfolds. The same thing with
Marcus McShepard
and
Matt Harris
. Both guys really run and are very athletic and talented on offense and defense and also in the return game. Speed and size were what we were looking for, and I believe we've added that to as deep of a roster as we've ever had.
You have a really solid nucleus from last year's team returning. So do you see this class contributing much next year or just adding depth?
PF:
It's kind of the million dollar question, and it's hard for me to answer without being able to coach them. I tell all the guys in my home visit with them in December or January that they have to prepare today to start next year. If they don't prepare mentally and physically right now to get themselves ready to start, they're going to redshirt. I'm not going to waste a guy's year on covering kicks and being on kickoff return. I was that guy. I had to play, though. We had depth issues here, and I had to play before I was ready. As I look back, I wish I didn't have to do it. We have a five-step process we go through as a staff to evaluate whether or not we're going to play a kid. I'm just not going to waste a guy's year covering kicks.
You have three recruits each from Texas and California. How have you been able to build pipelines into those coveted areas?
PF:
We're going to start and end our recruiting always here in Chicagoland. The backbone of this class, a quarter of our class, is from Chicagoland. We're excited about those guys from a standpoint of protecting our backyard. But when we leave Chicagoland, there's no secret to our roster. If you look at it over time, we're going to hit Ohio hard, Michigan hard, Texas, Pennsylvania, New Jersey and California. This year, we had great success in Ohio and Texas. If you add those states up, I think it's about half the class. We have a national brand with our education, and once kids get around our players -- who are our best ambassadors -- on official visits, it seems like the culture of who we are as a program sells itself.
How much more speed do you think you've added just in the past couple of years?
PF
: I think we can run. It's been a priority in our recruiting classes really since I took over the program but even more so now that we're having really consistent success, winning bowl games against SEC teams, winning nonconference games against the SEC, the ACC, the Big East champion. There's no question that kids are excited about our program, and for us to take the next step we need to continue to get faster. We need to continue to get mentally and physically tougher so we play a physical brand of football. We're not there yet, but that's where we're headed.
You mentioned in your news conference about how many of these players were captains of their teams in high school. Is that something you specifically look for when recruiting?
PF:
No question. I'll always talk to guys who weren't captains and I'll say, "Why weren't you a captain? If you want to be a Big Ten player and a Northwestern student-athlete, I'd fully expect that you're captain-level material. So what held you back from having that role?" I just think that, if you get guys who know how to lead and are leaders, they're going to lead in the college environment and make good choices off the field and do the right things in the classroom and spend the time it takes to be a champion. You can't be a champion in 20 hours. That's not going to happen. So hopefully we'll continue to foster that environment.
There must be a lot of competition when you name your captains, then.
PF:
I'll give you an example. We only have about 80 guys on campus right now with graduation and whatnot, and I think we had over 60 apply for our leadership council. So I think that tells you where we're at as a program and where the leadership is. I hear coaches all the time who are frustrated that they don't have enough leaders. Well, if you don't recruit leaders, how do you think you're going to have them?
With the returning players, have you noticed any extra bounce in offseason workouts after the bowl win?
PF:
This group is very focused and very disciplined. We're further along in that aspect than we've ever been. Obviously, if you look at what we have coming back and what we've recruited, we think this is the most talented locker room coming back we've had in a long, long time. They're really driving each other, and make no bones about it, the next step is winning a Big Ten championship. We've got to take those necessary steps to do that, and the only way to do it is by preparing in the seven months before we play the games. We're excited about it. The momentum is going in the right place, but we've got a big chunk of work to do.
February, 7, 2013
Feb 7
10:00
AM ET
The fax machines are collecting dust again around the Big Ten as national signing day is in the books and all 12 classes are signed. Earlier Wednesday,
Brian Bennett
took a
look at the Leaders Division
and how teams did in filling their most pressing recruiting needs. Now it's time to take a look at the Legends Division.
IOWA

Needs filled:
Iowa's passing game needs a jolt after ranking 99th nationally last season, and the team signed five wide receivers. The Hawkeyes also were mindful that they'll lose all three starting linebackers after 2013 and flipped
Reggie Spearman
, an Illinois commit. Cornerback
Desmond King
should provide immediate help in the secondary.
Holes remaining:
Offensive line could soon be an issue as Iowa missed out on several targets in this year's class. The Hawkeyes also need some difference-makers along the defensive line and signed only two linemen in this class.
MICHIGAN

Needs filled:
The Wolverines got the running back they wanted and needed,
Derrick Green
, who could contribute immediately. They also continued to address the depth issues coach Brady Hoke inherited on both lines, adding five offensive linemen ranked in the ESPN 300. Although
Devin Gardner
solidified the quarterback spot late last season, Michigan needed to plan for the future and signed a solid signal-caller,
Shane Morris
.
Holes remaining:
There aren't many obvious weak spots, although Michigan could use a bit more help on the perimeter, especially at wide receiver. Top wideouts
Jeremy Gallon
and
Drew Dileo
depart after the 2013 season, and the depth in the secondary isn't quite where it needs to be.
MICHIGAN STATE

Needs filled:
The Spartans signed three running backs --
Gerald Holmes
,
R.J. Shelton
and
Delton Williams
-- who could compete for immediate playing time at a position with very little depth. They also brought in a likely quarterback of the future in
Damion Terry
and bolstered the linebacking corps with ESPN 300 selection
Shane Jones
and
Jon Reschke
.
Holes remaining:
Michigan State's offensive line depth still isn't where it needs to be, and the Spartans signed only one offensive lineman (
Dennis Finley
) this year. MSU signed only two defensive backs, although the coaches really like what
Darian Hicks
and
Jalyn Powell
bring to the field.
MINNESOTA

Needs filled:
The Gophers lose a lot at linebacker and filled the gaps with junior college players
Damien Wilson
and De'Vondre Campbell. They need more playmakers on offense and added some at receiver to go along with an intriguing dual-threat quarterback in
Chris Streveler
.
Holes remaining:
Minnesota loses some key defensive backs and will lose more after the 2013 season. The Gophers signed only two cornerbacks and no safeties in this class, so they could have some depth issues if current sophomores and juniors don't pan out.
NEBRASKA

Needs filled:
The Huskers continued to address their depth issues at linebacker with prospects such as
Marcus Newby
and added more depth to the offensive line with five players. They added a potential quarterback of the future in
Johnny Stanton
and continued to recruit well at all the offensive skill positions.
Holes remaining:
After missing out on several elite defensive linemen, Nebraska is still looking for disruptive players up front. Perhaps junior college arrival
Randy Gregory
fills the void. The Huskers could have used another elite secondary prospect.
NORTHWESTERN

Needs filled:
The Wildcats will need a quarterback after the 2014 season and found an absolutely perfect fit in
Matt Alviti
. They also addressed the running back spot for the second straight year. Offensive line recruiting continues to be a strength for Northwestern.
Holes remaining:
The class lacks an obvious difference-maker on defense, a unit where Northwestern improved in 2012 but still has a long way to go. Northwestern could have picked up another linebacker and another pass-rushing defensive end. Perhaps four-star prospect
Godwin Igwebuike
, listed as a running back, will contribute on the defensive side.
February, 6, 2013
Feb 6
7:00
AM ET
ESPN RecruitingNation
has signing day covered. Follow ESPNU's coverage, chat with analysts and get breaking news on our
Signing Day Live
page beginning at 7:30 a.m. ET through 7 p.m. ET. For more on what to expect on signing day, check out the
Big Ten conference breakdown

.
Bold prediction:
Penn State will hang on to a top-25 class, even if just by the slimmest of margins. Bill O'Brien and his staff deserve all the credit in the world for having to originally put together a class after the scandal and then reshaping it after NCAA sanctions were levied in July.
Illinois
Biggest need:
The Illini's offense was arguably the worst in the Big Ten in 2012, and Illinois needs help just about everywhere on offense, especially at the skill positions.
Biggest recruit:
Four-star athlete
Aaron Bailey
is the future at quarterback for Illinois, and the coaches will expect him to be ready to take the reins once
Nathan Scheelhaase
moves on.
Indiana
Biggest need:
To just put up a fence around Indianapolis and the state of Indiana. Kevin Wilson did that, assuaging defensive line concerns in the process by adding Indianapolis linemen
David Kenney III
and
Darius Latham
.
Biggest recruit:
The Hoosiers are not accustomed to landing ESPN 150 prospects, but not only did they get
Rashard Fant
, but they got him all the way out of Georgia.
Iowa
Biggest need:
After having several productive running backs over the past decade, the Hawkeyes are hurting in the backfield due to injuries and off-the-field issues.
Biggest recruit:
The Hawkeyes were after
Berkley Edwards
for a while, but once that fell through they put the screws to former Boston College running back commit
LeShun Daniels
. He flipped shortly after an official visit to Iowa.
Michigan
Biggest need:
Brady Hoke is transitioning to a pro-style offense, and he needed a pocket passer and a running back who makes his living in between the tackles.
Biggest recruit:
ESPN 150 quarterback
Shane Morris
is that pro-style quarterback, but he is also the unquestioned leader of Team 134 and helped put together one of the nation's top classes.
Michigan State
Biggest need:
The Spartans will lose their top two rushers from 2012, including Big Ten rushing leader
Le'Veon Bell
, so running back is a priority. They are bringing in two.
Biggest recruit:
ESPN 300 dual-threat quarterback
Damion Terry
is a capable thrower and runner, and he led his high school to a state title as a senior.
Andrew Maxwell
did not exactly lock down the starting quarterback job with his performance last season.
Minnesota
Biggest need:
Donnell Kirkwood
is a promising player at running back, but he struggled against some of the league's better defenses and wore down late in the season. A complement is sorely needed.
Biggest recruit:
Three-star running back
Berkley Edwards
is the younger brother of former Michigan receiver Braylon Edwards. Berkley is one of the Gophers' highest-rated commitments, and running back is a position that lends itself to an easy transition.
Nebraska
Biggest need:
Nebraska needs to return to its days of the Blackshirts, as the Huskers' defense was gashed on the ground all season. The Huskers need help along the defensive line.
Biggest recruit:
Elite 11 finalist
Johnny Stanton
is a dual-threat quarterback, but he's a much more polished passer than Taylor Martinez, who has taken his share of lumps since his flashy start in Lincoln.
Northwestern
Biggest need:
Now that the Wildcats are a legitimate threat in the Big Ten under Pat Fitzgerald, the next step is to get better athletes to compete with Michigan and Ohio State. Fitzgerald is doing that with
Ifeadi Odenigbo
in 2012 and
Godwin Igwebuike
in 2013.
Biggest recruit:
ESPN 300 dual-threat quarterback
Matt Alviti
had offers from some big programs including Notre Dame, but he chose nearby Northwestern. The Wildcats have an unsettled situation at quarterback, and as a local product Alviti could be called for by the fans if the quarterback play does not improve.
Ohio State
Biggest need:
Linebacker was the biggest need for the Buckeyes, and after a shaky start Urban Meyer wrapped up a nice haul at the position with ESPN 150 products
Trey Johnson
and
Mike Mitchell
.
Biggest recruit:
It's a tie between
Jalin Marshall
and
Dontre Wilson
, who are separated by just a few spots in the ESPN 150. Both have game-breaking ability as a receiver or out of the backfield.
Penn State
Biggest need:
Despite significantly improved play from Matt McGloin in 2012, the Nittany Lions have not been blessed with quarterbacks the past decade, with the exception of a few good seasons from Michael Robinson and Daryll Clark.
Biggest recruit:
While the class did field its share of decommitments, the damage would have been irreparable if No. 1 QB
Christian Hackenberg
bolted. By staying on, he instilled confidence in several other recruits to stay or join him in State College.
Purdue
Biggest need:
The quarterback situation at Purdue has been unsettled the past few seasons, which is not good when it comes to the most important position on the field.
Biggest recruit:
An Elite 11 finalist,
Danny Etling
stuck with the Boilermakers through the coaching change. He will be looked at as the future of the program.
Wisconsin
Biggest need:
While the Badgers always have a strong stable of backs, losing Montee Ball is going to hurt, especially in the red zone. Wisconsin addressed it with top commitment
Corey Clement
.
Biggest recruit:
The loss of Russell Wilson left a major void at quarterback, but the Badgers landed quarterback
Tanner McEvoy
on Monday. McEvoy is ranked No. 44 among juco prospects nationally and the expectation is he will contend for a starting job immediately.
April, 17, 2012
4/17/12
3:00
PM ET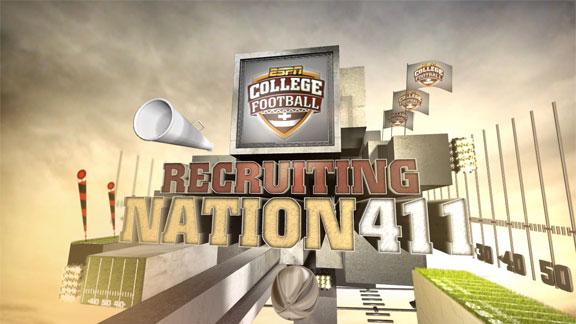 The 2013 ESPN 150 -- our list of the top high school rising seniors in the country (now with less U!) -- was unveiled this afternoon. And the Big Ten's hand prints are all over the list, which you can find in its entirety
here
. (You can read more about the class, including spotlights on Penn State commit
Christian Hackenberg
and Ohio State recruit
Cam Burrows
,
here
).
Twenty players from the list have already committed to Big Ten schools. So of the 77 players who have committed, the Big Ten claims more than a quarter of them. The Big Ten only signed 12 players from the 2012 ESPN 150 list.
Michigan is responsible for the biggest portion of that haul. The Wolverines -- who have 17 total commitments for the '13 class -- boast 11 ESPN 150 prospects in their corner so far.
That's easily the most of any school in the country. Texas and Florida are next with seven ESPN 150 commits each, followed by Alabama and Georgia with six. Alabama had the top class in the country this year with 13 ESPN 150 signees. Michigan has a chance to compete for the top class ranking next year if this current group holds together and gets a few more notable additions. Brady Hoke and his staff have done an excellent job of locking up early pledges.
Ohio State is doing well, too. The Buckeyes currently have five ESPN 150 commits for Urban Meyer, including three in the top 55 of the list.
But the league school with the highest-ranked prospect so far is Penn State. Let's take a look at the players from the list who are currently committed to a Big Ten team:
No. 11:
Christian Hackenberg, QB, Penn State
No. 12:
Eli Woodard
, CB, Ohio State
No. 21:
Cam Burrows, CB, Ohio State
No. 37:
Shane Morris
, QB, Michigan
No. 39:
Adam Breneman
, TE, Penn State
No. 55:
Jalin Marshall
, ATH, Ohio State
No. 63:
Gareon Conley
, CB, Michigan
No. 75:
Mike McCray II
, OLB, Michigan
No. 92:
David Dawson
, OG, Michigan
No. 97:
Logan Tuley-Tillman
, OT, Michigan
No. 98:
Dymonte Thomas
, ATH, Michigan
No. 105:
Chris Fox
, OT, Michigan
No. 107:
Jourdan Lewis
, CB, Michigan
No. 112:
Kyle Bosch
, OG, Michigan
No. 113:
Matt Alviti
, QB, Northwestern
No. 115:
Taco Charlton
, DE, Michigan
No. 121:
Patrick Kugler
, OG, Michigan
No. 123:
Greg Webb
, DT, Penn State
No. 127:
Marcus Baugh
, TE, Ohio State
No. 142:
Evan Lisle
, OT, Ohio State
Here is where we issue the requisite word of caution, as these are only verbal commitments and it's a long way until signing day next February. Things can change a lot between now and then, and star rankings do not always predict college success. But clearly the Big Ten is doing a good job competing for the nation's highest-ranked prospects during this recruiting cycle.
TOP 25 SCOREBOARD
Thursday, 12/5
Friday, 12/6
Saturday, 12/7
TOP PERFORMERS