August, 24, 2012
8/24/12
2:10
PM ET
It turns out
Marcus Mariota
's strong spring game performance for Oregon was, in fact, indicative of where his quarterback competition stood with
Bryan Bennett
.
While Mariota made plays with his arm and legs and looked poised, Bennett struggled. At the time, it seemed unreasonable to extrapolate too much from one performance, considering every other Oregon practice has been closed. But the result -- Mariota was named the Ducks'
starting quarterback
on Friday, as first reported by The Oregonian -- is that Mariota eclipsed Bennett, despite Bennett having an edge in game experience.
Mariota will make his first appearance on Sept. 1 against Arkansas State in Autzen Stadium.
[+] Enlarge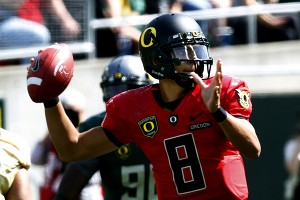 AP Photo/Don RyanMarcus Mariota won Oregon's QB competition with an impressive spring game, completing 18 of 26 passes, and rushing for 99 yards.
Is this an upset? Yes. A mild one. And not unlike coach Chip Kelly's decision to go with Darron Thomas over Nate Costa in 2010.
That one worked out OK. Thomas led the Ducks to the national title game and a Rose Bowl victory before opting to leave early for the NFL draft. No matter how bad Thomas' decision to leave early was -- and it was truly bad -- he's still perhaps the most accomplished quarterback in team history.
So, will Mariota, a 6-foot-4, 196-pound redshirt freshman from Honolulu with no game experience, match or even eclipse Thomas? Maybe. Folks have been raving about him since his first preseason camp. His "hello world" moment -- his only public performance as the Ducks' quarterback -- was the spring game, when he completed 18 of 26 passes for 202 yards and a touchdown. He also ran for 99 yards and two scores, including an 82-yard scamper for a touchdown.
He's the quintessential quarterback for the Ducks' offense, a true dual threat with outstanding athletic ability and a quality arm.
It's reasonable to imagine Bennett, a redshirt sophomore, isn't thrilled. Who can blame him? The scuttlebutt on him has always been positive, at least until the spring game. In fact, more than a few Ducks fans previously wondered if he was going to legitimately challenge Thomas for the starting job -- and we're not only referring to if Thomas came back this fall.
Bennett played in eight games in 2011, going 25 of 46 for 369 yards with six touchdowns and no interceptions. Bennett also carried the ball 23 times for 200 yards. He played well coming off the bench when Thomas was hurt against Arizona State, then won his only start at Colorado.
The good news for Mariota is he gets to ease into the starting job. The Ducks' first three games -- Arkansas State, Fresno State and Tennessee Tech -- function almost as a preseason, as the Ducks will be multiple touchdown favorites in each. He won't go on the road until Week 5 at Washington State.
And the Ducks will be heavy favorites until the visit to USC on Nov. 3, in a game with major Pac-12 and national title implications.
That game, when Mariota will be matched against
Matt Barkley
, will likely define Oregon's season, though there could be a rematch in the Pac-12 title game on Nov. 30.
Of course, there are no guarantees. If Mariota struggles early, it will be interesting to see if Bennett gets an opportunity to show what he can do. And will Kelly want to get Bennett quality playing time early in the season in any event? He didn't feel the need to do that with Costa after Thomas won the job, but every situation is different.
What Ducks fans are surely excited about is Mariota probably had to look pretty good to beat out Bennett, who showed every sign he could be a quality starter. That certainly bodes well, not only for this season, but the future.
May, 26, 2009
5/26/09
10:15
AM ET
Posted by ESPN.com's Ted Miller
Every team enters spring practices with at least a couple of personnel questions, even those with their starting lineup returning nearly intact.
Sometimes those questions get answered. Other times they don't.
Such as...
Arizona: The Wildcats didn't walk away from spring practices worried about their quarterback spot -- Matt Scott and Nick Foles acquitted themselves fairly well. But if you look up and down the depth chart, quarterback is where you eyes linger. Yes, Willie Tuitama's shoes are big.
Arizona State: You, of course, know what's coming. Sorry to be a broken record: offensive line. Matt Hustad, Zach Schlink and Adam Tello have to get healthy and the entire unit needs to get good or the Sun Devils won't bounce back.
California: It's as simple as this: If the Bears get solid -- not spectacular, solid -- play at quarterback, this is a top-10 team. And quarterbacks can do a lot in the offseason to firm up their foundation on the team (hint, hint).
Oregon: The Ducks lost three multi-year starters from the offensive line to the NFL. Projected starters Bo Thran and C.E. Kaiser sat out spring practices. In their absence, the O-line mostly got stuffed. If Steve Greatwood works his magic again, the offense again hits ludicrous speed. If not...
Oregon State: The Beavers lost two multi-year starters at cornerback to the NFL. The secondary got burned throughout spring, though there was some redemption in the spring a game. The general feeling is there's plenty of athleticism here, but recall that it took a while for Keenan Lewis and Brandon Hughes to become Keenan Lewis and Brandon Hughes.
Stanford: Let's just go ahead and say that Andrew Luck is going to be an outstanding quarterback. So who's going to catch the ball? There's plenty of experience at receiver and there some athleticism, but you ain't it until you do it.
UCLA: Much like Arizona State, this one is embarrassingly predictable, but Bruins fans are well-aware that their season hangs on getting at least adequate play on the offensive line. Injuries clouded the issue during the spring, so the hope is a clean bill of help will bring significant improvement.
USC: The Trojans need a kicker, but we're going to go with quarterback. While it's easy to be impressed by the talent and spring performances of Aaron Corp and Matt Barkley, they still haven't done squat when the lights are on.
Washington: An 0-12 team has a lot of need areas, but the Huskies must replace both specialists. As any coach will tell you, special teams are critical, and here's a guess that at least a couple of games will swing one way or the other for the Huskies, depending on how good their answers are at kicker and punter.
Washington State: Only one starter, tackle Toby Turpin, returns on the defensive line, a position that was a decided weakness in 2008 in any event. After spring practice, redshirt freshman end Cory Mackay, who'd played well during spring practices, suffered a serious back injury in an automobile accident. Young and unproven players will need to step up. And the Cougs are due for some good fortune.