April, 22, 2010
4/22/10
11:12
AM ET
D.J. Burris doesn't need to be reminded of the way it used to be at Minnesota.
The Golden Gophers weren't just a good rushing offense, but a record-setting one. Minnesota didn't just produce good offensive linemen, but great ones like All-Americans Greg Eslinger and Ben Hamilton.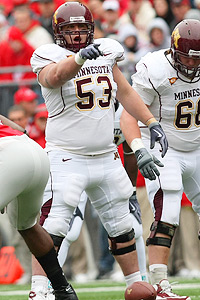 Aaron Josefczyk/Icon SMID.J. Burris & Co. are looking forward to running an offense that emphasizes the power run.
The team's history isn't lost on Burris and his linemates this spring.
"We're definitely aware of the tradition here about running the football," said Burris, Minnesota's starting center. "That's why we're taking it upon ourselves to get it back."
Pride is the word Burris and even non-linemen like quarterback
Adam Weber
use to describe what's happening up front this spring in Minneapolis. The team's running game hasn't merely slipped off its perch, but plummeted to the bottom of the Big Ten.
The last two seasons have seemed extremely un-Gopher-like:
2008: Minnesota finished last in the Big Ten and 104th nationally in rushing offense (103.8 ypg)

2009: Minnesota finished last in the Big Ten and 111th nationally in rushing offense (99.5 ypg)
Part of the problem has been a lack of continuity. Minnesota ran the spread offense under Mike Dunbar in 2007-08, and then switched to a pro-style system, designed to emphasize the power run, under Jedd Fisch last season.
The Gophers are adjusting to another new coordinator this spring, as Jeff Horton takes over the offense. But Horton's top goal, one the players clearly appreciate, is simplifying a convoluted system and identifying the hallmarks for the unit to succeed.
"We know where we're going as an offense," said Burris, who started at guard as a freshman before moving to center the last two seasons. "Our playbook's a lot thinner, and we know exactly what we're doing on every play now, so it's nice. Every season, it's been something new, something new, and then this year we simplified it with what we've already been doing.
"That makes us a lot more comfortable."
Head coach Tim Brewster didn't hide the fact he wanted more toughness from the line this spring, and he has seen the group respond. All five starters are back and continuing to work in the top spots, but they're being pushed by players like Ed Olson and Brooks Michel. Returning starters like Matt Carufel and Jeff Wills are healthier, and massive tackle Jeff Wills has slimmed down a bit.
During an April 10 scrimmage, the line started slow but got stronger as things went along, creating holes for backs
DeLeon Eskridge
and
Duane Bennett
.
Weber, who has a vested interested in the line's performance, has seen a difference this spring.
"They're playing with confidence and they're playing with pride," he said. "You can definitely tell, when it's third-and-1, when it's fourth-and-1, they can sense that they need to pick up their game a little bit, and we've been winning a lot of those battles."
After being pushed around too much the last two seasons, Burris and his crew expect to turn the tables this fall.
"As an offensive line, that's where your pride comes from, when you can walk into a game and you can run the ball up and down the field," he said. "That's when you feel good about yourself."
September, 19, 2009
9/19/09
12:41
PM ET

Posted by ESPN.com's Adam Rittenberg

MINNEAPOLIS -- When you script an offensive game plan all week, the worst thing that can happen is a penalty on the first play from scrimmage.

Minnesota not only drew a flag on its first offensive play, but guard Matt Carufel was whistled for a 15-yard chop block foul on the first play of the Gophers' second possession. So the Gophers started their first two drives with first-and-15 and first-and-25.

Those miscues just can't happen against a team as good as Cal. Minnesota entered the game averaging just 5.4 yards per play, and there hasn't been a ton of explosiveness in this offense. Penalties have been a problem, as the Gophers drew 18 flags in their first two games. They need to end that trend immediately.
March, 25, 2009
3/25/09
10:55
AM ET
Posted by ESPN.com's Adam Rittenberg
MINNEAPOLIS -- There's a noticeable buzz around Minnesota football right now, with a new on-campus stadium opening this fall and plenty on the agenda for spring practice, which began Tuesday. The Gophers welcome new coordinators on both sides of the ball and a new offensive system, which will look more what fans are used to in the Twin Cities.
| | |
| --- | --- |
| | |
| | Jeff Gross/Getty Images |
| | Minnesota coach Tim Brewster is excited about the depth he has coming back this season. |
Head coach Tim Brewster saw the team improve its record by six games last fall, but the Gophers ended on a five-game slide, including a 55-0 thrashing at the hands of archrival Iowa. With 10 offensive starters back and several playmakers on the defensive side, Minnesota hopes to take another step forward this fall, but will negotiate what appears to be a much tougher schedule. Here are Brewster's thoughts on the squad as spring ball gets under way.
It seems pretty ambitious what you guys are doing this spring, with the new guys, the scheme tweaks and changes. Is it one of the more ambitious spring practice sessions you've been a part of?
Tim Brewster: I just don't think it's quite as ambitious as you think. We installed quite a bit of the offense before the bowl game. To me, what's exciting about where we're at is we've got some depth, we've got some experienced players, but more importantly, some really talented players coming back. And then when you add to the mix guys like [linebackers] Keanon Cooper, Spencer Reeves and Gary Tinsley, some of these guys particularly on defense, that's really an exciting thing for us.
You said you wouldn't trade [quarterback] Adam [Weber] for anybody in the country. You also think highly of MarQueis Gray. Do you envision MarQueis just sitting and waiting the next two years?
TB: No, no. We're going to incorporate MarQueis into every game. We'll go in with a plan on how we're going to utilize him. I brought [Texas offensive coordinator] Greg Davis up here from Texas, and I talked to Greg about how they incorporated Vince [Young] into the game plan in Vince's redshirt freshman year. He played every game, but what was the real thought process that went into it. We really had some good conversations on how to do that. It's a tough thing because of the flow of the game. You say, 'I want him to play the third series.' Well, something may dictate that the third series, you want to keep Adam in the game. But he'll make a contribution. Heck, MarQueis could play wide receiver. MarQueis could be a running back. There's a lot of different ways to utilize a player of his ability.
Does it help to have that reference point with Vince Young?
TB: Very strong similarities between the two. But the biggest challenge is this: We've been really lucky. Adam Weber's taken every snap. At some point, injuries happen. Is MarQueis Gray ready to step in and drive this car and run this offense? That's the biggest challenge that [new offensive coordinator Jedd Fisch] has, making sure MarQueis Gray is ready to be a full-time quarterback. He's the No. 2 quarterback at worst right now, so that's a real challenge.
It seems like line play is going to be a focus on both sides of the ball.
TB: Yes, and I think we're going to be much better up front. It really helped moving [left tackle] Dom Alford inside. Ryan Wynn is a very talented guy who was playing right tackle. He doesn't need to be a right tackle. He'll play at center, possibly at guard. Matt Carufel, also [at guard]. And then you look at the development of [left tackle Matt] Stommes. Stommes' measurables, shoot, the NFL people who have come in here have said, 'Who the heck is that?' It's kind of like the guy's come out of nowhere. And [right tackle Jeff] Wills' development is going to be big. Is he putting himself in a position where he can be a starter?
Some people would look to the secondary and say look what you guys did there last year, but it sounds like you're almost more excited about the D-line and the linebackers.
TB: I really am. The front seven for us has got a chance to be really good. I think we'll be good on the back end, too. We're just a little thin. A kid like [cornerback] Michael Carter coming in, Michael's going to have to play as a freshman. And we've got some other guys. Today it's so hard to find defensive linemen, and particularly the young inside guys, Jewhan Edwards and Brandon Kirksey, they've got a chance to be really good. And then you've got [Eric] Small and [Garrett] Brown. So we've got four inside guys. And then I think we'll be better on the edge. D.L. Wilhite's a kid who redshirted last year and has got really good speed. And with [Cedric] McKinley, [Derek] Onwuachi, we've got some guys there.
The spring gives you a chance to find some playmakers, too, especially with Weber limited and Eric Decker playing baseball.
TB: Eric Decker's going to be ready to play. What I'm concerned about is somebody else being ready. That's how you've got to look at it, a positive thing and not a negative thing.
You mentioned last year's team was significantly improved. Is that the same goal for 2009?
TB: This year, we want to make the same improvement, but it's a tougher step, a much tougher step, particularly with a much tougher schedule.
March, 4, 2009
3/04/09
11:01
AM ET
Posted by ESPN.com's Adam Rittenberg
Most of the major transfer news in the Big Ten has centered on players leaving the league, particularly at the quarterback position. Three prominent signal-callers transferred from Big Ten schools -- Michigan's Steven Threet, Penn State's Pat Devlin and Iowa's Jake Christensen -- and Wisconsin announced Monday that reserve quarterback James Stallons was granted his release.
But there are several key additions to Big Ten teams who will become eligible this fall. Here's a look at five transfers from other FBS programs who could make a major impact in 2009.
| | |
| --- | --- |
| | |
| | Icon SMI |
| | Michigan transfer Justin Boren could step in and be the Buckeyes' top offensive lineman. |
Michigan State quarterback Keith Nichol (Oklahoma) -- It's hard to blame Nichol for transferring from Oklahoma, particularly with that Bradford guy ahead of him on the depth chart. He returns to his home state and will compete for the starting job alongside sophomore Kirk Cousins. A dual-threat quarterback who has drawn comparisons to former Spartans star Drew Stanton, Nichol brings a unique skill set to an offense that needs a spark without Javon Ringer.
Ohio State offensive lineman Justin Boren (Michigan) -- There's already talk that Boren will be Ohio State's top offensive lineman when he steps on the practice field this spring. He started all 13 games for Michigan as a sophomore in 2007 and looks like a lock for a starting guard spot with the Buckeyes. Boren will be a lightning rod for the rest of his career because he transferred from Michigan to Ohio State, but his ability merits attention as well.
Illinois wide receiver Jarred Fayson (Florida) -- Quarterback Juice Williams mentioned Fayson as an emerging team leader during the offseason, and the Florida transfer will enter the receiver rotation this fall. Illinois boasts a lot of talent at wide receiver, so Fayson will need to distinguish himself in spring ball. But the heralded high school recruit contributed as a receiver, runner and return man for Florida in 2006 and should find his way on the field.
Minnesota offensive lineman Matt Carufel (Notre Dame) -- Minnesota's offense is getting a makeover under coordinator Jedd Fisch and line coach Tim Davis, and Carufel should play a role this fall as the Gophers emphasize the power run again. Carufel started the first three games of 2007 at Notre Dame before deciding to transfer. The Gophers' struggles on the line should create plenty of competition during the spring and summer, and Carufel will be in the mix for a starting job.
Northwestern linebacker Aaron Nagel (Notre Dame) -- A traffic jam at linebacker last spring caused Nagel to leave Notre Dame for Northwestern, where he joins his brother Brett, a redshirt freshman fullback/tight end. The Wildcats lose two starting linebackers (Malcolm Arrington and Prince Kwateng), so Nagel will have the opportunity to earn significant playing time, which he wasn't getting with the Irish.