December, 9, 2011
12/09/11
10:30
AM ET
Editor's Note: Tune into the "AT&T ESPN All America Team Show" on Saturday (ABC, 1:30 p.m. ET) to see who ESPN's writers and experts selected.

ESPN.com is announcing its all-conference teams, and there was only one change here from the all-conference ACC team that the members of the Atlantic Coast Sports Media Association voted on in late November. Offensively, the biggest toss-up was Wake Forest receiver Chris Givens versus UNC's Dwight Jones, but Givens did more with fewer catches. Defensively, it was difficult. I can understand why Virginia Tech and Florida State coaches and players felt slighted, but in the end, there were better individual performances elsewhere. Here's a look at ESPN.com's All-ACC team:



November, 23, 2011
11/23/11
11:00
AM ET
Virginia coach Mike London knows the facts: Virginia Tech has won 11 of the past 12 games in the series, and each of the past seven.
This team, though, is different, London said.
You'd better believe it is.
[+] Enlarge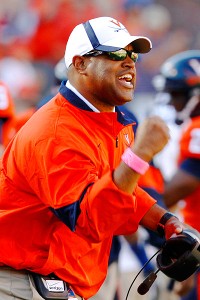 AP Photo/Steve HelberMike London took over a team that went 3-9 in 2009 and has them one victory away from winning the Coastal Division.
For three straight seasons prior to this one, Virginia had a losing record. Now, in only London's second season, the Cavaliers are heading to a bowl game and playing on Saturday for the Coastal Division title for the first time since 2007. The turnaround is ahead of schedule and has far exceeded expectations for a team that was picked by the media to finish fifth in the Coastal Division standings this year.
So how'd he do it? What, exactly, is different?
London will tell you at length about the off-field process, the effort to get the players more involved in the classroom and in community service, to make them winners off the field before they walked on it. He has done that, and weeded out some players who couldn't cut it academically or socially. He has changed the culture, and he has changed the mentality on the field, but there are also some big differences on the field that have helped lead to the Cavaliers' immediate success.
You can point to the defense, which is another year older and wiser and more comfortable in the second year under coordinator Jim Reid. You can point to the quarterback,
Michael Rocco
, who has been a steady factor over the four-game winning streak, completing 61.2 percent of his passes for seven touchdowns and one interception. You can point to the work of offensive coordinator Bill Lazor, who has dramatically improved the Cavaliers' offensive numbers. The staff has a good blend of promising young talent it recruited and veteran players who remained from the previous staff. It's important to remember that Al Groh did not leave the cupboard bare, especially on defense. The staff also has had the same five starters on the offensive line for the past 11 games.
"They're a good football team," Virginia Tech coach Frank Beamer said. "They're for real. They're good, and they're playing really well and playing with a lot of confidence, as they should. They've done a good job up there."
UVa has amassed more than 400 yards of total offense in 11-of-23 games since Lazor brought his pro-style philosophy to Charlottesville. The Oct. 22 game against NC State (249 yards) and UVa's 2010 season finale (291 yards) are the only games during London's tenure when the Cavaliers failed to reach at least 300 yards of total offense. UVa enters Saturday's game against the Hokies ranked No. 3 in the ACC and No. 42 in the nation with an average of 411.0 total yards per game.
Defensively, Virginia has forced a turnover in every game this season and is tied for No. 5 in the nation and No. 1 in the ACC in red zone defense. Virginia's front seven has been a strength, and it should be with the veteran leadership of senior defensive tackles Matt Conrath and Nick Jenkins, and senior defensive end Cam Johnson.
While Virginia has overachieved in the big picture, the expectations from the start were that this was going to be a good defense. All of it, though, has added up to an ACC contender quicker than most expected.
The question now is whether London can finish what he has started. It's an accomplishment in itself, though, to be in a position to try.
"It's great to know that in November we're still talking about Virginia football being relevant," London said. "It's great to know that there's a lot at stake here. It's an opportunity to play in the last game of the year that decides whether you have a chance to play for goals that you've set coming into this season. They've been on this side of the ledger for a long time. This is new, unchartered territory for us.
"There doesn't have to be any fake hype or fake talk, anything like that. We don't need any Twitter account stuff, Facebook stuff, going back and forth. We're in-state rivals, and it would be characterized to say that's how they feel about us and we feel about them.
"You know and you respect the men that you're going against, but you also understand that you're the in-state rival. You want to beat the in-state rival in everything that you do. Right now, they've had a number of years of success in that regard. We stand here and get ready to play and want to be able to challenge them in recruiting. We want to be able to challenge them on the football field. And that's what you do. I can't put it any other way."
October, 15, 2011
10/15/11
9:53
PM ET
CHARLOTTESVILLE, Va. -- With about 90 seconds remaining in the game, an announcement was made in Scott Stadium reminding Virginia fans they weren't allowed to rush the field.
It was the only time they had booed all day.
About ninety seconds later, thousands of fans rushed field.
In yet another wild and unpredictable finish in the ACC, an unheralded Virginia team upset No. 12-ranked and previously undefeated Georgia Tech,
24-21
. With the win, the Cavaliers single-handedly opened up the Coastal Division race, and not only helped themselves keep a hand in it, but also gave Virginia Tech's chances a significant boost. It was a monumental win for coach Mike London in his second season, and one he hopes can be a turning point for his program. The Cavaliers are young and talented, and the recruiting has been strong, but the program had yet to put it all together for four quarters against a high-caliber opponent this season until Saturday night.
When trying to put the win into perspective following the game, London paused and chose his words carefully.
[+] Enlarge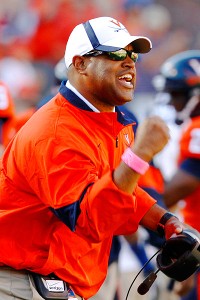 AP Photo/Steve Helber"This is one of those wins that can change the perception of what you think about yourself," Virginia coach Mike London said.
"This is one of those wins that can change the perception of what you think about yourself," he said "Last-second play against Indiana, last-second play against Idaho. This is one of those wins against a good team with a lot of accomplishments that you can try to turn the corner on about how you think about yourself, how people view your program. There's a long season yet to play but it's a great start to the second half of the season."
Yes, this is the same Virginia team that needed overtime to beat Idaho and lost to Southern Miss. The difference against Georgia Tech, in large part, was the preparation. There's no question Virginia's bye week absolutely was a factor in the win. Georgia Tech dropped to 5-9 against FBS opponents who have had more than a week to prepare for coach Paul Johnson's spread option offense.
"I don't know if we get this outcome without the bye week," said cornerback Chase Minnifield, who said he watched every one of the Jackets' games from start to finish, plus their game last year, and brought additional DVDs back to his apartment, just to pass the time. "I don't think we saw nothing that was new out there."
Except for maybe a scoreless first quarter for the Jackets for the first time this season, and a season-low 296 yards. This was the nation's No. 4 rushing offense, and No. 4 total offense.
And Virginia was ready for it.
"We watched film like crazy on them," said defensive end Matt Conrath. "I had a lot of time to watch a lot of film."
In addition to the bye week, Virginia also had some help in practice. On Thursday, the offensive scout team ran 86 plays against the first-team defense. All hustle, no breaks for 15 players. The quarterback, senior
Jacob Hodges
, volunteered for the job, having run the same offense at his high school. A former team manager, Hodges joined the team last year as the holder. He gave the defense all it needed to see.
Hodges wasn't the only one familiar with the offense.
During his time as head coach at Richmond (1995-2003), Virginia defensive coordinator Jim Reid took an offseason trip in 1999 to visit Paul Johnson at Georgia Southern and learn more about his offense. The following year, Richmond won a championship.
Did Reid's familiarity help on Saturday?
"Of course," he said. "We ran it for three, four, five years at different schools I was at."
The 24 yards passing were the fewest against Virginia since 1979. The best defense Virginia played, though, was its sustained drives by the offense, which kept the Jackets off the field by running for a season-high 272 yards. UVa held onto the ball for the final six minutes, and the players on the bench erupted in celebrations as the clock expired.
It was the highest-ranked opponent Virginia had defeated since UVa beat No. 4 Florida State, 26-21, six years ago on the very same day. It was an important win for Virginia, but it was not groundbreaking. The Cavaliers beat then-No. 22 Miami 24-19 last year.
Last year, though, they weren't able to build on it. London is hoping this win is different.
"We have to play like we've got a lot to prove and we do," he said. "We haven't done anything yet, but hopefully we're moving in the right direction."
October, 24, 2009
10/24/09
12:37
PM ET
Posted by ESPN.com's Heather Dinich

CHARLOTTESVILLE, Va. -- We've already seen two fumbles -- both on punt returns -- and the second was costly, as it set Georgia Tech up on the Virginia 11-yard line. Twice so far, though, the Jackets have hurt themselves with penalties (was FSU starting a trend Thursday night?), and the 15-yard penalty for an illegal block forced the Jackets to settle for a field goal, despite getting as close as the 3-yard line.Virginia trails 3-0 right now.

One of the questions heading into this game was whether or not Georgia Tech's defense could continue the success it had in the upset over Virginia Tech last week, and at least on the Cavs' opening drive, it did. Equally as impressive, though, was how aggressive and disciplined Virginia looked on defense. This shouldn't be a surprise, as coach Al Groh is a defensive mind who isn't fazed by this offense. There was no doubt he was going to have them prepared, and containing the Jackets early is important. Of course, a false start penalty on fourth down didn't help Georgia Tech, either, on its opening drive.

Zane Parr started in place of injured defensive end Matt Conrath, but it was Nate Collins who came up with a huge stop to force third down.

With the way the rain is coming down, odds are we'll see a few more fumbles this game, but neither team can afford to add penalties to the list of problems.
October, 24, 2009
10/24/09
10:53
AM ET
Posted by ESPN.com's Heather Dinich
CHARLOTTESVILLE, Va. -- Hello from Scott Stadium, where it's a dreary, humid day and the rain just started to come down steadily. Maybe it's the weather that's keeping folks away, but there was a bigger line at Bodo's Bagel Bakery this morning than there was to get parking. If it continues to rain during the game, it would be the first time it's rained during a game in Scott Stadium since the 2002 game against NC State. The forecast is calling for a tenth to a quarter of an inch of rain during the game.
Here's what really matters on the field, though: Virginia will be missing defensive end Matt Conrath, arguably the top defender, against one of the most difficult offenses to defend. Conrath is out with an ankle injury. Filling in for him will be Zane Parr, who has been used mostly in dime and pass-rush situations this year, and Will Hill, a true freshman who enrolled in January.
The good news for the Cavs is that standout running back
Mikell Simpson
will be back in the lineup after sustaining a neck injury two weeks ago. He was held out of the Maryland game last week for precautionary reasons, but practiced all week. Because of the weather, turnovers and running the ball will be key. Having Simpson back will help even the ground game out, but the defense will have to be disciplined and play harder without Conrath if an upset is to occur today.
TOP 25 SCOREBOARD
Saturday, 12/21
Monday, 12/23
Tuesday, 12/24
Thursday, 12/26
Friday, 12/27
Saturday, 12/28
Monday, 12/30
Tuesday, 12/31
Wednesday, 1/1
Thursday, 1/2
Friday, 1/3
Saturday, 1/4
Sunday, 1/5
Monday, 1/6
TOP PERFORMERS