March, 6, 2013
3/06/13
3:30
PM ET
Wake Forest offensive tackle
Colin Summers
' career is in jeopardy because of a continuing problem with blood clots, coach Jim Grobe told ESPN.com on Wednesday.

Summers, expected to start at right tackle, was rushed to the hospital over Christmas break with blood clots in his lungs. Grobe described what happened as a "life-threatening situation," saying Summers has been through a roller coaster of emotions while doctors tried to pinpoint what was causing the clots.
"I wouldn't say he's been ruled completely out, but I think there's a good chance he may not play football again," Grobe said in a phone interview. "He's been up and down. At first the doctors said, 'You can't play. Then they said, 'We're not sure if the blood clots were caused by an injury.' They've been doing tests on him, and the last thing I heard was they believe there's a blood disorder causing those blood clots."
Summers started 11 games last season, but he did suffer a concussion at the end of the year, and also played through a lower leg injury. It was that leg injury that doctors thought was the culprit behind the clots, but recent tests revealed that not to be the case. Summers is being treated with blood thinners. If he must remain on them, he would no longer be allowed to play contact sports and his career would be over.
"It's just really sad because he's a guy we felt like was an All-ACC caliber player," Grobe said. "But our No. 1 thought is on his health. As much as we need him as a football player, it's much more important that we've got a healthy kid."
Wake Forest, hit by injuries last season, still has a list of walking wounded this spring. Among those who will be limited or out when spring practice opens March 19 are projected starters
Steven Chase
and
Antonio Ford
on the offensive line, cornerback
Merrill Noel
, linebacker
Zach Allen
, running back
Josh Harris
, receiver
Matt James
and receiver
Michael Campanaro
. But Grobe did say he is hopeful Campanaro will get in a few practices before the Deacs wrap up in April.
March, 1, 2012
3/01/12
10:30
AM ET
One of the biggest questions surrounding Wake Forest as the Deacs head into spring practice today is who will replace the team's leading receiver from 2011 in
Chris Givens
, a speedy, home run threat who decided to leave early for the NFL.
The more accurate question, though, might be which receiver will fill
Michael Campanaro
's role as the No. 2 receiver.
[+] Enlarge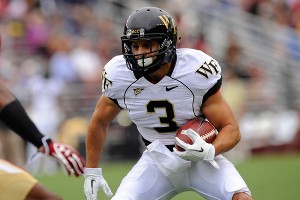 Bob DeChiara/US PresswireMichael Campanaro is poised to step into the No. 1 wide receiver role for Wake Forest, but who will step up to complement him?
Make no mistake -- the Deacs don't have anyone on the roster quite like Givens, but they do still have Campanaro, who might be a more complete player than Givens, albeit not as fast. Coach Jim Grobe said Campanaro is a better possession receiver than Givens, and that he's more precise at what the staff asks the slot receivers to execute. Grobe and quarterback
Tanner Price
agreed that Campanaro has what it takes to be this year's go-to receiver. The key is finding the next "Camp" to give Wake Forest two playmakers at receiver.
"I think Camp is going to be our go-to guy," Grobe said. "Some of the other kids could develop into really fine receivers, but it's going to be hard to replace Chris' ability to take off sprinting and outrun people and go catch the football. I don't see anybody capable of doing that right now, but I think one of the better receivers we've had since I've been here is Mike Campanaro. We kind of plugged him into Chris' area -- not so much in what he'll be doing, whether it be playing split end, or flanker or slot or whatever, but just from a go-to perspective I think Campanaro can do some great things for us."
Price said he's got no problem with the next man up. Campanaro caught 73 passes for 833 yards and two touchdowns last year.
"Camp, he's been a great target my whole career here," Price said. "He's one of those receivers that if you throw the ball in his general direction, he can come down and catch it. It's great having a guy like that on the team, but at the same time you've got to have two guys. Camp and Chris complemented each other nice last year. It would be good to have another receiver who steps up so you can have that dual threat and two really solid targets to throw to."
The Deacs have more than a few options there.
Matt James
and
Brandon Terry
are both listed at 6-foot-5, and have impressed Grobe with their speed. Terry would have played more last year, but he broke his little finger and had trouble catching the ball. (Grobe, a former linebacker, didn't have much sympathy, but conceded it 'wasn't chapped lips.') Terry also competed with the Deacs' track team this year.
Terence Davis
showed flashes of potential last year, and
Lovell Jackson
is one of the most talented players on the offense. Grobe said Jackson has great hands, is an effective kick returner and has impressive foot speed and quickness, but is out this spring while recovering from a shoulder injury.
While the receiver position lost its fastest player from 2011, it might have gained a more versatile group.
"We're going to lose a great player in Chris Givens, but the kids who were kind of on the fringe who gained a lot of experience last year, we might actually have a better group of guys for Tanner to throw to," Grobe said. "Not the one home run threat like Chris gave us, but overall that whole group of guys might actually be better for Tanner because he'll have more of a variety of guys to get the football to."
April, 4, 2011
4/04/11
10:00
AM ET
Wake Forest quarterback
Tanner Price
is the Demon Deacons' returning starter, but all five quarterbacks had a chance to make their case on Saturday in the second spring scrimmage. Price,
Brendan Cross
,
Ted Stachitas
,
Patrick Thompson
and redshirt freshman Keenon Rush each had at least one completion of 35 yards or longer in the hour-long scrimmage. Each of the top four quarterbacks either accounted for a scoring drive or drove the team into field goal range.

Offensive highlights

:
Lovell Jackson scored on a 65-yard swing pass from Cross.
Brandon Pendergrass scored on a 12-yard run and led all rushers with 52 yard on four carries, including a 34-yard run.
Price drove the Deacons to the 11 and 29 while Stachitas had a drive that ended at the 9. Thompson led Wake to the 1 before a fumble at the goal line.
Michael Campanaro led all receivers with six receptions for 77 yards. Jackson had five catches for a team-high 91 yards while Matt James finished the scrimmage with 67 yards on three receptions.
Defensive highlights

:
Zachary Allen, Riley Haynes and Mike Olson all recorded sacks during the scrimmage.
Kris Redding and Gelo Orange each recovered fumbles.
Quotable

:
"Last season doesn't cut it," coach Jim Grobe said of delivering a message to his players. "It's not like we have a season like we had last year, we can't all get together at Chuck E. Cheese and hand out trophies. At this level, it just doesn't happen and our guys have to understand it. If you don't practice, it's going to be hard for us to be a good football team. We have to have durable and dependable guys."
February, 4, 2010
2/04/10
12:03
PM ET
How did Brian Kelly fare with his first Notre Dame signing class? Let's take a closer look:
View class
here
.
Signees:
23
Heavy on:
Receivers (four), quarterbacks (three).
Geographic trend:
The signees hail from 12 different states, led by Ohio (five) and Florida (four).
Headliners:
DT
Louis Nix
(ESPNU 150), WR
Tai-ler Jones
(ESPNU 150) OL
Matt James
(four stars).
Sleeper:
Running back
Cameron Roberson
got less attention than some of the other tailbacks Notre Dame was recruiting, but Kelly said Roberson was the one he really wanted and fits his offense perfectly.
Best potential for immediate impact:
The Irish have five recruits who enrolled in January to get a head start. Among them, Jones and defensive backs
Chris Badger
and
Spencer Boyd
might have the best shots at playing early.
Needs met:
The Irish clearly needed to stock up on quarterbacks with Dayne Crist being the only scholarship signal-caller on the roster, and they did that. They also needed help at defensive back and the offensive and defensive lines, where they found some intriguing prospects. Defensive end still is an area that needs work, and Kelly says that's a top priority for 2011.
Analysis:
It's hard to make a long-term judgment on Kelly's recruiting style based on this class, since he had only two months to put it together. But this does seem to be a departure from Charlie Weis' methods. Weis signed lots of five-star, all-world type players but didn't get the results on the field. Some Notre Dame fans are worried about the lack of five-star players in Kelly's first class, or that he took some two- and three-star kids.
But Kelly's strength has been identifying the kind of player he wants and then developing him over a career. He might not win signing day every year, but he's more interested in winning in the fall. That said, there are some excellent, high-level players in this class like Nix, Jones and James. The key down the line will be if Kelly can consistently recruit the top-notch defensive ends and tackles that Notre Dame hasn't had in recent years.
What Kelly said:
"You need time to recruit. You need success if you want to be able to continue to recruit the very best. Clearly, we did not have either one on our side this time. We will.
"I think we've addressed some short-term needs with this class, and some long-term needs. So the class will be representative of all of those areas.
"I think if you look at each position, I think we addressed some immediate needs within this class. Part of that is the five mid-year enrollees. The five mid-year enrollees gives them an opportunity to develop, be part of spring ball, be here in the summer and have an opportunity to contribute.
"We're not going to take a guy just to make a statement. 'Hey, let's just take a guy, and spin these guys on their head. They won't know what we're thinking.' We're taking somebody at the University of Notre Dame that we believe can help us win."
Scouts Inc. national rank:
21
February, 4, 2010
2/04/10
10:02
AM ET
Ohio State Buckeyes
The class
Recruits:
18 (16 high school seniors, two prep school players, one player enrolled already)
Top prospects:
Defensive back
Christian Bryant
should see the field early. Running back
Roderick Smith
could be a factor as the starting job remains a bit unsettled. Linemen
Darryl Baldwin
and
Andrew Norwell
and wide receivers
James Louis
and
Corey Brown
also come in with plenty of accolades.
Sleepers:
Speedy
Bradley Roby
is a late signee who only gained major attention in recruiting after switching from wide receiver to cornerback as a senior. Quarterback
Taylor Graham
struggled with injuries in high school but has a good pedigree as the son of former NFL QB Kent Graham. Defensive tackle
Johnathon Hankins
is a big body on the interior.
Needs met:
Ohio State addressed a mini need in the secondary with Bryant and Roby. The Buckeyes would have liked one more offensive lineman --
Seantrel Henderson
or Matt James -- but they added depth at both wide receiver and running back.
Analysis:
Ohio State might not have hit a home run with this class, and the Buckeyes lost a few key in-state products to other teams, namely
Jordan Hicks
. But Jim Tressel and his staff brought in plenty of speed and versatility, and added several key wide receivers who could contribute early following graduation losses and Lamaar Thomas' transfer. Unless Henderson dumps USC in the coming weeks, Ohio State will need to add more offensive linemen in the 2011 class.
Scouts Inc. grade:
B
What Jim Tressel said:
"If you asked coach [Jim] Bollman how many offensive linemen he would have liked, we had pigeonholed two. He probably would have liked three or four, but we could afford two within our budget. So we'll see how we end up there."

"With the way the game has changed, you need so many guys who can play out in space. In this class, we have a lot of guys with skills and speed."
February, 3, 2010
2/03/10
5:55
PM ET
National signing day was largely forgettable for the Big Ten, and things ended on a down note as coveted offensive tackle Seantrel Henderson
picked USC
over Ohio State, Minnesota and several others.

Henderson
Henderson and linebacker Jordan Hicks were considered the top two players from the Big Ten region this year, and neither of them will be suiting up for a Big Ten team in 2010. Ohio State went 0-for-2 on coveted offensive line prospects on Wednesday, as Matt James picked Notre Dame over the Buckeyes.
Henderson said Ohio State finished second to USC for his services. Minnesota also was in the mix near the end, as head coach Tim Brewster tried to keep the St. Paul product at home.
The Big Ten certainly needs to protect its home turf, especially when most of the nation's elite players are located elsewhere. Ohio State should still be fine on the offensive line if certain players develop, though today has been a disappointment for the Scarlet and Gray.
February, 3, 2010
2/03/10
4:31
PM ET
Ohio State has announced
the signings of 18 recruits
, including four ESPNU 150 prospects.
The team's news release doesn't include offensive lineman
Seantrel Henderson
, who will announce his college choice shortly. Most reports have named USC as the leader for Henderson, so Ohio State might go 0-for-2 on heralded offensive line prospects (Notre Dame-bound
Matt James
being the other). The Buckeyes class includes nine in-state prospects, two from both Pennsylvania and Florida, and one from Georgia, Indiana, Illinois, Michigan and North Carolina.
Ohio State addressed a need at wide receiver with four players, including
James Louis
, who stuck with the Buckeyes over North Carolina.
Christian Bryant
and
Bradley Roby
should provide help in the secondary.
I realize this class won't get Ohio State fans too fired up, but things will improve, especially in 2011. Another run to a BCS bowl game, possibly the national championship, would help as well.
February, 3, 2010
2/03/10
1:09
PM ET
It's been a mixed day so far for Notre Dame on the recruiting front.
The Irish got a big (literally) boost when offensive lineman
Matt James
of Cincinnati signed this morning. The 6-foot-7, 280-pounder who is ranked No. 14 among tackles by Scouts Inc. chose Notre Dame over Ohio State as Brian Kelly's Cincinnati connections paid off again.
Notre Dame continued its Hawaii connection by signing
Kona Schwenke
out of Hauula. He's a 6-foot-4, 217-pound three-star defensive end who picked the Irish over Washington.
However, Notre Dame wasn't able to reel in safety
Jeremy Ioane
from Punahous School in Hawaii, the same alma mater as
Manti Te'o
. Ioane, who took a late visit to South Bend, ended up at Boise State instead, giving panic-stricken Irish fans something to howl about.
The Irish also couldn't pry linebacker
Christian Jones
away from Florida State, but that really shouldn't be a surprise since his brother and father both played for the Seminoles.
Now the Domers wait for
Seantrel Henderson
's announcement, though it seems like a long shot that he'll sign with Notre Dame. The school will likely end up without any five-star signees in this class, but Kelly's strength is in player development, anyway.
February, 3, 2010
2/03/10
9:44
AM ET
Ohio State entered national signing day hoping to land two coveted offensive linemen, Seantrel Henderson and Matt James.
It appeared likely the Buckeyes would land at least one, if not both of the highly rated prep prospects.
But now it's fair to ask the question: Could Ohio State end up going 0-for-2?
According to the Cincinnati Enquirer's
Mike Dyer
, James has committed to Notre Dame instead of Ohio State and will make it official at a noon ET announcement. Ohio State had been the leader for James' services, but the Cincinnati native recently visited Notre Dame.
"It was a really tough decision," James told the Enquirer. "I like the situation of being in the first class with coach [Brian] Kelly there.
Offensive tackle Seantrel Henderson, the nation's top uncommitted prospect, will announce his college choice later today. But the (St. Paul) Pioneer Press' Charley Walters reports that
USC is the front-runner
for Henderson's services, and Minnesota has leapfrogged Ohio State for No. 2 on his list. Ohio State had been considered by many to be the leader for Henderson.
February, 1, 2010
2/01/10
5:00
PM ET
Jordan Hicks' decision to leave the state of Ohio and
play his college ball at Texas
didn't come as a major surprise.
Though Hicks attended high school in the Cincinnati suburbs, he only moved to Ohio in the sixth grade from South Carolina and had family connections to the Texas coaching staff. As he told reporters Friday after
announcing his choice
, "I don't feel like I turned my back on Ohio State. ... I wasn't born here. ... Ohio State is an Ohio school. I'm not from Ohio. I really don't have that connection there from growing up liking them."
Sounds reasonable enough. But any time an elite high school prospect leaves a Big Ten state to play elsewhere, it creates anxiety among fans. And this year, Ohio State has struggled a bit to seal off its borders.
Of ESPN Scouts Inc.'s top 15 ranked players from Ohio, only four are heading to Ohio State. Prospects like Hicks (Texas), running back Spencer Ware (LSU), quarterback Andrew Hendrix (Notre Dame), safety Latwan Anderson (West Virginia) and offensive lineman Christian Pace (Michigan) will play for other teams.
It's important to remember Ohio produces a ton of great high school players, and not all of them will end up in Columbus. Ohio State has landed highly-rated local products like Darryl Baldwin, an ESPNU 150 player, as well as Andrew Norwell and Tyrone Williams. The Buckeyes also are in the mix for offensive lineman Matt James from Cincinnati.
But on the whole, Ohio State likely will sign fewer in-state players than most years.
The Buckeyes currently have eight in-state commitments from a class of 18. Last year, Ohio State signed 14 Ohio products in a class of 25. In 2005, Ohio State signed 11 Ohio products out of 18. Ohio State signed a small class of 15 in 2003, but all but three players came from the state. In 2002, Ohio State's 24-man class featured a whopping 18 players from the state.
So is this year an anomaly or a cause for concern? To get a better perspective, I checked in with Scouts Inc.'s Midwest recruiting expert
Bill Kurelic

, whose blog is a must read.
Here's what Kurelic had to say: "They have done OK in Ohio this year, but they certainly haven't dominated like in most years. But I don't see it as a trend. They lost out on Welch and Hendrix, but those two are from Catholic high schools and it was going to be a tough sell for OSU to keep them away from Notre Dame. They lost out on Ware, but he just never seemed overly interested.
"On the good side of things for OSU fans is that [Jim] Tressel may be set to dominate Ohio again next year like he has in most years. He has two of the top 5 Ohio juniors committed and he seems in good position to get the top six or seven guys in Ohio on his list. So I think this year is just one of those years."
Kurelic is referring to defensive ends Kenny Hayes and Steve Miller, both of whom are on the
ESPNU 150 watch list

.
Bottom line: Ohio State's in-state recruiting should be fine in the long term, though the Buckeyes must beware of intruders after this year.