November, 21, 2012
11/21/12
6:00
PM ET
What went wrong for USC this year? The easy answer is "just about everything."
The second is to point to the UCLA game last year -- a 50-0 Trojans win -- and this year -- a 38-28 Trojans loss. Both USC and UCLA welcomed back a lot of returning starters for 2012: The Trojans 19, the Bruins 16. So the teams weren't substantially different from 2011. A significant number of guys played in both games, only to very different conclusions.
What was different was mostly at UCLA: New coach Jim Mora (and his staff) and redshirt freshman QB
Brett Hundley
. And so, do we ascribe this massive swing to them? Maybe. Is there anyone in the Trojan camp that disagrees with the idea that the Bruins should be more happy with what happened at QB and with their coaching staff this season?
[+] Enlarge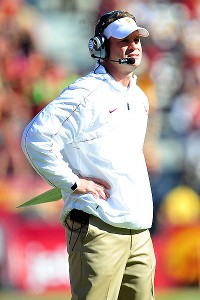 Gary A. Vasquez/US PresswireWhat happened to Lane Kiffin's USC team in 2012 after a stellar 2011?
What about the numbers: How different does this 7-4 team look compared to 2011's 10-2 squad that captured the nation's fancy?
Consider:
2011 (Pac-12 ranking, end of regular season), 2012 (Pac-12 ranking at present)
Scoring offense 35.8 (3), 36.1 (4)
Scoring defense 23.6 (3), 24.8 (7)
Rushing offense 162.6 (5), 160.5 (7)
Rushing defense 111.4 (3), 150.5 (5)
Passing efficiency 161.1 (2), 157.9 (2)
Pass efficiency defense 130.3 (5), 123.1 (6)
Sacks 2.58 (4), 3.82 (3)
Sacks against 8 (1), 15 (3)
3rd down offense 48.3 (2), 37.2 (6)
3rd down defense 40.1 (6), 37.5 (8)
Turnover margin -1 (7), 0 (7)
Turnovers 18 (2T), 29 (10)
Penalty yards 50.0 (1), 71.2 (8)
The bolded numbers seem fairly telling. The Trojans yielded nearly twice as many sacks and turnovers as 2011, and they were much worse on third down. As for the defense, it was much worse against the run. Further the swing in penalty yards suggest a more youthful team in 2011 was more disciplined than this season's experienced unit.
Still, that doesn't seem terribly satisfying. You'd expect a team with four losses to have worst numbers than one with two.
So here are some more possible explanations.
1. Complacency
: This is a generic sports excuse, but it's nonetheless a reasonable explanation for USC in 2012: No matter what they said to the reporters, deep down, the Trojans thought it would be easy. They'd simply show up with all that touted talent and just fancypants folks into submission. Complacency is like a virus. Some catch it after others recover. Then some relapse. It often felt like the Trojans uneven performances featured some players on their games, and others not. That speaks to focus and preparation, and that shortcoming falls on team leaders and the coaching staff.
2.
Coaching
: In 2011, it felt like Lane Kiffin and his staff did a good job shepherding the Trojans through a season in which they couldn't play in a bowl game, due to NCAA sanctions. In 2012, it feels like Kiffin and his staff did a poor job leading the Trojans through a season in which they were expected to compete for a national title. This team didn't appear well coached, and play calling on both sides of the ball was often questionable.
3. Overrated
: In 2011, the Trojans looked like one of the nation's elite teams from midseason-on, starting with a 30-9 win on Oct. 13 at California. The lone loss was in triple-overtime to Stanford and Andrew Luck. The final two games were wins at Oregon, the eventual Rose Bowl champion, and the aforementioned decimation of the Bruins. Perhaps we just read to much into what happened in 2011? It's fair to say QB
Matt Barkley
didn't live up to his stratospheric preseason expectations.
4.
Player losses were underrated
: USC struggled at left offensive tackle all year, so, yes, it took a huge step back with the loss of Matt Kalil, probably the nation's best offensive lineman in 2011. And when DE
Devon Kennard
was lost for the season to injury, that meant the Trojans were replacing all four starting D-linemen.
5.
The Pac-12 was better this year
: That can be particularly said for defense. Barkley and his scintillating offensive talent faced much better defenses this fall than last year. Last year, three Pac-12 teams won eight or more regular season games, including USC. This year, with one weekend left, four teams have won eight or more, not including USC. And Washington and Arizona have a chance to win their eighth this weekend.
6.
It just didn't come together
: If you've played team sports, you know things can inexplicably fall apart. You look for reasons, but it just seems like the chemistry and karma weren't there. That can happen in a single game or a stretch of games or an entire season. Kiffin himself traced the Trojans fall
to a single missed pass
that would have put a dagger into Arizona on Oct. 27.
Feel free to add your own.
Of course, analysis is mostly an academic exercise. Kiffin surely will make his own review this offseason.
But Trojans fans, like most fans of highly successful programs, aren't really that interested in what went wrong. They are interested it getting it right. And quickly.
The big story for Kiffin and the Trojans heading into 2012 was the potential for another national title. The big story for Kiffin and the Trojans heading into 2013 will be Kiffin's hotseat.
October, 19, 2012
10/19/12
12:00
PM ET
As we turn the corner at the midway point of the season, your Pac-12 bloggers recount what has surprised them the most in the first half of the season. One is a pleasant surprise. The other, not so much.
Kevin Gemmell:
I think we're all a bit taken aback by the remarkable success Oregon State has had so far this season. Let's be honest -- even the most devout of Beavers believers didn't think their team was going to have the school's best start since 1939. If you did, you are a real-McCoy psychic and you should immediately send all relevant stock tips
here
.
What's so impressive -- aside from the 5-0 start and top-10 spot in the BCS standings -- is the way Oregon State has gone about doing it. Great offense. Great defense. And above all, a no-nonsense, physical approach to football. There is an attitude -- a focused swagger, if you will -- that is really fun to watch.
[+] Enlarge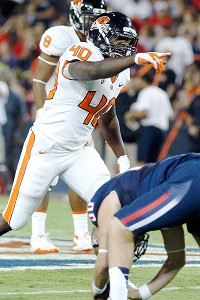 Rick Scuteri/US PresswireLinebacker Michael Doctor has helped point the way for Oregon State's top-five rush defense.
The Beavers have been solid in the trenches on offense and relentless on defense. The offensive line has come together faster than most anticipated -- which obviously has contributed to a rushing attack that averages 119.6 yards per game (up from a league-worst 86.9 in 2011).
Defensively, you can't say enough about the play of
Scott Crichton
,
Jordan Poyer
and a player I think is flying under the radar:
Michael Doctor
.
Naturally, the growth of quarterback
Sean Mannion
has been helpful. He's done a much better job taking care of the ball (OSU ranks 12th nationally in turnover margin), and we've been talking about
Markus Wheaton
and
Brandin Cooks
as a potential breakout duo since we started doing weekly Take 2s in the spring.
Heading into this week's games, the Beavers owned the second-best pass attack in the Pac-12. Again, with teams such as Washington State, USC and UCLA expected to air it out, did anyone really see that one coming?
And the fact that they can plug in
Cody Vaz
and not miss a beat is impressive.
But as much credit as Mike Riley deserves for the offense, defensive coordinator Mark Banker deserves equal praise -- if not more. The Beavers have the top rush defense in the conference and the No. 4 rush defense in the country, allowing just 70 yards per game on the ground. That's elite status, and it takes more than just talented players to attain it. It takes an attitude. It takes an unwavering mentality that our defense is going to dictate to you, not the other way around.
Talking with Poyer and Crichton throughout the season, they said the simplest answer is that they are motivated by being 3-9 in 2011. It was a crummy season, and they didn't want to feel like that again. That's pretty good motivation.
The fact that Oregon State is better than last season isn't a surprise. It's the fact that the Beavers are
so
much better that is both surprising and pleasant.
Ted Miller
: The mediocrity of USC's offense is shocking. No one saw that coming.
This is where someone claims he or she saw it coming. No you didn't. Stop it. No you didn't. Hush.
USC welcomed back nine starters from an offense that in 2011 averaged 35.8 points, 456.8 yards and 294.2 passing yards per game. Among those starters were quarterback
Matt Barkley
, the nation's leading Heisman Trophy candidate; 2011 All-American wide receiver
Robert Woods
; second-team All-Pac-12 wideout
Marqise Lee
, the co-freshman offensive player of the year; second-team All-Pac-12 center
Khaled Holmes
; and 1,000-yard rusher
Curtis McNeal
.
[+] Enlarge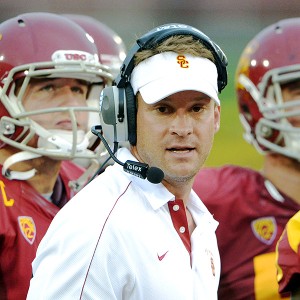 Kirby Lee/Image of Sport/US PresswireCoach Lane Kiffin has reined in his offense and let the defense hold on to USC leads.
Barkley had completed 69 percent of his passes with 39 touchdowns and seven interceptions in 2011. He ranked eighth in the nation in passing efficiency. And he had all his weapons coming back. Oh, and the Trojans added a second 1,000-yard rusher when
Silas Redd
transferred from Penn State.
There were no weaknesses. While the departure of Matt Kalil left a sizable void at left tackle, the consensus was that
Aundrey Walker
was the next surefire NFL draft choice at a position where USC always has a surefire NFL draft choice.
Yet here we are. With the more difficult portion of the schedule ahead, USC is worse in just about every area on offense. Heck, the Trojans are 112th in the nation on third down, behind teams such as Memphis, Colorado and Kansas.
Heading into this week's games, Barkley ranks 30th in the nation and third in the Pac-12 -- behind a pair of first-year starters -- in passing efficiency. He's thrown six interceptions after throwing seven in 12 games last season. He's completing just 62.7 percent of his throws. He's been sacked nine times after going down just eight times all last season.
Woods is 99th in the nation with 60 yards receiving per game and five touchdowns; he had 15 TDs and averaged 107.67 yards per game last season. McNeal, now a backup, has only 44 carries.
Lee's numbers are better than last season, but he hasn't been consistent catching the ball.
Some of the blame falls on coach Lane Kiffin, the offensive playcaller who's opted for a more conservative approach, particularly when the Trojans have a lead. With an improved defense, Kiffin seems content to run the ball and play to his defense once he gets ahead.
Still, in the preseason, there was a legitimate discussion of whether this offense might end up ranked among the best in college football history. The question now is whether it will be among the top half of the Pac-12.
And that is a huge surprise.
April, 26, 2012
4/26/12
11:50
PM ET
The inevitable is now official. Former Stanford quarterback
Andrew Luck
is an Indianapolis Colt.
Commissioner Roger Goodell had announced the 2012 NFL draft was open and Luck was on the phone with the Colts no more than 15 seconds later.
[+] Enlarge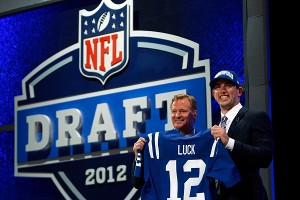 Jerry Lai/US PresswireAndrew Luck is the fourth Stanford quarterback to be selected No. 1 overall in the NFL draft.
He got big hugs from head coach David Shaw and teammate
Coby Fleener
as he made his way to center stage.
"It was everything I thought it would be," Luck told ESPN's Suzy Kolber about the experience of being picked No. 1 overall. "I feel so blessed, so fortunate to be in this situation. I can't wait to start with the Colts."
And what can Indianapolis fans expect from Luck following a 2-14 season?
"Hope for the best," Luck said. "We'll come in and work hard. I know there are a lot of great guys in the locker room already. I feel so honored and so grateful to be able to represent this city now and be part of a team."
Luck becomes the fourth Stanford quarterback selected No. 1 overall, joining Bobby Garrett (1954), Jim Plunkett (1971) and John Elway (1983). Stanford is the only school that has produced four quarterbacks taken No. 1 overall.
Other Pac-12 players
:
February, 3, 2012
2/03/12
1:23
PM ET
Stanford's recent success just about
Andrew Luck
? That's just silly talk.
If ESPN NFL draft guru Todd McShay is on target with his mock 2012 NFL draft, plenty of evidence to the contrary
will be produced on draft day
.

McShay projects that Luck will be the No. 1 overall pick, of course, but he also projects that Luck will be joined by three teammates in the first round.
How many other teams will produce that many first-round picks? One: National champion Alabama.
The Pac-12 has seven first-round picks in McShay's mock draft.
Here's how McShay sees things, with some comments included.
1. Andrew Luck, QB Stanford (Indianapolis Colts)
2. Matt Kalil, OT, USC (St. Louis Rams)
13. David DeCastro, OG, Stanford (Arizona Cardinals)
This might seem a bit high for a guard, but DeCastro was the most dominant interior offensive lineman in the nation in 2011 and has a chance to develop into one of the elite NFL players at his position. Offensive tackle is also a need area, but DeCastro is a much better overall player than the top available tackle. Cornerback could also be a consideration, but both
Janoris Jenkins
(North Alabama) and
Dre Kirkpatrick
(Alabama) carry off-field baggage.
18. Jonathan Martin, OT, Stanford (San Diego Chargers)
20. Nick Perry, DE, USC (Tennessee Titans)
The Titans have three defensive ends set to become free agents and need a dynamic pass-rusher to complement Derrick Morgan. While Perry is raw, he has good initial burst and natural pass-rush skills. Cornerback, safety and offensive line are also need areas, but Perry makes the most sense in this situation.
26. Coby Fleener, TE, Stanford (Houston Texans)
The Texans would rather get a wideout here to complement Andre Johnson, but Rutgers'
Mohamed Sanu
and South Carolina's
Alshon Jeffery
would be reaches at this point. A difference-maker at tight end would help, though, and Fleener is a reliable target with toughness, a competitive nature and underrated speed/athleticism. He could draw some attention to the middle away from Johnson, and with a deep wideout class Houston could find a quality receiver in the next couple of rounds.
29. Vontaze Burfict, LB, Arizona State (Baltimore Ravens)
Burfict is a physical freak with tremendous athleticism and explosive power. He's a top-20 talent, but questions about his discipline on and off the field are hurting his stock. However, Burfict could contribute immediately and would benefit greatly from the leadership and guidance of Ravens middle linebacker Ray Lewis. And you have to wonder whether the Ravens would press their luck and take another player with character flags after bringing cornerback Jimmy Smith into the fold last year.
Here's McShay's
player rankings
.

Here's Kiper's
Big Board
.

And here's Kiper's
top-five by position
,

which is chock full of Pac-12 players.
Most interesting: Kiper ranks former Arizona State's Brock Osweiler No. 3 among the quarterbacks, ahead of former Arizona's
Nick Foles
, who is fifth. Luck, of course, is No. 1 and Heisman Trophy winner
Robert Griffin
III is No. 2.
If Osweiler ends up getting picked on the first day -- first two rounds -- it certainly will validate his surprising decision to enter the NFL draft.
January, 20, 2012
1/20/12
1:30
PM ET
While recruiting season is heating up for its home stretch, national signing day is about the future. The present matters, too, and there are plenty of present matters that need attending.
What are the main areas of focus in advance of spring practices? Glad you asked.
1.
Hello, my name is Coach ____________:
There are four new Pac-12 head coaches: Rich Rodriguez at Arizona, Todd Graham at Arizona State, Jim Mora at UCLA and Mike Leach at Washington State. That's a lot of turnover -- one third of the league. Further, none of the four retained many members of the previous staffs. So there will be a lot of "Getting to know you" in advance of spring practices. Also, beyond head coaches, Norm Chow left Utah to become Hawaii's head coach, so the Utes need a new offensive coordinator. Washington rebuilt its defensive staff. Coach Steve Sarkisian fired defensive coordinator Nick Holt and two other coaches and saw defensive backs coach Demetrice Martin bolt for UCLA. He then raided Tennessee, California and Oregon State to replace them. Because of the Huskies, Cal will have two new assistants this spring and Oregon State one.
[+] Enlarge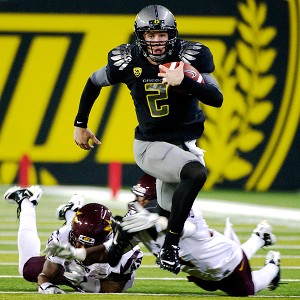 Jim Z. Rider/US PresswireBryan Bennett is the favorite to take over for Darron Thomas at Oregon.
2.
Settled at quarterback
? The only teams that have certainty at quarterback are: California, Oregon State, USC and Washington -- and some Cal fans might even harrumph that assertion. You can probably throw Arizona's
Matt Scott
in there as a certainty, both because he has quality starting experience and because there's no one around to unseat him. UCLA, Utah and Washington State have returning starters, but they also have plenty of intrigue. It's uncertain who takes the first snap in the opener. For Oregon, most would favor
Bryan Bennett
stepping in after
Darron Thomas
' surprising decision to enter the NFL draft, but his name isn't written atop the depth chart in ink just yet. Arizona State, Colorado and Stanford are wide-open competitions. It would be wise for any quarterback who wants to be in the starting mix to be laying groundwork with his teammates and coaches well in advance of the first spring practice.
3.
Line up
: Arizona welcomes back five starters on its offensive line, while USC and Washington get four starting offensive linemen back. Every other team has some degree of uncertainty with at least two voids to fill. Perhaps more than any position, the quality -- and depth -- of an offensive line can be advanced during the offseason. Hit the weight room, training table and the track -- get stronger, quicker and work off the baby fat and turn that into quality size. Right now just about every team has a guy who thinks he's going to automatically advance on the depth chart who is going to be overtaken by a youngster who is eyeballing his slack, er, rear end while doing an extra set of power cleans.
4.
Taking the next step
: At this point last year, Oregon defensive end
Dion Jordan
and Utah defensive tackle
Star Lotulelei
were just promising guys, not first-team All-Pac-12 defenders. Wide receivers
Keenan Allen
of Cal and
Robert Woods
of USC were coming off impressive freshman seasons but were facing the inevitable, "What's next?" questions, which implied the possibility of sophomore slumps. But, of course, Allen and Woods joined Jordan and Lotulelei on the All-Conference first team. Did you know that USC offensive tackle
Matt Kalil
wasn't even honorable mention All-Pac-10 in 2010? Kalil was a big-time talent who had yet to make a statement -- you know, the "I'm a top-five pick as the best left tackle in the NFL draft" statement. There are a lot of players who had good seasons in 2011. Good for them. But just like Oregon coach Chip Kelly, the Pac-12 blog is a forward-thinking operation. Yes, we were very impressed
De'Anthony Thomas
,
Marqise Lee
,
John White
,
Ben Gardner
,
Nickell Robey
,
Marquess Wilson
,
Dion Bailey
,
Hayes Pullard
,
Brian Blechen
,
Austin Seferian-Jenkins
,
Keith Price
, Tramayne Bondurant,
Mustafa Jalil
,
Stefan McClure
,
David Bakhtiari
,
Colt Lyerla
,
Scott Crichton
,
Sean Mannion
,
Ty Montgomery
,
Sean Parker
,
John Fullington
, etc. But what are you doing to get better right now? Yes, right now. So stop reading this, wondering why your name isn't listed and go do some wind sprints.
5.
Don't believe the hype -- either way
: Everyone is massively overrating USC and Oregon. Top-five teams? Pfftt. So stop staring at yourself in the mirror in your tighty-whiteys, doing a most-muscular pose. I talked to your mammas and they said you ain't all that. California, Washington and Utah are eyeballing your girlfriends. Better watch out. If you don't do the work, you won't be top-five anything. And what about you Colorado, UCLA, Arizona, Oregon State, Washington State -- are you going to hear those national yawns and assume there's no hope? Are you expecting to lose and using that as an excuse to eat a Twinkie on the sofa while watching "Caddyshack" again instead of going to a workout? From now until opening day, there will be endless fan and media chatter decided how every Pac-12 teams' season is going to go. Hey, it's fun. But that doesn't decided a season. The 100 guys in the locker room do. Oh, and one final thought. Stanford? You're done. You ain't poo without
Andrew Luck
.
January, 19, 2012
1/19/12
9:00
AM ET
The coaches announced their All-Pac-12 team
here
, and the Pac-12 blog followed shortly thereafter
here
.
We even created an
All-Underrated Team
.
Now we recognize our Most Improved Players on both offense and defense.
[+] Enlarge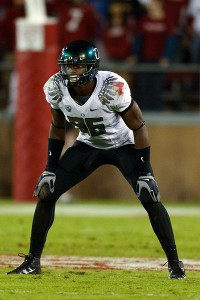 Jason O. Watson/US PresswireAll-Pac-12 junior defensive end Dion Jordan collected 7.5 sacks in 2011.
Defense (tie): Dion Jordan, DE, Oregon
Jordan went from single-game starter in 2010 to first-team All-Pac-12 as a junior in 2011. Jordan had 5.5 tackles for loss and two sacks in 2010, when he showed promise after converting from tight end. He lived up to that promise in 2011 with 13 tackles for loss and 7.5 sacks. Jordan figures to be a leading candidate for Pac-12 Defensive Player of the Year in 2012, particularly if he gets his skinny butt into the weight room and eats a lot of steak.
Star Lotulelei, DT, Utah
Lotulelei started the final three games of the 2010 season and finished with 21 tackles with 2.5 tackles for loss and 0.5 sacks. In 2011, he won the Morris Trophy as the Pac-12's best defensive lineman, as voted on by his peers -- the guys who had to block the 325-pounder. He earned first-team All-Pac-12 honors and was the lineman of the game in the Utes' Sun Bowl victory over Georgia Tech. He finished with 44 tackles, including nine for loss, but his main job was occupying two blockers so linebackers could make tackles. The Utes ranked third in the Pac-12 -- and 20th in the nation -- in run defense.
Honorable mention
:
Conroy Black
, CB, Utah;
Ben Gardner
, DE, Stanford;
Trevor Guyton
, DE, California;
D.J. Holt
, LB, California;
Josh Kaddu
, LB, Oregon;
C.J. Mizell
, LB, Washington State;
Nick Perry
, DE, USC;
Eddie Pleasant
, S, Oregon;
Jordan Poyer
, CB, Oregon State; Nickell Robey, CB, USC;
Trevin Wade
, CB, Arizona
Offense
:
Gerell Robinson, WR, Arizona State
Robinson went from bust to bust-out in 2011. In 2010, the once-touted recruit caught just 29 passes for 387 yards. He was best known for inconsistent hands. And at the start of 2011, he also caught an early case -- or two -- of the dropsies. But Robinson caught fire just as the rest of the Sun Devils started to tank, hauling in more than 100 receiving yards in six of the final eight games, including 13 receptions for 241 yards in the Las Vegas Bowl loss to Boise State. He finished with 77 receptions for 1,397 yards and seven touchdowns. His 107.5 yards receiving per game ranked ninth in the nation, and his 18.1 yards per catch was tied for first in the Pac-12. His late-season surge earned him a spot in the Senior Bowl.
Honorable mention
:
Mark Asper
, OG, Oregon;
Matt Barkley
, QB, USC;
Matt Kalil
, OT, USC;
Brock Osweiler
, QB, Arizona State;
Isi Sofele
, RB, California;
Markus Wheaton
, WR, Oregon State;
Marquess Wilson
, WR, Washington State;
Robert Woods
, WR, USC
January, 6, 2012
1/06/12
2:49
PM ET
As expected, Oregon junior running back
LaMichael James
will
enter the NFL draft
.
James' decision
was first reported
by The Oregonian on Dec. 15.
James, a 2010 Heisman Trophy finalist and Doak Walker Award winner, will finish his career as the best player in Oregon history and
one of the best running backs in Pac-12 history
. His 5,082 career yards rushing and 53 TDs rank second all-time in the conference. He was the first running back to eclipse 1,500 yards rushing three consecutive years.
His obvious replacement would be talented junior backup
Kenjon Barner
, but Barner also is considering entering the NFL draft.
The deadline to declare is Jan. 15.
Here is the list of Pac-12 players who have opted to enter the NFL draft a year early.
Vontaze Burfict, LB, ASU
David DeCastro, OG, Stanford
Matt Kalil, LT, USC
Andrew Luck
, QB, Stanford
Jonathan Martin, OT, Stanford
Nick Perry, DE, USC
Chris Polk
, RB, Washington
LaMichael James, RB, Oregon
Arizona State QB
Brock Osweiler
is expected to shortly announce that he also will enter the draft.
December, 22, 2011
12/22/11
11:02
AM ET
Junior safety T.J. McDonald said Wednesday that
he would return
to USC for his senior season, and now Trojans fans await an announcement this afternoon from quarterback
Matt Barkley
.
Barkley will reveal whether he's decided to stay at USC or enter the NFL draft at a news conference at 4 p.m. ET in Heritage Hall.
Will he be like Matt Leinart, who stayed, or Mark Sanchez, who bolted for the NFL?
USC already has lost defensive end Nick Perry and offensive tackle Matt Kalil early to the NFL draft, but if Barkley opted to return, the Trojans would likely start the season ranked in the preseason top 10, perhaps top 5.
Said McDonald in a statement: "Being a captain of this team and part of that greatness, we have an opportunity to do something great. That opportunity doesn't come around very often. I want to finish things out and be a part of something great. So I am returning to USC for my senior season."
McDonald was named a first-team All-American by both the Sporting News and Pro Football Weekly and also was named first-team All-Pac-12 conference. McDonald finished third on the team in tackles (67) and also added three interceptions as the Trojans finished the season with a 10-2 record.
December, 8, 2011
12/08/11
6:58
PM ET
Four Pac-12 players are ranked identically on ESPN draft guru Todd McShay's and Mel Kiper's NFL draft boards, but Arizona State linebacker Vontaze Burfict's stock is plummeting.
Both have Stanford QB
Andrew Luck
No. 1, USC offensive tackle Matt Kalil No. 2, USC QB
Matt Barkley
No. 6 and Stanford offensive tackle Jonathan Martin No. 7.
[+] Enlarge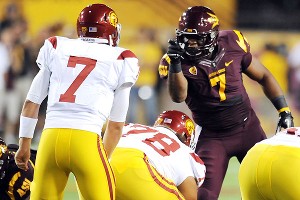 Photo by Norm Hall/Getty ImagesOff-field issues may be the reason Arizona State linebacker Vontaze Burfict's draft stock is dropping.
You can see McShay's
rankings here
. And Kiper's "Big Board"
here
.
Two Pac-12 players moved around, though.
Kiper has come around on Stanford offensive guard David DeCastro. McShay has ranked DeCastro much of the year, and he has him at 18th. Kiper brought him aboard at 20th. Writes Kiper:
Extremely consistent, and both athletic and powerful in the run game. The rare guard who could get some looks in the first round.
Both McShay and Kiper have been dropping Arizona State linebacker Vontaze Burfict. He fell from 15th to 21st with McShay, who writes:
Questions about Burfict's on-field maturity and mental makeup have hurt his stock, but he's a physically gifted player with the tools of a top-10 prospect. He has the power to deliver heavy blows and solid range and awareness in underneath coverage.
The Pac-12 blog suspects Burfict's play as well as off-field concerns might drop him from the first round entirely.
Burfict has a big problem: He played for a coaching staff that just got fired. Many members of that staff are not fans of his. And because those coaches don't have to be accountable to Burfict, his teammates or the program going forward, they will provide unvarnished takes on Burfict to NFL personnel men. Some won't say nice things.
Put this way: Burfict was benched in what is likely his last game as a Sun Devil. When his coaches asked him to return to the game, he reportedly refused, according to the Arizona Republic.
That is not in the "How to Win Friends and Influence GMs" guide to the NFL draft.
Then there's this
from former Arizona State QB
Danny White when he appeared on Brad Cesmat's radio show on XTRA Sports 910 AM in Phoenix on Nov. 29. Cesmat, according to the Arizona Republic, "mentioned that he thought ASU junior linebacker Vontaze Burfict was a microcosm of the [Dennis] Erickson era."
Replied White:
"I agree 100 percent," White said. "He was also the reason Dennis Erickson got fired. When your best football player is a guy like that, he's what I call a coach killer. He's such a great athlete, you have to have him on the field. But by the same token, the negatives outweigh the positives with him. As great a player as he is, you can' t have that. And then what happens, when if you don't take extreme measures with it, then it becomes a cancer on the team. And I started seeing other guys on the defense starting to act like that and I think it became infectious. No matter how good a player is, when he's got that kind of attitude on the field, when he hurts you like Vontaze hurt the team, you got to get rid of him. As hard as that is, and it's a hard thing to do, especially when he's your best player, you just can't have it or it does become a cancer, and I think he did."
Burfict probably could benefit from another year in college. For one, he didn't play well this year, so he could return to the form that made him a consensus preseason All-American. And he desperately needs to grow up, something that won't happen with folks around him coddling him and telling him the way he behaves is OK.
But it's doubtful he wants to return for his senior season, and it's also questionable whether or not the next coach would want to take a risk on him.
September, 12, 2011
9/12/11
2:32
PM ET
Taking stock of the second week of games and looking ahead to Week 3.
[+] Enlarge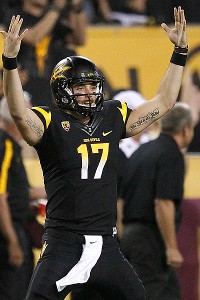 AP Photo/Matt YorkQuarterback Brock Osweiler and Arizona State won a thriller against Missouri.
Team of the week
: Arizona State announced its return to relevancy -- and the national polls -- with a 37-30 win aganst Missouri. Sure, it was sloppy, and the Sun Devils nearly blew a 14-point fourth-quarter lead, but that was the sort of game that was a near-miss, not a win over the previous two seasons.
Best game
: While the Sun Devils produced a thriller, it was ruined by 23 combined penalties with the Tigers. Utah's visit to USC was played at a high level throughout and lived up to its backdrop as the first-ever Pac-12 game (again, Colorado and California fans who didn't read any of the the 12,237 mentions that their game wasn't conference game: Your game wasn't a conference game; it didn't count in the standings). USC's 23-14 victory even featured a thrilling --
thrilling
--
final score controversy
.
Biggest play
: Utah could have forced overtime at USC, but kicker Coleman Petersen's 41-yard field goal attempt was low and was easily blocked by Matt Kalil. Torin Harris returned the block for a TD, which accounts for the deceiving final margin.
Offensive standout
: Wow. So many big numbers this weekend it's hard to single out one player. But one Pac-12 team beat a ranked nonconference foe, so we're going with Sun Devils quarterback
Brock Osweiler
, who completed 24 of 32 passes for 353 yards with three TDs and no interceptions and also rushed five times for 34 yards and a score. The number of Osweiler doubters has been greatly reduced.
Defensive standout
: The many big offensive performances obscured a brilliant defensive one by Stanford outside linebacker Chase Thomas, who got screwed out of a
helmet sticker
. Duke couldn't handle Thomas, who recorded 2.5 sacks, 3.5 tackles for a loss and a forced fumble against the Blue Devils
Special teams standout
: Colorado was concerned about its kicking during the preseason, but Will Oliver has answered those concerned. In the overtime loss to California, he was 4 for 4 on field goals, with a long of 52 yards, and 3 for 3 on PATs. He accounted for 15 of the Buffs 33 points. He's yet to miss a kick in two games.
Smiley face:
USC, California and Arizona State have found ways to lose games they should have won of late, but all three found ways to win tight games over the weekend.
Smiley face II
: Huge performances in the passing game over the weekend, from both quarterbacks and receivers. Quarterbacks accounted for 33 TD passes and just four interceptions. Seven threw three or more TD passes. Five threw for more than 350 yards. Only UCLA passed for fewer than 230 yards. And receivers had big days: Arizona's
Dan Buckner
, Arizona State's
Aaron Pflugrad
, Colorado's
Paul Richardson
, California's
Keenan Allen
, Oregon's
De'Anthony Thomas
(a running back!), Stanford's
Chris Owusu
, USC's
Robert Woods
, Utah's
DeVonte Christopher
, Washington's
Devin Aguilar
and Washington State's
Marquess Wilson
.
Frowny face
: Arizona and Oregon State both lost on the road to very good teams, but neither distinguished itself with a competitive effort.
Thought of the week
: If the quarterback play continues at the present pace, who wins first- and second-team All-Pac-12 quarterback? Consider the
pecking order here
before you answer.
Questions for the week
: Can the Pac-12 make big statements on the road? Four conference teams face tough road matchups Saturday. Arizona State is at Illinois, trying to avoid a letdown game. Utah visits rival BYU in a contest that might be even nastier than before for the former Mountain West Conference members. Washington plays Nebraska for the third time in a year, this time with the Cornhuskers wanting revenge. And Washington State plays at a tough San Diego State squad looking for a 3-0 start.
August, 12, 2011
8/12/11
11:00
AM ET
It's time for our preseason All-Pac-12 team.
Feel free to disagree.

Offense

QB
Andrew Luck
, Stanford
RB
LaMichael James
, Oregon
RB
Chris Polk
, Washington
TE
David Paulson
, Oregon
WR
Juron Criner
, Arizona
WR
Jermaine Kearse
, Washington
OL Jonathan Martin, Stanford
OL Matt Kalil, USC
OL David DeCastro, Stanford
OL Ryan Miller, Colorado
OL Tony Bergstrom, Utah
K Erik Folk, Washingon
Defense

DE Nick Perry, USC
DT Alameda Ta'amu, Washington
DE Junior Onyeali, Arizona State
LB Vontaze Burfict, Arizona State
LB Shayne Skov, Stanford
LB Mychal Kendricks, California
LB Chase Thomas, Stanford
CB Cliff Harris, Oregon
CB Nickell Robey, USC
S T.J. McDonald, USC
S Delano Howell, Stanford
P Bryan Anger, California
PR Cliff Harris, Oregon
KR
Robert Woods
, USC
May, 20, 2011
5/20/11
3:06
PM ET
Every team has hope heading into the offseason. And every team has concerns.
Ergo, we're going to run through the conference and look at the chief matters -- on the up and downside -- for each Pac-12 team.
Next up:
USC

Biggest reason for hope
: Barkley to Woods, repeat.
One of the highlights of my spring practice tour was seeing USC quarterback
Matt Barkley
smash receiver
Robert Woods
in the helmet with a pass. Woods didn't see it coming, and the ball had some mustard on it, but the talented sophomore was unhurt. Not sure why the moment so amused me -- was finishing off a a 20 oz Starbucks dark drip for the early a.m. session at the time -- other than it was a rare instance of miscommunication for this slick pair of future NFL starters. Woods earned freshman All-American honors last season, but made much of his noise in the return game. He was dominant at most times this spring and -- apologies to Arizona's
Juron Criner
-- might end up as the best receiver in the conference. Barkley will be entering his third season as the Trojans' starter. He improved last season over his true freshman campaign, and it's not unreasonable to expect him to make another jump in 2011, which might be enough to garner him All-American consideration. Barkley isn't shy about admitting he expects to push into the Heisman Trophy conversation. Bottom line: If Woods doesn't eclipse the 1,000-yard, 10 TD benchmarks, it would be fairly surprising.
Biggest reason for concern
: Whither the offensive line?
Barkley exemplifies Southern California cool, but he's not completely unflappable. He was frustrated at times during spring practices because he was working under constant duress behind a patchwork offensive line, and even
memorably lost his temper once
. (I also enjoyed Barkley mildly grousing to me about what he felt was a media overreaction to a fairly common football occurrence). USC is replacing three starters on its offensive line, and only left tackle Matt Kalil was available this spring. Moreover, Kalil is the only certainty heading into the fall, though Khaled Holmes is the likely starter at center and Kevin Graf should get the nod somewhere. But injuries not only exposed a lack of depth. There was a bit of, "These don't look like USC guys." USC has always passed the sight test. During the glory years under Pete Carroll, the No. 2 line looked more physically impressive than 90 percent of other FBS teams' starters. That's no longer the case. Touted incoming freshmen Cyrus Hobbi and Aundrey Walker are expected to be immediately in the mix. If you're looking for an area to start the discussion of an over-under for the Trojans getting eight wins in 2010, the offensive line likely will determine that trajectory.
April, 22, 2011
4/22/11
10:00
AM ET
LOS ANGELES -- The nominee for "Worst Person in the World" from the state of Tennessee has been a bit of a letdown on the West Coast. When he wore bright orange, Lane Kiffin was as loud as the Volunteers' uniforms. He was a controversy not waiting to happen. He called people out. He trashed-talked. He immediately started beeping loudly on the NCAA's radar.
But since he arrived in Los Angeles, ascending to what he called his "dream job" at USC, he's been mostly an all-business, old school, grumpy football coach.
"You been bored?" Kiffin quips. "You were all excited when I got hired here."
[+] Enlarge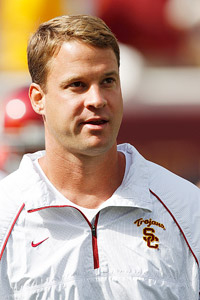 AP Photo/Andy King"If you are worried about what people are writing about you, win games," USC coach Lane Kiffin said.
Yes and no. Things have been pretty hectic around USC for the past year or so. While reporters often enjoy a little drama, there are limits. Typing fingers do cramp up, after all. The Reggie Bush mess. Pete Carroll leaving. Kiffin getting hired and the ensuing hullabaloo in Knoxville. NCAA sanctions. The comings and goings of scores of players. The comings and goings of athletic directors and school presidents. A five-loss season for a program that had grown accustomed to the number five representing a disappointing final AP ranking. Highly-rated recruiting classes, despite sanctions. Tennessee shipping its NCAA problems to Kiffin's new address. A seemingly endless wait for the NCAA to rule on USC's appeal of sanctions.
A notable void, however, has been controversy arising due to Kiffin's conduct at USC. Oh, he took a shot at rival UCLA after signing his 2010 recruiting class, but that was more a tempest in a thimble than a teapot. He sometimes provides assessments of players' shortcomings that can seem too honest. But, really, the only big story this spring at USC is injuries, which means there are plenty of stifled yawns by observers at practices. Who saw that coming?
"Sometimes I get people here that actually want to see that brash side," Kiffin said.
Just not many over the age of 21.
On the one hand, this is a good thing. It's possible that Kiffin shortly will be judged on substance, on whether he can coach or not, on whether he can lead the Trojans back to the top of the Pac-12 or not. His oft-noted limited résumé -- a 5-15 record coaching the Oakland Raiders and a 15-11 mark in two college seasons -- reveals little.
What is revealing is five losses a year after the Trojans, in their final season under Carroll, were unceremoniously smacked out of the conference's top spot by Oregon. What is revealing is watching practice and wondering, "Where did all the NFL-looking dudes go?" Just three years ago, USC looked better getting off the bus than any team in the country. No longer. Now they look like just about everyone else.
Part of that is injuries. Twelve members of the two-deep depth chart have practiced little or not at all this spring. The Trojans numbers were already down, which convinced Kiffin to sign a handful of early-enrollees who weren't up to previous standards just to get more available warm bodies.
Still, there are plenty of old school USC guys, starting with quarterback
Matt Barkley
and his top target,
Robert Woods
. They are a potentially dynamic pass-catch combination. Left tackle Matt Kalil, defensive end Nick Perry, safety T.J. McDonald and cornerback Nickell Robey are going to be playing on Sundays. D-tackle George Uko has been impressive this spring. But there are obvious holes -- for one, the offensive line is perilously thin and unproven -- and the backups don't look like the next generation.
"We got guys running with our twos that weren't even going to play football, but we found them in science class after a tryout," Kiffin said.
A touted recruiting class of 23 arrives in the fall, and many of those freshmen are going to immediately be in the mix for playing time. Toss in the expected return of the injured players, and the reinforcements will number 35.
But will they win? It may be nice that the hyperventilating from critics is trending down, but the bottom line is there is a bottom line, of which Kiffin is well aware: Winning.
Kiffin said he feels more comfortable this spring, and it's clear his players share that sentiment. Understand: The transition to Kiffin was challenging for many. Carroll had become an icon at USC. All those five-star players he signed did so in large part in order to join Carroll's "win forever" cult of personality. Carroll was all about bottomless enthusiasm and optimism. Kiffin is a different bird. For some veteran players, his approach, which often included unvarnished criticism, was tough to take.
"First spring, it was rough with getting guys to buy-in and accept that we didn't have Coach Carroll -- the 'there's a new coach, just deal with it,'" Barkley said. "Some guys were holding back and didn't like the way things were going."
Barkley said Kiffin has loosened up a bit. "Even this year, Coach Kiffin has given in a little bit, making it more fun for us, that competition style we were kind of used to before," Barkley said.
The person at USC who knows Kiffin best waves away the criticism that has dogged him. "It's basically one state," said USC defensive coordinator Monte Kiffin, Lane's pop.
"I know him. I've known him for 35 years. I feel I've got a pretty good feel for him," Monte Kiffin said. "If I thought he was a smart alec or wasn't a good head coach, first I wouldn't have gone to Tennessee or I would have taken opportunities to go back to the NFL [instead of going to USC]. They don't know him."
That's fair. An ill-fated tenure working under Al Davis and a single year at an SEC school shouldn't define Kiffin as a coach. And, ultimately, it won't. Kiffin knows what will, though.
"If you are worried about what people are writing about you, win games," he said.
Or else those negative assessments will begin to develop a foundation built on incontrovertible fact.