NCF Nation:

Matt Lindamood
June, 29, 2011
6/29/11
2:31
PM ET
We continue our team position rankings today with running back. The running back situation in the league is similar to the receiver situation. Only one team returns its leading rusher from a year ago (Rutgers leading rusher
Jordan Thomas
is now at cornerback). Most everyone has a lot of young, unproven talent waiting in the wings.
So how to judge? To make these rankings, I considered returning starters, accolades for returning starters, depth and potential. I went with the top 2 teams based largely on the belief that their No. 1 running backs will be the two best in the league even though depth is lacking. Everybody else has significant questions so I weighed depth and potential more heavily.
[+] Enlarge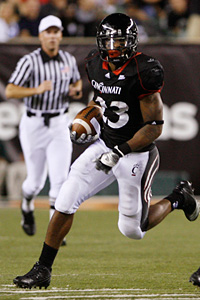 Mark Zerof/US PresswireRunning back Isaiah Pead is part of a strong returning backfield for Cincinnati.
1. Cincinnati.
The Bearcats have perhaps the best back in the league in
Isaiah Pead
, a second-team Big East selection last year after he ran for 1,029 yards and six touchdowns. A healthy
Darrin Williams
should help, too. Joining them this year are two highly touted true freshmen in Jameel Poteat and Akise Teague, making this a unit that has returning talent and even more potential than last season.
2. Pittsburgh.
The Panthers have one of the best running backs in the league in
Ray Graham
, but behind him there are major questions.
Zach Brown
is transferring in from Wisconsin, so that should help. Depth is a major concern, but Graham is the reason this unit is up so high. Some of the incoming true freshmen among Malcolm Crockett, Jeremiah Bryson, Isaac Bennett, and Corey Davis are going to have to play.
3. West Virginia.
Noel Devine
is gone, leaving a big hole to fill at the running back spot. This is one of the biggest positions of intrigue going into fall camp because it is so wide open. True freshman Vernard Roberts came in during the spring and did a nice job.
Ryan Clarke
,
Shawne Alston
,
Matt Lindamood
and
Trey Johnson
are in the mix. But expectations are high for true freshmen Andrew Buie and Dustin Garrison to contribute as well. The Mountaineers have the best depth but no No. 1 back right now, which is why they are here.
4. Louisville.
Another big-time rusher in Bilal Powell is gone and so are his 1,405 yards.
Victor Anderson
had a nice spring, leaving many to hope he can return to the form that he showed as a freshman. He and
Jeremy Wright
could be a fearsome 1-2 combo. The Cardinals are committed to running the ball, so that is a plus, and a big reason why the Cardinals are ranked No. 4. The big question here is how an inexperienced offensive line is going to affect the run game.
5. Syracuse.
The Orange lose Delone Carter and his 1,233 yards. But
Antwon Bailey
is back and ready to assume the starting job. Bailey had 554 yards last season, but he is not the power back Carter was. Prince Tyson Gulley is second on the depth chart, and there are others who could contribute: Steven Rene,
Jerome Smith
, Mario Tull and maybe even freshman Greg Tobias. There also is freshman Adonis Ameen-Moore, a bruiser with speed.
6. USF.
Hopes are high for
Darrell Scott
to come in and transform the Bulls rushing game. He is eligbile after transferring in from Colorado, and so is
Dontae Aycock
, a transfer from Auburn.
Demetris Murray
, who ran for 573 yards last season, also returns. But there are questions here. Will Scott be the savior? He was OK at Colorado and had a so-so spring. Who is the game-breaker? The Bulls traditionally have struggled to run the ball consistently. USF has not had a 1,000 yard rusher since 2005.
7. Rutgers.
The Scarlet Knights have struggled in the run game since Ray Rice left and believe they might have a game-changer in true freshman Savon Huggins. No question the young man has talent, but will he step in right away to start and make a huge impact out of the gate?
Jeremy Deering
,
De'Antwan Williams
and
Jawan Jamison
are in the mix as well, but all eyes are going to be on Huggins. One key to this whole mix -- how much better will the offensive line be to help the run game?
8. Connecticut.
The Huskies lose their MVP in Jordan Todman, who led the league with 1,695 yards rushing and 14 touchdowns. Also gone is backup
Robbie Frey
, leaving this position a gigantic question mark. DJ Shoemate is penciled in to start and is the team's leading returning rusher with 115 yards and a touchdown. Redshirt freshman
Lyle McCombs
also will be in the mix to start and there are some true freshmen who might play as well.
Previous rankings:
April, 5, 2011
4/05/11
11:00
AM ET
MORGANTOWN, W.Va. -- It's early, real early, this spring for West Virginia, which began practice later than any Big East team. But one thing seems pretty clear in the initial going: the Mountaineers have a wide-open competition at running back.
This is something new around these parts, as West Virginia could count on
Noel Devine
and Steve Slaton before him to claim the ball-carrying load for the past several years. With a new offensive system and different types of backs on the roster this year, though, that position looks uncertain.
[+] Enlarge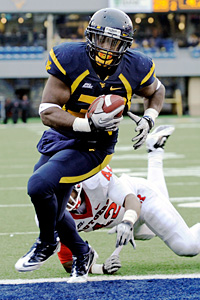 AP Photo/Jeff GentnerAt 230 pounds, Ryan Clarke is not the protypical running back for Dana Holgorsen's offense.
"I have not seen that Noel Devine or that Steve Slaton guy," head coach Bill Stewart said. "I have not seen that jump cut. Is it there? We'll see. But I haven't seen it yet."
The most experienced running backs on the team are 230-pound
Ryan Clarke
, 220-pound
Shawne Alston
and 235-pound
Matt Lindamood
. Those aren't the types of runners that Dana Holgorsen is used to using in his spread offense.
"The main back has always been a little quicker, a shiftier guy," Holgorsen said. "Someone who can get involved in the passing game, get the ball out in space and go score."
Kendall Hunter
, who ran for more than 1,500 yards under Holgorsen last season at Oklahoma State, was a 200-pounder. He coached smaller, quicker backs at both Houston and Texas Tech before that.
Holgorsen will adapt his offense to his personnel -- see his three-back, diamond formation last season at Oklahoma State -- and West Virginia will be able to throw some serious power looks at teams with Clarke, Austin, Lindamood and even
Tyler Urban
, who will see some time in the backfield as the tight end is phased out.
But it seems likely that a younger, more fleet-footed tailback will get some opportunities in an offense based on speed.
"A guy like
Daquan Hargrett
or a
Trey Johnson
, those guys have got a chance to see the field and touch the ball a lot more than they did last year," Holgorsen said. "That doesn't mean we're giving up on Alston and Clarke."
The Mountaineers will also bring in two shiftier players this summer in highly-regarded running back prospect Andrew Buie, a 190-pounder, and highly-productive Texas high school runner Dustin Garrison, who measures 5-foot-8 and 160. Both could see some action right away, just as Slaton and Devine did as true freshmen.
It might be until the summer, at least, before West Virginia discovers the heir to those former stars.
September, 23, 2010
9/23/10
1:21
PM ET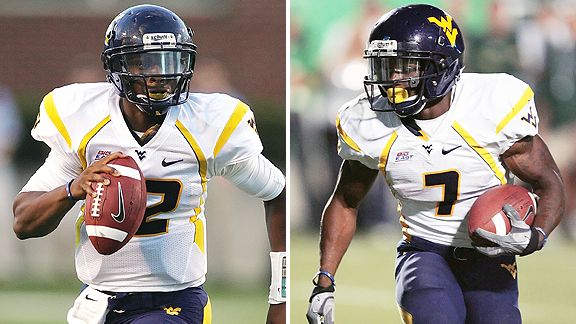 Icon SMIThe West Virginia offense has evolved into something more than Geno Smith and Noel Devine.
West Virginia faced a third-and-2 early in the second quarter against Marshall. Before the snap, Matt Timmerman shifted from left tackle to the right side to form an unbalanced line.
After the snap, tight end
Will Johnson
(238 pounds) followed behind Timmerman. Fullback
Matt Lindamood
(234 pounds) served as another blocker out of the I-formation.
Ryan Clarke
(247 pounds) took the handoff and rumbled 4 yards behind all that beef for the first down.
That mountainous Mountaineer package offered a hint that's been confirmed by the stats through three games: This is a different kind of West Virginia offense.
No longer does the offense rely just on small, speedy backs and quarterback runs. LSU's defense must prepare for a balanced, multi-faceted attack on Saturday.
"Two years ago against Colorado, we couldn't get a first down because I didn't have any tight ends or fullbacks," head coach Bill Stewart said. "I had little skill guys and slots. I didn't have any Will Johnson because he just converted, or
Tyler Urban
, or Ryan Clarke because he wasn't doing what I wanted and now I have a 238-pound chiseled man.
"So, we have to become well-rounded, and we have more in the arsenal. It's called spreading the wealth and keeping people off balance."
The additional poundage has helped, but nothing has aided the offensive transformation more than the emergence of sophomore quarterback
Geno Smith
as a precision pocket passer.
Smith is completing 70.3 percent of his throws; the school record for completion percentage in a season is Pat White's 66.7 percent in 2007. He has already thrown eight touchdown passes, or four fewer than the Mountaineers had all of last season.
Smith can run, but that's rarely his first option. His only two runs of more than 10 yards this season came as he scrambled against a Marshall prevent defense in the fourth-quarter comeback. West Virginia is averaging 226 passing yards per game this season, up from 191 per game in 2009 and 151 in '08.
The play calling reflects that balance as well. The Mountaineers have rushed 136 times this year and passed it 107 times, a 56-44 ratio. Last year, the ratio was 59-41 in favor of the run, and in '08 it was tilted 63-37 toward the run.
Last week against Maryland, Smith tossed four touchdown passes in the first 33 minutes, and West Virginia used the power running of Clarke behind Lindamood to help run out the clock late. No wonder the Mountaineers tried a double-pass trick play in the third quarter; when you've got that many toys, you want to play with them.
"We've got more options," offensive coordinator Jeff Mullen told the Charleston Daily Mail after the Maryland win. "We don't have to throw it on every down just like we don't have to run it on every down. We've got a lot of guys who can do a lot of things."
They've still got the small skill guys in
Noel Devine
,
Jock Sanders
and
Tavon Austin
. But they're also developing receivers like
Stedman Bailey
and tight end Johnson, who caught the touchdown near the end of regulation in the Marshall win.
"Those guys really make a defensive coordinator look at this offense differently than they did a couple years ago," Smith said.