April, 10, 2012
4/10/12
7:00
PM ET
Heading into the 2010 season, it was not uncommon for media sorts to volunteer Oregon State as a program that had the best staff of assistant coaches in the Pac-10.
Why? Good numbers without stockpiles of elite recruits. Non-elite recruits becoming NFL draft choices. Thirty-six wins over the previous four seasons. You know, the usual suspects.
Oh, but how two down seasons can change things. After going a combined 8-16 over the past two years, many Beavers fans are either calling for head coach Mike Riley's head, or they are at least calling for the heads of his coordinators: Mark Banker on defense and Danny Langsdorf on offense.
How quickly can things change? Well,
I wrote this heading into 2010
as part of a "Don't be surprised if..." series: "Don't be surprised if ... Beavers offensive coordinator Danny Langsdorf becomes a hot head-coaching candidate when new starting quarterback
Ryan Katz
posts surprisingly strong numbers this fall."
[+] Enlarge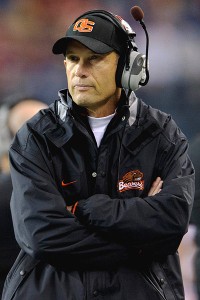 Steven Bisig/US PresswireAfter two straight lowly seasons, Oregon State coach Mike Riley might call offensive plays in 2012.
Katz posted pretty good numbers in 2010 -- 60 percent completion rate, 18 TDs, 11 interceptions -- but he was promptly and surprisingly displaced as the starter by redshirt freshman
Sean Mannion
at the beginning of the 2011 season. And Langsdorf is now fighting for his job instead of presiding over his own program.
In fact, there now appears to be some question as to whether Riley will
take over play-calling responsibilities
from Langsdorf in 2012, which Riley gave to Langsdorf midway through the 2008 season. This question is being -- legitimately -- asked because Riley is calling plays this spring.
Riley was noncommittal -- and a tad uncomfortable -- with this line of inquiry Monday, and you can see
video of his thoughts here
. He called it "not a big deal." He said he was calling plays so he could see how the offense reacted against certain looks from the defense: "It's a way to orchestrate a big-picture look," he said.
When asked if it was for spring only, he said, "For right now, it's only for spring."
That qualifies as a "maybe," not a "Yes" or "No."
So here's my defense of Langsdorf, who also coaches the Beavers QBs. It might not be completely comforting for Beavers fans, but I think it's fair and accurate: The reason the Beavers offense has struggled the past two seasons ... drum roll please ... is a lack of good players.
I know: Thud.
The 2010 season likely would have been different if receiver
James Rodgers
hadn't blown out his knee during an impressive win at Arizona on Oct. 9. And the Beavers would have qualified for a bowl game if typically reliable tight end
Joe Halahuni
hadn't dropped a 2-point conversion that would have beaten homestanding Washington in double-overtime.
2011? Well, that was just pretty lousy. Riley, Langsdorf, Banker, the players -- everyone associated with the program -- surely spent some time wondering where they failed.
Still, as the Pac-12 blog observed while praising Langsdorf just two years ago:
In his six seasons as offensive coordinator, the Beavers have posted five of their top-nine all-time seasons of total offense. Remember the early careers of quarterbacks Matt Moore, Sean Canfield and Lyle Moevao? One word: Yucky. Remember their late careers? Two words: Dramatic transformation. Canfield earned first-team All-Pac-10 honors in 2009 and joined Moore in the NFL.
In 2008, with Langsdorf calling plays, the Beavers ranked 32nd in the nation with 30.5 points per game and 30th in the nation with 407.1 yards per game. In 2009, they ranked 26th in points (31.5 ppg) and 34th in yards (410.6 ypg).
In other words, Langsdorf has been a successful coordinator and playcaller. At least when he's shown up for battle with more than a pillow shield and plastic sword.
Things set up fairly well for the offense heading into 2012. Langsdorf has his returning starter at QB in Mannion. He has a good crew of receivers, led by
Markus Wheaton
. But the offense will struggle if it can't generate a running game, which mostly hinges on improved play on the offensive line, which has been sub-par two years running.
One of the criticisms of Riley has been his loyalty to his assistant coaches, but he's made tough decisions recently, including firing longtime linebackers coach Greg Newhouse in March of 2011 (mostly because of recruiting shortcomings). If Riley takes away play-calling responsibilities from Langsdorf, it will be a painful blow to both men.
But it appears that possibility is at least being considered, so it will be worth asking about in advance of the season opener on Sept. 1 against Nicholls State.
December, 16, 2011
12/16/11
10:30
AM ET
We're not done spinning just yet, but if you're a bit lost, here's the changes to the coaching staffs across the Big 12 thus far.
BAYLOR (9-3)
Out: Receivers coach Dino Babers took the head-coaching job at Eastern Illinois. No replacement named.
IOWA STATE (6-6)
Out: Offensive coordinator Tom Herman took the offensive coordinator job under Urban Meyer at Ohio State. No replacement named.
KANSAS (2-10)
Out: Head coach Turner Gill fired. Other staff positions up for discussion.
In: Florida offensive coordinator Charlie Weis hired to replace Gill. Akron QB coach Ron Powlus hired to coach quarterbacks. Bishop Miege (KS) coach Tim Grunhard hired to coach offensive line. Running backs coach/recruiting coordinator Reggie Mitchell retained from Gill's staff.
KANSAS STATE (10-2)
MISSOURI (7-5)
Out: Safeties coach Barry Odom left to become defensive coordinator at Memphis. No replacement named.
OKLAHOMA (9-3)
OKLAHOMA STATE (11-1)
No changes yet, but OC Todd Monken has drawn interest from several programs.
TEXAS (7-5)
No changes, though Texas was forced to proactively shoot down rumors of Mack Brown's retirement.
TEXAS A&M (6-6)
Out: Fired coach Mike Sherman. Defensive coordinator/interim coach Tim DeRuyter took head-coaching job at Fresno State but will remain on staff through the bowl game. Other staff positions up for review.
In: Hired Houston coach Kevin Sumlin. Sumlin will recruit while the other coaches prepare for the bowl game.
TEXAS TECH (5-7)
Out: Fired DBs coach Otis Mounds and offensive line coach Matt Moore. Moved defensive line coach Sam McElroy into a non-coaching role on staff.
In: Hired former Miami DC John Lovett to coach defensive backs and former Ole Miss defensive line coach Terry Price to coach the defensive line. No offensive line replacement named yet.
April, 16, 2010
4/16/10
2:39
PM ET
CORVALLIS, Ore. -- Oregon State coach Mike Riley is standing beside a dry erase board in his office. He points to his flanker. That's
James Rodgers
. He caught 91 passes for 1,034 yards and nine touchdowns last year. Riley smiles.
He points to his tight end
Joe Halahuni
. He caught 35 passes and became an offensive weapon after the middle of the season. Riley points at his slot receiver,
Jordan Bishop
. The 6-foot-3 sophomore can high jump over seven feet. He points at his split end, where
Darrell Catchings
and
Markus Wheaton
are engaging one of the more spirited competitions this spring.
Then he points at
Jacquizz Rodgers
, who rushed for 1,440 yards, caught 78 passes and scored 22 touchdowns a year after being the Pac-10's Offensive Player of the Year as a true freshman.
Riley agrees with a reporter that Jacquizz should be a top Heisman Trophy candidate.
The main point, however, is the Beavers offense has a lot of guys who can punish a defense.
"Athletically, it's as good as we've ever been," Riley said.
Then Riley circles his quarterback.
"It's our biggest question on offense," he said. "If we can bring our quarterback up to the rest of the offense, then it's going to be good."
That quarterback figures to be sophomore
Ryan Katz
, who's got a big arm but little experience. While Katz officially is competing with Virginia transfer
Peter Lalich
for the starting job, Katz started spring practices with the No. 1 offense and he's yet to yield that perch.
"What stands out about Ryan -- always has -- is he's got really good physical ability. A Great arm," Riley said. "It's one of those deals where you're kind of taken aback by the strength of his arm sometimes. He throws the ball so easily with a lot of velocity. He's got to learn a little bit more about taking something off it every once and a while. I tell him all the time, 'You don't always have to throw a 95 miles per hour ball.'"
The good news is Katz, Riley said, has consistently improved since arriving in Corvallis from Santa Monica (Calif.) High School. But there's a caveat hidden in that positive point, because every recent Oregon State quarterback has improved steadily during his career, from Derek Anderson, to Matt Moore, to
Lyle Moevao
, to
Sean Canfield
.
But each of those guys started his career slowly and, well, unimpressively. Anderson completed just 47 percent of his passes his first year as the Beavers starter under then-coach Dennis Erickson. Moore threw 19 interceptions. Moevao and Canfield combined for 21 interceptions in 2007.
The question is how steep Katz's learning curve will be.
"There is a process with us," Riley said.
By all accounts, Katz has embraced the No. 1 role, though he admits it goes against his type to be a vocal leader. As a personality, Katz is closer to the quieter Canfield than the effusive Moevao.
"More than vocal-wise, I tried to lead by example," Katz said.
The Beavers offense has evolved in recent years as Riley yielded control to coordinator Danny Langsdorf. The Beavers have increased the role of running backs and the flanker in the passing game. They added the fly sweep. Canfield's accuracy but lack of a strong arm had the offense looking West Coast-ish for a while in 2009.
Katz brings back the big arm of say an Anderson or Moore and adds some athleticism. Katz will move around in the pocket and there will be more designed bootlegs. And there's an increased emphasis of screen passes in order to build his confidence through the air.
And Katz needs to find his rhythm quickly. The opener is vs. TCU in Cowboys Stadium -- a top-10 team playing in a friendly stadium that is far bigger than its home field.
"When the time comes, it's definitely going to be eye-opening," Katz said. "But I'm just going to take it and run with it. I can't stand out there and be star struck."
After TCU, the Beavers play host to Louisville, then visit Boise State, a likely top-five team.
So there's no soft schedule that allows Katz to acclimate himself to the speed of the game. He's bound to make mistakes, which means criticism. Katz is aware that is an inescapable part of playing the position.
"That's definitely in the back of your mind, but if I just work day by day and get better that will play it self out," he said. "I know that comes with the job."
But he said he learned a lot from watching Canfield and Moevao weather the storm and come out strong on the back end.
But if Katz plays well from the start and minimized the growing pains, then Beavers should become a major player in the Pac-10 race.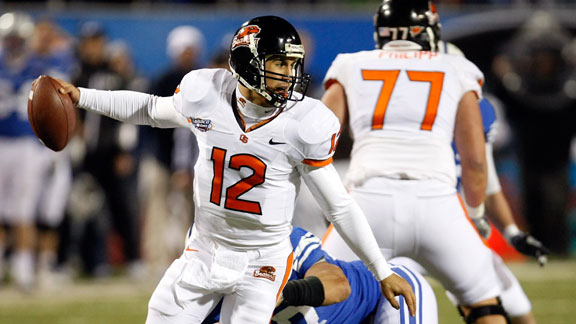 January, 14, 2010
1/14/10
10:07
AM ET
By
Tim Griffin
| ESPN.com
The coaches who were most directly responsible for helping direct Texas Tech to the Red Raiders' victory over Michigan State in the Valero Alamo Bowl won't be a part of Tommy Tuberville's new staff.
Interim coach/defensive coordinator Ruffin McNeill and inside receivers coach Lincoln Riley were among six coaches who were let go by Tuberville.
McNeill served as the interim coach after Mike Leach was fired the week before the game. And Riley served as the Red Raiders' offensive coordinator, juggling the quarterback switch in which
Steven Sheffield
was inserted in place of
Taylor Potts
in the middle of the fourth quarter to direct the comeback victory.
Other coaches from Leach's staff who won't be retained include running backs coach Clay McGuire, safeties coach Carlos Mainord, cornerbacks coach Brian Mitchell and special-teams coordinator Eric Russell.
Among former members of Leach's staff who survived the coaching switch include offensive line coach Matt Moore, defensive ends coach Charlie Sadler and Sonny Cumbie, who is a graduate assistant for the offense. Wide receivers coach Dennis Simmons also will be retained in some capacity on Tuberville's staff.
McNeill directed the transformation of the Red Raiders' defense over the last two-and-a-half seasons. The Red Raiders finished 2009 ranked fourth nationally in sacks, but only 94th in turnover margin.
Alabama associate head coach/linebacker coach James Willis appears to have the inside track on becoming Tuberville's new defensive coordinator. The Fort Worth Star-Telegram reported that Willis
has been in Lubbock the last two days
with his family attempting to get settled in the area.