NCF Nation:

Matt Rhule 032213
March, 22, 2013
3/22/13
10:30
AM ET
Here is Part II of my interview with Temple coach Matt Rhule. As the Owls open up spring practice, Rhule discusses his priorities for the defensive side of the ball.
There were struggles in every category on defense last year. First, how do you work on stopping the run?
MR:
When you look at our defense, there's certain things that have to get better. The defensive line play up front has to completely emerge and improve. I don't know how many sacks we had but it's not very many and we have to stop the run first and so there are some experienced talented players that have to step up and make plays for us. We have a history here of d-linemen playing in the National Football League. These guys coming up have a lot of talent, they just have to go play. In the spring, we're really going to push those guys and see what they can do.
Is there one guy or a couple of guys you already have in your mind along the front that you have said OK this guy has got to have a big spring for us?
[+] Enlarge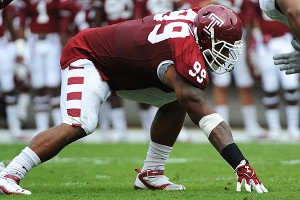 AP Photo/Tomasso DeRosaTemple coach Matt Rhule is counting on Levi Brown to be a big producer in 2013.
MR:
Levi Brown
. Levi's a senior, he's been starting since he's a freshman. As a sophomore he played well at times. Turning the film on last year he didn't dominate the game. He's been banged-up most of the winter. He played hard; he just didn't dominate. He's got to dominate because he's a talented player. The guy I would put the absolute spotlight on is
Sean Daniels
. Sean's brother starts in the NFL. Sean over the years has had some big games at times. He's got seven sacks in three years, though. He's never put it all together. It's now for him. It's not even the fall. It's this spring. He has to show himself, show his teammates he can be a reliable every-down threat who can pressure the quarterback. Before we start talking about the DBs, you have to get pressure on the quarterback, then you can more adequately say this is who can cover and who can't. We need Sean to come through for us as a pass-rusher and as a defensive end.
Where do you want to see improvement from reigning Big East freshman of the year Tyler Matakevich?
MR:
I've made this clear to him. He needs to evaluate himself not based on the amount of tackles he makes but based on the amount of plays he makes. Coming off a block 4 yards down the field and dragging a guy down for a gain of 5, that's a tackle but it's not a dominant play. He's made some dominant plays, and he can make a lot more, but he's got to start making plays in the backfield, he's got to start making plays at the line of scrimmage, he has to dominate with a physical style of play as opposed to falling off blocks. He has a natural intuitiveness to be around the football, which you can't coach. But we're going to put a lot of pressure on him to take his game to the next level -- not to just say I make a lot of tackles. Tell me where you're making the tackles, how many plays you're making. He's on board with that. He's a tough guy, he wants to get better. That's the emphasis for him, where are you making those plays?
Temple played a lot of young guys in the secondary last year. How does that position look to you?
MR:
We have a bunch of guys that can raise their hand and say I've played 15 or 20 plays a game but no one who can say, 'OK I emerged as a starter and showed what I can do and was consistent all year long.' That's the thing for us. There's a lot of guys who have played but there's not a lot of guys who have established themselves. When coaches say there's a lot of competition, sometimes it's a good thing, sometimes it's a bad thing. I'd love it to say, 'OK this is our starter.' That's the challenge to those defensive backs.
March, 22, 2013
3/22/13
9:00
AM ET
Temple opens spring practice today with a new coach and questions at some key positions on offense. I had a chance to catch up with coach Matt Rhule to get his thoughts on his first spring as head coach. We focus on the offense in Part I.
We know finding a quarterback is the No. 1 priority. What are some others going into the spring?
MR:
Finding an offensive line. When I was here two years ago, every guy that beat Wyoming in the bowl game, every guy that was on the offensive line is now gone, and all of them are in some form of professional football. We just have to figure out who can play up front. Then defensively, in the secondary we have a lot of people who played. If you asked who's played, 10 guys would put their hands up. At linebacker, we have a bunch of guys who have played. Now we have to identify who the starters are, who can play championship-level football, not just get on the field. There are very few spots where I would tell you this is our guy, this is the starter. For the most part, there's open competition.
[+] Enlarge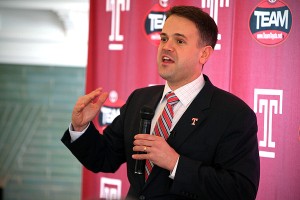 Patrick Rosenbaum, Temple UniversityTemple coach Matt Rhule says developing the offensive line will be important this season.
Let's start with offense. Will you run a similar style to your predecessor or have a new offensive philosophy?
MR:
We're labeling ourselves more a pro-spread. It's going to be pro-style passing game. We'll use some spread and power-run principles, so we'll take advantage of both those things, but in terms of the passing game, it will be completely different. It will be what we're bringing in from New York and what (offensive coordinator) Marcus (Satterfield) is bringing in.
The passing game is an area where Temple struggled last year. Where do you need to see improvement so it can be more effective than it was last year?
MR:
It's a complete cultural shift mind-set wise for everybody. Go back and watch the film from the offensive line protecting to the quarterback throwing to the receivers even catching the ball, they have to do it at a very high level to have a good passing game, and so that will start right from Day 1. We'll come out throwing. We'll always want to run the ball, but to be a good passing team you have to throw it day in and day out in practice. That's everybody. That's the offensive line protecting, that's the backs helping in protection. If they don't do that, then you can't be cohesive. You'll only be average. So we have to get everyone to buy into that just to give your quarterbacks even a chance, and then the quarterback will have to show who can make a play above the Xs and Os. There's a lot of room for improvement.
How are you going to work on depth at running back?
MR:
I think we'll want to rely on a freshman. Freshmen running back -- that's one of the easier positions to come in and play. If they're not good enough, they're not good enough. We're not going to play a guy before he's ready. We're going to give them an opportunity. I'm excited to see what the backs can do this spring. Now it's their time. They have a chance to learn the plays and see if anybody can do some special things. The freshmen coming in will have every opportunity to come in here and play, because we want depth and we want playmakers at that position. Even if you're not a starter, you can come in and play 15 plays.
What about at receiver? Are you looking at Jalen Fitzpatrick as a guy who has the potential to emerge in your pass game?
MR:
Absolutely. Marcus and I were watching film the other night. There were two times we saw him catch a ball clean with both feet on the ground the whole year -- he turned both into touchdowns. He has talent, he has ability and he's a gamer. We're going to rely on him.
Deon Miller
is a guy, when I was here as the coordinator, as a freshman, we were playing Deon and he had, to me, the chance to maybe breakout. He's had injuries, he's had some issues, concussions things like that. He looks to me, based on what I've seen so far, 'it's my last go around, OK here we go.' As a coach you're always looking for those seniors that have that look in their eye, that say, 'OK I'm ready to go now be a player.' That's what I think I see from Deon right now.
Ryan Alderman
is another guy who's played a lot of football for us. He's a Wes Welker type guy who hasn't necessarily been utilized in that type of scheme, but I think he has an opportunity to make some plays for us. The young kids will hopefully follow suit.
Will the quarterback position stay open going into fall?
MR:
Absolutely. I might name a starter coming out of the spring if I feel like we have one, but the one thing for us is there's always competition. In any elite program. Look at the 49ers this year. If they'll do it and it gets them to the Super Bowl, we'll do it. The best player will play. We're going to always give those kids a chance. No. 1, I said it in recruiting, and I want to be a man of my word. No. 2 we played Bernard Piece as a freshman and that worked out for us. I want to know what those guys can do. I want every kid, whether you're walk-on, scholarship freshman or senior, you walk on the field and you feel like you get an opportunity in this program. That's to me what helps you find diamonds in the rough. Matt Brown was a walk-on. He would have fallen thru the cracks at a lot of places, but not here. I hope to bring that mentality back.
Eds. note: Stay tuned for Part II, focusing on the defense.