November, 26, 2011
11/26/11
7:30
PM ET
Kentucky's Danny Trevathan exhaled late Saturday afternoon and became the unofficial spokesman for the entire Big Blue Nation.
"It was about time," Trevathan exclaimed. "We're celebrating two things today. The streak is dead, and this is a new beginning for Kentucky football.
"These guys can now go on about their business and not have to worry about a streak that lasted 26 years. That's crazy … 26 years. I mean, a lot of marriages don't last that long."
It wasn't a memorable season by any means for the Wildcats, but nobody's complaining in the Bluegrass State about how it ended.
For the first time since 1984, Kentucky can celebrate a football victory over Tennessee after holding off the Vols in a
10-7 slugfest
at Commonwealth Stadium.
[+] Enlarge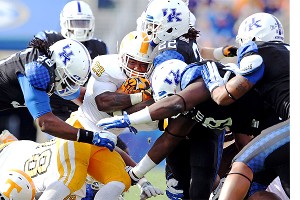 Andy Lyons/Getty ImagesDanny Trevathan (22) leads a gang of Kentucky tacklers in stopping Tennessee's Tauren Poole.
Coming in, Tennessee had won 26 consecutive games in the series, which was the longest streak by one conference opponent against another in major college football.
Trevathan, playing his final game at Kentucky, capped a splendid career with a game he said he'll never forget.
It wasn't so much what it meant to him, Trevathan said, but what it meant to his teammates and coaches he leaves behind.
In fact, prior to the game, Kentucky coach Joker Phillips had Trevathan speak to the team in the locker room.
The senior linebacker didn't hold anything back.
"I just told them that they would all be my brothers until the end," said Trevathan, who finished his season with 143 total tackles to lead the SEC in that department for the second year in a row. "It had been a rough year for all of us, but I wanted them all to know where I stood and that we were going to stay the course and go out and play our best game.
"I love these guys, and they're going to carry this thing on now. They don't have that weight of that 26-game streak on their shoulders any more. It's gone and not coming back.
"It's a new beginning for our program, and I'm glad I could be here with these guys to see it end."
Kentucky snapped the streak with senior receiver
Matt Roark
going the whole way at quarterback and attempting just 6 passes. The Wildcats' regular quarterbacks – freshman
Maxwell Smith
and junior
Morgan Newton
– were banged up and unable to play.
Whereas Roark wasn't going to throw it, he finished with 124 rushing yards, and the Wildcats didn't turn the ball over a single time.
Kentucky (5-7, 2-6 SEC) won't be going to a bowl game for the first time since 2005, but Trevathan made a plea to fans to stay behind Phillips and the players.
"They're going to get it done here, and they're going to keep moving forward," Trevathan said. "I hope everybody understands that. Having this streak behind us will help.
"My work here is done, but these players and coaches will always be my band of brothers. I'm just glad they won't have to answer any more questions around here about losing 26 straight games to Tennessee.
"It's time we start our own streak."
September, 2, 2011
9/02/11
8:31
AM ET
It looks like all that chatter about Kentucky losing its offensive playmakers carried a little bit of weight to it.
OK, a lot of weight.
The Wildcats' offense looked flat all night as Kentucky
squeaked out the 14-3 win over Western Kentucky
in Nashville Thursday.


Kentucky had just 75 yards of total offense through the first three quarters before quarterback
Morgan Newton
drove 80 yards late in the fourth to seal the win. Newton, who entered the drive with three interceptions on the night, set up the final score with a clutch 58-yard run on a third-and-14. Newton's 31-yard touchdown pass to
La'Rod King
with 4:35 left in the fourth put the game away.
For a team that dominated the Hilltoppers by nearly 40 points a year ago, the Wildcats had every opportunity to lose this one Thursday. They were outgained 234-190 on the night, and if not for some mental mistakes by the Hilltoppers' offense, most notably four interceptions by quarterback
Kawaun Jakes
, Kentucky might be sitting at 0-1 today.
Kentucky returned four starters on the offensive line, but even they couldn't do much to spring the Wildcats' running backs. Kentucky finished the night with just 93 yards on the ground. However, there was a nice 14-yard touchdown run by freshman
Josh Clemons
, who the staff is especially excited about, to put Kentucky's first points on the board.
While the offense was hard to look at until that final touchdown drive, Kentucky's defense helped keep the Hilltoppers from becoming a real threat to pulling the upset. A year after giving up 187 rushing yards to Western Kentucky, 184 of them coming from
Bobby Rainey
alone, Kentucky's defense allowed 141 yards on the ground and limited Rainey to just 105.
Kentucky's defense also held the Hilltoppers to go 6-of-18 on third downs and allowed just 93 passing yards.
For a defense that struggled mightily last season, this was a confidence booster in the worst way.
The bottom line is that Kentucky has a lot of work to do on offense. Newton has had plenty of field action in the past, but his game took a major step back Thursday. He didn't look like the confident freshman who started five games two years ago. He looked like a true, wide-eyed frosh taking his first snaps.
But when Newton, who finished the game 7-of-18 passing for 97 yards, wasn't looking overwhelmed, his receivers weren't doing much to help him. Drops became a common theme for the Wildcats, especially for senior receiver
Matt Roark
, who had a handful of them.
And Kentucky must find offensive weapons. King was supposed to step right into the role of top receiving target, but he caught just two passes for 42 yards. He has to get better separation in order to help Newton.
Every team has a hiccup game, and it's better for it come at the beginning of the season. Coach Joker Phillips is hoping this is that game because this offense looks like it has a long way to go. You can be assured that practices will be a little more intense next week.
June, 16, 2011
6/16/11
9:17
AM ET
Today we take a look at the wide receiver/tight end positions in the SEC. This one gets tricky since we're basing rankings on two different positions.
Let's take a look at what we came up with:
[+] Enlarge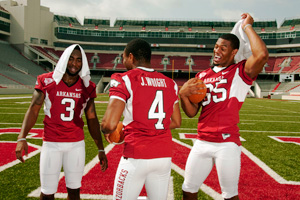 AP Photo/April L. BrownJoe Adams, Jarius Wright and Greg Childs combined for 2,260 yards last season.
1. Arkansas:
The Razorbacks could have the best wide receiver corps in the country. Making things even better for Arkansas is that each member of its tremendous trio is a senior. First, there's
Greg Childs
, who would have taken part in the NFL draft this year had he not suffered a knee injury late in the season. Childs is Arkansas' best receiver when he's healthy.
Joe Adams
really came on strong last year, especially after Childs went down. He's the best when he gets the ball in open space and will command the slot. Then there's
Jarius Wright
, who is the fastest of the three and got even stronger this spring as well. The three have 324 combined career receptions for 5,404 yards and 41 touchdowns.
2. LSU:
The Tigers might have lost
Terrence Toliver
, but they'll still have weapons at receiver. Junior
Rueben Randle
is expected to be the go-to guy in LSU's offense and is coming off a season where he caught 33 passes for 544 yards and three touchdowns.
Russell Shepard
was right behind him last season, catching the same amount of balls, but only totaled 254 yards and one touchdown. He looked sharper this spring and is looking to break out this fall. Tight end
Deangelo Peterson
should also get more attention this fall. He only caught 16 passes, but that number should increase.
3. South Carolina:
For starters, the Gamecocks have the league's best receiver in
Alshon Jeffery
. The 6-foot-4, 233-pound freak snatched just about everything that came his way last fall and registered 1,517 yards and nine touchdowns. He's nearly impossible to stop in one-on-one situations. Senior
Jason Barnes
didn't make a major impact in 2010, but he does have 60 career receptions under his belt. The smaller
Ace Sanders
should be even better after bursting onto the scene with 25 receptions for 316 yards and two touchdowns.
D.L. Moore
, who caught 17 passes in 2010, should have a more expanded role as well.
[+] Enlarge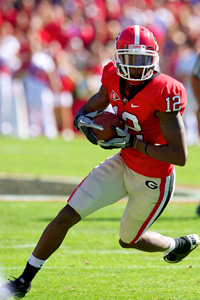 Dale Zanine/US PresswireWith A.J. Green in the NFL, Tavarres King should become the Bulldogs' main receiving threat.
4. Georgia:
The Bulldogs are still looking for a few playmakers at receiver, but there is definitely talent in Athens. Junior
Tavarres King
has moved into A.J. Green's flanker spot and while he's not Green, he proved this spring that he's ready to be the Bulldogs' main receiving threat. Tight end
Orson Charles
is the best at his position and can flex out to receiver if needed. His 26 catches for 422 yards should increase this upcoming season.
Marlon Brown
also made strides this spring and should be the No. 2 receiver.
5. Tennessee:
Neither
Justin Hunter
nor
Da'Rick Rogers
had a ton of catches last fall, but that will change with a strong passing game in 2011. Hunter caught 16 passes, but registered 415 yards and seven touchdowns in the process. He's a solid deep threat and playmaker. Rogers also only caught 16 passes, and while he didn't have the yardage Hunter had, he made tremendous strides this spring. Tight end
Mychal Rivera
caught 11 passes in 2010 and with Luke Stocker gone he takes over as the Vols' weapon at tight end.
6. Alabama:
There aren't a lot of questions surrounding the Crimson Tide, but receiver isn't Alabama's best area. Seniors
Marquis Maze
and
Darius Hanks
should get the brunt of the catches. They combined for 70 catches for 1,013 yards and six touchdowns last season. There is a long list of other inexperienced players who should grab some catches as well and former Ohio State receiver Duron Carter, who just transferred in, could be a factor this fall.
7. Florida:
The Gators have talent at wide receiver, and Florida should have a more pass-friendly offense, but the group is very unproven. Frankie Hammond Jr. could be Florida's best weapon at receiver with his speed and athleticism.
Omarius Hines
has the size and speed to be a major mismatch for defenders in the slot and on the outside. Freshman
Quinton Dunbar
was Florida's top deep threat this spring and should get ample playing time. At tight end,
Jordan Reed
was called Florida's best athlete and could end up being the Gators' top playmaker.
Trey Burton
should catch a few more passes as well.
[+] Enlarge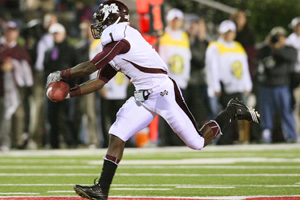 Marvin Gentry/US PresswireMississippi State's Chad Bumphis caught 44 passes for 634 yards and five touchdowns last season.
8. Mississippi State:
The Bulldogs have a ton of depth at receiver, starting with
Chad Bumphis
. The junior has yet to really break out, but this could be the year he finally puts it together. Alongside him, Mississippi State has
Chris Smith
,
Brandon Heavens
and Arceto Clark, who all had solid springs. Those four combined for 115 catches last fall. The Bulldogs also have a host of young receivers who appear ready to compete.
9. Auburn:
There is still some talent left on the Plains at receiver. Sure,
Darvin Adams
and
Terrell Zachery
are gone, but the Tigers will look to
Emory Blake
and
Trovon Reed
to make up for their departures. Blake is the leading returning receiver, while Reed will be used all over the field by Auburn's coaches. He can be a threat in the slot and on the outside.
Philip Lutzenkirchen
will be more of a staple in the offense as the Tigers' trusted H-back.
10. Ole Miss:
Athletically, the Rebels are fine. However, this group is very inexperienced and was inconsistent this spring. The incoming freshmen will have every opportunity to take a starting spot and Tobias Singleton could be the best option of Ole Miss' youngsters. Of the returners,
Melvin Harris
did the most in 2010, catching 30 passes for 408 yards and three touchdowns. Redshirt freshman
Vincent Sanders
will also get a chance to heavily contribute after making strong strides this spring.
11. Vanderbilt:
Four of Vanderbilt's five receiving leaders return, but the group wasn't tremendously productive last fall. The Commodores didn't have a receiver go over 320 yards last season and tight end
Brandon Barden
caught a team-high 34 passes for 425 yards. Vanderbilt's top two wideouts --
John Cole
and
Jonathan Krause
-- are back, but the Commodores might have to turn to their youngsters for help.
12. Kentucky:
The Wildcats lost a lot when do-everything Randall Cobb left early for the NFL and things didn't get any better by losing No. 2 wideout
Chris Matthews
. Now, it's back to the drawing board in Lexington.
La'Rod King
should be the top target for quarterback
Morgan Newton
, but he disappointed at times this spring.
Matt Roark
and
E.J. Fields
will compete for time, but both need vast improvement. The top athlete could be
Brian Adams
, but he spent spring playing for Kentucky's baseball team.
April, 14, 2011
4/14/11
9:07
AM ET
Morgan Newton
's time at Kentucky has been filled with all sorts of emotions.
The junior quarterback arrived in 2009 as one of Kentucky's top recruits, but with
Matt Hartline
pinned the starter, he took his seat behind the junior.
[+] Enlarge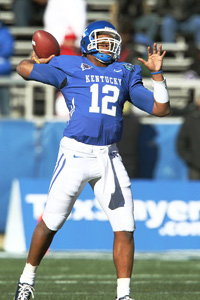 Marvin Gentry/US PresswireMorgan Newton has focused this spring on being more consistent and cutting down on mistakes.
However, a midseason knee injury to Hartline pushed Newton up the depth chart and into the starting role. He earned SEC All-Freshman honors after passing for more than 700 yards and tossing six touchdown passes.
Unfortunately for Newton, his second year wasn't as eventful as a healthy Hartline took back the reins and finished 2010 second in the SEC in passing, averaging 264.8 yards per game. Newton saw backup duty in just four games.
Fast forward to this spring and it's Newton's ship again. He entered as the starter and by all accounts he'll leave that way.
He's not bitter about his first two years on campus. In fact, he relishes the fact that he gained that much experience before officially being handed the keys to Kentucky's offense.
"It's helped a lot," Newton said. "Now, I'm just trying to learn from all my experience. Coming back and having the opportunity to lead the offense is going to be nice because I've had that experience."
But Newton didn't walk into the most glamorous situation. He doesn't have the luxury of playing alongside do-everything wide receiver
Randall Cobb
, who declared for April's NFL draft and took his nearly 1,500 yards of offensive production from last season with him.
Also missing is running back
Derrick Locke
, who more than likely would have eclipsed the 1,000-yard mark in 2010 had he not suffered a shoulder injury midseason.
He may not have those studs to work with, but he praised junior receiver
La'Rod King
for his improvement and has labeled him as his go-to guy on the field. He's also comfortable handing the ball off to Locke's apprentice, sophomore
Raymond Sanders
, who might not be as fast as Locke, but could be shiftier.
Unheralded receivers
Matt Roark
and
Brian Adams
are also making strides, Newton said.
But it all comes back to Newton. He's the quarterback. He's the leader.
Newton knows he's got the physical tools to make things happen, with his solid arm strength and threat to run, but he's working on the intangibles, like leadership.
He hasn't had to lead much, so it's a work in progress, but Newton thinks he's getting the hang of it. And when he's struggling with it, he's got former Kentucky quarterback star Andre Woodson pushing him along.
Woodson is back at Kentucky to finish his bachelor's degree in agricultural communications and is also serving as a student assistant coach.
Being around Newton is having some draw comparisons between the two. Newton sees similarities, but he also sees plenty of differences, like the amount of wins Woodson racked up in his career.
"Having Dre around makes things go that much smoother," Newton said. "He's a guy who's experienced and who's been through it and been in the league a little bit. Anything he tells me I'm going to listen to and implement into the offense and into my game."
The main thing Newton said he's tried to work on this spring is being more consistent. He's had flashes of brilliance overshadowed by glaring mistakes, which he said could cost his team this fall.
Defensive coordinator Rick Minter has paid more attention to good things Newton does because it makes his group look bad. Minter said Newton has "tremendous upside" and his ability to effectively use both his feet and arm has caused him headaches.
Minter is just hoping Newton exacts that same formula on opponents this fall.
"I trust the guys on offense are going to put Morgan in the best position possible to be successful on his own, but I do think the young man brings a lot of skills and tools to the table," Minter said.