NCF Nation:

Matt Rotheram
August, 15, 2014
Aug 15
10:30
AM ET
»
More team previews:
ACC
|
Big 12
|
Big Ten
|
Pac-12
|
SEC
Previewing the 2014 season for the
Pittsburgh Panthers
:
Key returners:
QB
Chad Voytik
, RB
James Conner
, RB
Isaac Bennett
, WR
Tyler Boyd
, TE
J.P. Holtz
, LT
Adam Bisnowaty
, C
Artie Rowell
, RG
Matt Rotheram
, RT
T.J. Clemmings
, DE
David Durham
, LB
Anthony Gonzalez
, LB
Todd Thomas
, CB
Lafayette Pitts
, S
Ray Vinopal
Key losses:
QB
Tom Savage
, WR
Devin Street
, DT
Aaron Donald
, LB Shane Gordon, CB
K'Waun Williams
, S Jason Hendricks
[+] Enlarge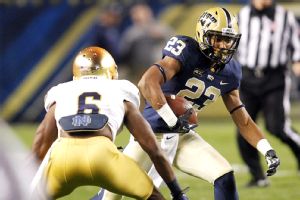 Charles LeClaire/USA TODAY SportsPittsburgh wide receiver Tyler Boyd looks to build on a freshman All-America season.
Most important 2014 games:
Sept. 20 versus Iowa, Oct. 16 versus Virginia Tech, Nov. 1 versus Duke, Nov. 15 at North Carolina, Nov. 29 at Miami
Projected win percentage (from Stats & Info):
63.5 percent.
Over/under Vegas odds:
7.5 wins.
Instant impact newcomers:
Avonte Maddox
and
Phillipie Motley
are a pair of freshman cornerbacks who will likely be counted on heavily to provide some needed depth at the position, as
Titus Howard
's
season-long suspension
leaves Pitt with just two returners with any experience at the position (Pitts and
Trenton Coles
). Both Maddox (5-foot-10, 170 pounds) and Motley (5-foot-9, 165 pounds) arrived this summer as ESPN three-star prospects, and the learning curve will likely be accelerated as the Panthers search for more bodies in coverage.
High point from 2013:
A 28-21 win over Notre Dame on Nov. 9 buried the Fighting Irish's remaining BCS bowl hopes and, at least partially, erased some of the sting from Pitt's consecutive three-point losses to them in 2011 and 2012. It's more useful, however, to look back at the 30-27 Little Caesars Pizza Bowl win over MAC champion Bowling Green, as youngsters Voytik, Conner and Boyd all stepped up in a big way, something each hopes is a sign of things to come for 2014.
Low point from 2013:
A 24-21 loss at Navy on Oct. 26 marked the first of a two-game slide (Pitt lost at Georgia Tech a week later), threatening to keep the Panthers out of postseason play before they pulled off the upset the following month over the Irish. Still, Pitt dropped three contests in a four-game stretch surrounding the loss to the Midshipmen, with its only win during that stretch coming against Old Dominion.
Best-case scenario for 2014:
Voytik builds off his late-game experience from the Pizza Bowl and gives Pitt a dynamic threat under center, the experienced-but-shaky offensive line jells, Boyd continues his ascent and the defense makes big strides. Pitt takes advantage of a rather friendly schedule, makes a run at 10 wins and emerges as the champion of a Coastal division that is simply begging someone to step up.
Worst-case scenario for 2014:
The offensive line continues to struggle, leaving Voytik vulnerable and the offense out of flux. The front seven fails to make up for the loss of Donald, allowing opponents time to test a green secondary. The Panthers win four games, taking a step back after consecutive bowl seasons in Paul Chryst's first two years. The youth on this team, however, is probably still enough to keep the future promising.
They said it:
"I feel fortunate to be at Pittsburgh. You talk about a school with unbelievable football tradition and a city that absolutely -- it's a great sports town but a heck of a football city. High school football is big on Fridays. Obviously the Steelers are big on Sunday. We want to be a team that reflects the city and reflects the university and the tradition of a great university. I want the ex-players to be proud of Pitt and Pitt football, and I know they certainly are proud of it. But that's where we want to go, and that's what I mean, we're not where we want to be. But I sure appreciate and enjoy going through and facing that challenge with this group of guys, and for every challenge there's an opportunity." -- Chryst, on how he defines Pitt football
October, 10, 2013
10/10/13
11:00
AM ET
It was one of the ACC's biggest surprises in 2012.
Virginia Tech was ranked No. 13 in the country, heading to Pitt having won 13 straight true road games -- a 2-0 team facing an 0-2 Pitt team that had just lost back-to-back games against Youngstown State and Cincinnati.
None of it mattered. The Hokies got whupped.
It was a stunning 35-17 loss in which Virginia Tech was manhandled up front on both sides of the ball.
"We learned that Pittsburgh will pound you if you don't play well yourself," Virginia Tech coach Beamer said on Wednesday. "They had a lot to do with that, too – us not playing well. I've always been impressed with the kids in Pennsylvania. We've done some recruiting up there ourselves. I think there's a toughness about those kids, and they do a good job of coaching 'em up. You put that combination together and they've got talent, they're tough, well-coached and they're always going to be a team that's tough for us to beat. They've beaten us the last four times we've played, so we know we have a great respect for Pittsburgh."
[+] Enlarge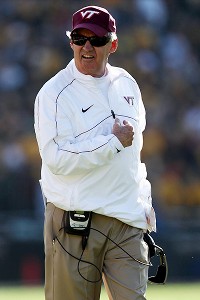 Greg M. Cooper/USA TODAY SportsFrank Beamer and Virginia Tech have learned the hard way that records truly don't matter when the Hokies and Panthers meet.
As they should: all five of Pitt's wins in the series have come against nationally-ranked Virginia Tech teams – and the scene is set on Saturday for the Panthers to try and do it again.
The Hokies are ranked No. 24 this week, their first appearance in the Associated Press top 25 all season. Once again, Virginia Tech's lunchpail defense is predicted to have the edge up front against a Pitt offensive line that allowed nine sacks against Virginia two weeks ago. This series, though, has taught us to expect the unexpected.
For whatever reason, Pitt has been a thorn in Virginia Tech's side the past four meetings, mainly while the two programs were members of the Big East. This year marks the first time they'll play as members of the ACC's Coastal Division, and another Pitt win would put the Panthers squarely in the conversation to win the division. Right now, Virginia Tech and Miami are the only two teams left in the division that are undefeated in ACC play, as Pitt's lone loss was to No. 11-ranked Florida State in the season opener.
Virginia Tech cornerback
Kyle Fuller
said defensive coordinator Bud Foster this week "harps on how the game went last year and how we can't allow that to happen again."
"It was definitely a disappointment," Fuller said. "I know our guys are hungry, ready to come out and show that we're a lot better. That happened last season. That's over with. We just want to continue to build on what we have going on this season."
Which is exactly why the Panthers' are expecting Virginia Tech's best shot.
"They're a great team," said Pitt receiver
Devin Street
, "but we're definitely expecting them – especially how we played them last year – we're expecting them to come out blazing, especially at home as well."
This is Pitt's first trip to Blacksburg as a member of the ACC, but even as members of the Big East, the Panthers have had the Hokies' number. The teams haven't met in Lane Stadium since 2002, and Pitt won, 28-21. Pitt coach Paul Chryst, who is in his second season, said the staff hasn't tried to use history as motivation.
"Each team is different, each year is different," Chryst said. "None of that carries over. The focus has all been about this group, this year, this week's opponent. I think Virginia Tech is playing well right now. They're confident defensively, they're getting into a bit of a rhythm offensively. In all three phases we're going to be challenged."
That was the case for the Hokies last year.
They were beaten soundly up front on both sides of the ball, and quarterback
Logan Thomas
threw one touchdown and three interceptions against a defense that managed just one sack and no turnovers in the first two losses. Pitt junior guard
Matt Rotheram
, who started against the Hokies last year, said both teams have since improved.
"You don't want to look back at the last time you played and say, 'Hey, we did good last time, we're going to be good this time," he said. "You've got to approach every single game like it's the first time you've played them."
Pitt's win last year was a sneak preview of what was to come this fall, validation that the program could and would be a formidable opponent in the ACC's Coastal Division. Street said those within the program aren't content, though, with merely contending.
"It feels good but just from my standpoint and a team standpoint, we never want to settle at all," he said. "We played Duke and Virginia, but we're playing a 5-1 team who's pretty good. Virginia Tech, this is going to be our true test to see where we're really at. Florida State was a top team in the country, Duke and Virginia, they're good teams, but Virginia Tech, they're a better team. This is going to be a huge test as to where we're at as a team."
As a program, they've already passed that test -- four straight times.
July, 16, 2012
7/16/12
3:00
PM ET
There has not been much in the way of describing what Pitt center
Ryan Turnley
endured last season.
Saying he fought through nagging foot injuries is a little like saying Secretariat was a good lil' horse.
Understatement!
[+] Enlarge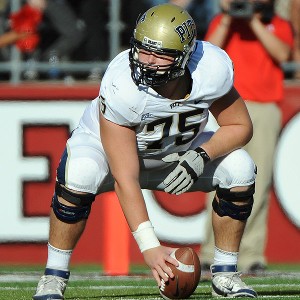 AP Photo/Tomasso DeRosaIt's safe to say that no one at Pitt will ever question the toughness of Ryan Turnley.
Turnley says he never once practiced last season, yet he started all 13 games for the Panthers, and cannot recall missing one snap. He was an occasional bright spot on an otherwise dreary line, but the truth is, not many people can fight through this type of pain.
Torn plantar fascia in both feet left him on crutches half the week, in a walking boot for a few more days, then gingerly participating in walk throughs with the hope he could suit up on Saturdays.
There were days he thought there was no way he could get himself onto the field. Yet he endured with the help of pain medication and an unbending will to push through. Why did he keep going?
"I really can't answer that question," Turnley said in a recent phone interview. "It really worked out. A lot of times, we didn't think it would work out, or didn't think I'd be able to play on Saturday. I was very lucky I could play in all the games."
So was Pitt. The Panthers were decimated up front because of injuries to several key players, including Lucas Nix,
Matt Rotheram
and
Chris Jacobson
. They had no backup center. Even if Turnley wanted to sit out a week, there was no real way he could because the Panthers simply didn't have anybody to replace him.
"I love playing," he said. "During the game, I didn't even think about it, I was having fun playing ball. After the game, it was another story."
Turnley initially got hurt against Utah. He says the injury was a shock to the system, particularly because he never really had one as serious during his career. The following week against UConn, he hurt his other foot.
"The thing about the one in the UConn game was that it was on a screen," Turnley recalled. "I was pulling out to the left. I went to cut a linebacker, and it felt like the sole of my shoe ripped out, that's the sound it made and the feeling I had. I got up on my feet, and I said, 'It happened again. I can't believe it.' We completed the pass, and we ran a hurry-up no huddle, so I limped my way over to the line and snapped the ball. I didn't have time to think about it. I went to the sideline, then to the locker room for pain medicine, and came back."
That was the story of his season. But now that another fall practice is about to roll around, Turnley feels better than he has in a long time. He allowed his feet to rest after the bowl game, and they are completely healed. He also got to participate during spring practice and begin practicing in the new offense coach Paul Chryst brought with him from Wisconsin.
The new philosophy will be run-heavy, something that should benefit what was a shaky offensive line last year. What also helps is having Jacobson and Turnley back, two seniors with starting experience. For his part, Turnley named the offensive recipient of the Ed Conway Award, given each year to the most improved players of spring drills.
He also is on the preseason watch list for the Rimington Award, given annually to the top center in college football.
What he is looking forward to the most when spring drills begin is getting more time to perfect what Chryst wants the team to do. All while feeling completely healthy.
"You can study for 10 hours a day, but it's all about execution and that takes a lot of practice and a lot of work," Turnley said. "Spring ball helped with that -- we got a lot better from beginning to the end. We're just excited to go out at camp and start working again."
October, 30, 2011
10/30/11
10:00
AM ET
What did we learn in the Big East in Week 9?
1. Separation.
We have a clearer picture of the Big East race today, but by no means is anything certain. Louisville, West Virginia and Pitt each have one conference loss, right behind league unbeaten Cincinnati. The Bearcats, West Virginia and Pitt control their own destinies -- if one of those teams wins out, it heads to the BCS; Louisville needs help because it lost to the Bearcats. But at this point, it appears that one of those four is the most likely candidate to win the conference.
[+] Enlarge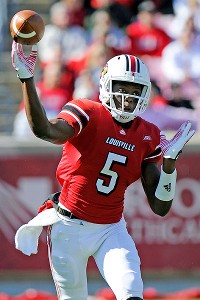 Jamie Rhodes/US PresswireCan emerging Louisville QB Teddy Bridgewater help the Big East gain more national attention?
2. Growing up.
If anybody thought Louisville would be in the conversation -- with home losses to FIU and Marshall this season -- then you were a big-time believer. The Cardinals have had one of the most anemic offenses in the Big East, and a defense that had given up way too many big plays. But they have consecutive victories in league play against two winning Big East teams and look as if things are starting to come together. The offensive line and running game have made huge strides, and so has true freshman quarterback
Teddy Bridgewater
. Remember, Bridgewater is one of eight true freshmen starting for this team — we are watching the Cardinals grow up before our eyes.
3. Jekyll 'n' Hyde.
If anybody knows what they are going to see from West Virginia and Syracuse next week, let me know. The Orange went from beating the Mountaineers
49-23
to losing to Louisville
27-10
. The offense, so dominant last week, had a season-low for points. Quarterback
Ryan Nassib
was completely off all game, and Syracuse was unable to run effectively. The secondary had some of the same problems that has plagued it at various times this season. Meanwhile, West Virginia gave up 31 first-half points to Rutgers before pulling out a
41-31
victory. The defense played much better in the second half, but there appear to be some holes in the secondary that need to be addressed.
4. Life without Ray Graham.
Pitt found out it would be without running back Ray Graham for the remainder of the season after he was hurt during a
Wednesday night game
against UConn. Losing your best player, along with another starting offensive lineman in Matt Rotheram and receiver
Cameron Saddler
, is probably not going to bode well for the Panthers. Wisconsin transfer
Zach Brown
will start in Graham's place, but quarterback
Tino Sunseri
will face more pressure to get the job done. He did it against UConn but he has been so inconsistent, there is no telling which Sunseri you are going to get on game days. He will be incredibly tested in the final four games of the season.
5. So long, Huskies?
UConn dropped to 3-5 on the season and needs to win three of its final four to become bowl-eligible. With Syracuse, Louisville, Rutgers and Cincinnati left on the schedule, the Huskies face an incredibly tough task; each of those teams is .500 or better. They simply have not been able to get anything going on offense with
Johnny McEntee
at quarterback, but coach Paul Pasqualoni says he is sticking with him as a starter. UConn overcame steep odds to win a spot in the BCS last year. But the odds of making a return trip to a lower-tier bowl game are much steeper.
October, 27, 2011
10/27/11
3:00
PM ET
Pitt running back
Ray Graham
is
out for the season with a right knee injury
, dealing the Panthers a devastating blow as they hit the stretch run of the season.
Graham hurt his knee early on in a victory over Pitt on Wednesday night. Pitt did not say how badly Graham hurt his knee, only that he would undergo surgery.
Graham has been the only consistent player on the Panthers' offense this season. He had two 200-yard games, and leads the team in carries (164), rushing yards (958), rushing touchdowns (nine) and receptions (30). His rushing and receiving yards account for 40 percent of all the yards Pitt has gained on offense this season.
In addition, receiver
Cameron Saddler
(fractured sternum) and offensive lineman Matt Rotheram (fractured ankle) sustained season-ending injuries against the Huskies.
"We are incredibly disappointed for these three young men," coach Todd Graham said in a statement. "They have put so much work into our program and it's heartbreaking to see their seasons end prematurely. Even from the sidelines, I know they are going to remain important leaders who will continue to make an impact as we strive to reach our goal of a Big East championship.
"I know each will attack their rehabilitation programs with incredible commitment and be back better than ever for next season. That's the type of people and competitors they are and we're proud that they are Panthers."
Injuries have hit Pitt particularly hard. Starting offensive lineman Chris Jacobson (knee), starting safety Jason Hendricks (shoulder) and receiver
Salath Williams
(shoulder) also are out for the season.
With Graham out, Wisconsin transfer
Zach Brown
emerges as the No. 1 running back. Against UConn, he led the team with nine catches for 84 yards, and had 12 carries for 30 yards and a touchdown.