NCF Nation:

Matt Szymanski
December, 30, 2010
12/30/10
3:12
PM ET
Army beat SMU 16-14 in the Bell Helicopter Armed Forces Bowl. Here is a quick instant analysis:


How the game was won:
SMU did itself in with way too many mistakes.
Kyle Padron
had three first-half turnovers -- two interceptions and a fumble -- that led to 10 points. His first was a fumble that Josh McNary returned 55 yards for a touchdown. Army did an excellent job getting pressure on him all day, forcing him into many of those mistakes. Padron regrouped and played a much better game in the second half, rallying SMU to two touchdowns. But Matt Szymanski missed a 47-yard field goal wide left with 4:05 to play that would have given the Mustangs the win. Couple that with a missed field goal in the first half, and you have a recipe for a loss. Army was unable to do much with the triple option in the second half, which is why the Mustangs had a chance. But give the Black Knights credit for taking advantage of the mistakes and posting the first winning season at the Academy since 1996.
Turning point:
Down 16-14, SMU had a third-and-9 at the Army 33 with a little more than four minutes to go. Padron was flushed out of the pocket and nearly sacked, but the pressure only allowed him to throw a dump off pass to
Darius Johnson
for 3 yards. Rather than go for it, SMU decided to go for the 47-yard field goal attempt into the wind for Szymanski, who missed. That decided the game.
Stat of the game:
Zero. Penalties and turnovers for Army in the game.
Player of the game:
McNary. In addition to his fumble recovery returned for a touchdown, he led an aggressive defensive effort that continually harassed Padron all day. The Army defense came up big when it needed to to preserve the win.
What SMU learned:
Padron has got to work on his consistency for SMU to take the next step. In this game and the Conference USA championship game, he made too many mistakes. The offensive line needs major improvement, too, because he was completely harassed and pressured in both those games. But June Jones had done a great job taking SMU to back-to-back bowl games for the first time since 1984-85 and he does have a nice nucleus returning next season in Padron,
Zach Line
and Johnson on offense.
What Army learned:
Army (7-6) not only beat a winning team for the first time this season, it won its first bowl game since 1985. Coach Rich Ellerson has done a terrific job turning around a program that had suffered mightily since its last winning season in 1996. The senior class made it a point to bring respectability back to West Point, and they did that and more. It was not good enough to make it to a bowl game for Army. The Black Knights wanted a win, and they deserved it against SMU.
Trent Steelman
and
Jared Hassin
return next season, so bigger things could be in store for the cadets.
What it means:
All three service academies finish with seven or more wins for just the second time in history. It happened in 1963: Army, 7-3; Navy, 9-2; Air Force, 7-4.
Record performance:
Army fullback Jared Hassin went over 1,000 yards on the season, the second Army sophomore to break the mark, joining Mike Mayweather in 1988. It is the 14th 1,000-yard season in Army history.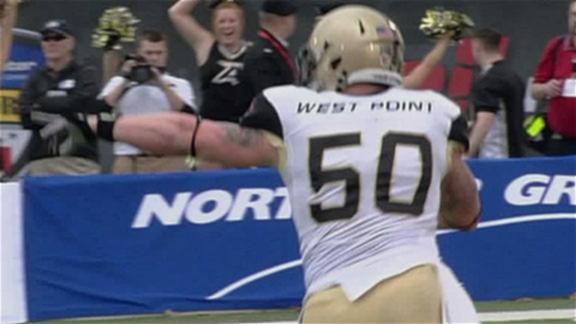 September, 22, 2010
9/22/10
4:00
PM ET
There are no
non-AQ players on Mel Kiper's latest big board
, released today. Though you will need an ESPN Insider account to look at it, there are some among his
top five seniors at each position.
At quarterback, TCU's
Andy Dalton
moves into the No. 4 position thanks to his strong start to the season. He is completing 75 percent of his passes, with four touchdowns and two interceptions, and also has 113 yards rushing and three touchdowns on the ground.
Nathan Enderle
of Idaho is off the list, thanks in part to his five interception performance against Nebraska a few weeks ago.
Others to watch:
No. 3 FB
Charles Clay
, Tulsa.
No. 5 WR
Jerrel Jernigan
, Troy.
No. 4 OG Andrew Jackson, Fresno State.
No. 5 OG Marcus Cannon, TCU.
No. 5 C Kevin Kowalski, Toledo.
No. 3 OLB Dontay Moch, Nevada.
No. 5 S Shiloh Keo, Idaho.
No. 4 K Matt Szymanski, SMU.
There aren't as many non-AQ players on the
non-seniors list
. You'll have to check that one out for yourselves.
September, 5, 2010
9/05/10
6:28
PM ET
LUBBOCK, Texas -- SMU coach June Jones drew at least a few quizzical looks by sending out his field goal unit to attempt a 61-yarder. But Mustangs kicker Matt Szymanski made the kick -- the longest in school history -- besting his previous long of 53 yards in last year's season opener.

But it's still not enough to get SMU back into contention. Texas Tech took over possession after the kick with a 35-20 lead.
August, 22, 2008
8/22/08
11:47
AM ET
Posted by ESPN.com's Tim Griffin
Video may have killed the radio star, according to the old English new wave band the Buggles. But expanding mediums are providing additional opportunities for reporters to share their insights with consumers in the rapidly expanding marketplace.
The Big 12 is no different, stocked with a boatload of good weekly vlogs. And work has started early, even before the season starts, at many newspapers.
The spirited competition between the Lincoln Journal-Star and the Omaha World-Herald in the coverage of all things concerning Nebraska football has spilled over into a video war of sorts.
Omaha World-Herald beat writers Mitch Sherman and Rich Kaipust talk about the need for increasing sacks and turnovers in their most recent video chat. And Lincoln Journal Star columnist Steve Sipple and beat writer Brian Christopherson discuss freshmen who will play for the Cornhuskers this season. It will continue for both papers throughout the season.
But the most effective use of video by a newspaper that I've seen so far is what the Oklahoman has done for its stellar series on Bob Stoops. A group of Oklahoman reporters provide analysis of Stoops' leadership, done with tight videography in a style much like ESPN Classic has used in its Sports Century documentaries. Despite the lack of live action footage, the use of some memorable still pictures of Stoops and Sooners was still very effective.
More newspapers are going to this synergy using different formats. I'll try to include some of the more notable ones in my upcoming posts.
But the written word still remains supreme in my mind. And here are some scrumptuous morsels for a Friday morning links collection.
July, 28, 2008
7/28/08
9:35
AM ET
Posted by ESPN.com's Tim Griffin
A ticking clock on the Waco Tribune-Herald's home page reminded me that football season is just around the corner. As of Monday morning, it's only 31 days and counting until the Big 12's openers on Aug. 28 when Wake Forest travels to Baylor and South Dakota State faces Iowa State.
I bet most of my readers are as excited as I am. As such, here's a few Big 12 links to feed their college football appetite on this fine Monday morning.
My take -- I basically agree with most of Tramel's rankings, although he might lean just a tad too much to tradition. Texas-Arkansas isn't going to be as good as he thinks -- unless Bobby Petrino is the second coming of Frank Broyles to the Ozarks.
My take -- An even bigger story is that Shatel's bosses at the Omaha World-Herald finally have jumped into the current century. Finally, they will allow his must-read columns about the Cornhuskers to be read for free by Internet viewers. Stop the presses!
My take -- Stoops remains the major reason why Oklahoma is the overwhelming favorite in the Big 12 in the eyes of most observers.
My take -- These fans better be careful what they ask for -- particularly if Nebraska's defense is torched for pinball-type numbers again this season.
My take -- Hey Nebraska fans. I can't wait for the season to begin, either.
My take -- Maybe the new surroundings will help Szymanski, who never seemed to recover from his ill-advised decision to enroll in college a year early. SMU sounds like a fresh start, but what does a kicker/punter really have to do around June Jones?
My take -- Gundy is right on this one. And maybe a slew of talented junior-college players might reduce how many freshmen have to play this season -- particularly on defense.
My take -- Backup Roy Helu Jr. must be a stud. Because I still think that Marlon Lucky is one of the most valuable players in the Big 12, even though he tends to mope more than my 3-year-old when things don't go his way.
My take -- Quite frankly, I'm surprised Callahan is even mentioned that much.
My take -- Bob Stoops better hope that Bradford didn't watch "Speed Racer."
My take - Was Calhoun reading my blog post about dream non-conference rivalries the other day? I only hope that DeLoss Dodds of Texas and Mike Garrett of USC were doing the same.
My take -- Iowa State coach Gene Chizik will make sure the 5-foot-8, 207-pound Blankenship's defensive forays are limited once he gets to college.
My take -- Considering Kivisto has only paid a quarter of his $12 million gift for the football center, Kansas athletic director Lew Perkins has got to be sweating just a little.
My take -- If Sherman is successful in Aggieland, they'll do more than just post his commercials on the Internet. More like naming buildings after him.