NCF Nation:

Maurice Clarett
October, 15, 2012
10/15/12
1:30
PM ET
Growing up in Naples, Fla.,
Carlos Hyde
didn't need a tutorial on Urban Meyer's offense.
He knew plenty about Meyer and the spread from Meyer's time as Florida's coach. Hyde also knew he wanted no part of it, even though he said Florida offered him a scholarship to play in Gainesville.
"When I saw this offense, it was little running backs," Hyde told ESPN.com. "Little scat backs running around, Percy Harvin-type dudes, Jeff Demps-type people. I wasn't sure I'd be able to fit in."
[+] Enlarge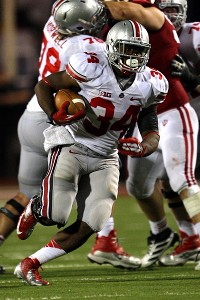 Pat Lovell/US PresswireCarlos Hyde has made the most of his opportunities this season.
At 6-foot and 232 pounds, Hyde can be described as a lot of things. Little isn't one of them. He's a power back in the truest sense, so he chose to go where power backs go: Ohio State.
There was only one problem: Buckeyes coach Jim Tressel, who had featured power backs like Chris Wells and Maurice Clarett in his offense, resigned in the spring after Hyde's freshman season. Although Ohio State kept a similar offense in 2011, the school changed coaches and brought in Meyer.
"I was excited," Hyde said. "I knew Coach Meyer, his track record. He's won big games. He's won some national championships. I knew when he was coming here, I was like, 'I'm going to have a huge chance to get to play in the national championship before I leave college.'"
But his excitement was tempered by the same anxiety about whether he could fit into the spread as a bigger back.
"I never played in a spread offense, so I really didn't have a feel," Hyde said. "I wasn't sure. I never really saw a big back in the spread."
Meyer put Hyde at ease, pointing out that while he runs the spread and has had success with smaller, faster runners like Harvin and Demps, the system, at its core, is about power. Although Meyer on Monday said "there's no selling going on," he never told Hyde to become something he isn't.
"Coach Meyer just wanted me to be that power back," Hyde said. "I'm not trying to be no scat back. That's not my strength. Just be who I am, a power back and a hard-nosed runner."
It's exactly who he has been the past three weeks. After top running back
Jordan Hall
suffered a knee injury Sept. 29 against Michigan State, Hyde, coming off of a knee sprain, took over and rushed for 27 yards in the fourth quarter, including the final 5 yards to seal a 17-16 victory.
Hall's injury moved Hyde into the starting job, and the junior has made the most of his opportunity, recording back-to-back 100-yard rushing performances in wins against Nebraska and Indiana. Hyde and star quarterback
Braxton Miller
are the first Ohio State tandem to both eclipse 100 rush yards in consecutive games. Although Hall is on the mend and should return in the coming weeks, Meyer made it clear Monday: "Carlos won't be removed from tailback."
Hall emerged as Ohio State's top running back in the spring, but Hyde entered the season knowing he'd have opportunities to play.
He performed well at times in 2011, racking up 100-yard performances against both Nebraska and Indiana midway through the season, but he only received a handful of carries in other games. After logging just three carries against Illinois, a game where Ohio State attempted only four passes, Hyde
tweeted, "Guess I'm not good enough. Take myself elsewhere
," setting off a brief panic among Buckeyes fans. He later deleted the tweet and confirmed his commitment to Ohio State, but his frustration was evident.
"I had my ups," Hyde said, "then I had my downs. Last year was definitely like a roller-coaster."
Aside from the knee sprain in Week 2, Hyde's 2012 season has been on a steady incline. After a slow start Saturday against Indiana, Hyde came alive in the final three quarters and finished with a team-high 156 rush yards and a touchdown on 22 carries, highlighted by a 21-yard burst on the first play of the fourth quarter.
Hyde also had two catches for 27 yards and a touchdown. He has eight touchdowns on the season, celebrating each one, by team rule, with the offensive line. ("That's the reason you got in the end zone," Hyde explains.)
"He didn't start strong [against Indiana]," Meyer said. "And he's finally to the point in his career where I can have grown-man conversations with him. It was great, he admitted that. ... He got real strong. By the end of the game, he was a man."
Hyde recorded career bests in carries (28), rushing yards (140) and touchdowns (four) against Nebraska, tying Eddie George's single-game team rush touchdowns record as Ohio State won 63-38.
"That was definitely a great experience in my career," he said. "... Eddie George was a big-time guy, and to tie his record, it's pretty sweet. But I still have plenty more games to go, so maybe I can beat his record."
George was a very big back who won the Heisman Trophy at Ohio State in an offense suited to his game. After some initial concerns, Hyde feels the same way about Meyer's spread.
"He's played really well," Meyer said. "His post-contact yardage is making us a really good offense."
October, 31, 2011
10/31/11
5:35
PM ET
In the eyes of many, Bob Stoops, Jim Tressel, Urban Meyer and Gene Chizik have all given new meaning to the term "re-building." Each won a national title in his second season with a school, re-setting the bar for new coaches at powerhouses everywhere.
The accelerated timetable was no different at Notre Dame last season upon the hiring of Brian Kelly from Cincinnati. With a political background and quick success at his previous stops, Kelly had the charm and innovation required to resurrect a giant that had gone without a championship since 1988.
[+] Enlarge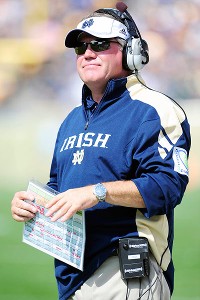 Jeanine Leech/Icon SMICoach Brian Kelly has the Irish at 5-3, however, that's a record far below most fans' expectations.
On Thursday, Kelly made some comments about the difference between his players and those of predecessor Charlie Weis', and many of the Irish upperclassmen voiced their displeasure through social media. Be it a calculated statement to get his team to rally together against him, or be it a slip of the tongue (which is bound to happen with a mic in one's face seemingly every hour of every day), Kelly's words backfired, forcing the coach to apologize the next day. On Saturday, Notre Dame routed Navy, 56-14, at least temporarily halting the chance for this latest controversy to grow into something more.
Notre Dame began this season speaking openly of reaching a BCS bowl game, talk that was tempered with an 0-2 start and all but officially put to rest following a third loss last week, against rival USC.
Frustrations mounted with a ninth loss in 10 tries against the Trojans, and, as to be expected at a big program like Notre Dame's, many questioned Kelly's progress. And many pointed to Stoops, Tressel, Meyer and Chizik as coaches who had meshed their predecessors' leftovers to win immediately.
Stoops' tenure was jump-started by quarterback Josh Heupel, Oklahoma's current co-offensive coordinator and the Heisman Trophy runner-up during the Sooners' national title season in 2000. At Florida, Meyer may not have even gotten the chance to play for the national title had USC not been upset by UCLA during the season's final week. Chizik benefited from Heisman Trophy winner and No. 1 NFL draft pick Cam Newton, who led Auburn to a perfect 2010.
The Tressel era has since been marred by scandal, though only star tailback Maurice Clarett's name from the 2002 national title team brings up a sour taste for Ohio State fans.
Before Kelly's controversial comments Thursday, he was asked a question about adversity in wake of a 4-3 start.
"I think last year's team overcame adversity," Kelly said. "This year's team needs to overcome itself. They gotta play better consistently. Adversity to me is a bigger picture. We had adversity last year. This year our guys need to just play better football."
Following what seemed like a never-ending series of off-the-field drama last year, Notre Dame rallied to win its final four games, setting the stage for grand expectations in 2011. Barring anything unforeseen in the national landscape, they will not be met.
Kelly has done his part to make his mark on the program in the early stages, however, from openly vying for a JumboTron and FieldTurf to shiny new helmets, from creating a more electric game-day atmosphere to adding a training table for his players — no small steps at a school that has trouble drawing the line between progress and interfering with tradition.
On the field, the transition phase seemingly took a detour last week, but captain Harrison Smith said following Saturday's game that everyone is on the same page.
"I would probably say different staffs do things differently, and so there is gonna be like a period of transition where things are just different," the fifth-year safety said. "But we've been with Coach Kelly for almost two years now, so maybe there is a transition phase early on to me. But ever since the first couple months, first couple workouts, I feel like everybody's just been 100-percent bought in, and I feel like we've been on the same page ever since."
With a daunting slate ahead in 2012, these last four (and likely five) games of 2011 provide a good chance for everyone to get on the same page. It's not as if all of the previous regime's players will be gone next year, anyway, since Kelly will have just two of his classes by next season.
For Notre Dame and its huge fan base, a lack of a BCS bowl or national title in year two under Kelly cannot equal a lack of progress.
January, 20, 2010
1/20/10
9:00
AM ET
Unlike the lists for top players and top moments from 2000-09, I had an easier time identifying the top 10 Big Ten squads from the most recent decade. For starters, the Big Ten produced only one national champion and six BCS bowl winners, all but one of which made the top 10 (actually 11). You won't see any three-loss teams on the following list, and 10 wins was the minimum criteria for selection.

Bowl victories counted, but I also put a lot of emphasis on how a team performed during Big Ten play. This is, after all, the Big Ten blog.

Here they are:

1. Ohio State 2002: The only Big Ten squad to win a national title during the aughts tops the list. Ohio State rode a ferocious defense, a clutch quarterback (Craig Krenzel) and a dynamic freshman running back (Maurice Clarett) to a 14-0 record and its first national title since 1975.

2. Penn State 2005: If not for a Michigan touchdown on the final play at the Big House, Penn State could have been playing for a national title. The Nittany Lions still went on to an 11-1 finish and an Orange Bowl championship as Big Ten MVP Michael Robinson led the way at quarterback.

3. Ohio State 2006: No Big Ten team this decade looked more dominant than these Buckeyes, who steamrolled their way through the Big Ten behind Heisman Trophy winner Troy Smith. Ohio State outlasted No. 2 Michigan in a shootout at The Shoe, but lost its mojo before the national title game against Florida. Despite an ugly final result, this team was a juggernaut.

4. Iowa 2002: Only three teams went undefeated in Big Ten play this decade, and the 2002 Hawkeyes were one of them. Quarterback Brad Banks came out of nowhere to become the Heisman Trophy runner-up, while Dallas Clark, Bob Sanders and others helped the Hawkeyes to a share of the league title and road wins against both Penn State and Michigan.

5. Michigan 2006: LaMarr Woodley, Alan Branch and Leon Hall led one of the decade's top defenses as Michigan won its first 10 games, allowing just 13.3 points per contest. The Wolverines ended the year with losses to Ohio State and USC but boasted three All-Americans and several impressive wins.

6. Penn State 2008: Much like Ohio State in 2006, the Nittany Lions were dominant for much of the year, as a dynamic and experienced offense put up points in bunches. Penn State scored 38 points or more in seven of its first eight games. A last-second field goal kept Penn State out of the national title game, but the Lions claimed their second Big Ten championship in four years.

7. Ohio State 2009: Teams are usually remembered by how they finished, and this group got better as the season progressed. Ohio State wasn't much fun to watch in September or October, but a November surge and a very impressive Rose Bowl win against Oregon completely changed the buzz around this squad. Few Big Ten defenses this decade were better than the 2009 Buckeyes.

8. Ohio State 2007: In a season where nothing went according to plan, the Buckeyes surged out of the gate with 10 consecutive wins. A stunning upset loss to Illinois seemed to end Ohio State's national title hopes, but a truly wacky season put the Buckeyes back in the spotlight, where they lost to LSU. The national runner-ups certainly deserve a spot on the list.

9. Iowa 2009: If this were a list of teams not for the faint of heart, these Hawkeyes would be at the top. Every week seemed to bring new drama, and Iowa constantly faced doubts about its success. The truth: This team wasn't far away from an undefeated season and a trip to the Rose Bowl, and it silenced the critics with a very impressive performance in the Orange Bowl against Georgia Tech.

T-10. Wisconsin 2006: The Badgers didn't win any Big Ten titles this decade, but their best team deserves a spot on the list. BCS rules kept Wisconsin from the big bowls, but Bret Bielema's first squad was one of only three Big Ten teams to win 12 or more games in a season this decade. The Badgers finished fifth and seventh in the final polls.

T-10. Ohio State 2005: I just couldn't leave a team that finished fourth in the final AP poll off of this list. The Buckeyes' only losses came against national champion Texas and Orange Bowl champ Penn State, and they finished with an impressive win in the Fiesta Bowl against Notre Dame.

Others considered: Iowa 2004, Ohio State 2003, Illinois 2001, Michigan 2003, Iowa 2003, Ohio State 2008.
January, 1, 2010
1/01/10
11:44
AM ET
LOS ANGELES -- Ohio State's greatest teams this decade are usually remembered for having a featured back.
In 2002, Maurice Clarett rushed for 1,237 yards and 16 touchdowns as Ohio State went on to a national championship.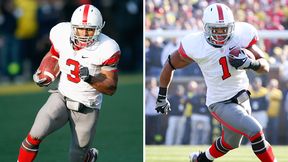 Getty ImagesBrandon Saine and Dan Herron have accounted for about 53 percent of the Buckeyes' rushing attempts this season.
In 2005 and 2006, Antonio Pittman carried the load for the Buckeyes, combining for 2,564 rushing yards and 21 touchdowns.
Pittman turned things over to Chris Wells in 2007 and 2008, and "Beanie" combined for 2,806 rush yards and 23 scores.
Those ball carriers had support, whether it was another running back like Lydell Ross or Wells (for Pittman) or a quarterback like Troy Smith (for Pittman) or
Terrelle Pryor
(for Wells). But Ohio State usually boasts a clear-cut bell cow in its backfield.
The 2009 Buckeyes won't be remembered for a featured back, but they could be remembered for a tandem that helped to end the school's BCS bowl slump.
Junior
Brandon Saine
and sophomore
Dan Herron
shared the rushing load this fall along with Pryor, who leads Ohio State with 142 attempts and 707 yards. Pryor accounts for 27.7 percent of Ohio State's rushing attempts, while both Saine (131 attempts, 25.6 percent) and Herron (139 percent (27.1 percent) have similar pieces of the carries pie.
Saine and Herron played huge roles in Ohio State's November surge to the Big Ten title. They combined for 200 rush yards and three touchdowns in Ohio State's
27-24 overtime win
against Iowa, which clinched the league championship. One week later, the two backs combined for 180 rush yards and a score against Michigan.
"As the season went on, we got better together," Saine said. "We know we have a huge role in these games, so we really work together."
Herron played a more prominent role last year after Wells missed three games with a toe injury, and he started the first four games of this season. Saine, who battled injuries throughout his first two seasons, took on a lead role after Herron had ankle problems early in Big Ten play.
But throughout the fall, the two backs kept the communication lines open and helped each other prepare for a critical November push.
"It's helped me just to have a guy who's out there just like you are, who sees things when he's not in and I'm in," Herron said. "We fed off each other, telling what we can get better, picking up blocks, whatever it is. At the beginning of the season we had a little slow start. We both had a couple injuries we went through.
"The last couple games, things really picked up for us."
Though Saine is bigger (6-foot-1, 217), he's more of a big-play threat on the edges, as he showed with touchdown runs of 49 and 29 yards against Iowa and Michigan, respectively. He has the nickname "Zoom" for his breakaway speed.
The 5-foot-10, 193-pound Herron is a hard-charging, low-to-the-ground, between-the-tackles runner, and goes by the childhood nickname "Boom" for obvious reasons.
"He's got a quick first step and a burst," Saine said of Herron. "That works well for him. He can get through the hole before the defenders are ready."
Herron never senses any jealousy between him and Saine, and when one back succeeds on the field, he motivates the other to do the same.
"To have a good team, you need to have a couple good guys ready to carry the mail, and those are two good ones," head coach Jim Tressel said. "They don't care how many carries they get, they don't care who gets called upon when, they just want to do what they can to help the team, and we're fortunate to have two kids like that."
July, 27, 2009
7/27/09
1:35
PM ET
Posted by ESPN.com's Adam Rittenberg
CHICAGO -- The media's pick of Ohio State quarterback Terrelle Pryor as Big Ten preseason Offensive Player of the Year came as a surprise to many, including Pryor's head coach.
The Big Ten preseason honors usually go to juniors and seniors, and Pryor is the first sophomore to earn the tag since another Ohio State player, running back Maurice Clarett, received it in 2003.
"I really was [surprised]," Buckeyes coach Jim Tressel said. "When it was mentioned, I got to thinking there's a lot of good guys coming back in this league. Daryll Clark and Juice Williams have been around for a long, long time, and you can go down the list of guys in our league."
Pryor earned Big Ten Freshman of the Year honors last fall after ascending to the starting job in Week 4. He led the league in passing efficiency (146.5) but struggled at times with his throws.
Potential undoubtedly triggered Pryor's selection, and the most heralded recruit in recent Big Ten history certainly has the skills, especially as a runner, to do special things this fall. Last year he rushed for 631 yards and six touchdowns.
"It's a good reminder, from an individual standpoint, the respect they have for his ability," Tressel said. "It was a little bit of a surprise, but it's a neat thing."
Note: Tressel will get summer-school grades for his players on Thursday but expects everyone to be ready for the start of preseason camp. Running back recruit Jaamal Berry "won't be held back" because of his ongoing legal issues stemming from a June arrest for marijuana possession.

March, 4, 2009
3/04/09
12:15
PM ET
Posted by ESPN.com's Adam Rittenberg
Reading is fundamental.
I've been around UW athletics since the spring of 1995, Mason's first year at UW, and I've never heard anyone, on or off the record, criticize Mason.

In these days in which everyone has an axe to grind, that's rare and refreshing. UW was wise to create a new position, even in these difficult economic times, for Mason. The move was wise and humane. You don't discard a quality person/coach who has given so much to the program.
March, 3, 2009
3/03/09
12:25
PM ET
Posted by ESPN.com's Adam Rittenberg
Taking a spin around the league:
Wisconsin announced the departures of three players, including reserve quarterback James Stallons, who will seek a transfer, Jim Polzin writes in The Capital Times. Former starting linebacker Elijah Hodge also won't be back in 2009.

Excellent news about former Wisconsin wide receivers coach Henry Mason, who is returning to the staff as director of football player personnel and external relations. Mason suffered a severe spinal cord injury in 2007.
In case you missed it, former Ohio State running back Maurice Clarett is blogging from prison, Bob Hunter writes in The Columbus Dispatch.
"The athlete's ego is still there -- Clarett can't magically erase all that adulation from memory -- but his writings aren't the ramblings of a loser who can't seem to fathom why the world won't give him a break. He is taking courses from Ohio University and candidly admits surprise that he is enjoying them so much, and he professes a deep desire to help others avoid his fate."
March, 3, 2009
3/03/09
10:55
AM ET
Posted by ESPN.com's Adam Rittenberg
Last week, an Ohio University student alerted me of a blog entitled "The Mind of Maurice Clarett," which featured frequent posts from someone claiming to be the former Ohio State star running back, who is currently serving a prison sentence for robbery and carrying concealed weapons.
After reading several of the extremely well-written posts, I became interested, albeit skeptical. A call to the Toledo Correctional Institute, where Clarett is serving his sentence, didn't do much to validate the blog's authenticity. A prison official told me the inmates have no regular access to computers, though Clarett could be mailing letters to someone else to post on the blog.
Clarett's sister confirmed Monday to ESPN.com's Gene Wojciechowski that the blog is, in fact, Maurice's, and The Columbus Dispatch reported about Clarett's blog today. The former Buckeyes running back sends letters to relatives, who update the blog on a regular basis.
No matter what you think about Clarett, one of the most tragic figures in recent college football history, his blog is worth checking out.
You'll be surprised at how rarely he discusses football or Ohio State, though there are some references:
"This is my inspirational speaking and consciously thinking forum. This is how I plan on networking to begin public speaking. I love the question and answer format. I enjoy giving to others what so many have given to me during this time away. Remember that when you mention Ohio State and you begin to mention some of the 'greats,' don't forget to mention Maurice. When you put the photos in your memorabilia books, don't forget #13. I inspired my '02 class. I made them believe. I was our leader and source of inspiration. I was the big brother. 14-0 felt good and please remember that I closed the deal in the big game. The next deal I plan to close is that regarding my college education. Trust and believe, when I return to the Shoe I will leave with my degree."
Clarett clearly hasn't lost his ego, but he also appears to have gained some perspective in prison. Much of his blog focuses on discussions with other prisoners, his attempts to further his education and his optimism for the future. According to the blog, Clarett is enrolled at Ohio University and pursuing a degree in geriatrics and gerontology.
Here's another passage from an entry on Feb. 18.
"At The beginning of this prison sentence I would have been willing to bet my life that I would have never read anything from Plato, Aristotle, Socrates, Descartes, Spinoza, or Hume. I learned a very valuable lesson. That is: not to be closed minded to everything. I guess you have to gain some type of understanding on certain subjects in order to see if it is or is not for you. In this case, I can see that philosophy is for me. It adds value to my life. Philosophy goes beyond the classroom."
He also writes about being hopeful for his release from prison. Clarett was sentenced to three and a half years in September 2006.
"I had a chance to get outside and run sprints on the track today," he wrote on Feb. 11. "It felt so good to feel the fresh air. The facility does not have windows in the cell that I can open, so I don't get a chance to feel nature that often during the winter months. Today was an exception though. I had a blast just running on the yard. I felt like a little kid inside. It felt like the energy of the earth would have allowed me to run all day long. We only have recreation for two hours and I enjoyed it all. I appreciated the time I did get.

I now wonder to myself, 'is this what life is all about?' Am I supposed to find true happiness in the things I can't buy? Am I supposed to enjoy more of life's simple pleasures like this? After all, it was just me and Earth. At that moment, the prison walls did not exist. Now that I say that, I want to remind everyone that they shouldn't feel sorry for me because I am not suffering. I may be in a situation that isn't ideal, but I am free in my mind and at heart. My mandatory time is almost up and hopefully, the judge will see it fit to give me an early release based on my growth. I am optimistic that the judicial system will."
Posted by ESPN.com's Adam Rittenberg
By now you know that Ohio State tops the list, but which Big Ten team comes next? Here's a look at the league's most hated to least hated teams and some of the reasons why (or why not). Honestly, after the top two or three, it gets a bit fuzzy. But keep in mind, being on the bottom isn't necessarily a good thing.
1. Ohio State -- Several factors fuel the Buckeye hate, including lots of winning, the Sweater Vest, Maurice Clarett, some riotous fans, the "dotting the i" tradition, an inhospitable home field and the team's recent BCS flops.
2. Michigan -- The Wolverines remain college football's winningest program (869 victories), a source of pride for a fan base often branded as arrogant. The Michigan Man ideal reinforces the perception, and Michigan's constant TV exposure annoys many. Former coach Lloyd Carr was viewed as a complainer and a curmudgeon, and new coach Rich Rodriguez arrives amid some bad p.r.
3. Penn State -- People are sick of the constant attention on Joe Paterno, but there are other reasons for the Penn State hate. As a longtime independent with a national following, the school suffers from a milder case of Notre Dame syndrome. The "We Are, Penn State" chant and the roaring Nittany Lion at Beaver Stadium don't help matters.
4. Iowa -- The program's recent decline had tapered the hate, but all the off-field problems since April 2007 might have triggered it again. Some Iowa fans are seen as obnoxious, and the pink visitors' locker room at Kinnick Stadium still gets attention.
5. Wisconsin -- The team's success after the arrival of Barry Alvarez moved it up the list. Camp Randall Stadium is one of the league's most raucous environments, and some Wisconsin fans aren't overly popular around the league.
6. Illinois -- Ron Zook's arrival and the recent recruiting surge move Illinois up the list. Zook remains somewhat of a lightning rod, and Illinois is quickly forming a rivalry with Ohio State.
7. Michigan State -- Several cocky players and a memorable post-game celebration at Notre Dame in 2005 heightened the hate for Michigan State. But the program's string of traumatic losses has inspired more sympathy than bile.
8. Minnesota --The Gophers have the potential to be higher, with a loud and inhospitable home stadium and fans who have rioted before (2003 Frozen Four). But it's hard to hate a team that hasn't won a Big Ten title since 1967.
9. Purdue -- There's not much to hate other than the pioneering spread offense Joe Tiller implemented in 1997. Boilers fans are generally harmless, and Ross-Ade Stadium isn't overly intimidating.
10. Northwestern -- A snooty fan base and cut-blocking lineman can be irritating, but the team's losing history (pre-1995) and half-full home field doesn't spark much hate.
11. Indiana -- The Hoosiers soon could climb the list after their first bowl appearance since 1993, but the program usually isn't relevant enough to be hated.
July, 29, 2008
7/29/08
10:56
AM ET
Posted by ESPN.com's Adam Rittenberg

Midwesterners are generally regarded as nice people, not the types to be categorized as haters. But one football program has rankled this normally genial crowd for most of the last decade. One program has earned the title as the Big Ten's most hated team, or, as Ohio State would put it, The Big Ten's Most Hated Team.
The hate for Ohio State can't be pigeonholed.
Despite the Maurice Clarett saga and several other off-field stains, this isn't Miami. Jim Tressel is lampooned for his sweater vests, more suited for professors or politicians than football coaches. In many ways, he's the anti-Woody Hayes -- composed, reserved, even bland at times -- but he projects an image seen by some as arrogant and inauthentic. Still, Tressel doesn't stoke the fire like the Head Ball Coach, Phil Fulmer or, more recently, Charlie Weis. Ohio State's fans, regarded by some as crude and classless, probably heighten the hate more than anything else. The rioting after the 2002 game against Michigan certainly didn't help the image of Buckeye Nation. But there's more to it.
Success breeds contempt and Ohio State is enjoying more of it than any other Big Ten program. Since 2002, the Buckeyes are 66-11 with a national championship, four shared or outright Big Ten titles and three national title game appearances. The program has produced a Heisman Trophy winner in Troy Smith and dozens of NFL players. As annoying as it is to hear former Buckeyes introduce themselves as coming from "The Ohio State University" on Monday Night Football, it's also a testament to the program's ability to recruit and develop talent.
Ohio State has been condemned nationally for its flops in the last two BCS title games, and cries of "Overrated!" can usually be heard when the Buckeyes are brought up. But in the Big Ten, Ohio State continues to dominate, losing just two league games in the last three years. The Buckeye vitriol has undoubtedly increased among Michigan fans, accustomed to seeing their team as the Big Ten's best, and, consequently, the most hated. But after four consecutive losses to Ohio State and six in the last seven seasons, Michigan, like its Big Ten brethren, is looking up at the Buckeyes. Michigan used to be the league's most arrogant team. Now the Buckeyes have earned the right to that title.
For the Buckeyes to get knocked off their perch atop the hate-o-meter, the rest of the Big Ten has to catch up. Ohio State has consistently recruited better than any other league team, culminating this spring with the signing of quarterback Terrelle Pryor, who botched the school's official title ("University of Ohio State") and left out the all-important definite article before the name. Rich Rodriguez's arrival at Michigan could shift the league's power balance, and Illinois' recent recruiting surge puts it closer to Ohio State. But for now, the Buckeyes are the clear choice.