NCF Nation:

Maurice Smith
September, 30, 2013
9/30/13
8:00
AM ET
TUSCALOOSA, Ala. -- There was no dipping a toe in the water for preseason No. 1 Alabama. The Crimson Tide instead had to jump right in, battling sharks every week in the first month of the season.
The early stretch was brutal at times. Sure, Alabama looked like the best team in the country and got through the first four games undefeated, but there were certainly some blemishes revealed along the way. Each week and each win was a struggle.
Virginia Tech opened the season by stifling Alabama's offense in Atlanta, getting into the face of quarterback
AJ McCarron
by applying constant pressure on the backfield. The offensive line, a group that featured three new starters, looked nothing if not inexperienced.
[+] Enlarge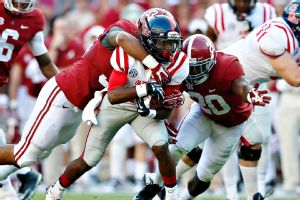 Kevin C. Cox/Getty ImagesThe Crimson Tide defense had its most complete effort of the season on Saturday.
Ninth-ranked Texas A&M then lit up Alabama two weeks later.
Johnny Manziel
and
Mike Evans
tore apart the secondary, abusing the Tide with the deep pass. UA set a kind of record you don't want to see, allowing the most yards in school history.
Even Colorado State, the $1.5 million cupcake courtesy of the Mountain West Conference, gave Alabama trouble. The Tide defense made too many mistakes and the offense was terribly inconsistent, failing to convert on a single third-down attempt in the first three quarters.
Then came No. 24 Ole Miss, an undefeated team playing with house money against Alabama. But this time, mercifully, the Tide put together a complete game and won, ending a four-game streak that tested the mettle of the championship contenders.
Now it's time to exhale. Alabama survived the early onslaught and can now take a breath to regroup with Georgia State, Kentucky, Arkansas and Tennessee up next. None of the four is ranked, and only the Razorbacks and the Vols are above .500, albeit at just one game over each. The four teams' combined record (7-11) is noticeably worse than the combined record of the first four teams Alabama faced (13-6) and the last four teams Alabama will face to end the season (11-6).
To make matters even more favorable for the Tide, Alabama will get a bye to start the month of November before hosting LSU on Nov. 9.
No team in the SEC has an easier next five weeks than Alabama. South Carolina is a close second and the only other school in the conference that won't face a ranked team over that time, but at least the Gamecocks don't have a cupcake like Georgia State to snack on. Instead, Steve Spurier's team will be tested somewhat by Kentucky, Arkansas, Tennessee, Mississippi State and undefeated Missouri. In fact, if one-loss South Carolina plays like it did against unranked UCF this past weekend, it might not be much of a championship contender come November.
The rest of the league's title contenders don't have it so easy. Georgia has rival Florida to contend with, LSU has Florida and Ole Miss in back-to-back weeks, and Texas A&M has to deal with the same explosive Rebels on Oct. 12.
Ole Miss is one of seven SEC schools to play two ranked opponents over the next five weeks. Only Tennessee and Missouri have it worse with three ranked opponents each in the month of October.
While Nick Saban might not be fond of focusing on records, it's hard to ignore the obvious -- if Alabama doesn't make it to November undefeated, it would be a shock. The Crimson Tide's coach isn't one to admit those things and he won't ever say an opponent is overmatched, but he and his staff do have the luxury of not stressing over serious competition the next few weeks.
Instead, they can budget their time wisely, resting banged up starters such as
Ryan Kelly
and
T.J. Yeldon
while working out the kinks with some younger guys for the stretch run, especially those on defense such as rookie cornerbacks
Eddie Jackson
and
Maurice Smith
.
"I'm looking more at the standard, not the record," Saban said following his team's shutout of No. 24 Ole Miss on Saturday night. "And I think it's important that our players do the same so we can continue to improve."
Improvement, though, might be the best Saban can hope for. Making another statement like his team did by thumping Ole Miss doesn't appear to be possible against the forthcoming carousel of unranked, overmatched opponents. Rather, building up some level of consistency over the next few weeks will be the challenge as the scoreboard certainly doesn't figure to be.
"We have high expectations for the standard of how we play," Saban said. "And I think more than what the record is, I think and our team thinks, what do we need to do so we can continue to improve so we can play the the standard on a more consistent basis.
"I would say if there's any criticism of myself, our staff and our team, it would be the fact that we have not been as consistent as we'd like to be."
Saban got through a rough, inconsistent start to the season intact and in the driver's seat for another run to the national championship. For the next month, he'll be in the enviable position of fine-tuning his team's mistakes against lesser competition.
While the rest of the SEC slogs through the ghoulish month of October, Alabama will be playing trick or treat each Saturday. All that remains now is reaching LSU on Nov. 9 without slipping on the proverbial banana peel.
September, 19, 2013
9/19/13
1:00
PM ET
TUSCALOOSA, Ala. -- Alabama coach Nick Saban slipped into another soap-box moment this week when he took to the podium to describe how his secondary had played so poorly against Texas A&M.
"The players have to do what the coaches do, and that's the point," he said before launching into a narrative about civil disobedience, wrapped around what's becoming a borderline obsession with dog owners failing to keep their pets on a leash (he used the same "Nobody wants to be obedient now" rant the week before the game as well).
[+] Enlarge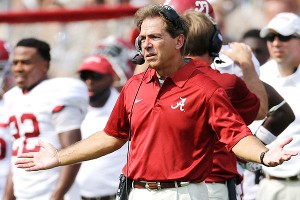 AP Photo/David J. PhillipNick Saban is hoping his players got the message after Alabama's defense struggled to stop Johnny Manziel and Texas A&M last Saturday.
What Saban's argument boiled down to was a four-word sentence nobody wants to hear: I told you so.
"No matter how many times you tell someone, 'Look, son. Don't touch the stove. It's hot,' " he said, lamenting the fact that they always have to see for themselves. "Once they touch it and get burned, then they start saying, 'Huh, maybe I'll listen to this guy. Maybe Dad knows what he's talking about.' So, I think a lot of lessons were learned in this game.
"So now, when you say, 'Don't drop your hands when you're playing bump and run,' and the guy does it 15 times in a game against me, now you'll see why you were telling him. If you've told a guy 100 times to get in the middle of the field and he doesn't get there, now you can see what happens when he doesn't get there. No different than touching the stove. Same old thing."
Alabama ought to have learned its lesson against Texas A&M. The memory should be seared into every player's skull by now. If the game didn't do it, then surely the film review did.
Though
Johnny Manziel
and the Aggies are certainly one of the best offenses in the country, that does little to explain the staggering inefficiency of the defense as whole. The same defense that allowed the fewest plays of 10 or more yards per game (8.42) and the fewest passing touchdowns (eight) a season ago was gashed for five passing touchdowns and 20 plays of 10 or more yards as Texas A&M racked up the most total yards allowed by an Alabama defense in school history (628).
The Manziel-to-
Mike Evans
combination couldn't be stopped. "It's a combination of both guys' strengths that make a difficult matchup," Saban tried to explain, citing Manziel's speed and Evans' overwhelming size. Saban used at least three different defensive backs on Evans, not counting the double coverage over the top, and still, the 6-foot-5 sophomore racked up a career high 279 yards receiving. Manziel was Manziel again, evading the grasp of pass-rushers left and right while exploiting every hole in the secondary to throw for a career-high 464 yards.
And that was supposed to be the game Alabama's defense had figured out, aided by an offseason of study and an extra bye week to prepare.
Instead, the Crimson Tide were torched on national television and sent back to the drawing board in search of answers.
"We've tried to play the more experienced guys," Saban said, "especially in these first two games, because they're tough games. Everybody's had an opportunity.
"Now, we're just going to ... need to compete better. And it's not just the corners now, the safeties weren't where they were supposed to be in the game some, too."
With starting cornerback
Deion Belue
questionable to play against Colorado State this weekend, the competition is wide open. Saban said two freshmen are in position to see the field more, and based on practice, it looks like
Maurice Smith
and
Eddie Jackson
are the two in line for an early opportunity.
Bradley Sylve
, a redshirt sophomore, has been mentioned as another possible replacement in the cornerback rotation as well.
Geno Smith
, who started at nickel as a freshman late last season, was supposed to be a part of that mix, but after being arrested for a DUI during the preseason, suspended for a game and sent to the bottom of the depth chart, even he's fighting to get back into the mix. For now, veteran
Jarrick Williams
is holding down his spot just fine.
"Geno's got to beat somebody out. He lost his job," Saban said. "Jarrick's played really well. So, I mean, nobody has a rite of passage here just because you played in two games last year, 'I'm guaranteed my job.' If you do the right things and you play well, nobody gets your job."
In fact, Williams might be the only bright spot in the Alabama secondary after last week's game. He held down the slot receiver well and had it not been for his tipped pass,
Vinnie Sunseri
's interception return for a touchdown never would have happened.
"He's been unbelievable," Sunseri said. "Jarrick has done exactly what we've asked him to do. He's had great coverage, been really physical at the point of attack and just been a real sound defensive player at that star position. I can't express how happy I am for him to get the opportunity and take advantage of it like he's been able to."
Williams, for his part, tried to stay positive about the game, saying that the mental errors and mistakes against Texas A&M were "nothing we can't fix." Asked whether the game was a letdown, he said simply, "No, sir."
"I think we're just going to get on there and keep on fighting."
Saban may still be fuming over the coverage breakdowns and big plays, but the players seemed to have moved on.
CSU coach Jim McElwain has, too. The former Alabama offensive coordinator went up against Saban's defense in practice from 2008-11, and he's not buying any theory of a downward trend. In his mind, Texas A&M was merely an outlier.
"People are going to say whatever about the Texas A&M yardage, but there's going to be a lot of people who give yardage up to that guy," he said, citing the one they call Johnny Football. "Yet, they were in position numerous times, right? So I truly believe that was simply a little blip on the radar."
August, 20, 2013
8/20/13
8:20
PM ET
TUSCALOOSA, Ala. -- He was talking about football at the time, but what Alabama coach Nick Saban said following Saturday's scrimmage was exactly the type of message he likes to deliver at this point of the year, a warning that every action has a consequence whether it's on the field or off of it. With the season opener exactly two weeks away, Saban outlined what his players couldn't be if they wanted to be successful.
"We can't have complacency," he said. "Can't be satisfied with where we are. … Can't have selfishness on the team because that will fracture the team chemistry. We can't lose our accountability and attention to detail. Those three things right there are very important in us being the kind of team we're capable of being. Everybody's got to make that choice and decide are they willing to do the things they need to do to do it."
[+] Enlarge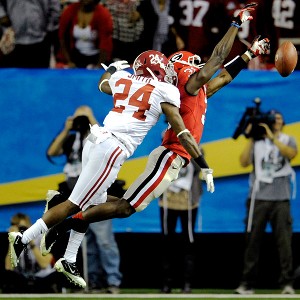 Paul Abell/USA TODAY SportsDefensive back Geno Smith was a key contributor late last season for Alabama.
He couldn't have made it any clearer, but what Alabama's seventh-year head coach said fell on deaf ears for sophomore cornerback
Geno Smith
, who dealt himself a major setback only hours later when he was arrested by the Tuscaloosa police department for suspicion of driving under the influence. He was held on $1,000 bond by the sheriff's office, but no amount of cash could save him from the
one-game suspension Saban awarded him
on Tuesday for his reckless behavior.
"He's never been in trouble here before, never been in my office for anything," Saban said, "but I think this is something that everybody should learn from that when you make a bad choice, sometimes the consequences of that choice can really have a negative effect. Some of these guys don't have enough foresight to understand cause and effect, but Geno has been a really good person in the program and just made a choice, bad decision. Made several of them, so now he's got consequences for it."
Smith, a former four-star prospect who came on late last year as a freshman, was expected to log significant minutes this season as the team's nickel back. Against teams like Virginia Tech who like to spread the field with multiple receivers, he would have played a big part of the Tide's defense, matching up against the slot receiver.
Now, Alabama must go back to the drawing board to determine who can fill his vacancy during the suspension. With
Deion Belue
and
John Fulton
projected to start as boundary corners, it falls to sophomores
Cyrus Jones
and
Bradley Sylve
to step up among the cornerbacks. Jones shifted to defense from wide receiver this year and has looked promising at the position, which he played in high school.
But the intriguing, and more likely option, is for Saban to utilize his depth at safety and bring down someone like
Nick Perry
,
Vinnie Sunseri
,
Jarrick Williams
or
Landon Collins
to play nickel, or "star" as Saban describes it. To get an idea of all the different combinations that are possible, take a look at what Saban said of the star and money positions in early April.
"Geno's been playing star, Vinnie can play star -- he played it all last year," Saban said. "Geno did it for the last three or four games of the season. Vinnie's been playing money, Landon Collins has been playing money, Jarrick Williams has been playing money, which is what he was before he got hurt. We've been trying to develop somebody other than Vinnie. Nick Perry can play star. We don't really have another corner that can play star. Also, Jarrick Williams is playing star. We have more multiples of guys right now than we had a year ago."
The options, clearly, are there. The problem, though, is that while Alabama is deep at safety, it's thin in terms of true cornerbacks. Signing
Anthony Averett
,
Jonathan Cook
,
Eddie Jackson
and
Maurice Smith
in February helped, but a freshman learning curve is inevitable. Given Saban's complicated defense, it's hard for rookies to see the field early. Hence, Geno Smith not coming on until late last year.
"First of all, opportunity is important, to have an opportunity to do that," Tide defensive coordinator Kirby Smart explained. "[It takes a] very conscientious kid to understand, 'Hey, I got to know this defense inside and out, I got to know all the checks, I got to know all the motions and checks, I got to know all the adjustments.' You've got to be very conscientious to do that, but you've got to have some ability. It's very easy for us to find those guys out there. When we recruit good players, they usually stick out as freshmen. We find ways to get them on the field and always have in some kind of role."