NCF Nation:

Maurkice Pouncey
September, 7, 2010
9/07/10
2:00
PM ET
No, you did not imagine it. Several quarterback-center exchanges were less than a snap in the first college football weekend.
In the more high-profile cases, Florida, North Carolina, Oregon State and Virginia Tech all cost themselves thanks to bad snaps. In the case of the Beavers, a miscommunication with the center and new quarterback
Ryan Katz
cost the team a safety on what could have been the game-tying drive late in their 30-21 loss to TCU.
The Tar Heels lost one fumble on a bad snap early in the game, and also gave up a safety because of another. The Gators had a new center and new quarterback playing. They lost one fumble early in the game because Mike Pouncey snapped the ball into the ground. In all, there were 13 bad snaps -- five that Brantley missed. The Hokies had a bad snap on the second play of the game and lost the fumble, leading to a field goal for Boise State.
[+] Enlarge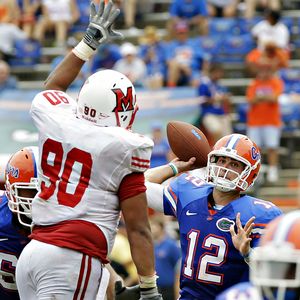 AP Photo/John RaouxAustin Brown of Miami (Ohio) disrupted John Brantley and the Florida offense according to Redhawks coach Mike Haywood.
One of the root causes for the problems seems to be the shotgun snap, and the cat-and-mouse game the offense and defense play in those formations.
"It's become an issue," said Western Michigan coach Bill Cubit, whose team had a bad shotgun snap Saturday that Michigan State converted into a touchdown. "If I could, we'd be underneath the center but with the defenses today, you'd like to give your quarterback a little bit more room, but then you create the double edged sword.
"What's happening is I think all of us are trying to be cute. Now everybody is faking the signal to snap to the center. Sometimes the center doesn't see that, he sees a foot movement, the quarterback out there he may be checking to his wideouts, the center doesn't know that and snaps it."
The shotgun snaps also become an issue in loud stadiums, where teams have to rely on a silent snap count. "That's where I think the issue is, all the silent counts now," Culbit said. "The center's checking back there, what's the signal to snap the ball? All the while nobody on the defense is moving. It's a long process and it's a little bit intricate."
Pouncey took full responsibility for his botched snaps Saturday against Miami (Ohio), but Redhawks coach Mike Haywood had a front-row seat to all the problems the Gators had. He said his defensive tackle, Austin Brown, played a role in wreaking havoc.
"It's really important that you understand Austin Brown is an undersized guy going up against a guy the size of Pouncey," Haywood said. "His initial quickness and his tenacity caused him a problem because Pouncey didn't expect a guy as quick as Austin Brown on him. When you try to change up head counts with one bob or two bobs and try to do different things to slow down the defensive line it sometimes because a problem."
Shotgun snaps aren't easy, of course. They take timing and precision, considering the quarterback is lined up 5 yards behind the center. Air Force offensive line coach Clay Hendrix said his team practices shotgun snaps every day before practice, even though the Falcons do not rely on the formation for their base offense.
Absolute precision is the key in their offense because they do run a lot of the option. Hendrix doesn't want his quarterback getting the ball too far to the right when he has to go to his left. He wants the shotgun snap to become second nature.
"On certain plays, you have to be dead on as far as the snap goes," he said. "If you don't, it's going to screw everything up."
He also cited more responsibility on the center as another key factor when snaps go wrong.
"I know a lot of people particularly in the passing game are asking the center to make decisions from a protection standpoint," he said. "Now he's caught up -- are we protecting right? Protecting left? and Oh by the way, I have to snap it. In the gun, the snap's going 5 yards backward -- you have a lot more opportunity to mess it up than when he's under center."
Perhaps some of the problems can be attributed to first week jitters. Though the Gators were under center more than they ever were when Tim Tebow was there, Gators coach Urban Meyer says the team will continue to line up in the shotgun. "We are going to correct that issue," Meyer said.
We'll see whether teams have made improvements this week.
July, 21, 2010
7/21/10
3:21
PM ET
Former Florida center Maurkice Pouncey has
released a statement denying allegations
that he took money from an agent last year prior to the Sugar Bowl.
"I did not accept $100,000, it is an absolutely ridiculous claim. I have completely cooperated with the investigation and answered any and all questions put to me," Pouncey said in a statement issued by his attorney.
July, 21, 2010
7/21/10
9:59
AM ET
HOOVER, Ala. -- It's been a while since the first day of SEC media days was this anticipated.
The two teams that have dominated the league the last two seasons are on tap today -- Alabama and Florida -- and both have agent allegations swirling around their programs.
Alabama coach Nick Saban has already gone off on unscrupulous agents and will no doubt have a few more things to say today as the Crimson Tide investigates whether defensive end Marcell Dareus attended an agent's party in Miami with several other players from around the country.
Florida coach Urban Meyer will certainly be peppered with questions about the Maurkice Pouncey allegations, that he took $100,000 from an agent last year and then played in the Sugar Bowl. Adding to the drama, Pouncey's twin brother, senior center Mike Pouncey, is one of the players the Gators are scheduled to bring to the media days.
Here's a look at today's lineup. We'll have updates throughout the day:
From 2 p.m. to 4:50 p.m. ET:
Alabama and Mississippi State.
The Alabama players attending are running back
Mark Ingram
, quarterback
Greg McElroy
and linebacker Dont'a Hightower.
The Mississippi State players attending are quarterback
Chris Relf
, offensive lineman Quentin Saulsberry and safety Charles Mitchell.
From 4:20 p.m. to 7 p.m. ET:
Florida and Kentucky
The Florida players attending are center Mike Pouncey, defensive end Justin Trattou and safety Ahmad Black.
The Kentucky players attending are running back
Derrick Locke
, receiver
Randall Cobb
and defensive end DeQuin Evans.
July, 19, 2010
7/19/10
1:07
PM ET
Add Florida to the list of schools around the country dealing with allegations of illegal agent activity.
Both the NCAA and the university are
looking into allegations
that former center Maurkice Pouncey was paid $100,000 by a representative of an agent between the Gators' loss to Alabama in the SEC championship game last season and their win over Cincinnati in the Sugar Bowl. Florida notified the NCAA of the allegation once it became aware of it. Pouncey played in both games.
"We were made aware of some information in early June that we reported to law enforcement and we then shared with the NCAA and the SEC," Florida athletic director Jeremy Foley said in a statement released Monday morning to ESPN.com. "At this time we have no information that has indicated that there are any compliance issues for the University of Florida."
South Carolina has confirmed that tight end
Weslye Saunders
was interviewed last week by NCAA representatives over possible improper dealings with an agent, and there are several players at North Carolina, including defensive lineman Marvin Austin, who have been questioned by the NCAA about agent-related activity.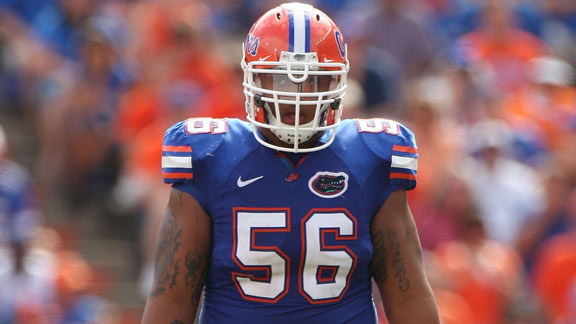 April, 23, 2010
4/23/10
4:00
PM ET
The SEC's seven first-round NFL draft picks on Thursday night was second to the Big 12's nine.
The SEC has now had five picks in the top 20 of the first round four years in a row.
The first-round proceedings Thursday night reminded us all one more time that how decorated you are at the college level and how many awards you win aren't real important in the eyes of pro scouts.
Take Alabama cornerback
Kareem Jackson
, for instance. He played in the shadow of
Javier Arenas
all season a year ago. Arenas was a consensus All-American and one of the "stars" of the defense. It was all Jackson could do to earn honorable mention All-SEC status.
Still, he was solid all season as a shutdown cornerback, ran great times in the 40-yard dash and wound up being the fourth defender drafted from the league, going 20th overall to the
Houston Texans
.
Jackson is another one of those guys who wasn't highly recruited, either. He went to Fork Union (Va.) Military Academy out of school even though he was qualified academically and was committed initially to Vanderbilt until Nick Saban and Alabama jumped on him.
Say this, too, for Jackson. He's supremely confident in his abilities. He turned pro this past season despite Saban telling him he needed another season of college ball.
As for guys who slipped, who would have thought at the end of the regular season last year that Florida defensive end
Carlos Dunlap
wouldn't go in the first round?
At that point, he was being projected as a top 15 pick by all the analysts. But that next week, he was arrested on DUI charges, was suspended for the SEC championship game, and apparently some of his interviews with teams following the season didn't go well.
In Friday night's second and third rounds, one of the SEC guys to watch will be LSU defensive tackle
Al Woods
. After a so-so college career, Woods really shot up draft boards this offseason with solid workouts.
And who will be the first SEC player to get picked in the second round?
I'll go with Alabama's
Terrence Cody
, but my dark horse is Ole Miss'
Dexter McCluster
.
Here's the complete list of SEC first-rounders on Thursday:
No. 5 -- S Eric Berry, Tennessee, Kansas City Chiefs
No. 7 -- CB Joe Haden, Florida, Cleveland Browns
No. 8 -- LB Rolando McClain, Alabama, Oakland Raiders
No. 18 -- C/G Maurkice Pouncey, Florida, Pittsburgh Steelers
No. 20 - CB Kareem Jackson, Alabama, Houston Texans
No. 25 -- QB Tim Tebow, Florida, Denver Broncos
No. 26 -- DT Dan Williams, Tennessee, Arizona Cardinals
January, 12, 2010
1/12/10
11:00
AM ET
Having had a few days now to digest the 2009 bowl season, here's a look at the All-SEC bowl team:
OFFENSE
[+] Enlarge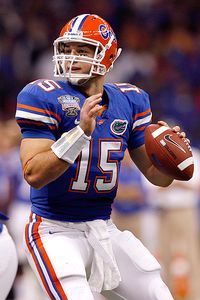 Matthew Stockman/Getty Images Tim Tebow torched Cincinnati for a career-high 482 passing yards and three TDs.
QB Tim Tebow, Florida

Broke Vince Young's record for total offense in a BCS bowl game with 533 yards in the Gators' 51-24 rout of Cincinnati in the Allstate Sugar Bowl. Completed 31 of 35 passes for a career-high 482 yards.
RB Dexter McCluster, Ole Miss

Was there a better player in the SEC the second half of the season? McCluster rushed for 184 yards and two touchdowns in the AT&T Cotton Bowl win.
RB Mark Ingram, Alabama

Despite cramping up in the Citi BCS National Championship Game, the Heisman Trophy winner showed his grit and led the Crimson Tide with 116 rushing yards and two touchdowns.
WR Riley Cooper, Florida

Led the Gators' offensive explosion in the Sugar Bowl with 181 receiving yards, including an 80-yard touchdown. Cooper averaged 25.9 yards on seven catches.
WR Brandon LaFell, LSU

The Tigers didn't put up much offense, but LaFell had five catches for 87 yards, including a 24-yard touchdown. LaFell led all SEC players with 19 touchdown catches over the past two seasons.
TE Aaron Hernandez, Florida

His nine catches led all players in the Sugar Bowl, and he finished with 111 receiving yards. Hernandez opened the Gators' scoring with a 7-yard touchdown catch.
OL John Jerry, Ole Miss

Helped clear the way for Ole Miss' 193 rushing yards against an Oklahoma State defense that finished ranked 11
th
nationally against the run.
OL James Carpenter, Alabama

Combined with
Mike Johnson
to make the key block that helped spring
Trent Richardson
on his 49-yard touchdown run in the second quarter of the Citi BCS National Championship Game.
OL Justin Anderson, Georgia

The Bulldogs were playing without starting right tackle Josh Davis, and Anderson came off the bench in the second half to help give a much-needed lift to the running game.
OL Mike Johnson, Alabama

The anchor of an Alabama offensive line that paved the way for both Mark Ingram and Trent Richardson to each rush for more than 100 yards against Texas' vaunted defense.
C Maurkice Pouncey, Florida

Spent more than five hours at Tulane Hospital with kidney stones and had several IV's, but didn't miss the start and led the way for the Gators up front.
DEFENSE
DE Marcell Dareus, Alabama

Had the hit that knocked Texas quarterback
Colt McCoy
out of the game and also returned an interception 28 yards for a touchdown right before halftime.
DE Carlos Dunlap, Florida

Came back strong from his suspension in the SEC championship game with two sacks in the Gators' Sugar Bowl romp.
DT Geno Atkins, Georgia

Pressured Texas A&M quarterback
Jerrod Johnson
relentlessly. Atkins finished with a sack and also blocked a field goal attempt in the second quarter.
DT Dan Williams, Tennessee

A rock all season long in the middle for the Vols, Williams ended his career with nine tackles, including a half a sack in the 37-14 loss to Virgina Tech in the Chick-fil-A Bowl.
LB Patrick Trahan, Ole Miss

His 34-yard fumble return for a touchdown sealed the game for the Rebels with 3:12 remaining. Trahan also had an interception on Oklahoma State's next possession.
LB Jerry Franklin, Arkansas

Finished with 10 tackles and had a third-quarter interception that turned the game around for the Hogs. East Carolina was leading 10-0, but Franklin intercepted a pass and returned it 31 yards to set up an Arkansas field goal.
LB Eric Norwood, South Carolina

Wrapped up a record-setting career at South Carolina by leading the Gamecocks with 10 tackles in their 20-7 loss to Connecticut in the Papajohns.com Bowl.
DB Walter McFadden, Auburn

Intercepted two passes in Auburn's Outback Bowl win. McFadden's first pick set up a touchdown, and he did the honors himself on the second one – returning it 100 yards for a touchdown.
DB Tramain Thomas, Arkansas

His 37-yard interception return for a touchdown tied the game in the third quarter. Thomas also tipped away a pass at the goal line in the final minutes that might have saved the game.
DB Kendrick Lewis, Ole Miss

Intercepted two passes in Ole Miss' 21-7 Cotton Bowl victory over Oklahoma State. His big hit in the fourth quarter also forced the fumble that Patrick Trahan returned 34 yards for a touchdown to break the game open.
DB Chad Jones, LSU

Did a little bit of everything in his final game at LSU. Led the Tigers with eight tackles, including one for loss, while also forcing a fumble, breaking up a pass and blocking a kick.
SPECIAL TEAMS
K Alex Tejada, Arkansas

His 37-yard field goal in overtime was the difference in Arkansas' 20-17 victory over East Carolina in the AutoZone Liberty Bowl.
P Spencer Lanning, South Carolina

In extremely cold conditions, Lanning punted seven times for a 42.3-yard average and had a long of 48 yards. He also doubles as the Gamecocks' place-kicker.
KR Brandon Boykin, Georgia

Tied an SEC record with his third kickoff return for a touchdown this season, taking one back 81 yards to answer Texas A&M's first touchdown.
January, 1, 2010
1/01/10
9:01
PM ET
NEW ORLEANS -- Florida center Maurkice Pouncey is a tough guy.

Team officials say Pouncey spent five-plus hours at Tulane Hospital today with kidney stones. Remarkably, after four bags of IVs, he is still starting for the Gators.

Obviously, keep an eye on how effective he will be.
March, 23, 2009
3/23/09
6:53
PM ET
Posted by ESPN.com's Chris Low
Remember the old line from Gordon Gekko, Michael Douglas' character in the 1987 film Wall Street?
The point is, ladies and gentlemen, that greed, for lack of a better word, is good. Greed is right. Greed works.
That infamous line might as well be Florida's mantra on the football field next season. The Gators have won two of the last three BCS national championships, but they want another one.
"I got my championship ring last year, but some people on this team have two. Why stop there?" Florida junior cornerback Joe Haden said. "I guess we're greedy. We want more, and we've got the team to do it. So why not?"
The defending national champion Gators open spring practice on Wednesday, and they insist complacency is not a part of their vocabulary.
"Everybody knows that we're the defending national champion, and we want to hold that standard up," junior center Maurkice Pouncey said. "The only way to do that is go out here and work for it. We've got to take it back, because nobody's going to give us anything."
If anything, Pouncey said this offseason has been even more strenuous than the one a year ago.
With so many starters back from last season's national championship team, he said the way guys have pushed each other has been unlike anything he's ever seen.
But, then, that comes with the territory when you've got strong-willed leaders like Tim Tebow, Brandon Spikes and both the Pouncey twins returning.
"Leadership is going to be a big thing for this team," Maurkice Pouncey said. "The main thing we've got to do is get past last year. Yeah, it was nice winning last year. But we need to forget about it by the time we start spring practice. I think we've got enough veteran guys and guys who've played that we'll be able to do that. We've got to prove ourselves all over again."
Defensively, the Gators return 21 of the 22 players from their two-deep in last season's BCS National Championship Game. The only one not coming back is tackle Torrey Davis, who made a critical goal-line stop in the 24-14 win over Oklahoma. Davis has left the program.
Junior safety Ahmad Black said wanting to win another title is one thing, but what matters is the Gators playing and practicing like they want to win one.
If the last few months are any indication, he feels good about where this team is headed.
"Last offseason, it was like we were drowning after we lost to Michigan (in the Capital One Bowl)," Black said. "We were fighting to get back on top of the water. Now, we're on top of the water, but you've got to fight to stay there."
March, 23, 2009
3/23/09
6:46
PM ET
Posted by ESPN.com's Chris Low
Florida coach Urban Meyer has said very little publicly about some of the comments directed at him by first-year Tennessee coach Lane Kiffin.
But inside the Gators' lair? That's a different story.
Several Florida players say that pictures of Kiffin are pasted throughout their locker room, and they're still fuming over what they say was a blatant show of disrespect for their coach.
"I couldn't believe what he said," Florida junior safety Ahmad Black said. "Not trying to be cocky or anything, but we've beaten them four years in a row ... by a lot, too. But taking shots at our coach is like taking shots at us. We're family. It's definitely personal now."
To recap, as if it needs to be recapped, Kiffin accused Meyer of cheating in the recruitment of receiver Nu'Keese Richardson, who changed his commitment from the Gators at the last minute and signed with the Vols. Kiffin, speaking to a pro-Tennessee crowd at a recruiting celebration the day after signing day, boasted that Meyer was unable to get Richardson despite committing an NCAA violation and calling Richardson while he was on a visit to Tennessee.
The only problem is that calling recruits while they're on visits to other schools is not against NCAA rules. Kiffin was reprimanded by the SEC and ordered to apologize.
Also, the day Kiffin was introduced as the Vols' coach, he said during the news conference that he looked forward to embracing Tennessee's traditions and "singing 'Rocky Top' all night long after we beat Florida next year."
Florida center Maurkice Pouncey's response?
"That's OK, because they've got something coming," Pouncey said. "[Kiffin] went public with all his stuff, but we'll do all our talking on the field. That's when we'll have something to say about it."
Florida cornerback Joe Haden said when word started to spread about Kiffin accusing Meyer of cheating that Meyer and the players all started texting each other.
"I guess [Kiffin] was doing that for his team, but he could have done that behind closed doors," Haden said. "To put our coach out there like that for something he didn't do was crazy. Coach Meyer is one of the best coaches in college football, and he's like a father to a lot of the players on this team.
"When we heard about it, the players were sending Coach Meyer text messages telling him, 'We've got your back.' We've got a family bond here, and when somebody attacks somebody in your family like that, it's on then."
Black said Meyer made it clear that he didn't take anything Kiffin said lightly.
"Coach was texting us, and we were texting him back," Black said. "We're there with him all day long. He's our coach."
Haden said Kiffin won't be the one who pays the ultimate price.
"I guess I know why he said what he said, but he's the one that put his players in a bad situation because we're going to try and dominate them," Haden said.
Of course, the folks on Rocky Top are probably wondering how much worse it could be. The Gators have won the last two games by a combined 63 points.
Stay tuned. The two teams meet on Sept. 19 in the Swamp, and something tells me the buildup to that game will be pure, unadulterated entertainment.
December, 23, 2008
12/23/08
12:58
PM ET
Posted by ESPN.com's Chris Low
The most underrated player in the SEC this season?
| | |
| --- | --- |
| | |
| | AP Photo/Mary Ann Chastain |
| | Malcolm Sheppard, right, had 16 tackles for loss and led all SEC defensive tackles with 7.5 sacks. |
My pick would be Arkansas junior defensive tackle Malcolm Sheppard, who was undersized to be playing tackle in the SEC (277 pounds), but made out just fine.
Sheppard finished second in the league with 16 tackles for loss and led all SEC defensive tackles with 7.5 sacks.
In the Hogs' season-ending 31-30 win over LSU, Sheppard moved outside to end and had 3.5 tackles for loss against the Tigers. He could stay at end next season depending on what his offseason is like. If he can put on some more weight, which hasn't been easy for him over the years, he'll probably stay inside.
If not, he could see his snaps at end increase, particularly if Arkansas can build some depth at tackle.
Either way, look for Sheppard to be one of the SEC's best and most versatile defensive linemen in 2009.
Here's a look at some of the other guys in the league that were underrated this season. They're listed in alphabetical order:
Georgia sophomore offensive lineman Clint Boling: He started the season at right tackle, moved to right guard for a few games and finished the season at left tackle. Boling's versatility was a big reason the Bulldogs were able to weather so many injuries in the offensive line.
Auburn sophomore linebacker Josh Bynes: After playing sparingly as a freshman, Bynes stepped in at middle linebacker when Tray Blackmon was lost for the season and led the team with three interceptions and finished fifth with 53 total tackles.
Alabama senior offensive lineman Marlon Davis: Tackle Andre Smith and center Antoine Caldwell were both All-Americans and received most of the publicity, but Davis was a rock for the Crimson Tide at right guard.
LSU junior tight end Richard Dickson: The SEC was loaded with talented tight ends, but Dickson was Mr. Dependable for the Tigers. He was third on the team with 27 catches, including four for touchdowns.
Mississippi State senior linebacker Dominic Douglas: Quick, who led the SEC in tackles this season? That would be Douglas, who moved over to middle linebacker when Jamar Chaney was injured and finished with 116 total tackles.
Vanderbilt junior safety Ryan Hamilton: He led all SEC defensive backs with 98 total tackles and was second on Vanderbilt's team. Hamilton had three interceptions in the win over Ole Miss, including one he returned 79 yards for a touchdown.
Kentucky senior linebacker Braxton Kelley: After three years of starting in the middle, Kelley unselfishly moved over to weakside linebacker and ranked among the SEC leaders with 90 total tackles.
Florida sophomore center Maurkice Pouncey: He started 11 games at right guard as a true freshman, but moved to center this season and solidified the middle of the Gators' offensive line.
Ole Miss senior safety Jamarca Sanford: One of the strongest leaders on Ole Miss' team, Sanford led the Rebels with 80 total tackles and also forced two fumbles.
South Carolina junior linebacker Darian Stewart: Playing the "spur" linebacker position in the Gamecocks' 4-2-5 scheme, Stewart did a little bit of everything. He had eight tackles for loss and led the team with eight passes broken up.
Tennessee senior linebacker Ellix Wilson: In his first full season as a starter, Wilson led the Vols with 89 total tackles from his middle linebacker position and was sixth in the SEC.