September, 9, 2013
Sep 9
3:00
PM ET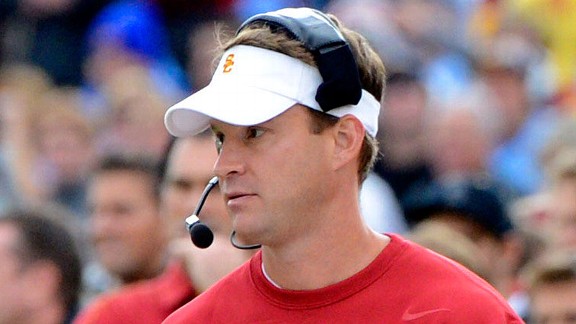 Richard Mackson/US PresswireBy maintaining play-calling duties, Lane Kiffin has put himself in the crosshairs.
In spring 2003, Pete Carroll decided that Matt Leinart should be named USC's starting quarterback over Matt Cassel. In the spring of 2008, he decided that Mark Sanchez should be named the Trojans' starter over Mitch Mustain and Aaron Corp.
While Carroll's dynastic run at USC was notoriously about non-stop competition, he also understood team dynamics. He believed that it was important to name a starting quarterback as soon as possible. When he saw separation, he believed a starter should be "anointed." And, yes,
that was the term he used
.
"Part of the reason for naming [Sanchez] is to see [leadership] come out," Carroll told me in 2008. "He wasn't able to show it. He hadn't been anointed yet."
That formal anointing allowed the quarterback to gain and then demonstrate confidence. He became the offensive leader.
In the spring of 2011, Washington coach Steve Sarkisian, formerly Carroll's offensive coordinator,
leaned on this lesson
when he opted to name Keith Price his starter over Nick Montana.
In all three cases, a coach made a decision and it turned out to be the right one. That is what good coaches do. They use their wisdom and intuition to make decisions that help their football team reach its potential.
At a place like USC, "reach its potential," means winning and winning big. And that is -- critically -- where USC coach Lane Kiffin, who also coached under Carroll, has fallen short. He has made decisions and they have turned out to be the wrong ones. Those wrong decisions now have him riding an 8-7 record since his team started the 2012 season ranked No. 1.
When judging Kiffin, that is what matters: The concrete decisions he makes and the real-world results of those decisions. It's not about folks who have never talked to him one-on-one judging his personality or character. It's not about the perception that he's smug or hasn't paid his coaching dues. Forget perception and personality. It's about results.
Two games into the 2013 season, after a miserably disappointing 2012 campaign, those results have been terrible, at least in the specific areas that Kiffin oversees: offense and quarterbacks. Though Clay Helton is the titular quarterbacks coach and offensive coordinator, Kiffin's decision -- another bad one -- to retain play-calling duties this fall makes him responsible entirely for the results on offense.
[+] Enlarge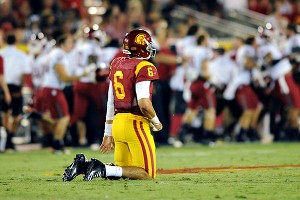 Chris Williams/Icon SMICody Kessler and the USC offense were brought to their knees by Washington State.
Those results? The Trojans' longest pass play this year is 19 yards. They passed for only 54 yards -- 2.6 yards per completion -- in the 10-7 loss Saturday to Washington State, which yielded 263 yards passing per game last year. Auburn, which is using a former defensive back as its quarterback, passed for 99 yards in a win over the Cougars the week before. USC is ranked 112th in the nation in passing offense, despite having the nation's best receiver in Marqise Lee, the extremely talented Nelson Agholor and two future NFL tight ends in Xavier Grimble and Randall Telfer.
Of course, a defense lawyer pleading Kiffin's case could try to change the narrative. He could say USC doesn't have a Leinart, Sanchez or even a Price on its roster. He could say the QB competition was too close to call -- to anoint -- at the end of spring practices. He could say Kiffin should be able to call plays because it's his team, as Carroll called plays on defense and Sarkisian calls his offensive plays. He could say USC is leading with its stout defense. He could say NCAA sanctions are hurting Kiffin's offense.
He could say the season is far from over, and that would be unquestionably true.
The easy and decisive counter to all that is to wheel in a TV and turn on a replay of the loss to Washington State. To use a Kiffin phrase, "It is what it is." And that is horrific. If the prosecutor wanted to pile on, he'd then make it a double-feature with the Sun Bowl loss to Georgia Tech.
Yet, it's also easy to counter each defense argument.
QB talent? Max Wittek was No. 3 and Cody Kessler was No. 29 in the ESPN.com ranking of QB recruits in 2011. True freshman Max Browne was the No. 2 QB in the 2013 class. Young QBs across the country are putting up big numbers, most of whom were lower rated than these guys.
Competition too close to call? There wasn't an observer during spring practices who didn't believe Kessler had outplayed Wittek.
Call his own plays because it's his team? As the head coach, it's his job to judge performance objectively. By any measure, USC's offensive playcaller in 2012 failed at his job. He also certainly failed through two games this season.
Leading with a stout defense? Well, take a look at the scoreboard. That stout defense needed more help if winning remains the goal.
NCAA sanctions? Really? You'd use that argument after losing at home to a team that has averaged 9.8 losses per season over the past five years?
Kiffin's chief problem in 2012 was getting distracted by little things. He seemed consumed with gimmicks and gamesmanship. He hasn't seemed to grasp the fundamental fact of coaching USC: If superior players execute well, they win just about every time.
USC still has superior players. While that advantage might not be as decisive these days when matched with Oregon and Stanford, or even a rising UCLA, it certainly is when standing opposite Washington State.
Kiffin made a pair of decisions entering the 2013 season: 1. He would retain play-calling duties; 2. He would play two quarterbacks. After two games, those decisions are abject failures by even charitable measures.
Based on the "Fire Kiffin" chants in the Coliseum as the clock wound down last weekend, more than a few folks are done with charitable measures.
June, 13, 2013
Jun 13
5:30
PM ET
USC, in terms of national championships, Heisman Trophy winners, All-Americans, great traditions and NFL success, might be the nation's preeminent program, apologies to Alabama and Notre Dame.
So calling the Trojans "sleepers" seems, well, odd. But after last season's disaster, which included USC becoming the first preseason AP No. 1 to finish unranked and with six losses, a run at the nation's top-10 isn't being widely projected.

Most folks believe coach Lane Kiffin is simply fighting to keep his job.
But Phil Steele is going against the media grain.
He's calling USC one of 10 "surprise" team of 2013

. Surprise, as in a good way, not a 2012 way:
This year, they lose quarterback Matt Barkley, and I only project them as No. 25 in the preseason AP poll. USC actually ranks No. 1 in the Pac-12 in my ratings in six out of nine categories, which says a lot about the Trojans' talent when the conference features perennial top 10 teams in Oregon and Stanford. USC does have to play both Arizona State and Notre Dame on the road, but it gets Stanford and UCLA at home while avoiding Oregon. Only one of my nine sets of power ratings calls for the Trojans to go unbeaten, but I think this year's squad is more talented and deeper than the 2012 preseason No. 1 squad. The Trojans are way under the radar heading into the 2013 season.
Steele also includes Arizona State on the list, by the way.
But Steele doesn't only see the Trojans as better-than-expected. And not only is he projecting USC to win the Pac-12's South Division.
He's ranking the Trojans sixth in the nation
.
Here's his USC
preview page and his ultimate thoughts
(we've replaced some of Steele's abbreviations; he's mainstream enough that losing some of his outstanding publications quirks would be a positive):
[This year] things are pointing upward as they are +2.0 in my Stock Market Indicator, had 2 net close losses and -4 net upsets plus have 15 [returning starters]. For the first time [since]/'04, USC avoids Oregon although they do play Stanford. They are actually deeper at almost every position, making them better equipped to absorb [injuries] (unlike [last year]). Despite their 5-4 [Pac-12] record they were +69.7ypg [in conference play] (4thbest).USC goes from a disappointing team to a Surprise Team (pg 19).
This shouldn't be shocking, by any stretch. Last year's 7-6 finish was a massive underachievement not representative of the talent on hand. Much of that talent is back, and probably a little motivated after last year's embarrassment. There also is a nice influx of talent, not to mention a couple of key players returning from injuries, including outside linebacker
Devon Kennard
.
Further, the returning talent on defense, particularly the front seven, combined with the arrival of defensive coordinator Clancy Pendergast bodes well. I suspect the Trojans' defense will be among the top-four in the conference.
Better defense will take pressure off an offense breaking in a new quarterback. That is the big question, though: Quarterback play.
While Barkley didn't have a great 2012 season, at least compared to stratospheric expectations, his skills and experience brought a lot to the huddle.
Still, young QBs have been thriving in the Pac-12 of late -- to name four first-year starters from last year: Oregon's
Marcus Mariota
, UCLA's
Brett Hundley
, Stanford's
Kevin Hogan
and Arizona State's
Taylor Kelly
.
Why can't
Cody Kessler
,
Max Wittek
or Max Browne do the same?
We should get a pretty good idea of the Trojans' trajectory early on. They visit Arizona State on Sept. 28, a critical game in the South Division pecking order.
By the way, Steele ranked
Oregon fifth, Stanford 11th

and projects Alabama to play Ohio State for the national title.
April, 16, 2013
Apr 16
12:00
PM ET
Lane Kiffin and Co. have released their official post-spring two-deep depth chart. And not surprisingly, there aren't a lot of surprises.
One of the most watched quarterback competitions in the country lists
Max Wittek
OR
Cody Kessler
OR Max Browne. Leaving us with what we knew a month ago. It's going to be Wittek OR Kessler OR Browne.

Steve Bisheff of WeAreSC
makes his case
-- and a compelling one at that -- for Kessler, who clearly had the strongest spring of all three quarterbacks.
Despite Kessler's clear advantage coming into the (spring) game, Kiffin had Max Wittek starting with the first unit at the Coliseum on Saturday. And even after Kessler outplayed his main competitor, throwing for 242 yards and three touchdowns with no interceptions compared to Wittek's 145 yards, two touchdowns and two interceptions, Kiffin insisted that no quarterback had emerged as a front-runner for the position and that he won't name a starter until the fall.
Sticking with the offense, there was already an assumed pecking order at wide receiver, but it's more solidified now. Darreus Rogers and
Victor Blackwell
are behind Biletnikoff winner
Marqise Lee
.
Nelson Agholor
will start opposite Lee with
De'Von Flournoy
and
George Katrib
backing him up.
Some intrigue at running back with
Silas Redd
at the top, but the starting gig is listed as Redd or Justin Davis or
Tre Madden
. Same for the fullback, which lists
Soma Vainuku
or
Jahleel Pinner
as the starter.
So while the entire offensive backfield is a grab bag of "ors," there is at least some solidarity on the offensive line, where four of the five starters appear to be in place.
Aundrey Walker
and
Max Tuerk
make up the left side with
Marcus Martin
at center and
John Martinez
at right guard. The only spot still in doubt is at right tackle between
Kevin Graf
or
Chad Wheeler
.
The new-look 52 defensive front has
Devon Kennard
and
Morgan Breslin
at the outside linebacker spots (that's going to be a scary combination, by the way) with
Leonard Williams
and
George Uko
(also a darn good tandem) at the ends. Nose tackle is still up for grabs between
Antwaun Woods
or
Cody Temple
.
In the secondary, where there are almost as many holes as there are questions -- little has been determined. Three of the four starting spots have an "or" attached to them. Only
Anthony Brown
looks like the inked-in starter.
Torin Harris
and
Kevon Seymour
are battling for the other corner spot and
Demetrius Wright
or Leon McQuay III are battling for free safety.
Josh Shaw
and touted freshman Su'a Cravens -- who missed a significant portion of spring drills -- will head into fall battling for strong safety.
April, 1, 2013
Apr 1
9:00
AM ET
LOS ANGELES --
Marqise Lee
is going to have to get used to change. Because in 2013, a lot is going to be different for college football's reigning Biletnikoff Award winner.
No longer will he have a four-year starting quarterback in
Matt Barkley
tossing him passes. Nor will he simply be a complementary piece in a receiving duo.
Perhaps most importantly, he's going to have to adjust to the fact that without Barkley his numbers will likely take a hit, regardless of which of the three green quarterbacks wins USC's starting job.
"I think a lot of what Marqise has to do is going to be mental," said USC coach Lane Kiffin. "He's going to have to be able to handle the expectations and the potential knowing that his numbers won't be what they were. That can be frustrating as you go through a new quarterback. He's not just a premier receiver, but the best receiver in the country. He's someone that is going to be talked about for the Heisman and, unfortunately at his position, someone else controls your destiny."
In 2012, Lee led the nation or was in the top three in almost every receiving category. He caught 118 balls for 1,721 receiving yards and 14 touchdowns. There are few who question that in 2013 he is the single-most dangerous skill-position player in college football.
"I believe in my quarterback -- whoever it's going to be," Lee said. "If you're out there, that means you are capable of getting the job done. If the ball gets to me, I'm going to do whatever I can to make things happen. I've never been focused on the numbers. I've been about helping our team win. You get distracted when you start thinking about numbers. Whatever I have to do to help us win -- catch that last pass, or not have any catches and spring a guy with a good block -- that's what I'm going to do."
His would-be quarterbacks hear the rumblings, too -- the whispers that Lee's Heisman campaign might sink because a rookie quarterback will be running the offense. And, yes, they take that personally.
"With us being young, people are going to say that," said
Cody Kessler
, who is in the thick of the quarterback competition with
Max Wittek
and Max Browne. "But we've been training hard. We've been studying Matt for two years. Our job is to get Marqise the ball and let him make plays. If we keep improving, I don't see any reason why he can't do what he did last year -- or better. So, yeah, we take that personally."
Clouding the issue is that without
Robert Woods
opposite him, more teams are going to double-team Lee. Then again ...
"Throwing to him is like throwing to a 20-foot net," Kessler said. "He's a freak of nature. It's unreal how athletic he is."
As long as Lee has been with the Trojans, he's always been part of a tandem with Woods. Even back in high school, it was
George Farmer
and Lee. Now Lee is the lone No. 1. The headliner.
"That's a way different role," Lee said. "I enjoyed being part of a duo. Robert was always the guy. I just came in and helped. I'm in a situation now where I'm sitting in Robert's chair. I know teams are going to try to cover me harder. And if they do, that's fine. I'll watch someone else score touchdowns."
Lee also knows the expectations -- the kind that aren't on the football field -- will grow exponentially this year. A lot of people are going to want to get close to him. Get a piece of him. Because waiting at the end of the 2013 season is a probable top-10 spot in the 2014 NFL draft.
"He's a very mature young man," Kiffin said. "For him, managing his daily life is the theme with him and I. Right now, especially this fall, there is no one else around him that is like him. He has so much to gain and so much to lose. Nobody else is like that. No roommates or other players.
"He doesn't get to be like everybody else. He's been given a lot. There are a lot of expectations around him. He has to make sure everything he does is solely based on academics and football. People will want to hang out with him and tug at him and tell him how great he is. We have to make sure he has great focus."
Lee said he's had the conversation with Kiffin and he understands his responsibilities to the team -- and himself.
"All the awards, all of that is in the past," Lee said. "I've set my goals. I don't pay attention to people who want to get at me. I'm paying attention to school and football and pushing everything else aside."
Last week, Wittek was walking through the new John McKay Center and noticed Lee's All-American plaque being hung on the wall alongside all of the other Trojans who have earned the honor. Seeing that made him realize how much easier his life will be if he wins the starting job.
"When you see him do some of the things he does, you realize just how special he is," Wittek said. "I may never see another athlete like him for the rest of my life. He's that kind of player."
March, 27, 2013
Mar 27
1:00
PM ET
LOS ANGELES -- The three-man race is back on. Not that it was ever really off. But when USC quarterback
Max Wittek
took an unscheduled hiatus to nurse a sprained medial collateral ligament, it gave
Cody Kessler
and early enrollee
Max Browne
an opportunity to gain some ground on the only USC quarterback with playing experience.
"You never want to see any of your teammates going down, but stuff like that happens," Kessler said. "But when it does, there are more reps for me and Max (Browne). Our reps doubled with Max going down. I just have this mindset right now of staying so focused and stuck on one goal. You feel like nothing gets in your way. You know when you get in that zone? You're so focused. Those guys will say they have the same mindset. That nothing can stop you. I feel like I've been locked into that mindset."
[+] Enlarge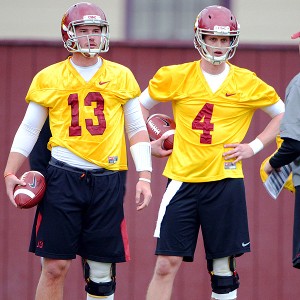 Kirby Lee/USA TODAY SportMax Wittek (13) has something Max Browne (4) doesn't in their QB competition: game experience.
All three are vying to replace
Matt Barkley
-- a four-year starter who holds the Pac-12 record for most career touchdown passes. And while Barkley is showing off his wares for NFL brass at today's USC pro day, the trio of would-be starters is continuing a competition that is expected to stretch well into the fall.
It's been three weeks off for Wittek -- three missed practices and then spring break. So getting back on the field Tuesday was a positive step. Not, though, that his time on the sidelines was wasted.
"I got a lot of work in the film room," Wittek said. "Not playing gave me an opportunity to see how the other guys work and learn from what they do well and their mistakes -- just as I'm sure they learn from my mistakes. It's been a good process, being able to look at things from a different perspective."
But his first practice back happened to be on a day when the defensive front seven was playing inspired football. The defense dominated the line of scrimmage, and cornerback
Torin Harris
was all over the secondary with three pass breakups in a 10-play span.
Head coach Lane Kiffin assessed Wittek's return.
"Not 100 percent. You could see he's struggling a little bit with it -- even just in one-on-ones," Kiffin said. "It's nothing that is going to be long-term. It will get better every day."
Wittek appeared in five games last season -- including starting the final two games, when Barkley was injured. For the season, he completed 52.2 percent of his throws with three touchdowns to five interceptions. In the two starts -- against Notre Dame in the regular-season finale and against Georgia Tech in the Sun Bowl -- those numbers dip to a 46.7 percent completion rate with two touchdowns and five picks.
Those two games at the end of the season might have been Wittek's audition -- or, at the very least, might have helped the competition supplant him as the front-runner for 2013. He doesn't look at it like that.
"A lot of people see it as a lost opportunity," Wittek said. "I see it as a big-time learning experience. Those were two games I never would have gotten had the opportunity not presented itself. Being able to get in those games, play -- good, bad or indifferent -- I was in there and felt what it was like be in front of a large crowd in on a nationally televised stage.
"The Georgia Tech game, obviously not my best game ever; it was pretty bad, actually -- but walking away from that game, it was kind of cool," Wittek continued. "I didn't play as well as I could of. We lost the game. But when I think about the opportunities still to come, I got excited. I was able to go back and watch that game three or four times over and I saw where I could have improved. … Situational football is what I took away from it. I'm looking forward to bringing what I've learned to the table and growing from that."
In Wittek's absence, Kessler has made a big push, performing well in a pair of scrimmages. And Browne continues to make the most of his opportunities -- taking advantage of the fact that this is technically the second half of his senior year in high school.
"You get in here, learn the offense and you get to make your mistakes early," Browne said. "So come summer and fall, you get your chance to compete. Academically and athletically it's a good jump start. I've had some struggles early, but people keep saying that's normal. My first few weeks with the playbook, it's been pretty good. I came in knowing there were going to be two great quarterbacks and that's what I found out. I feel like it's been a healthy competition."
March, 14, 2013
Mar 14
1:00
PM ET
If someone had asked me before spring practices began who California's starting quarterback would be in 2013, I would have quickly said with my all-knowing look: "
Zach Kline
."
If that someone had gently protested with a "But what about..." I would have interrupted with another all-knowing look, "No. It will be Zach Kline."
Unfortunately, that would have been the same all-knowing look I gave while asserting USC's national championship prospects before the 2012 season. It might be wise for me to mothball that all-knowing look, and I just want to add that my wife and children owe Lane Kiffin and the 2012 Trojans an eternal debt of gratitude.
[+] Enlarge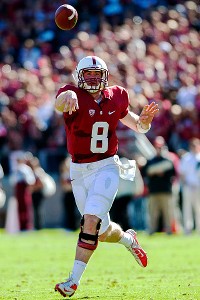 Ed Szczepanski/US PresswireThe success of young QB's like Stanford's Kevin Hogan is no longer a rarity in college football.
Kline might well end up the Bears' starting quarterback, but that's not what this is about. It's about Cal's quarterback battle looking like it's going to be
a showdown between
Kline, a redshirt freshman, and true freshman
Jared Goff
, who opted to graduate early from high school, skip all the riotous things high school seniors do during their final spring frolic and begin the serious business of Pac-12 football.
A redshirt freshman is the "veteran." A true freshman is the challenger.
There are two notable things about the Conference of Quarterbacks this spring: 1. There's an impressive crew of talented and already accomplished ones returning; 2. Youth now rules a position where that very quality was nearly a disqualifying negative not too long ago.
California is not the only school that might tap a true freshman. Arizona has Anu Solomon coming in this fall, and the look on both coach Rich Rodriguez's and co-offensive coordinator Rod Smith's faces when talking about him suggest his candidacy is legitimate.
"If the kid is good enough and he can handle it," Smith said." Some kids transition better than others. Anu is a kid who was a four-year starter in high school. That doesn't mean anything for college, but at least he's been in the mode when he's the new kid on the block competing with older kids and he performed well. He was 56-4 as a starter. The kid is a winner. He knows how to move the football and win."
That is not too far from the case Pete Carroll made in 2008 when he opted to go with true freshman
Matt Barkley
, only Carroll went all Pete Carroll-y and made Barkley into
some metaphysical quarterbacking beast
, citing Malcolm Gladwell and labeling Barkley an "outlier."
Still, that was a precursor to the new reality.
A redshirt freshman, Texas A&M's
Johnny "Football" Manziel
, won the Heisman Trophy, and a redshirt freshman, Oregon's
Marcus Mariota
, was first-team All-Pac-12, over seniors Barkley and Arizona's
Matt Scott
. Stanford's season transformed when it handed its offense to redshirt freshman
Kevin Hogan
. Utah started a true freshman,
Travis Wilson
, a few games into the season. Redshirt freshman
Brett Hundley
led a UCLA resurgence.
Further, USC again has a early arriving true freshman who is a legitimate candidate to win the starting job in Max Browe. More than a few folks believe the front-runner to win the job at Colorado is redshirt freshman
Shane Dillon
.
We might not be at the end of 2013's youth movement. While Washington and Washington State both welcome back veteran quarterbacks in
Keith Price
and
Connor Halliday
, there is a sense they both could be threatened by, yes, true and redshirt freshmen challengers.
The only Pac-12 teams certain to start upperclassmen at quarterback: Arizona State with junior
Taylor Kelly
, and Oregon State with junior
Sean Mannion
or senior
Cody Vaz
.
This youth movement doesn't include a sacrifice of quality and high-prospects. It's not primarily about a failure of the older guys. Does any conference offer a better array of returning quarterbacks than Mariota, Kelly, Hundley and Hogan? The answer is no.
There are many explanations for this youth movement. First of all, quarterbacks are better prepared in high school. They get private coaching, go to summer camps, play 7-on-7 in the offseason, etc. In high school, they don't just show up in August for two-a-days and draw plays in the dirt anymore.
Further, a player's recognition of and respect for the natural pecking order has been reduced, as has patience. If a touted guy loses out in a quarterback competition, he seems more likely to transfer now in search of playing time. A couple of coaches also have told me it's more difficult to recruit the position when a team has an entrenched, underclass starter. That then means the junior and sophomore quarterbacks on the roster might not be as good as the younger players who sign only when the starter is a junior or senior.
Or the job will be vacant, as is the case with Browne at USC.
Yet just because a guy starts as a freshman doesn't mean the death of the upperclassman quarterback. In fact, it should in most cases increase its likelihood of occurring.
The logic is simple: If a guy is good enough to start as a freshman and plays well, then you can project forward two or three years of improvement and future success. The most important position on the field is locked down and secure and worry-free. A good thing.
It doesn't always work out like that -- see Price at Washington this past season. Or the Barkley of 2011 versus the lesser version in 2012.
That noted, it's not unreasonable to hold high hopes. Know that just about every Oregon fan has projected improvement for Mariota over the next two years, though he could enter the NFL draft as a third-year player after this season. Even moderate improvement sets him up as an All-American and Heisman Trophy candidate. Same could be said for Hogan, Hundley and Kelly, by the way.
The youth movement at quarterback is a substantial shift in thinking. An experienced, veteran quarterback used to be the first preseason measure of a team. Now all a team needs to be highly esteemed is a returning starter, even if that's just a sophomore.
It's getting to the point, in fact, that youth at quarterback will be weighted less as a potential problem by prognosticators.
At least, it's possible that the next time someone frets a lack of experience at quarterback being a problem, I'll resurrect my all-knowing look and say, "No, it's not!"
February, 22, 2013
Feb 22
9:00
AM ET
Here are some keys and storylines to watch this spring in the South Division. Yesterday Ted looked at
the North Division.
ARIZONA WILDCATS

Start date:
March 3
Spring game:
April 13
What to watch:
New battery: The Wildcats are looking to replace a top-notch quarterback-center combo in Matt Scott and Kyle Quinn. The rock-solid duo helped produce one of the top offenses in the league. Jesse Scroggins and B.J. Denker are among those in the mix to run the offense and several returning offensive linemen are versatile enough to move around. Chris Putton and redshirt freshman Beau Boyster could be in the mix at center.
Many happy return(er)s: Arizona returns a big chunk of its offensive production -- including running back Ka'Deem Carey and receiver Austin Hill. Both should be on all sorts of preseason teams and awards watch lists. But behind the big names, there's also David Richards, Johnny Jackson, Tyler Slavin and Garic Wharton back in the mix.
No learning curve: Last spring, the talk was about Rich Rodriguez calling out his team for its lack of physical conditioning. The fact that the majority of the team understands what is expected -- and they don't need to spend the whole spring learning new systems, should be a huge help. Consider that the Wildcats return their entire defense from a group that was, at times, shaky, but will certainly benefit from another full season of playing in the 3-3-5 scheme.
ARIZONA STATE SUN DEVILS

Start date
: March 19
Spring game:
April 13
What to watch:
Plugging the middle: One of the few losses to ASU's roster is middle linebacker Brandon Magee -- a leader on and off the field and an all-around heck of a player. Carlos Mendoza looks to be a good fit -- though he's likely to miss spring while continuing to recover from a shoulder injury suffered against Illinois. Folks might remember his two interceptions before going down for the year.
Catching on: Unlike last spring, the Sun Devils have their quarterback. And he's a good one. Now, they need to find folks he can throw to. JC transfers De'Marieya Nelson (H-back, 6-3, 230) and Jaelen Strong (WR, 6-4, 205) are both big bodies who could step in and contribute immediately.
Wait and see: The kicker here is a lot of these players who are expected to compete won't arrive until the fall. So in the meantime, a lot of the younger players and redshirts will get a ton of reps in the system. And speaking of kicker, don't underestimate how much of an impact Josh Hubner made at punter. Iowan Matt Haack, who arrives in the fall, is a rugby-style kicker who can kick with either foot. That's just cool.
COLORADO BUFFALOES

Start date:
March 7
Spring game
: April 13
What to watch:
Meet your QB: Whomever it will be. There are five on the roster and a sixth coming in. Safe to say, quarterback play was extremely inconsistent last season for the Buffs. With an entirely new coaching staff coming in and installing the pistol, this could be one of the more interesting and wide-open position battles in the league.
Curious defense: One needs only to review Colorado's national rankings last year to realize they struggled. As one Buffs insider mentioned to me, they were ranked No. 1 in a lot of categories. Unfortunately, that "1" was followed by two more numbers. Only three defensive ends have playing experience. However a secondary that lacked experience in 2012 has a lot more looking into 2013.
Receiver options: The Buffs welcome back Paul Richardson, who missed all of last season with a knee injury. Colorado's premier offensive playmaker will be a nice veteran presence to whomever wins the quarterback job. Grayshirt Jeff Thomas also is back. An improved passing attack should help give the quarterback some confidence and open up the running game.
UCLA BRUINS

Start date:
April 2
Spring game
: April 27
What to watch:
Life after Franklin: The Bruins say goodbye to the best statistical back in school history -- leaving a huge void in the backfield. Johnathan Franklin was a great presence for young quarterback Brett Hundley, but now someone has to step up to fill that role, either solo or along with a committee. Look for Jordon James, Steven Manfro and Damien Thigpen to all get looks.
New No. 1: The Y-receiver, aka hybrid tight end, was filled wonderfully by Joseph Fauria -- Hundley's favorite red zone target. Darius Bell and Ian Taubler both had looks last year, but Fauria too will be tough to replace. Shaq Evans, Devin Fuller, Jordan Payton and Devin Lucien round out a pretty good receiving corps.
Secondary solutions: The Bruins must replace two corners and a safety -- Sheldon Price, Aaron Hester, Andrew Abbott -- and there isn't a ton of starting experience. Randall Goforth has five starts, but veterans such as Brandon Sermons and Anthony Jefferson have more special-teams experience than actual secondary play. Keep an eye on the secondary too when the Bruins start fall camp to see if any freshmen jump into the mix immediately.
USC TROJANS

Start date
: TBD
Spring game
: April 13
New defensive scheme: The Trojans will move to a 5-2 defensive scheme under Clancy Pendergast, and the spring drills will be the first opportunity to see the defense in action. The Trojans will have an experienced front seven, but four new starters are expected in the secondary.
Replacing Barkley: Max Wittek got the first extended audition in the battle to take over for Matt Barkley, but he didn't do enough in two late-season starts to claim the job. Cody Kessler and freshman spring enrollee Max Browne also will be looking to take the reins at one of the glamour positions in college football.
Lane Kiffin on the hot seat: The Trojans are coming off a disappointing season, and the fans are howling in protest, but so far his boss Pat Haden has maintained full support for his coach. Now is the time for Kiffin to show why that support is warranted. -- Garry Paskwietz, WeAreSC
UTAH UTES

Start date
: March 19
Spring game:
April 20
What to watch:
Erickson impact: The biggest question was what sort of role Dennis Erickson would play in the offense once he arrived. We'll know sooner than later. He already has talked about putting an identity on the Utah offense. That starts in spring when routines are established and expectations are set. And with Erickson on board to give the offense a push, the expectations will be much higher.
Wilson maturing: That leads us to the presumptive starting quarterback -- Travis Wilson -- who jumped in midseason after Jordan Wynn got hurt and Jon Hays struggled to produce. Wilson went from OK to pretty good in just a few weeks. A nice jump considering his experience level. With an entire offseason knowing he'll be the starter -- and with Erickson and Brian Johnson molding him -- it will be interesting to see what progress he makes this spring.
D-line makeover: The Utes lose some talent on the defensive line -- specifically All-American defensive tackle Star Lotulelei. Look for DE/LB Trevor Reilly to spend more time with his hand down. Tenny Palepoi, LT Tuipulotu and JC transfer Sese Ianu could all see time in the mix at defensive tackle.
February, 7, 2013
Feb 7
9:00
AM ET
We're reviewing hits and misses in Pac-12 recruiting, starting with the South Divison.
ARIZONA

Needs filled
: The Wildcats have two incoming quarterbacks -- USC transfer
Jesse Scroggins
, who's already in school, and
Anu Solomon
-- who will be in competition to replace the departing
Matt Scott
. The class includes five linebackers, a need position. Don't be surprised if running back
Pierre Cormier
gets touches behind
Ka'Deem Carey
. It seems that coach Rich Rodriguez stocked up on athletes -- receivers and defensive backs.
Holes remaining
: The Wildcats' biggest weakness in 2012 was the defensive line -- they ranked last in the Pac-12 in sacks and gave up more than 200 yards rushing per game -- and this class of 23 includes just two defensive linemen. Who's going to rush the passer in 2013?
ARIZONA STATE

Needs filled
: The Sun Devils needed receivers and defensive backs. They signed five receivers and and five defensive backs -- and one athlete, who could play either. Defensive tackle
Marcus Hardison
, the nation's No. 5 junior college player, should help bolster a poor run defense.
Holes remaining
: The Sun Devils lost QB
Joshua Dobbs
to Tennessee on signing day, which means they haven't signed a quarterback in two consecutive classes. Nine JC transfers means the Sun Devils are counting on immediate impact rather than long-term development. That approach can be a gamble, though four of the juco recruits have three years of eligibility instead of two.
COLORADO

Needs filled
: The Buffs have a lot of needs, as they were last in the Pac-12 in scoring offense and scoring defense in 2012. The class includes six offensive linemen, and quarterback
Sefo Liufau
, 6-foot-4, 215-pound product of Bellarmine Prep in Tacoma, Wash., is a guy Buffs fans should be excited about. Considering the poor production at the position last season and the fact that there's a new scheme, he might get into the mix this fall.
Holes remaining
: This is a fairly balanced class but there isn't a single interior defensive lineman. The Buffs gave up 226 yards rushing per game last season. The Buffs did, however, sign nine defensive linemen last year. While Liufau is the star of the class, this crew is lacking pizzazz and will rank last in the Pac-12, which is not surprising for a 1-11 team that fired its coach.
UCLA

Needs filled
: Jim Mora said his top needs were offensive line, defensive back and linebacker. He signed seven offensive linemen, four defensive backs -- highly rated safety
Priest Willis
is still pending -- and three linebackers. As for the offensive line, two are ESPN 300 prospects and a third is a four-star lineman. Including Willis, who is expected to sign with the Bruins, two defensive backs are ESPN 150 players, a third is an ESPN 300 recruit and the fourth is rated with four stars. As for linebacker, two are ESPN 150 players.
Holes remaining
: The Bruins signed the Pac-12's top-rated class and had a great final week. There is little not to celebrate, other than defensive tackle
Eddie Vanderdoes
picking Notre Dame. The most obvious hole is running back, where there's no obvious replacement for
Johnathan Franklin
.
Craig Lee
had committed to the Bruins but hasn't signed, so there's no true RB in this class.
USC

Needs filled
: USC lost three of four starters from a secondary that underperformed last year, so signing two of the top three safeties in the nation --
Su'a Cravens
and
Leon McQuay
-- as well as the No. 11 cornerback in
Chris Hawkins
is a pretty nice haul. The Trojans also added a pair of elite running backs in
Ty Isaac
and
Justin Davis
, the nation's No. 3 DT in
Kenny Bigelow
and the No. 2 quarterback in
Max Browne
. All three spots were need areas.
Holes remaining
: The story of this class, as good as it is, is the handful of decommitments. In November, this was the No. 1 class but fell out of the top 10. Bigelow is the only defensive lineman; there are only two offensive linemen. In November, the question was how was USC going to finagle its way to just 75 scholarships, per NCAA sanctions. That's no longer an issue.
UTAH

Needs filled
: With the graduation of RB
John White
and three voids on the defensive line, those were two need spots addressed by this class of 23. The Utes signed five defensive linemen, including three defensive tackles. They also signed four running backs, including JC transfer
Devontae Booker
.
Holes remaining
: One bit of bad news for the defensive line is that DT
Lowell Lotulelei
, younger brother of Star and the Utes' highest-rated player, didn't sign because he's going on a Mormon mission right out of high school. This is a balanced class but it includes just two offensive linemen. The Utes also didn't get great linebacker play last season and this class only includes one,
Uaea Masina
.
June, 4, 2012
6/04/12
4:27
PM ET
Sophomore quarterback
Jesse Scroggins
will be leaving the USC football program and intends to transfer to another school.
This news does not come as a complete surprise to Trojans fans. Scroggins was having academic issues and was forced to miss time this spring while also recuperating from injury. USC coach Lane Kiffin had made it clear throughout spring that Scroggins had work to do in order to remain with the team and Scroggins also lost valuable practice time to fellow quarterbacks
Max Wittek
and
Cody Kessler
, who received the majority of the workload.
When he committed to USC out of Lakewood (Calif.) High School in 2010, Scroggins had hoped to be the heir apparent to
Matt Barkley
. Scroggins was the No. 2 quarterback in the ESPN 150 that year and played in the Under Armour All-America Game. He chose USC over offers from Florida, LSU, Tennessee (where he was offered by Kiffin) and Nebraska. Scroggins was known for having a strong arm with loads of potential, but he was also considered a raw quarterback. Because of that, his ceiling was thought to be high with a lot of opportunity for development.
Scroggins redshirted in his first year at USC and then suffered a thumb injury in fall camp before the 2011 season. It was a tough blow for Scroggins because he had been performing well and looked to be the No. 2 quarterback heading into the season. With Scroggins out of action for the first six games, Kessler was named the backup quarterback. By the time Scroggins returned to action, there wasn't much of an opportunity to make an impact. He took the final snap of the game against Washington, which was the extent of his USC playing career.
The missed opportunity to compete this spring is what ultimately damaged Scroggins. There was still a chance for him to stay in the competition with Wittek and Kessler, but his absence just put those two farther ahead. The academic troubles served as a double whammy, because head coaches have to trust that their quarterbacks are taking care of business.
It was going to be an uphill battle for Scroggins to completely get back in good graces and earn a legitimate shot at the starting job in 2013. Perhaps the academic hurdles were too much. Regardless, he has chosen to take his chances elsewhere. Wherever he lands, somebody is going to get a good quarterback. Scroggins has some real talent and it's hard to find too many guys with an arm as strong as his.
As far as the Trojans are concerned, the quarterback spot is still in good shape for the future. In addition to Wittek and Kessler, USC will welcome
Max Browne
, the No. 2 pocket passer in the ESPN position rankings, next spring. It remains to be seen whether the Trojans will pursue another quarterback in this class now that Scroggins is gone.
April, 4, 2012
4/04/12
11:35
PM ET
Max Browne
(Sammamish, Wash./Skyline), the nation's top-rated prep quarterback, committed to USC on Wednesday night, picking the Trojans over Alabama, Oklahoma and Washington.
Browne, 6-foot-5, 205 pounds, completed 70 percent of his passes for 4,034 yards and 45 touchdowns in 2011.
National signing day in is Feb. 6, 2013.
Here's the
Seattle Times
on Brown's decision, which is a major blow to Washington's in-state recruiting.
Browne is the second consecutive elite QB from Skyline High School, a Washington state prep powerhouse, to opt to leave the state instead of signing with the Huskies.
Jake Heaps
signed with BYU over the hometown Huskies in 2010. Heaps has since transferred to Kansas.