April, 28, 2010
4/28/10
6:09
PM ET
The 2009 campaign was certainly a season to remember for Idaho. Not only did the team win eight games, including a thrilling Humanitarian Bowl victory over Bowling Green, it surpassed all expectations and began to believe that the Idaho program could regain the form it once had. The Vandals don't lose much from last year's squad and have a chance to have yet another special season in 2010.
Here's a look at the strongest and weakest positions for Idaho this spring:

Strongest position: Wide receiver
Key returners:
Senior
Daniel Hardy
(39 catches, 691 yards, three touchdowns), senior
Maurice Shaw
(32 catches, 666 yards, six touchdowns), junior
Preston Davis
(33 catches, 460 yards, one touchdown), senior
Eric Greenwood
(32 catches, 401 yards, three touchdowns), junior
Princeton McCarty
(11 catches, 202 yards, two touchdowns)
Key departures:
Max Komar (63 catches, 1,052, 11 touchdowns)
The skinny:
Idaho returns almost every weapon from a passing offense that ranked 12
th
in the country. The only loss is Komar, who led the team in receptions and yards, but players such as Hardy, Shaw and Davis came on and will continue to be top targets for starting quarterback
Nathan Enderle
. Another key contributor could be junior college transfer Armauni Johnson, who had seven catches for 103 yards during the spring game.
Weakest position: Offensive line
Key returners:
Junior left tackle Matt Cleveland
Key departures:
Left guard Mike Iupati, center Irvin Stevens II, right guard Adam Juratovac, right tackle Bryce Sinclair
The skinny:
The offensive line, which was a strength for the Vandals last season, was almost entirely gutted by graduation. Cleveland is the only returning starter, though Tevita Halaholo and Tyrone Novikoff both have experience. All of the backups are back, including Guy Reynolds and Clell Hasenbank, and the Vandals have brought in some new faces such as Sam Tupua, a junior college transfer, Kyle Salm, a grayshirt, and Mike Marboe, an early enrollee. The offensive line was the key to the Vandals' success last season and is really the only area of the team that will be almost entirely new this year.
December, 30, 2009
12/30/09
8:44
PM ET
The Roady's Humanitarian Bowl was billed as an offensive shootout that would be won by the team that had the ball last, and that's exactly the way the game unfolded. Idaho mounted an unbelievable comeback in the final seconds and took the lead with a two-point conversion to give the Vandals their first bowl win since 1998. It also gave the WAC its first bowl win of the season. While it's not a BCS bowl game, the Humanitarian Bowl likely will be one of the most memorable games of the bowl season.
[+] Enlarge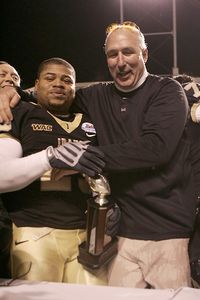 Brian Losness/US PresswireIdaho running back DeMaundray Woolridge and coach Robb Akey celebrate the Vandals' win Wednesday night.
How the game was won:
With 32 seconds remaining and Idaho down 42-35, quarterback
Nathan Enderle
threw a 50-yard pass to
Preston Davis
to get to the 16-yard line. Enderle then found receiver
Max Komar
in the end zone for a 16-yard touchdown. With momentum swinging the Vandals' way, they decided to go for two, and Ederle completed the conversion to Davis for the
43-42 win
.
Turning point:
Idaho was all but counted out after Bowling Green quarterback
Tyler Sheehan
found receiver
Freddie Barnes
for a 51-yard touchdown with 32 seconds remaining. But Enderle's 50-yard heave to Davis gave the Vandals new life. Coach Robb Akey's decision to go for two instead of kicking the game-tying PAT ended up being the right move.
Stat of the game:
Bowling Green and Idaho combined for 990 yards of total offense and 12 touchdowns.
Player of the game:
Davis finished with four catches for 119 yards, but no two receptions were bigger than the 50-yard grab that set up the Vandals' final touchdown and the two-point conversion that ultimately gave them the win (which isn't an official reception). Prior to the game, Davis had not had more than 53 receiving yards in a single game.
Best call:
Even if the two-point conversion had failed, Idaho coach Robb Akey still would have been praised for trying to capitalize on the Vandals' momentum. Akey believed in his team and it paid off with a big bowl win. Akey already was in contract negotiations with Idaho, and this should move them along quickly.
Record performance:
Idaho's heroics will undoubtedly overshadow a spectacular performance by Barnes, who became the NCAA record-holder for single-season receptions with 155, including what looked to be the game-winning reception with 32 seconds remaining. Barnes finished with 17 catches for 219 yards and three touchdowns, his second 200-yard game of the season.
Posted by ESPN.com's Graham Watson
IDAHO VANDALS (6-1, 3-0 WAC)

The story of coach Robb Akey serving his team out of bowls this fall camp to get them thinking about the postseason is one that will become part of Idaho lore. After combining for just three wins during Akey's first two seasons, the Vandals have won six of their first seven games and are one of only two teams in the WAC with a winning record. What started out as just getting bowl eligible has turned into challenging for the WAC conference title and earning a better bowl than anyone on the team thought possible. In terms of record, the Vandals have had the greatest turnaround of any team this season and don't appear to be slowing down any time soon.
Offensive MVP
Max Komar, WR:
Komar doesn't look like a prototypical slot receiver, but his big bruising body has probably been his greatest asset. He's muscled defenders off the ball to lead the team with 33 catches for 538 yards and two touchdowns. He's been Enderle's go-to receiver all season.
Defensive MVP
Shiloh Keo, DB:
Keo was supposed to be the team's best defender a year ago, but a season-ending injury cut his year short. He's come back with a vengeance to lead the Vandals with three interceptions and 64 tackles. He's been integral in preserving leads in close games such as 31-29 win against Colorado State.
October, 16, 2009
10/16/09
1:33
PM ET

Posted by ESPN.com's Graham Watson
Idaho senior
Max Komar
went through three losing seasons before his team struck gold this year. Komar, like his teammates, bought in to coach Robb Akey's quest for bowl eligibility and the Vandals are now one game away from a six-win season just seven games in.
| | |
| --- | --- |
| | |
| | Jason O. Watson-US PRESSWIRE |
| | Max Komar has 30 receptions for 481 yards and two TDs. |
But Komar, the Vandals' leading receiver, knows better than to get ahead of himself and he said it's almost impossible for his team to look too far ahead because they know that winning doesn't come easy.
Coach Akey said he's been preaching this team's ability to make a bowl since the beginning of the season. Did you guys buy in right away?
Max Komar:
That's one of the things we talked about at fall camp since day one. Going to a bowl game was one of our goals and we felt like this was the year to do it. After three years under Akey, where they built this program from the ground up, we felt like we'd be able to accomplish that goal. All of us being here and not winning many games, after we won a few games we kind of got used to winning and saw that we could win in all different types of situations. So it gave us a lot of confidence and made us realize that we could accomplish that goal and we could have even more than six wins and maybe even get to a better bowl this year. Maybe a better bowl than we had originally imagined.
Was it something you guys kind of shied away from before because maybe you didn't believe you could do it?
MK:
Last year, we would talk about it a little bit, but when we talked about it, we weren't as confident as we are now. That was just because of not winning games and not seeing the results from all of our hard work we were putting in. It was kind of a downer. We were so close in some of those games and it was just a couple things here and there that wouldn't go our way that seem to be going our way now.
Did you think you could be the leading receiver on this team?
MK:
Yeah, I thought I could. Being in this system, being a senior, being with [quarterback] Nate [Enderle] for three years, I thought I could be the leading receiver, but I wasn't too worried about it. We have so many different playmakers on our team, I figured one game I would have a breakout game and then the next game another receiver would. So, I figured I could be and I'm happy that I am, being my senior year and all, but that wasn't something I was looking forward to. I was just trying to win games and doing anything I can to help the team.
What's the difference in the relationship between Nate and the receivers now as opposed to last season?
MK:
Nate kind of had his go-to guy last year and I don't blame him because he plays in the NFL now -- that's Eddie Williams, plays for the Washington Redskins. And we kind of found the offense being run around him because he was the better receiver. Once he left, you saw during spring ball that Nate was spreading the ball around a lot. We all were getting a lot more comfortable with him and we were running a lot more three- and four-wide receiver sets as opposed to last year when we only ran two-wide receiver sets. We kinda saw him get real comfortable with all four of the receivers out there and we knew come fall camp it was going to start clicking even more. As the season's gone on, we've seen that Nate's starting to find us and we're all on the same page.
What is it like being a leader in the locker room? What's the talk in the locker room?
MK:
Everyone in the locker room is staying real humble and that's the senior leadership and what we've gone through as seniors around this campus. We used to have fans on campus and they'd be wearing the sweatshirts of the team we were playing. Then talking about, 'Oh, you guys suck.' So, definitely we haven't been able to get ahead of ourselves because we know how it felt to lose. Winning just feels so good right now that we're trying to stay calm and just do what we have to do in order to win week by week.
So, what's it like on campus now?
MK:
On campus now, you're walking to class and some people are giving you pats on the back and telling you good job. You see a lot more fans showing up to games and a lot more spirit around campus. I kind of don't blame them. It's hard to support a team that doesn't win. But at the same time, it's nice to see the fans that stuck with you through it all, and those are the fans that I really talk to the most.