NCF Nation:

McKay Jacobson
August, 17, 2011
8/17/11
10:45
AM ET
I've taken a look into my crystal ball, and here are three predictions for BYU in 2011:

1. BYU will beat Ole Miss to open the season. This is one of the biggest games the school has played because of its magnitude. The Cougars cannot afford to start Year 1 as an independent with a loss on national television to a team that is predicted to finish last in the SEC West. Not only do I think BYU will be extra-motivated and extra-prepared, I also think the Cougars have an advantage at quarterback with
Jake Heaps
. There is depth at running back, too, which should help open up a play-action game. Although there is a concern about playing in the heat and humidity, plenty of teams have traveled East and handled that. I just think BYU is a better overall team, and that will show Sept. 3.
2. Heaps will pass for 3,000 yards. Last season was a blip at BYU, where quarterbacks are almost expected to throw for 3,000 yards. In fact, 2010 was the first time since 2004 that BYU did not have a 3,000-yard passer. The new offense under coordinator Brandon Doman should open up the passing game for Heaps. What also will help is a stable of receivers who have plenty of talent. Watch for
Ross Apo
, a 6-foot-3, 202-pound receiver who redshirted last season. He,
Cody Hoffman
and
McKay Jacobson
should have productive seasons.
3. Linebacker Uona Kaveinga will turn heads. Given how many national television appearances the Cougars will make this season, Kaveinga will show everybody why BYU has raved about him during the spring and fall. Kaveinga initially committed to BYU out of high school but changed his mind and signed with USC. Two years later, he decided to transfer to BYU. Kaveinga sat out last season because of NCAA transfer rules but is now ready to start at middle linebacker. At 5-11 and 255 pounds, Kaveinga has a knack for being all over the place on defense. In football speak, he has a nose for the ball. His presence should be a huge upgrade to the BYU linebackers.
August, 5, 2011
8/05/11
9:00
AM ET
BYU opens camp Saturday. Let us take a look at three burning questions:
1. Can the Cougars be a national player?
BYU ended the season on a hot streak and brings back nearly everybody on offense. There has been a shift in philosophy with new offensive coordinator Brandon Doman. Everybody expects
Jake Heaps
to be infinitely better this season than he was last. Now BYU has the perfect opportunity to prove all that on a national stage in Year 1 as an independent. The season starts with games at Ole Miss and Texas, then home games against Utah and UCF. Plenty of opportunity to grab some headlines early.
2. Who gets the ball?
I mentioned Heaps above -- now who does he get the ball to? BYU has a wealth of riches at the skill positions. JJ DiLuigi,
Bryan Kariya
and Josh Quezada all return in the backfield;
Cody Hoffman
and
McKay Jacobson
return at receiver. Add in highly touted receiver
Ross Apo
and tight end
Devin Mahina
, and you have got plenty of options to get this offense back to what is expected with the Cougars.
3. Leaders on defense.
BYU loses six starters from its defense, but there are plenty of talented players ready to fill in. Linebacker Jordan Pendleton is back and healthy after sitting out a chunk of last season with a knee injury and has stepped into a leadership role. Tackle Romey Fuga returns from an injury as well, and safety Travis Uale is back. There are big losses, though. The top three tacklers from last season are gone. Coach Bronco Mendenhall hopes to replace Andrew Rich with Daniel Sorensen and Shane Hunter with Uona Kaveinga. Both had impressive springs and could make this unit even better.
April, 19, 2011
4/19/11
9:00
AM ET
We saw a different BYU offense in the second half of the season, one that actually scored points, moved the ball and had one quarterback. The way the Cougars struggled early in 2010 was painful to watch at times, but here are three reasons they will be better from the start of 2011.
[+] Enlarge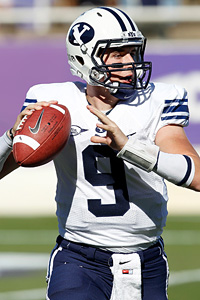 Tom Pennington/Getty ImagesBYU hopes consistent play at quarterback from Jake Heaps will pay off in 2011.
1. Jake Heaps is the starter.
No question waffling between Heaps and
Riley Nelson
severely hampered the way BYU played. The Cougars started 1-4 for the first time since 1973 and ranked No. 96 in the nation in total offense. They turned it around in the second half of the season and ended on a tear. Now, Heaps is firmly entrenched as the starter and has one year under his belt. He will be more comfortable in the offense, and BYU will have one true leader.
"The volume he received in spring ball was helpful for him with his reads," new BYU offensive coordinator Brandon Doman said. "Quarterbacks are the last line of defense, and we gave him the ability to audible and change plays. By the time we're done with 29 practices in fall camp, he will be a wise and veteran guy."
2. Doman is in.
BYU fans became increasingly disenchanted with offensive coordinator Robert Anae last season because of his questionable play calling and predictability on offense. Coach Bronco Mendenhall felt it was time for a fresh start for his offense, so he promoted Doman from quarterbacks coach. You can expect a return to a more BYU-traditional offense this season.
"As we launch forward, teams will consider us to be a West Coast offense," Doman said. "We will be under center more often, run play-action stuff that we'll build into our passing game. That's a skeleton of who we are. I think people will look at it and say this looks like BYU of the early '90s and '80s."
Heaps is your prototypical dropback passer, so expect to see three-, five- and seven-step drops in a progression-type offense. But BYU also has the ability to do no-huddle from the shotgun. Variability is the key, and so is being less predictable. With Doman in charge, you can expect something old-but-new from this offense.
3. Depth.
The Cougars are loaded everywhere. At receiver, they have
McKay Jacobson
and
Cody Hoffman
back, and have high hopes for
Ross Apo
, whom Doman calls "as talented a receiver our school has ever had." The 6-foot-3, 202-pound Apo redshirted last season after injuring his finger and is expected to be a big-time contributor. At running back,
JJ Di Luigi
,
Josh Quezada
and
Bryan Kariya
all return. Di Luigi was the most consistent player on offense last season. Quezada really turned heads this spring with his ability to run and catch out of the backfield. "He showed he's going to be a bona fide running back in this program." The offensive line returns four starters, including All-America candidate Matt Reynolds at tackle. There also are potential young contributors in Houston Reynolds, Matt's younger brother, and highly touted freshman Ryker Matthews.
April, 14, 2011
4/14/11
2:00
PM ET
BYU coach Bronco Mendenhall generally shies away from using the word "best" to describe anything. But he couldn't help himself when asked about how his team fared this spring.
"If we're looking for adjectives to describe who they are, this team loves to compete, they love to have fun they're very talented and we have more depth in the six years that I've been the coach here," Mendenhall said in a phone interview Thursday.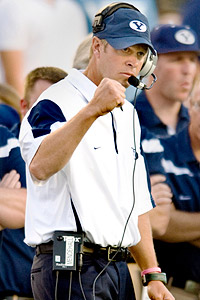 Douglas C. Pizac/US PresswireBronco Mendenhall said the Cougars have had "the best spring" of his tenure as coach.
"I would say it's been the best spring not only from the standpoint of what we got accomplished but possibly where our team is coming out of spring. I'm very optimistic."
There is plenty of reason for optimism as BYU begins its first season as an independent. The Cougars return 19 starters and have a much more solid foundation today than at this time last season. They also have an identity, something that was missing going into 2010. Part of the reason is because Mendenhall was undecided on his starting quarterback, and played both
Jake Heaps
and
Riley Nelson
.
The team struggled to a 2-5 start before closing on a big-time tear and dominating UTEP in the New Mexico Bowl. Mendenhall revamped his coaching staff in the offseason, promoting Brandon Doman to offensive coordinator while deciding to stay on as defensive coordinator after assuming that role midway through last season.
Just as important, Heaps is the definitive starter at quarterback. He and his young teammates are simply more mature.
"We were all disappointed the season was over after our bowl game because we were making progress," Mendenhall said. "I was hopeful to see that same thing happen in spring practice and that happened. We didn't lose ground. We picked up where we left off. I was really happy they were so anxious to compete with each other and the fun they were having -- sometimes spring isn't a time to bring out a heightened sense of competition but that's the way it went."
Indeed, the spring game last week went into overtime. After Nelson ran for a score and hit
Bryan Sampson
for the 2-point conversion, the winning White team carried its coach for the game, Paul Tidwell, off the field.
That speaks to the competitiveness, and BYU is going to need that as it faces a tough opening stretch with games against Ole Miss, Texas and Utah. The biggest holes to fill are on defense, where safety Andrew Rich is gone. Rich led the team in tackles, interceptions, pass breakups and forced fumbles last season and was named AllMWC first team.
But the Cougars feel they have somebody to step right in and make an impact. Daniel Sorensen has returned from his mission and had a nice spring. USC transfer Uona Kaveinga is penciled in to start at middle linebacker and also flashed during the spring.
The front seven is the unquestioned strength of the defense, with talent and depth. Defensive tackle Romney Fuga missed the spring as he rehabbed from a knee injury but is expected to return along with Eathyn Manumaleuna, Matt Putnam and Jordan Richardson.
Offensively, BYU got a boost when tackle Matt Reynolds decided to return to school instead of leaving for the NFL. The running back group is deep with
Bryan Kariya
, JJ DiLuigi and Josh Quezada, and so are the receivers with
Cody Hoffman
,
McKay Jacobson
and
Ross Apo
.
"As we finished last year's season, that identity has formed the basis for what they see going forward," Mendenhall said. "It took a lot of seasoning to get to that point. That's why we'll play with a clearer sense of resolve and identity than we had."
December, 18, 2010
12/18/10
5:39
PM ET
BYU dominated UTEP
52-24
in the New Mexico Bowl in the first bowl game of the season Saturday. Here is a quick analysis:


How the game was won:
The BYU offense dominated. The Miners had no answer for freshman quarterback
Jake Heaps
, who has improved dramatically in the second half of the season. Heaps threw a New Mexico Bowl-record four touchdown passes, and BYU set a New Mexico Bowl record for points scored. UTEP also had no answer for the power run game, as
JJ Di Luigi
and
Joshua Quezada
dominated. Plenty of freshman Cougars showed bigtime promise in their last game as members of the Mountain West before going independent in 2011. BYU ended the season with wins in five of its final six games after a 2-5 start.
Turning point:
Hard to pick one considering the game got out of hand early. But UTEP had a chance to cut the deficit to 14 points before the half and take momentum into the break. UTEP had the ball at the BYU 15 with 21 seconds to go.
Kris Adams
dropped a pass on the goal line. The Miners inched closer on their next two plays, and had the ball at the 3 with 4 seconds left. But
Trevor Vittatoe
overthrew Adams on a jump ball in the end zone, and UTEP trailed 31-10. BYU took the opening possession of the second half and drove 75 yards in 14 plays. Di Luigi scored from 1 yard out, and all of a sudden UTEP trailed by 28.
Stat of the game:
Minus-5. First-quarter yards for UTEP.
Player of the game:
Heaps, who else? Heaps went 25-of-34 for 264 yards with four touchdowns and one interception. In addition, he broke Ty Detmer's school record for touchdown passes in season by a freshman with 15.
James Lark
came on in relief of Heaps in the fourth quarter with the game in hand.
Second guessing:
The first quarter was a nightmare for UTEP. It seemed as if the Miners were totally unprepared for the BYU blitz, and it cost them dearly. With Vittatoe hobbled because of an ankle injury, you figured BYU would bring pressure because of his immobility. UTEP had negative yards in the first quarter, while BYU racked up 143 yards and a 17-3 lead that UTEP could never overcome.
What BYU learned:
The Cougars have a lot of young talent that matured and grew in the second half of the season. Heaps, Quezada,
Cody Hoffman
, Di Luigi and
McKay Jacobson
all return on offense. That sets them up very well going into 2011. Now they wait to see whether offensive tackle Matt Reynolds decides to come back to school or leave for the NFL draft.
What UTEP learned:
The Miners played in their first bowl game since 2005 but could not snap out of the downward trend that plagued them in the second half of the season. You have to give Vittatoe credit for gutting out this year with torn ligaments in his ankle. He will have surgery Monday. UTEP loses many of its top players on offense, including Vittatoe,
Donald Buckram
and Adams so a rebuilding year could be in store.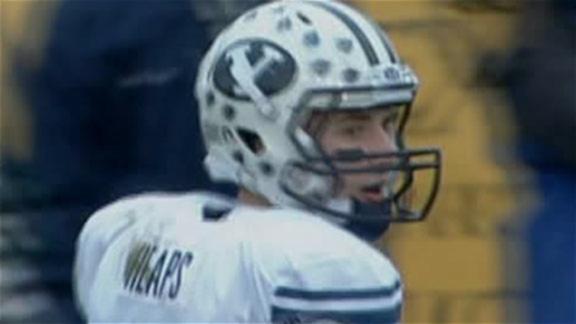 October, 30, 2009
10/30/09
5:00
PM ET
Posted by ESPN.com's Graham Watson
BYU receiver
McKay Jacobson
is expected to be back for the Cougars' game against Wyoming next week.
Jacobson, who has missed the last four games with a hamstring injury, will be welcomed back with open arms by an offense that didn't have a strong deep threat during his absence.
"To have McKay back is huge for us," BYU quarterback
Max Hall
told
the Deseret News
. "He can stretch the 'D' a little bit and get behind guys. He runs good routes. I think he'll be 100 percent and hopefully stay healthy the rest of the year. It always helps when you have a deep threat. The safeties play softer. Everybody plays softer in the secondary when you have a guy who can run past you. It will help our offense in all aspects."
Jacobson warmed up before the TCU game, but did not participate.
Despite missing four games, Jacobson is still the Cougars' second-leading receiver with 11 catches for 280 yards and three touchdowns. Jacobson had a touchdown in each of his first three games, but the most important touchdown might have been the game-winning score against Oklahoma.
October, 24, 2009
10/24/09
6:42
PM ET
Posted by ESPN.com's Graham Watson

PROVO, Utah -- BYU receiver McKay Jacobson will be a game-time decision for today's game against TCU.

Jacobson, the Cougars' best deep threat, has missed the past three games with a strained hamstring and was limited in practice again this week. Coach Bronco Mendenhall didn't rule out Jacobson's return.

"I'd say 'possible.' No more than that, no less than that," Mendenhall said this week. "I haven't seen enough to upgrade his status."

The one thing that could hamper Jacobson return is the weather. The rain has been on and off and even if Jacobson is feeling better, the slippery field might become a hazardous situation for him.

BYU nose tackle Russell Tialavea is back for today's game, but will not start. He is, however, expected to play.
September, 18, 2009
9/18/09
12:00
PM ET

Posted by ESPN.com's Graham Watson
McKay Jacobson
wanted to be the first player to the "Y."
| | |
| --- | --- |
| | |
| | J.P Wilson/Icon SMI |
| | McKay Jacobson caught the game-winning touchdown pass in BYU's season-opening upset of Oklahoma. |
As a competitor, the sophomore receiver wanted to beat the rest of his teammates in the annual conditioning run that sends players up a mountain with a "Y" on it that overlooks campus. But Jacobson also needed some reassurance that the two years of rust he'd accumulated during his mission in Japan had finally worn off.
"I think just running up there the first day of camp really just showed all the hard work paying off," Jacobson said. "It is a tough run up there to the Y. It's pretty far up and the farther you get up there, the air gets thinner and thinner."
Offensive coordinator Robert Anae called Jacobson's trek up the mountain a gut check for the young receiver. Jacobson had struggled during the spring and had pushed himself so hard that he suffered a pulled hamstring and was limited in most practices. He put pressure on himself to be the player who, as a freshman in 2006, had 28 catches for 547 yards and three touchdowns. He also turned his first-ever punt return into a touchdown.
But two years later, he wasn't that same player. He served his mission in Japan and found working out was a little bit different than the training he had done in America. He did well to stay in shape, but he hadn't played much football since his time with the Cougars.
I had done what I could as far as on my mission and trying to stay in shape, but it's a different thing working over there," Jacobson said. "It's a different world there and it was like my body had taken a break the past two years."
When Jacobson returned in January, he immediately heard comparisons to star receiver Austin Collie, who left after his junior season for the NFL. As BYU looked to fill the offensive void, Jacobson's name often came up.
"Some people compare us just as a way to make things interesting, I guess," Jacobson said.
Although Jacobson wasn't trying to be Collie, he did want to be the player that showed flashes of being great during his one season with the program. So, Jacobson spent hours with strength and conditioning coach Jay Omer trying to get back in football shape. He acknowledged that he pushed too hard during the spring, but by the time the summer came, he developed a rapport with quarterback
Max Hall
and started to feel like his old self.
Being the first to the "Y" was a jumping-off point for Jacobson in what has started off as a pretty impressive year. In his first game back, he caught the game-winning touchdown against No. 3 Oklahoma. He finished the game, which was played just minutes from his hometown in Southlake, Texas, with four catches for 69 yards.
"It was one of those things where it honestly seemed like the ball was in the air for a lot longer than it was," Jacobson said.
Jacobson followed that performance up with 79 yards and a touchdown against Tulane last week.
Saturday, he'll make his home debut against Florida State.
"If I had any pressure, it was pressure on myself to just get back and play at as high a level as I could," Jacobson said. "Being away from the game, I realized how important it was to me. At the same time, it's still just a game, but you want to be the best you can and that's kind of the mindset I have going in. Do the best I can do and hopefully help this team win."
Posted by ESPN.com's Graham Watson
I was speaking with sports information director Brett Pyne from BYU on Monday and wanted to share some of the notes from the first couple days of the Cougars practice.
• Fullback Manase Tonga has not yet practiced and might not join the team until next week. Tonga, who was academically ineligible last season, had to finish some classes and his grades will not be posted until Friday. The team is hopeful for his return.
• Defensive lineman Russell Tialavea was supposed to miss this season for his mission, but Tialavea didn't get the paperwork completed in time and has postponed his departure to Dec. 30. With Tialavea's return, the Cougars have three starters back on the defensive line.
• Defensive lineman Rick Wolfley reported to camp on Friday, but decided to quit the team over the weekend for personal reasons. Wolfley was second string behind Tialavea. Now, there's hot competition to fill that backup roll.
• Wide receiver McKay Jacobson, who joined the team in the spring after returning from his mission, was the first up the mountain to the Y during conditioning on Saturday. Jacobson struggled to get his legs back in the spring and even spent some time nursing injuries. But being first in annual run to the Y is something that should inspire confidence that he can return to old form.