NCF Nation:

Meineke Car Care Bowl 2009 bowls
December, 28, 2009
12/28/09
9:53
AM ET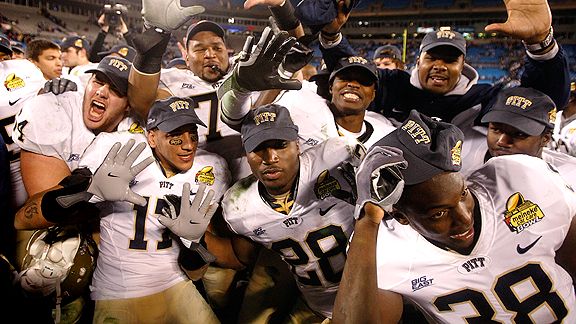 Streeter Lecka/Getty Images Pitt could be one of the early Big East favorities in 2010 following their win against North Carolina.
The Big East is 2-for-2, and Pitt's
19-17
win over North Carolina was pretty impressive, considering it came in basically a road game in Charlotte at the Meineke Car Care Bowl.
The big news was that the Panthers notched their first 10-win season since 1981, though that Dan Marino-led team went 11-1 instead of 10-3. Still, it represents progress for Dave Wannstedt's program and gives Pitt something to build upon.
"Ten wins separates you, and I don't think these guys know what they have accomplished here tonight and probably won't for a few weeks or a month or however long," Wannstedt said. "I think that people know that we are back as a program, and you have to go out and prove it. You have to show up and you have to play and you have to win games like this."
On Wednesday, I presented
three keys
for Pitt in this game: Make North Carolina's offense work to score instead of giving up a special teams or defensive big play; protect quarterback
Bill Stull
against the heavy Tar Heels pass rush and get tight end
Dorin Dickerson
involved.
While North Carolina put together a couple of nice drives, its offense finished with just 264 total yards. Stull didn't throw any interceptions and Pitt didn't give up any damaging special teams plays. The Pitt offensive line yielded two sacks, but Stull had plenty of time most of the day and the Panthers won the battle up front. Dickerson had four catches for 21 yards but dropped a touchdown pass early. He just hasn't looked the same the last three games, and you have to wonder if he's fully healthy.
But
Mike Shanahan
stepped up with five big catches, including some tough ones over the middle, and it looks like he can be the key possession receiver to
Jonathan Baldwin
's deep threat next season. Combine that with another year from the amazing
Dion Lewis
, and that's an awfully good start for 2010, even if Pitt has to replace three offensive line starters and break in a new quarterback.
It was good way for the Panthers to end things after they lost their last two regular-season games in the final minute. Of course, they also beat UConn in the final seconds, so the odds probably worked out. This game will long be remembered by Pitt fans for the 17-play, 8:47 drive that led to the winning field goal. To do that against the No. 6 rated defense in the FBS was particularly special.
"The series or two before we came unglued a little bit," Wannstedt said. "We were not lined up, we were hurrying a bit, we had a bad snap, we had a penalty. So our guys went out there and there was no room for error. For our guys to go out there and complete that many plays in a row for the most part successfully says a lot about the focus and discipline of our kids."
Pittsburgh should wind up in the Top 15 and should be ranked to start next season despite some major personnel losses, including Stull, Dickerson, those O-linemen, defensive tackle Mick Williams, linebacker Adam Gunn and cornerback Aaron Berry. Junior defensive end Greg Romeus could opt for the NFL as well. But in addition to the offensive core I mentioned earlier, the Panthers still have rising young talent like linebacker Dan Mason, who grabbed a crucial interception at the goal line.
You have to make Pitt one of the early favorites in the Big East in 2010. Totally different feeling than after last year's Sun Bowl, huh?
December, 26, 2009
12/26/09
8:04
PM ET
Instant analysis of Pittsburgh's
19-17
win over North Carolina in the Meineke Car Care Bowl.
[+] Enlarge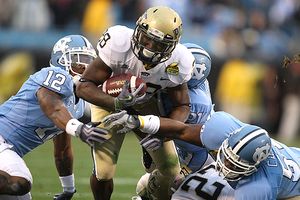 Streeter Lecka/Getty Images Dion Lewis had 159 yards and a touchdown on 29 carries in Pittsburgh's win over North Carolina.
How the game was won:
It was a close, back-and-forth battle as you'd expect between two teams and two head coaches that are in many ways mirror images of each other.
Pitt trailed 17-16 when it took over on its own 5-yard line in the fourth quarter. The Panthers wisely put the burden on their running game and
Dion Lewis
, who to that point had been shut down in the second half. Lewis rushed for 58 yards on a 17-play, 8:47 drive that resulted in a Dan Hutchins 33-yard field goal with 52 seconds left. The Pitt defense then held off a final Tar Heels' drive.
Turning point:
Hutchins lined up for a 47-yard attempt on fourth-and-2 earlier in the drive. That was probably out of his range. But North Carolina was whistled for an offside penalty, allowing Pitt to move closer and to eat up even more time.
Player of the game:
Lewis. Despite a costly fumble through the end zone for a touchback in the first quarter, Lewis was still the best player on the field. He finished with 28 carries for 159 yards and a touchdown as he broke Tony Dorsett's freshman Pitt record for rushing. Also credit the Pitt offensive line, which won the battle up front against the Tar Heels' No. 6 rated defense.
Unsung hero of the game:
Mike Shanahan
. The freshman receiver had five catches for 83 yards, and many of them were in crucial situations. He held onto a 13-yard grab on third-and-7 despite taking a big hit over the middle during Pitt's winning drive.
Best call:
Pitt coach Dave Wannstedt often is criticized for being too conservative. But facing a 4th-and-1 on his own 30 on that winning march, he trusted his offensive line instead of going the safe route and punting. Quarterback
Bill Stull
followed that line for a 3-yard gain on a sneak.
What it means:
Pitt reached the 10-win mark for the first time since 1981 and should finish the season in the Top 15. The victory was a relief after the Panthers lost their final two regular season games in the final minute and saw their BCS bowl chances slip away. Now they have some momentum to build upon for next season, when they should begin the year in the Top 25. And the Big East is off to a 2-0 start in the postseason.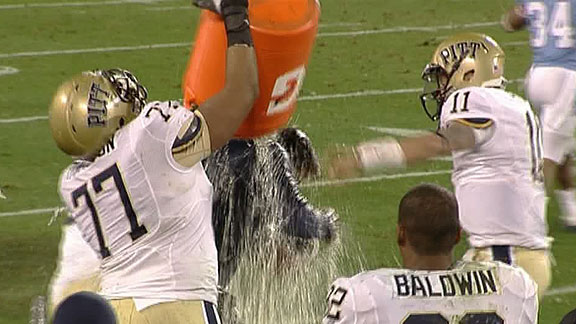 December, 24, 2009
12/24/09
9:00
AM ET
Previewing Saturday's Meineke Car Care Bowl between No. 17 Pittsburgh (9-3) and North Carolina (8-4):


WHO TO WATCH:
Pittsburgh running back
Dion Lewis
. North Carolina ranks ninth nationally in rush defense and has held nine of its 12 opponents to under 100 total rushing yards. Can Lewis and the Pitt offensive line break that trend? The superb freshman won Big East offensive MVP honors by running for 1,640 yards and 16 carries this season, including 207 yards on a whopping 47 carries in the season finale against Cincinnati. Lewis holds the key to Pitt's entire offensive game plan.
WHAT TO WATCH:
The Tar Heels' defense has spectacular stats, ranking sixth nationally in total defense, third in tackles for loss and leading the nation in interception return yardage. But Pitt had the best offensive line in the Big East this season and averaged 33 points a game with dynamic weapons like Lewis,
Jonathan Baldwin
and
Dorin Dickerson
surrounding quarterback
Bill Stull
. Can Pitt hold off North Carolina pass rusher Robert Quinn and can Stull avoid turnovers? If so, the Panthers should score enough points to win against a Tar Heels offense that doesn't have a lot of big-time playmakers.
WHY TO WATCH:
These two teams are mirror images of each other, as Pitt coach Dave Wannstedt and North Carolina's Butch Davis are both defensive-minded Jimmy Johnson disciples. You'll see two pro-style offenses and attacking, 4-3 defenses with plenty of future pros on the field. Both teams spent several weeks in the Top 25, with North Carolina peaking at No. 19 and Pitt cracking the Top 10. And last year's Meineke Car Care Bowl featuring the Tar Heels and a Big East team (West Virginia) was one of the most entertaining games of bowl season.
PREDICTION:
Pitt wins 24-21. The Panthers just have more offensive options than North Carolina and a good enough offensive line to slow down the Tar Heels' terrific defensive front. And the Pitt D-line, led by Big East co-defensive MVPs Mick Williams and Greg Romeus, should use speed to its advantage against North Carolina's big but slower offensive front.