April, 12, 2010
4/12/10
1:00
PM ET
STORRS, Conn. --
Jordan Todman
rushed for 1,188 yards last season, good for third best in the Big East. Imagine what he could have done if he weren't in a platoon situation.
Todman certainly has.
"The more opportunities you get, the more yards you get," the
Connecticut Huskies
tailback said. "I definitely feel like with more opportunities, I probably would have had a better season."
Todman formed a terrific one-two punch with
Andre Dixon
last year. Both topped 1,000 yards, with Dixon adding a little more power to contrast Todman's speed. Dixon actually had four more carries (239 to 235) than Todman did.
Huskies coach Randy Edsall isn't sure yet whether he'll go to another combo platter at halfback now that Dixon graduated. It remains to be seen whether a young player like Meme Wylie, who's been impressive in spring practice, or converted defensive back Jonathan Jean-Louis can emerge as a complementary runner to Todman.
Robbie Frey
will make his case this summer when he recovers from shoulder surgery.
One thing's for sure: UConn is going to run the ball as its first priority, and whoever gets the carries will have ample opportunities for success behind an excellent offensive line. Todman is willing to share duties again, but he wouldn't mind becoming more of a workhorse back as well.
That was one of the questions about him early in his career, whether he was sturdy enough to be an every-down player. He has continually put on weight, though, and hopes to be about 205 pounds at the start of his junior year. He checked in at about 190 last season.
"I have confidence in myself and I have the heart, so I won't take myself out if I'm tired," he said. "I've worked hard to make sure I'm in shape at all times.
"I'm not content or happy just saying I'm an every-down back. I have to go out there and show everybody, show myself. That's the only way to do it, to continue going, going, going."
Whatever the shape of his role, Todman figures to be very valuable to the Huskies this season. He can catch the ball out of the backfield, and he also returns kicks, memorably bringing one back 96 yards for a score in the win over Notre Dame last season.
Overall, he touched the ball 276 times in 2009. With more opportunities this year, who knows what kind of numbers he might put up?
March, 8, 2010
3/08/10
8:55
AM ET
This could be a big year for Connecticut.
The Huskies were playing as well as anybody in the Big East down the stretch and finished the 2009 season with a victory over South Carolina in the Papajohns.com Bowl. They bring back a wealth of starters and plenty of depth. I caught up with UConn coach Randy Edsall last week to talk about the beginning of spring practice, which starts March 16. This is part I of my interview. Check back later for part II.
First of all, you have to be feeling pretty good about where the program is given all the players you bring back from last year, right?
[+] Enlarge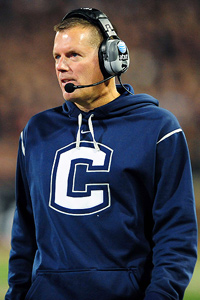 Andrew Weber/US PresswireRandy Edsall led the Huskies to an 8-5 record in 2009.
Randy Edsall:
We do. We have a lot of guys back and we only have 12 seniors on the roster, so that bodes well for us. We're going to have more depth than we've ever had. The thing about this spring that's going to be a little different is, we're going to have a lot of guys who won't be doing things because of injuries. So we'll be able to get a lot of work in, but some of the kids won't be out there with us because of injury. But the thing I'm excited about is that we're going to give some of these young guys a lot of work to even develop more depth in the program.
Do the injuries cause a little less of a concern this spring just because you have so much experience coming back?
RE:
Yeah, it really does. Just looking at our depth chart and our board ... even though Jesse Joseph is not going to go through the spring, Greg Lloyd is not going to go through the spring, Blidi Wreh-Wilson is not going to go through the spring on defense, with those guys out we still have so many guys and we know what those guys can do because they played for us. And now get some other kids more repetitions and kids we know are going to be available to play next year. For me, it's a plus for us. And we had six kids who came in at midyear, so it's another plus that those kids are going to get a lot of reps.
We're not going to be the finished product coming out of spring, because like with Jimmy Bennett and Mike Ryan on offense, they're not going to be practicing due to the injuries that they had in the fall and
Robbie Frey
will be limited and won't be full go. That's where in terms of the offensive line, it's going to give us a chance to work with some of our young guys and really get them a lot of reps to develop them so if they've got to get into a game, they're going to have some experience there.
Let's talk about the quarterbacks. Zach Frazer played well for you at the end of the year, but Cody Endres also played well before his injury. Is Frazer the No. 1 guy right now or is it more of a competition?
RE:
As we came out of the season, we won four straight there with Zach and I thought he did some good things. Cody did, too, I think, so we're in a good situation. But as we go into the spring, Zach's the No. 1 guy and it would be his job to lose. He knows there's always competition, but he's the No. 1 guy as we start practice on the 16th.
What did you like about the way Frazer played at the end of the year?
RE:
I thought he really just played within himself. I thought he was relaxed, he was poised and I thought he made a lot of good decisions He wasn't forcing the ball; he was taking what the defense was giving and throwing the ball where it should have been thrown. And when it wasn't there, he threw the ball away as opposed to trying to make a great play, squeeze a ball into somewhere you shouldn't. I really thought he did a good job of what we asked him to do in the game plans we had for those games.
People may forget that you put in a new offense last year, and there must have been some adjustments along the way.
RE:
You could see the improvement as the season went on with what we did offensively, and I think one of the keys this spring is now the kids are going to be more comfortable in the offense. There are going to be some things that we're able to do to add or to tweak where we think it will make us better. But I was pleased with the development of the offense as the season went along. Our point production and passing yardage was up from a year ago, and we maintained what we wanted to do in the running game.
It took two guys to replace Donald Brown, but that's fine. And we want to keep building on the positives we had last year and keep moving forward, and the good thing is we only lost Andre [Dixon], and we still have
Jordan Todman
coming back. We lost Brad [Kanuch] and
Marcus Easley
, but we feel we have receivers to step in and do the job. And up front the only guy we lost was Mike Hicks. We really feel good about the guys we have coming back and what we can do to improve upon the production and the output we had a year ago.
May, 26, 2009
5/26/09
8:55
AM ET
Posted by ESPN.com's Brian Bennett
Questions remain around the Big East, but a few teams found some help this spring at certain positions. Here's a list of where that help came from for a few teams:
Cincinnati: The addition of Marcus Barnett to the defense helped solidify a secondary that lost starting cornerbacks Mike Mickens and DeAngelo Smith and safety Brandon Underwood.
Connecticut: The play of Jordan Todman, Andre Dixon and Meme Wylie at running back left the Huskies feeling OK about their ability to replace star Donald Brown.
Pittsburgh: Elijah Fields finally played up to his potential, and Dom DeCicco was solid as the Pitt safety position looked strong this spring.
Syracuse: Moving Derrell Smith to the inside and switching Doug Hogue from running back solidified the Orange's linebacker corps.
West Virginia: The emergence of Wes Lyons in the slot and the solid play of Bradley Starks and Alric Arnett on the outside gave the Mountaineers a good feeling about their receivers.