March, 19, 2013
3/19/13
11:00
AM ET
Wake Forest opens spring practice today after a disappointing 5-7 season marked by injuries and off-the-field issues. I had a chance to catch up with coach Jim Grobe to review what happened last season and take a quick preview of how spring ball looks for his team. Here is a little of what he had to say.
After the season ended, there were some players who described the negativity that surrounded the team toward the end of the year. What do you make of their frustrations?
JG:
I've never been on a team that didn't have a winning record that didn't have negativity. If anybody's happy that you're not winning then you've got the wrong guys on your football team. It's overblown that a football team that doesn't win has negativity because I think disappointment is maybe a better word than negativity. This is a team last year, I told our athletic director, Ron Wellman, that was a bowl-caliber team. A couple things affected that. We had more injuries than I've ever had in my coaching career. Not an excuse, but a fact. And we had some behavior problems that hurt our chances of winning a game, so we just were one of those teams that was real, real close. We won five games, played three top-10 teams. It's a broken record here about how tough our schedule is. I felt like last year was an underachieving year for us and I was as disappointed as the rest of our players were.
[+] Enlarge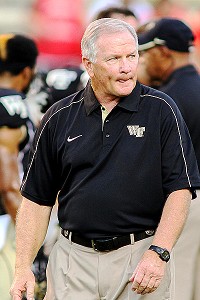 Jeremy Brevard/US PresswireCoach Jim Grobe expects his team to improve upon last season's disappointing 5-7 record.
You return a lot of guys off that team so how do you feel they will be able to channel the disappointment of last season as you get ready for the spring?
JG:
Every team, every coach, every player wants to feel like every year you're capable of making a run at a championship. Last year, I really felt like we had the talent to be a bowl team and I was very disappointed that didn't work out, but I also told our athletic director I thought this year was a year we would have an opportunity to maybe have an opportunity to play for an ACC championship again. Those pieces are still in place. The biggest problem we have, aside from playing other good teams, is we had so many injuries last year, so we've had so many offseason surgeries. A big key for us is can we get all these guys healthy and back on the field and not just get them back on the field, but get them playing at a high level? That's going to be huge for us. Getting a guy like
Steven Chase
, our left tackle, to recover from his knee surgery and come back full speed. Get
Antonio Ford
back from serious surgery to repair a broken leg. Those are things that will be really important to us. A lot of our guys have missed winter workouts with surgeries. Some of our guys will miss spring practice with surgeries. If you look at our depth chart, we feel good about our starting 22 if all the guys we have penciled in are healthy.
We know about some of the offensive guys who are going to be limited during spring. How about some of the defensive guys who were hurt last year. Will they be back for spring?
JG:
Two of the guys we counted on that were mentioned preseason last year for All-ACC honors stayed hurt most of the year --
Merrill Noel
stayed banged up most of the year and had shoulder surgery in the offseason. I don't think they'll let him go for spring practice. He's healing nicely and should be fine for the fall. With
Nikita Whitlock
, he got hurt in the North Carolina game and came back and had good games but stayed banged-up most of the year. I think getting him healthy is going to be really important. He's pretty healthy right now. He broke his hand during winter workouts, but we'll pull him out of the cast, so I think he's going to be in spring practice. That will be important.
Zach Thompson
, he's back full speed and ready to go, so for the most part we're going to be fairly healthy.
Zach Allen
is not going to be in spring practice; he had shoulder surgery after Christmas. We will have a chance to plug some young guys in that need more work than Zach does. Defensively, we're probably a little bit like the offense. We have a chance with the talent we've got coming back to improve defensively, I don't think there's any question.
When you have guys you are counting on who aren't going to be out there, how do you view the spring?
JG:
One of the issues we have to deal with is that there are probably 15 or 20 guys on our football team that we know hands down are good enough to play and win in this league. Now they've got to do it. We just know they can, we know they're capable of it. Several of those are injured guys that we probably don't need to beat them to death in spring practice, but we probably do need to work out the young guys more than the old guys. We redshirted a lot of our kids last year. There were five or six true freshmen we kept on the shelf that we should have played. Down at the end of the year we were just a terrible football team because we had all these freshmen redshirting, we had so many injuries, we just couldn't go back and pull a shirt off all these freshmen. But some of them we felt were very capable of going out and helping us win games. Those are the kids we have to push this spring, we've got to get a lot of reps for a bunch of young players. The key for us is developing these young guys as quickly as possible to try and find out where our depth is going to come from next fall. That's what caught us last year. The depth really got us late last season. When we needed a win late, we couldn't come up with one.
Who are some of those freshmen you're looking at?
JG:
Josh Banks
is a defensive end; he's put on some weight and looked really good this spring. Depth up front is important for us, so he's a guy we have to look at pretty hard.
Kevis Jones
is an outside linebacker, and Stevie Donatell is a guy that we have to look at, two young outside linebackers that I think are guys we have to look pretty hard at.
Ryan Janvion
, a safety, we thought could have been on the field last year.
Dominique Gibson
is another safety, he had some knee surgery early in the year last year and that precipitated a redshirt year for him, but he's another safety we probably need to take a good look at. On the offensive side, we've got a couple young offensive linemen we weren't able to get on the field, a guy like Ty Hayworth is a kid we need to take a look at. Probably at running back, we had
Josh Harris
who had a pretty healthy year last year. He pulled a hamstring running indoor track. I don't know if he's going to be able to go for us. We have to find some of those young running backs that might be able to help us in the spring. As you go through our lineup, there's so many of these kids that we kept on the shelf last year that may have to jump up and be good players for us this spring.
March, 6, 2013
3/06/13
3:30
PM ET
Wake Forest offensive tackle
Colin Summers
' career is in jeopardy because of a continuing problem with blood clots, coach Jim Grobe told ESPN.com on Wednesday.

Summers, expected to start at right tackle, was rushed to the hospital over Christmas break with blood clots in his lungs. Grobe described what happened as a "life-threatening situation," saying Summers has been through a roller coaster of emotions while doctors tried to pinpoint what was causing the clots.
"I wouldn't say he's been ruled completely out, but I think there's a good chance he may not play football again," Grobe said in a phone interview. "He's been up and down. At first the doctors said, 'You can't play. Then they said, 'We're not sure if the blood clots were caused by an injury.' They've been doing tests on him, and the last thing I heard was they believe there's a blood disorder causing those blood clots."
Summers started 11 games last season, but he did suffer a concussion at the end of the year, and also played through a lower leg injury. It was that leg injury that doctors thought was the culprit behind the clots, but recent tests revealed that not to be the case. Summers is being treated with blood thinners. If he must remain on them, he would no longer be allowed to play contact sports and his career would be over.
"It's just really sad because he's a guy we felt like was an All-ACC caliber player," Grobe said. "But our No. 1 thought is on his health. As much as we need him as a football player, it's much more important that we've got a healthy kid."
Wake Forest, hit by injuries last season, still has a list of walking wounded this spring. Among those who will be limited or out when spring practice opens March 19 are projected starters
Steven Chase
and
Antonio Ford
on the offensive line, cornerback
Merrill Noel
, linebacker
Zach Allen
, running back
Josh Harris
, receiver
Matt James
and receiver
Michael Campanaro
. But Grobe did say he is hopeful Campanaro will get in a few practices before the Deacs wrap up in April.
October, 13, 2012
10/13/12
1:26
PM ET
Wake Forest backup safety
Duran Lowe
and reserve offensive tackle
Devin Bolling
have been suspended indefinitely
for a violation of athletic department policy, the school announced on Saturday. Six other players -- including four starters -- were suspended for last week's game against Maryland. Coach Jim Grobe could not be immediately reached for comment.
Lowe has 28 tackles this season and one fumble recovery.
Last week, the Deacs suspended cornerback
Merrill Noel
, safety
Daniel Mack
, linebacker
Mike Olson
, guard
Frank Souza
, running back
Deandre Martin
and receiver
Airyn Willis
, but announced they will be eligible to be reinstated for the next game at Virginia on Oct. 20. The Deacs have a bye this week.
January, 13, 2012
1/13/12
11:00
AM ET
It's time to wrap up the 2011 season with the top performers from the bowl games. No, they're not all from Florida State and NC State. Although they could be …
Offense:
QB:
Mike Glennon
, NC State:
He was named the MVP of the Belk Bowl after throwing for 264 yards and three touchdowns to lead NC State past Louisville 31-24.
RB:
Preston Lyons
, Georgia Tech:
The senior fullback started in place of injured
David Sims
and rushed for 138 yards in the overtime loss to Utah. Before this, Lyons had never rushed for more than 50 yards in a game.
[+] Enlarge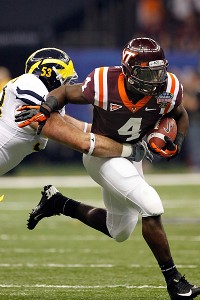 AP Photo/Dave MartinVirginia Tech running back David Wilson finished the season with 1,709 rushing yards.
RB:
David Wilson
, Virginia Tech:
He broke the school's single-season rushing record in the Allstate Sugar Bowl against Michigan with 82 yards on 24 carries. He finished the season with 1,709 yards. His 11-yard run on his second carry of the third quarter enabled him to surpass Ryan Williams' mark of 1,655 yards set in 2009.
WR:
Rashad Greene
, Florida State:
He had five catches for 99 yards and a touchdown in the 18-14 win against Notre Dame and was named the MVP of the Champs Sports Bowl. His 15-yard touchdown catch with just over 13 minutes to play gave the Noles a 15-14 lead.
WR:
T.J. Graham
, NC State:
He finished with seven catches for 116 yards and two touchdowns in the win against Louisville. He also had three kick returns for 63 yards and one punt return for two yards.
WR:
Kris Burd
, Virginia:
He had six catches, 103 yards, two touchdowns and a broken collarbone. He became only the third player in school history to score two receiving touchdowns in a bowl game.
OT:
Zebrie Sanders
, Florida State:
He was the lone senior on an offensive line that started four freshmen. He posted a career-high grade of 94 percent in his final game at left tackle.
OT:
Rob Crisp
, NC State:
Hey, no other lineman in the ACC had a reception in a bowl game. Granted, his teammates keep ribbing him for rumbling and fumbling, but Crisp played a good game, paving the way for the offense from the right tackle spot.
G:
Josue Matias
, Florida State:
As one of four true freshman starters on the Noles' line, Matias posted a grade of 82 percent from the left guard position in his first career start.
G:
Shaq Mason
, Georgia Tech:
Even with guard
Omoregie Uzzi
sitting out with an injury and suspended tackle
Phil Smith
on a bus back to Atlanta, Tech rolled up 311 rushing yards and 448 total yards against a Utah defense that was ranked among the nation's best entering the Hyundai Sun Bowl.
C:
Dalton Freeman
, Clemson:
Freeman had an 84 percent grade and four knockdowns in helping Clemson to 443 yards and 33 points against West Virginia.
Defense:
DE:
Brandon Jenkins
, Florida State:
He finished with two tackles (both solo), including one sack for minus-10 yards. His sack in the third quarter took Notre Dame out of field goal range.
DT:
Nikita Whitlock
, Wake Forest:
He finished with six tackles, 0.5 sacks, 1.5 tackles for loss and one fumble recovery in the loss to Mississippi State.
[+] Enlarge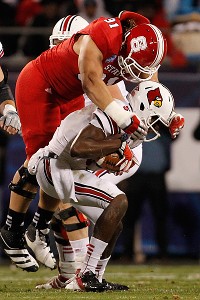 AP Photo/Bob LeveroneThe Wolfpack's Markus Kuhn lands on Louisville's Teddy Bridgewater for a sack during the Belk Bowl.
DT:
Markus Kuhn
, NC State:
He finished with three tackles, including 1.5 for a loss of seven yards. He also had one sack for a loss of six yards in the win against Louisville.
DE:
J.R. Collins
, Virginia Tech:
He finished second on the team with seven tackles and had one tackle for loss in the loss to Michigan in the Allstate Sugar Bowl.
LB:
Nigel Bradham
, Florida State:
He closed out his career with a team-high nine tackles (eight solo) against Notre Dame, finishing the season with a team-leading 86. He was the first FSU player to lead the team in tackles for three consecutive years since All-American Marvin Jones (1990-92). Bradham also added his third career interception in the win.
LB:
Tariq Edwards
, Virginia Tech:
He finished with a team-high eight tackles, one sack for a loss of seven yards and two tackles for a loss of eight yards in the loss to Michigan.
LB:
Audie Cole
, NC State:
The senior ended his career with a team-high 10 tackles, including a pair of sacks and four tackles for loss.
DB:
David Amerson
, NC State:
He had two interceptions and returned one of them 65 yards for a touchdown in the Belk Bowl win against Louisville. He became the ACC's leader in interceptions in a single season with 13. It was one shy of the Football Bowl Subdivision record set by Al Worley of Washington in 1968.
DB:
Kyle Fuller
, Virginia Tech:
He intercepted a pass by Michigan quarterback
Denard Robinson
in the first quarter. The interception marked his second of the season and the second of his career.
DB:
Merrill Noel
, Wake Forest:
He had a team-leading seven tackles and one interception for 18 yards in the 23-17 loss to Mississippi State.
DB:
Lamarcus Joyner
, Florida State:
With Notre Dame inside the 5-yard line, Joyner intercepted his team-best fourth pass of the season. His 77-yard kickoff return after Notre Dame went up 14-0 was the longest kickoff return by a Seminole this year. It was also the third-longest in FSU bowl and Champs Sports Bowl history.
Special teams:
P:
Shawn Powell
, Florida State: He punted 8 times for 378 yards and a 47.2-yard average. He had three punts of more than 50 yards and landed two inside the 20-yard line. His performance sealed his title as the nation's leader in punting.
P/K:
Justin Myer
, Virginia Tech:
Myer entered the game 0-for-2 on the season but made field goals in the Allstate Sugar Bowl of 37, 43, 36 and 25 yards, recording a field goal in every quarter and tying Georgia's Billy Bennett (2003) for the BCS bowl record. The four field goals tied for second-most in Sugar Bowl history. Myer missed on his fifth try, a 37-yard attempt in overtime. The field goals were the first in Myer's collegiate career. The Hokies made six field goals of 30 or more yards all season entering the game.
A/P:
Sammy Watkins
, Clemson:
Despite the loss, Watkins broke two school records in the Discover Orange Bowl and finished with 205 all-purpose yards, giving him 2,282 for the season -- second-most in ACC history. He had seven kick returns for 143 yards, and he had five catches for 66 yards and a touchdown.
January, 12, 2012
1/12/12
11:00
AM ET
There were plenty of memorable moments in 2011, some amazing individual performances, and numerous records set. It wasn't easy to narrow the list down to 10, but I gave it my best shot. Feel free to drop me a note
in the mailbag
with your nominations, and if I get enough good ones, I'll do a separate post on Friday with your suggestions. These are the top 10 in my book:
1. ACC expansion.
It was the morning after Florida State lost to Oklahoma and I was scrambling to wake up and get on a plane home when the ACC announced its decision to add Pittsburgh and Syracuse to the league. It was an historic moment for the conference, and it was a strong, stable move in a time of great uncertainty throughout college football. A lot of things happened this season, but none affected the entire conference like this one.
2. Clemson goes 8-0 for the first time in 11 years.
With a 59-38 victory over North Carolina, Clemson started 8-0 for just the fourth time in school history. That week, the Tigers were ranked No. 5 in the country in the BCS standings, and had a legitimate shot at playing for the national title.
3. NC State's comeback over Maryland.
It was the biggest comeback in school history and the second-biggest comeback in the ACC. NC State overcame a 27-point deficit to beat Maryland 56-41 and keep its bowl hopes alive. NC State trailed 41-14 with six minutes left in the third quarter before scoring six consecutive times. The Pack had 35 fourth-quarter points.
[+] Enlarge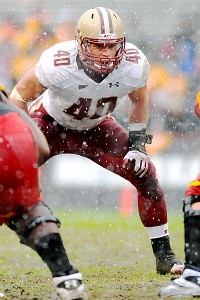 Evan Habeeb/US PresswireLuke Kuechly of Boston College is one of five players to record 500 career tackles in ACC history.
4. Luke Kuechly wins it all.
In a span of eight days, BC's star linebacker won the Bronko Nagurski Trophy, the Butkus Award, Lombardi Award and the Lott Trophy. He was a consensus All-American for the second consecutive season, and named the ACC's Defensive Player of the Year. His interception return for a touchdown against Miami helped the Eagles end the season on a winning note, and it was quite the encore performance for the NFL draft-bound Kuechly.
5. David Amerson's record-setting Belk Bowl.
The defensive back's two interceptions in the victory over Louisville broke the ACC's single-season record and moved him into a tie for second place in FBS history for single-season interceptions with 13. He returned one 65 yards for a touchdown, and the other sealed the win on fourth down at the goal line.
6. Frank Beamer gets win No. 200 at Virginia Tech.
A 17-10 victory over East Carolina on Sept. 10 gave Beamer his 200th win as head coach at his alma mater. Only nine other FBS coaches have won that many games at one school.
7. Sammy Watkins' record-setting season.
The true freshman was one of the nation's most spectacular players, and he finished the season with school records for receiving yards and receiving touchdowns. His reception total was second best in school history, and his 2,288 all-purpose yards were the second best in ACC history. His most memorable performance came against Maryland, when he racked up 345 total yards.
8. Logan Thomas' game-winning touchdown run against Miami.
It was one of the most memorable games of the season, and Thomas provided the highlight. With 56 seconds remaining in the game, Thomas ran 19 yards for a touchdown on fourth-and-1 to help Virginia Tech beat Miami 38-35 on Oct. 8. He scored more touchdowns in that game (three) than he threw incompletions (two).
9. Virginia becomes bowl-eligible for first time since 2007.
With a 31-13 win over Maryland on Nov. 5, the Cavaliers exceeded expectations in just the second season under coach Mike London. Virginia was picked to finish fifth in the Coastal Division, but a four-game winning streak proved otherwise.
10. Two BCS bowl teams for first time.
Had Virginia Tech or Clemson been able to do anything with these opportunities, this would have been much higher on the list. It almost didn't make the cut, but you can't ignore it -- especially considering how shocking Virginia Tech's selection was and what kind of national news it generated. For better or for worse, most college football fans aren't going to forget the year the ACC had two BCS bids.
Just missed the cut, in no particular order:
• FSU almost blanks Florida with 21-7 win
• Record crowd at the ACC title game
• Beating Auburn and Ohio State in Week 3
•
Dwayne Allen
wins Mackey Award
• Wake Forest defensive back Merrill Noel tied for national lead in passes defended
• North Carolina running back
Giovani Bernard
becomes the nation's leading freshman runner
• Florida State's Shawn Powell leads the nation in punting average
• Wake Forest upsets Florida State
• Georgia Tech's big day against Kansas
• Maryland's Labor Day uniforms
December, 30, 2011
12/30/11
9:00
AM ET
The Deacs (6-6) are back in the postseason after a two-year hiatus and will face Mississippi State (6-6). Here's a quick preview of tonight's matchup:


WHO TO WATCH:
Quarterback
Tanner Price
. There have been a lot of playmakers for the Deacs on both sides of the ball this season, but Price enters the bowl game on a hot streak. He needs only 103 yards to become the most prolific sophomore passer in school history, surpassing Riley Skinner, who had 4,255 yards in 2006-07. Despite the lackluster finish by the team, Price finished the regular season strong, with no interceptions and six touchdown passes in 127 attempts.
WHAT TO WATCH:
Mississippi State's defensive line against Wake Forest's offensive line. While the Bulldogs' offense has struggled and been inconsistent, their strength this year has been their defense, and tackles Fletcher Cox and Josh Boyd have been the anchors. The Deacs' offensive line is the biggest in school history, averaging 314 pounds per player, but they've allowed 2.42 sacks per game. The passing offense has been the difference for the Deacs this year. Cox had 7.5 tackles for loss over consecutive games against Kentucky and South Carolina. The Bulldogs have the nation's No. 19 scoring defense, holding opponents to just 19.92 points per game.
WHY TO WATCH:
Long time, no see: It's Wake's first bowl appearance since 2008. After a 3-9 season in 2010, the Deacs won five ACC games for just the fourth time in school history. Wake Forest exceeded expectations this season and added an interesting plot twist to the ACC race by playing Clemson for the Atlantic Division title. The Deacs came up short by a field goal, but they solidified their place in the postseason with a win over Maryland.
PREDICTION:
Wake Forest 24, Mississippi State 21. The Demon Deacons have too many difference-makers on both sides of the ball for the Bulldogs to overcome. It's been a record-setting year for Price and receiver
Chris Givens
, and freshman cornerback Merrill Noel leads the nation with 20 passes defended. The difference will be Wake Forest's passing game and its ability to protect the ball.
December, 26, 2011
12/26/11
11:00
AM ET
I finished the regular season with a picks percentage of 74.2, but I missed the one that mattered most and failed to pick the upset in the ACC championship game. That's why they call it an upset. My grand total for the season stands at 72-26 heading into bowl season. Plenty of room for improvement, but there are a lot of tough calls and games that can go either way this bowl season. Here are your picks for the non-BCS bowls:
Advocare V100 Independence Bowl -- Missouri 31, North Carolina 28:
The Tar Heels will get an inspired performance in interim coach Everett Withers' last game, but Missouri is a better team than its five losses indicate. North Carolina will make one or two costly turnovers, and the Tar Heels' defense won't be able to make enough stops in the red zone.
Belk Bowl -- NC State 28, Louisville 21:
Both quarterbacks will need to get better protection than they have for most of the season, and both teams have seen their defenses improve, but NC State has done a tremendous job this year of forcing opposing quarterbacks into mistakes, and
Teddy Bridgewater
will find that out quickly. The difference will be NC State's front seven on defense.
Champs Sports Bowl -- Florida State 21, Notre Dame 17:
This is significantly below the 30 points both teams are averaging this year, but Florida State's defense will again be the difference. Even if the Noles can't get things going again offensively, Florida State's defense and special teams are good enough to offset it against the Irish. Notre Dame is No. 116 in the country in turnover margin, and Florida State is capable not only of forcing quarterback
Tommy Rees
into a turnover, but also of scoring on it.
Franklin American Mortgage Music City Bowl -- Wake Forest 24, Mississippi State 21
. The Demon Deacons have too many difference-makers on both sides of the ball for the Bulldogs to overcome. It's been a record-setting year for Price and receiver Chris Givens, and freshman cornerback Merrill Noel leads the nation with 20 passes defended. The difference will be Wake Forest's passing game and its ability to protect the ball.
Hyundai Sun Bowl -- Georgia Tech 28, Utah 24.
The Utes couldn't handle a floundering Colorado team that had just one league win in the regular-season finale, and this will be a much more difficult challenge. Those within Georgia Tech's program are tired of hearing about the six-game losing streak, and coach Paul Johnson is at his best when he's got something to prove. Georgia Tech will catch Utah off-guard with several big plays, control the clock and in turn the game.
Chick-fil-A Bowl -- Virginia 24, Auburn 21:
The Tigers lost both coordinators in a span of a week, and leading rusher
Michael Dyer
has been suspended for the bowl game for a violation of team rules. Without those three components, Virginia has an edge. Plus, Auburn is a shadow of its 2010 national championship team, while Virginia has made a dramatic turnaround this year. Statistically, Auburn has one of the worst offenses in the country, and the defense has been at the bottom of the SEC.
December, 13, 2011
12/13/11
10:00
AM ET
It was the Year of the Freshman in the ACC, as rookies were some of the league's top players and made immediate contributions. Maryland's defense wouldn't have survived this year without its first-year players, and Wake Forest had the league's defensive rookie of the year. Nobody, though, made a bigger splash nationally than Clemson receiver
Sammy Watkins
. Here's a look at some of the top true and redshirt freshmen from 2011:
Offense:
[+] Enlarge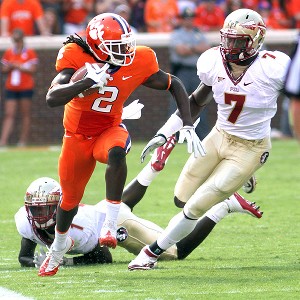 Joshua S. Kelly/US PresswireSammy Watkins' numbers were off the charts for Clemson in 2011.
Clemson WR Sammy Watkins:
He broke ACC freshman records for receptions (77), receiving yards (1,153) and touchdown receptions (11) -- the best totals in the nation among freshmen this season. His reception yardage total is the best in Clemson history regardless of class. Watkins had three games with at least 150 receiving yards, already a Clemson career record for 150-yard receiving games.
North Carolina RB Giovani Bernard:
The redshirt freshman led North Carolina in rushing this year with 1,222 yards and 13 rushing touchdowns. He ranks third in the ACC in rushing and has more rushing yards than any other freshman nationally. With still one game remaining in his season, his yardage total is the third-best by an ACC freshman.
FSU WR Rashad Greene:
Despite playing in only eight games, Greene finished as Florida State's leading receiver. He caught 33 passes for 497 yards and scored six touchdowns. An ankle injury derailed his season, but he could be one of FSU's elite receivers in the years to come.
Defense:
Wake Forest CB Merrill Noel:
The redshirt freshman currently is tied for the national lead in passes defended with 20, including one interception and 19 pass breakups. Noel finished the regular season with 59 tackles, including 48 solo stops.
FSU DE Tim Jernigan
: He had six tackles for loss, including 2.5 sacks. He also had three quarterback hurries and recovered a fumble. Jernigan finished second in the voting for the ACC Defensive Rookie of the Year award.
Miami LB Denzel Perryman:
He finished the season ranked first among ACC freshmen with 69 tackles and played in all 12 games. He finished his freshman season ranked second on the team in tackles (69) and tied for third on the team in tackles for loss (6.5).
Virginia CB Demetrious Nicholson:
Nicholson started all 12 games and has 56 tackles (39 unassisted), eight pass breakups and two interceptions entering the Chick-fil-A Bowl against Auburn.
Ones to watch for 2012:
FSU S Karlos Williams:
He was the No. 5 overall player in the ESPNU 150 Class of 2011, but his playing time this year came sparingly. He played in all 12 of the Seminoles' games and had eight tackles in a limited role. He made an impact on special teams, but he wasn't on the field enough for FSU fans to enjoy his sheer speed and athleticism. Lamarcus Joyner has the free safety position locked up, but at strong safety, Williams was behind veteran Terrance Parks and junior Nick Moody. While Williams probably has more natural ability than both, his knowledge of coordinator Mark Stoops' scheme could be the difference in how much more he sees the field next year.
Miami DE Anthony Chickillo:
He started nine games and played in all 12. Of his 38 tackles, 6.5 were behind the line of scrimmage, including five sacks. Chickillo also forced and recovered a fumble and registered a quarterback hurry. He finished third in the media's vote for ACC Defensive Rookie of the Year.
Clemson OLB Stephone Anthony:
He finished the year with 31 tackles, two sacks and two forced fumbles.
FSU TE Nick O'Leary:
He caught 12 passes for 164 yards in 2011. He's next in line behind senior
Beau Reliford
and could have a breakout season in 2012.
FSU RB James Wilder Jr.:
He rushed 31 times for 150 yards and one touchdown as the third-string running back in a crowded backfield. His role should increase next year.
December, 4, 2011
12/04/11
11:20
PM ET
Mississippi State Bulldogs (6-6) vs. Wake Forest Demon Deacons (6-6)
Dec. 30, 6:40 p.m. ET (ESPN)

Mississippi State take from SEC blogger Edward Aschoff:
After the 2010 season, in which the Bulldogs had their first nine-win season since 1999, the expectations in Starkville skyrocketed.
Third-year coach Dan Mullen appeared to have enough returning on offense to continue riding that momentum. Losing a couple of key members to the front seven on defense was worrisome, but the offense was always supposed to lead the way.
After the first two weeks, the Bulldogs were averaging 588 yards and 46.5 points, but a goal-line stop of quarterback
Chris Relf
might have changed everything for the Bulldogs. Mississippi State came up less than a foot short of going to overtime against Auburn when Relf was stopped as time expired in a 41-34 heartbreaker.
The Bulldogs were never the same after that, as injuries hurt the offensive line and they lost three of their next five.
Mullen entered the season with only two wins against Western Division opponents, with both coming against Ole Miss. Nothing changed in 2011, as the Bulldogs' only SEC wins came against Kentucky and the Rebels.
While the offense struggled throughout the season, Mississippi's defense kept the Bulldogs in games for most of the year. By sweeping the nonconference schedule and blowing out Ole Miss at the end of the year, Mississippi State became bowl eligible for the second straight year under Mullen and will look to win its fifth straight bowl game.
---

Wake Forest take by ACC blogger Heather Dinich:
The Deacs had a disappointing finish to the season, losing four of their final five games. Considering they made it to the postseason following last season's 3-9 campaign, 2011 was a success.
Wake Forest was a much-improved team, and put itself in position to win the Atlantic Division title. Even more surprising was the fact that it came down to a last-second, game-winning field goal against Clemson, which clinched the division with the 31-28 win over the Deacs on Nov. 12. Wake Forest beat Maryland the following week to become bowl eligible for the first time since 2008, and will be making the program's fifth bowl appearance in 11 years under coach Jim Grobe.
Much of Wake's success this year can be attributed to the maturation of quarterback
Tanner Price
, and the development of several key players around him like receiver
Chris Givens
. Cornerback Merrill Noel was named the ACC's defensive rookie of the year and he has 20 passes defended.
The Deacons have compiled a 6-3 (.667) record in their nine previous bowl appearances and are 3-1 in bowl games under Grobe. The Deacs have won five of their last six bowl games. Wake Forest and Mississippi State will be meeting for the first time.
November, 3, 2011
11/03/11
10:15
AM ET
With only five games this week, the math is easy: Two things to watch in each game. Here's your top 10 in Week 10, in no particular order:
1. BC's offensive line against Florida State's defensive line.
This could be the game-defining matchup, as the Eagles have been playing better up front in recent weeks and their running game has flourished as a byproduct, but Florida State's defensive line has been flat-out dominant. The Noles are No. 3 in the country in sacks, and No. 8 in tackles for loss. Bjoern Werner (7.5) and Brandon Jenkins (6.5) lead the Seminoles in tackles for loss.
[+] Enlarge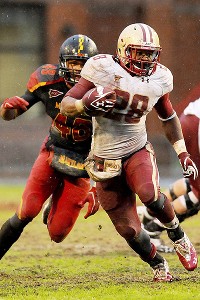 Evan Habeeb/US PresswireAfter never eclipsing 100 yards, Boston College sophomore Rolandan Finch rumbled for 243 last week against Maryland.
2. Young running backs in Chestnut Hill.
For Florida State,
Devonta Freeman
has totaled 226 rushing yards in the past three games. He became the first freshman to rush for 100 yards in back-to-back games since Chris Parker in 1988. For Boston College, sophomore
Rolandan Finch
ran for 243 yards and two touchdowns in last weekend's 28-17 victory over Maryland; prior to that, Finch had never surpassed the 100-yard mark. He has run for 81 or more yards in each of the past three games.
3. Quarterbacks in College Park.
The saga continues, as Maryland coach Randy Edsall said on Wednesday's ACC teleconference that both
Danny O'Brien
and
C.J. Brown
continue to compete and the Terps could "get in a situation where we play both of them, play one." Virginia quarterback
Michael Rocco
, meanwhile, said this week he has benefited from the diminished role of true freshman
David Watford
, who was sharing the reps. Rocco took all but one snap in last weekend's win at Miami.
4. Maryland's run defense.
The Terps enter this game with the nation's No. 118 rushing defense, and Virginia's ability to run the ball has been crucial to its success in this series. Virginia is 22-8 against Maryland since 1937 when gaining at least 150 rushing yards. UVa has rushed for at least 150 yards in seven of eight games in 2011. In last year's loss, the Hoos ran for just 92.
5. NC State's pass defense against UNC quarterback Bryn Renner.
Renner is the ACC's most efficient passer, but he will face a secondary that boasts the nation's leader in interceptions in David Amerson, who has eight. Brandan Bishop has four. Renner has thrown nine interceptions this year to 19 touchdowns.
6. UNC tailback Giovani Bernard.
He needs just 35 more yards to become the program's first 1,000-yard rusher since Jonathan Linton in 1997. Bernard has 965 yards this year and leads all freshman runners in the country with 107.2 yards per game. He leads the ACC with 12 touchdowns. NC State's rushing defense has been holding opponents to 160.1 yards per game.
7. Duke's defense in the second half.
The Blue Devils have allowed one second-half touchdown — a fourth-quarter score by Wake Forest — in their past two games, and held Virginia Tech scoreless last weekend for the entire second half. Safety Matt Daniels has defended 16 passes, second in both the ACC and the FBS.
8. Turnovers at Miami.
The Hurricanes forced seven turnovers in last year's victory over Duke, and the Blue Devils are coming off a loss to Virginia Tech in which they had four turnovers. Quarterback
Sean Renfree
has thrown four interceptions in the past two games, including three against the Hokies. Since the loss to Kansas State, Miami quarterback
Jacory Harris
has thrown 11 touchdowns to just one interception.
9. Wake Forest's defensive line against Notre Dame's offensive line.
The Demon Deacons will have a definite size disadvantage, and the Irish went the whole month of October without allowing a sack. Notre Dame's offense line averages 305.6 pounds; Wake Forest's defensive front averages 247.5 pounds. Wake will have to put some pressure on Irish quarterback
Tommy Rees
to help disrupt a passing game targeted at one of the nation's top receivers in
Michael Floyd
.
10. Wake Forest defensive back Merrill Noel.
He leads the FBS in passes defended with 16, an average of 2.0 per game. The freshman only has one interception, but he's been a major contributor to Wake's defense and could play a crucial role in helping slow down Floyd, who is ninth nationally with 7.9 receptions per game.
October, 6, 2011
10/06/11
10:15
AM ET
Here are 10 things worth keeping an eye on this week in the ACC, in no particular order:
1. Bowl eligibility.
If Clemson and Georgia Tech both win this weekend, they will become the first teams in the conference and only two of seven in the country to become bowl eligible this week.
2. The Coastal Division standings.
One team -- Miami or Virginia Tech -- will drop to 0-2 in the ACC race. With Georgia Tech off to a 2-0 start for the first time under coach Paul Johnson, it's a borderline elimination game in Blacksburg, though it's not unheard of in the ACC for a three-loss team to play its way into the ACC title game.
[+] Enlarge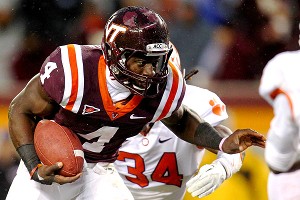 Ned Dishman/Getty ImagesCan Miami stop one of the ACC's leading rushers in David Wilson?
3. Run defenses in Blacksburg.
Miami and Virginia Tech have two of the ACC's leading rushers in
Lamar Miller
and
David Wilson
, respectively. The Hokies lost starting defensive tackle Antoine Hopkins to a season-ending knee injury, and Miami's rushing defense is No. 104 in the country. Miller is the first Hurricane to begin a season with four-straight games of 100 or more rushing yards in at least the past 30 years. Wilson is the fourth Tech back of the ACC era to post four or more games with 100 or more rushing yards in a season.
4. Quarterbacks in Blacksburg.
How will Virginia Tech quarterback
Logan Thomas
respond to last week's 20-3 loss to Clemson? Can
Jacory Harris
go two games without throwing an interception against a Virginia Tech defense that has had at least one interception in each of the past 12 games?
5. Florida State quarterback EJ Manuel.
If he plays -- and he is expected to play -- how will Manuel look in his first game back since he injured his shoulder on Sept. 17 against Oklahoma? Manuel returned to practice this week, but it's been a while since he's been hit in a game.
6. Pass defenses in Winston-Salem
. Both Florida State and Wake Forest have fallen below expectations in the running game this year, and the passing games have carried their respective offenses. Wake Forest quarterback
Tanner Price
will face the best defense he has seen yet this season, as the Noles are No. 13 in the country in pass defense. Don't sleep on the Deacs' secondary, though, as cornerback Merrill Noel of Pahokee, Fla., could grow into the same category as Alphonso Smith.
7. Big plays in Atlanta.
Yes, Georgia Tech can eat up the clock with its drives, but Maryland needs to be wary of its big-play capabilities as well. Georgia Tech has had four pass plays and two rushing plays of 70-plus yards this season. The Yellow Jackets have produced 40 plays of at least 20 yards this season and have allowed opponents just 15 plays of 20-plus yards.
8. BC running back Montel Harris.
He played a full game for the first time this season last weekend against Wake Forest and had 22 carries for 108 yards. Harris needs 868 yards in his final seven games of the year to break the 37-year-old ACC career rushing record held by former NC State great Ted Brown (4,602). He would need to average 124 yards a game over the final seven games. Last year against Clemson, Harris had 37 carries for 143 yards rushing and had a 36-yard receiving touchdown, Boston College's only offensive touchdown of the game.
9. UNC running back Giovani Bernard against Louisville's run D.
Louisville has the nation's No. 13 rushing defense, holding opponents to just 85 yards per game. Bernard has rushed for 100 yards in three straight games. He is the first UNC player to do so since Natrone Means in 1992.
10. Turnovers in Raleigh.
Central Michigan has lost the ball 10 times this season, two fumbles and eight interceptions. NC State has returned two fumbles for touchdowns this season, and is tied for fourth in the country with eight interceptions.