NCF Nation:

Meyer steps down
December, 26, 2009
12/26/09
9:37
PM ET
By
Tim Griffin
| ESPN.com
[+] Enlarge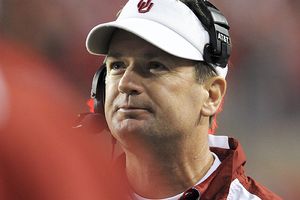 AP Photo/Dave Weaver Coaching at Florida could be a special opportunity for Oklahoma's Bob Stoops.
An indicator of how strong a pull Florida still has on Bob Stoops and his family could be seen earlier this week.
The Stoops family packed up for their condominium to spend Christmas at Crescent Beach, Fla., not too far away from the beach house owned by Steve Spurrier, his old boss at Florida.
Stoops still loves the Florida lifestyle and found virtually any excuse to return there -- even during the salad days of his Oklahoma run through the Big 12.
So now with the Florida job open, it will be interesting if Stoops can turn down an offer to return to the place he first built his coaching reputation. Stoops was the respected defensive coordinator under Spurrier for three seasons before he was hired at Oklahoma in December 1998.
He's still known as "Bobby" by Gator fans, but is respected for the job he did in leading the Gators to the national championship in 1996.
Stoops has had other opportunities over the years. Notre Dame made a big push earlier this season after other schools and professional teams came calling. Stoops was in the mix when Florida hired Ron Zook and Urban Meyer earlier this decade.
You don't hear him called "Big Game Bob" as much around the Big 12 as before -- particularly after his 7-5 record this year. It was his worst regular season mark in his 11 years with the Sooners. But Stoops remains one of the seminal figures in the conference's growth after claiming a record six Big 12 titles.
He enjoys a relationship with Oklahoma athletic director Joe Castiglione and school president David Boren that might be unrivaled for a college coach anywhere.
And it appears he is already itching for the challenge of bouncing back after this season's disappointment. Stoops has already arranged for the Sooners to have the Seattle-based Pacific Institute help rebuild his team's psyche next season like it did with Alabama this year.
But Florida clearly would be a special opportunity. He is familiar with recruiting throughout the sunshine state and it would give Stoops a chance to claim a program that is only a season removed from back-to-back national championships.
Would that be enough of a pull to get Stoops to leave Oklahoma after he's turned down so many other jobs over the years?
We'll have to see over the next several days.
December, 26, 2009
12/26/09
8:57
PM ET
While in New Orleans next week for the Allstate Sugar Bowl, it may be hard to remember that there is an actual game scheduled.
Cincinnati was already playing for an interim coach (Jeff Quinn) as Brian Kelly left the 12-0 Bearcats for Notre Dame earlier this month. Tonight brought the
stunning news
that Florida coach Urban Meyer will step down after the game for health reasons.
Thus, nearly every interview and media session leading up to the game will be at least in part about the coaching story lines. There were questions about how Cincinnati would deal with all the distractions, especially since Quinn has already taken the Buffalo job and most of the assistants are figuring out whether they're going to Notre Dame, Buffalo or staying put for new coach Butch Jones.
Florida's interest in this game was questionable, as the Gators still hadn't sold their full allotment of tickets as of last week. The fan base, and perhaps the team, was still smarting from losing the SEC title game to Alabama.
But now will the Gators rally behind their two-time national championship winning coach, who's not abandoning them for another job, but because of concern for his own physical well-being? Will Florida now be extra motivated to play the Bearcats?
No BCS game will have more bizarre story lines leading up to the game than this one. Get ready for a weird week in New Orleans.
December, 26, 2009
12/26/09
8:46
PM ET
It's one of the plum jobs in all of college football.
And after the Allstate Sugar Bowl on Jan. 1, it's going to be open.
Urban Meyer's stunning resignation
for health reasons means somebody has some awfully big shoes to fill at Florida, and it also means that Florida athletic director Jeremy Foley will be conducting his third football head coaching search of the last decade.
Who's on his short list?
All athletic directors keep a short list of coaching candidates in their top drawer. If not literally, at least figuratively.
You can bet Oklahoma's Bob Stoops is somewhere on that list, probably near the top. Stoops, the Gators' defensive coordinator for three seasons under Steve Spurrier, was the top target in 2001 when Spurrier resigned. But he'd only been at Oklahoma for three seasons and felt like he needed to stay put.
After more than a decade at Oklahoma, Stoops may be ready for a new challenge.
Arkansas' Bobby Petrino is another name to keep in mind. He was on the list when Meyer was hired in 2004.
Mississippi State's Dan Mullen, who served as Meyer's offensive coordinator at Florida until this season, also makes a lot of sense. He knows that program, knows Meyer's system and is somebody Foley is very familiar with. Mullen also did a good job in Starkville this season, his first as a head coach.
At some point, somebody's going to pry away Chris Petersen from Boise State. Maybe this is that time. Petersen has had an unbelievable run at Boise State.
Former Denver Broncos coach Mike Shanahan was a candidate in 2001, when Spurrier left, and has a good relationship with Foley. Shanahan coached at Florida in the 1980s as an offensive coordinator, but his next move is probably back to the NFL, possibly the Washington Redskins.
December, 26, 2009
12/26/09
7:35
PM ET
I knew this had been a trying season for Urban Meyer.
[+] Enlarge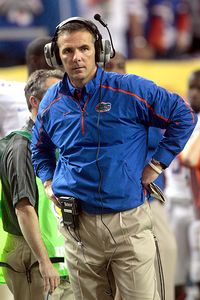 AP Photo/Dave Martin Florida's Urban Meyer announced he will step down as head coach of the Gators.
He admitted as much several times as the season wore on. You could also see it in his face and see it in how much weight he'd lost.
But I was like everybody else in college football when I heard the news Saturday evening, and it hit me like a ton of bricks.
Urban Meyer stepping down at Florida?
When you start talking about the pre-eminent coaches in college football right now, if Meyer's name isn't the first one out of your mouth, it's certainly one of the next two.
In five seasons, he took the Florida program to heights that not even Steve Spurrier reached.
Two national championships, two SEC championships, a Heisman Trophy winner and a 22-game winning streak speak for themselves.
But it's refreshing to see that even a coach as young as Meyer (he's only 45) and a coach at the top of his profession like Meyer doesn't temp fate.
Anybody who's spent any amount of time around Meyer knows what his family means to him. And right now, his health and his family are the only things that matter.
There were warning signs right after the SEC championship game when he checked himself into the hospital early that next morning for what Florida officials said were dehydration issues. But Meyer had also experienced chest pains.
And now this.
First and foremost, here's hoping that Meyer is going to be OK whether he ever returns to coaching again or not.
The SEC won't be the same without him. That's for sure.
Always a step ahead on the football field, let's hope that Meyer is also a step ahead in getting out in time to live a long and healthy life and do what's really important -- enjoy his family.
December, 26, 2009
12/26/09
7:18
PM ET
By
ESPN.com staff
| ESPN.com
Florida's Urban Meyer, who led the Gators to two national titles during his five seasons with the school, will step down as the Gators coach because of health reasons.
"I have ignored my health for years, but recent developments have forced me to reevaluate my priorities of faith and family," said Meyer in a statement.
Meyer said he plans to stay involved at the University of Florida. His final game will be the Sugar Bowl on Jan. 1.
For more on this developing story,
click here
.