NCF Nation:

Miami Dolphins
October, 14, 2011
10/14/11
9:00
AM ET
SOUTH BEND, Ind. -- It's not that
Robby Toma
was barely 60 pounds when he first played Pop Warner as a nine-year-old in fourth grade. It's that he gained only 40 pounds from then to his freshman year of high school, when he stood just 5-feet tall and weighed 100 pounds.
"I think for me that was my more major concern," Ross Toma, Robby's father, said. "When he went into JV being that size, that was the first time I thought, 'Man, maybe I better pull him out.'"
[+] Enlarge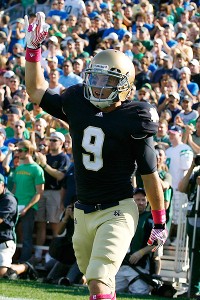 Brian Spurlock/US PresswireRobby Toma says he's focused on making the most of his chances in Theo Riddick's absence.
Doing that would have meant no football scholarship to Notre Dame, nearly 5,000 miles and four time zones away from the Tomas' hometown of Laie, Hawaii. And it would have meant no moments like the one Toma experienced this past Saturday, when he hauled in a 10-yard first-quarter touchdown pass from
Tommy Rees
.
The now 5-foot-9, 185-pound Toma has won over Irish fans with his style of play. Judging by his teammates' reaction after his first career score Saturday, he has won them over as well.
"When I got into the end zone it was an amazing feeling, especially here at Notre Dame in front of 80,000," Toma said. "And it was a great experience to see all of my teammates and how excited they were for me, and it really meant a lot to me."
That excitement was clear at a young age, keeping Ross Toma from telling his son that he was having second thoughts about his football career. Quelling those thoughts was the fact his son was shifty enough on the field, quieting any potential talk from other parents or coaches off the field.
Robby's mother, Tammy, overcame any parental concerns immediately and was almost always pushing him.
"Initially she was that way, but once he got in she was full-force support and just go," Ross Toma said. "After a while almost if he got injured or whatnot, she'd be like, 'Get up and just go. Stop complaining.'"
A lifelong friend and high school teammate of Irish standout linebacker Manti Te'o, Robby Toma's first introduction to the game was from Te'o's father, Brian, who coached both in Pop Warner.
"Brian kept saying, 'You've got to play football, you've got to play football,'" Ross Toma recalled. "And me and my wife were like, 'Uh, he's a little bit small.' But sure enough he bugged us and really wanted to play and we said OK."
Despite being the smallest kid on the team, Robby Toma played running back and outside linebacker initially, and "Uncle Brian" pitted him against Te'o in his first-ever hitting drill.
"I got crushed," he said with a laugh.
He didn't become a wide receiver until high school, and he has found no shortage of fellow little guys at the position to model himself after. Toma will often go on YouTube and study pro players like the Patriots'
Wes Welker
or the Dolphins'
Davone Bess
, the latter having played college ball in Toma's backyard at Hawaii.
"Just the way we're smaller guys, so we have to use our quickness to our advantage and really concentrate on getting in on our breaks," Toma said of techniques he looks at. "And obviously making sure you catch the ball."
The last part has been easier said than done for Toma, though that has been more of a matter of circumstance than lack of seizing the moment. The junior was overthrown in the end zone two weeks ago at Purdue, and he has just two catches for 26 yards through the first half of this season.
But his ability to step up in place of an injured
Theo Riddick
last season -- notching 14 receptions for 187 yards -- is proof that his diminutive stature can handle the load when his number is called.
"I feel like I can play," Toma said. "Obviously I'm not the biggest guy, but when I'm out there I don't feel like I'm that much smaller than anybody, and I feel like I've worked hard to be where I'm at."
January, 6, 2011
1/06/11
9:41
AM ET
Everybody loves Stanford coach Jim Harbaugh (other than Cal fans. And Pete Carroll). It appears the Miami Dolphins really, REALLY love Harbaugh.
Consider
this report
from Chris Mortensen:
Miami Dolphins owner Steve Ross has traveled to the West Coast in an urgent effort to convince Stanford's Jim Harbaugh to become his next coach, according to two sources.

Ross was accompanied by general manager Jeff Ireland and former NFL executive Carl Peterson to make the pitch to Harbaugh to replace Tony Sparano as the team's head coach, the sources said. Ross is willing to make Harbaugh the highest-paid coach in the NFL, which would place his salary in the $7-to-$8-million range, the sources said, after receiving a signal from the Stanford coach that he was now willing to listen seriously to the team's presentation.
The meeting is expected to take place this morning.
Harbaugh met with the San Francisco 49ers on Wednesday, according to Mortensen.
There is substantial evidence that Harbaugh won't take another college job, most notably Michigan. Therefore, it appears it will be Stanford or the NFL.
And at this point you'd have to think -- $8 million! -- that Stanford won't be able to compete with the money the NFL will offer.
October, 8, 2010
10/08/10
4:33
PM ET
California has played dominant defense on Saturdays this season. But as Bears fans know, there is a catch.
The Bears gave up 497 yards at Nevada in a 52-31 loss on a Friday night.
In the other three games, they've given up just 20 total points, and they've been good enough to still rank 15th in the nation in total defense (282.5 yards per game) while yoked with the Nevada numbers.
[+] Enlarge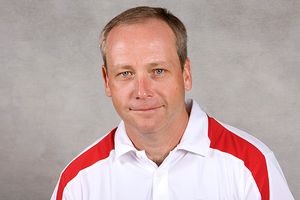 NFL Photos/Getty ImagesClancy Pendergast's defense is ranked No. 15 in the country despite getting gashed by Nevada to the tune of 497 yards.
It's fair to say that new coordinator Clancy Pendergast, a longtime NFL coach, is doing a pretty good job -- other than when he's faced a pistol offense, which isn't terribly popular in the NFL.
And, of course, Pendergast and the Bears get a second crack at the pistol on Saturday when UCLA comes calling.
Seemed like a great time to check in with Pendergast to get his take on "Pistol II: Redemption?"
You guys have had three strong weeks of defense, and one bad one: Was it a case for you of having a short week of practice to prepare for an offense you never game-planned for in the NFL?
Clancy Pendergast
: We are not making any excuses. We didn't play well that night. We didn't play with a good gap integrity. We didn't get off blocks. And we didn't tackle well. So those were most of the shortcomings, things we had wrong that night against Nevada.
I'm not trying to give you an excuse, but there aren't many pistol offenses in the NFL. You had to look at it as something different, right?
CP
: There are some neat things about it. It's very similar to the "Wildcat" offense that was a craze in the NFL two years ago, which started with the Miami Dolphins. I spent a whole offseason and 2009 studying the Wildcat and how to defend it, just because it became so popular in the 2008 season. We looked at how a lot of NFL teams defended it, and looked at some of the college teams that ran it and studied some of them and how teams defended them. But in the true Wildcat, the element of the quarterback not being under center to throw the football is really the biggest difference.
That said: You've guys have been mostly lights out on defense otherwise. Who is playing well for you?
CP
: I think [DE] Cameron Jordan has been our most consistent guy. Linebacker D.J. Holt has played really well, at mike linebacker inside. He's been our most consistent linebacker week in and week out. In the secondary, [safety] Chris Conte has been pretty consistent.
How much will it help to get linebacker Mike Mohamed back healthy?
CP
: Well, he's obviously one of our best players, so having him back in the lineup on a full-time basis will make us a better defense. He didn't play against Nevada because of the (toe) injury. He played part-time against Arizona. We expect to see him a lot on Saturday. That should boost our defense a little bit. Anytime you get one of your better players back, it obviously helps your group.
When you guys have not played well, what goes wrong?
CP
: It's been more the fundamental things -- guys not reading their keys and doing their job. That's the one thing we didn't do against Nevada. We had guys out of position, and guys not doing their job. Generally, when you don't play well on defense, that's what transpires. That night was like no other game.
How is UCLA's pistol different than Nevada's?
CP
: Very similar. It's very similar.
As a competitor, are you excited about getting a second crack at a specific scheme?
CP
: It's just another game plan, but we're excited by the opportunity to play against a very well-coached, talented UCLA team. It's our second week in the Pac-10, and we're just focusing on the next game at hand.
The Bruins have run the ball well this year. What do you see when you look at game film of UCLA?
CP
: It's pretty well-documented that they do a nice job in the running game. They've been able to move the football and control the clock. The line does a good job of working together. I think they work real well in terms of the blocking schemes they use. Both running backs have been a nice one-two punch for them. The quarterback obviously keeps you honest. They can run and throw it. They have a lot of weapons on the offensive side of the ball. They are going to be tough to deal with.
You've got a few games under your belt: How is coaching in college different than in the NFL?
CP
: It's just like I've said from day one: Coaching is coaching. I enjoy the opportunity to teach. You get a chance to do that every day. The biggest thing is the limited meeting time [in college]. So you've got to utilize your time as much as you can. But from a pure coaching standpoint, I've always enjoyed working with young players. In the NFL, that's how you build your team. You develop young players. It's no different at this level. It's just getting the players familiar with the techniques you want to use, the techniques within the scheme, the different calls they need to utilize between the linebackers, defensive line and secondary. That's how you play good defense.