NCF Nation:

Miami Redhawks
December, 12, 2013
12/12/13
9:00
AM ET
Kyle Flood was answering a question about his depleted staff on Tuesday when Brian Kelly chipped in a few minutes later with his unsolicited take.
[+] Enlarge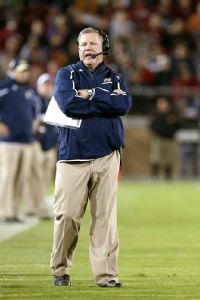 Kelley L Cox/USA TODAY SportsDespite losing both coordinators, the Irish are in good hands with Brian Kelly.
"And just to add on to Kyle's situations with his staff," the Notre Dame coach said at Yankee Stadium. "I just want to let him know he's got too many staff members. When I was at Cincinnati, we had three staff members and we coached in the bowl game against Western Michigan, so you've got way too many. And we won that game, so I think he's fine. I don't think you have to worry about him having not enough coaches."
At this rate, it would be easy to say that the concerns now fall on Kelly, who lost his second coordinator to a head-coaching job in an eight-day span Wednesday when Bob Diaco
accepted the UConn post
. That came in the wake of Chuck Martin
packing his bags for Miami (Ohio)
. The moves hamstring the Irish staff as it readies for Rutgers on Dec. 28's New Era Pinstripe Bowl, and as it gears up for the mad dash to national signing day in the 39 days following the 2013 finale.
The initial reaction across players and fans, per routine, was overreaction. Tweets
decrying Diaco
for looking out
for himself
were soon deleted, eventually giving way to
more
and
more
congratulatory remarks for a man whose next career step was only a matter of time.
Make no mistake, this is far from the situation that is taking place in Piscataway, N.J., where Flood, the second-year head coach,
let go of three assistants
after an underwhelming 6-6 campaign. The Scarlet Knights step into the Big Ten next season. And this is far from the case that Kelly was referencing in that bowl press conference, as he had just taken the Cincinnati job and had only three of his Central Michigan assistants with him by the time the Bearcats faced, and defeated, Western Michigan in the International Bowl nearly seven years ago.
"It certainly creates a little bit of a challenge," Flood said of Rutgers' situation, "but I'm confident that people are put in positions where they can be successful, and that's really my job as the head football coach, to make sure we got a coach assigned at every position and in all three phases and the coordinator role."
Kelly's challenge is considerably smaller. This is Notre Dame, after all.
Initial reaction among recruits speaks to that
, with most youngsters recognizing that much of what they were promised remains in place so long as Kelly is at the forefront. If Diaco does not bring along other Irish assistants with him to Storrs, Conn., Kelly will have a much easier time filling the holes on his staff. Kerry Cooks, let's not forget, has also been the co-defensive coordinator these past two years, and he will probably take on Diaco's responsibilities for (at least) the rest of the month.
The fact this Notre Dame team went 8-4 and had its top two assistants get hired to run their own shows speaks volumes about where the program is now. Jimbo Fisher lost seven assistants in a season that ended with Florida State winning the Orange Bowl, and the Seminoles have turned out oh-so fine in the year since. This is a good problem to have,
and as IrishIllustrated's Pete Sampson said
, one coordinator leaving right after the other could trigger an eventful race back to South Bend to occupy Kelly's office whenever he should depart.
That's down the road. For now, the calendar has 19 days remaining in a year that began with a letdown against Alabama in the national title game and will likely end with a win against Rutgers -- with plenty of embarrassment (Manti Te'o, Everett Golson) and departures (
Gunner Kiel
, two receivers) sandwiched in-between.
As they did in this past year, the Irish will enter 2014 hoping to close whatever gap remains toward a national title. And while
Jameis Winston
isn't walking through that door, the two most important elements of that chase, Kelly and Golson, still are.
July, 26, 2013
7/26/13
11:11
AM ET
Sometimes you see something provocative and your initial reaction is an
over
reaction. After taking a bit of time to calm down and reflect, you realize that the provocative something isn't so outlandish after all.
And then there are times when your initial response turns out to have been right on the money.
[+] Enlarge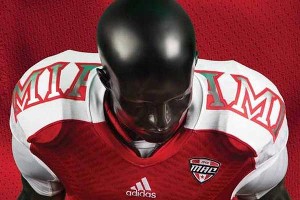 Courtesy of Miami UniversityThe RedHawks revealed their new jersey this week.
That's the case with the new Miami University football uniforms, which were unveiled on Wednesday. The school
calls them "bold."
Everyone else calls them "a bad joke." Everyone else is right.
The basic template, which features contrast-colored shoulder yokes,
is nice enough
, until you see the garish lettering
splashed across the shoulders
. And just in case that wasn't enough of a Miami identifier, check out
the back of the helmet
. As one observer has already pointed out, the helmet looks like a bowling ball.
This is the latest example of the world that Oregon has wrought, a world where school after school mistakes provocation for innovation and thinks anything that gets attention is self-justifying. But here's the thing: The Ducks, for all their visual outrageousness, have been successful on the field. Miami, on the other hand, was 4-8 last year, and their prospects for 2013 don't look much better. They may soon learn a bitter lesson that's recently been absorbed by other schools: If you dress like a clown and win, you look like a winner. But if you dress like a clown and lose, and you just look like a clown.
April, 8, 2013
4/08/13
5:00
PM ET
Former Notre Dame quarterback
Gunner Kiel
will transfer to a new school at the end of the spring semester, and he has been making the most of the past several weekends.
Kiel visited Mid-American Conference schools Ball State and Miami (Ohio), our Joe Schad reports, and he also visited Cincinnati during Easter weekend for the Bearcats' scrimmage inside
Paul Brown
Stadium,
according to the Cincinnati Enquirer
.
Gunner Kiel has visited Ball State and Miami (OH), each w a senior QB and each within two hours of home

— Joe Schad (@schadjoe) April 8, 2013
Kiel's father, Kip, spoke highly of his visit with the Bearcats, telling the Enquirer's Tom Groeschen that it went well.
"The visit to Cincinnati went really well," Kiel's father, Kip Kiel, told The Enquirer via telephone.

Kip Kiel said his son especially wants good chemistry with his position coaches. In UC's case, that is quarterbacks coach/passing game coordinator Darin Hinshaw and offensive coordinator Eddie Gran.

"He thinks the world of coach Hinshaw and coach Gran," Kip Kiel said.
Schad says that Kiel may visit Ole Miss in the near future as well.
Gunner Kiel might visit Ole Miss in the near future

— Joe Schad (@schadjoe) April 8, 2013
July, 31, 2009
7/31/09
10:38
AM ET
Posted by ESPN.com's Graham Watson
The Mid-American Conference is the final FBS conference to kick off its media days this week and with it comes the MAC preseason poll.
The MAC's media members selected Central Michigan to not only win the West Division, but also take the MAC overall championship. Buffalo, which won its first-ever conference title last season, was picked to win the East Division.
Ball State, which won the West last year after completing an undefeated conference regular season, was picked to finish fifth in the West.
The biggest surprise in the poll is Temple. After spending most preseason polls at the bottom of the pack, the Owls were picked to finish second and were just 11 points behind favorite Buffalo to win the East. Temple also received two votes to win the MAC overall title. Temple finished third in the East last season behind Bowling Green.
Toledo, which comes in at No. 4 in the West Division, is the highest-rated team with a new head coach.
Central Michigan has won the MAC championship two of the past three seasons. However, the two years it won, the Chippewas were picked fourth (2006) and second (2007). It was picked to win the conference last year and finished second in the West.
2009 MAC Football Preseason Poll
West Division
1. Central Michigan (154 points)
2. Western Michigan (126)
3. Northern Illinois (103)
4. Toledo (71)
5. Ball State (58)
6. Eastern Michigan (34)
East Division
1. Buffalo (155 points)
2. Temple (144)
3. Akron (128)
4. Ohio (116)
5. Bowling Green (101)
6. Kent State (51)
7. Miami (33)
MAC Championship Game
Central Michigan (18), Western Michigan (4), Buffalo (2), Temple (2)
Posted by ESPN.com's Graham Watson
And finally, the Mid-American Conference, which will hold its media days at the end of the week, will start fall camp on Aug. 5.
Here are a couple bullet points from the Mid-American Conference last season:
• Buffalo won its first-ever conference title after upsetting Ball State in the MAC championship game.
• Ball State completed an undefeated regular season before losing to Buffalo in the conference title game and Tulsa in the GMAC Bowl.
• The MAC had five coaching changes this season, more than any other FBS conference in the country. Of those coaches, only two have head coaching experience.
• Ball State running back MiQuale Lewis ranked fourth in the nation in rushing in his first full season with the Cardinals. His previous two seasons were ended early with injury.
• Six of the conference's top 10 quarterbacks return and they're all seniors. The only quarterback to leave early was Ball State's Nate Davis, who was taken by the San Francisco 49ers with the 171st overall pick.
• Quarterback Dan LeFevour, who was the conference's Freshman of the Year in 2006 and the Offensive Player of the Year in 2007, led the conference in total offense last season.
• Central Michigan linebacker Nick Bellore was fourth in the nation with 11.31 tackles per game.
MAC FALL CAMP START DATES
Aug. 5
Ball State
Bowling Green
Central Michigan
Aug. 6
Akron
Northern Illinois
Toledo
Aug. 7
Kent State
Miami (OH)
Temple
Aug. 9
Western Michigan
Aug. 10
Buffalo
Ohio
TBA
Eastern Michigan
Posted by ESPN.com's Graham Watson
Yesterday, I looked at the current recruiting classes for Conference USA. Today we're looking at the early recruiting classes for the Mid-American Conference. All numbers are provided by ESPN.com's Spouts Inc., and remember they change daily.
AKRON
2010 verbal commitments: 3
ESPN 150 watch list: 0
Quick take: The Zips need to get better on defense and they needs to add more weapons on offense. They've done the latter with the addition of tight end Anthony Ritossa. Ritossa is a pass-catching tight end. Akron had just one tight end catch 12 passes last season.
BALL STATE
2010 verbal commitments: 10
ESPNU 150 watch list: 0
Quick take: New head coach Stan Parrish, an offensive coach, has gone offense-heavy in this class so far. Six of the 10 recruits are on offense. However, the best get of the class might be cornerback Quintin Cooper, who had six interceptions as a junior.
BOWLING GREEN
2010 verbal commitments: 2
ESPNU 150 watch list: 0
Quick take: New Bowling Green head coach Dave Clawson is losing a lot of senior experience this season, so it will be interesting to see what he does with this recruiting class. Defensive back Justin Ford currently headlines the class.
BUFFALO
2010 verbal commitments: 1
ESPNU 150 watch list: 0
Quick take: The Bulls needs are at the offensive skill positions since their best players graduate after this season. The only commitment on the board is dual-threat quarterback Rudy Johnson, who accounted for 2,400 yards last season.
CENTRAL MICHIGAN
2010 verbal commitments: 4
ESPNU 150 watch list: 0
Quick take: Obviously, the biggest loss for the Chippewas in 2010 will be quarterback Dan LeFevour, but they also lose their top receiver and the defense can use some help and depth. There are a lot of needs for CMU and it doesn't really have that difference-maker yet.
EASTERN MICHIGAN
2010 verbal commitments: 1
ESPNU 150 watch list: 0
Quick take: New head coach Ron English is off to slow start -- the Eagles got their first commitment six days ago -- but it should pick up especially if the Eagles can feed off the way they finished last season.
KENT STATE
2010 verbal commitments: 0
ESPNU 150 watch list: 0
Quick take: Well, not much to say about a class that's nonexistent. Just remember that it's early.
MIAMI (OH)
2010 verbal commitments: 3
ESPNU 150 watch list: 0
Quick take: New head coach Mike Haywood has three guys on the board, two offensive players and a kicker. Haywood's an offensive coach and it will be interesting to see what he can bring out of RedHawks this season. That will determine his recruiting direction.
NORTHERN ILLIONIS
2010 verbal commitments: 2
ESPNU 150 watch list: 0
Quick take: Both of the Huskies' verbals are on defense, which is probably where the focus needs to be, but it also needs to starting looking at offensive skill positions, including quarterback.
OHIO
2010 verbal commitments: 1
ESPNU 150 watch list: 0
Quick take: The lone verbal on Ohio's list is Lebanon (Ohio) High School receiver Chase Cochran, who had 45 receptions for 1,005 yards as a junior. Not a bad start for a team that's working on strengthening its offense.
TEMPLE
2010 verbal commitments: 12
ESPNU 150 watch list: 1
Quick take: Temple's classes have gotten better every year under head coach Al Golden, which is why his teams have been better. The Owls' verbals include New Brunswick (N.J.) High School defensive tackle Dante Weaver, who is on the ESPNU 150 watchlist. Weaver is 6-foot-2, 310 pounds.
TOLEDO
2010 verbal commitments: 5
ESPNU 150 watch list: 0
Quick take: The Rockets have three offensive guards on their list, which points to a need that new head coach Todd Beckman is addressing. But the Rockets also will need key players on defense where they loses a couple stars.
WESTERN MICHIGAN
2010 verbal commitments: 2
ESPN 150 watch list: 0
Quick take: There's no dynamo recruit on this list, but it's an OK start since coach Bill Cubit has proven that he can turn lightly recruited players into stars in the MAC. He loses some key players this year, especially on offense.
June, 4, 2009
6/04/09
1:00
PM ET
Posted by ESPN.com's Graham Watson
• East Carolina's game against North Carolina on Sept. 19 has been scheduled for a noon ET kickoff and will be televised on either ESPN or ESPN2.
This is the first time since 2001 that the Tar Heels will host the Pirates. ECU played in Greenville, N.C., in 2003 and 2007.
National television for the North Carolina game means the Pirates have four games nationally televised on the ESPN family of networks for the 2009 season.
• Wyoming has pushed back its series with Missouri to give the Cowboys some relief on their 2011 and 2012 schedules. The series now will be played in 2017 and 2018 in Columbia, Mo., and Laramie, Wyo., respectively.
The Cowboys had scheduled games against Missouri and Nebraska during the 2011 and 2012 seasons.
"We are thrilled to be playing Big 12 programs the caliber of Missouri, Nebraska and Texas in Laramie in coming years," Wyoming athletic director Tom Burman said. "At the same time, we want to allow our new head coach, Dave Christensen, and his team an opportunity to build a program that will compete for conference championships and postseason play."
• UNLV and Hawaii have extended their series by five games taking the series into the 2018 season.
The two teams were already scheduled to play in Las Vegas in Sept. 19, and then meet again Dec. 4, 2010. at Aloha Stadium and Sept. 17, 2011, at UNLV.
Now the teams also will meet in Hawaii in 2013, 2014 and 2018, and at UNLV in 2015 and 2017.
• Miami (Ohio) and Missouri have agreed to a home-and-home series beginning in 2010. The RedHawks travel to Columbia, Mo., next season and the Tigers make the return trip to Oxford, Ohio, in 2012.
November, 25, 2008
11/25/08
4:10
PM ET
Posted by ESPN.com's Graham Watson
• Forget the BCS, Ball State's main goal when they face Western Michigan tonight is that they have to finish the undefeated season that is within their grasp.
• Nevada coach Chris Ault think bowl games aren't for average teams, but the Wolf Pack are on the brink of that with a loss to Louisiana Tech on Saturday.
• Miami-Ohio athletic director Brad Bates isn't talking about the future of coach Shane Montgomery, who will finish his third consecutive losing season this week.
• Toledo coach Tom Amstuz isn't talking about Friday in terms of his last day as football coach, he's talking about it in terms of the game.
• Former NFL coach Dennis Green lives in San Diego and has a teaching job in San Diego. So why not make him the next San Diego State coach? The Aztecs are who you thought they were.
• Northern Illinois is a game away from notching a seven-win season in just the first year under head coach Jerry Kill. How did NIU get to this point?