August, 9, 2011
8/09/11
9:00
AM ET
The Big East is a league filled with veteran quarterbacks in 2011. There are just two quarterback battles to watch:

UConn.
If you are unaware of the situation facing the Huskies, then you took a nice, long nap all spring and summer.
Zach Frazer
is gone, and four players are competing for the starting job: freshman Michael Nebrich, sophomore
Michael Box
, redshirt freshman
Scott McCummings
and junior
Johnny McEntee
. Nobody separated following a wet and dreary spring game, so coach Paul Pasqualoni is still waiting on someone to step up -- the sooner, the better.
Box is the only player among them who has thrown a collegiate pass. McCummings is a dual-threat quarterback who passed for more than 2,000 yards and ran for 1,000 yards in high school. Nebrich enrolled early and participated in spring practice. Another dual-threat player, Nebrich broke the Virginia state high school record for all-purpose yards with 4,968 and also scored 59 touchdowns in his senior season. McEntee is best known for his trick-shot videos on YouTube. Pasqualoni has not said who has an edge. The depth chart lists no starter. So now we just play a waiting game.

Louisville.
Will Stein
goes into the season as the starter, but the Cardinals also want to play true freshman Teddy Bridgewater, a five-star dual-threat quarterback who was in for spring. They are not so much battling for the starting job on opening day, but if Bridgewater is able to play well in games, perhaps he can contend to eventually be the starter. "Will's going to start off and Teddy's going to get a chance to play. He's just got to develop. He's still learning -- he's only a freshman. He hasn't seen much. The only thing he's really seen is practice," coach Charlie Strong said.
July, 21, 2011
7/21/11
11:00
AM ET
Time to take a look at the quarterbacks in the Big East:
[+] Enlarge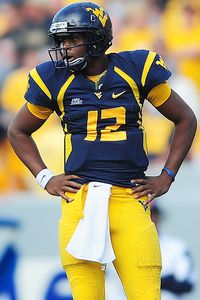 Andrew Weber/US PresswireGeno Smith is expected to put up big numbers in Dana Holgorsen's offense.
1. Geno Smith, West Virginia.
A lot of Cincinnati fans have wondered why I have Smith ahead of Collaros. With Dana Holgorsen running the offense, the potential is there for Smith to become a true breakout star the Big East desperately needs. He showed what he could do last season, leading the league in completion percentage (64.8 percent), pass efficiency and touchdown-to-interception ratio (24 to 7). Now he will have an opportunity to put up even bigger, better numbers.
2. Zach Collaros, Cincinnati.
This is a close race between Nos. 1 and 2. Collaros obviously is the defending first-team Big East quarterback, but there are a few parts of his game that must be improved. He threw 14 interceptions last season, the most of the group of starting quarterbacks. And his completion percentage was less than 60 percent. Collaros himself acknowledged he has got to do a better job not turning the ball over.
3. Tino Sunseri, Pitt.
I know there are those who question whether he has the ability to run the type of offense Todd Graham is bringing to the Panthers. But I think this might suit him better than what Dave Wannstedt did in the past. Expectations are high for a much better season than last.
4. B.J. Daniels, USF.
What to make of Daniels? He has been maddeningly inconsistent in his career with the Bulls. But I am banking on him this season after what we saw in the bowl game. He had a very nice spring, and is not going through yet another coordinator transition. The ground game should be better, and that in turn should help Daniels.
5. Chas Dodd, Rutgers.
I think Daniels and Dodd are somewhat interchangeable here. Dodd should be much better in the system Frank Cignetti is bringing. There actually is a clearly defined philosophy in place. Plus, Dodd has the best set of receivers in the league. He should average in the 200 yards per game neighborhood given what he has got around him.
6. Ryan Nassib, Syracuse.
Nassib could end up higher than this when the season comes to an end. His teammates have raved about the strides he has taken this offseason, and he has a solid group of receivers. What everyone wants to see is more big plays in the passing game, something that falls on his shoulders.
7. Will Stein, Louisville.
No Teddy Bridgewater? I think Stein will start the season, though Bridgewater will start. I just cannot predict whether Bridgewater will end up being the full-time starter this season. It is much harder to make that prediction with a quarterback than a running back, for example. Stein has game experience, and has been praised for his leadership. But Bridgewater is the future.
8. UConn winner.
I would be taking a wild guess if I picked a starter from Michael Nebrich,
Michael Box
,
Scott McCummings
and
Johnny McEntee
. I am not sure even the coaches know at this point who is going to start. There is too much uncertainty here for a higher ranking.
Previous rankings:
July, 1, 2011
7/01/11
11:00
AM ET
We continue our look at team position rankings with quarterback. This is a position of strength for the league with so many starters returning, and the addition of two very high-powered offensive attacks. Should be quite fun to watch.
1. West Virginia.
Geno Smith
is about the closest to a Heisman candidate as the Big East has going into the season. He had a solid sophomore season, and now with the addition of Dana Holgorsen to the offense, should be the pre-eminent quarterback in the league. Three of Holgorsen's past six quarterbacks passed for 5,000 yards. Not many folks can throw that stat around. Depth is a bit of a concern. The current backup is invited walk-on Paul Millard, a true freshman. True freshman Brian Athey is listed No. 3.
[+] Enlarge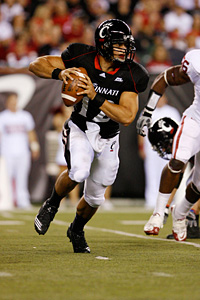 Mark Zerof/US PresswireCincinnati's Zach Collaros is part of a strong group of returning quarterbacks in the Big East.
2. Cincinnati.
It is really close between
Zach Collaros
and Smith. Collaros is the defending first-team Big East quarterback and certainly has what it takes to throw for 3,000 yards this season. He has tremendous wide receivers with a lot of talent as well. The offensive line has to step up to give him some more time to throw. But either way, Collaros is in line to have another great season. The backup spot also is uncertain here, with the departure of
Chazz Anderson
.
Munchie Legaux
and Jordan Luallen will battle in the fall.
3. Pittsburgh.
I know
Tino Sunseri
has taken his share of lumps, but he has the potential to have his best season yet with the new offense coach Todd Graham plans to install. Yes, there are questions about Sunseri and whether he can throw the deep ball, but look for him to be asked to make more high-percentage passes than chucking 70-yard bombs. There also is uncertainty here with the suspension of
Anthony Gonzalez
. Both he and
Mark Myers
are redshirt freshmen and were competing for the backup job.
4. USF.
B.J. Daniels
was inconsistent and banged up last season, but closed the year with a nice game against Clemson. Will that translate into a season that knocks people's socks off in 2011? What should help is the fact that he is going into the season with the same offensive coordinator as the previous one. There is continuity there for him. There are questions at receiver and on the offensive line, but Daniels could have his best season. Backup
Bobby Eveld
has experience -- and was the hero of that big win against Miami.
5. Rutgers.
The next three spots in the rankings are a bit murky for me. You could make an argument for each team to be in either the 5-6-7 spot. I chose
Chas Dodd
here because I think he has the potential for a good season. The Scarlet Knights have a clear vision on offense, and they also have some of the most talented receivers in the league. Going back to a more pro-style attack should help, and Dodd made some serious strides in the spring. Depth is an issue, with true freshmen Gary Nova and Mike Bimonte expected to be in the mix for the backup job.
6. Syracuse.
Ryan Nassib
made some strides in his first season as a starter, and seems to be poised to take the next step. He has a solid receiving crew and a solid offensive line. His performance against Kansas State could serve as a launching point for him going into this season. But this is a team that has struggled to make big plays in the passing game, and that is going to have to change for Nassib to climb up this list.
7. Louisville.
This ranking is a mere reflection of the uncertainty around the position. The Cardinals and Huskies are the only two teams with this position unsettled, hence the rankings. There is no denying the potential that Teddy Bridgewater brings. But he is a true freshmen, and true freshmen are simply wild cards.
Will Stein
is steady, but is he the man to guide this team to a league championship? Both will play, but who is going to step up and take charge?
8. UConn.
The Huskies have no starter right now and have a four-man race between Michael Nebrich,
Scott McCummings
,
Johnny McEntee
and
Michael Box
. Coach Paul Pasqualoni hopes to get this resolved as quickly as possible, but since this is the only team with major uncertainty, the Huskies land here.
Previous rankings
June, 6, 2011
6/06/11
2:15
PM ET
The question is one that comes up every time a coach inherits a program that has had success: Is it easier to rebuild or maintain a level of excellence?
I posed that query to Connecticut coach Paul Pasqualoni at the Big East spring meetings. Pasqualoni takes over a program coming off its first BCS game, a program that has gone to four straight bowl games and is seemingly on solid footing. No stranger to success himself, having taken Syracuse to BCS games, Pasqualoni had a quick response.
"The University of Connecticut has come a very, very long way in a very short period of time, maybe further than any other program that I can think of that's made the jump from I-AA football," Pasqualoni said. "So I think it creates a level of very high expectations and really increases the challenge.
[+] Enlarge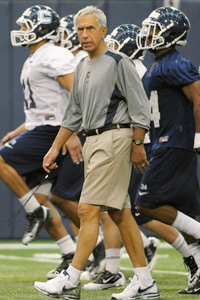 AP Photo/Jessica HillThe biggest question mark facing new coach Paul Pasqualoni may be at quarterback.
"It's always a more difficult progress to maintain that high level. We always felt like it was a great challenge to get there once, but then to sustain it in sports at any level regardless of the sport you just look around to I-A football and the NBA and the NFL it's quite a hard thing to maintain that level of excellence. So it's a big challenge for everybody."
Pasqualoni can speak from experience as well. The program slipped in his final seasons at Syracuse. He did not post winning records in 2002, 2003 or 2004 -- his final season as coach of the Orange. This, after going to nine bowl games in his time there. Pasqualoni spent 14 years at Syracuse in all, and is now a head coach again for the first time since his stint there.
The expectations going into this season have been a bit tempered because of the state of the offense. UConn does not have a starter named at quarterback just yet, Jordan Todman is gone from the backfield and leading receiver
Mike Smith
is academically ineligible for 2011. The defense should be good, but even Pasqualoni admits the biggest question mark is what will happen at quarterback, where
Michael Box
,
Scott McCummings
, Michael Nebrich and
Johnny McEntee
are all in the mix.
"The biggest question on anybody's football team unless you have the veteran seasoned great quarterback usually hovers around who the quarterback is going to be and what the strength of the team is going to be," Pasqualoni said. "In our situation, we have four good candidates to be the quarterback, but we don't have an experienced quarterback. That's always going to be a big question no matter where you are."
As for what he will be judging the quarterbacks on, he had one answer: production. And a resolution to the race once fall camp begins? "The earlier the better," Pasqualoni said.
February, 9, 2011
2/09/11
3:28
PM ET
It's hard to win in college football without a good, experienced quarterback. So perhaps it should have been no surprise that several Big East teams struggled on offense at times in 2010.
Remember last offseason, when we talked about how South Florida's
B.J. Daniels
and Rutgers'
Tom Savage
were the most experienced league quarterbacks in terms of starts despite coming off their freshman seasons? Even that wasn't a great indicator of success, as Daniels had to adjust to a new system and Savage got hurt, benched and eventually decided to transfer.
The good news for the Big East is that there will be many more experienced signal-callers ready to open the 2011 season. First, let's take a look at which quarterbacks will have the most career starts under their belts when next season rolls around:
[+] Enlarge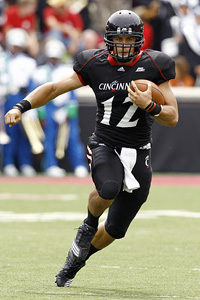 Frank Victores/US PresswireZach Collaros should be Cincinnati's starter in the fall.
1. Daniels, South Florida, junior:
22 career starts
2. Zach Collaros, Cincinnati, senior:
15
T-3. Ryan Nassib, Syracuse, junior:
13
T-3. Geno Smith, West Virginia, junior:
13
T-3. Tino Sunseri, Pittsburgh, junior:
13
6. Chas Dodd, Rutgers, sophomore:
8
7. Will Stein, Louisville, senior:
2
8. Michael Box, Connecticut, sophomore:
1
Daniels will be the graybeard as a third-year starter, but Collaros, Nassib and Smith all saw significant time in the 2009 season. Smith, Sunseri, Dodd and whoever Connecticut's starting quarterback is will all be playing for a new offensive coordinator this season.
Now let's look at the likelihood of potential quarterback battles this spring at each school:
Cincinnati
-- Chance of competition: slim to none. Collaros is the established guy and a great leader who shouldn't have to worry about job security.
Connecticut
-- Chance of competition: high. Box made only one start and it was a disastrous one against Louisville. With new coach Paul Pasqualoni coming in, recruit Michael Nebrich enrolled and several other candidates on the roster, this one looks wide open.
Louisville
-- Chance of competition: guaranteed. Stein, a former walk-on who's under 5-foot-10, has a ton of moxie. But he'll have to hold off highly-touted early enrollee Teddy Bridgewater for the gig.
Pittsburgh
-- Chance of competition: medium to high. Sunseri started every game last year and improved during the season, but new coach Todd Graham brings an entirely new offensive system. Don't be surprised if redshirt freshmen
Mark Myers
and
Anthony Gonzalez
get a serious look this spring.
Rutgers
-- Chance of competition: slim. At least for the spring, Dodd should be safe. His only real competition will come from a pair of incoming freshmen this summer.
South Florida
-- Chance of competition: good. Daniels may have more starts than anybody, but Skip Holtz is at least going to let
Bobby Eveld
push him in the spring. And don't forget about redshirt freshman
Jamius Gunsby
.
Syracuse
-- Chance of competition: possible. Nassib started every game in 2010 and had an excellent bowl performance. But Syracuse has a lot of quarterbacks on the roster, including once-hyped recruit
Jonny Miller
. Nassib has the definite edge but can't get complacent.
West Virginia
-- Chance of competition: tiny. Smith is the man in Morgantown, and his two freshman backups in 2010 transferred. The only concern is his foot injury that may hold him out of spring practice drills as Dana Holgorsen installs his new offense. But only a monumental upset or further injury would prevent Smith from starting the opener in 2011.
October, 21, 2010
10/21/10
2:01
PM ET
Redshirt freshman
Michael Box
will get his first career start at quarterback for Connecticut for Saturday's game at Louisville, head coach Randy Edsall said Thursday.
Box replaces
Cody Endres
, who was suspended for the rest of the year Wednesday for violating school policy. Edsall said Endres' time at UConn is officially over.
Box has appeared in two games this season, completing two of his five passes for 30 yards. He'll be backed up by senior
Zach Frazer
, who started the Huskies' first four games.
The 6-foot-3, 209-pound Box is from Suwanee, Ga., and has been praised by the coaching staff for his work in practice.
Edsall said he had "complete confidence" in Box despite the quarterback's lack of game experience. Edsall also said he had a team meeting Wednesday in which he discussed the departures of both Endres and starting guard Erik Kuraczea this week.
"A lot of times, you get addition by subtraction," he said.
October, 21, 2010
10/21/10
10:35
AM ET
1. Rutgers' focus:
It's impossible to tell how Rutgers will respond to the devastating injury to teammate Eric LeGrand last week that has dominated the discussion and thoughts in New Jersey. The closest parallel is probably how Connecticut played after losing Jasper Howard last year. The Huskies were inspired but took several weeks until they could close out and win a game, as the emotional fatigue might have been a factor. How do the Scarlet Knights come out on Saturday at Pittsburgh?
2. O-lines at Heinz:
The offensive lines at Rutgers and Pitt have been under fire all season. The Scarlet Knights surrendered eight sacks last week and rank last among 120 FBS teams with 26 sacks allowed this season. They will have to hold off a strong defensive line led by Jabaal Sheard that will be looking to cause havoc. The Panthers' offensive front has showed improvement since making lineup changes three games ago, but it will face a difficult challenge against a Rutgers defense that brings pressure from lots of confusing angles. "Nobody will force the blitzing issue as much as Rutgers will," Dave Wannstedt said. This could be a defensive struggle unless the lines hold up.
3. Chas vs. Tino:
Rutgers true freshman quarterback
Chas Dodd
will be making his first road start. Can he continue the fourth-quarter magic he's showed the past two games? Meanwhile, Pitt quarterback
Tino Sunseri
had his best game last week at Syracuse. Can he keep it up against another blitz-heavy defense?
[+] Enlarge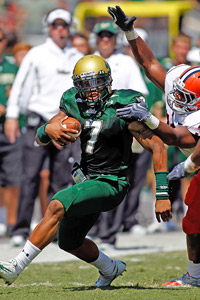 J. Meric/Getty ImagesSouth Florida needs quarterback B.J. Daniels to get into a rhythm.
4. Can USF find the end zone?
South Florida has failed to score an offensive touchdown in two Big East games. Skip Holtz and his staff went back to the drawing board this week, trying to find ways to improve the passing game and quarterback
B.J. Daniels
. Freshman cornerback Terrence Mitchell could see some time at receiver Friday night at Cincinnati. The Bulls have never won at Nippert Stadium and will have a hard time breaking that streak with merely field goals.
5. Cincinnati's offense vs. South Florida's defense:
The secret to both teams' success Friday night is no secret. Cincinnati, which is averaging more than 30 points a game, likes to play a fast, free-wheeling offense that lights up the scoreboard. South Florida, which is allowing just 16.7 points per game, relies on its defense to keep it in games. If this is a track meet, the Bearcats should roll. If it's a physical, grind-it-out special, the Bulls have a chance.
6. Who will QB UConn?
The Huskies' stunning announcement Wednesday afternoon that starting quarterback Cody Endres will be suspended the rest of the year creates intrigue for their game on Saturday at Louisville. Will Randy Edsall turn back to Zach Frazer, who made his debut while leading a memorable comeback win at Papa John's Cardinal Stadium two years ago? Or will Edsall stick to the depth chart and elevate redshirt freshman Michael Box, who has little important game experience? Either way, UConn's offense will have to make some on-the-fly adjustments this week as it prepares for a crucial conference road game.
7. Star running back duel:
If you like watching standout tailbacks do their thing, Saturday's Connecticut-Louisville game is for you. UConn's
Jordan Todman
is the nation's No. 3 rusher, while Louisville's
Bilal Powell
-- coming off back-to-back 200-yard games -- is No. 4. Both have different styles; Todman is shiftier, while Powell will lay his shoulder into a defender. Both offensive lines are good and tough. Expect lots of handoffs and a fun battle to see who is the Big East's best back.
8. Big-play prevention:
Avoiding the big play in the passing game has been a big problem for both UConn and Louisville. The Cardinals got burned several times last week by Cincinnati's receivers and may be without top cornerback Johnny Patrick. The Huskies lost the Rutgers game because of too many long Scarlet Knights passes, and it's been a continuing issue they worked on during the bye week. Their best corner, Blidi Wreh-Wilson, is coming off hand surgery. The strong running games for both sides should open up the play-action and potential big gainers in the passing game. Can either side stop it?
9. Cuse comeback:
Syracuse's momentum wasn't just halted last week, it was flattened and sold off for parts. A 31-point home loss was embarrassing for a team that thought it had turned a corner. The Orange don't have long to feel sorry for themselves with this week's game at No. 20 West Virginia. Sometimes having a big-name opponent after a tough loss can help with focus. Syracuse needs a strong performance to show it wasn't merely an early-season feel-good story.
10. Deep-dishing Geno:
Syracuse's defensive game plan the past two weeks was clear: load the box and see if the opposing quarterback could beat the Orange. It worked great against the struggling Daniels at South Florida, but Sunseri was ready for it and threw four touchdowns. Syracuse probably doesn't want to try the same strategy against West Virginia quarterback
Geno Smith
, who's been terrific all season and now has a solid complement of receivers. If defensive coordinator Scott Shafer doesn't change things up, though, Smith could have a big day.
October, 20, 2010
10/20/10
3:14
PM ET
This was supposed to be a breakthrough season for Connecticut. Instead, it's shaping up as one to forget.
The Huskies have suffered disappointing losses at Michigan, Temple and Rutgers, and now -- just a few days before an important conference game at Louisville -- they announced that starting quarterback
Cody Endres
has been suspended for the season.
No reason other than "university policies" was given for Endres' suspension. But he was suspended in the preseason and missed three games, so you'd think a guy in his shoes would be on his very best behavior the rest of the year. I don't want to speculate as to what Endres did to run afoul of team rules, but whatever it was could not have been smart on his part.
Curiously enough, offensive lineman Erik Kuraczea was suspended at the same time as Endres this preseason, and the school announced on Tuesday that Kuraczea was leaving the team. As of now, UConn isn't saying whether the two moves are related.
So now what does UConn do? Go back to
Zach Frazer
, who was inconsistent and inaccurate in his first four starts? The senior has been bumped down to third on the depth chart, and it sure seemed like Randy Edsall was talking about him Tuesday when he mentioned an unnamed player had not handled a demotion well. It appeared the team had lost some confidence in Frazer (and the fan base sure had).
Redshirt freshman
Michael Box
is currently the No. 2 quarterback, but he's never played any significant minutes and would be making his first career start on the road. The coaching staff likes him a lot, but that's a tough way to break in a young guy at that spot.
It's just another headache for Edsall, who thought he had a veteran team that would be ready to take the next step this year after a strong finish to 2009. Instead, he's been talking about how his team has felt a "sense of entitlement" and trying to find ways to fix various gaps and issues that have sprung up all year.
At 3-3 and sitting in a 0-1 Big East hole, this is the last bit of bad news UConn needed right now.