NCF Nation:

Michael Branthover
December, 30, 2011
12/30/11
4:04
PM ET
NEW ORLEANS, La. — Welcome to the football capital of the season, home of the Allstate Sugar Bowl, a Saints game on Sunday, and the BCS national championship. The Hokies took over the Mercedes-Benz Superdome for practice this afternoon, and several of the defensive assistants were made available to the media, along with Virginia Tech coach Frank Beamer. All of the coaches were laid-back, in good spirits, and defensive line coach Charley Wiles was particularly entertaining and engaging.


The good news: There haven't been any injuries yet that will sideline any Hokies for Tuesday's game against Michigan. The hard artificial surface is beginning to wear on some of the players, and they're getting adjusted to the indoor lights, but the controlled climate will be good for ...
The bad news: Virginia Tech is down two kickers, and Beamer said today that recent practices haven't provided any answer. And no,
Danny Coale
won't be receiving, punting, returning punts AND kicking field goals. Starter Cody Journell spent almost a week in jail after felony breaking-and-entering charges, and then one day after he was released, his backup, fifth-year senior Tyler Weiss was sent home on a Greyhound bus for breaking curfew.
Justin Myer is expected to handle the placekicking duties against Michigan, but Michael Branthover is also an option. Myer has a strong leg, but he has struggled with his accuracy. He is 0-for-2 against Virginia Tech. Prediction? If he has to make a choice — go for it or kick a field goal, Beamer might try and goferit when he usually wouldn't in some situations.
The majority of questions today were about how Virginia Tech plans to account for Michigan quarterback
Denard Robinson
, and it's the key to the game. While the Hokies' defense has spent plenty of time going against former quarterback Tyrod Taylor in practice, defensive backs coach Torrian Gray said Robinson is faster than Taylor, and that nobody on the team could simulate what Robinson does. This will be a big test for a young defense, but Beamer said linebacker Alonzo Tweedy (ankle) is close enough to 100 percent.
"I don't know that he's totally 100 percent, but I think he's close enough that he can be back to the old Tweedy," Beamer said. "We need that. I think he gives you some options back in there defensively and on our special teams."
Gray said there's been an "edginess" to the Hokies' defense in their bowl game preparations, so it sounds like the guys are ready to redeem themselves from their performance against Clemson, but this will be an even bigger challenge.
September, 15, 2011
9/15/11
10:15
AM ET
For the first time in conference history, the ACC is hosting four ranked teams. That alone is enough to keep you busy this weekend. But you're going to need more than four TVs. We've got the South's oldest rivalry in Chapel Hill, and somebody has to get a win in Chestnut Hill. There's plenty to watch. Here are a few that top my list, in no particular order:
[+] Enlarge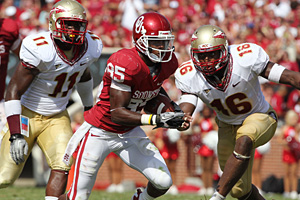 Matthew Emmons/US PresswireOklahoma receiver Ryan Broyles had a huge day against the Noles last season, catching 12 passes for 124 yards and a score.
1. Florida State's secondary against Oklahoma's receivers.
Ryan Broyles
and
Kenny Stills
make one of the best wide receiver duos in the country. The Seminoles' secondary also has been billed as one of the best. They were out of position in this game at times last year, though, and got beat. Will this year be a more favorable matchup for FSU?
2. FSU's running game and offensive line.
Florida State won its first two games convincingly, but if there were any areas that showed some need for improvement, it was up front and in the running game. The offensive line needs to do a better job of sustaining its blocks, and the running backs need to work harder to create their own yards.
3. Miami quarterback Jacory Harris.
All eyes will be on Harris as he makes his first start since a forgettable performance in the Sun Bowl last year. Harris threw four interceptions against Ohio State last year, but first-year coach Al Golden is confident enough in him to name him the starter ahead of
Stephen Morris
.
4. Turnovers in Chapel Hill.
UNC turned the ball over five times last week, and Virginia had five turnovers – all interceptions – the last time these two teams met. UNC's secondary is still looking for its first interception of the season, and UVA quarterback
Michael Rocco
threw one in last year's meeting.
5. Virginia Tech's punters.
There's a competition still going on. Scott Demler won the starting job this summer, but has punted 10 times for an average of 35.1 yards, with a long of 44.
Danny Coale
is still an option, and coach Frank Beamer said they could give true freshman Michael Branthover a look.
6. NC State's defense.
South Alabama is in a transitional phase to FCS status, and will become full members in 2013. You would think that even with a few injuries, the Wolfpack could show some improvement. NC State has allowed an average of 422 yards of total offense, and 27. 5 points per game.
7. Maryland's pass defense.
West Virginia has yet to really find a replacement for Noel Devine and the running game has struggled, leaving too much depending on the arm of
Geno Smith
. Fortunately for West Virginia, he's good enough to get it done. Smith has completed over 66 percent of his passes and will challenge Maryland's secondary.
8. Defense in Death Valley.
There hasn't been much of it for either Clemson or Auburn, so somebody will have to show improvement. Clemson ranks No. 90 in the nation in total defense, and Auburn is 111th. Both teams are allowing over 200 yards rushing per game.
9. Clemson's offensive line:
The Tigers allowed four sacks against Wofford, and failed to pick up a fourth-and-1. The pass protection has to improve, and earlier this week, Clemson coach Dabo Swinney said left guard David Smith struggled, and fans could see more of Mason Cloy and Brandon Thomas at the guard positions.
10. BC's secondary vs. the 'Killer V's':
The Eagles' depleted secondary could have its work cut out for it against
Donovan Varner
and
Conner Vernon
. BC learned this week that cornerback C.J. Jones will miss the rest of the season with a knee injury. Jones is the third player in what was projected to be BC's starting secondary who won't be in the lineup for various reasons.