April, 29, 2013
Apr 29
9:00
AM ET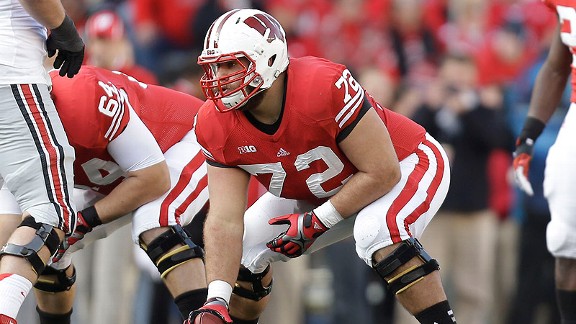 Mike McGinnis/Getty ImagesAs the 31st pick, Travis Frederick was the first Big Ten player to be drafted.
The gap between the Big Ten and the SEC not only is widening on the field, but on the NFL draft boards.
While the SEC produced a record 63 picks in the 2013 NFL draft -- eight more than any conference in any draft in the modern era and 32 more than the next-best conference (ACC) in this year's draft -- the Big Ten endured a mostly forgettable three days at New York's Radio City Music Hall. Before going any further, this post isn't meant to knock the Big Ten players who heard their names called Thursday, Friday and Saturday. They worked years for this moment and deserve to celebrate their accomplishments. Congrats to all.
But for the Big Ten as a whole, this draft was a total dud. Was it the league's worst draft ever? If it isn't, it's certainly in the conversation.
The Big Ten produced only 22 draft picks, its lowest total since 1994, when it had 21 (and 11 teams, not 12). In 1994, the Big Ten had the No. 1 overall pick (Ohio State DT Dan Wilkinson), four first-round selections and eight selections in the first three rounds.
You have to wonder how much the Big Ten's damaged national reputation is impacting its draft hopefuls. The SEC's rise has made that conference the first place NFL general managers and player personnel directors look for talent. Although Big Ten players might be comparable to their SEC counterparts in many ways, their competition level might be looked at as a drawback in the final evaluations.
This year, the Big Ten tied with the Big 12 for fourth among leagues in producing picks, but the Big Ten produced fewer selections in the first three rounds (7) than any of the power conferences. Last year, the Big Ten finished with 41 draft picks, just one behind the SEC for the top spot.
Other items of note (tip of the cap to ESPN Stats & Information and the
Plain Dealer's Doug Lesmerises
for several of these):
[+] Enlarge

Gregory Shamus/Getty ImagesMichigan State's Le'Veon Bell was the second running back taken in the draft.

Although the Big Ten's national reputation has been an issue for some time, it didn't dramatically impact the draft until this year. The Big Ten has produced at least 27 draft picks every year since the 21-player output in 1994.

The Big Ten's four biggest brand-name programs -- Ohio State, Michigan, Penn State and Nebraska -- combined to produce just two picks in the first three rounds (Ohio State DT Johnathan Hankins and Penn State DT Jordan Hill).

Nebraska endured its longest drought without a selection since 1970, as running back Rex Burkhead waited until the sixth round to hear Cincinnati call his name with the 190th overall pick. The Huskers didn't have a selection in the first four rounds for the third time in the past six seasons. With just two draftees -- Burkhead and safety Daimion Stafford, who went in the seventh round -- Nebraska had its weakest output since 1969.

Michigan went without a draftee in the first four rounds for the first time since 1968 and without one in the first three rounds for just the fifth time since 1970 (1976, 1989, 2006 and 2009 were the others). The Wolverines have had just five players drafted in the past two seasons.

Ohio State had just three players -- Hankins, defensive lineman John Simon and offensive tackle Reid Fragel -- drafted from a team that went 12-0 in 2012. Fragel's selection in the seventh round helped Ohio State avoid its smallest draft class since 1968.

An Illinois team that went 2-10 last season and 0-8 in Big Ten play led the league with four players drafted. It continues a mystifying trend for the Illini, who have had four players selected in each of the past four NFL drafts, even though the team has endured losing seasons in three of the past five years. Illinois has produced 10 players selected in the first three rounds since 2010, the most of any Big Ten team.

As expected, three Big Ten teams -- Northwestern, Minnesota and Indiana -- had no players drafted. Northwestern went 10-3 last season.
Perhaps the best draft news for the Big Ten is that future member Rutgers had seven players selected, tied for the sixth highest total.
September, 8, 2012
9/08/12
7:30
PM ET
By
Jack McCluskey
| ESPN.com
FOXBOROUGH, Mass. -- In its first home game as a Division I-A team, UMass was completely outclassed by visiting Indiana
45-6
on Saturday at Gillette Stadium.


How it happened:
Things did not start well for the UMass offense. After a dismal debut on the FBS level against UConn, scoring no points and totaling just 59 yards of offense, the Minutemen desperately needed a better beginning to their first home game as a Division I-A team.
They didn't get it.
After the defense forced Indiana to punt on the first series of the game, the offense got the ball on its own 18-yard line. The first play was a handoff to
Michael Cox
, who tried to take it around the left end and was stopped for no gain. The second play was a pass to Cox in the backfield, with quarterback
Mike Wegzyn
getting the short throw off under heavy pressure, and the back barely got back to the line of scrimmage before being stacked up.
The third play was a pass, and Wegzyn almost completed it ... to Indiana's
Mark Murphy
.
On fourth down,
Colter Johnson
's punt sailed out of bounds at the 50, giving the Hoosiers the ball at midfield.
It wouldn't take them long to capitalize.
Tre Roberson
kept the ball, broke an arm tackle at the line of scrimmage, juked two UMass defenders at the second level of the defense and was off to the races.
The 50-yard TD run put Indiana up 7-0.
For the Minutemen's offense, that would prove to be too much to overcome.
What it means:
There is a long way to go for coach Charley Molnar's program.
That was to be expected, with the move up to Football Bowl Subdivision play. But this far? It's unlikely even the most pessimistic Minutemen fan saw this coming in the first two games.
What's next?
UMass will head to Michigan for its second consecutive game versus a Big Ten team. The 3:30 p.m. kickoff will be broadcast on the Big Ten Network.
Jack McCluskey is an editor for ESPN.com and a frequent contributor to ESPNBoston.com. Follow him on Twitter @jack_mccluskey.
August, 20, 2012
8/20/12
9:00
AM ET
Charley Molnar, as Notre Dame followers can attest, is used to quarterback controversies. He faces one now in Massachusetts' fall camp, having to sit starter
Kellen Pagel
indefinitely because of post-concussion symptoms.
In that regard, Molnar's duties as UMass' head coach are similar to the ones he had in two seasons as the Irish's offensive coordinator. But in moving from college football's third-winningest program to a school beginning its first season in the Football Bowl Subdivision, Molnar has done more than leap from assistant to head coach, as he has taken on the task of building the foundation for a program looking to make its mark both in New England and at the next level.
"I think if there were two situations that were diametrically opposed it would be Notre Dame and UMass," Molnar said. "Because Notre Dame, everything is already in place: The infrastructure is there, the fan base is there, the ticket sales are there, the tradition is there.
"[Now] I'm taking over a program where virtually everything has started from scratch -- with the transition to I-A, we're moving into a new football building, we're playing our games at a new stadium," he added, referring to the Patriots' Gillette Stadium in Foxborough, two hours away from campus. "We virtually have to create almost a whole new fan base and a whole new group of season-ticket-holders. So that is really, really quite a gap that we have in front of us. But it's super-exciting to be involved in everything from the ground up."
[+] Enlarge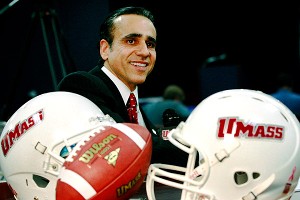 AP Photo/Elise AmendolaNew coach Charley Molnar hopes his UMass program can grow in the mold of Boise State.
Busy days preparing for Notre Dame's bowl gave way to sleepless December nights selling the Minutemen as New England's future football power, as Molnar built a staff, recruited in the leadup to national signing day and met with campus and community constituencies.
"Quite frankly that's always something that intrigued me to do this part of the job," Molnar said of his new CEO-type duties. "So I feel I was absolutely ready for it and I've embraced it. I love that part. I'd rather do it than not do it. I just think it's a lot of fun, and I like getting engaged in the community with our fans and with the ticketholders and trying to create a new fan base. I love that challenge. It's like recruiting, going out there and tying to sell another group of tickets, get another fan that follows the program."
UMass is a football-only member of the Mid-American Conference this season. It will face Big East, SEC and Big Ten schools, including Michigan, and future nonconference opponents include Notre Dame, Wisconsin and Florida. Molnar said dates with name programs will help UMass gain recognition outside of the region, with the hope that, eventually, the Minutemen will be able to compete with and some day defeat some of the elite.
To help bridge that gap, he has welcomed a pair of fifth-year former Notre Dame players, nose guard Hafis Williams and receiver
Deion Walker
, along with former Michigan running back Michael Cox.
While classmates don't view them as blue-chip saviors -- a look commonly associated with big recruits at their former campuses -- the UMass transfers have expressed surprise at the interest building on campus.
"I had someone tell me, 'Yeah, I hear they got some new guys in from Michigan and Notre Dame,' and I was like, 'Oh yeah? I'm one of those guys,'" Walker, an ESPN 150 player in high school, recalled with a laugh. "So that's exciting, that shocked me for the most part."
On signing day, Molnar stood at a podium between blown-up pictures of UMass alumni
Victor Cruz
and
James Ihedigbo
, who squared off four days later in the Super Bowl. A Morristown, N.J., native, Molnar is hoping to compete with BCS-conference programs UConn and Boston College for area players while tapping into talent-rich New Jersey and Pennsylvania. UMass has already landed a pair of three-star 2013 commitments in Connecticut quarterback
Todd Stafford
and New Jersey linebacker
Shane Huber
.
Fundamentally, Molnar said, the job remains the same from his years as an assistant, the previous six of which were spent under Brian Kelly. Now, he just returns to a second stack of files in his office every day, with administrative duties adding to his coaching itinerary.
Though mounting paperwork and inevitable early struggles present a less-than-ideal situation, Molnar remains intrigued by the idea of planting the seeds for a rising program. After all, he said, bigger makeovers have been done.
Eight months and zero losses into his tenure, he dreams of one day becoming the biggest.
"I've looked at Boise State as being a model for our program, where they took a university that was relatively unknown," Molnar said. "They had rabid fans but not a large base of fans. And they've run that program with certain fundamentals on and off the field and they continue to do so regardless of who the head coach has been.
"And that's how I see UMass growing in the future, with a great foundation that I get to help lay, and then being able to one day look back at UMass and see the program grow and prosper and feel like this was part of my legacy."
June, 16, 2011
6/16/11
1:00
PM ET
Beginning today, we're going to start ranking each position group in the Big Ten. These rankings will reflect the overall strength at each position, so depth matters as well as individual star power. Following each group ranking, we'll also give out our list of the top individual players at that position.
Let's start out with a look at the running back groups across the Big Ten.
[+] Enlarge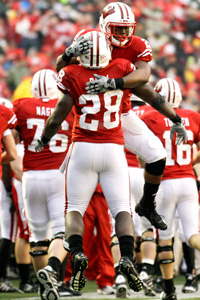 AP Photo/Morry GashMontee Ball and James White did a lot of celebrating last season, as the duo combined for 32 TDs.
1. Wisconsin:
No surprise at the top. Even with
John Clay
gone and
Zach Brown
transferring, the Badgers are loaded at tailback. They've still got junior
Montee Ball
, who finished four yards shy of 1,000 last season with 18 touchdowns, along with reigning Big Ten Freshman of the Year
James White
, who ran for 1,052 yards and 14 touchdowns. Throw in senior fullback
Bradie Ewing
and redshirt freshman Jeff Lewis, and the Badgers should be powerful on the ground yet again in 2011.
2. Michigan State:
Other than Wisconsin, the Spartans have the best collection of experience and talent in the backfield. First-team All-Big Ten performer
Edwin Baker
ran for 1,201 yards and 13 scores last year.
Le'Veon Bell
, a 237-pound bruiser, complemented him as a true freshman with 605 yards and eight scores.
Larry Caper
is a capable veteran, and fifth-year senior Todd Anderson starts at fullback. The Spartans are deep and versatile in their rushing attack.
3. Ohio State:
The Buckeyes might have earned a higher ranking if
Dan Herron
were eligible to play a full season. But with Herron (1,155 yards and 16 scores in '10) suspended for the first five games, Ohio State will need some youngsters to fill his shoes. The good news is that there are plenty of talented candidates.
Jaamal Berry
is the leading returning rusher outside of Herron, and he averaged 8.3 yards per carry in a limited role last season.
Jordan Hall
and
Carlos Hyde
will also battle for more playing time, while redshirt freshman
Rod Smith
could emerge as the No. 1 tailback after an impressive offseason. Zach Boren is back at fullback. Things may be in flux in Columbus, but you can almost always count on a good running game from the Buckeyes.
[+] Enlarge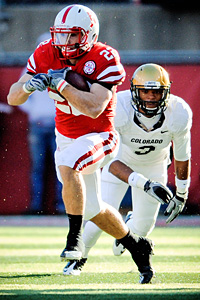 Eric Francis/Getty ImagesJunior Rex Burkhead averaged 5.5 yards per carry last season and scored seven TDs.
4. Nebraska:
The Cornhuskers led the Big 12 in rushing last season with 247.6 yards per game on the ground, good for ninth in the FBS. Leading rusher Roy Helu Jr. is gone, but junior
Rex Burkhead
returns after a 951-yard campaign. He will occasionally line up at receiver or take snaps in the Wildcat. The Cornhuskers lack experience behind him but are expecting big contributions from incoming freshmen Aaron Green and Amer Abdullah. ESPN Recruiting ranked Green as the No. 11 player overall in the Class of 2011.
5. Penn State:
Yes, the school's all-time leading rusher has moved on, as Evan Royster graduated. But the Nittany Lions still feel confident about their running game, which should be led by sophomore
Silas Redd
. He ran for 461 yards and 5.7 yards per carry as a true freshman, showing a physical style. Senior
Stephfon Green
will be asked to take on a larger role, and
Brandon Beachum
is back after missing last season with a knee injury.
Joe Suhey
and Michael Zordich are productive players at the fullback spot.
6. Purdue:
The Boilermakers' stock in this chart could go up if
Ralph Bolden
successfully returns from injury. So far, so good for Bolden, who was a second-team All-Big Ten performer in 2009.
Rob Henry
led the team in rushing last year with 547 yards, but fullback
Dan Dierking
graduated. Junior college transfer Akeem Shavers got a lot of carries this spring and should contribute, and
Reggie Pegram
also is in the mix.
7. Iowa:
Running back depth is a serious issue for Kirk Ferentz and the Hawkeyes.
Adam Robinson
, who would have been the leading returning running back in the Big Ten in terms of yards per game, was dismissed from the team following a December arrest.
Marcus Coker
could emerge as a superstar, however, after starting four of Iowa's final five games as a true freshman. He was the offensive MVP of the Insight Bowl with 219 rushing yards on 33 carries and has drawn comparisons to former Doak Walker Award winner Shonn Greene. There's virtually no proven experience behind him, though, and three-year starting fullback
Brett Morse
is no longer around.
8. Michigan:
If only we could count
Denard Robinson
as a running back. Brady Hoke plans to cut down on Shoelace's carries, which means the Wolverines' tailbacks will get more of a chance to shine. The question is who will step up. Senior
Michael Shaw
and junior
Vincent Smith
split time as starters last season, while
Stephen Hopkins
and
Michael Cox
are in the mix for more carries. Can celebrated recruit Justice Hayes contribute right away?
9. Illinois:
Mikel Leshoure's dash to the NFL left the Illini with uncertainty at running back. Senior
Jason Ford
, the most likely successor, sat out much of spring ball with a hurt knee, while
Troy Pollard
's promising spring was cut short by a concussion. Incoming freshman Donovonn Young will get a look this fall.
10. Northwestern:
Like Nebraska and Michigan, Northwestern relied on its quarterback -- in this case
Dan Persa
-- for a heavy chunk of the rushing yards.
Mike Trumpy
came on late in the year as a freshman and solidified his starting spot with a strong spring. Sophomore
Adonis Smith
, senior
Jacob Schmidt
and junior
Tyris Jones
will fight for carries behind him.
11. Minnesota:
There was healthy competition at tailback this spring with a mixture of veterans and fresh faces.
DeLeon Eskridge
led the team last year with 698 rushing yards, while
Duane Bennett
added 529. They're being pushed by redshirt freshmen
Donnell Kirkwood
and
Lamonte Edwards
. New coach Jerry Kill will look to improve on the Gophers' paltry 3.6 yards per carry average last season. This is a group that could make a major move up the rankings.
12. Indiana:
New Hoosiers coach Kevin Wilson has a challenge in figuring out this group. Three of the top candidates for the starting tailback job,
Darius Willis
,
Antonio Banks
and
Xavier Whitaker
, all suffered season-ending knee injuries in 2010 and missed spring practice. IU's leading rusher last season finished with just 352 yards.
Nick Turner
and
Matt Perez
got the bulk of the reps in the spring. Perhaps Wilson's high-tempo offense will improve the stats for Indiana ball carriers.
August, 30, 2010
8/30/10
3:47
PM ET
Welcome to National Depth Chart Day. No day on the college football calendar inspires more curiosity about depth charts than the Monday before the season, when most teams release their Week 1 two-deeps.
(And then there's Purdue, which didn't include a depth chart in its game notes for Notre Dame. Ugh.)
I've had the chance to review depth charts from those programs that released them today -- two-deeps from Illinois, Michigan State and Minnesota are coming soon -- and I checked in on several coaches' news conferences.
Here's what stood out:

INDIANA
Even though Indiana will shift to a 3-4 defensive alignment this year, the depth chart lists a 4-3 with Darius Johnson and Fred Jones as the starting ends and Chad Sherer and Tyler Replogle flanking junior college transfer Jeff Thomas at linebacker.
Interesting to see several veteran offensive linemen like Justin Pagan and Cody Faulkner listed as backups rather than starters. Junior Andrew McDonald steps into some big shoes at left tackle as Rodger Saffold departs to the NFL.
The backup quarterback job remains open, as Dusty Kiel and Edward Wright-Baker are both listed as No. 2 behind Ben Chappell.
Indiana expects big things from redshirt freshman Duwyce Wilson, listed as a starter at wide receiver, kick returner and punt returner.

IOWA
Sophomores Micah Hyde and Greg Castillo are listed as the starting cornerbacks. Shaun Prater doesn't appear on the depth chart after dealing with a leg injury in camp. Prater hasn't been officially ruled out for the Eastern Illinois game, but I wouldn't expect to see much of him on Saturday.
James Ferentz is listed as the starting center, a spot where Iowa might be a little thin following Josh Koeppel's motorcycle accident Monday morning.
Starting defensive end Broderick Binns is suspended for the opener, so Christian Ballard is listed as a possible starter at both end and tackle. Mike Daniels and Lebron Daniel are the next options behind Ballard.

MICHIGAN
Sophomores Denard Robinson and Tate Forcier and freshman Devin Gardner are listed as co-starters at quarterback. Head coach Rich Rodriguez reiterated Monday that Gardner won't redshirt this fall.
Vincent Smith and Michael Shaw are listed as co-starters at running back, with Michael Cox behind them.
True freshman Carvin Johnson is listed as the starter at the spur position (safety/linebacker). Pretty big surprise here, and a testament to Johnson's work in camp.
Senior James Rogers steps into Troy Woolfolk's starting cornerback spot opposite J.T. Floyd.
Receivers Martavious Odoms and Kelvin Grady clearly showed enough in camp to be listed as starters or possible starters against Connecticut.

NORTHWESTERN
Sophomore running back Arby Fields returned to practice Monday and wore a no-contact jersey after being sidelined with a shoulder problem. He's listed as a co-starter at running back with Jacob Schmidt and Stephen Simmons. Northwestern wanted a clear No. 1 running back to emerge in camp, but Fields' injury changed the plan.
Junior Bryce McNaul is listed as the third top linebacker alongside returning starters Quentin Davie and Nate Williams. McNaul won the job in camp.
Venric Mark is the only true freshman listed on the depth chart, both as a backup wide receiver and a co-starter at punt returner. I'll go out on a huge limb (sarcasm) and predict Mark will be the man on returns for the Wildcats very shortly.

OHIO STATE
Junior defensive end Nathan Williams, a projected starter, will miss the Marshall game with a knee injury. He should be back shortly thereafter. Solomon Thomas will start in Williams' spot Thursday night.
Starting cornerback Chimdi Chekwa (hamstring) is questionable for the Marshall game, but corner Devon Torrence (hamstring) should be fine.
Sophomore C.J. Barnett's strong performance in camp lifted him ahead of Orhian Johnson on the Week 1 depth chart. Johnson missed a chunk of camp with an injury.
Start salivating, Buckeyes fans, because running backs Jordan Hall and Jaamal Berry likely will handle kickoff returns against Marshall.

PENN STATE
Sophomores Kevin Newsome and Matt McGloin and freshman Robert Bolden are listed as co-starters at quarterback for the Youngstown State game.
Sophomore Devon Smith's strong camp landed him a starting spot at both receiver and kick returner, and a backup role on punt returns.
Redshirt freshman Garry Gilliam is listed as the starting tight end, as Andrew Szczerba likely will miss the opener with a back injury. Penn State obviously is thin here after losing Andrew Quarless and Mickey Shuler.
Veterans Nate Stupar, Chris Colasanti and Bani Gbadyu are listed as the starting linebackers, with promising younger players like Michael Mauti and Gerald Hodges right behind them.

WISCONSIN
After a very impressive camp, freshman running back James White appears at No. 3 on the depth chart behind both John Clay and Montee Ball. White also is the No. 2 punt returner behind David Gilreath. His emergence likely will result in veteran Zach Brown redshirting the season.
Senior Blake Sorensen likely will start at outside linebacker, as Mike Taylor continues to rehab after undergoing a second procedure on his knee in camp. Culmer St. Jean and Chris Borland are listed as the other starting linebackers.
The starting cornerback spots remain open, as Niles Brinkley, Antonio Fenelus and Devin Smith will compete in practice this week.
April, 19, 2010
4/19/10
9:00
AM ET
I'll be providing brief recaps of all 11 Big Ten spring games during the next few weeks. Let's get started with Michigan, one of five teams to hold its spring game on Saturday.
[+] Enlarge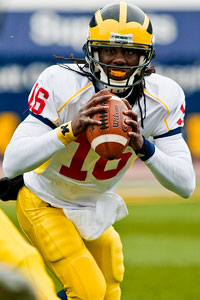 AP Photo/Tony DingDenard Robinson seems to be more comfortable in the Rich Rodriguez offense during the spring game.
As expected, the Wolverines' quarterbacks were in the spotlight at the Big House, and sophomore
Denard Robinson
rose to the occasion. Robinson, who last year couldn't complement his fast feet with consistent passing, showed excellent zip on the ball and connected for several big plays, none bigger than a 97-yard touchdown strike to
Roy Roundtree
. He seemed to be making better reads instead of forcing things like he did last season. Clearly, a full offseason has paid off for Shoelace.
Robinson took the field first and led the offense to touchdowns on five of six possessions against the second-team defense. Forcier worked mainly against the first-team defense and led three scoring drives in six possessions. So Foricer had the tougher assignment overall.
Head coach Rich Rodriguez said Robinson and Forcier will enter fall camp neck-and-neck for the starting job, with true freshman Devin Gardner a bit behind them, but Robinson has the momentum entering the summer.
From
The Detroit News
:
"Tate and Denard are a little bit ahead of Devin, because they have a little more experience," Rodriguez said. "And Denard, overall in the spring, has probably had a few better practices than Tate has."
I saw most of Michigan's scrimmage on the Big Ten Network, and Robinson looked like the most confident quarterback out there. I wouldn't count out Forcier, who has more experience and still made some nice plays, but he'll need to match Robinson in August to retain the starting job for the season. He seemed really disappointed after a holding penalty negated a touchdown during the overtime session, brushing past a teammate on the sideline. Rodriguez has challenged Forcier throughout the spring, and he'll need to step up.
Other nuggets:
Michigan's defense still needs a bit of work, though linebacker Obi Ezeh had a nice scrimmage, intercepting a pass from Gardner, who showed some freshman nerves. It would have been nice to see the first-team defense go more against the No. 1 offense, but Michigan has done more of that during closed practices this spring.

The kicking game could be a real adventure for Michigan, which really needs incoming freshman punter Will Hagerup to provide a boost. Keep in mind that punting has been arguably Michigan's greatest strength the last two years with All-American Zoltan Mesko booming kicks, so field position likely will change this fall.

The Wolverines will play more than one running back this season, and they seem to have decent depth there. Michael Shaw enters the summer with a slight edge, but both Michael Cox and Fitzgerald Toussaint showed some good signs during spring ball. Michigan's most intriguing running back prospect might be 236-pound freshman Stephen Hopkins, who brings some size to the backfield. Vincent Smith rejoins the mix in August.

Starting cornerback Troy Woolfolk missed the spring game after breaking a finger in practice while breaking up a Gardner pass. According to the Detroit Free Press, the bone broke through the skin but Woolfolk, who now goes by T-wolf, didn't cry.
TOP 25 SCOREBOARD
Thursday, 12/5
Friday, 12/6
Saturday, 12/7
TOP PERFORMERS