NCF Nation:

Michael Hayes
December, 15, 2010
12/15/10
11:00
AM ET
Houston is not going bowling for the first time since 2004. Here is a quick look at what went wrong this season.

How it happened:
Easy. Heisman hopeful
Case Keenum
tore his ACL in the third game of the season against UCLA, and backup
Cotton Turner
broke his collarbone in the same game, leaving Houston with a true freshman quarterback in
David Piland
. The Cougars tried to rely on the run to take the pressure of Piland, but teams were daring them to beat them with the pass. Piland was able to throw for a bunch of yards -- 2,641 -- but he completed less than 60 percent of his passes and threw 14 interceptions. The running game was inconsistent, and so was the defensive effort under first-year coordinator Brian Stewart. The Cougars ranked No. 104 in the country in total defense, only a very slight improvement over last season. They also gave up an average of 32 points a game, up two points from last season.
What needs to change:
Houston was thrown into an impossible situation with the injuries to Turner and Keenum. Coach Kevin Sumlin had every intention of redshirting Piland this season. The Cougars are awaiting word on Keenum's status for next season. They have applied to the NCAA for a sixth year of eligibility. So much rests on what happens at quarterback. The defense has got to show signs of improvement after switching to the 3-4. A transition period is expected, but Sumlin cannot wait much longer to see improvements with this unit.
Bowling next season?
Yes, with or without Keenum. This is a no brainer of Keenum returns, but even if Turner is in charge, the Cougars have a great shot at going back to a bowl game. The backfield will be loaded, too, with the return of
Bryce Beall
and
Michael Hayes
.
Charles Sims
should also be back after he was ruled academically ineligible for this season. Leading receiver
Patrick Edwards
also returns.
November, 5, 2010
11/05/10
2:00
PM ET
Houston coach Kevin Sumlin made quite an analogy earlier this week when asked about the different styles of play between the Eastern and Western divisions of Conference USA.

"It's like the Big Ten and the Pac-10," Sumlin said during his weekly press conference.

The East likes to grind it out. The West likes to air it out.

But Houston has started to resemble more of an East team without Case Keenum, and that has helped the Cougars remain on top of the West Division headed into a critical game against UCF on Friday night.

Bryce Beall and Michael Hayes have helped shoulder the load in the last few games, taking the pressure of true freshman quarterback David Piland. Beall hurt his knee last week in a win over Memphis, and Sumlin wouldn't say whether he would play. But without him, Hayes had a career-high 123 yards and Chris Wilson added 95 as the Cougars racked up 248 yards on the ground.

In their last three games, Houston has over 150 yards rushing with two victories. The resurgence of the run game has been impressive, considering the team lost leading rusher Charles Sims to start the season after being ruled ineligible.

"I said during our two-a-day practices that our running back situation went from, 'Oh no' to, 'Oh wow,' and that's really being proven this year," Sumlin said. "The loss of Charles Sims was significant for the year. Charles is doing great right now in school and we look forward to having him back next year. Mike has picked up the slack to help us. Chris Wilson hasn't gone unnoticed.

"We've got some capable running backs with really different styles that complement each other. Since we've been here, there has been a worry that we didn't have running backs, but we do. We'd love to have Bryce back, but we have guys who've shown they can get things done, too."

Even UCF coach George O'Leary has noticed a change.

"They run the ball extremely well so you just can't play coverage, you have to be able to defend the box too," he said. "That's the change they probably made. I don't know if they would have run as much had the other quarterback stayed healthy, but I do think they are doing a good job of getting the run game in and keeping people honest."

But this will be the biggest test for the Houston run game, because it is going against one of the best defenses in Conference USA and the country.

Meanwhile, Houston has one of the worst rushing defenses in the league and will get a big test from the Knights on the ground. Ronnie Weaver has emerged, and is coming off a career-high 180 yards rushing last week against East Carolina. Quarterback Jeffrey Godfrey can run, too.

UCF is No. 2 in the league in rushing offense, while Houston is No. 5.

"Ronnie basically does a great job of doing what he does," O'Leary said. "He works extremely hard in practice. I don't think he has finished yet as far as being a running back."

UCF has won 10 straight league games and sits atop the East. Another win, and the Knights will continue on as the favorite to win the league.

Houston, the preseason favorite, would love to change all that.
October, 25, 2010
10/25/10
4:00
PM ET
We have seen our fair share of schizophrenic teams this college football season. They look oh, so good one week, and oh, so bad the next. Texas comes to mind as the poster child after its loss to Iowa State, following a big win over Nebraska.
There is a non-AQ team that comes to mind as well. Houston has been Jekyll and Hyde, too, but for different reasons. While Texas went into the season without its leader in Colt McCoy, Houston lost theirs in the third game of the season.
Would Houston fall into the tank without
Case Keenum
and backup
Cotton Turner
? Or would the Cougars be able to persevere with a true freshman at quarterback and still win Conference USA?
[+] Enlarge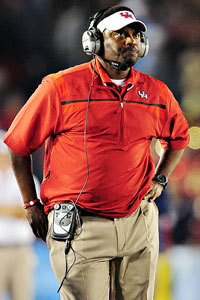 Gary A. Vasquez/US PresswireKevin Sumlin's Houston Cougars remain in the hunt for the Conference USA title.
Four games post-Keenum, it is safe to say we still have no idea.
Houston (4-3, 3-1) looked terrific in a 45-20 win over SMU (4-4, 3-1) this past weekend, moving into first place in the West Division of Conference USA. If the two teams win out, Houston gets to the Conference USA championship game.
"If" is the operative word of course. Look at what happened the week before the SMU game: Houston lost to Rice 34-31 after falling behind 27-7 early in the game. The same Rice team lost to UCF 41-14 on Saturday.
You can understand why Houston has been so inconsistent. The Cougars are trying to develop a freshman at quarterback in
David Piland
, one who was supposed to redshirt this season. They have tried to become more of a running team to take the pressure off him, and that has worked at times for them.
The defense was a work in progress even before Keenum got hurt, and that unit has struggled at times as well.
Plus, you cannot underestimate what it means to lose your on-field leader. Keenum brought the eye-popping stats, too, but he brought a veteran's poise to all his teammates.
"When you come into a season and have leaders, there's a pecking order of how things go in any organization," coach Kevin Sumlin said leading up to the SMU game. "It takes some time for a guy to step outside of his comfort zone and say, 'You know what, I'll lead now.' That seems like an easy thing to do, but personality-wise and player-wise, sometimes that just doesn't happen overnight.
"As coaches, we have to assume that role until we can find someone or a number of guys that say, 'I'll lead from here on out.' It's a whole lot easier to do in [the] offseason than it is while you're preparing for a game, but that's what we're trying to do."
Sumlin says Piland has continued to improve, but reiterated that it is hard to get a guy prepared midway through a season.
Bryce Beall
and
Michael Hayes
have stepped up in the run game. The two combined for 171 yards rushing and four touchdowns against SMU, but Sumlin knows they need the type of help they got against the Mustangs. The defense had three takeaways,
Tyron Carrier
had a 91-yard kickoff return for a touchdown, and Piland led four scoring drives of 70-plus yards for his first career win.
Afterward, Sumlin told reporters, "I'm proud of our guys going on the road, handling this week of basically everybody writing us off."
Beall said, "We played like the old
Houston Cougars
."
Will the old Houston Cougars show up this week at Memphis? The Tigers are the final team with a losing record left on Houston's schedule. Following that, Houston has back-to-back home games against UCF (5-2) and Tulsa (4-3), then closes with back-to-back road games against Southern Miss (5-2) and Texas Tech (4-3).
Still, Houston is in position to win the conference. Tulsa is one game behind Houston and SMU at 2-2, and the Golden Hurricane also have been inconsistent this season. UTEP is now 2-3 in conference play and two games behind Houston. The Cougars already beat them this season. They also beat Tulane, which is 1-2 in conference. Rice is 1-3.
The opportunity is there. We just have no idea which Houston team will show up week to week.