November, 13, 2010
11/13/10
6:27
PM ET
AUSTIN, Texas -- Both teams have arrived, and it should be a beautiful night for football. It's a little windy, hovering around 60 degrees and prepared to drop below 50 as the sun sets well before the 8 p.m. ET kickoff.
Both teams have arrived, and a few Texas players have made their way on the field for warm-ups.
One player who hasn't is Texas receiver
Marquise Goodwin
. He'll be out tonight to attend his grandmother's funeral in Lubbock.
That means
Garrett Gilbert
is down one of his targets, and Goodwin is third on the team with 28 receptions. The Longhorns will have to put points on the board to beat No. 10 Oklahoma State, the No. 3 scoring offense in the country, which is something they haven't done much this year.
For Texas to pull the upset in this one, top receivers
Mike Davis
and
James Kirkendoll
will need big days. That, or Texas can control the time of possession with a ball-control running attack like it showed at Nebraska in an upset this season.
Either way, look for Gilbert to try and make a few plays with his feet at some point tonight, especially after struggling last week in a loss to Kansas State that featured five interceptions from the sophomore first-year starter.
Goodwin's absence only adds to Texas' missing numbers heading into tonight's game. The Longhorns lost cornerback
Chykie Brown
for the season last week, and will be without offensive linemen Michael Huey and Kyle Hix for tonight's game.
January, 7, 2010
1/07/10
7:00
AM ET
By
Tim Griffin
| ESPN.com
NEWPORT BEACH, Calif. -- Here are three keys for Texas if it hopes to pull its second upset at the Rose Bowl in four seasons and earn another Bowl Championship Series national title.

1. Producing yards on first down:
The Longhorns have a better chance of achieving offensive success if they produce early in a series. Second-and-long and third-and-long will make the Crimson Tide's defense much more difficult to crack. If
Colt McCoy
can make things happen on first down – particularly early in the game – it should boost the Longhorns' confidence and their chances at an unexpected victory.
2. Dominate special teams:
The Longhorns had one of the nation's most proficient special teams units all season. Alabama has struggled in kick coverages, ranking 116th nationally with an average of 25.7 yards per kick return, and have been blistered with two returns for touchdowns. With the likely return of
D.J. Monroe
to the kick return rotation, the Longhorns will add the No. 2 kick returner in the nation.
Marquise Goodwin
was strong while Monroe was suspended, and
Jordan Shipley
is a threat to score a touchdown every time he returns a punt. The Longhorns need to make several big plays in this phase of the game.
3. Protect Colt McCoy:
The Longhorns have allowed 30 sacks this season, and nearly half came in tight victories over Oklahoma (four) and Nebraska (nine). If the Longhorns have hopes of claiming the national title, they must give McCoy enough time to pass and keep fearsome Alabama pass rushers like Marcell Dareus, Eryk Anders, Javier Arenas and Rolando McClain away from their senior quarterback. And it would be a good time for the center of Texas' offense – guards Michael Huey and Charlie Tanner and center Chris Hall -- to keep massive defensive tackle Terrence Cody away from McCoy.
December, 6, 2009
12/06/09
1:44
AM ET
By
Tim Griffin
| ESPN.com
ARLINGTON, Texas –
Colt McCoy
could joke after the game about how much he saw of Nebraska defensive tackle Ndamukong Suh.
"Yeah, we're best friends," McCoy said.
Suh had one of the great games in Big 12 championship game history, producing a career-best 4.5 sacks among his team-high 12 tackles -- seven of which were for a loss.
But it wasn't enough as the Longhorns escaped with a wild
13-12
victory that cost the Cornhuskers their first chance to win a Big 12 title since 1999.
[+] Enlarge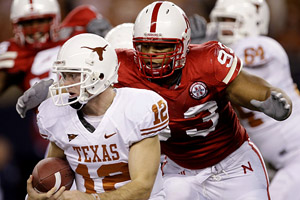 Jamie Squire/Getty ImagesNebraska's Ndumakong Suh took Texas quarterback Colt McCoy down for 4.5 sacks.
The massive 300-pound senior defensive tackle was a consistent force throughout the game. He slung McCoy around like a rag doll and dominated the interior of the Texas offensive line from the opening snap.
"He's the staple of our defense," Nebraska safety Matt O'Hanlon said. "He makes plays that not a lot of other guys could. So for us to have him in the trenches, you know, he just plays his butt off. He makes a lot of plays that no one else makes. So he definitely kept our defense in it."
If a defensive player ever could have made a statement to win a Heisman Trophy, Suh's game Saturday night looked like one. Texas guards Michael Huey and Charlie Tanner and center Chris Hall found it impossible keeping him out of the backfield all night long.
"I think he's the best defensive player at his position in the country," Nebraska coach Bo Pelini said. "If that means the Heisman Trophy, so be it."
The finish left Suh subdued and disappointed.
"My initial emotion is that it was very unfortunate how things played out," Suh said. "But I mean, this team played very, very hard and that's what we all really do. Like our coach said, the chips fall where they may. Just go out and play as hard as you can.
"They're going to handle the score, they're going to do everything to put us in the right position as they did. And all we have to do is go out and play."
Unfortunately for the Cornhuskers, one play remained at the end of the game. After the controversy on the next-to-last play, Suh was convinced the Cornhuskers had won and that the clock had expired.
"As far as I'm concerned, I thought the game was over, but obviously, it wasn't," Suh said.
Longhorn players and coaches were raving about Suh's performance after the game.
"He's the best defensive player we've played all year," Texas offensive coordinator Greg Davis said. "He and (Nebraska defensive tackle Jared) Crick are as good a pair as we've faced all year. They are so tough to handle because they really get after you."
Suh came back for his senior season for an opportunity to play in conference championship games and improve his draft stock.
He obviously did both this season, finishing with 82 total tackles and 12 sacks. That total is the third most in Nebraska history and the most since linebacker Trev Alberts notched 15 in 1993.
It's hard to believe many NFL teams could find a better player on the film than him tonight.
December, 3, 2009
12/03/09
8:41
AM ET
By
Tim Griffin
| ESPN.com
Here are five trends that merit watching in Saturday's Big 12 championship game:
Can the North Division make this a game, for a change?
The South Division has dominated this game, much like all aspects of cross-division play in recent seasons. Since Kansas State's stunning upset victory over Oklahoma in 2003, the South Division teams have won the games by a combined margin of 233-51. During those five games, the North team has led for a total of 3 minutes and 22 seconds in the 300 minutes of game action. Nebraska's defense should give it a puncher's chance to be successful in the game. But Texas looks like the prototypical bully from the South Division that looks like it will be ready to jump on an opponent at the slightest sign of weakness.
Colt McCoy's Heisman hopes:
With the Alabama-Florida game being played earlier in the afternoon. McCoy should have a good idea who will be his prime Heisman opponent emerging from the SEC championship game. It won't be easy as McCoy will be facing one of his biggest challenges of the season in terms of the rival defense. Nebraska ranks among the top 15 teams in the major team defensive statistical categories of rushing defense, pass efficiency defense, total defense and scoring defense. The Cornhuskers have allowed more than 21 points in a game only once this season and have averaged three sacks a game over their last five contests. McCoy will need a big statistical game to sway Heisman voters one last time.
The center of Nebraska's defense:
Ndamukong Suh and Jared Crick are the finest pair of defensive tackles in the conference. Suh likely is the best defensive player in the country. They will be backed up behind the line by starting middle linebacker Will Compton, a redshirt freshman. These players will need to dominate the game inside in their contest with Texas starting center Chris Hall and starting guards Charlie Tanner and Michael Huey. If the Nebraska defensive tackles and Compton can impose their will in the trenches, it will make life much more difficult for McCoy and the Longhorns.
Nebraska's special teams need to be special:
The Cornhuskers have dictated field position all season long thanks to punter Alex Henery and kickoff specialist Adi Kunalic. Henery is the most accomplished situational punter in the conference with 26 of his 65 punts pinning opponents inside their own 20-yard line. Eight of those kicks have landed inside the opponent's 3-yard line. Kunalic leads the Big 12 with 40 percent of his kickoffs going through the end zone for touchbacks. If the Cornhuskers can dictate the special teams, they will be able to neutralize Texas kickoff return specialist
Marquise Goodwin
(24.1 average, one TD) and punt return specialist
Jordan Shipley
(13.3 yard per return average, two TDs). As difficult as it will be for the Cornhuskers to stick with Texas on offense and defense, they can't allow any cheap touchdowns or wild changes in field position and expect to win.
Can Texas' defense rebound?
The Longhorns struggled through their worst performance of the season in their narrow victory over Texas A&M, allowing their most rushing yards, total yards and points of the season. Texas players said those memories have been blotted away as they prepare for the Cornhuskers. Nebraska's offensive strategy should play more into Texas' strengths that Texas A&M's varied run-pass option attack. But it will be imperative for the Longhorns to forget about their recent defensive difficulties and bounce back with a big effort in the championship game.